Are you about to purchase your Hamilton pocket watch and in search of a guide? Then, this article is for you. Hamilton pocket watches are fascinating and timeless pieces that are easy to take an interest in.
However, a significant challenge is finding the most suitable one considering the type and price.
With this in mind, we've compiled useful details on how to find the most suitable Hamilton pocket watch in this article. We hope that this article becomes your Hamilton pocket watch: price and model guide as you hunt for Hamilton pocket watches.
Let's dive right in.
History of the Hamilton Watch Company
The Hamilton watch company was established in 1892 in Lancaster, Pennsylvania. Historically, they took over from three watch companies in Lancaster.
Abram Bitner, the founder of the Keystone Standard Watch Company, bought the Lancaster Watch Company after which the Keystone partnered with the Aurora Watch Company.
However, in 1981, Keystone went bankrupt, and the Hamilton watch company took over the company.
The Hamilton Watch Company was named after James Hamilton, son of Andrew Hamilton, the Scottish lawyer. It released its first watch in 1893, an 18-sized antique pocket watch equipped with 17 jewels.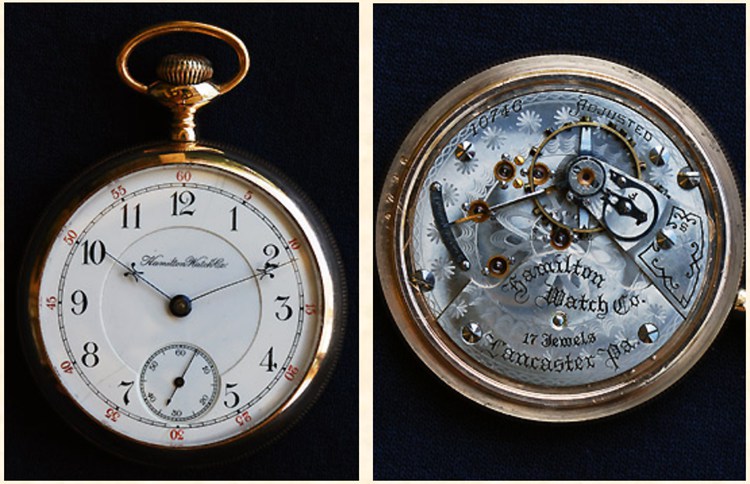 The Hamilton Company continued to manufacture only 18-sized, and 16-sized pocket watches for over fifteen years. However, during the railroad expansion to  World War I, they  launched their first series of pocket watches, called the Broadway Limited but popularly known as the "Watch of Railroad Accuracy."
Shortly after the launch, the Hamilton pocket watches became widely popular and owned 56% of the market.
The Hamilton Watch Company made their first wristwatch in 1917. A zero-size, 17 jewels, 983 movements which were originally made for women but advertised to men. But due to the change in demand after World War I, they diverted from making wristwatches to wristwatch models.
Additionally, around World War II, they switched from a consumer model to a business model and began manufacturing to the allied military forces.
Hamilton Pocket Watch: Types, Prices, and Identification
Hamilton pocket watches come in different types and have varying prices.
Therefore, a major step to finding the perfect Hamilton pocket watch is to explore the different types available and keep their prices in mind. Let's take a look at some of Hamilton pocket watch types and prices below.
1.    Hamilton S18 Pocket Watch
The Hamilton S18 pocket watch was manufactured around 1897. They are vintage and one of a kind, and you may find this for about $100 or less.
Its case is high-quality and made of silver ore. Its front cover is crystal clear, which allows you to see the face easily without having to open it up.
When opened, you will discover that the inside of the back is imprinted with a patented date. When identifying the Hamilton S18, it's good to check its numbers. Each number begins with a Roman numeral, with black tick symbols that signify its minutes. Additionally, you will notice that the five-minute interval is signified with a red number. Then, its second hand is placed where the VI number is.
Also, you will find a nicely inscribed "Hamilton Watch and Co." on its face. Under its back, you will see a "Hamilton Watch Co. Lancaster PA" sentence inscribed with an Old English font.
2.    Broadway Limited Railroad Pocket Watch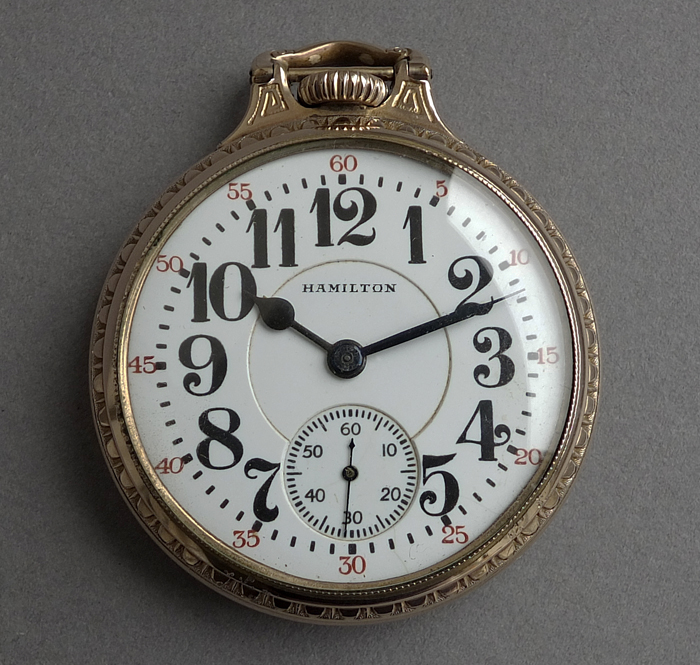 The Broadway Limited Railroad pocket watches are among the collector's most sought-after watches. They are usually 16-size, 17-jewel watches with the "HAMILTON" brand name inscribed boldly on their open face.
To identify the minutes on these timeless watches, check for black tick marks. For every five-minute interval, there is a red number and a dial with a second hand located at the place the six is supposed to be.
To identify the Broadway limited railroad pocket watch, look out for them in cases with high-quality, plain, and sturdy backs and a clear cover on the open face. Also, check out the "Hamilton Watch Co. Lancaster, PA" inscription under the back cover.
You may find them between the range of $200 and $500, or slightly above this range, depending on their state and working condition.
3.    Hamilton's Three-Quarter Plate size 16
The Hamilton's three-quarter plate size 16 is regarded among the most accessible Hamilton pocket watches for the average collector. They are railroad watches and come in larger sizes than 12-size gentlemen dress watches.
They are known as three-quarter plate pocket watches, as their plates are cut away to make the escarpments noticeable from the back. They come with a barrel bridge, train bridge, and a stable bridge which is cut away so that the balance wheel and the escarpment are noticed easily.
They are available in several grades, and each grade stands out based on its design.
4.   Hamilton 16-Size Bridge Style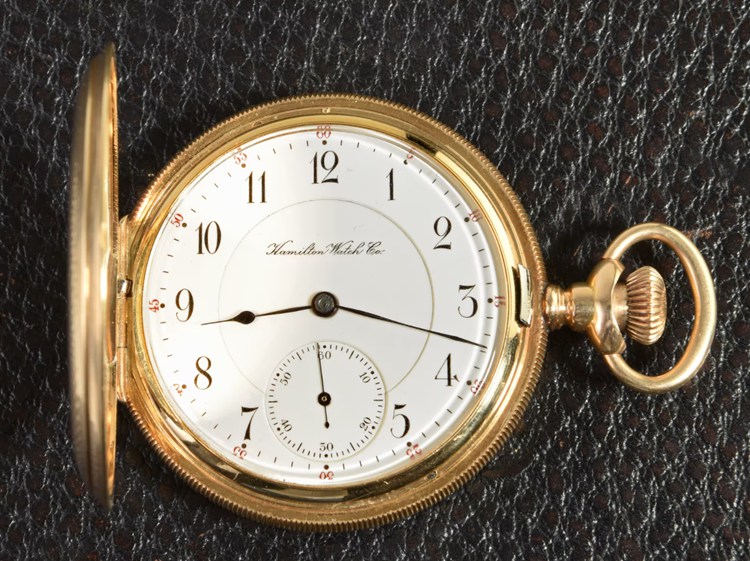 The Hamilton 16-size Bridge Style is also among the Hamilton pocket watches collectors can find easily. They have similar features to the three-quarter pocket watches, and their parts can be used interchangeably.
However, they were produced in a lower quantity. Although the Bridge Style movement is the first 16-size pocket watch manufactured, the entire production of these grade movements was only 380 movements, as noted by HODINKEE.
The Hamilton 16-size Bridge Style movement has no markings unless for its serial number. It also comes with a "Hamilton Watch Co." mark inscribed on its early dial.
5.    992 Railroad Pocket Watch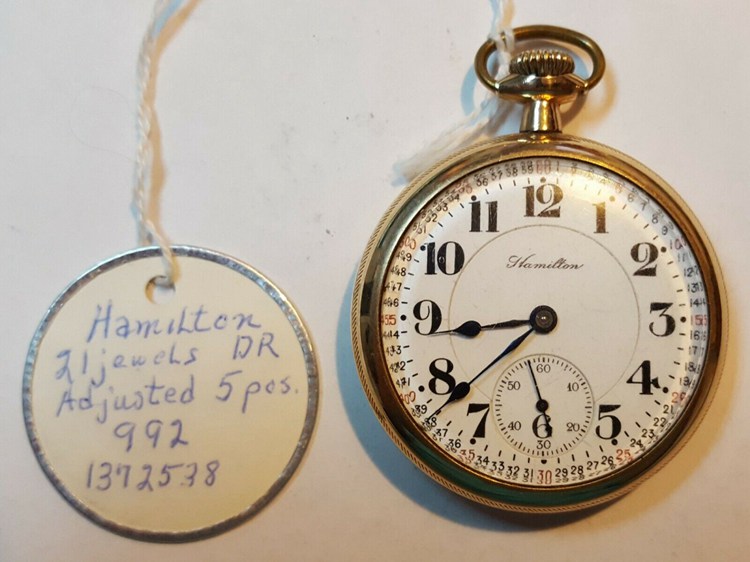 A 16-size, 21-jewel pocket watch manufactured in 1908, Hamilton 992 Railroad pocket watch is a prominent collector's piece that comes with similar designs as other Hamilton's watch collections.  There are minute markings on its face, and the second hand is located at the bottom with the "HAMILTON" brand name inscribed on its face.
The Hamilton Watch Company released the 992B model in 1950, which has the "HAMILTON RAILWAY SPECIAL" on its face and is placed in a 10k gold-filled watch case.
The 992B model is equipped with quality features and ornate schoolwork on its case. It comes with a mechanism which is identified as "Hamilton Watch Co. USA," its jewel numbers and a model number.
Both the 992 Railroad pocket watch and the 992B model may cost about $300 based on their condition.
6.   Hamilton Grade 994
The Hamilton Grade 994 is considered among Halmiton's most beautiful bridge model pocket watch collections. However, it is also a low production watch with about 800 movements in totality.
Although it was manufactured at a time when many American watches weren't produced with a case, the Hamilton Watch Company sold all Hamilton grade 994 pocket watches cased from the factory.
Original Hamilton grade 994 pocket watch cases and movements serial numbers are noted in the Hamilton Guarantee Certificate, which you may find in their original boxes. These pocket watches are elegant and beautifully designed, and you may find them at about $62.50.
7.    Hamilton Grade 950B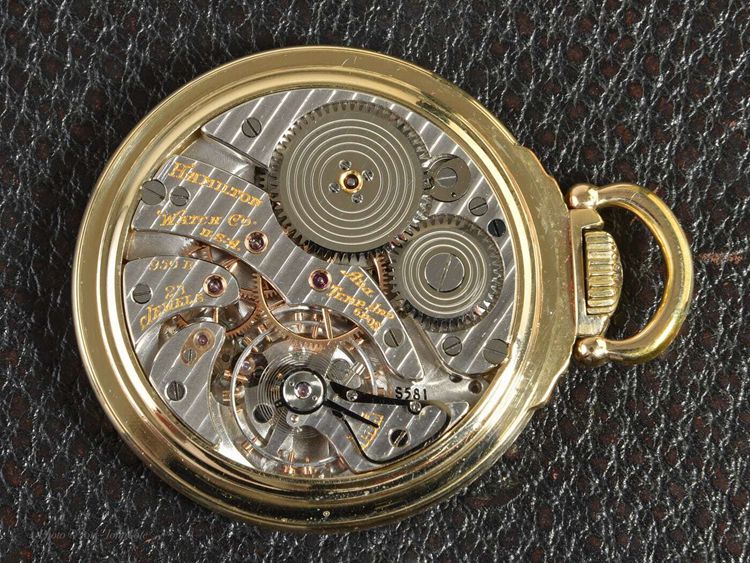 The Hamilton Grade 950b is the last set of the Hamilton production models. The Hamilton production company started producing the "B" models right before World War II began, and they stopped manufacturing the "B" models in the late 1960s and early 1970s.
As the last Bridge Model grade, the Hamilton grade 950B is entirely different from the earlier pocket watches manufactured. They are high-quality pocket watches with standard mechanization compared to other types of American pocket watches.
How to Identify Original Hamilton Watches
How do you tell an authentic Hamilton watch from a fake? You can do this by watching out for distinguished qualities, signifiers, and features of the original. Let's check them out below:
1.    Brand Name
Original Hamilton watches are easy to identify, mainly because authentic Hamilton watches come with brand names that remain consistent over the years. The unique and consistent brand names make it easier to identify an original from a fake, but this can get tricky too.
So, how do you know if your watch is really Hamilton? Each model came with variations, which occur in about four areas, including dial, hands, case materials, and movements. When you combine these areas, you will realize that some models were manufactured in many variations.
So, even if the watches look different at a distance, a closer look at them would reveal that they are the same model. Another way to identify an original Hamilton watch is to identify its model by linking the case to known examples. And lookout for the manufacture date and movement.
Hamilton's watches were marked with the word "Hamilton" on the dial in the early 1960s. However, in the late 1960s, a few models were manufactured with the brand name "H" logo, which was also stated on the dial.
Apart from the dial, another thing to look out for is its case because it always dates back to the original manufacturer. When you look inside of the case, you will find a mark with "Hamilton."
Also, note that the outer part of some cases are also marked, especially with models manufactured after the mid-sized 1960s.
You can also look out for signed crowns to find an original Hamilton watch. However, note that watches with the "H" brand names do not have a signed crown. So, Hamilton watched with an "H" brand name and signed crowns might be imitations of the original.
Additionally, watches with dials "Hamilton movement" may not be Hamilton watches. They may be watches that were manufactured by inculcating the Hamilton movement and placed in third-party cases.
For example, watches manufactured by Hamilton for the jewelry company Tiffany and Co do not have the Hamilton mark inscribed on their faces, although they are Hamilton products.
2.    Identify the model
When identifying the model of Hamilton, the most critical factor to look out for is the case.
However, to do this successfully, you must pay attention to details. For example, watches belonging to a specific model may have the same case style, but the materials used may be different. So, it's essential to look closely to find out the material that would work best for you.
Additionally, look out for the shapes and lines of the lugs on the case. Another critical factor to pay attention to are the dial features. You should see if the second hand and the hand of the sub-seconds are placed at the right locations.
Hamilton Watch Sales Manual 1932 – (Source: catalogs)
3.    Check the movement
The watch's movement can also be helpful at being specific to a span of years, although you can't entirely rely on this because movement may fluctuate during the lifespan of a watch.
For example, at some point, Hamilton placed earlier movements in later watches. Also, the movement serial numbers are documented to aid your search, so you can refer to them to find out the exact movement of a watch.
4.   Inspect the watch
There are specific aspects to inspect in a pocket watch when shopping. You must examine them when looking to buy a pocket watch online or in person. First, inspect to see if the watch is working. Note that because they are old watches, they could go off for a few minutes, which should not be an issue as long as they come back on shortly after then.
However, it should be a major concern if they go off for a longer period, as it could be due to a mechanical issue.
Also, inspect the body for signs of dust and dirt as they can tell the type of condition your pocket watch is in. For example, if the watch is rusted, it could reduce its appearance and also signify that other internal parts like the balance wheel and hairspring of your pocket watch are faulty.
The screws holding the parts and movement are also critical areas to inspect.  If they are mismatched or if any looks are replaced, it could signify that its originality has been tampered with, which could reduce its value and durability.
You should also examine the dial. If it looks new, it could mean that the original dial has been replaced, which again, affects your pocket watch's value. Inspect it further for any cracks in the hairline or chips around the edges.
It's also important to ask your dealer if the pocket watch has ever been serviced. If yes, request the type to see the level of adjustments or replacement that has been made. For instance, it could be minor changes like oilage or major adjustments like calibrating, assembly, and reassembling, which may involve major replacement.
5. Hamilton Watch Serial Numbers and Production Dates
Let's say you have a Hamilton watch with serial number 12,960 . Note that we're using the serial number from the watch movement, not from the watch case. Looking at the table of Waltham serial numbers, you can see that number 11,500 was made in 1895 and 16,000 was made in 1896 (marked in red in the table below). Since your serial number falls between those two numbers, you know that your watch was made in 1895 or 1896.
| Year | S/N | Year | S/N |
| --- | --- | --- | --- |
| | 1 – 2000 | | 1,500,000 |
| | 5000 | | 1,600,000 |
| | | | 1,700,000 |
| | | | 1,800,000 |
| | 27,000 | | 1,900,000 |
| | 50,000 | | 2,000,000 |
| | 74,000 | | 2,050,000 |
| | 104,000 | | 2,100,000 |
| | 143,000 | | 2,150,000 |
| | 196,000 | | 2,200,000 |
| | 260,000 | | 2,250,000 |
| | 340,000 | | 2,300,000 |
| | 435,000 | | 2,350,000 |
| | 500,000 | | 2,400,000 |
| | 580,000 | | 2,440,000 |
| | 680,000 | | 2,480,000 |
| | 750,000 | | 2,520,000 |
| | 790,000 | | 2,560,000 |
| | 860,000 | | 2,600,000 |
| | 940,000 | | 2,900,000 |
| | 1,000,000 | | 3,200,000 |
| | 1,100,000 | | 3,400,000 |
| | 1,200,000 | | 4,000,000 |
| | 1,300,000 | | 4,250,000 |
| | 1,400,000 | | 4,500,000 |
Hamilton also used serial numbers preceded by a letter on certain grades from about the late 30's until the late 60's. The following tables can help in identifying these watches. It is sometimes necessary to interpolate to estimate the particular year of a watch.
992B with C Serial Number 
Grade
S/N
Year
992B
C001
1940
992B
C40,000
1941
992B
C60,000
1942
992B
C90,000
1943
992B
C120,000
1944
992B
C170,000
1946
992B
C215,000
1947
992B
C255,000
1948
992B
C350,000
1949
992B
C390,000
1950
992B
C420,000
1954
992B
C455,000
1956
992B
C500,000
1959
992B
C520,000
1964
992B
C529,200
1969
4992B with 4C Serial Number
Grade
S/N
Year
4992B
4C0001
1941
4992B
4C40,000
1942
4992B
4C90,000
1944
4992B
4C120,000
1950
4992B
4C135,000
1960
4992B
4C145,000
1968
950B with 2B or S Serial Number
Grade
S/N
Year
950B
2B001
1941
950B
2B400
1942
950B
2B800
1943
–
–
–
950B
S001
1941
950B
S1500
1944
950B
S2800
1945
950B
S4000
1946
950B
S4500
1947
950B
S6500
1948
950B
S7500
1949
950B
S10,000
1951
950B
S25,000
1955
950B
S28,000
1962
950B
S30,000
1965
Partial List of Other Grades and Serial Numbers
| Grade | S/N | Year |
| --- | --- | --- |
| 401 | H50001 – H57500 | 1930 – 1933 |
| 747 | Y001 – Y453800 | 1947 – 1954 |
| 748 | CY001 – CY232000 | 1948 – 1954 |
| 750 | 001A – 914000A | 1949 – 1954 |
| 752 | 001E – 48000E | 1951 – 1954 |
| 753 | 001F – 103400F | 1951 – 1954 |
| 754 | 001H – 43900H | 1952 – 1954 |
| 979 | 2900001 – 2931900 | 1934 – 1951 |
| 980 | G101 – G669400 | 1934 – 1951 |
| 980B | A001 – A8900 | 1937 – 1946 |
| H980 | HW001 – HW1075 | 1942 – 1949 |
| 980I | W001 – W1050 | 1942 – 2948 |
| 982 | J1001 – J670600 | 1935 – 1951 |
| 982M | M001 – M201900 | 1941 – 1951 |
| 986 | 2100001 – 2191300 | 1922 – 1926 |
| 987 | 001 – 0486300 | 1937 – 1948 |
| 987E | 4025301 – 4523000 | 1928 – 1937 |
| 987S | SS001 – SS87400 | 1940 – 1948 |
 Where to Buy Hamilton Watches
An essential factor to consider when buying Hamilton watches is where to buy them, as it plays a critical role in their originality.
Specialized auctions may be your best bet to find Hamilton watches as there are usually varieties to choose from and may also go for lower prices. However, there are other options you can explore. Let's check them out below..
1.    Buy from Reputable Dealers
Look for a renowned and trusted Hamilton dealer you can purchase your watch from. You can find out if a dealer is reputable based on reviews and ratings on their site.
You can also figure out if a dealer is reputable from how they receive and respond to your questions.
For example, a reliable dealer will be available to answer all your questions and walk you through the process so you can make a choice that is perfect for you.
Additionally, they may belong to established organizations for reputable watch dealers, such as the National Association of Watch and Clock Collectors (NAWCC).
It's also crucial to be careful of dealers who offer prices that seem too good to be true, as they may sell imitations of the original Hamilton product.
2.    Contact Private Vendors
Private vendors may be a good option to purchase your Hamilton watch, as long as they are trustworthy. You can check out their customer history or ask them questions to test their knowledge on watches to confirm how reliable they are.
How to Care for Your Hamilton Pocket Watches
Hamilton watches are made from quality materials, so they are sturdy and can last the test of time. However, anything can go wrong when you do not maintain them the right way.
So, it's critical to practice proper maintenance to ensure their longevity and functionality. Let's discuss the different Hamilton pocket watches maintenance tips below:
1.    Carry Your Watch Carefully
Where you place your pocket watch is crucial to keep them safe. The most appropriate place to put them when in use is in your vest pocket with the crystal in the direction of your body.
You can use different types of pocket watch chains, but you must ensure to carry them in your vest pocket as it protects your pocket watch from being knocked whenever you walk around.
At night, the best location to place your pocket watch is in the vest of any of your shirts or suits. Avoid placing them under the bed or pillow as they can be damaged from pressure and could also be exposed to unfavorable temperatures.
If you find it difficult to keep your pocket watch in any of your vest pockets for some reason, ensure to place it in an area where it's safe with fewer chances of being knocked on.
2.    Open the Back of Your Watch Case Carefully when Required
It's best to avoid opening the back of your watch case; however, if you have to, ensure to do so with caution. Before you begin, place it where there are no particles or moisture that could potentially damage your watch.
3.    Wind Your Pocket Watch Often
It's essential to wind your pocket watch regularly to ensure they work efficiently. It's best to wind your watch every twenty-four hours for best results, particularly at a specific time every morning. This works to improve its spring power when you are most active.
4.   Set Your Watch Correctly
It's critical to set your watch properly to avoid damage. To set your pocket watch, turn the hands in the closest direction to the right time. Also, don't be afraid to rotate the hands forward or backward as it doesn't cause any harm to its movement.
5.    Clean Your Watch Properly
Cleaning is a crucial aspect of your pocket watch's maintenance as it gets rid of dirt and dust that could damage your watch.
It's best to clean and oil your watch once every 12 to 18 months. Avoid cleaning yourself and give your watch to a trusted jeweler to ensure proper cleaning.
Also, note that cleaning your pocket watch may take a few days as it involves several processes. Your jeweler will separate the watch's movement from the rest of the pocket watch. They will then clean the screws, jewels, wheels, mountings, and other parts in benzene to get rid of stored-in dirt and old oil.
After this, its parts are painstakingly cleaned in a dedicated soap solution, and cleaned in cyanide, and washed in soap and water. Then, they are dipped in alcohol and placed in the open to dry.
After this, your jeweler will polish each part of your pocket watch separately, reassemble, and oiled properly with quality oil.
It's crucial to hire the services of a skilled jeweler as they are likely to follow the Hamilton watchmakers' cleaning process for preparing a pocket watch for sale.
Expert cleaning ensures that all accumulated dirt in and outside the pocket watch is removed to prevent your watch from getting slowed down or having a varied time. It may also cause damage to delicate parts of the jewels.
Hamilton pocket watches have different cleaning periods. For instance, if you have a 16-size Hamilton railroad watch or watches with a larger size, you may consider cleaning them every 12 to 15 months. If your pocket watch is a 12-size, thin model, consider cleaning every 12 months.
Cleaning  Hamilton pocket watches involves several dynamics; this video is a useful resource to learn more about the different ways to clean your pocket watch properly.
Conclusion
In this guide, we discussed the different types of Hamilton pocket watches and their estimated prices. We also walked you through the different ways to identify an authentic Hamilton pocket watch and discussed where to buy them and the various ways to maintain them effectively.
Ensure to follow the details in this guide to find the best Hamilton pocket watch for you. If you have any questions or contributions, kindly drop a comment. We will be happy to respond!