The vintage Mickey Mouse watches have become one of the most sought-after items over the past few years that can go for as much as $2,500. Regular watch wearers may not find the price so appealing, but collectors of extreme watches will consider paying even higher prices for one of these watches.
You can learn all you need to know about Mickey Mouse watches in this article as it covers their history and other important information. Let's begin!
History of Vintage Mickey Mouse Watch
Even though they are expensive, vintage Mickey Mouse watches are essential pieces of history and culture. The original Mickey Mouse wristwatch, released in 1933, cost around $3. A similar Mickey Mouse watches sold in 2005 for $6,500.
The Walt Disney Company was well-known for Kay Kayman's contributions during his tenure as an executive. A famous cartoon character of the 1930s – Mickey Mouse – was created and promoted.
In Nebraska, Kay started working at a hat company as a salesman. His funny nature and personality made him famous. The marketing and merchandising experience he had when he signed up with Walt Disney was impressive.
The Disney brothers, Walt and Roy, approached Kay in 1932 with a business idea. Kay and Walt met later, and Walt suggested that he control the quality of the merchandise and the company's overall image.
This idea caught Walt's attention, and the Disney brothers and Kay signed a contract in 1932. As a result of Kay's impressive marketing skills and strategies, Disney Studios gained millions of dollars in profits.
During that time, Kayman brought the first Mickey Mouse Watch to the audience as one of the most memorable items. Before the invention of the watch, Ingersoll was experiencing an economic crisis and was on the verge of bankruptcy.
Disney's watch was the only thing that saved it from total collapse. The first Mickey Mouse watch appeared in Chicago in 1933. At the time of the great economic depression, everyone was astonished to see a watch with a humorous touch.
The company offered two watches in its initial release: a pocket watch and a wristwatch. Mickey appeared in the middle of the dials of both watches, and the hands-on his arms represented the hours and minutes.
A small sub-dial indicated the number of seconds with three Mickeys. Most vintage watches have many features that are not present in modern watches.
What Is the Value of An Original Mickey Mouse Watch?
Mickey Mouse's original monetary value is still quite high yet varies from time to time. Watches used to sell for $3, but now they cost over $2,500. But in the year 2005, the price for the auction was $6,500, and later in the year 2014, it was $6,100.
The price of this watch is constantly changing, and its value is predicted to decrease in the future. Mickey Mouse watches range in price according to several factors, including their features, style, production year, and movement.
Gerald Genta and Rolex make only four top-selling Mickey Mouse watches. Certain watches are collectible and very rare, whereas watch collectors do not highly seek after others.
The mickey mouse watch collection is not to be a high-end watch. Since Rolex started producing Mickey Mouse watches, every Mickey Mouse watch costs under $5,000. Some claim Rolex did not produce Mickey Mouse watches.
The partnership between Rolex and Disney in the 1960s and 1970s was official, and the company invested a lot of effort and resources in the Mickey Mouse watches.
Rolex offered Mickey Mouse watches in several models, such as Oyster Date and similar designs. It had a diameter of approximately 35-36 mm and would suit men well.
Nowadays, however, these watches would appeal much more to women and watch collectors since they would be smaller and lighter. Most Mickey Mouse watches, including some Rolex models, are not collectible, but some are.
6 Most Expensive Mickey Mouse Watch
Following are some of the most expensive mickey mouse watches.
1. Gérald Genta Mickey Watches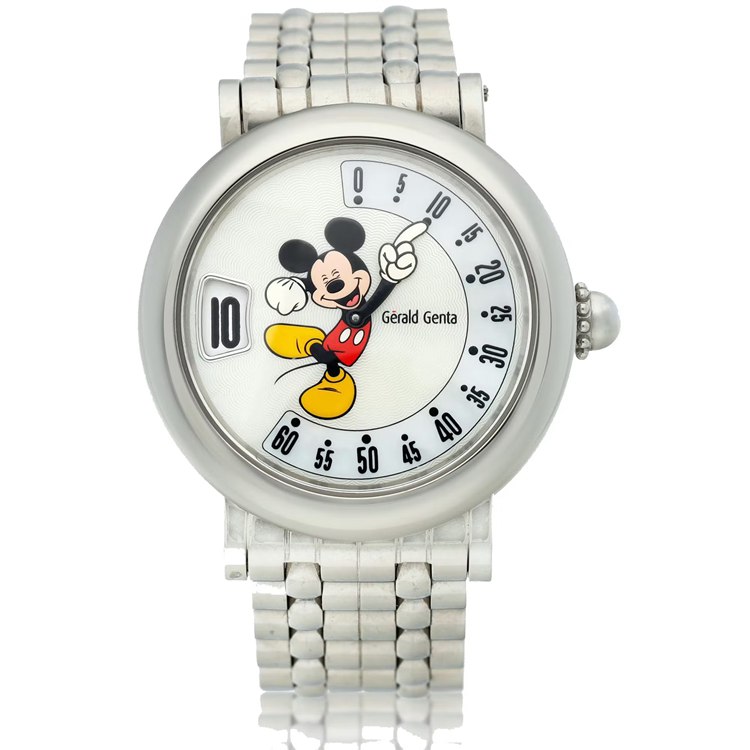 The Swiss artist and watchmaker Gérard Charles Genta was best known for his design. In addition to his eponymous line of watches, he has designed watches for other luxury watchmakers, such as Omega SA, Patek Philippe, etc.
Many of the biggest watch brands have commissioned him to design some of the most iconic models. He also made some Gerald Genta Mickey Mouse watches which gained high popularity. Mickey Mouse watches by Gerald Genta range in price from $2000 to $20000.
2. Ingersoll Mickey Watches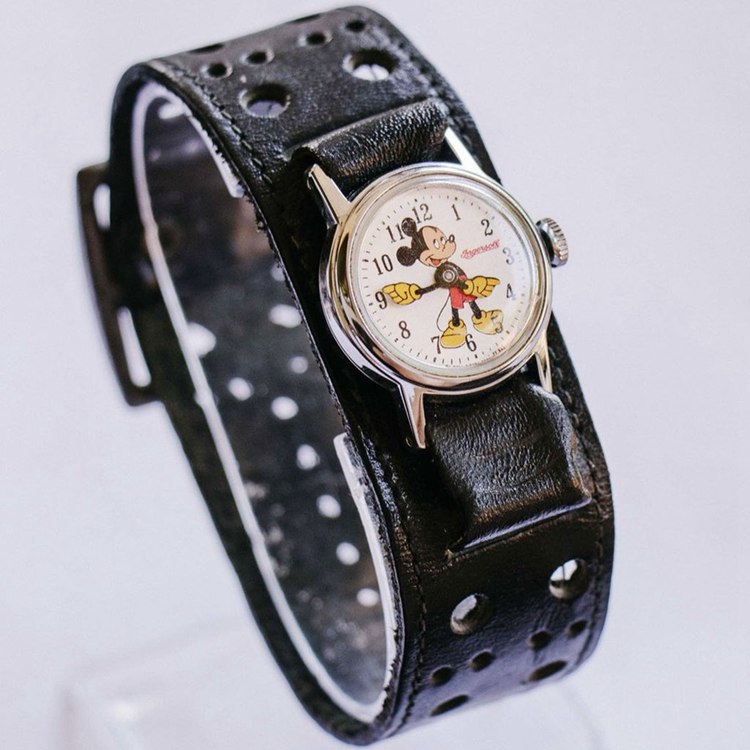 The Waterbury Clock Company introduced these watches in early 1892, and they are also known as 'Universals.' Over 8,000 watches were produced daily for Ingersoll by this company. In 1910, Ingersoll made approximately 3,500,000 watches in a year.
Watches featuring Mickey Mouse appeared for the first time in the 1930s; they have evolved into more refined versions. Make sure to get the vintage one if you want to check it out. You'll have to pay a higher price for the latest version.
3. Timex Mickey Watches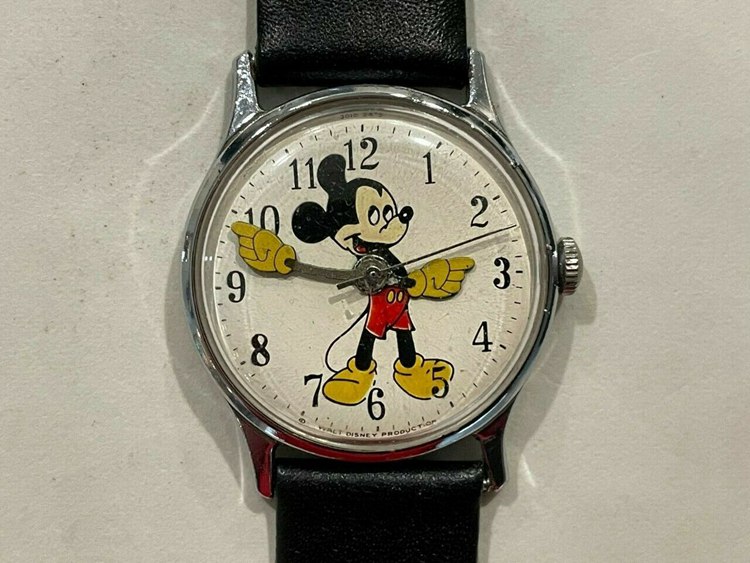 One of the biggest companies globally, Timex, has also manufactured Mickey Mouse watches in the past. However, most Mickey Mouse watches are the latest editions or made by other US time brands, such as Ingersoll.
Aside from Mickey Mouse, the latest watches by Timex also include other characters such as Pooh, Snow White, etc. The vintage Timex watches with Mickey Mouse most commonly feature mechanical movements.
4. Rolex Mickey Watches
Rolex is arguably the largest and best watch brand globally, so it doesn't need an introduction. Mickey Mouse-style dials are available for the Classic Rolex Daytona and Rolex Submariner watches ranging from $4000 to $20000.
5. Seiko Mickey Watches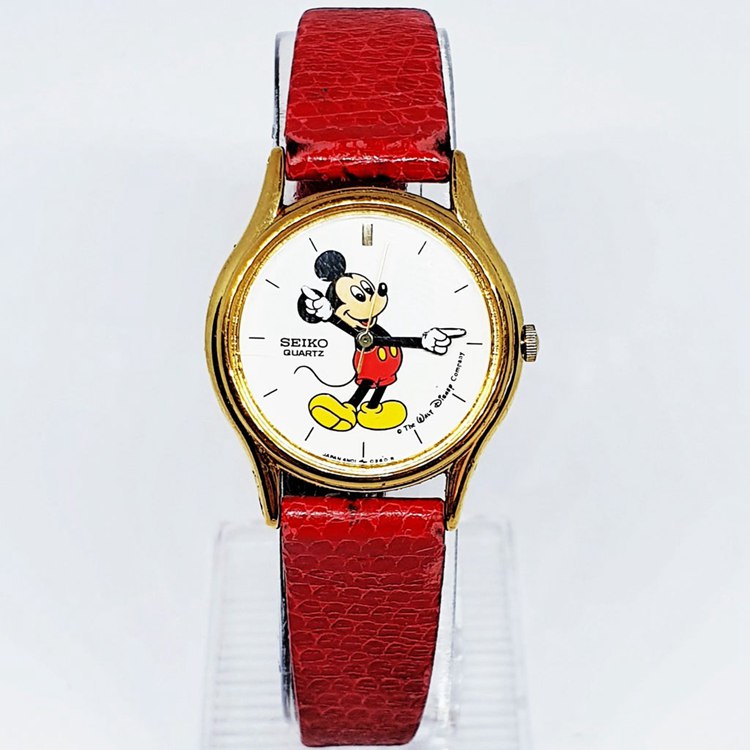 Seiko offers the most reliable Quartz movements on the market. In addition to their high accuracy, Seiko watches enjoy high durability. The company has taken on many of the watch industry's biggest players.
A variety of vintage Disney Seiko Mickey Mouse watches are available on the market. Some of the watches have Seiko's logo on their dials, and they are among the most valuable and hard to find.
In the late 80s or early 90s, these were made, and their cost ranges from $300 to $2,000. Several factors determine the price of watches, including the model, the production year, and the originality.
So, if you are in the market for a Mickey Mouse quartz watch, then Seiko would be a better option. In addition, you can find vintage Mickey Mouse Seiko watches, which include Seiko Instruments in their construction. The backs of these watches usually feature the company's logo.
Watches with these features range in price from $50 to $300 and have quartz movements with accurate timekeeping and other features. As a result of their complex mechanism, Seiko watches with the Seiko logo on dials are more expensive.
6. Lorus Mickey Watches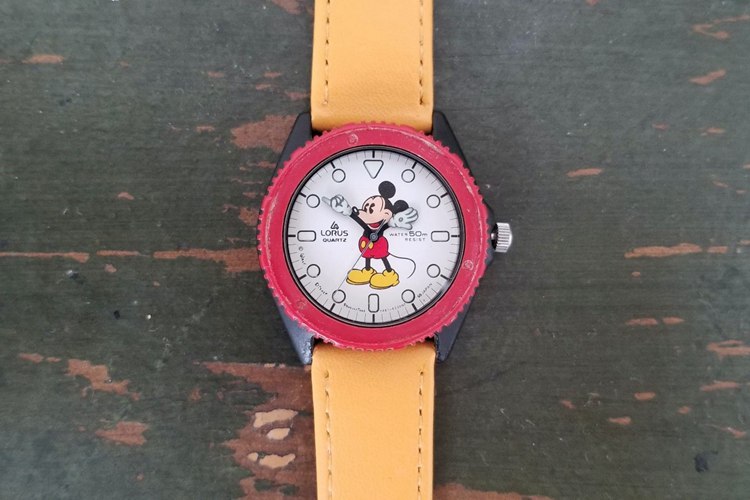 Seiko Watch Corporation markets Lorus among its other brands. Under the Lorus brand, you may find various watches such as Pulsar, Seiko watches, etc.
Since 1985, Seiko and Lorus have produced Disney watches. Music watches that feature Mickey Mouse songs are some of the fascinating watches by Lorus. There are two extra buttons on the watches that you can use to activate each song. Some watch only one button, so you can only play one Disney song.
Ensure the watch is in good working condition when buying or selling a similar watch. A second-hand moves as the song plays, returning to its original location.
How to Date a Mickey Mouse Watch?
Mickey Mouse watches were first made in 1933, costing around $3. At a 2014 auction, a real Mickey Mouse watch from 1933 sold for $6,100, a record price.
The Mickey Mouse cartoon watch shows Mickey Mouse from the side while three small Mickey Mouse figures move around him. It is unclear when the first replica appeared for the watch produced in 1933 or 1934.
It is known that replicas have been reproduced many times, most recently in 2019. It seems that the Mickey Mouse watch from 1933 has not been copied. A 1934 Mickey Mouse watch was the first to be copied. Subsequent copies did not include the 1933 watch.
We have compiled a list so you can identify your watch. Watches' ages are an essential determinant of value. When purchasing a vintage Mickey Mouse watch, you should look for these characteristics. When you find a watch that is different from what you expect, it may be duplicated or mislabeled.
1933 — Ingersoll-Waterbury created the first Mickey Mouse watch for Chicago. This first Mickey Mouse watch had a round face and a decorative bezel. There were numerals 7 and 5 outside Mickey's feet on the dial. The band featured Mickey cut-outs. A wartime surplus movement powered the watch. As a reference to the time, Mickey is wearing yellow gloves, despite the cartoon, Mickey's gloves being white in 1929 and yellow in 1936.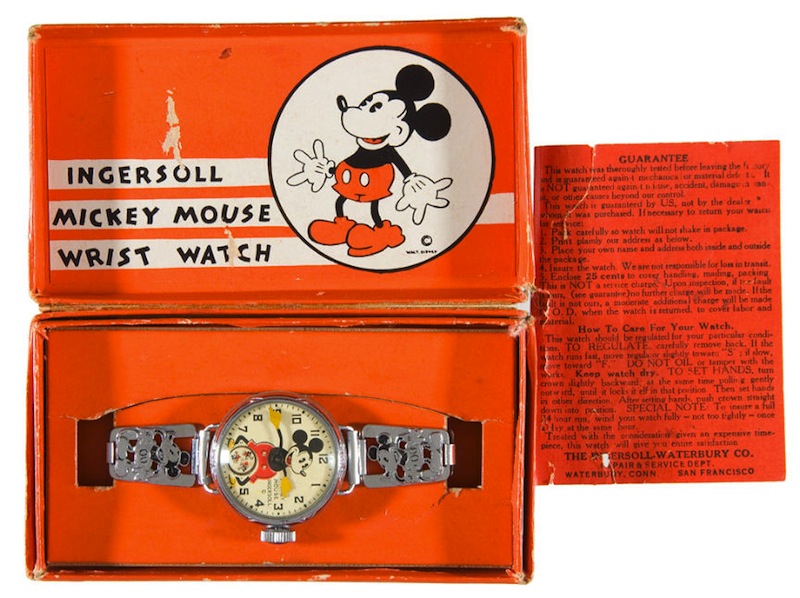 1934 — The watch and all others produced until 1937 had round cases. There appeared to be Mickey's feet either inside or outside the 7 and 5 digits on the dial.
1935 to 1937 — The dial on the Ingersoll watch had 7 and 5 under the feet. A label on the dial read "Made in the USA."
1937 — The case was rectangular and had plain sides, and it featured a single hand instead of the three Mickey Mouse figures chasing in circles.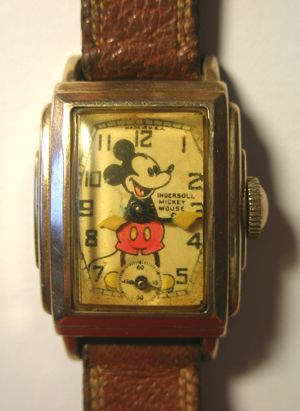 1938 to 1942 — Each long case side had five decorative notch marks.
1942 — Despite owning Ingersoll, US Time continued to use the Ingersoll trademark. The gold plating was still used in some cases until the 1960s.
1948 — The dial was made of luminous material.
1950 — The numbering system used at the time was red. Printed across the face was the word, Ingersoll.
1960s — Mickey Mouse watches from the 1960s would look different today. The dial did not have Mickey pictured on it, and it had a plain round case.
Do you own an old Mickey Mouse watch? Even if it's not functioning, it's still worth checking. Owning one can always be fun, and it is always worth a lot of money.
They come in many varieties. These watches come with an underwater version, an expensive version with rhinestones, and a new version for people who exercise.
Rarest Lorus Mickey Mouse Watch
Despite the wide variety of designs available in Lorus Mickey watches, finding them is not always easy. Vintage Musical Lorus Watch is a rare Lorus Mickey Mouse Watch that looks quite charming.
This cute vintage accessory has Mickey Mouse adorning its colorful dial as the centerpiece. It's an impressive piece of vintage Lorus musical timepieces in design and construction.
Since Lorus makes this lovely watch, it has a Japanese movement and a high level of quality. It's undoubtedly the musical feature that makes this vintage Mickey Mouse watch stand out from the rest. You can hear Disney songs while wearing this vintage timepiece.
Limited Edition Mickey Mouse Watch
The Disney – Limited Edition collection brings together combining the excitement of the iconic with the knowledge of Invicta. In addition to other integrated aspects in design, the dials of the series feature illustrations of Mickey Mouse and other Disney characters.
Each watch is exclusive and numbered. Invicta watches combine Mickey's irreverence and legacy with his innovative spirit to create truly collectible watches. The mickey mouse limited edition watches may range from a few hundred to several thousand dollars.
Conclusion
In recent years, Mickey Mouse watches have become a popular collectible. The price of these watches may not appeal to regular watch wearers, but watch collectors will feel justified in spending even more.
Despite their high price, Mickey Mouse watches have significant historical and cultural significance. The original Mickey Mouse wristwatch cost $3 in 1933. Despite its original high value, Mickey Mouse's price can vary from time to time.
The prices of watches have risen substantially since the old days when they cost $3. A constant fluctuation in this watch's price is predicted to lead to a value decline in the future.