Although the Swiss have a reputation for producing high-quality wristwatches that command the highest market value, it wasn't always so. It took pioneers like the Longines Watch Company pushing the boundaries and willing to fail for eventual success.
How did a Swiss watch overtake the American market? This detailed guide takes you on a historical journey where you'll learn how to properly identify and evaluate vintage Longines watches.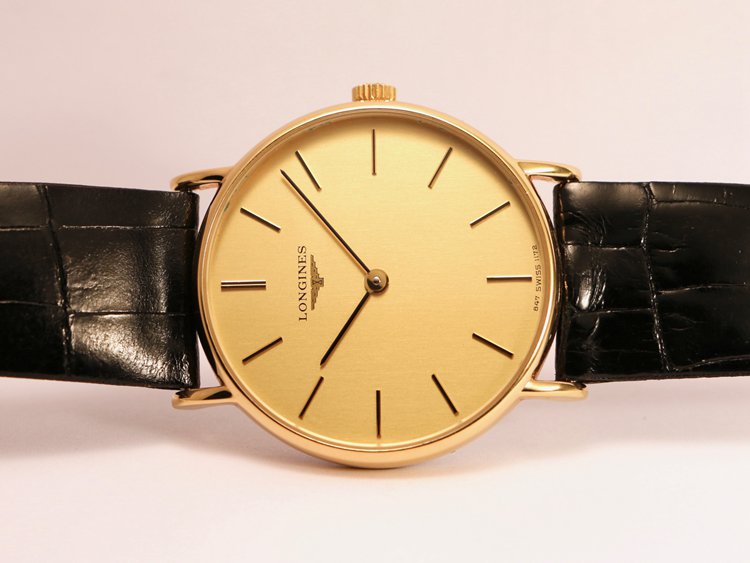 A brief history of Longines
The Longines Watch company began as a partnership between businessman banker Auguste Agassiz and lawyers Henri Raiguel and Florian Morel under the name "Raiguel Jeune and Cie" before becoming Longines in 1832 St. Imier, Switzerland.
This area was very famous for making watches in the Bernese Jura Mountains. Initially, the partners set up their business as "Comptoirs" according to the "Etablissage" system. They, however, switched to in-house production under Francillon's status quo-defying leadership.
Before we proceed, let's discuss the foreign terms to better understand the Longines Watch Company's evolution.
Who are Comptoirs?
The Comptoirs operated as the central channel for watch production, which was in charge of getting parts, trading, and marketing wristwatches.
On the other hand, Skilled Watchmakers focused on producing just one or a specific type of watch component.
Due to the environment and region's geography, the workshops were in far remote areas throughout the mountains, so they worked individually from home or in small workshops.
After gathering enough parts from merchants, the Comptoirs sent them to assembly (Etablissage) and finishing specialists. They worked well and produced high-quality watches despite passing through complicated exchanges and processes.
The Etablissage System
The Etablissage system was the dominant Swiss technique for making watches in the late 19th century. Individual merchants, workshops, families sold finished parts to companies instead of in-house production.
The system embraced the highly recognized rich Swiss-making traditions and innovations by enabling the production of quality watches. This process led to progress despite the Swiss Jura's dying economy and lack of necessary natural resources.
Early Days
Agassiz's budding firm quickly became known for well-crafted pocket watches, and his network of overseas friends helped his brand.
In 1846, his partners Raiguel and Morel retired, so Agassiz became the sole company head. He introduced his brilliant and enterprising nephew, a trained economist Ernest Francillon, into the business to manage the growing business.
Francillon was pivotal to several unique innovations that distinguished Longines from its counterparts in the watchmaking industry.
He produced the crown-wound pocket watches that overtook the popular key-wound option, so he naturally took over the company's leadership when Agassiz became weary with age.
Evolution into the Longines Brand
Now at the helm of affairs, Ernest Francillon started the seceding process of the company from the etablissage system to move towards a more advanced production method.
By 1867, he established the first factory in southern St. Imier, which finalized his plans to start mass production. The name "Longines" was a tribute to the "long meadows" surrounding the business' physical location.
In his pursuit of excellence in the Watchmaking industry, Francillon sought the expertise of Jacques David, a talented engineer, as the new technical director.
Longines Watch Company produced its first watch movement, the 20A, in its new factory following its stability. The technicians built the 20A with an anchor escapement that users could wound and set via a pendant crown.
This innovative adaption of the pendulum clock's system won Longines an award at the Paris Universal Exhibition that same year.
American influence
Due to the increasing fame of the U.S. watchmakers, Francillon sponsored David's trip to Philadelphia for the World's Fair. His mission was to get new designs and strategies from the Americans to improve the Swiss brand's watchmaking quality.
David wrote a comprehensive report about the American watchmaking business – from their factories, production process, raw materials to finished products. He also shared the very effective structure and quality control measures they implemented.
In his report, he recommended that the Swiss company change some of its methods to compete effectively with American industries. These recommendations gave Longines the edge it needed and positively influenced the Swiss watch industry.
As expected, David's revolutionary moves met with resistance from local comptoirs who felt a change in production would affect their source of income.
Eventually, they saw reason and adopted David's ideas. Thus, the evolution towards industrialization commenced.
Timekeeping for Sport
In 1878, Longines made the 20H, its first chronograph movement which was a mono-pusher with a crown-controlled three functions (start, stop, and reset) watch. The 20H was suitable for producing stopwatches used in professional sporting events.
Vintage Longines Stopwatch Chronograph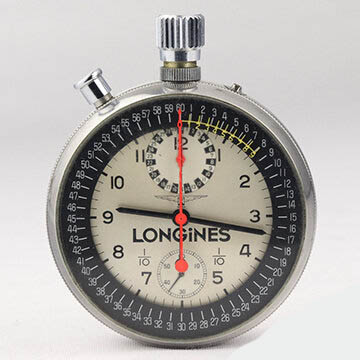 This feat marked the recognition of Longines as a pioneer in timing for equestrian sports such as horse racing and jump. By 1886, the company became a known supplier of timing equipment for sporting outfits in New York.
Trademarking the Longines Logo
One of the cons that came with the popularity of the Longines brand was counterfeiters.
People wanted the quality of the Longines watches at reduced costs, and with demand comes a corresponding supply. Counterfeiters sold cheaply made watches as original Longines products and made high sales.
Evolution of Longines Logo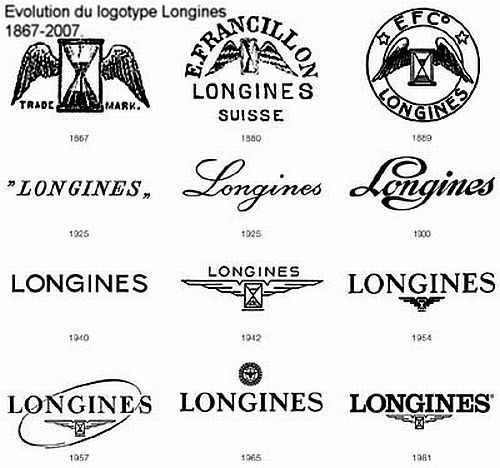 The fake watches were directly stealing profits from Francillon and damaging the company's reputation, so he decided to trademark the Longines name in 1880 and added the winged hourglass logo in 1889.
By 1893, he registered them with the United Nations agency, World Intellectual Property Organization (WIPO).
A fun fact – Longines is the oldest unchanged name brand registered with the WIPO.
Now let's talk about the different models that were so good; counterfeiters had to get a piece.
Historic Longines Wristwatches
Below are some of the company's most famous historic wristwatches. Studying these different models is the first step in identifying vintage Longines Watches.
The Weems Second Setting Watch (1927)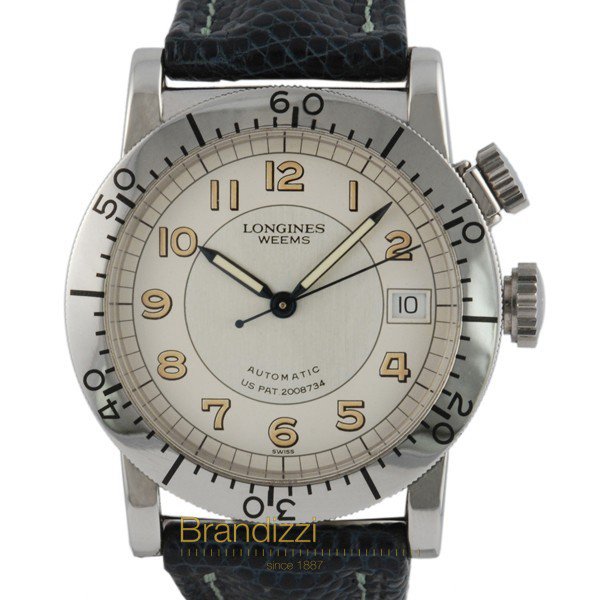 Accurate timing was necessary for the Navy as variations could cause a disaster.
American navy officer Phillip Van Horn Weems teamed up with Longines to create specialized instruments for naval officers to prevent such accidents. They created the central rotating second dial Weems Second-Setting Watch by 1927.
The dial follows a GMT radio signal to guarantee accurate navigation. Its large size made it popular among pilots, so Longines patented it in 1935 to deter counterfeiters from wreaking havoc.
The Lindbergh Hour Angle Watch (1931)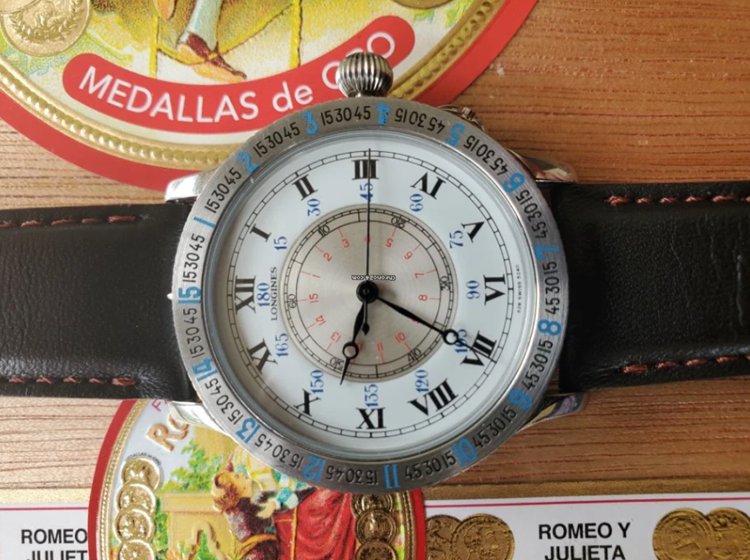 In 1927, renowned aviator Charles Lindbergh used a Longines watch to navigate his acclaimed nonstop trans-Atlantic solo flight. He then approached Longines with new ideas for a specialized pilot's wristwatch, copying the Weems Model as a blueprint.
The new design included a sextant and nautical almanac that calculated precise geographical location with longitude using the dial and bezel markers.
Although the Lindbergh watch was famous among professional and amateur pilots, the general public became interested later.
The Conquest Watch Collection (1960 – 1969)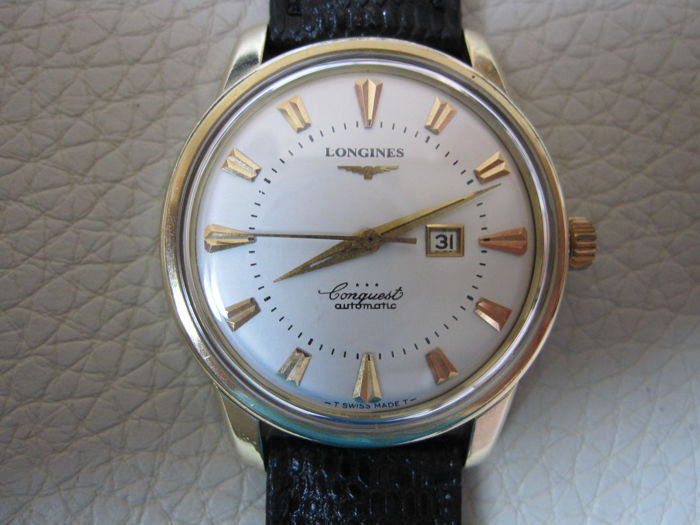 The Conquest Watch Collection was Longines' first attempt at developing distinctive Watches with modern-day aesthetics. It featured waterproof cases housing automatic movements with sleek hour markers, a shiny champagne dial, and exotic straps.
Flagship Watch Collection (1957)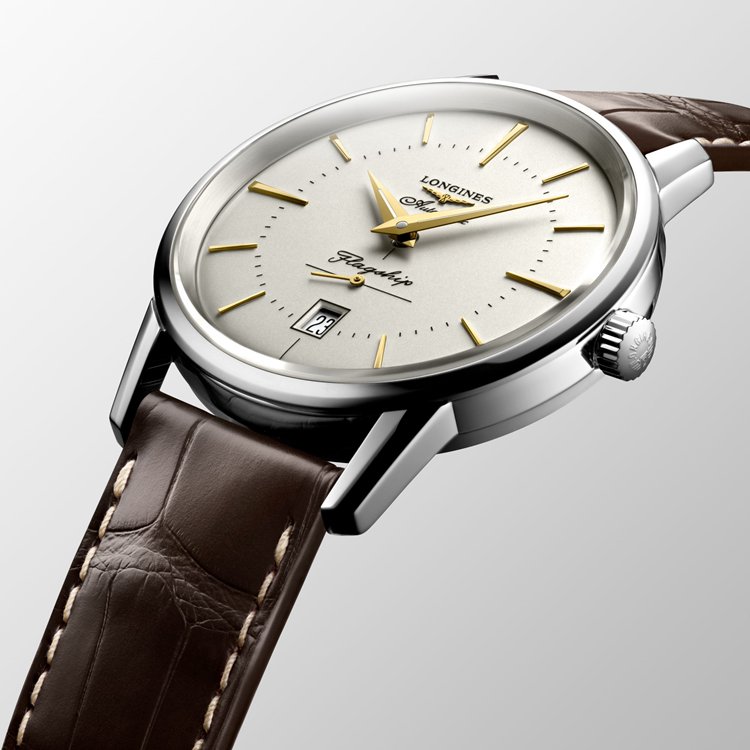 The Flagship Watch Collection was Longines' second entry into the modern exotic watches market.
Like the Conquest design, Flagship Watches were minimalist style designs. They include manually-wound, high-precision chronograph movements, like professional sporting equipment.
It also featured uncluttered dials with soft dauphine hands and gentle shimmer. Flagship Watches came only in solid steel or gold at first, then in colors later. You can get a vintage Longines Flagship for about £989.
Longines LCD Watch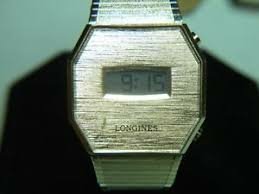 The year 1969 marked the introduction of quartz into the watch industry. This material delivered accurate time-telling at a cheap cost causing the Swiss industry to nosedive economically.
The switch to quartz forced many Swiss watch companies to abandon the production of mechanical movements and ultimately leave the market.
However, Longines managed to turn the situation around by embracing the use of quartz while producing quality timepieces. It became one of the first Swiss watchmaking brands to develop the "Ultra Quartz" in 1969.
In 1972, it released the first digital watch – the Longines LCD, and it became an instant success due to its collaboration with the electronic tech giant Texas Instruments Inc.
The Feuille d'Or Watch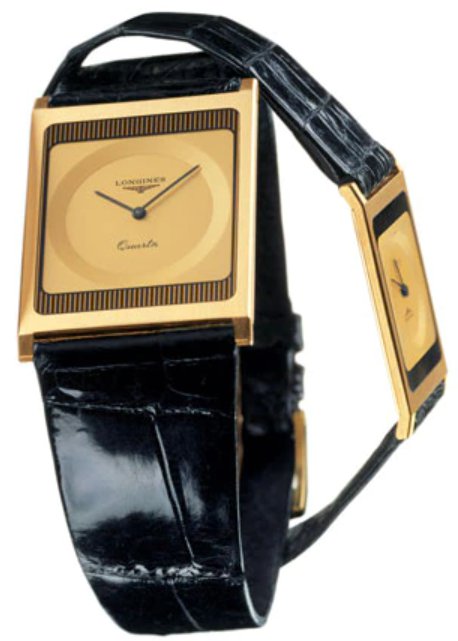 The 1970s era for Longines was solely for developing ultra-thin calibers, one of which was the Feuille d'Or (Gold Leaf), a milestone for the company in 1979. The watch was 1.98mm thick, and the very flat quartz movement almost disappeared when you viewed it from within.
This high-tech piece featured a gold, simple, analog dial with chic leather straps, and it was the first watch ever produced that was thinner than 2mm. Longines toed this line and produced more elegant ultra-thin watches like the Agassiz line.
How do you attribute a cost to such a "priceless" orifice? Certain factors influence the pricing of a vintage item, including Longines Watches. Let's review them next.
How to Identify a Vintage Longines Wristwatch
You can identify vintage Longines watches with unique design, style, material, age, and serial numbers.
Serial Number
Artisans used Serial Numbers to track their productions, and it's handy today. You can leverage this fact to get detailed information and confirm the authenticity of your vintage Longines watch.
This brand has a 5-8 digits sequential Serial Number on its movements so, all you have to do is enter the serial number on their website and wait for a confirmation message.
Longines would require the following information before extracting information from the archives;
Serial Number and Pictures of the Dial
Back Case,
Movement (optional).
Check the back case of your watch for the serial number, then open it to snap your movement. If it's stuck, don't force it open because movement photos are optional.
Here's a comprehensive table on vintage Longines Watches' Serial Numbers (1867 – 1969).
| | |
| --- | --- |
| Year | Serial Number |
| 1867-1877 | 1 – 142,850 |
| 1878-1897 | 164,275 – 916,098 |
| 1898-1908 | 957,764 – 2,100,000 |
| 1909-1919 | 2,250,000 – 3,750,000 |
| 1920-1929 | 3,815,000 – 4,886,000 |
| 1930-1939 | 4,959,000 – 5,850,000 |
| 1940-1949 | 5,950,000 – 7,713,000 |
| 1950-1959 | 7,915,000 – 10,885,000 |
| 1960-1969 | 11,211,000 – 15,000,000 |
Style and Material
The design and materials of any vintage timepiece indicate the evolution of its brand, and it's no different with Longines. The oldest model is the 20A, followed by the 20H, until the Feuilles d'Or.
Sometimes, the age and longevity of the model become irrelevant to value because a newer model has higher quality materials. That's why the Feuilles d'Or sells for £500 – £650, and 20H Chronograph starts bidding at £5,000.
Age and Production Year
One sure way to identify a vintage Longines watch is by assessing the age through the production year.
You can crosscheck with a certificate of authenticity or rely on your history knowledge. Materials are commensurate with years so, ensure the materials correspond with the production era.
Anything otherwise should make you skeptical.
Valuation of Vintage Longines Watches
The ballpark cost of a vintage Longines Watch is about £500 – £5,000, depending on typical factors like Age, Design, Rarity, Condition, and Materials. Its Swiss heritage is a huge plus because of the nation's reputation for high-caliber watches.
Age and Rarity
About 50 years and less, recent vintage Longines cost significantly less than older ones. That's why a 1984 Caliber 990 has a £584 asking price, whereas, in 1954, 14K Mystery sells for £1275. Age and Rarity are intertwined because the older a model, the less likely its availability.
Design and Material
Swiss Watches generally have a reputation for using high-quality materials, and so does Longines. The makers handcrafted every brand's model guaranteeing consumers durable timepieces.
The overall price for vintage Longines watches differs based on the above factors – age, material, design, and Rarity.
The Longines Caliber sells for about $775, a friendly price considering its outstanding features.
On the other hand, Weems is pricey as one of the oldest and rarest pieces around and ranges from $3,100 to $4,100. Then, the elegant Lindbergh watch ranges between $1,600 to $5,318, and the Conquest Collection can retail between $1,200 to $5,000.
Conclusion
The Longines brand is renowned for its impeccable delivery in creating watches, and its products boast high performance and longevity. They're proof of classical elegance and artistry in the early watchmaking industry. Owning one of these pieces is an investment so take caution in identifying and valuing a vintage Longines watch.
Here's a quick recap;
Date your watch with the serial number on the back case
Older vintage Longines cost more than newer ones
Longines watches use the highest quality materials, so look out for cheap reproductions.