We sometimes joke that watch collecting is an activity for the rich. However, if we're being honest, the truth is that anyone can collect vintage and antique watches. You only need to know where to look and what to choose. There are incredibly affordable vintage timepieces that can be collected with the belief that they'd appreciate the most in a few years. The Wittnauer watch brand is one.
If you're an avid watch collector without a Wittnauer piece in your collection, It's high time you checked this brand's vintage pieces out.
Hold Up! Are you about to say that you're not familiar with the brand? Well, you're not alone. Many people, especially those in their 30s and younger, know little or nothing about this brand.
Left to us, Wittnauer would be included in history lessons as a watch brand that played an essential role in the evolution of watchmaking in North America. At least, this way, everyone would be a bit familiar with the brand.
A Brief Introduction to Wittnauer Watch Brand
Wittnauer is one of America's pioneering watch brands. Like a couple of other watch brands in America, it was founded by an immigrant in New York in 1885. This Swiss immigrant in question was a young skilled, and experienced watchmaker named Albert Wittnauer.
Wittnauer watches are highly sought-after, affordable, and durable. These highly-regarded vintage timepieces have lasted a lifetime due to their high-quality engineering fits and premium materials used for the straps. From the onset, the Wittnauer brand has been all about movement manufacturing by incorporating elements of Swiss watch designs.
Albert Wittnauer is the first of many Wittnauer to begin the production of relevant timing instruments. During world war I, the company produced multiple timepieces for the American aviation units. Wittnauer is one of the first watch manufacturers to create units of timepieces for military purposes. In addition, they were recognized by the American Expeditionary Force Servicemen during the world war and also by the United States Olympic Committee.
If you're still in doubt about Wittnauer's roles in the early days, you can ask your grandparents to tell you their fondest memories of the Wittnauer watches. We know of a few older adults in their 70s, 80s, and 90s who have always worn a Wittnauer watch.
As we progress, we will let you in on the history and evolution of Wittnauer watches. Expect to read about some quintessential vintage Wittnauer watches, how to identify the original copies of these watches, and we'll discuss how to assess the value of vintage Wittnauer timepieces.
History of Wittnauer Watch
Sixteen-year-old Albert Wittnauer arrived in New York City from Switzerland to serve his brother-in-law, Eugene Robert, a Swiss watch importer. This was in 1872.
Robert had a company at the time that was an active importer of Swiss movements and watches like Longines. Although he imported quality products, they were too expensive for ordinary American to afford. Not to mention that they were heavily taxed at the time.
After serving under Robert's company for about six years, Wittnauer finally had an idea to boost their facility's productivity. His golden idea was to assemble locally produced watch parts to create affordable wristwatches. This way, he was still offering watches of the same quality but at lower prices.
Fast forward to 1880, Wittnauer finally delved into the American watch industry on his own with his original collection of watches produced under his name—Wittnauer. The move was a successful one. By 1888, Albert bought over Eugene's import company and changed the name to A. Wittnauer Company.
For the next twelve years, the company gradually gained recognition for its affordable line of original watches. During this time, Albert's brothers, Louis and Emile Wittnauer, also migrated to New York, U.S.
A few years into the twentieth century, Albert Wittnauer and his brothers, unfortunately, kicked the bucket. Martha Wittnauer, their sister, then inherited the company.
This takeover was a historic feat, as no other woman before Martha Wittnauer had ever served as Chief Executive Officer of a watch company. Martha headed the company from 1916 to 1936. Over the twenty years she was in charge, Martha improved the company's relationship with the aviation sector and even the military. Wittnauer was also active in the sports industry. The Wittnauer family stopped being in charge of the Wittnauer watch business in 1936 following the sale of the company to the Hella Delta Company.
Evolution of the Wittnauer Watch Brand
The first set of Wittnauer watches was manufactured in Geneva, Switzerland. The parts of the watches satisfied all the functional durability needs of a regular American watch user. Its affordable price gave it an edge over a couple of imported expensive Swiss watches.
When Albert started selling his original collection of Wittnauer watches, the parent company was still distributing the imported Swiss watches. When he finally took over the company, the brand published its first promotional ad. The advert appeared in the Jeweler's weekly. It explained that the company has plain and complex watches for sale. It urged potential customers to patronize the brand for repeating watches and quality timepieces.
The company had to change location in 1899 due to its heightened success. It outgrew its initial store on Maiden Lane and moved to the tenth floor of a Skyscraper on the same Maiden Lane. A few years later, the company expanded and moved operations to West 36th Street. At the new location, Wittnauer's subsidiary, the Brighton Watch Case brand, had an office in the building. The Brighton company was in charge of manufacturing platinum, gold-plated, and diamond-studded cases for the company's Swiss watches.
Wittnauer watches became an essential tool for the U.S aviation units during the first World War. By 1918, the company, under new management, created the world's first shockproof, anti-magnetic, and waterproof watch known as "The Wittnauer All-Proof." The military tested this watch through different criteria.
First, it was thrown from the highest floor of the Empire State building; then, it was taken to the sweltering Amazonian jungles. Afterward, it was brought up to the highest point of the Alps, Andes, and the Himalayas. All these were done to prove that Wittnauer All-Proof was what the Wittnauer brand claimed.
At the start of the Second World War, this watch was recalled to be used by notable military units.
In 1926, A. Wittnauer Company was selected to provide America's first radio network with its official timing for broadcasting. A year later, the company started producing aviation navigational watches. These were used as dashboard clocks and aviation instruments but the U.S National Aeronautical Association.
Wittnauer wristwatches and timepieces also served Captain Charles B.D Collyer and John Henry Mears when they navigated the globe through air and sea in less than a month.
A few years later, in 1932, Amelia Earhart equipped her Lockheed Vega-5B monoplane with a Wittnauer timepiece. She set the record of being the first woman to fly alone over the Atlantic.
The Wittnauer family rule ended in 1936, and the Hella Deltah Company picked up the reins. The pearl-producing company successfully guided the Wittnauer brands to new heights and accomplishments. Some achievements include producing a slimmer, more durable self-winding watch in 1949, the brand's initial electric watch in 1957, quartz analog watches in 1979.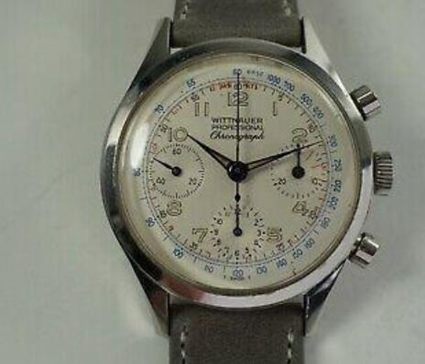 By 1991, the Wittnauer watch was fondly referred to as the watchmaker's watch due to its premium and affordable qualities. Today, the Wittnauer brand is sadly a dormant subsidiary of the Bulova Corporation.
Confirming the Authenticity of Wittnauer Watches
Identifying a Wittnauer watch is not difficult. It's even a straightforward process if you know what to check for immediately. For this piece, we'll be focusing on identifying the automatic and wind-up versions and contemporary models.
A DIY inspection of a vintage watch has to do with examining the movement and the dial of the watch. The movement describes the mechanism that runs and regulates the timepiece's functions. The most difficult vintage Wittnauer pieces to identify are the contemporary models. This is because they are mainly tightly sealed, hence not easy to open up for inspection.
The latest versions of Wittnauers are better examined by a skilled and experienced watchmaker or a collector with previous knowledge on how to perform this inspection.
Check The Dial
Use a magnifying glass or a Jeweler's loupe to assess the dial closely. All Wittnauer timepieces have the brand name embossed or stamped on the dial. If you're having difficulty locating the name, check under the 12.
The dial can also help you differentiate between an automatic self-winding watch and a manual model. If you look closely at the dial, just above the 6 or beneath the Wittnauer name found under the 12, you may see the phrase "automatic." If you do, that means that model is an automatic version. However, if you don't, the model is a manual-winding design.
Check the Back Cases
Not all Wittnauer wrist watches have the company's name embossed on the back of the cases, especially the antique models. It wasn't until the 1960s that the company embraced this.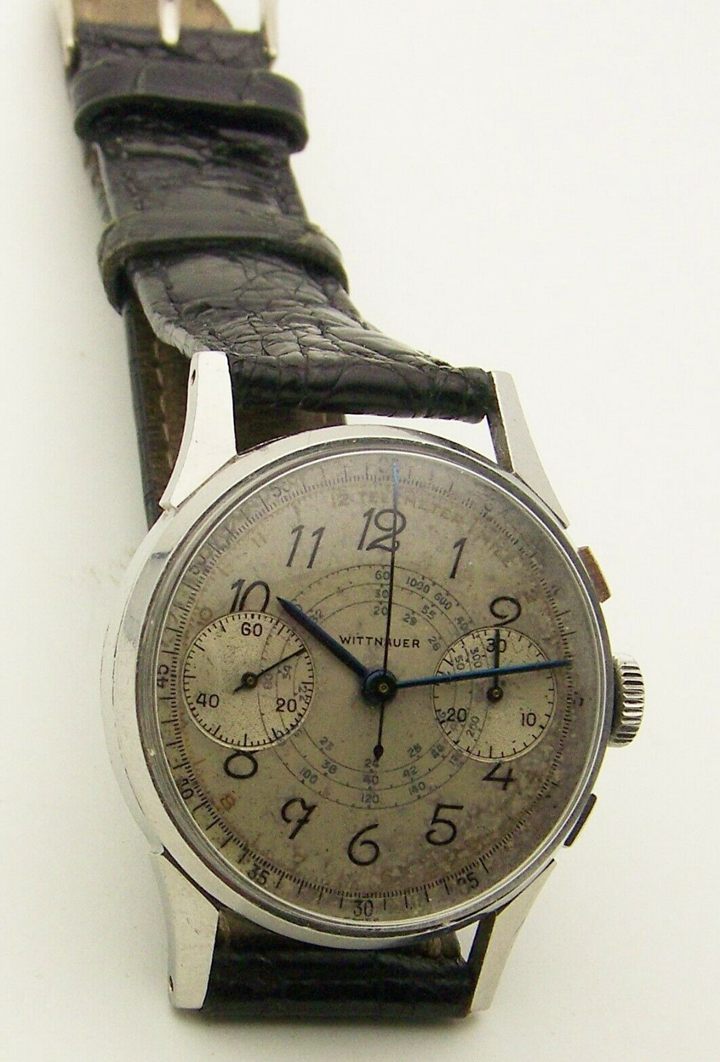 Examine the Movement
An authentic Wittnauer ought to have the brand's name embossed on the movement. Other vital information that should be engraved on the movement includes the watch's serial number. With an excellent vintage Wittnauer watch guide, you would be able to ascertain whether or not the engraved serial number is available on the company's list of inventions.
Open Up The Case
Not all vintage Wittnauer pieces can be opened up for internal examination. If you open up the back of your collected Wittnauer watches, it's easier to identify the engravings. If you have a snap-down case back, pry it open with a watchmaker's tool known as the case blade. In contrast, if you have screwed down vintage Wittnauer watches, it's best to check for the Longines Wittnauer Watch Co engraved inside the case back.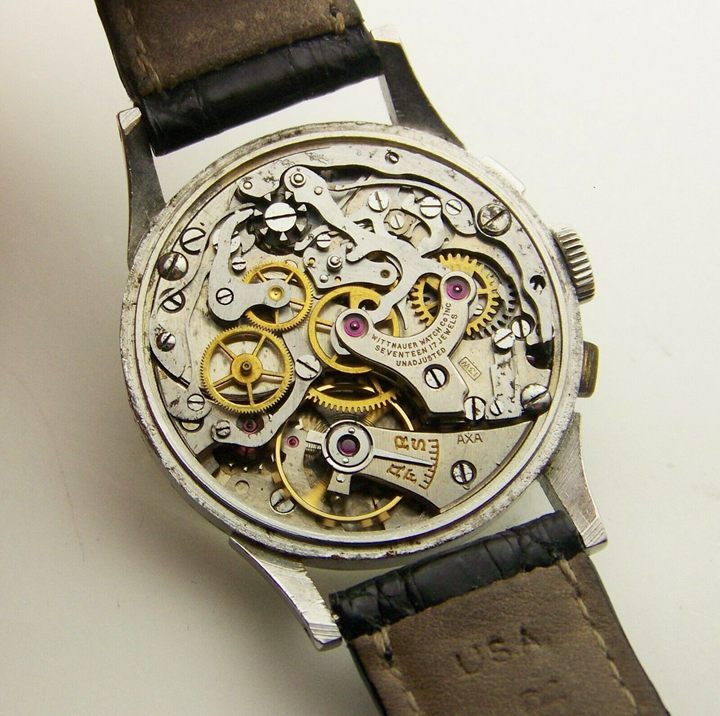 Identifying Contemporary Models
These automatic watches mostly have a transparent back case that reveals the watch's movement. To confirm your contemporary model is an automatic piece, check for a half-moon disc on the movement. The Wittnauer name must also be stamped on the disc.
Popular Vintage Wittnauer Models
Wittnauer 7004A Chronograph
This is one of the highest-selling Wittnauer pieces manufactured during the mid-1900s. It has a 40mm steel case that makes it look modern. It is also fitted with burgundy bezels. In terms of value and aesthetics, the Wittnauer 7004a is worth your dime.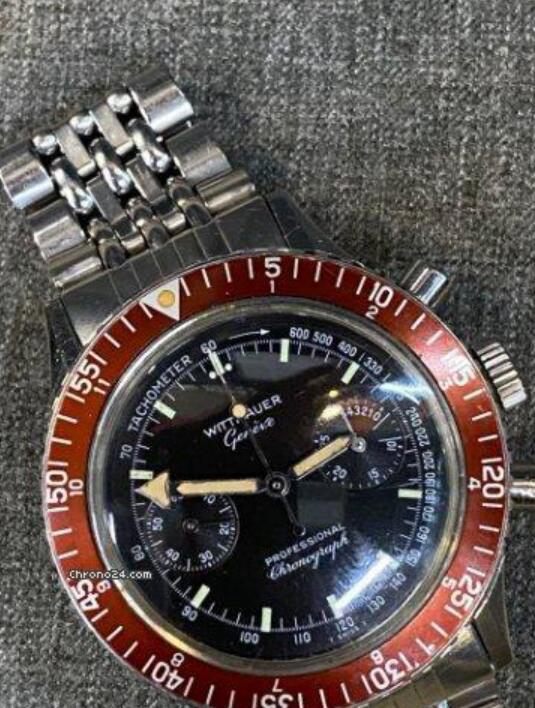 Wittnauer 235T Watch
In the past decade, the Wittnauer 235T has become a sought-after design. This in-demand began soon after collectors discovered its relationship with NASA activities in the 1900s. Yeah! The 235t was screened to be used on Apollo 11. However, it lost out to the Omega Speedmaster. Regardless, it is still a vital part of space history.
The Wittnauer 235T features a thick 36mm casing, sports the highly rated Valjoux 72 movement, and uses a uniquely crafted dial.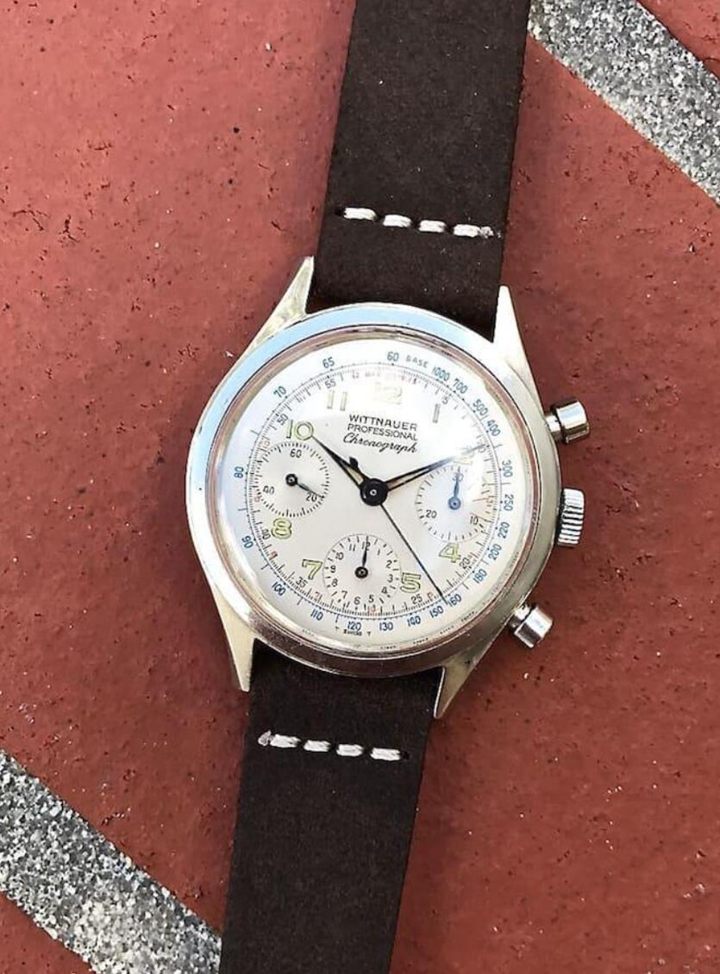 Wittnauer Futurama 1000
This is an unusual Wittnauer piece produced in 1970. The Futurama 1000 was inspired by the Swiss ETA 2784 timepiece. It has a rectangular-shaped gold-plated case that sports curved edges along one side and straight edges along the other side.
This piece can best be described as a "weird" or "brilliant" design, depending on who is assessing it. We wonder if future designs of modern watches will ever use this design.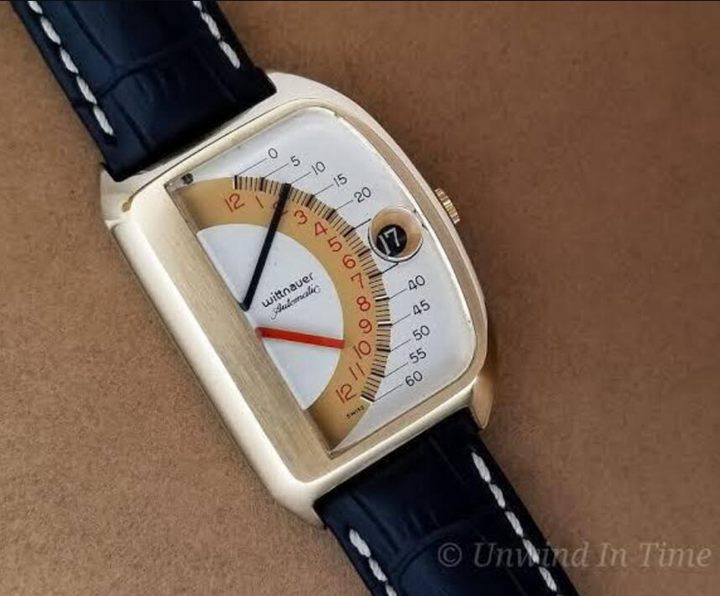 Wittnauer All-Proof
The Wittnauer watch brand pulled all its resources to create this masterpiece. The All-Proof chronograph is water-proof, shock-proof, and anti-magnetic. It holds a solid place in history for its role in military missions during the first and second World Wars.
One of the coolest facts about this timepiece that we're always eager to share is that it survived a crash on Jimmie Mattern's wrist in 1933. It even worked after Mattern had to swim for minutes in a river after crashing. At the time, Mattern's aviation mission was an attempt to circumnavigate the world in an aircraft.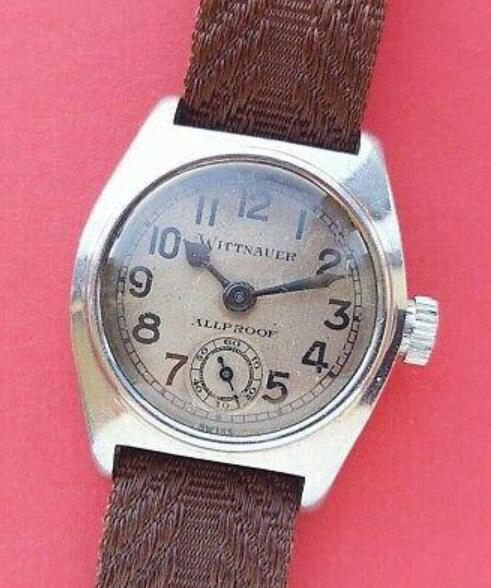 Assessing the Value of Vintage Wittnauer Watches
Antique and vintage Wittnauer watches could be valuable or worth a few pennies. The final judgment depends on the weird combination of manufacturer, material, rarity or provenance, age, and condition of the piece.
Jeffrey Hess, a famous vintage watch expert, once said that all watches have value, regardless of whether they were functional at the moment or not. Not a lot of people agree with this statement. We believe there's no standard formula to determine which old watches are valuable or collectible.
Age of watch
The first original likeness of Wittnauer was manufactured in the late 1880s. If you have a watch in this collection, know that it is an antique that would be priced in the high range. Original Antique and vintage watches are often collected for their value, especially when it is possible to pin down their age.
To determine a Wittnauer's age, check for the watch's serial number (found in the thornback case of the watch). If your vintage Wittnauer has a serial number, you'll consult an online Wittnauer reference guide to confirm which year the watch was created. If your Wittnauer doesn't have a serial number, you can examine the Movement style and construction of the h.
If you're confused about what to check out, you could hire a professional watch appraiser to determine the age, watch's age, and probable value of the online sites where you can find reputable appraisers is Worthy.
Material Used
Wittnauer watches are often made from leather straps and steel cases. However, the brand had some luxury products produced with gold cases or embedded with diamond studs. Whichever material can be found on your watch determines whether its value would be on the high side or not. There is a whole range of metals used for making watches like titanium, silver, stainless steel, etc.
Often, the overall worth of a vintage Wittnauer depends on how valuable the material is. Although this doesn't always work, you could have a gold-plated version of a Wittnauer and still get outsold by a platinum-plated model.
Condition of the Wittnauer
The condition of antique and vintage watches determines just how valuable the timepiece would be. Imperfections like cracks, breaks, dents, scratches, and non-functionality can lower the Wittnauer's value.
The control of an antique watch encompasses its aesthetics and functionality. If both are perfect, then the antique is guaranteed to be valuable. Except, there's a low demand for it.
Rarity
There are different models of the Wittnauer watch. Each model was produced in varying numbers for units. The limited antique models are worth more than mass-produced designs.
Provenance
Dozens of celebrities and dignitaries have owned Wittnauer watches over the years. A watch's provenance refers to the series of owners it has had since it was manufactured to this day.
Provenance is even sometimes used to trace a watch's origin, history, and originality. If a Wittnauer watch has been owned by a VVIP and is still in premium condition, it could add to its value. For example, the watch worn by Amelia (the first woman to fly across the Atlantic) cannot be sold at the same price as regular vintage watches. This piece in itself is a piece of history
Emotional Attachments
Sentiments sometimes play a critical role in determining the value of a vintage timepiece. A current vintage Wittnauer owner can choose to place a value on a watch based on the role it has played in their lives. For example, if the watch has been passed down from generation to generation, or if a famous ancestor owned it.
Here are a few factors that could diminish the value of an antique Wittnauer watch.
Low demand for the model
Poor condition
Inferior materials
Poor restoration
Estimating the Worth of a Vintage Wittnauer Watch
Once you've got all the helpful information about your vintage Wittnauer timepiece, you can begin to consult materials which would help estimate its value.
We recommend you check multiple online and physical sources and compare the available prices of similar Wittnauer Models. If you come across any price that is wildly different from the majority of prices, it's best you ignore it.
One of the best online platforms to compare the prices of vintage watches like Wittnauer is Chron24. The site hosts hundreds of collectors and retailers from across the globe. You could also list your Wittnauer piece here.
To avoid mistakes while comparing prices yourself, especially if the Wittnauer piece seems valuable, we propose you contact a jeweler or auction house with experience in vintage Wittnauer appraisal to be at least 80 percent sure.
Helpful Tips To Manage Your Vintage Wittnauer Watches
It would be unreasonable to purchase a vintage Wittnauer watch in good condition and let it get damaged in your care. Maintaining your vintage watch collection is vital. Different elements like shocks, dirt, dust, and moisture can damage vintage watches. You are the only one that can save your vintage chronographs from these enemies.
Make sure you regularly wind your timepieces at least once a month. Apply lubricants if needed. Never apply any form of soap or moisture when cleaning these historical items. Service regularly and have a skilled watchmaker on call for other complex needs.
In all you do, remember that these watches have survived for decades because someone wisely maintained them. Try to keep them moving ideally, so you can also be praised by their subsequent owners.
Last Words
Vintage Wittnauer watches may not seem like significant investments at the moment. However, you would enjoy the benefits of owning one of these pieces in a few years.
Have fun exploring vintage watch marketplaces as you search around for the vintage Wittnauer that suits your personality.