Vintage watches are luxurious accessories. They can indicate finesse, class, and sophistication. Made with high-quality materials and hand-crafted techniques. They are more than just a timekeeping device; they are a work of art.
You can own and display something unique. Something that speaks to your soul and shows the world who you really are and what you stand for. They are also a great investment. If you are thinking about acquiring one or starting collecting, here is a guide for you.
History of Wittnauer Watches
Wittnauer watches were born in America, but they have roots in Switzerland. Built with long-standing traditions and techniques as well as inspired by the luxury and style of the late XIX century, the watches are famous for their durability and dependability.
Albert Wittnauer came to the USA in 1872 at the age of 16, worked for his brother-in-law in a Swiss-importing business, then eventually started his own company, which grew into a successful one.
Albert identified an important opportunity in the US market: There was an opening for less-expensive Swiss pocket watches.
As he was already importing other brands, it was not a big of a stretch to add his own models to the company's catalog. In time, they started to evolve and move from the economic models to high-sophisticated timepieces.
At the turn of the century, Wittnauer started working with the Navy. The Navy was testing the watches' aviation capabilities. This was his big break. This early involvement was decisive and meant that Wittnauer was intertwined with the aviation industry.
After Albert died in 1916, his sister Martha took over the company, becoming the first woman watchmaker CEO.
During World War I, they supplied military wristwatches and precision navigational devices to American Expeditionary Forces and an aircraft clock to the forerunner of the U.S. Army Air Corps.
Throughout the next 40 decades, Wittnauer continued to produce great, beautiful, and dependable watches and cemented themselves as one of the world's biggest brands.
Most Iconic Wittnauer Models
While it is impossible to list all their models throughout history, here we list some of the brand's most iconic and valuable models:
Wittnauer Allproof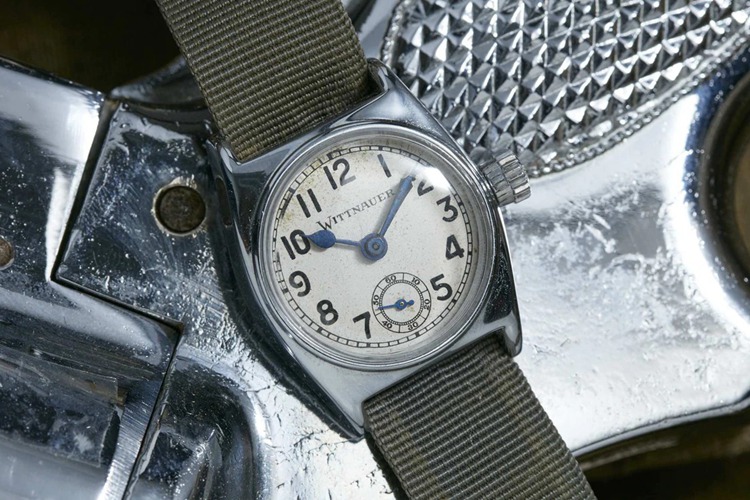 This watch was marketed with a bold claim: "dropped 3400 feet from an airplane – exposed to rain for 30 hours and still running perfectly". Hence, the AllProof. (Note that you can find it under different spellings. It can be seen as "AllProof" or "All-Proof").
A cool fact about the history of this particular watch is that Jimmie Mattern, one of the early birds of aviation, was wearing the AllProof when he tried to circumnavigate the globe in an airplane in 1933. The watch survived a crash landing and was on Mattern's wrist when he had to swim for his life in a river. Buzz Aldrin famously wore Mattern's watch during the Gemini 8 mission.
This is a watch that is famous not only because of its design but also for its history.
Wittnauer Futurama 1000
Looking for an unusual watch that will quickly become an icebreaker in your encounters? Then the Wittnauer Futurama 1000, from 1970, is the one for you. It has a most distinct shape. One straight side, and the other, a gentle arc.
A full-on reimagination of the wristwatch by Wittnauer. Is it gorgeous? Hideous? Well, it depends on your taste. This is somewhat of a rare watch, so if you find it, you will have to be willing to match its price tag. Being such a unique and iconic addition, it is totally worth it.
Wittnauer 242T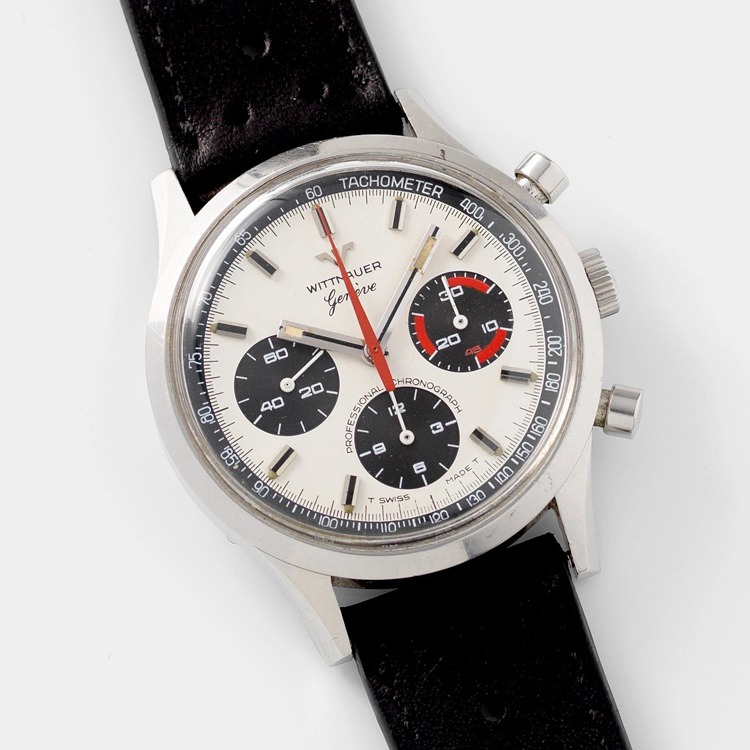 This one is a special 242T. Officially called 242T-7004B World-Time Chronograph, this piece has a 24-hour indication and a world time indicator, represented by the names of many cities on its rotating black bezel.
You may notice that some of the names are now unused names, like Bombay and Calcutta. It instantly dates this watch back to the 1960s and gives it all the charm.
Wittnauer Professional Chronograph 242T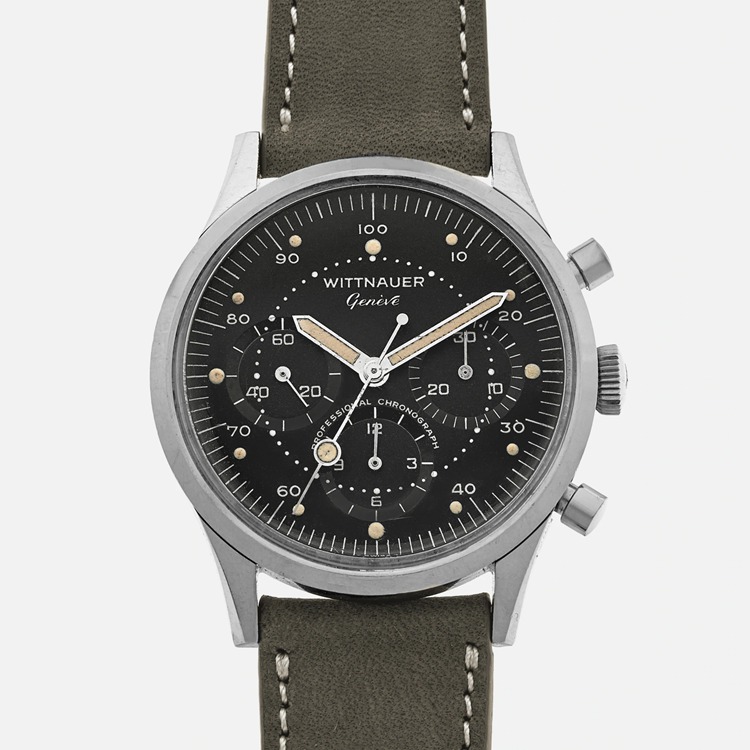 The 242T has it all: Charm. Story. Lineage. Some claim it should be up there amongst other great chronographs of the 1960s.
This one was probably submitted to NASA for consideration in the Apollo space program. They subjected the watches to rigorous trials to push them to the limit of endurance.
One particular feature stands out in this piece. Something useful for aviation, but rare in watches, which makes it unique. The 24-hour day is broken into 10 decimal hours, composed of 100 decimal minutes, which are each then composed of 100 decimal seconds. Truly amazing and special.
How to Determine the Watch's Value?
In case you got lucky enough to inherit a watch, one that has been passed down through a few generations, you could have something really valuable in your hands. Of course, you can keep it. The timepiece could have a lot of emotional value. It could have an important family story.
But if you are not a watch collector or enthusiast and want to sell it, it could be difficult to understand the piece's value. So, if such an heirloom has found your way, here is a quick guide to where to look and what to look for to gauge its value of it.
First of all, start with Google. This is almost a non-advice these days but start on Google Images. Search any combination of words that appear in the dial and other details that may be pertinent, such as when it was acquired.
For example, searching "Wittnauer watch" would give many results; too many (over 2 million!) Adding the word "chronograph" would bring you much closer (just about 1 million), and guessing a date, for example, the 1960s and adding it to the keywords, narrows it even more (now we are around 200,000). Now you can go to websites where you can see more photos. Maybe you find an eBay page with similar listings. None of these will be accurate, but some small facts and details can help you out. Once you have narrowed down things like make and model, it will be much easier to dig a bit deeper.
Now, onto online marketplaces. These days there are lots of watch retailers. This is a big help to estimate the value of your vintage watch. But seeing a timepiece like yours listed somewhere in the tens of thousands does not mean that you will get to sell it for this price. Here are some good places to look:
Chrono24.com is one of the best aggregator sites for retailers around the globe. This is the place where you will most likely get a relatively accurate estimation. Using our vintage Wittnauer from the example, you could see a few similar examples ranging from less than $1,000 to more than $2,000. This is not final yet, but it gives you a fairly solid idea.
Watchrecon is also a great website as it aggregates all listings from other online sales forums. The key difference is that the majority of its users are collectors, rather than retailers. Prices could be a little inflated because of that. Your best option is to ignore anything too different from the average.
In the case of your piece being well treated and is in immaculate condition, pricing can be found at other different places. Analog/shift is one of the best places to look and it tends to offer the best of the best when it comes to vintage watches. But if your watch has some wear and tear, you cannot expect it to reach its best prices.
Okay, let's circle back a little bit now. We know we talked about eBay before but, honestly, you should avoid eBay. As many experienced buyers, sellers, and traders have found out before, eBay is at the bottom of your priority list when it comes to pricing. The very bottom.
Any watch you buy there is essentially a gamble. And frequently, people put a high price tag on things hoping that someone will pay that much. Avoid eBay. Period.
Now onto another point. As in many things, the condition is key. Evaluating a watch is similar to evaluating a car. How well it runs. How dented or scratched it is (even though, in certain cases, a little bit of wear and tear is appreciated). How well it has been maintained. And whether it has all the original pieces still. Condition and documentation are important, so if any relative of yours has any records of the watch being serviced or repaired, you will want them.
About original parts, this is where Google comes in handy again. Throughout time, especially in the 1960s and 1970s, many watches went through variations in which some of the main exterior features could sometimes vary on the same model. So, if you find images of your timepiece showing different hands or a different crown, you may have a watch that has non-original parts on it. Sadly, you will not get the full price you saw earlier, but it does not mean that it is worthless. It is the kind of watch someone would buy to wear, instead of displaying it.
And lastly, ask a professional. When all your research has been done, you may feel satisfied with the value range you found and stop there. Still, if you have more questions about its real value, it is time to talk to a professional. People who have their reputations to back it up, like the ones in big auction houses. Contact them through email or book a meeting in person with the team. Then you will get a full assessment and leave with a clear picture of what your watch is worth, either for retail or insurance. Side note, it is best to reach them if your piece might be worth up to the thousands or tens of thousands.
How to Take Care of Your Wittnauer Watch
As we talked about before, maintaining your watch is really important. Many things can harm and damage it. Moisture, shocks, dirt, and dust, to name a few. For over a century, watchmakers have developed engineering solutions to combat these foes. Nowadays, technology has produced watches that are more sealed and shockproof than ever.
That does not mean that you can be careless with your piece, especially talking about vintage ones. You are the front line against those enemies. No fine mechanical watch will work well if mistreated, even by accident. Remember, those watches have intricate mechanisms, usually involving hundreds of minuscule moving parts. To keep them moving requires care and maintenance.
Watch Care Tip
Wound it regularly – Winding keeps it working and spreads the lubricants throughout all the little bits and pieces. There is no need to do this daily. You could wind them once every month, but try not to forget about it. Wind and lubricate it appropriately, and the watch will keep working for a long time.
Remove it from your wrist before winding – It is normal to tilt the crown of the watch up while winding it on your wrist. That could create pressure on the stem and bend or break it. Simply remove it and avoid giving yourself a big headache. Also, do not wind it too much. 20 to 40 times, clockwise is enough.
Be careful where you wind your watch – Your watch could slip from your hand and fall to its demise on a hard surface. It is a real possibility, so be mindful of it. Wind it in a safe space, preferably with a soft surface underneath.
Never clean it with soap – We all want our watches to look the best. Sometimes small particles of dirt and dust can get inside it. But you should never use soap and water. The soap can get into small spaces and damage your watch internally. Simply use a microfiber cloth. A bit of water is alright too. Be careful not to wet the leather strap, though.
Don't push your luck – This one is simple. Do not put your watch in situations it can get damaged. Be protective of it.
Careful when changing straps – Learn how to do it, with appropriate tools. Or simply get it done professionally. Changing the straps seems really simple (and sometimes it is!) But you can also damage your clock by doing so without proper technique.
Service is crucial – Getting your watch taken care of regularly is an act of love. Do not be afraid to get it serviced even after the warranty. It is worth it. Has it been serviced every couple of years or when it shows signs of needing service? Is it running a bit too slow or a bit too fast? Does it not stay wound? Get a full service.
Questions To Ask Before Buying a Vintage Wittnauer Watch
Buying a watch can be scary. It is a big investment, it has many risks of you getting ripped off, and there are doubts if it is something you would enjoy. Hopefully, after reading this guide you will feel safer before taking the leap. Just to keep you even more at ease, we have a few smart questions to ask before buying your new watch.
Is the watch keeping time accurately? – It is practically impossible for a vintage watch to be 100% accurate. They lose a few seconds every 24-hours. This is normal. Only contemporary watches are ultra-precise. Generally, the watches will keep the time well and a simple service will fix most problems.
Nowadays, some apps can check how well a watch is running. Lookup a Timegrapher app. It will record the sound that mechanical watches make when they are running and give a lot about the condition of the piece.
What is the cosmetic condition of the watch? – This is usually one of the main things to look for when buying a vintage one. Has it been polished? Does it have all the original parts (the dial, hands, crystal, inner workings)? Does it have the original box and papers?
Does it have a service/ownership history? – This one ties with the previous question. If there is a service history, you want to look at it. See if anything was ever changed. When and by whom was it last serviced? Should I have it serviced in the near future? Who owned it? For how long?
Final Thoughts
Hopefully, we have covered all of your main doubts and issues about Wittnauer and vintage watches. Now comes the fun part, the exploration. You can look everywhere for a watch that has everything to do with you. Watches are all about expression and a statement of personality. Find one that suits you and have fun.