Vintage Oris watches embody classic, affordable, versatile, and luxurious fashion that cuts through the ages and instantly gives the wearer a lift and the ultimate Swiss aesthetic. Oris has been in the business of creating these timeless pieces for over a century.
Unlike their Swiss counterparts that can break your purse, Oris watches are affordable and cost between $2,000 and $3,000 on various online platforms; some even sell for lower than that, between the range of $1,200 to $1,700.
This guide is carefully crafted for lovers of Oris watches, offering them the golden chance to easily identify, value, and find sources on where to purchase them should they pique your interest.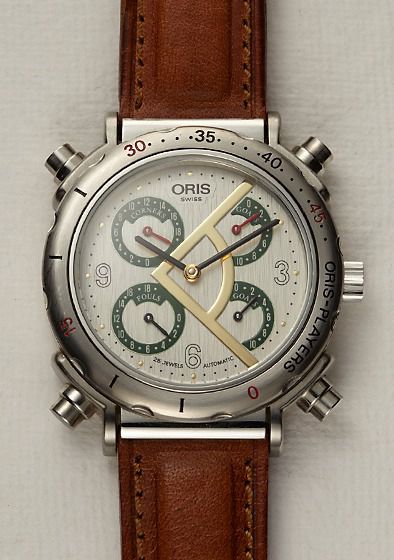 The Source
The Oris company was established by Paul Cattin and Georges Christian in Holstein, Switzerland, on June 1, 1904, and named after a stream very close to the location- at that time, Swiss Watch companies had heavily relied on hydropower since the late 19th century, hence the name.
Soon enough, the local Swiss company became a multinational outfit and joined the big leagues in the business of attaching bracelet buckles to pocket watches and transforming them into wristwatches. The 1960s were especially a golden year for the Oris company.
This journey was cut short as the Swiss government implemented the watch statute in 1934, which got in the way of the company's operations and regulated the watch-making industry, which caused Oris to adopt a new movement technique that competitors had already adopted.
Regardless of the now competitive and saturated market, Oris company continued to make unique watches which are now categorized as 'Oris Worlds'- there are four of them. They remain one of the few watchmakers to produce strictly mechanical watches with a unique red rotor architecture which has slowly become the company's signature.
Vintage Oris watches are very affordable- you can get a high-quality vintage Oris wristwatch for half the price of other Swiss luxury brands like omega and Rolex, which is why they're a very common item in American households.
The aviator watch was conceived for pilots who wanted to operate their timepieces while wearing leather gloves. The company etched its name into second world war history by producing alarm clocks solely.
In 1952, Oris invented the caliber 601- their pioneer automatic watch, which displays hours, minutes, small seconds, and a major power reserve indication at the 12th-hour position.
The first dive watch launched in 1965 with special Arab numeric characters at 3, 6, 9, and 12 and was relaunched 50 years later as a new watch- Oris Diver Sixty-Five. Then the motorsport collection emerged five years later, in 1970, with the chronOris chronograph as the major mechanism.
It came in a barrel-shaped case and bright orange details skillfully complementing the utility-focused black dial 1970s chronograph. This aesthetic is so prominent that it continues to emerge in their modern-day designs.
Oris World Watches
The Oris watch catalog is divided into four major categories to make it easy for customers to choose based on their lifestyle, occupation, and personality. This act has set Oris watches apart from their peers in the watch-making scene.
Culture- watches made in the traditional style.
Motorsports- watches made to appraise motorsports racing
Divers- waterproof watches with the ability to withstand high water pressures
Aviators- watches suitable for heights and strong g-force.
Culture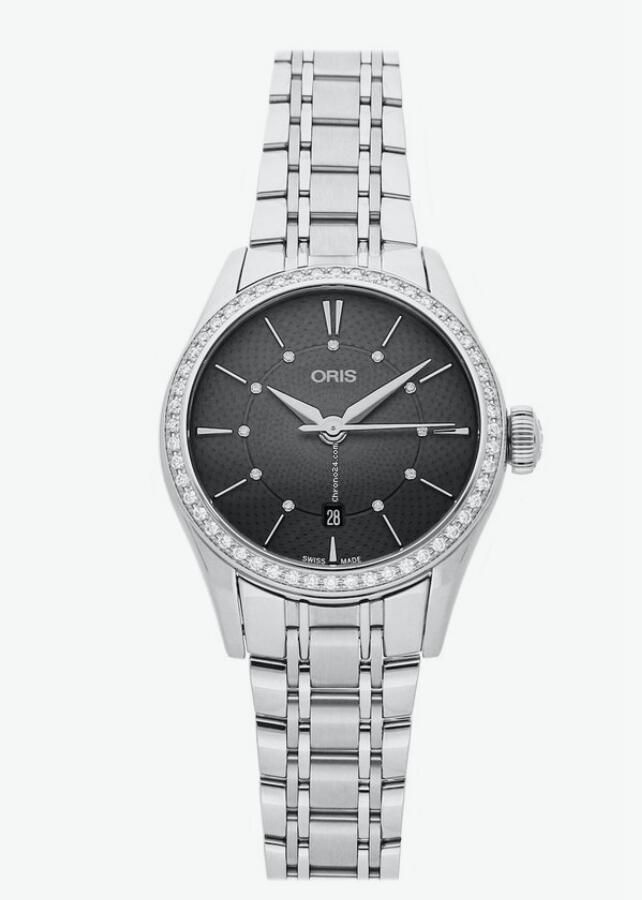 The Oris Culture category comprises dress watches- rectangular and conventional round watch cases with exquisite, skeletonized calibers. Currently, the Atelier and the rectangular are the watches under this collection.
The Atelier watch series is perfect for everyday use as they're versatile and attractive enough to compliment any look; All Oris's non-sport watches are categorized as Atelier. They come in minimalist designs, some dedicated to celebrating personalities like jazz musician James Morrison and Art Blakey.
The classic watch under the Culture division comes in round cases with roman numeric hour indicators, a metal bracelet made from strong stainless steel that exists in two tones- the blue and midnight black face.
Motorsport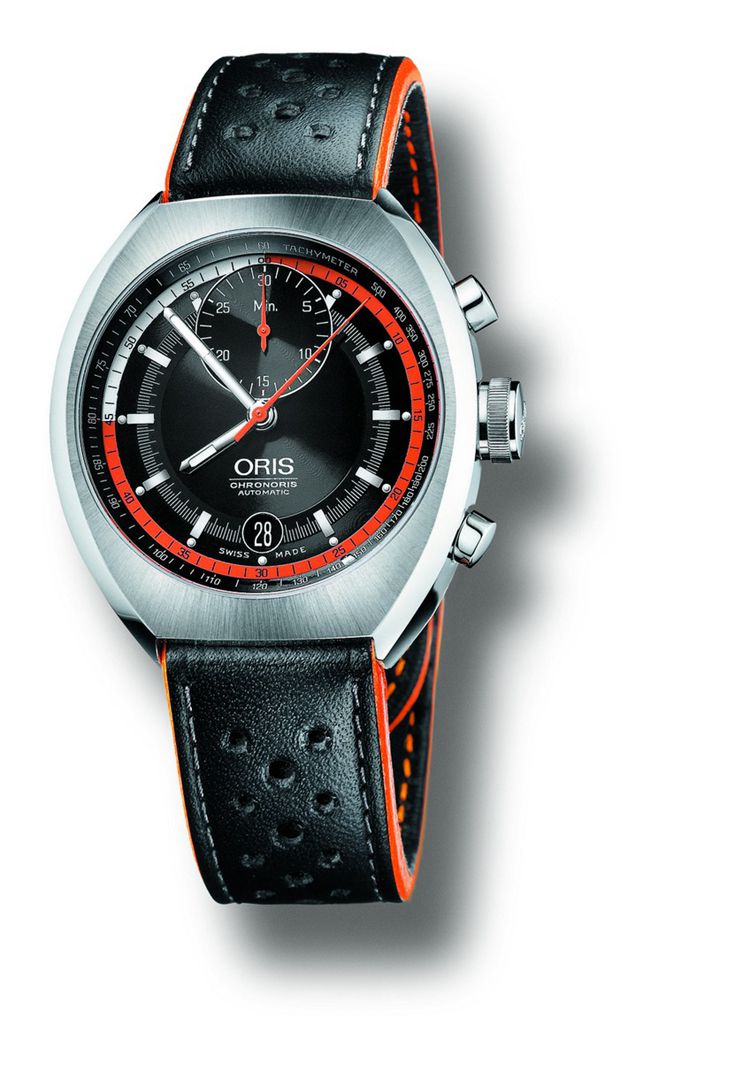 Though not currently existing on their current list of watches, the collection has two major highlights- a range of models created as part of Oris sponsorship of the Williams F1 team and the other, the ChronOris, which is a vintage-inspired chronograph series bouncing off the original 1970s model made complete with a catch tonneau-shaped casing.
Divers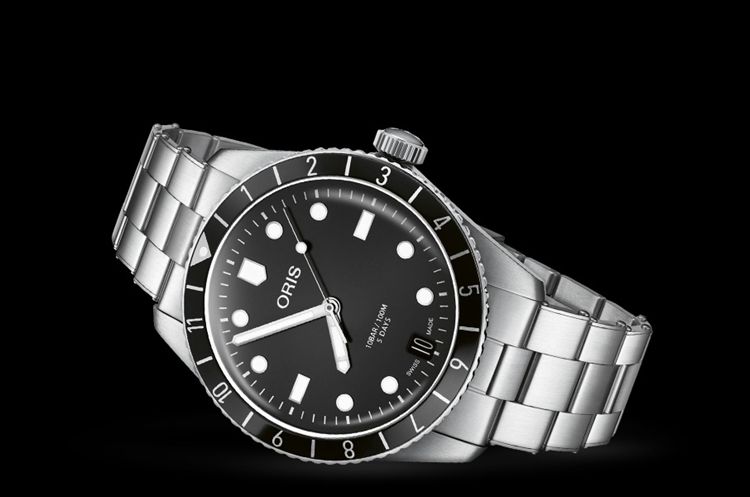 The diving collection is one of the most functional from the stables of the Oris company in 1965; they come in water-resistant cases, glowing hour indicators, and minutes hands with spot-on movements.
They're also divided into two categories- the Vintage-inspired and Modern-styled models. For the vintage-inspired, they perfectly imitate the shapes and mechanisms of Oris Divers classics, while the modern-styled version is larger with a more upgraded mechanism.
Oris Aviation Watches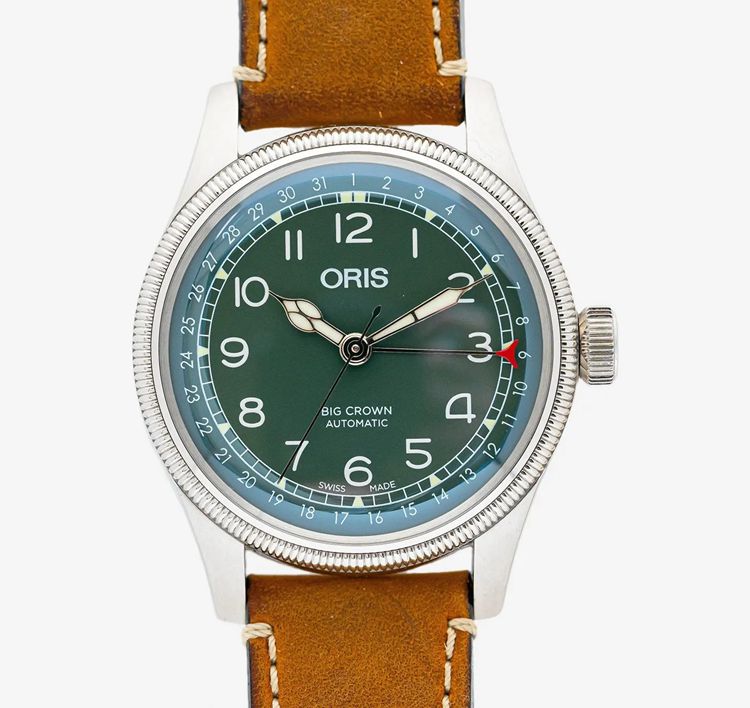 Oris categorized their aviation series into two sections- Vintage inspired and Modern-styled watches. All aviation watches have the big crown in their names- pilot watches usually have big crowns, which makes it easy to operate aircraft even with gloves.
Their vintage-inspired watches are pointer dates personalized for Oris watches only, while their modern-styled aviation watches are tailored to serve different age ranges stylistically and functionally.
The Oris Big Crown Pointer Date is the most popular and iconic of the Oris Aviation Watches Series. It has been around since 1938, offering both 1930s aviation features and contemporary mechanical technology and style.
The analog date pointer is one major characteristic of vintage Oris Aviation Watches (Big Crown) which have now become a big identity of this series and have transitioned into their modern designs.
The pointer date has a range of models that offer exquisite old-school aesthetics and a glorious view of the month around the watch dial, which helps people better understand time. Their excellent fit and impeccable finish are the real icings on the cake.
A limited edition released in 2021 to celebrate the 80th anniversary of Oris Big Crown Pointer Date is currently on sale on chrono24 for $1,977.
Vintage Oris Models
We've gathered a few of Oris's most notable models below. You'll be learning about their history alongside.
Check out this video for a peek into the world of Oris watches.
Oris' Mid-Century Calibres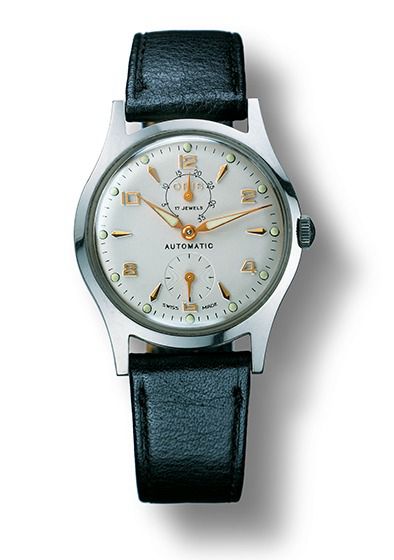 The perfect post second world war relic, Oris made a significant impact around this period by launching their first automatic movement watch called the Calibre 601 in 1952. The model continued to evolve through the mid-20th century and birthed the first chronometer watch- Calibre 652, in 1968.
The watch is a great find and perfect for vintage collectors as it was granted the prestigious Full Chronometer Certification from the Swiss Observatoire Astronomique et Chronometrique.
Oris' Diver 65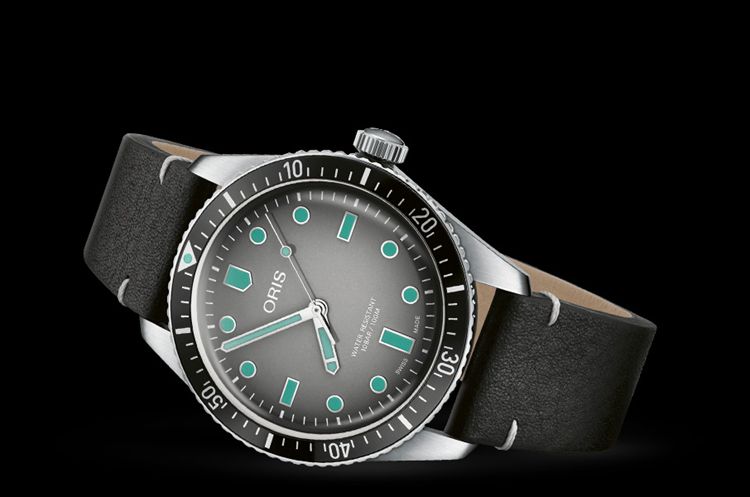 This is unarguably the company's most popular vintage watch series; it was first released in 1965 and had the rotating bezel and timer scale that were also waterproof for more than 100meters.
The model has a large reputation among its lovers and collectors, which made Oris create a modern Diver Sixty-Five series in 2015 to honor and preserve the legacy of this spectacular watch.
Their price-to-quality ratio is unbelievable and has expanded to include chronograph models in large and small sizes, updated and catchy dial colors, limited editions, and two-toned models (bronze and steel).
They also come in leather, nylon, canvas, metal bracelets, and rubber allowing you to pick a style that is true to just you. An Oris Diver 65 is currently on sale for $2,200.
Oris ChronOris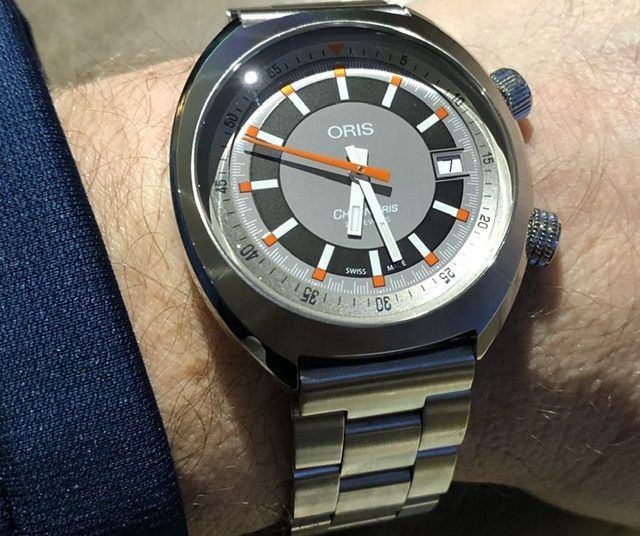 The Oris chronOris was released in 1970 and regarded as the company's first peak into the world of chronographs (watches with a dual display function and a stopwatch) with a strong design influence from motorsports.
Like the Diver, Oris also reissued the Oris chronOris to appeal to a much younger base while maintaining a bit of vintage touch- as it is with all Oris watches.
Oris Players Watch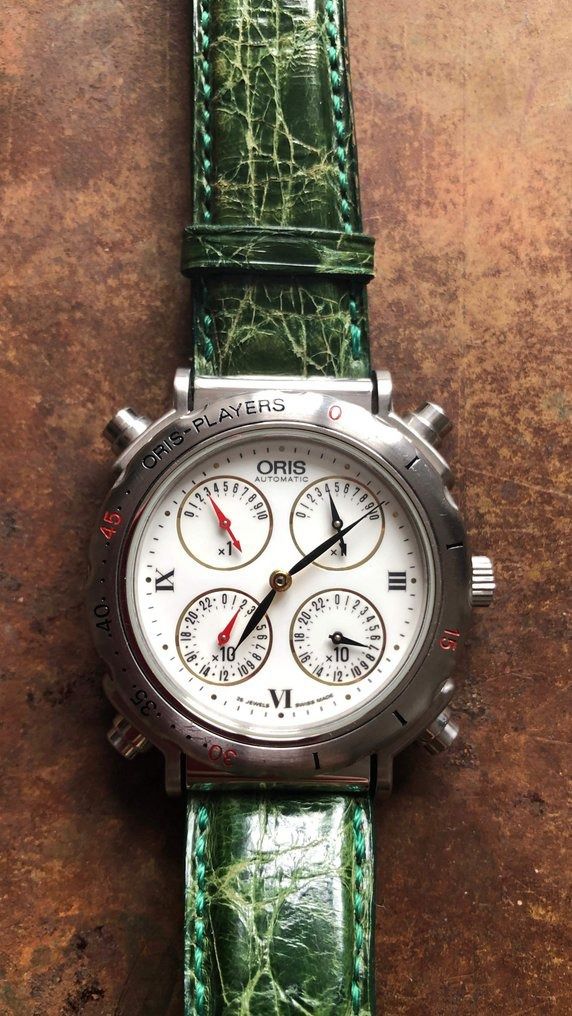 The 1990 Oris players watch is in a league of its own- rural, rugged, and not much of a stylish pick, but it appeals to football fans around the globe. The watch has four counters spread across the dial.
The Oris WorldTimer Watch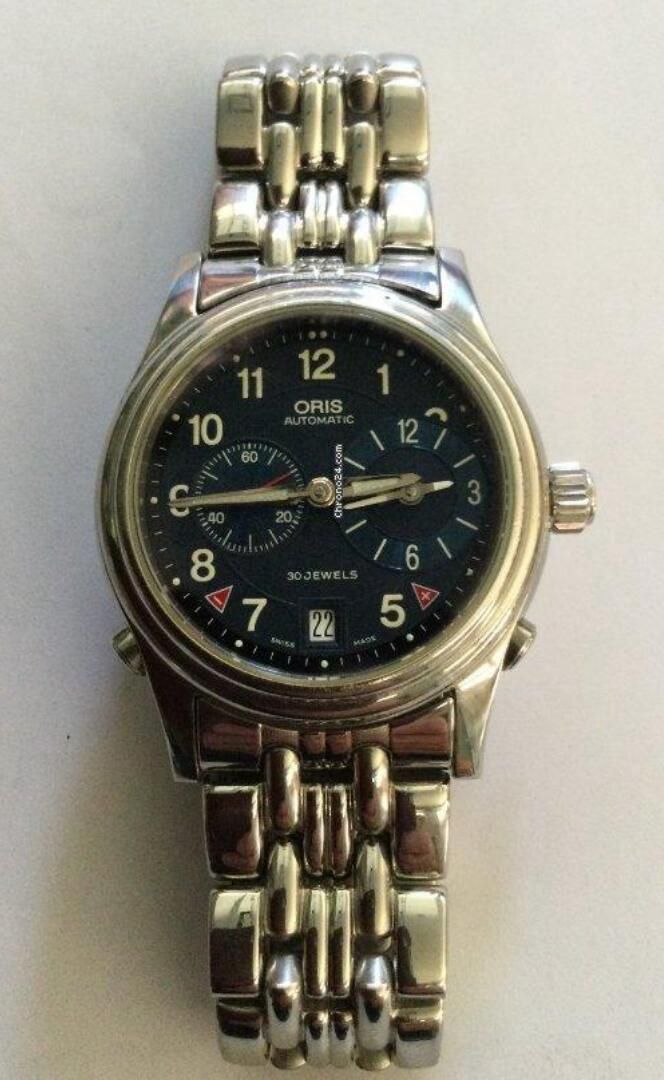 Oris watch company released this silver beauty in 1997, intending to solve one major problem among travelers and users- the issue of changing time zones.
The Oris world timer watch features a two-directional bezel that allows for easy time zone adjustments through one-hour leaps either forward or backward. The first timezone is indicated on the main dial, while the second time zone rests softly on the sub-dial, standing at the 3 o'clock indicator.
How to Identify Oris Watches
No more confusion on how to identify your vintage Oris watches; this section has all the necessary guidelines required for you to douse confusion and set you on a straight path.
Get Familiar with Their Catalog
Oris' company categorized its watches into four basic wings- Aviator, Motorsports, Divers, and Culture. This is the fastest way to identify them and their purpose, as every watch was crafted to perform specific functions for the wearer.
We advise that you refer to this section to read more on each category to help you easily pick a choice.
By Their Trademark
Oris wristwatches are better identified by the company name on their time indicators (dials). You can also find them inscribed boldly on the underside of the watches- they're engraved into the metal casing so they don't wash off; other Swiss watches also have their company names and other trademarks inscribed on their bodies as well.
By Their Age
The earliest Oris watches were wound by hand and were pocket models. So if you come across this model, use this as your cue to confirm that it's an old Oris version. You can also check the body of your watch to know the date.
Join a Forum
Collecting watches is not just a hobby for some people. It's a culture and a way of life, meaning they take it seriously. One of the ways to aid easy identification of vintage watches is to look for a forum with like-minded people and join.
The advantage of joining a forum is that it allows you to ask questions and get detailed answers almost immediately- this is because so many people with unique experiences with different watches are on there, exposing you to useful suggestions from different perspectives.
A forum like watchuseek allows you to become a member and communicate with fellow watch collectors about your new purchase or guidance if you have plans to acquire any.
By Their Serial Number
Check the body of your watch, usually the back of the metal case to check for a serial number. After you register your watch on MyOris, it opens a personal vault that allows you to keep track of every detail on your wristwatch and identify if it's a fake or legit piece.
Contact Oris Help Center
Oris company has a working help center online where you can get answers to questions about your watch, register your watch, and even request service.
When you purchase an Oris watch, you're also expected to register it on MyOris for proper documentation and to open your vault with the company.
How to Spot Fake Oris Watches
One of the collectors' biggest mistakes is failing to do due diligence about a particular watch before purchasing it. We want to reiterate that a cheap watch doesn't automatically translate to fake, and an expensive watch doesn't mean it's original.
Let's proceed to the steps you can take when trying to identify a fake Oris watch in the market.
The first thing you do after purchasing an Oris watch is to study the physical packaging. So many things are off about fake Oris watch boxes; they're unusually light, have a very bright color, the lettering is poorly constructed and inconsistent, no sticker with a serial number.
Generally, Oris watches range between $1000-$2000 for new and vintage pieces. They may be slightly lower but shouldn't be too low that you begin to have doubts in your mind. If the price is too good to be true, you're highly likely to purchase a fake Oris.
After purchase, try and get an exact original replica of your watch from a friend or a neighbor and carefully compare the details. One major difference between a fake watch and an original Oris watch is that the numeric details on the original pieces are brighter and bolder than fake ones.
The fonts on fake watches are tiny, unreal, and dull; they're also poorly written. The minute indicators are also poorly constructed; they're either incomplete or more than the expected amount. The long and short hands are also frail and too dull.
The screws on fake Oris watches are loose, facing the wrong direction, or even inconsistent in shape and size.
Original Oris watches with metal bracelets have abrushed effect while Cheaper Oris watches have an unrealistic high polish finish that'll soon peel off or discolor with continued use.
Check out this video for more information on how to spot the difference between fake and real Oris watches.
Our golden advice for anyone considering purchasing a new or vintage Oris watch is to get familiar with the website or a previous Oris watch owner and carefully study the details on the watch to look out for them during purchase.
Determining The Value of Oris Watches
Understanding the value of your vintage Oris watch is easy in this section; from their age, style, and even consulting an appraiser, we'll help you do the heavy lifting.
Appraise Away
Getting a qualified watch appraiser to help check out your vintage Oris watch is one of the ways we suggest discovering the value of these Swiss beauties. Watches are very pricey pieces, and you should not treat selling them with levity. Check the attached link and start talking to a watch appraiser today.
Condition
As a watch owner, the condition of your item is a major determinant of the value you or buyers will place on it. A broken watch or one missing major part will not pull the needed crowd or even sell at all, making it useless, and you may throw a valuable piece away.
Always keep your watch in a box when not in use, pull the screw to avoid running down the batteries, and avoid tugging at the handles, so they don't break or cut. Keep your watch as static as possible; moving it from one place to another can make it fall, break and lose important parts.
If your watch is not waterproof, do all you can to keep them away from water, direct sunlight, heat, and loose particles that may clog the screw and cause a block in movement.
Compare Prices
If you have an original vintage Oris watch that you intend to sell, we advise that you go online and check out existing prices to get an idea of how to set your price and maximize profit. We recommend you check out bobswatches, Amazon, and Chrono24 for prices of already sold items.
Where to Find Vintage Oris Watches
Here's a list of places you can purchase your own vintage Oris watch
Online Watch Shops
Sites strictly dedicated to selling watches like thewatchpages come with filters to help you work through a series of watches and models. There, you can search for Oris watches by name, and it'll bring out a handful of results for you to select a pick from.
eBay
This website has a packed section of Oris watches, both new, pre-owned, and vintage. You can also view already sold pieces which allows you to compare prices in case you want to sell your own Oris watches.
You also get to read reviews from previous buyers, providing information on what you're getting, whether it's fake or legit.
Thrift Stores
You can get vintage Oris watches in select thrift stores all over the united states (items in thrift stores are mostly pre owned and have been around for a long time). Inspect them carefully for flaws, loose screws, and faded bracelets.
Parting Words
These lovely watches have solidified their place in history as affordable, timeless, elegant, and functional while cutting across many fields of expertise. They're in a league of their own in Swiss watch-making with outstanding expertise. Carry these tips with you as we end this great read.
You can spot the marks on your watches by observing the dial closely, the steel casing behind your watch, or even checking out the screen.
Vintage Oris watches exist in four major categories- Motorsports, Divers, Culture, and Aviator.
Diver watches are the most functional of the bunch with their waterproof casings, luminous dials which reflect underwater, and precise movements.