Vintage luggage has always been a sort of weakness for me. The elegant sharp-edged boxed design and golden highlighted buckles represent the glory days of America. I first saw them piled up in my grandparents' storeroom, and they have been a massive part of my vintage collection ever since.
Even though all kinds of luggage fulfill the same purpose, the design and the look make all the difference. And these elements have evolved dramatically with time.
Vintage luggage today is not just a piece of history; they are basically a trip down the glamor that was instilled in America through antique items today, including steamer trunks and vintage suitcases.
Vintage luggage has recently become a center of interest for many people due to its increasing popularity. And while these historical items are being bought and sold in the private market and auctions as antiques – cheap knockoffs are emerging rapidly.
It's not easy getting a real deal when you don't know what you are dealing with. You need to be careful if you want to get your hands on a genuine piece. I will explain precisely how you can identify vintage luggage, its brands, and estimated values in this article.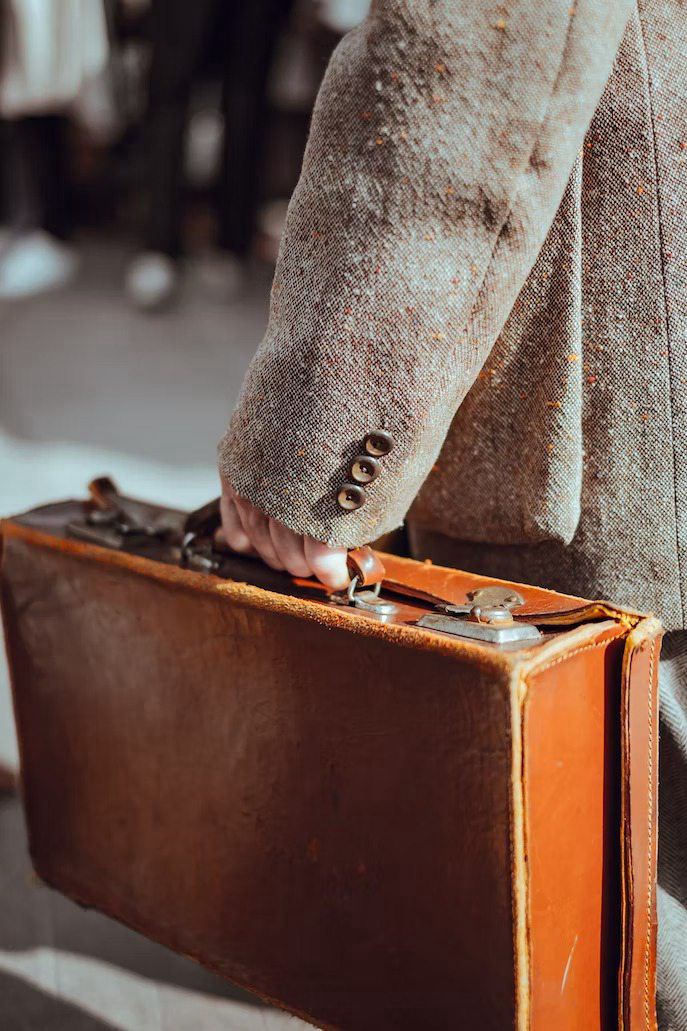 Vintage Luggage: A Historical Overview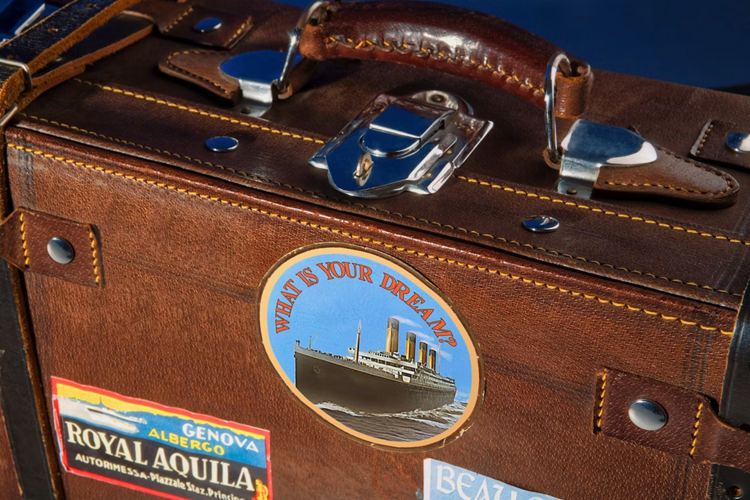 At the beginning of the 20th century, the tourism industry was dominated by the wealthy – people who could not only afford oceanic voyages but also hire people who could carry around their giant steamer trunks. During this period, luggage was simply a status symbol.
It was around the 1920s that people started traveling more by trains and automobiles. Luggage got smaller during this time. Bulky trunks were a thing of the past, and suitcases were introduced that were easy to carry and transport.
The 1940s saw a scarcity of leather due to the Second World War. Today, we cannot spot many vintage leather suitcase models produced after the 1940s.
The post-WWII era made it possible for people to travel frequently by air. Around 17 million people were flying annually by the end of the 1940s. That opened the door to a lot of packing options. The 1950s saw a flood of different varieties of luggage with incredibly varied niche offerings.
In the late 1960s, around 179 million people were flying each year. That was when colorful hard case packers emerged and became instantly popular. It was also when some companies kept sticking to vintage leather suitcase production with an innovation of combination locks to make travel safer and secure.
The 1980s was the time when traveling was relatively common and affordable. Manufacturers started attaching wheels to the suitcases to make it easier for travelers to carry them around. Fall-in handles, security locks, and overlapped zipped pockets began appearing on bags and suitcases. In short, suitcases started looking at their most current image.
Vintage Luggage Brands
Over the course of the 20th century, different vintage luggage brands played in the luggage game. Some were there from the very beginning, others came later. Some made their name and are still in operation, and those are the ones that are most sought-after in today's vintage market.
Louis Vuitton
Louis Vuitton was founded in 1854 and was named after the founder. LV's first boutique was opened in Paris and became a receiver of much popularity, love, and recognition.
Louis Vuitton introduced its first trunk back in 1858. It was made from gray Trianon canvas and it was the first steamer trunk of its time with a flat top. By 1872, LV introduced a red and white striped Rayee canvas. Beige and brown stripes were added to it in 1876.
In the 1900s when travel and luggage were a luxury of the rich, Louis Vuitton was ahead of every other brand in innovation, design, and of course, sales. During the decade, LV also introduced its now iconic checkered pattern in luggage.
Samsonite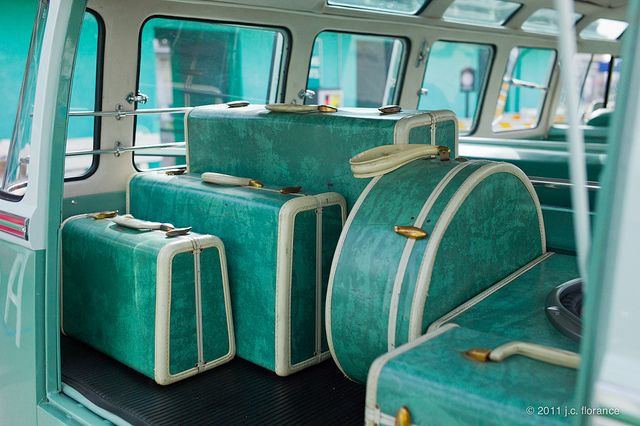 Samsonite was founded in 1910 by a devoted Christian named Jesse Shwayder in Denver. He named his company after the biblical figure Samson, which was also the name of the company's first-ever suitcase.
Over the years, Samsonite received a lot of praise and a huge success. The company still has quite a reputation for durable travel bags of unique styles.
In 1958, the company introduced the Samsonite Silhouette, one of the most cutting-edge pieces of luggage of the time.
In the vintage market, the prices of antique Samsonite luggage are more affordable than other brands. However, a unique and rare piece can make a difference.
In 2012, Samsonite bought a reputable luggage company, Hartmann Luggage. Other companies that Samsonite has bought internationally are American Tourister, Ebags, Xtreme, Tumi, High Sierra, Lipault, and Kamiliant.
Gucci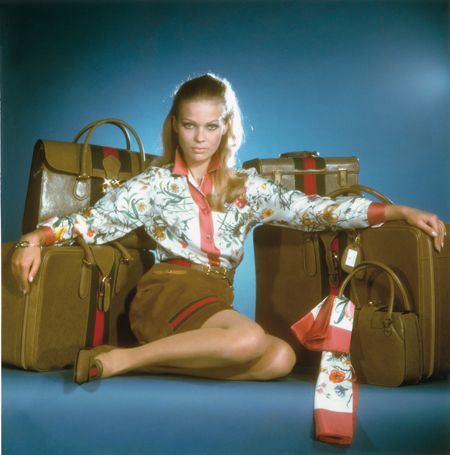 The House of Gucci was founded in 1921. Gucci made its debut in luggage in Florence. And it is spread all over the country for its high-end style, quality, and symbol of status. It was what wealthy people with good taste ran after.
During the second world war, leather became scarce, so the company stopped its production of vintage leather suitcase models and started using canvas to manufacture travel bags. It was that time when Gucci introduced its famous red and green stripes that are still recognizable to this day.
Vintage Gucci luggage is hard to come by, but when it does, it doesn't stay long in the market. There are a lot of buyers seeking it at all times.
Hartmann Luggage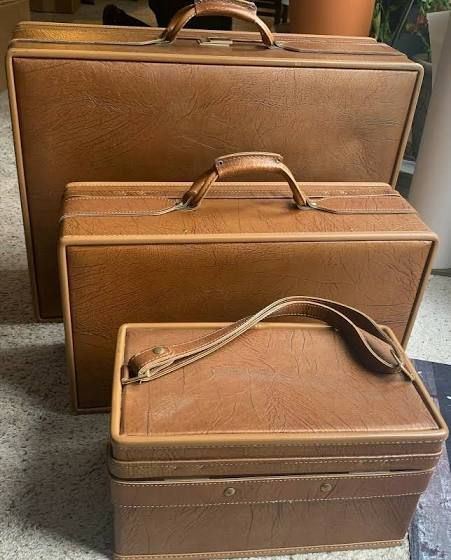 Hartmann Luggage was a brand officially launched for clients in 1877. The company was founded by a Bavarian trunk maker, Joseph Hartman, in Milwaukee, Wisconsin. The Hartmann Luggage made everything from stylish suitcases to deep trunks.
Hartmann's Skymate suitcase was one of the most famous pieces of luggage of all time. James Bond carried it in the 1954 novel, Live and Let Die.
Hartmann is still known for its extremely durable bags and suitcases. Each piece of luggage comes with a 10-year guarantee.
In 2012, Samsonite bought Hartmann Luggage, but due to the legacy of the brand, all the styles, catalogs, and aesthetics of the brand are kept the same.
Amelia Earhart Luggage
Amelia Mary Earhart was an American aviation pioneer, pilot, and writer. She was the first female aviator in history to fly solo across the Atlantic Ocean, along with many other records. She not only was one of the first aviators who promoted commercial travel, but she also wrote books about her flying experiences. These books ended up becoming bestsellers.
At the beginning of her career, Earhart needed to finance her flying, so she chose product endorsement. The Amelia Earhart Luggage was introduced in 1933 and was marketed as the "real airplane" luggage.
The luggage was sturdy, lightweight, and durable, and sold well with the audience. When Earhart disappeared in 1937 during her around-the-world flight attempt, the luggage continued to be sold after her name and success.
Her brand remained strong and profitable. In the vintage market, Amelia Earhart's luggage is a rare appearance but is valued a lot more than other brands.
Abercrombie & Fitch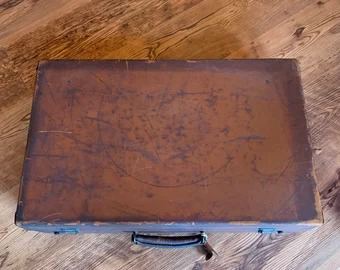 Image Source: Etsy (etsystatic)
Abercrombie & Fitch was one of the most high-end companies that manufactured and sold luggage back in the day. The company was founded in 1892 in New York by David Abercrombie.
In 1900, Ezra Fitch, a lawyer, real estate developer, and loyal customer, bought a significant stake in the business, and that was how the company got its full name.
Reportedly, some renowned personalities of the time used to shop at this elite clothing and accessories store.
Back when luggage was just being introduced, the company's catalogs were filled with pages of designs and styles of bags and suitcases. The company made duffel bags, club bags, handbags, shell bags, sports bags, and tote bags.
Vintage Luggage Identification
The 20th-century luggage designs and makes are quite different from the modern luggage of today. However, a "historical" appearance is not enough to identify a piece of luggage as vintage.
Nowadays, many brands sell retro bags and suitcases because of their revised popularity, but it doesn't mean that they are vintage, and don't let anyone fool you into believing otherwise.
If you want to spot an antique, you need to be careful and thorough. Here are some things that you need to make sure of in order to identify vintage luggage.
Manufacturer's Marks and Serial Numbers
Marks and serial numbers are the most basic indicators of originality. When you have a bag in front of you, look at it thoroughly for any visible manufacturer's marks or tags that would let you know its brand.
Second, check if the bag has serial numbers. Most branded vintage bags came with serial numbers back in the day, and many brands still issue serial numbers with bags. Serial numbers are the best evidence of a bag's antiquity because these numbers are traceable.
Depending on the manufacturer, you can find serial numbers mainly on the inside, like pockets, linings, or maybe luggage locks. While brand tags would help you figure out the company that manufactured the luggage, the serial number would help you find out when precisely that bag was manufactured, the model's name, and other things.
These things will help you make a profit if you decide to resell the bag. If there is no serial number, don't be worried – this isn't a deal breaker. Many travel bags and suitcases don't have one, to begin with.
Stamps and Name Tags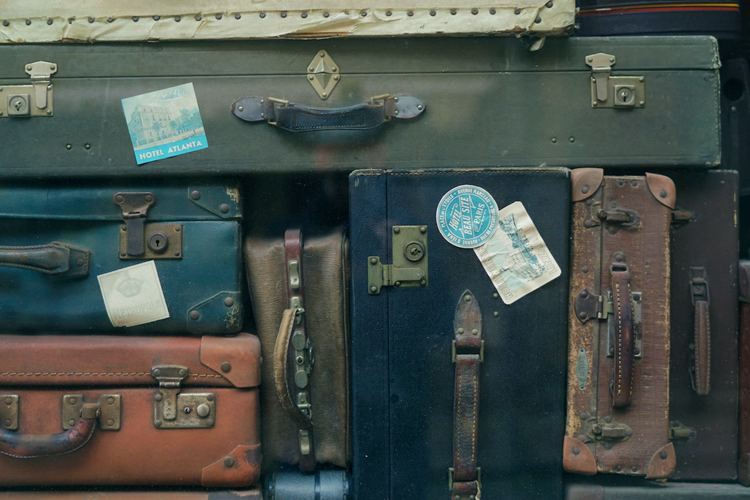 While you can find serial numbers on the inside of the travel bag, stamps are usually found on the outside of the pack. These can include town stamps, stickers, royalty warrant stamps, guarantee stamps, and more.
These stamps would help you figure out the period when the bag was first sold, where it traveled around, and what its age is.
Some luggage may even have old name tags and buyers' receipts that will tell you the purchase date and the previous owner. These details might seem small and insignificant, but they can help you a great deal in identifying your vintage luggage.
Quality of Materials
Knockoffs, replicas, and duplicates have always been familiar with big brands. It can be a cheap alternative if you want a bag to take with you on your tour. Still, it doesn't hold any value when looking specifically for antiques.
Stamps, serial numbers, and brand tags would pretty much tell you about the originality of the luggage. Another way to find that out is to closely inspect the material. The patterns, stitching, and overall quality of the material would hint at whether or not the luggage is genuine.
Brands always use unparalleled quality materials. That is why vintage luggage can still be found in pretty solid condition. Back when luggage and travel suitcases were just being introduced, each model and variation of the bag was made with superior materials and design.
All these things were clear-cut mentioned in companies' catalogs. Now, the same information can be found on the companies' official websites.
Get a Professional Appraisal
If you are still unsure about the originality of the vintage luggage, you can consult a professional before purchasing it. You can find professional appraisers in antique shops, auction houses, and museums near you.
Depending on their policies, these appraisers may or may not charge a fee for their professional consultation. But they will tell you all they can tell you about the bag. That way, you can be sure about it.
There are also online communities where you can post a photo of the luggage in question and let other vintage luggage enthusiasts and experts comment on it.
However, these ways are only possible if the bag is in your possession or if you can take pictures of it from every angle inside and out.
Vintage Luggage Buying Guide
You know how to identify the vintage luggage brand and its period, but what about the old suitcase value assessment? As an inexperienced vintage luggage collector, you wouldn't know precisely what you should look for or consider before buying a piece.
Well, the prices of vintage luggage are hard to estimate without having an actual piece in front of you. A vintage suitcase of a high-end brand may cost over $20,000, while low-end brands can sell for $500.
There is no definite way to get an estimate except for a professional appraisal, but here are some things you should consider when buying a vintage suitcase or a piece of antique luggage.
Condition
Although vintage suitcases and trunks carry a significant value most of the time, it totally depends on their condition. No one would pay top dollar for an old bag if it is covered in mold and dust or is ripped apart.
Travel can take a toll on the luggage, especially if it has been around for decades. It is almost thrown around every time. Rarely does anyone handle it with care! These things make a difference when assessing an old suitcase's value around 100 years later.
Make sure to check the corners and frames for damage. Scratches and tears should significantly decrease their value. Many antique trunks and suitcases have wooden frames, so if the wood is rotten, there is no value attached to the old thing. The same goes for mold. Even restoration cannot ideally get rid of mold and rot.
Brand Labels
Big brands are mainly purchased to represent status and wealth, then comes quality. People run more behind the tags than the quality. Most collectors go after Louis Vuitton, Hermes, and Gucci. These brands come with a hefty price tag and become precious antiques.
An original logo doesn't need to be found, but it can raise the bag's price if there is one. With brands like LV and Gucci, logos aren't even that important. Their iconic designs and color schemes are enough to tell.
Age and Origin
Age is a significant factor in valuing a bag to buy. But it goes hand in hand with the condition. The oldest pack in the poorest state wouldn't cost anything.
On the other hand, establishing origin can make a real difference. Sometimes, prominent people of history, like politicians and movie stars, are previous owners of the antique luggage. That can make the bags more expensive than the one that doesn't have the previous owner mentioned.
If you buy it from a reputable, registered place, get a certificate of authenticity.
Market Value
Before you buy a bag with the quoted price, make sure to check the market for more examples. Sometimes, an equally antique bag is available for a lesser price somewhere else.
Also, the market value would let you know about what is the right estimate to pay for the luggage in question.
To give you some examples:
A fully restored 1920 Louis Vuitton French Steamer Trunkis on sale for $40,619.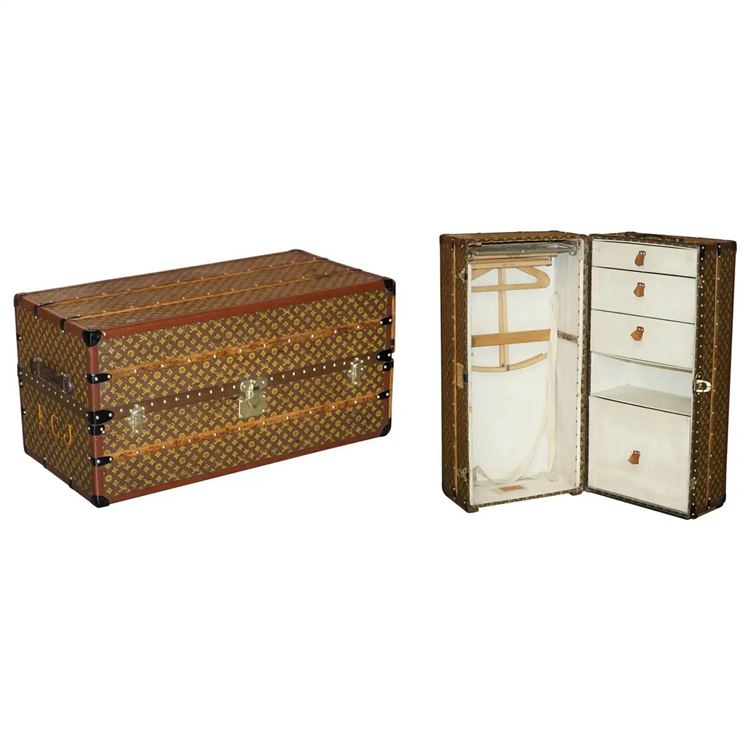 1940s Gucci Black Leather Large Birkin Style Travel Bag is on sale for $5,286.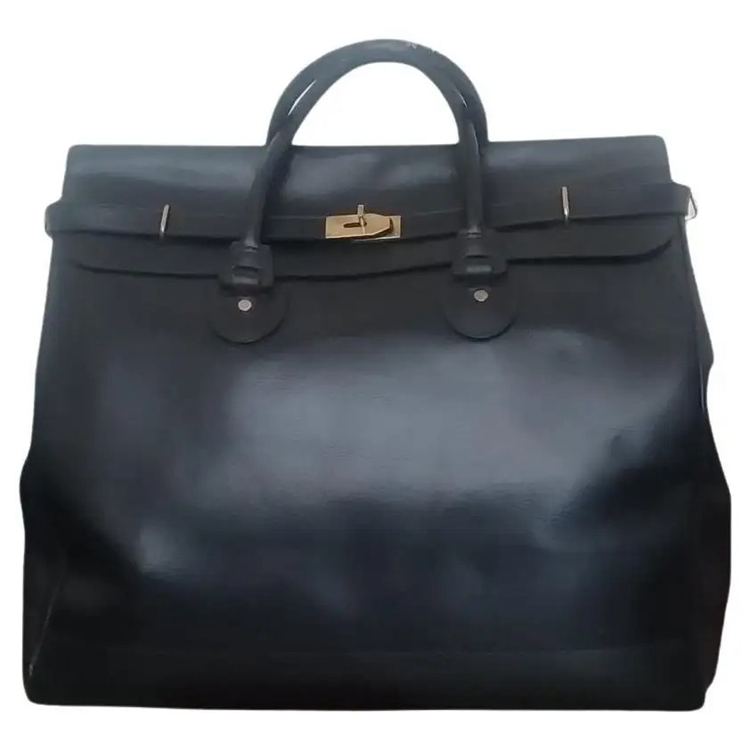 This Set of 8 1920 Vintage Luggage by Jones Brothers & Co. is available for sale for $4,400.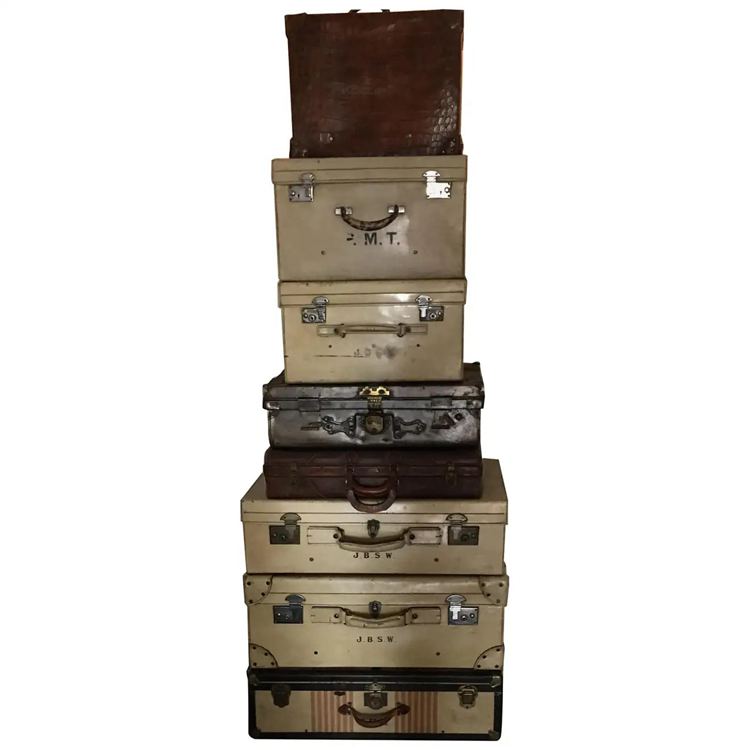 As visible above, brand, age, and style, all contribute to the value of the bag.
Conclusion
Whether you are buying, selling, or just exploring the market of vintage luggage, it is always better to check its identity, brand, and estimate value before you make an offer or a decision.
If you are buying and the condition is not desirable, you can check if the bag is restorable. If it is not, you can use the poor condition to negotiate the price. Whatever you do, don't be hasty. Make sure to get all the facts first.