A stalwart in the world of old watch producers, Seiko continues to dominate the watch market to this day, continually developing high-quality products. Interestingly, however, vintage Seiko watches are still not something we can ignore in the favor of the company's new, flashier timepieces.
Vintage watch collectors, specifically, have always looked for one more vintage Seiko piece to add to their ever-growing collection. However, for most beginning collectors, identifying and valuing vintage Seiko watches tends to bring a lot of confusion.
Vintage Seiko watches can have a value as high as $14,000+ and as low as under $100. However, how do you correctly value each watch?
Our goal with this vintage Seiko watches buying guide is to answer this question. We will, however, go beyond the value guide to help you understand how to identify genuine vintage Seiko watches.
Are you ready? Let's jump right in.
Vintage Seiko Watches Identification Guide
Understand the Famous Vintage Seiko Watches
Seiko was established in 1913, although the entrepreneur behind the company—Kintaro Hattori—had been running a business that made pocket watches and clocks since 1881. Seiko is credited for producing Laurel, which happens to be the first wristwatch ever produced in Japan. By 1929, Seiko had developed to a point where its watches had become official in the Japan National Railways.
There is no doubt that Seiko has produced a large number of timepieces over the years. However, there are several vintage Seiko watches that stand out as the world's firsts, spanning developments related to technology, regional accomplishments, and more. These old Seiko watches include:
Seiko Marvel Watch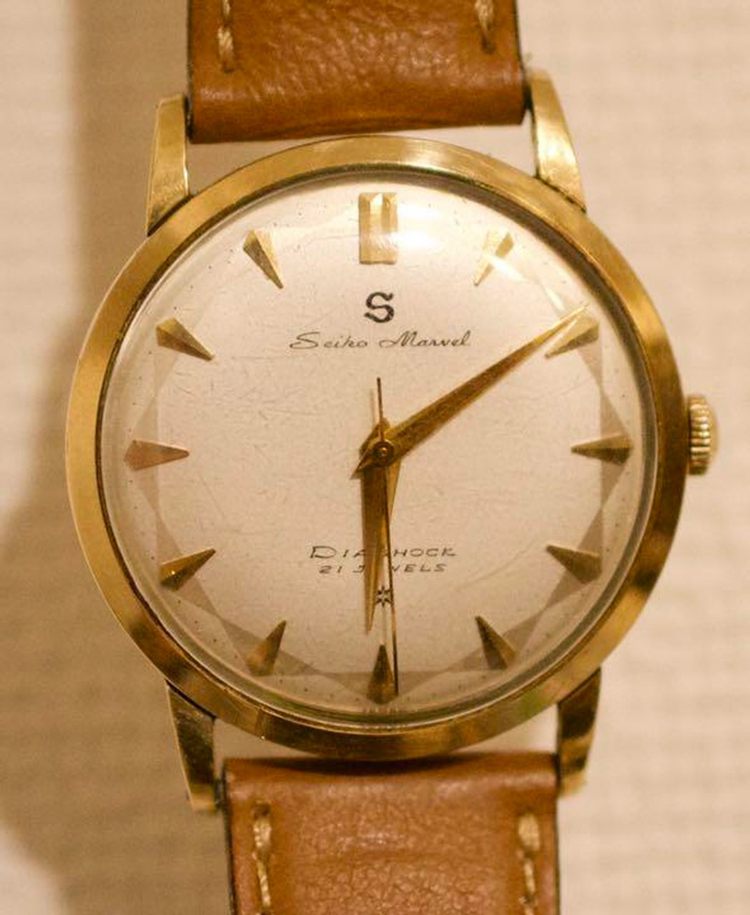 Produced in 1956, this was the first timepiece made entirely using the Seiko technology and movements.
Seiko Astron
Entering the market for the first time in 1969, this vintage timepiece was one of Seiko's most important achievements. Through this timepiece, the Japanese company introduced the world to the first quartz watch.
First Seiko Digital Wristwatch
Just 4 years after amazing the world with the first quartz watch, Seiko came back with innovation—the first digital wristwatch featuring a 6-figure digital display. This was produced for the first time in 1973.
Seiko 0634
In 1975, Seiko launched the 0634. This was the first digital watch boasting multiple functions and a chronograph.
Twin Quartz Watch
In 1978, Seiko amazed the world yet again with the introduction of the Twin Quartz watch. This timepiece boasted ultra-accurate movements.
Seiko TV Watch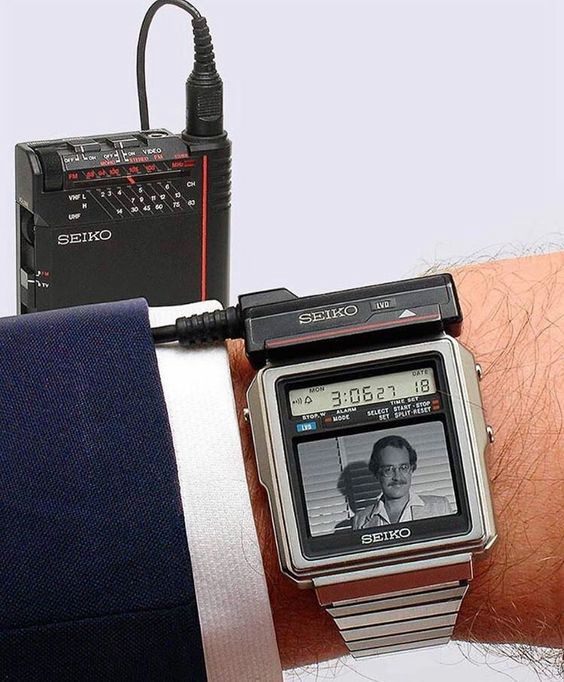 In 1982, Seiko launched its first Seiko TV watch. At the time, this was known as the smallest television in the world and it allowed users to access television using a radio tuner.
Seiko Voice Note
Just a year after producing the world's first smallest TV, Seiko produced the first watch with a sound recording capability. The Voice Note came out in 1983.
First Computerized Wristwatch
In 1984, Seiko went a step further to develop the first wristwatch boasting computer functions.
Seiko Kinetic Watch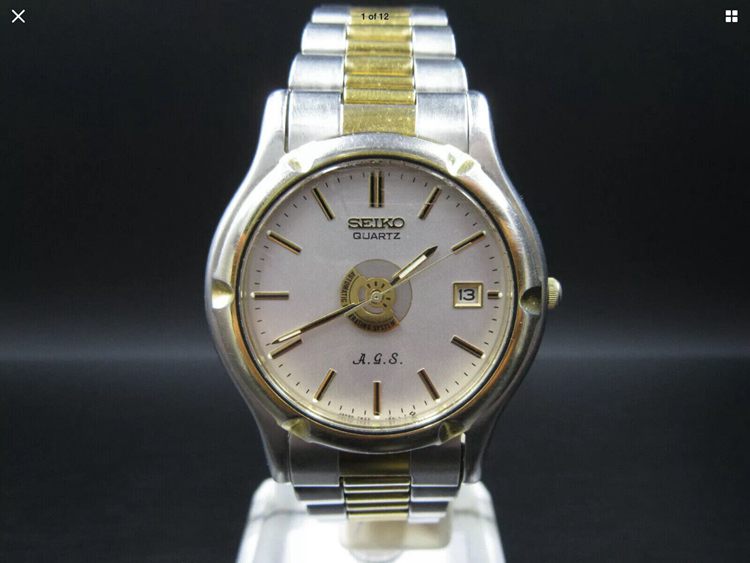 In 1988, Seiko released the Kinetic watch. An automatic power-generating quartz timepiece, the watch was controlled via the CPU-IC.
The Scubamaster
2 years after the Kinetic watch, Seiko released the first computerized watch for divers. The Scubamaster came out in 1990.
Millenium-Plus Calendar Watch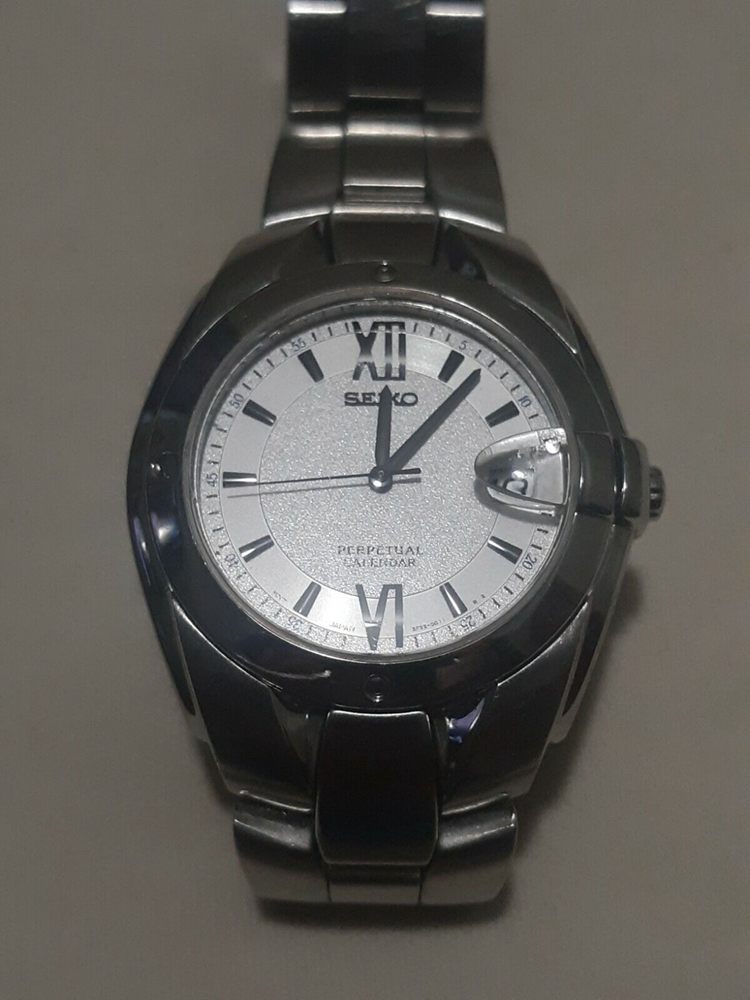 Coming out in 1991, this was the first Millennium-Plus Calendar watch globally. The watch allowed users to view the date.
Seiko Thermic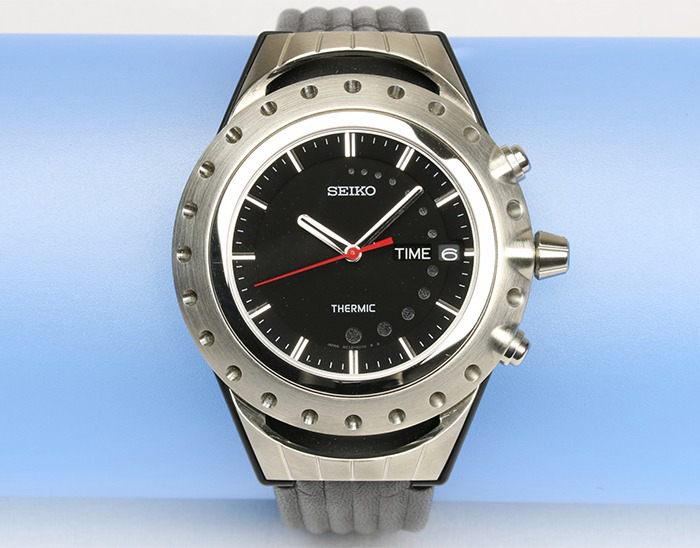 In 1998, Seiko released the first watch driven by body heat. Seiko Thermic was the first watch of this type globally.
Three-Band Radio Wave Watch
After releasing the Thermic watch, Seiko took its time before releasing a new watch. The Three band Radio Wave watch came out for the first time in 2005.
Seiko Spectrum
In 2006, Seiko released the Seiko Spectrum. This watch boasts the famous electrophoresis display.
Know How to Determine Seiko Watch Age
Chances are, you are going for the vintage Seiko watches because you are interested in something that has a history attached to it. To ensure you are getting the right vintage watch, you have to know how to identify the watch's age.
You can tell the manufacturing date of vintage Seiko watches—all you have to do is look at the serial number. The serial number sits on the back of the watch case.
The serial number will start with digits representing the month and year of production. The double-digit months are represented alphabetically. The very first number towards your left-hand side represents the year while the following number represents the month.
The only issue with relying on the serial number to determine when the antique Seiko watch was produced is that the serial number does not show the decade—it only shows the last year of that decade.
For example, if the serial number starts with the number 8, you would not know if the watch was manufactured in 1968, 1978, 1988, or 1998. For this reason, you will need to know the decade of production for you to narrow down to the exact manufacture date.
Talk to an Expert
Many watch dealers and makers can help you identify your antique Seiko watch. They often use the case style or other features on the watch to help with dating.
Use Online Tools
Another idea that could keep you from visiting an expert is using online tools. Several tools use the Seiko serial numbers to date the watch. These tools include:
10 Valuable Vintage Seiko Watches
| | | |
| --- | --- | --- |
| S/No. | Name | Cost (USD) |
| 1.  | Seiko Credor 5932-5020 | $14,000 |
| 2.  | Seiko 7625 | $11,580.54 |
| 3.  | Seiko 6159-7000 | $9,420 |
| 4.  | Seiko 6105-8000 | $7,145 |
| 5.  | Seiko HI-BEAT 36000 | $6,800 |
| 6.  | Seiko Chronometer 5246-6000 | $6,500 |
| 7.  | Seiko Laurel Vintage | $6,460 |
| 8.  | Seiko Diver 7005-8140 | $5,733.09 |
| 9.  | Seiko 6306-7001 | $4,800 |
| 10.  | Seiko E3720 | $4,500 |
1. Seiko Credor 5932-5020
Ideal for a wrist of up to 19 cm, this Seiko Credor model boasts a quartz movement. The seller notes that the watch has been worn before and features some minor signs of wear. However, the timepiece is still in perfect working condition.
Currently listed on eBay, the vintage Seiko watch has a price tag of $14,000. While one would expect it would go unnoticed because of its high price, it has already attracted the interest of 14 people.
2. Seiko 7625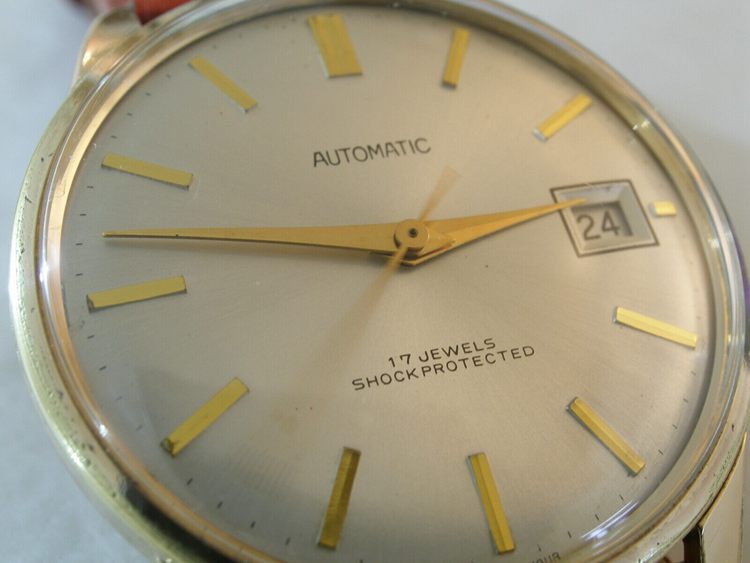 Manufactured in 1990, the Seiko 7625 boasts a leather strap, a lug width of 19 mm, and a case size of 36.7 mm. According to the seller, the vintage Seiko watch has 17 jewels and boasts the extra ultra rare model.
The case is made up of stainless steel and has been gold-plated. The watch utilizes mechanical (automatic) movement and features an unsigned dial and acrylic crystal. To add this piece to your collection, eBay indicates you will need to spend $11,580.84—with this price, the wristwatch has already attracted 16 interested buyers.
3. Seiko 6159-7000
Designed for professional drivers, this piece boasts a mechanical (automatic) movement and is round in shape. Its case is made of stainless steel and does not seem to be coated with any other material.
Designed for men—and pre-owned—the piece is still in perfect condition. Although the piece may show some very minor signs of wear, the piece is working correctly. Despite selling at $9,420 on eBay, this piece has already attracted the interest of 37 buyers.
4. Seiko 6105-8000
Another watch that fits perfectly in the men's diver category, this Seiko 6105-8000 is currently selling at $7,145. While the item has been owned before, the seller notes that it works and has no damage regarding functionality.
The round watch boasts a case size of 41 mm and has an automatic (mechanical) movement. While the watch may feature some signs of cosmetic wear, the fact that it has attracted 25 buyers on eBay indicates that it is extremely valuable.
5. Seiko HI-BEAT 36000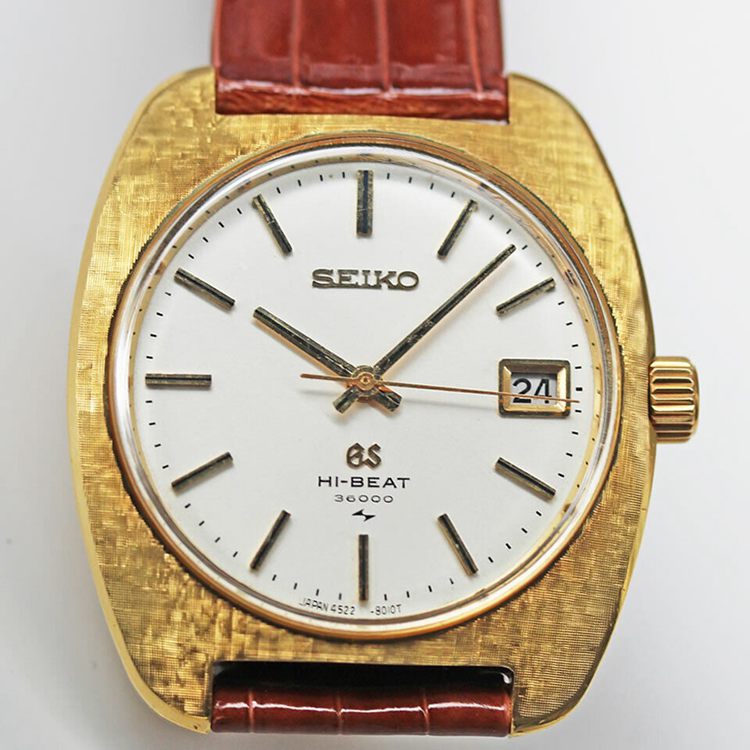 Boasting a manual winding, the Seiko HI-BEAT 36000 has a case size of 36 mm. The seller notes that the classic and casual watch features 18k yellow gold as the main case material, covering every section of the round watch.
To put it on your wrist, this vintage Seiko watch comes with an extremely comfortable leather band. To add this piece to your collection of vintage Seiko watches, you will need to spend $6,800—you will also be competing with 16 people who have already expressed interest in the vintage watch.
6. Seiko Chronometer 5246-6000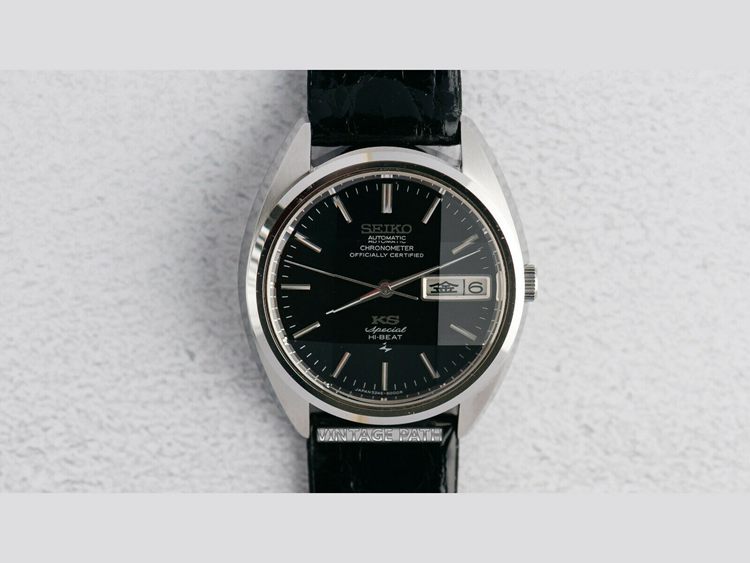 A rare vintage piece, the Seiko Chronometer 5246-6000 was produced between 1970 and 1979. Although it has been around for half a century, the seller notes that it is still in good working condition, boasting a brushed case finish that does not have any major signs of wear.
The watch is oval and attaches to the wrist through a combination of leather and buckle closure. The black painted case on the watch is made of stainless steel. Currently listed on eBay, the watch has already attracted the interest of 13 people—this is although it is selling at $6,500.
7. Seiko Laurel Vintage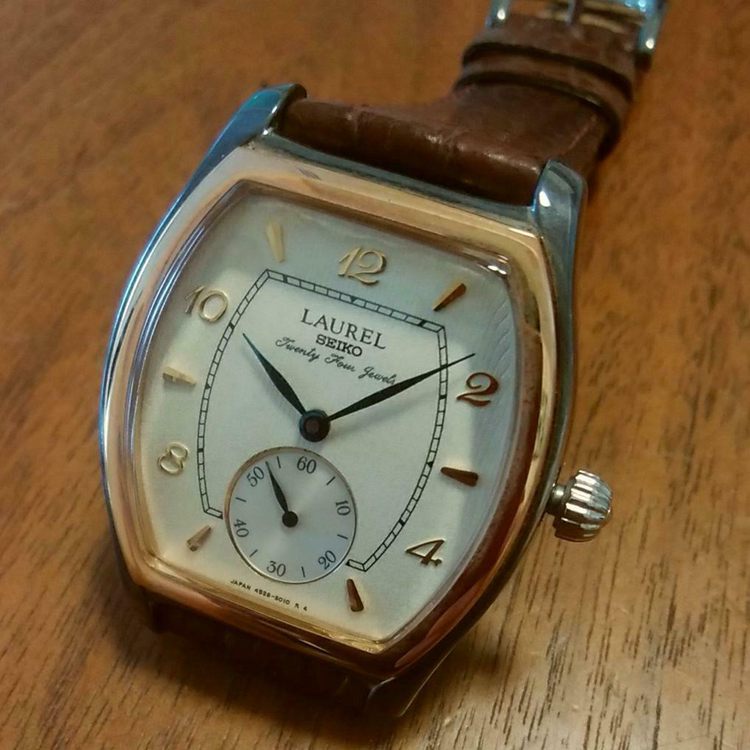 The seller notes that this piece belongs to a group of very rare timepieces. The piece, however, has had previous owners—the seller notes that the watch works perfectly and does not feature major signs of cosmetic decline.
The watch still has its original box and accessories and boasts a total of 24 jewels. Currently listed on eBay, this piece is selling at $6,460. Even at a price that seems slightly high, the timepiece already has 11 interested buyers.
8. Seiko Diver 7005-8140
With a case size of 38.5 mm, this Seiko Diver 7005-8140 boasts steel as its primary manufacturing material. The timepiece dates back to between 1970 and 1979 and has a total of 17 jewels.
Boasting a diver style, the watch utilizes automatic (mechanical) movement. The watch is selling for $5,733.09 on eBay. Although the seller has clearly stated that the watch will not be delivered in its original packaging, interestingly, the timepiece has already attracted the interest of 25 buyers.
9. Seiko 6306-7001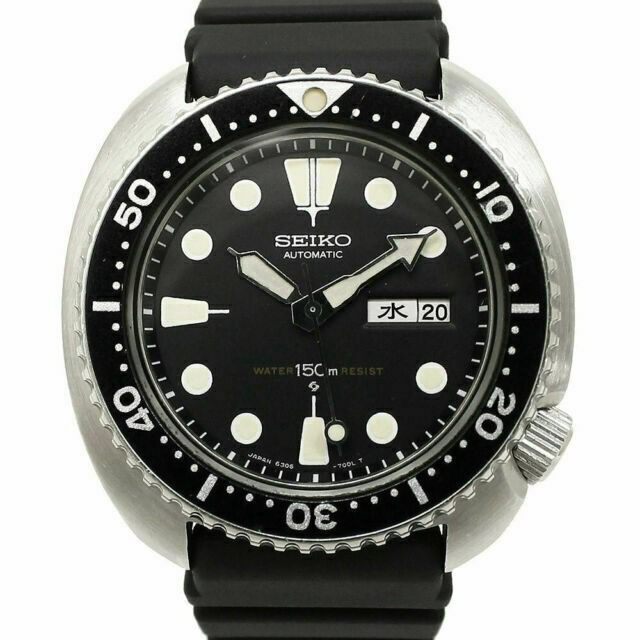 Designed for divers, the Seiko 6306-7001 Scuba pro boasts water resistance up to a height of 150 meters. The piece entered the market for the first time between 1970 and 1979. However, the seller reports that the watch is in good working order.
The vintage Seiko watch boasts a 12-hour dial and runs on a mechanical (automatic) movement. The watch has a date indicator too. To get this piece, you will need to part with $4,800. Interestingly, when we checked its listing on eBay, 34 people were interested in purchasing the vintage watch.
10. Seiko E3720
If you are interested in getting a vintage Seiko watch covered with gold, the Seiko E3720 might be perfect. This timepiece boasts 18k yellow gold on both its case and band. The watch weighs a total of 59 grams, with most of the grams being a result of the 18k gold.
The watch boasts a quartz movement. The seller indicates that changing the battery and a simple adjustment could get the watch to work. Currently listed on eBay, this watch is selling at $4,500 and has already attracted the attention of 11 buyers.
Antique Seiko Watch Buying Guide: Factors to Consider When Buying Antique Seiko Watches
When buying your antique Seiko watch, there are several factors you will need to consider to ensure you are not getting ripped off by the seller. These factors include:
1. Functionality
Chances are, you are purchasing a vintage watch so you can use it to tell time. If this is the case, you wouldn't want to get a timepiece that does not perform its role.
Before paying for an antique Seiko watch, always confirm with the seller that it is working perfectly. If possible, get a professional to check the watch on a professional timing machine—this is especially vital in cases where you are paying for an overly expensive piece.
2. Polishing
Before whipping out your wallet and using your hard-earned cash to pay for an antique watch, determine whether it has been polished. Also, determine to what degree it has been polished.
The bright and attractive vintage Seiko watch you intend to pay for could be a denuded husk of its previous self, worn down by numerous polishings. Remember that a vintage watch can only bear so many polishes—you do not want to pay for a watch that has already been polished to death.
3. Servicing
You may get your watch while it is still working. However, it may happen that after a short period, it stops working. If that happens, you would want to ensure you can get it working again.
Keep in mind that parts for some vintage Seiko watches are hard to come by. If your goal is to get a watch that will serve you a long time, confirm that you can service it easily.
4. Parts
If you aim to purchase a vintage Seiko watch that has all—or almost all—original parts, you will need closer scrutiny. For example, be sure to check whether the watch's patina is its original patina. Check if the hands and markers have been replaced and then painted to match the original factory look.
Similar to polishing, the occasional part replacement is not fatal. However, it becomes fatal when most of the watch is made of parts from other watches.
5. The Band
You want a watch you can wear on your wrist. This means you want a band that can fit you—not one that is too tight or too loose. Before paying for a vintage Seiko watch, be sure to check how fit it is for your wrist.
6. The Seller
Numerous platforms sell vintage Seiko watches online. You can also find dozens of sellers offline. However, can you trust them to deliver a genuine and working vintage Seiko watch?
Before paying, analyze their reviews online. If it is a local shop, ask around to see if you can find people who have bought from the shop. Be sure you are dealing with a reputable seller before paying.
Overview
Old Seiko watches represent great value—they are a chance for you to put a piece of history on your wrist. For this simple reason, vintage watch buying is currently boasting growing popularity, thanks to communities of savvy collectors and numerous internet resources that allow buying and selling of old watches.
This detailed guide analyzes the vintage Seiko watches. We have shown you the price to expect and what to look for to avoid being ripped off by unethical sellers.
Have you purchased a vintage Seiko watch in the past? What was your experience? Let us know in the comment section.