The chances are you've never actually heard of Benrus before in your life. However, the Benrus brand was an American titan in the timepiece industry early on. Their watches were renowned for their stunning designs, functionality, affordability, and overall appeal.
In this guide, we're going to break down the history of Benrus, various models that hold extreme significance and value, as well as some basics to identifying and valuing these vintage watches.
Let's not waste any more time.
The History of Benrus Watches
It's the roaring '20s, and brothers Benjamin, Ralph, and Oscar launch their very own watch company called Benrus using a combined savings of $5000 (roughly $70,000 adjusted for inflation). These three Romanian immigrant brothers are chasing their American dream, and they're about to become significant players in a crowded field.
The brothers wasted no time and began to Import various swiss watch movements from Switzerland. These movements were then packaged in cases in New York City. It didn't take long before the Benrus brand was getting the likes of heavy hitters backing their products. Stars like Charles Lindbergh and Babe Ruth were just a few celebrities who endorsed and wore the brand's signature watches.
Benrus gained popularity and momentum and took on significant competitors like Hamilton and Bulova. While these monuments events were taking place, the watch brand was taking advantage of a post-world war America and enjoying what would end up being their most lucrative time in business.
Throughout the companies illustrious history, they've had some pretty incredible moments. In the 40s, the brand became a fan favorite for the airline industry, leading to Benrus creating the Sky Chief models. The popularity was so real that they eventually started proclaiming the model to be the 'Official Watch of Famous Airlines.' Nobody even challenged this declaration.
In 1963, the Democratic National Convention (DNC) gifted then-president John F. Kennedy his own custom Benrus watch. The solid gold watch would become a part of his collection until his untimely death.
In 1968, Steve McQueen wore his personal Benrus watch in the 1968 film 'Bullitt.'
With no shortage of historical moments, it's no wonder this brand has become a favorite for collectors who clamor for the brand's vintage collections.
The Different Benrus Watch Models
One of the biggest ways you'll be able to identify a Benrus watch is by considering its model. These are some of the most sought-after models.
Sky Chief
Launched in 1941, the Benrus Sky Chief was a product designed to respond to the start of the commercial flight boom that dominated the time when it was still very new. The interesting aspect about these watches is that the main driving force behind their conception was the brand's already established popularity with pilots.
This in-flight-friendly watch was a hit with pilots, and some airlines even started equipping their pilots with the watch. There are many elements of the Sky Chief that make it so uniquely Benrus. Whether it's the unusual depth or the thick case, this watch has remained a popular find amongst collectors.
These watches can go north of $6000 quickly. That's how intensely sought after this particular watch really is. There are obviously multiple variations, but the Sky Chief name alone, combined with Benrus, will drive up the price regardless of which iteration of the watch is on offer.
Dial-O-Rama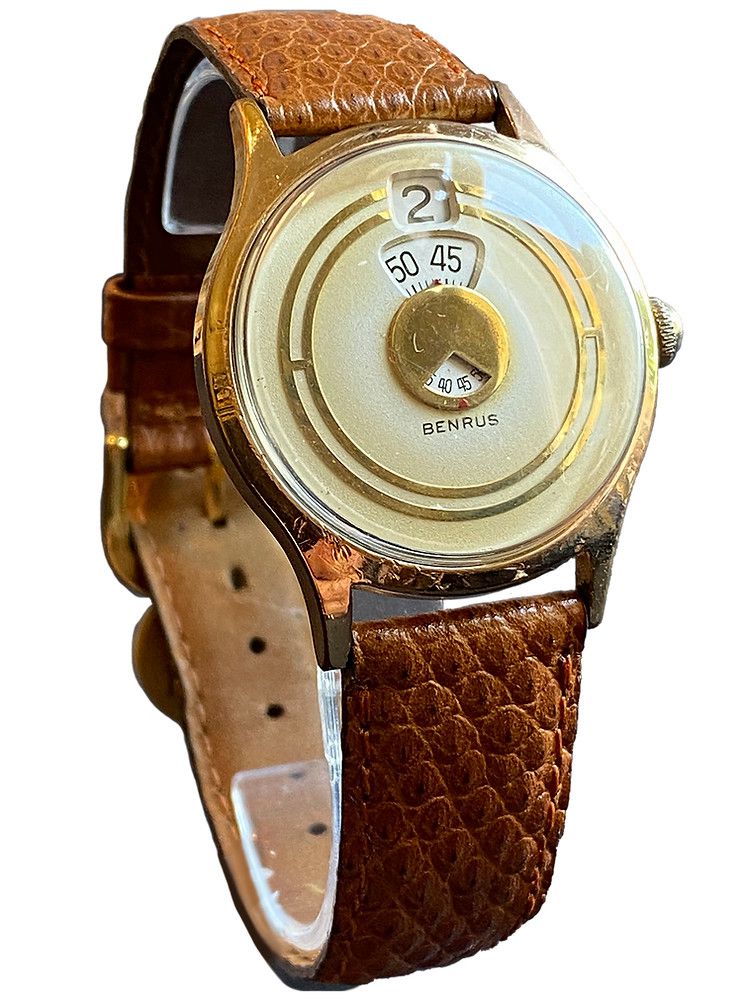 As the Avant-garde movement started infecting the fashion industry, brands started reacting very differently to create unique products that demanded attention. Everyone was vying for people's attention like it was more valuable than actual monetary currency.
Belarus's response to the Avant-garde movement was to create the Dial-O-Rama. The dial-O-Rama expressed a unique product design with a jump dial to display the time of day. The time would be made visible through small apertures for hours, minutes, and seconds.
If you were to consider it for a moment. The Benrus design ended up being a calling to future watch designs when the digital era would dominate the timepiece scene. Finding or acquiring a Dial-O-Rama watch is a big deal as these are intensity in-demand timepieces. Various designs can fetch north of $1000.
Bullitt
The Bullitt watch was initially designed to be the civilian response to Benrus's Military models. However, with the world long since passed, the first and second world wars, the company released the watch – at the time without the Bullitt name – and enjoyed relative success with the model.
The watch got a surprise boost when Hollywood legend Steve McQueen ended up wearing it in the critically acclaimed film 'Bullitt.' With the release of the film, the watch started gaining in popularity, which prompted the company to rename it the 'Bullitt.'
Today, Hollywood enthusiasts and collectors search for these iconic watches to add to their collections. Most Bullitt watches can fetch anywhere north of $400.
Type I & Type II
The 1970s military dive watch series is not only one of Benrus's most iconic watches, but it's also the most collectible Benrus watch in its collection. Type I and Type II are two different iterations in the same series of watches. They were adopted by the United States Elite forces during the Vietnam War.
The exciting thing about these watches, and why they're so in demand, is that they were never available to the public. Not once. The company has never sold a Type I or Type II to the general public. This makes finding them extremely difficult and therefore drives up their collectibility value.
As it stands, a Type I or Type II can fetch exceptional amounts of money. In research, we found that some watches went for as little as $5000, which was the cheapest. However, a majority of these watches can far exceed $7000 – $8000.
Benrus Sea Lord
The Benrus Sea Lord built on the success of the watchmaker's other relatively successful model 'Ultra Deep.' The Sea Lord watch model took on many different identities and had numerous designs that all proved to be popular with the masses.
The Sea Lord model range variations went from full-on diving pieces to dress-orientated models. Throughout the 60s, these watches had tremendous staying power due to their elegant and functional designs.
A Benrus Sea Lord can fetch north of $250, but this is determined by the variation within the model range. Some have gone for far more than this baseline of $250.
Wrist Alarm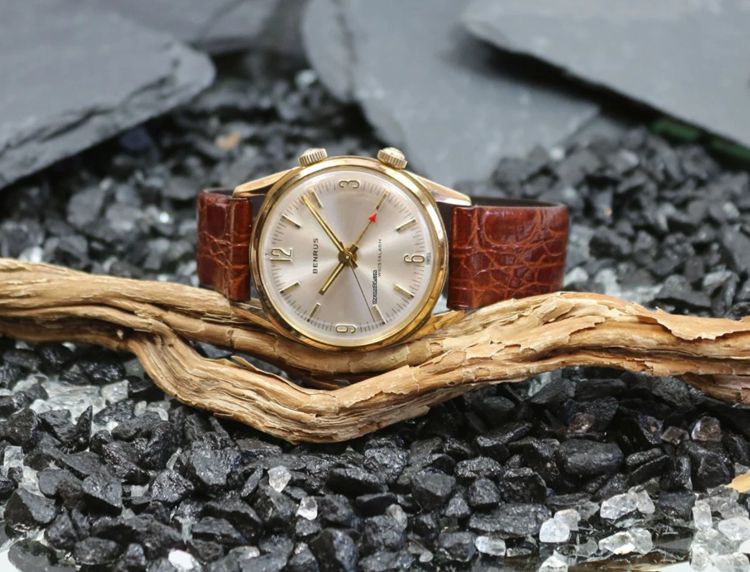 Benrus knew they weren't the original creators of the Wrist Alarm type of watch, but that didn't stop them from creating their own version. The convenience of an alarm clock on your wrist piqued their interest, and so they designed their Benrus Wrist Alarm and released it to acclaim.
The Benrus Wrist Alarm proved to be the company's most successful launch. They provided countless options for design, from casual to dress and beyond.
A Benrus wrist alarm can fetch anywhere north of $800.
Citation
In a way, maybe you could somewhat compare the Citation models to the Type I and Type II models. Although, obviously, these were made available to the public, a stark difference from Type I and Type II.
The Citation watches were designed with numerous design styles and were predominantly full diving watches. The citation model was the first to house electronic movements during the 1970s when watches began adopting this new style.
Citation watches are a far more accessible watch for collectors. Most models fetch between $150 – $500 depending on the exact model, as well as the condition of the watch itself.
Early Benrus watches had very little personality and were rather plain. As a result, they won't fetch you much in terms of value as they're not flashy in design or detail and serve more as just simple watches. It was only by the mid-30s that the company was really able to start distinguishing itself from others with more out-there designs and better functionality.
Materials
The Benrus watch brand used different materials across their range of products that ranged from gold and silver to straight-up stainless steel.
Gold was a heavy feature for the company, which attempted to incorporate it in most of their watch cases across their range of products.
Watches like the Bullitt were made using a heavy dose of silver to emulate a bullet. While Citation watches usually featured a great deal of gold. The Dial-O-Rama featured stainless steel backs and other components with a touch of gold.
Another dominant feature in Benrus watches were the leather straps which were an extremely common feature of the brands numerous watches.
Things To Look Out For
Unlike most watch companies with more than a centuries worth of history in the business, Benrus doesn't have as much to offer in terms of clean-cut identifiers. You won't find little instances of something so uniquely Benrus.
Movements
Benrus didn't produce any of its own movements like other watchmakers did. Instead, they imported them from Switzerland or Germany. So when inspecting a Benrus watch, try to match the movement's country of origin with the model to see if it is potentially the original part.
This can be an extremely difficult process as you'll find it difficult to know if the movements featured are the original movements the watch had when it was first made.
Signatures
All the Benrus watches feature the Benrus name on the watch face and casing. Some of the models Benrus embarked on have their names featured on the watches. This was not always the case. However, a majority of them feature their model names like the 'Wrist Alarm' or the 'Sky Chief.'
Dating a Benrus Watch
The best way to date a Benrus watch is to determine its model and then try to consider which particular year the watch originated in. The back of a Benrus watch holds valuable information that can make the elimination process much easier. You can always search up the serial number in various databases to help discern the model and variation of any Benrus watch.
How Much Are Antique Benrus Watches Worth?
The worth of a Benrus watch varies drastically between models. It isn't about the date the watch came to the market but more about the history that the watch accrued over time. Being on the frontlines of a war in the jungle or being a part of conquering the skies. The Benrus brand is dripping in iconic moments and some incredible historical achievements that have made this overall brand collector's love affair.
Recently Benrus actually released the Type I and Type II reissues to the public, and this has made finding originals even more difficult than it already was, and it's difficult. In addition, to find such a rare watch will result in a hefty price tag or payday. Nevertheless, these watches have become the defining watch for Benrus in terms of the vintage antique collection.
Final Thoughts
Now you know all about the Benrus brand and how to identify and value their watches. Hopefully, whether you are purchasing or selling, this has given you some solid ideas about how to press ahead. This brand was a product of the American Dream. Anyone can come to America and make something out of nothing.
It's important to understand that the Benrus brand isn't as rich in iconic models as many of its competitors. There are so many available already, so don't rush to sell if you find yourself with a vintage Benrus. Instead, keep looking and seeing how it's going. The more that are available, the less your vintage Benrus will be worth.