With its mesmerizing patterns and beautiful blue color, Flow Blue antique china is exceptionally rare and highly sought after. The price tags of these hand-painted and extremely valuable Flow Blue, however, are not easily predictable.
Identifying genuine blue patterns on china porcelain and thus differentiating fake from genuine Flow Blue can be an arduous task. As an avid collector my entire life, I've created this guide to help you understand everything you need to know before looking into the variations of the china itself.
A History of Flow Blue Antique China:
Early Victorian Flow Blue:
On account of its different patterns and high value, flow blue pieces were limited to individuals of the wealthy class of 18th century England. This china, however, reached its peak of fame in the Victorian era and has recently regained its popularity.
Late Victorian Flow Blue had taken more than 100 years of development by English potters to reach the existing state of antiques that we currently see.
How Did Flow Blue Come Into Being?
The china features an array of blue patterns intricately hand-painted onto the antiques. These flow blue patterns came into being due to a widely used transfer-ware technique in England.
It's believed that flow blue was first produced on accident when cobalt oxide made its marks close to the site of the intended design of the object. Whether an accident or not, the widespread collection of flow blue style and patterns ultimately raised its popularity in the market.
How is Flow Blue Made?
These antique pieces were initially made with the help of diffusing agents, tissue paper, and strenuous effort. The crafting process includes heating an object such as a copper plate engraved with different styles and designs. It is then treated with cobalt oxide, and pieces of tissue paper are applied to the engravings. The patterns eventually become one with the plates, and this final piece of pottery is placed in water to remove the tissues.
Then comes the final step; pattern making. The iconic blurred pattern is developed on the china by mixing ammonia chloride and adding lime during the glazing process in the kiln. This chemical cocktail spills the cobalt oxide out of the original design, creating the flow blue blur we've grown to adore.
Flow Blue China Patterns:
Flow blue antique china was manufactured using a transfer-ware technique. This shift in technique from hand-painting to transfer-ware ensured that the product was not as expensive as traditional Chinese porcelain and its hand-painted counterparts. So, in a way, Flow Blue made porcelain more accessible–it was the people's china.
How to Identify Flow Blue China:
Identifying flow blue china is usually a straightforward process. The glaze and pattern make the china almost unmistakable. Pieces in excellent condition are even easier to identify because the engravings and markers are relatively fresh. However, the simplest way to identify a flow blue china piece is to just look at it.
Essential factors to consider when identifying a flow blue piece are:
Blur:
Flow blue china objects have a distinctive blurred design, unlike all other "crisp" white-blue glaze porcelain designs. A wispy, flowy blue design points to flow blue china even if the patterns are similar. A quick visual comparison is drawn below:
Color:
The color is also a great marker of the authenticity of a flow blue piece. This style of pottery was made using Cobalt, so it has a particular cobalt blue color which reproductions fail to replicate.
I recommend looking at authentic Flow blue samples online and comparing the colors to make sure yours is legitimate. Original pieces have a striking cobalt blue shade, whereas reproductions have an ink-blue or blue-green tint.
Glaze:
Actual flow blue porcelain has an elaborate glazing process and is glazed equally on all sides, including the underside. However, many replicas have an unglazed bottom, which gives them away.
Ensure the authenticity of your piece by checking the glaze distribution, especially on the bottom.
Marker:
The marker size and flow blue china markings (if any) are other excellent identifiers of authentic flow blue china. A legitimate mark tends to be smaller, usually within the 1-1.5 inch size range, while forgeries usually host more prominent spots (often 2-3 inches).
Another essential aspect to keep in mind while looking at the flow blue maker mark is to check if the pattern also has the same "blurred" feel as the rest of the plate. Authentic pieces have similar treatment on all sides, and the maker mark, too, should be as blurred as the design. Here's an example of an authentic mark:
Identify Patterns of Flow Blue China:
The Pattern Styles:
Generally, Flow blue patterns are categorized into four main styles:
Brush Stroke Style
Floral Style
Oriental Style and
Romantic Style
Each particular style has imagery that is exclusive and rarely overlaps with another. This exclusivity makes it easier to identify the patterns if one pays enough attention to the details.
Brush Stroke Style:
The brush-stroke style consists of hand-painted brush strokes, often in a "Spinach" pattern, as shown below. The pieces tend to have a copper or pinkish tint to them and sometimes incorporate colors other than blue and white as well.
Floral Style:
As the name suggests, the floral style features images of flowers, vines, leaves, and sometimes small insects like butterflies to compliment the main pattern. This 1900s English flow blue jug is an excellent example of the floral style:
Oriental Style:
The oriental style focused on creating reproductions of the chinese porcelain design patterns. Oriental designs often illustrated images of Chinese temples, palm trees, people, and sometimes willows.
The oriental style started as an exact reproduction of the Chinese aesthetic. But, it eventually expanded to incorporate distinctly English flowers and floral patterns to appeal more to the US and European audiences.
Pattern makers even resorted to using gold trims and pigments in their work. This gave the pieces a more pristine and expensive feel, promoting sales. You can view an example of a classic oriental pattern here: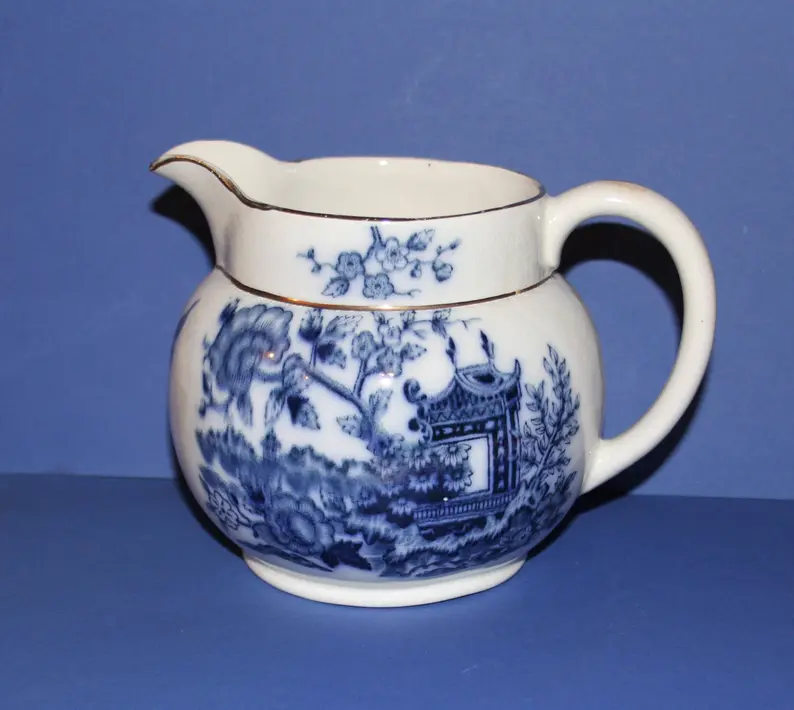 ROMANTIC Style:
The romantic style is probably quintessentially English of all flow blue china styles. It draws its visual language from scenes of the English countryside, pastoral images, animals, and miniature town landscapes, which often include musicians and townsfolk.
The romantic style wasn't always most-in-demand. It regained popularity in the 1960s–after initial wane in collectors' interest during the First World War.
However, this style is now one of the most collectibles. This Doulton & Co, A. Doulton, 'Watteau' Pattern Rectangular Dish on Etsy serves as a beautiful example of the romantic style:
A Shift in Aesthetic:
Initially, the consumer market was interested in acquiring "high-end" Asian designs and the iconic oriental pattern that was the hallmark of expensive porcelain. However, as the Victorian era progressed, it created a shift in what was deemed desirable.
This forged a market for the European aesthetic; people now wanted pastoral scenes, flowers, willow trees, and images of the romantic European landscape. Flow Blue China, as we know it today, was in fashion.
The Pattern Makers:
Flow blue became a favorite in serving pieces, plate sets, and decorative pottery. This popularity gave rise to many pattern makers whose compositions and work remain the cornerstone of the antique flow blue china scene.
As the designs started gaining more traction, a few manufacturers rose to extreme popularity. English potters like the Johnson brothers, Wedgwood China, and Royal Doulton became significant stakeholders. Their Idris, Blue glaze, Blue Danube, Blue-Marble, and Willow patterns still hold a place in collectors' hearts.
The pattern name is usually synonymous with the manufacturer's name in this form of pottery and porcelain. Below are some examples of the most famous antique flow blue patterns and manufacturers:
J & G Alcock Pattern:
This John & George Alcock Scinde pattern from the 1800s iconically featured classic willow trees, an oriental landscape, and flowers.
P. W & Co Pattern:
This Podmore & Walker Corean pattern from 1840 hosted an image of palm and willow trees alongside an elaborate Chinese motif.
William Adams Pattern:
This William Adams "Khyber" pattern famously illustrated a detailed Chinese motif, incorporating the image of palm trees, flowers, and temples
U & C Sarreguemines Pattern:
This French Jardinière pattern by Sarreguemines, dated around 1870-1875, was notable for its intricate floral plate patterns and detailed impressions of leaves.
Jacob Furnival Pattern:
This Jacob Furnival Gothic pattern from 1860 featured a gothic cathedral, trees, and a floral rim pattern.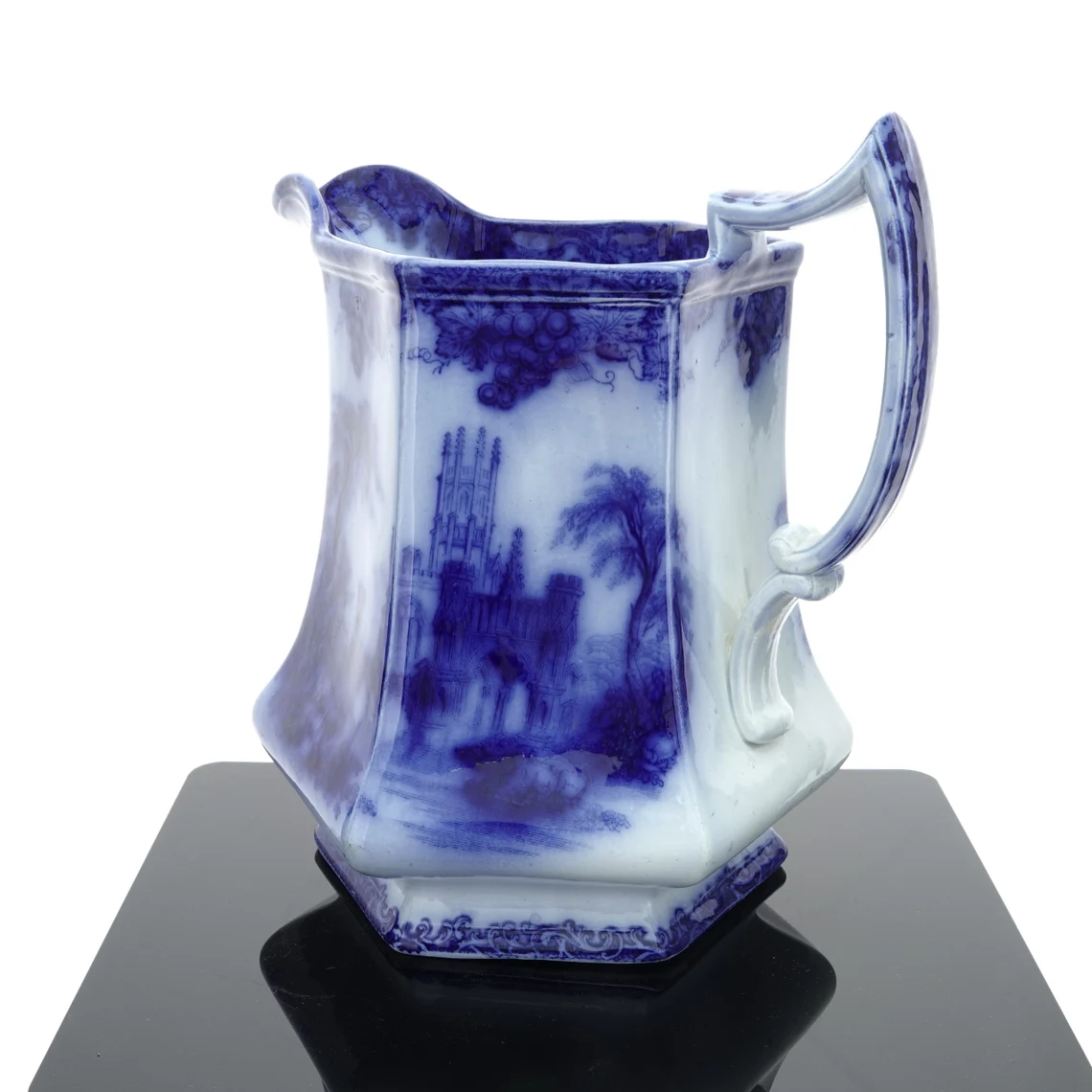 William Alsager Adderley & Co pattern:
This William A. Adderley & Co. pattern from 1875-1880 was unique in its approach to pattern making because it eliminated the ornate central designs that flow blue otherwise used. Instead, it relied on a beautiful pattern that focused on a complex rim design:
Resources to Identify Patterns:
Identifying the porcelain itself isn't tough. The pattern, however, can prove to be tricky for some. Many resources are available to help you pinpoint the exact pattern name on your flow blue piece. My go-to is The Flow Blue International Collectors' Club and its pattern identification resource.
Another great resource is this Youtube Video here. It wonderfully summarises the history and patterns and estimates the general value. Youtube also has some other great videos to help you identify patterns, just go ahead and hit search.
Flow Blue China Value Guide:
What is Flow Blue China Worth?
As with all antique porcelain subsets, the value of flow blue china depends on various factors. Unfortunately, there isn't a quick formula to quantify the value, but you can have a decent estimate based on the guide below:
Pricing Factors To Consider:
Building on what I previously stated, there are quite a few factors to consider when estimating the value of a piece. Generally, you should focus on:
piece condition
rarity
object type
"factory seconds and thirds"
Keep reading to find out how each factor weighs into the price.
Piece Condition:
Usually, the first factor that any private collector, auction house, or buyer notices is the piece's condition. Objects in a Mint or Excellent condition within a specific category fetch higher prices than "Above Average" or "Good" works.
Naturally, this element doesn't overpower other considerations like rarity or limited-edition lines but can significantly impact prices within the same category.
How Do I Know My Piece Is In Mint Condition?
When we say that a piece is in mint condition, we mean it's "just as new." This translates as an object that:
is free of flakes, chips, and glaze cracks
is free of any unusual crazing
doesn't have any factory flaws (other than known flaws within the entire line)
is free of repairs or any restoration work
If the object on hand fits the criteria, it's most likely in Mint condition or is at least in Excellent condition. An article of Flow Blue china in mint condition can fetch a reasonable price.
This particular Mint Condition Podmore Walker & Co Manilla Flow Blue Plate Circa. 1834 – 1859 sold for $110 on eBay just this June: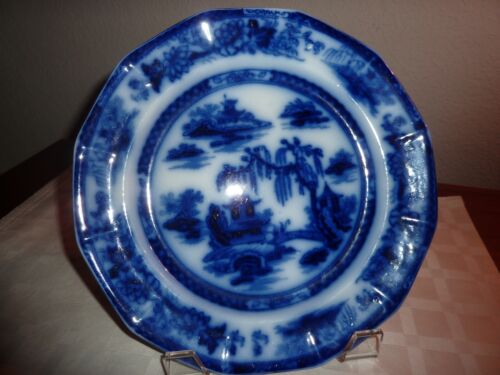 Another example of the same plate, in excellent condition, is currently on eBay for $134 here.
To give you an idea of how the condition can affect the price, take a look at this Podmore Walker & Co Manilla Flow Blue Plate 9.5″ with minor issues: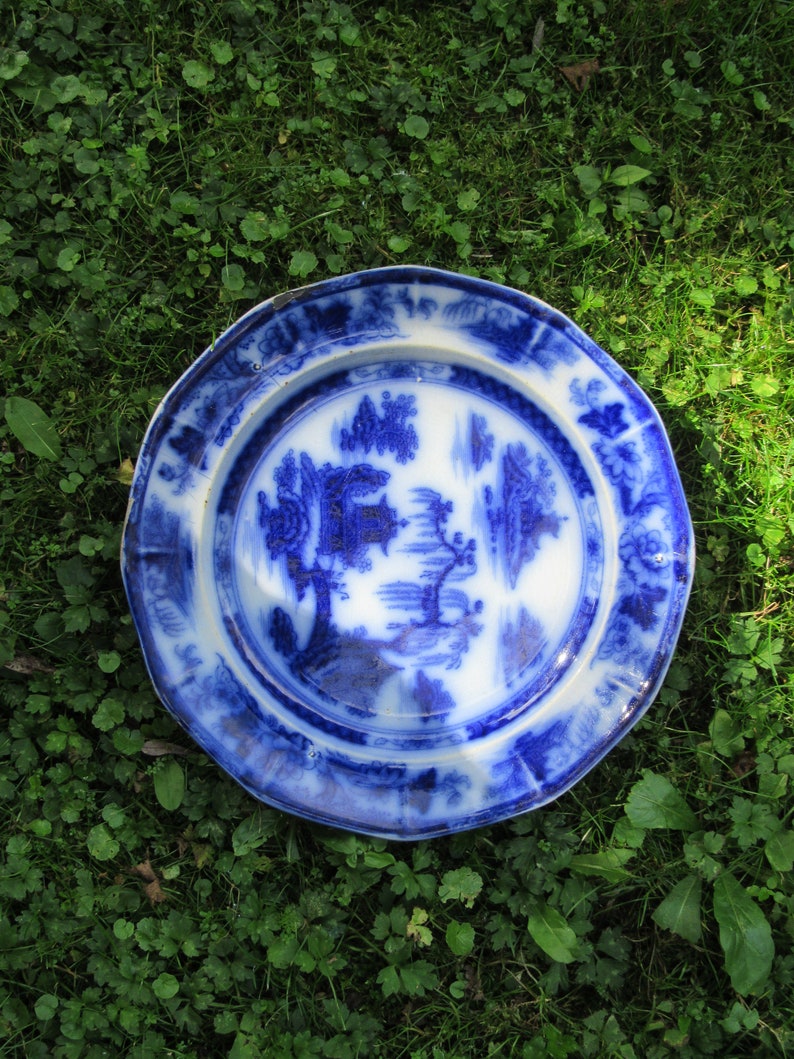 At first glance, this piece doesn't seem too different from the others. However, on detailed examination, a longtime collector would be able to identify the defects. According to the description, "It has to wear on its rim…Also, there is a chip in front of its rim. There is some glaze crazing on its bottom."
The defects are shown below:
Unfortunately, these minor defects can bring the price down as a whole. So, this piece is on sale for $57–almost half of the same articles are in mint or excellent condition.
Rarity:
Highly sought-after Flow Blue objects rank high in the rarity department. Many rare pieces derive their rarity from their being from limited-edition lines. Others just classify as antiques (more on that later)
Sometimes, a piece can also be rare if it has a unique colorway, an unconventional shape, or large dimensions. These factors make it hard to replicate, and pieces as such are harder to find these days.
A few examples of such rare items currently on sale are:
This "Rare Circa 1891-1902 Royal Doulton Burslem Flow Blue & Gold Umbrella Stand" on eBay is listed for $1,395:
This "Rare Antique Doulton Flow Blue Christmas Turkey Huge Platter & 12 Plates In Mint Condition" on eBay, selling for $3,900: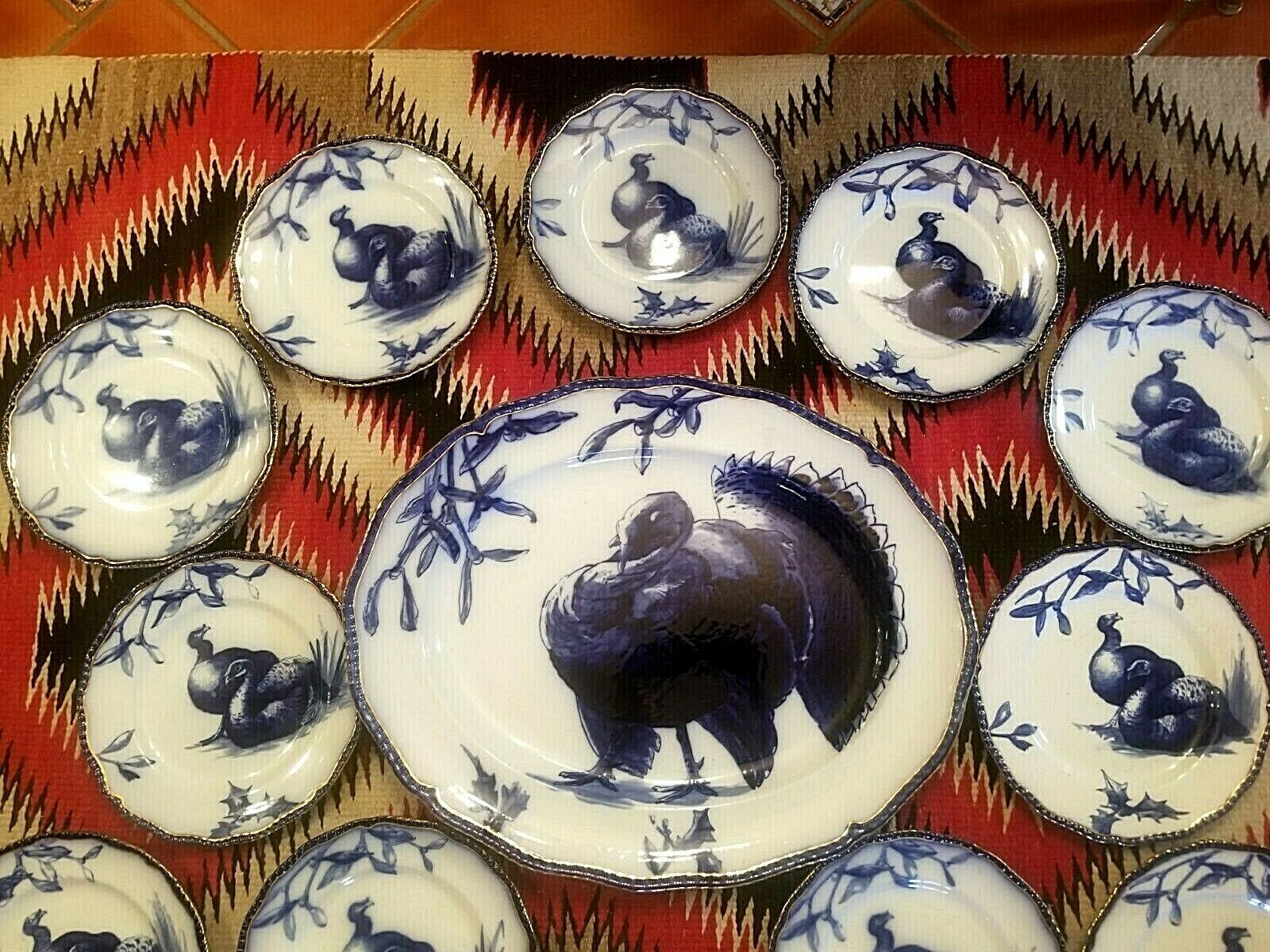 This "Rare Museum Quality 19th Century Huge Antique Flow Blue Vase 24″ With Wooden Stand" on eBay, going for about $6,000:
Object Type:
Another major determinant of china price can be its type. The "type" refers to the categorization of objects. Is it a plate? A teapot? Decorative pottery? Particular objects fetch higher prices than others because of their novelty value or their fragility.
For example, teapots or specific decorative vases can have fragile spouts and handles that can break off over time. If you have such a piece in good condition, it's likely to fetch a good price.
Other novelty items like dog bowls, lidded tureens, pitchers, etcetera can also fetch high prices. For a general estimate of value, view this list of miscellaneous flow blue china pieces:
Dog Bowls:
There are few dog bowls in circulation within the antique flue blow porcelain market. These Limited edition pieces can fetch up to $110 or higher, depending on condition, piece number, and size. The one shown below is currently listed for $106:
Pitchers:
Pitchers can command a variety of prices depending on many factors. Generally, an average Flow Blue pitcher can cost anywhere between $35-100, with rarer pieces hosting much heftier price tags within the $800-1500 range!
This "Vintage Samuel Johnson Flow Blue Jug" is up for sale for $44 on Etsy:
This 19th century "St Uze French Antique Blue Flow Straight Sided Pitcher Milk Jug" is going for $62 on Etsy:
This 1900s "Antique La Belle China Flow Porcelain Pitcher" is listed at $216 on Etsy:
These "7 Davenport Flow Blue Pitchers –in Amoy Pattern" sold for $1,100 at auction in 2017; see them listed on Fontaine's Auction Gallery:
This "c1890 Royal Doulton Gloire De Dijon Flow Blue Wash Bowl and Pitcher Set" is priced for $1,395 on Etsy:
Tureens:
Tureens and certain dishes are considered rarer objects because of their intricate lids and handles. Generally, you can expect between $100-400 for a collectible standard article. However, these pieces can often be relatively pricier because they're harder to come across in good condition. Some realized values are illustrated below:
This "W E Corn, Flannel Daisy c.1897 Flow Blue Rare Bacon Tureen" sold for $110; view it here:
This "1890's John Maddock "Dainty" Flow Blue Covered Vegetable dish" is currently priced at $325 on Etsy:
This "Rare Early 19th c historical Staffordshire flow blue sauce tureen" was an auction for $1,300 in 2016; see it listed on Barneby's:
Factory Seconds and Thirds:
Another important factor influencing the price is whether a piece classifies as a "factory second" or a "factory third."
Although authentic, these flow blue china articles are considered rejected pieces. Technically, the cobalt blue bleeds excessively into the white, blurring the design more than intended–this takes away from their value.
These factory seconds and thirds mainly made Flow Blue china affordable and widely popular within the working class. Even today, factory seconds and thirds find their way into the market but are inexpensive.
These particular flow blue china plates on eBay are most likely factory seconds or thirds:
Sometimes (usually unknowingly), these are sold at the same price as factory firsts. Experienced collectors, however, realize the difference and steer clear of any such pieces.
Final Thoughts:
Flow blue is an incredible subset of antique china, hosting some of the market's most appealing and expensive collectibles today.
As it goes, most valuable flow blue china pieces sell on auction for hundreds or even thousands of dollars, making them an actual novelty item.
Cheers, to those of us who have such a piece in our collection; you've found a gem. And for those of us who don't, I hope we find ours!
Keep on collecting.