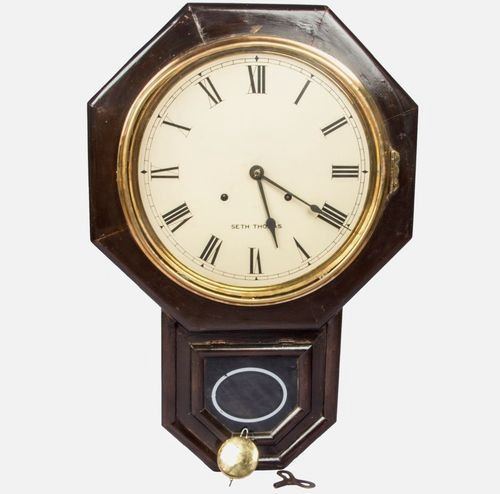 Antique Seth Thomas Wall Clocks are undoubtedly one of the most coveted brands amongst collectors. Even though it doesn't typically fetch millions or hundreds of thousands, the brand has longevity and pedigree.
Have you ever wondered who America's oldest clockmaker is and how its company thrived in a competitive market? Well, here's your answer.
Read till the end of this guide to determine if your old Seth Thomas Wall Clock is valuable and, if yes, how much you can make from it.
1stDibs sold a 19th-century Walnut antique Seth Thomas movement wall clock for $1,778, while a Chrono Art Deco model is listed for $2,700. What informed those different prices?
You'll learn to identify an authentic antique if you're interested in buying one. It may surprise you to find out it's no mean feat at all. First, let's examine the evolution of Seth Thomas clocks from mantelpieces to wall décor.
Evolution of Seth Thomas Clock (A Brief History)
In 1785, Seth Thomas coincidentally was born in the clockmaking hub of America, Connecticut. Naturally, it piqued his interest in the business, although he had an affinity for carpentry, according to the Clock Guy.
As a new decade and century launched in 1800, Thomas established his eponymous clockmaking company in his hometown of Wolcott, Connecticut. He fused his woodwork knowledge into his new business, employing his townspeople to source the raw materials.
While the men cut woods for the clock's wheel, the women spun cords from flax, a.k.a. cotton. Apart from the stereotypical gender roles, Thomas' new business boosted Wolcott's economy, making him the fore clockmaker in the area.
Unfortunately, their profit was short-lived as Thomas relocated to Plymouth in 1807, partnering with Eli Terry and Silas Hoadley. The trio made a combined profit and introduced the wall clock design, then called Hang Up/ Wag on the Wall, to the market.
Three years later, Thomas and Hoadley partnered up after buying Terry out.
Their relationship didn't last because the former branched out to start a new business without a partner. Buying land from an old associate of Eli Terry gave Thomas a ready clockmaking factory.
By 1817, the young businessman produced wooden movements that were popular in that era. Unlike the former designs with his former partners, which required special requests for casings, Thomas made standard pillar and scroll cases for 13 years, then switched to bronze.
Thomas furthered his business by introducing more designs and styles even after wooden movements went extinct in 1845. He incorporated the company in 1853, which outlived him after his death six years later, thanks to his sons Seth Jr. and Aaron.
Per Clock History, Seth Jr. and Aaron ran the business successfully until Talley Industries acquired the company in 1968. The new owners managed it for another twenty years before relinquishing it to The National Association of Watch and Clock Collectors in 2001.
The NAWCC claimed its relevant historical pieces and secured them until its liquidation in 2009.
Seth Thomas Wall Clock Identification
History notes that Thomas was a conservative businessman who believed in following a proven formula, so it wasn't until his death that the company (his sons) introduced new designs. That's the first giveaway for identifying Seth Thomas clocks in general, including the wall clocks.
Unsurprisingly, the Mantel Clocks are the most popular Seth Thomas designs, but they're not the only valuable ones.
Inspect the Labels

The easiest way to identify an antique item, including Seth Thomas Wall Clocks, is through labeling. Because the company changes its name severally, you can use that to pin the production year.
Remember that you're not the only one aware of this fact, and that's why you need extra tricks up your sleeve. Check the edges of the label for fraying and the writing for fading ink. Also, labels hold date stamps that can help you easily determine the production time.
Keep reading for more information on that.
Identification by date stamps

Original antique Seth Thomas Wall Clocks have date codes stamped on their casing. You'd typically see it inked on the back but note that it's reversed and uses letters and numbers in its codes. Letters A – L replaces Jan – Dec. while the year stays the same but backward.
So, in modern-day date, May 2022 translates into 2202E. You can easily apply that to your antique wall clock's date code stamp.
Identification by Name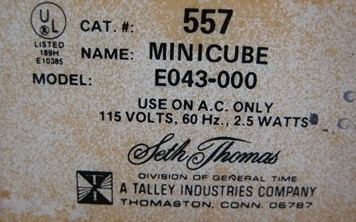 The OG Seth Thomas wall clocks had the company's name (in the early 1800s till the 1840s) on the label with the manufacturing date. The names changed as the years and decades progressed, and management transferred to other parent companies.
By 1930, the General Time Instruments Corp. assimilated Seth Thomas Clock Co. and Western Clock Co. So, you may see Seth Thomas by General Time Instrument Corp. labeled on the clock.
An unfortunate flood in 1955 led to a suspension of factory production for a while, so Seth Thomas resorted to importing parts from Germany to supplement its short supply.
Tally Industries bought General Time Instrument Corp. in 1968, owning Seth Thomas' rights. The company held it down until 2001, then Colibri Group took over until 2009.
Identification by Movement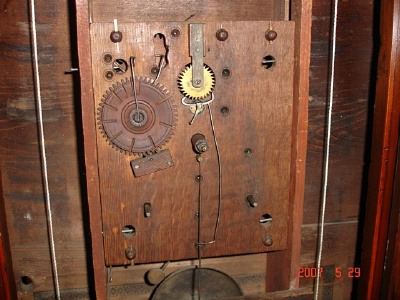 Seth Thomas clocks started with wooden movements, although they phased out alongside the rest of the world in 1845. Before then, the company slowly transitioned by making wall clocks with brass and other popular materials in 1830.
By 1842, Love to Know stated that the company focused solely on brass movements and phased out the wooden parts.
In 1955, the company imported its movements from Germany, so if you see Made in Germany, you know what year it's from.
Identification by Materials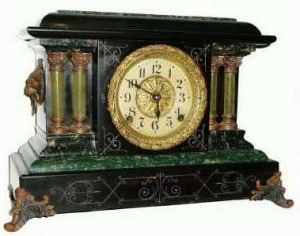 Seth Thomas used wood as its primary material from its inception until 1820 – 1830, when brass became the preferred material. The manufacturers used them for both internal movements and casings.
In 1882, the company introduced Adamantine Veneers as the new casing for its clocks. This cheap but beautiful plastic alternative to the then expensive brass was a welcomed hit in the market. It helped the middle- and lower-class consumers manage their funds as the war was brewing.
Seth Thomas Wall Clock Models
| | | |
| --- | --- | --- |
|  No. | Seth Thomas Wall Clocks | Year |
| 1 | Keywound Clock | c. 1800s |
| 2 | Regulator Clock | c. 1880 |
| 3 | Octagon Wall Clock a.k.a. Schoolhouse | c. 1910 |
| 4 | Electric A/C Clocks | 1928 |
| 5 | Digital Clock | c. 1945 |
| 6 | Quartz Clocks | c. 1980 |
In over 100 years of producing clocks, Seth Thomas introduced many designs to the American market. The brand became popular for its adamantine black mantel clock, but other designs have since become collectors' favorites.
Seth Thomas Regulator Wall Clock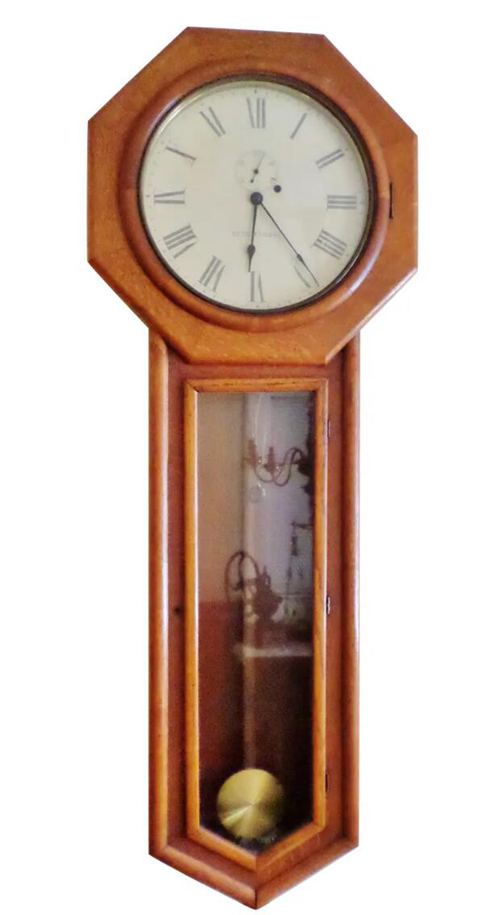 Regulator clocks originated from England in 1720, as an answer to the problem of inaccurate timekeeping by the existing clock models. However, it entered the American market over a hundred years later.
The clockmakers then were already using the keywound designs which could tell time accurately as long as the owners wound them periodically. Unfortunately, the minute's lapse caused railroad accidents due to collisions on the tracks.
Manufacturers then discovered the European regulators which proved useful in repair shops for resetting clocks. The model uses a weighted gear mechanism to control the movements and it promised no more than 10 seconds lapses/month.
Soon, regulators mitigated the train collision accidents by letting railway workers sync their pocket watches to the timepiece. Seth Thomas Regulator clocks soon became popular as the company joined the new wave.
Seth Thomas Electric Wall Clock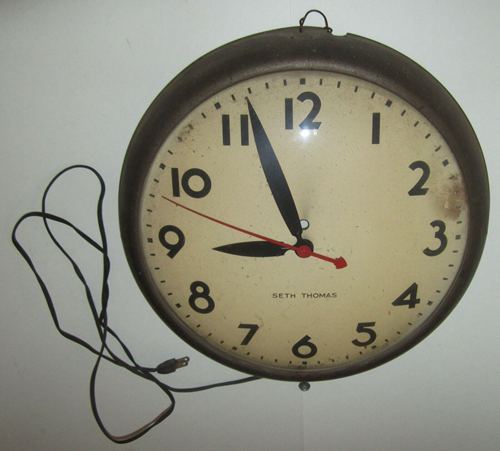 Although electric clocks had been on the market since the late 19th century, Seth Thomas didn't start making them till the 20th century. In 1928, the brand created electric A/C clocks, including a collaboration with Colgate Co.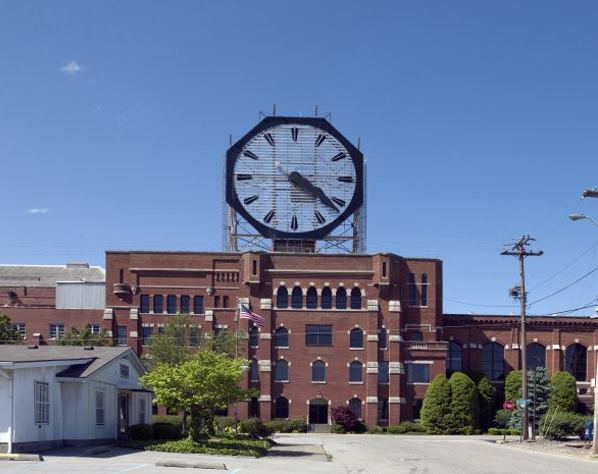 Clock Depot says Seth Thomas built a giant illuminated 50-ft dial clock with a single face for the company's new building in New Jersey.
Seth Thomas's electric wall clocks had no particular design or shape, but they had quality casings made of brass, wood, and sometimes frosted glass. Unlike its previous models, the electric wall clock used electricity as its power source instead of hanging weights.
Seth Thomas Octagon Wall Clock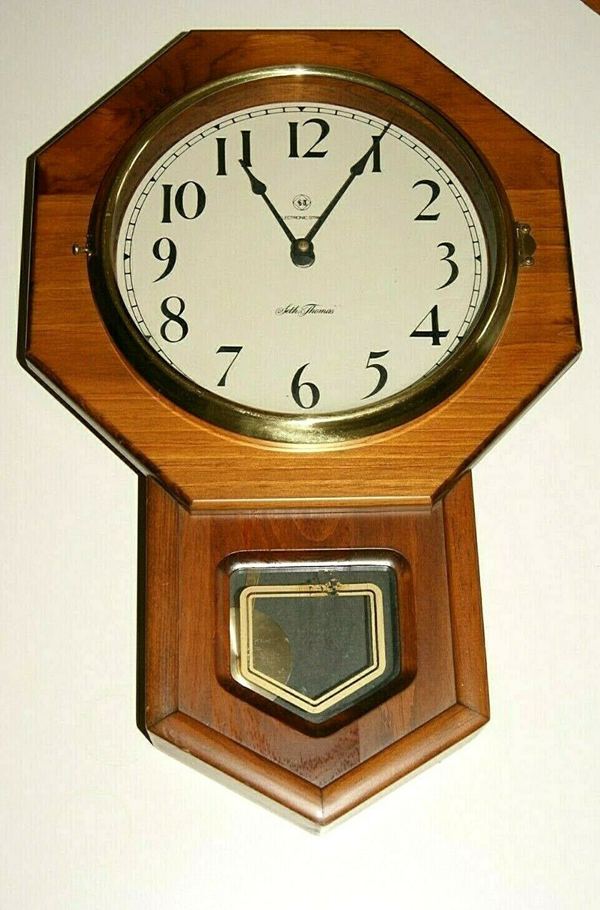 The Octagon Wall Clock became a hit in the 1910s when consumers started requesting wooden casings for their wall clocks. It was especially popular amongst institutions (schools, churches, and more), leading to its name, The School House Clock.
Its success led to the production of other brands of wall clocks following the school house octagon prototype. It had eight sides, like an octagon housing its dial and a sexton housing a pendulum at the bottom.
Seth Thomas Octagon wall clocks were about 23.5 inches long and added multiple complications as the years progressed. The OG wall clocks from 1910 have Arabic, Roman, and numeric dials.
Seth Thomas Quartz Wall Clock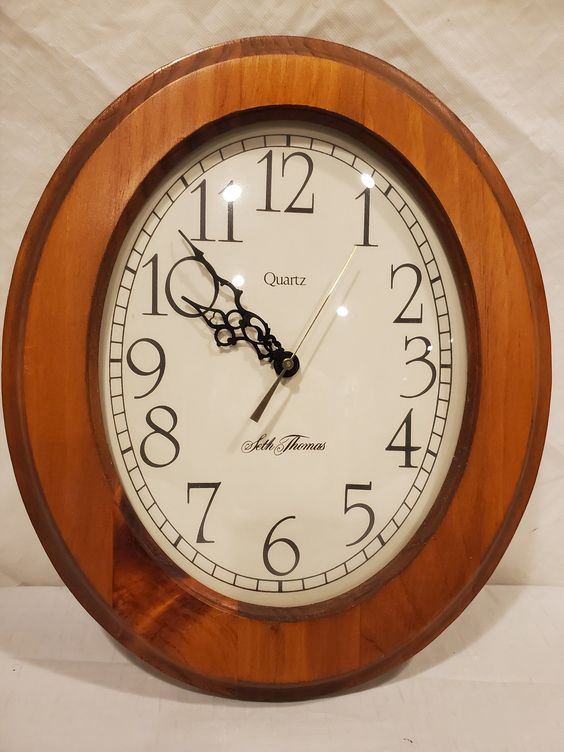 The 1980s ushered in the reign of the new clock mechanism – quartz movement – and Seth Thomas wasn't left behind despite changing its management. It also helped that the company had German affiliations after importing parts from the European country.
The quartz crystal supplemented the electrical movement in telling time accurately. It's a battery-operated clock with a swinging pendulum hanging on the bottom.
Seth Thomas Keywound Wall Clocks
Antique Seth Thomas clocks had a key-wound system that controlled their movements. Different models had unique rewound days, and the longer your clock works without needing a rewind adds to its value.
So, daily wound wall clocks require a reset every 24 hours. Following that logic, you can understand how the 8-days, 14-days, and eventual 30-days wound clocks worked. As expected, the 30-days wound Seth Thomas wall clocks are the most valuable.
Seth Thomas Digital Clock
As the new world order changed after World War II, Seth Thomas hopped on the development train and produced digital LCD screen wall clocks. This one displayed LED numbers, unlike the traditional clocks with the hour, minute, and sometimes seconds hands.
It ran on AA-size alkaline batteries but had alternate cable plugs that tapped electricity as a power source. A few modern vintage Seth Thomas digital clocks also incorporated the budding solar power into their system as a third alternative power source.
The most recent iterations of this model of Seth Thomas wall clocks included alarms and weather indicators.
Seth Thomas Wall Clock Value
It's not enough to know your antique wall clock is a certified Seth Thomas make, but you have to pin the right value on it too. Apart from the nostalgic, sentimental value attached to old Seth Thomas wall clocks, there's also the monetary value to consider.
There are Dos and Don'ts of valuing an antique Seth Thomas wall clock, so let's get into it.
Is It in Good Condition?
How good does your antique Seth Thomas wall clock look?
As much as collectors appreciate the historical value of an antique Seth Thomas wall clock, it's worth nothing or less when it doesn't work. Sometimes, it may work just fine, but the physical qualities put buyers off.
Before buying or selling, ensure your Seth Thomas wall clock is working perfectly. Start by monitoring its accuracy in telling time because there's no point in owning a vintage if it doesn't function unless you're only interested in its aesthetic value.
| | |
| --- | --- |
| Condition Label | Meaning |
| Mint | The clock is perfect without any repairs or hidden damages. |
| Excellent | The clock has minor flaws but nothing that can't be fixed. |
| Good | The clock has been through hell and back. There are cracks, teas, creasing, cussing and more. |
In that case, you should focus on the outer appearance. If your antique Seth Thomas wall clock pre-dates the war era, it's made of wood. Here are a few steps for evaluating antique wooden items;
Crease: Age makes wood shrink and shrivels, so seeing such on your antique Seth Thomas wall clock shouldn't discourage you. They're typically two or more lines banded together like wrinkles on the clock's material.
Cracks: The antique or Vintage Seth Thomas Wall Clock doesn't need to tether on the edge of disrepair but spotting a few cracks along the wood is always a good sign.
Look out for natural patterns since those are typically irregular, unlike forged, consistent cracks.
Finishing: make sure the lacquer doesn't smell refinished or new. Sometimes, sellers refurbish antique wall clocks and try to retain their aged look. You can, however, tell the difference through the look and smell.
Old wood has a unique odor that is musty from years of humidity or being cooped up.
Material: The quality of the wood is another important factor because they don't all look the same, nor are they of the same strength and other features. Oak and Mahogany are two of the most expensive logs used in the 19th century for production.
Clock Design adds Walnut, Rosewood, Timber, and African Zebrano as common materials of the pre-war era. Home Guides says the company used Oak and Mahogany predominantly after 1913.
We focused on wooden evaluation because the typical antique Seth Thomas wall clocks have wooden casings. Next, you have to examine the glass housing the dial.
Like wood, age interacts with glass in a way that's impossible to miss. You'll see tell-tale signs like cracks, fading, scratches, and sometimes chips. OG glasses are sturdy and resilient, having survived through centuries.
Also, an intact glass means a clean and readable dial – 50/50.
Is your Seth Thomas Clock's Mechanism Complicated?
In Clock terms, the word complications refer to the inner mechanisms of the timepiece – all the things that make it tell the time. Complications are the reason some wall clocks also tell dates, seconds, and hourly chimes.
The more complications a vintage or antique Seth Thomas has, the more expensive it's likely to become. Knowing the number of chimes and other complications on your item helps you set it apart from others.
How important is the manufacturer?
While the name is important for identifying an antique wall clock, it also helps the buyer know if it's worth anything. An antique item may be beautiful and highly functional, but it won't go far if it lacks pedigree.
Historical Importance of the Brand
On the flip side of the manufacturer's names lies the historical Importance of the brand you have. As the first producer of clocks in the US, Seth Thomas has earned its reputation as the number one clock maker in the country.
Again, because the company changed control severally, the OG models are rare and scarce to find, making them a high commodity amongst collectors. Rarity is the primary cause for the high demand for the antique Seth Thomas Pendulum wall clocks, a. k. a. Schoolhouse clocks.
What is the Market Saying?
It's one thing for an antique Seth Thomas Wall Clock to tick all the boxes on paper, but another foolproof evaluating mode is by comparison. In real life, you'd hear about comparison being a thief of joy, but that doesn't apply to Seth Thomas wall clocks.
Checking out other collectors' stash and sold lots on Auction websites is a sure way to determine the fair market value of an antique or vintage item. You can also set the gauge for your asking price if you're into sales.
Later in this article, you'll learn where to sell antique Seth Thomas Wall Clock.
Where to Sell Antique Seth Thomas Wall Clocks
You can explore private auction sites like Alliance Time which holds private retail sales. You can also patronize the more popular Christie's and Sotheby's – both reputable auction houses with billions in sales.
New sellers can also try out eBay, 1stDibs, Etsy, and other secondary retail web pages to list their items. They're new, user-friendly, and secure. eBay, for instance, has a money-back guarantee for squeaky clean buyers.
Other options include Estate sales if you list the antique or vintage wall clock in your final will or Codicil. You can also make the sale while you're breathing by organizing something in the neighborhood.
You can also search for other vendors online by typing your inquiry in the search box. A prime example is using the keywords Near Me when looking for these vendors. We'll warn you that those online vendors have the highest risk of selling fake antique items.
What's the Most Expensive Seth Thomas Wall Clock ever sold?
The 1stDibs Seth Thomas, which sold, was a collaboration with another brand using its movements. Seth Thomas wall clocks aren't on the spectrum of expensive antique clocks, but they fetch a decent $1,000 – $3,000.
Love to Know reported that a Seth Thomas Mantel Clock sold for $2,000 on eBay, although the listing is now removed. Based on other auction sites, we noticed that the mantel design sells more than the wall clocks.
Where to Buy Antique Seth Thomas Wall Clocks
You can buy an antique Seth Thomas wall clock at all the stores listed above that sell. Other options include modern marketplaces like Amazon, Walmart, and more. There are also forums dedicated to specific antique and vintage Seth Thomas wall clocks and other endeavors.
The best way to avoid falling prey to unscrupulous vendors is by appraising your intended item before paying money. You can either reach out via the internet by searching for accredited appraisers online or you can employ the tricks in this guide.
Final Words
If you take only one thing from this guide, it should be the affordability of antique Seth Thomas wall clocks and its other models. You shouldn't spend tens of thousands of dollars or pounds buying one. Remember that it has more of a historical value than monetary.
You can, however, still get a good working Seth Thomas wall clock because they're guaranteed to beautify and add prestige to any space. Another hot tip you must never forget is that the pre-war models were made of wood, and evaluating wood at first glance is simple.
Check for creasing
Check for cracks
Run your fingers on the body for an aged finish
FAQs
Which Set Thomas Clocks are the most valuable?
During the Second World War, Seth Thomas' management, General Time Co., stalled the production of household clocks for ammunition and arms. So, pre-war Seth Thomas wall clocks are the rarest and most valuable.
Are Made in Germany Seth Thomas Wall Clocks fake?
No. Because of the flood in the Seth Thomas factory in 1955, the company resorted to importing movements and other parts from Germany. Therefore, the clocks were assembled in the USA, although their parts were made in Europe.
Did Seth Thomas invent Battery-Powered Wall Clocks?
In 1964, Seth Thomas manufactured America's first Battery strike movement. Although it's extinct today, Seth Thomas was one of the greatest clockmaking innovators in the US. That's why it's earned a reputation amongst collectors.