Should we call it the Birge, Gilbert & Co., or W. L. Gilbert & Co., maybe the Gilbert Manufacturing Co., clock will sound better; truth is the Gilbert clock company has gone by various names and remembering them all can be challenging.
Although Gilbert clocks aren't as sophisticated as other antique clocks, these antiques have managed to secure their spot in history.
Well, if you need to identify or value an antique Gilbert clock, but the lack of uniformity in design and the many names worries you, worry not; we are here to answer all mind-boggling questions you might have.
The Evolution of the Gilbert Clock Company (1828 – 1964)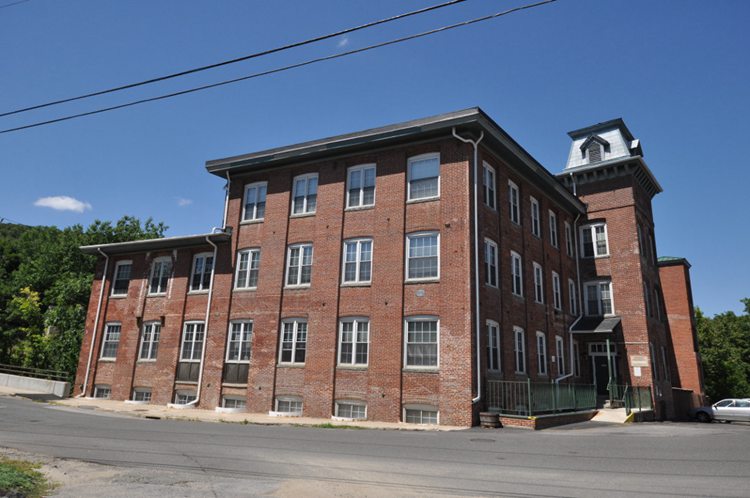 The Brothers in Law
The long history of the Gilbert Clock starts with two brothers-in-law William Lewis Gilbert and Clarke, who started the company under the name Marsh Gilbert & Co. in 1828.
They formed the company in Bristol and Farmington, Connecticut. Connecticut, the hub of clockmaking in the 19th-century, was the perfect startup location. This city had already birthed household names like The Waterbury Clock Co., Eli Terry, Seth Thomas, and others.
However, Gilbert didn't stay in a city for long, so he moved to Dayton, Ohio, in 1834 to make Wooden Clocks.
The Good Times and the Bad
His solo venture didn't last; thus, he returned to Bristol. On his return, he formed a partnership with John Birge to create Empire Encased Shelf Clocks with Joseph Ives movements under Birge, Gilbert & Co.
However, in no time, the firm dissolved in 1837, leading Gilbert to seek another partnership.
Two years later, Gilbert partnered with notorious clockmaking brothers Chauncey and Noble Jerome of The Waterbury Clock Co. Connecticut and Zelotas Grant (1839.) The brothers left Waterbury to form Jerome, Grant, Gilbert & Co.
Unfortunately, the new company used cheap brass movements in its shelf clock, so the sales didn't pick up.
Once again, Gilbert moved on to Winstead (now Winchester), Connecticut, in 1841, where he joined Lucius Clarke and Ezra Baldwin to form Clarke, Gilbert & Co. The group bought a failing factory from Riley Whiting's widow and produced the infamous Ogee Clock.
Four years into the partnership, Clarke sold his interest to Gilbert, leaving the company as W. L. Gilbert & Co. in 1845.
Three years after the sale (1848,) Clarke returned to repurchase his interest, so Gilbert & Clarke came alive.
However, this reunion didn't last because Clarke left again, and Gilbert reverted to his 1845 pseudonym – W. L. Gilbert & Co. In 1866, he changed his business into a Joint Stock Company, The Gilbert Manufacturing Co.
The Gilbert Manufacturing Co. thrived until an unfortunate fire razed the factory in April 1871.
Not one to be idle, Gilbert reinvented his business three months later as the William L. Gilbert Co. He hired George B. Owen as his General Manager in 1880. The latter ensured that the company was stable and successful during his 20 years tenure as the General manager.
Owen's Chapter Unfolds
Although William L. Gilbert died in 1890, the business continued to thrive under Owen's masterful management, even though Owen had his company.
Owen eventually branched to focus on his company as a case crafter, which left Gilbert clocks in a rut.
Though he kept the business afloat at the turn of the century (the 1900s,) the 1907 recession hit it hard. As a result, Gilbert clocks owed a great deal of debt by 1914, but his creditors gave him time to turnover profit.
At that time, Charles E. Williams served as the new manager from 1914 until his death.
By 1925, it cleared its debt, but the reprieve didn't last – the Great Depression was inevitable. The 1929 Great Depression squeezed The Gilbert Manufacturing Co. until it went into "Receivership" (known today as bankruptcy) in 1932.
At that point, many clockmaking businesses attempted to take advantage of Gilbert's situation by buying it out, including E. Ingraham Clock Company.
Ingraham tried to use the Western Clock Co. La Salle, Illinois, to purchase, but it failed. It took Gilbert clocks two years to recover the business birthing William L. Gilbert Clock Corp. in 1935.
The Trials of War
Unfortunately, the Second World War, which lasted from 1939-1945, made it difficult for all businesses to stay afloat.
The USA forced most clockmaking businesses to make wartime items but allowed a few to continue with their regular venture. William Gilbert Corp. was part of the few, so they made Alarm Clocks for the war.
William L. Gilbert Corp. produced Adding Machines in 1953 to boost the profit margin, but that didn't work. So, in 1957, The General Computing Machine Co. took over, and the company changed its name to General – Gilbert Corp.
The new company dissolved the clockmaking arm in 1964 for not turning any profit since its merger.
Gilberts Clock Making Chapter Ends
In 1964, the curtains closed on Gilbert as a clockmaker after 130 years in the clockmaking business. The company sold its interests to Spartus Corp. Chicago, Illinois for $500,000.
Although Gilbert made low-end clocks, they still retain the antique community today. Collectors wouldn't forget the impact of the Black Mantel Clock and Ogee model so soon. Some of the paper mâché designs have skillful embellishments that elevate their otherwise understated style, and that's the catch.
Here's a list of the different types of Gilbert clocks.
Types of Gilbert Clocks from 1828 – 1964
Black Mantel (c. 1870)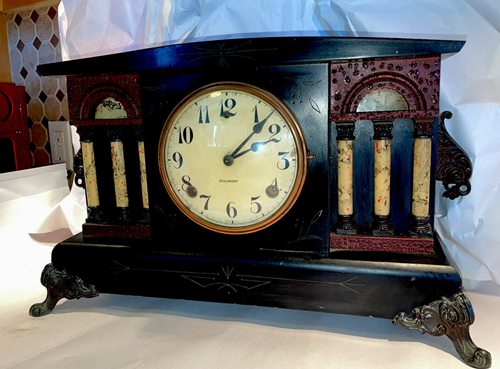 The Black Mantel clock was the most popular Gilbert design from the Alarm Clock. The rectangle framed dial with ornate brass pillars featured on almost every house's mantel. There were a few variations to the model for flare, like the "Bell Top."
Banjo (c. 1800s)

The Banjo clock gets its name from the musical instrument it's shaped after. It has a big circular dial attached to a long stem standing on a base. Each base has a unique picturesque design like a country farm or floral embroidery.
At the turn of the 19th century before W. L. Gilbert started making clocks; this design was already making waves.
Ornate Metal
The Ornate Metal model comes in various designs. It can be a steeple mantel clock or an arch-top wall clock. Each one has a unique design on the frame, and most of them used adamantine.
Schoolhouse Clock (c. 1890)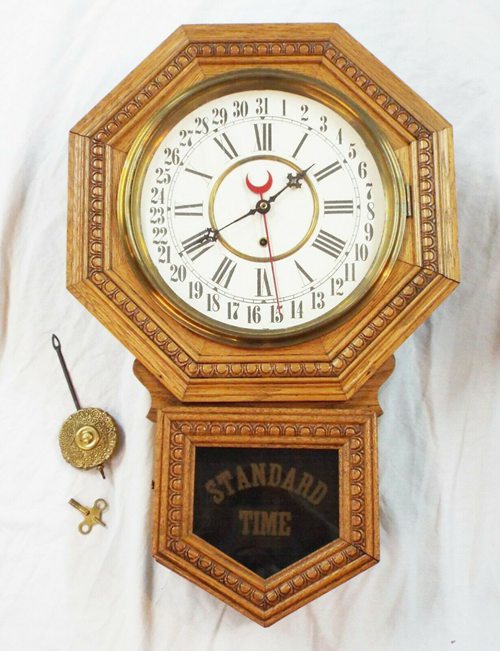 This model had had the educational institutions in a chokehold since 1875. So Gilbert made the Oak framed Schoolhouse Clock for school walls. It had a pendulum that swung on the hour, indicating the end of a class.
Office Drop Calendar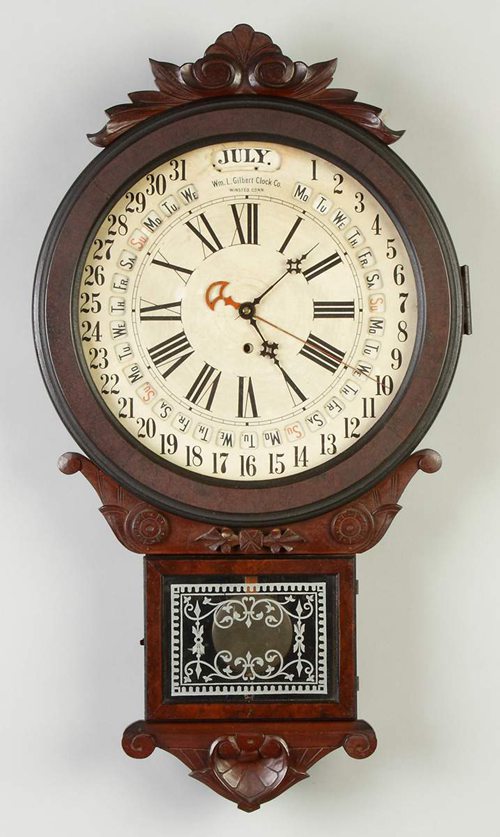 The Office Drop Calendar has intricate handcrafting details like a functional yet decorative piece. The dial featured roman numerals for time and English numbers for dates. It had three hands – two as the hour and minute indicators and a small red one to signal changing days.
Alarm Clock (c. 1900)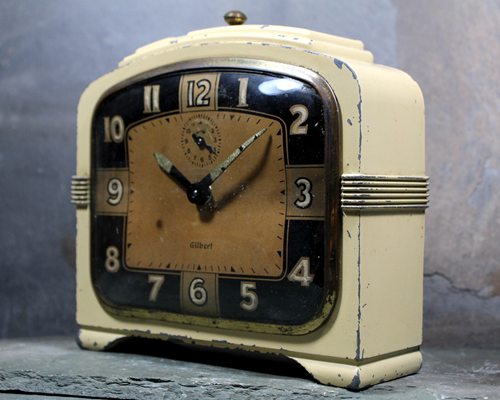 Although Gilbert's Alarm Clock gained popularity during the Second World War, it was a US fixture since the early 1900s. The first model – the Winlite – looked like a pocket watch with little bells on top. You set the desired time that triggers the alarm when it strikes.
The World War II model wasn't as sturdy and detailed as the Winlite. It came in a paper mâché casing, unlike the Winlite, which used metal frames.
Victorian Color Clock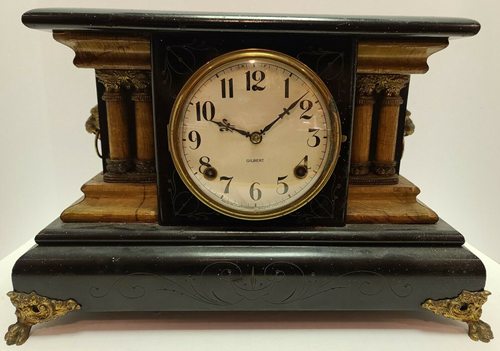 Gilbert clocks were famous for their dark themes, so the Color Clock adjusted to the Victorian trend. This model features diverse designs, but a recurring theme is Pillars. Does it sound familiar yet?
The Victorian Color Clock had side columns as part of its frame.
How to Identify an Antique Gilbert Clock
Now that you're familiar with the types of Gilbert clocks, let's proceed to show you how to further identify a true antique Gilbert clock.
Examine the Labels
Labels are a reliable source of identification because they contain detailed information about each product.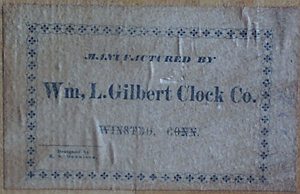 The primary info you can get from a label is the clockmaker's name which is easier with Gilbert clocks because of the constant change through the years.
If you remember the history of the Gilbert clocks we just discussed, you can quickly tell when your antique Gilbert clock came about. Here's a table to refresh your memory. You can also check the E-Clock Price Guide for a visual representation.
| | |
| --- | --- |
| Year | Name |
| 1828 – 1834 | Marsh Gilbert & Co. |
| 1834 – 1837 | Birge, Gilbert & Co. |
| 1837 – 1841 | Jerome, Grant, Gilbert & Co. |
| 1841 – 1845 | Clarke, Gilbert & Co. |
| 1845 | W. L Gilbert & Co. |
| 1846 – 1848 | Gilbert & Clarke |
| 1848 – 1866 | W. L Gilbert & Co. |
| 1866 – 1871 | The Gilbert Manufacturing Co. |
| 1871 – 1935 | William L. Gilbert Co. |
| 1935 – 1957 | W. L. Gilbert Clock Corp. |
| 1957 – 1964 | General – Gilbert Corp. |
Once again, we warn you to be wary of reproductions and dubious auctioneers. Look closely to ensure the label wasn't affixed or recreated recently.
Don't Rely Only on the Branded Name
Contrary to popular opinion, names on the dial aren't solid proof of a clock's pedigree. The simple reasons are – Retailing and Repairs.
Firstly, retailers in the 18th and 19th centuries put their names on the dials. Sometimes, clockmakers engraved customers' names on custom copies.
Secondly, during repairs, some people use any fitting movement without regard to the make. This means you can see a Seth Thomas movement in a Gilbert clock. However, names can serve as identification to some extent.
Examine the Dial, Movement, and Plate
Painted dials and reverse-painted glass tablets didn't exist until the 1800s. Most Gilbert clocks used 8-day movements, meaning owners wound it every week. Typically, you'll see a date engraved on the movement.
Also, Gilbert clocks have steel dials which are uncommon for 19th-century clockmakers. Their plates also have a rough hinge because of mass production, so RUN if you see a smooth machine hinge.
Do not forget to Scrutinize the Frame
Gilbert typically used wooden frames (Oak) in 1834 until his partnership with Jerome. The company switched to brass in 1839, then bronze in the Victorian era. The most popular Gilbert clocks have paper mâché casings, and the Black Mantel model has an Adamantine frame.
Is the Clock Making the Right Sound?
Gilbert clocks have a gong-strike on the hour and light chime on the half-hour. They also have musical sounds that mimic the trending music of each model's production time. So, when you listen to the chime, pay attention and brush up on your history lesson.
Some famous melodious chimes are;
Normandy: It sounds like the ding-dong of a doorbell.
Westminster: Four consecutive chimes
The Rolling Bell Sound: The sound of a bell flipping. You'll hear this mechanically from a bell-top alarm clock.
Presence of a Winding Keyhole
Even other antique clocks borrow Gilbert's infamous brass key wound. You use it to reset the clock weekly because of the 8-day movement. However, failure to rewound your clock religiously can lead to damage, so get winding.
Look at the back of your Gilbert clock for the tiny keyhole. If a seller tells you it's unnecessary, don't believe them.
Valuation of an Antique Gilbert Clock
There are general factors that appreciate or depreciate the value of an antique clock. These are Material, Historical Significance, Rarity, Model, and Age.
Material
You've learned that Gilbert only handcrafted its clocks at the beginning of its venture. Toward the end of the 19th century, the company switched to mass production with cheap materials. The Gilbert clocks were affordable then, and they remain so today.
The highest valued Gilbert clocks are early antique models made of Oak, and custom Victorian era Color Clocks ($200 – $450.) The Paper mâché and Adamantine clocks aren't as relatively cheap at about $50 – $150.
Historical Significance
Except for the sentimental value attached to Gilbert clocks, there's not much historical significance. Collectors appreciate them because they were part of the early clockmakers in the USA, not because they have superior designs or modeling.
In this regard, a plain Gilbert clock becomes highly valuable if it had a famous owner in its history. Other than that, this brand is as basic as they come.
Rarity
Again, Gilbert clocks were cheap, mass-produced items, so they're very available today. An antique clock's value appreciates when it's exclusive, and Gilberts don't have that. But, of course, there are always exceptions to the rule so, if a model is scarce, the price increases.
The only Gilbert models that may fit into this category include the Oak framed clocks because they had a limited 6-year production period (1828 – 1834). The other is the Victorian Color Clock/Brass frames because of their somewhat better-quality materials.
However, bear in mind that it was the cheap version even though Gilbert used brass.
Model
Some clock models are more desired than others. It could be their designs or significance, but they carry more value than the regular ones. In the case of Gilbert clocks, alarm clocks and paper mâché framed models are cheaper than brass imitations.
Age
Antique Gilbert Clocks have a higher value than Vintage Gilbert clocks. The clocks under Marsh Gilbert & Co., Birge, Gilbert & Co., Jerome, Grant, Gilbert & Co., Gilbert & Clarke, W. L. Gilbert & Co. are antique because they're over one hundred years old. On the other hand, clocks made under William L. Gilbert Clock Corp., General – Gilbert Corp., and some of William L. Gilbert Clock Co. (from 1922 – 1925) are vintage because they're not hundred years yet. Although they're above fifty years.
Following the general rule, Gilbert clocks take value priority based on the company's evolution. Marsh Gilbert & Co. branded timepieces are the highest valued while General – Gilbert Corp. are the least.
Gilbert clocks are very affordable compared to other antique clocks. Expert collectors consider Gilbert clocks low-tiered items on the antique clock's scale of preference because the clocks were mass-produced with cheap material.
Yet, however understated they may be, there's a certain aura around Gilbert clocks that makes them desirable.
Concluding Thoughts
There's something we call "marriage" in the antique community. It's when you fit two different parts of a clock (from the same maker) years apart. So, you may see a vintage movement in an antique casing.
Please don't rely on a single form of identification – use at least three forms before committing to anything.
Read seller's reviews if you're buying online to avoid duping.
Gilbert clocks are not typically expensive, so don't break your bank to own one.
You're 100% ready to appraise your antique Gilbert clock without confusion. Please share your experience with us in the comment box.