Do you have a sentimental attachment to antiques? Are you on the lookout for an ageless item that is both a piece of history and functional? How about some good old typewriters to keep you nostalgic, spark your creativity, and make for a wise investment?
Vintage typewriters are affordable and valuable for many reasons. For example, while they may be outdated, they are still functional without internet access or electricity. Again, many people believe in their comeback as an escape from present-day technological distractions.
One of our favorite antique typewriters is the Remington typewriters. They're aesthetically thrilling and valuable for their rich history. If you're a writer, antique Remington typewriters will help you discover new ways to enjoy your craft.
Regardless of your reasons for wanting an antique Remington typewriter, it's always a great idea to get one. In this article, we'll guide you through the history, models, and value of the antique Remington typewriter.
It'll include all you need to decide on the type of vintage typewriter that complements your lifestyle and taste.
History of the Remington Typewriter
"Remington" was associated with rifled barrel guns in the 80s. The premium quality guns were the brainchild of seasoned gunsmiths from Ilion, New York — Eliphalet Remington, and his three sons. Aside from their admirable quality, the firearms were famous for their affordability.
Mr. Remington fabricated his foremost rifle barrel at age 23 and started his company in New York in 1816. His sons Philo and Samuel joined the business in 1839 and 1845. His third son,  Eliphalet III, joined the firm later.
The Remington business continued to bloom as they forged other rifle parts like trigger guards, butt plates, percussion locks, etc. They focused on producing longarms and revolvers after 1846. In 1856, they delved into the production of agricultural implements.
Eliphalet Remington died in 1861, and his first son, Philo, took over the company's management. Five years later, Christopher Sholes, Samuel W. Soule, and Carlos S. Glidden produced the first commercially successful and practical typewriter. They named their inventions "Sholes and Glidden typewriters" and patented them on June 23rd, 1868.
In the same year, E. Remington and Sons bought the right to manufacture typewriters using the Sholes and Glidden designs. After improving on the design, they were able to develop the first typewriters, which made typing much faster than writing. The typewriter was also the first to feature the QWERTY keyboard arrangement.
The company later manufactured the No. 2 typewriter that featured the "Shift" key and colors. E. Remington and Sons sold their typewriting business to Standard Typewriter Manufacturing Company in 1886. In 1902, the new owners changed the company's name to Remington Typewriter Company.
The name also changed to Remington Rand when the Standard Typewriter Manufacturing Company merged with Rand Kardex Bureau in 1927. Sperry Corporation bought the Remington Rand in 1955. According to Britannica, Mark Twain was the first author to submit a typewritten book manuscript—he used a Remington.
Today, the Remington typewriters have come in several models that are too numerous to count. They come in different sizes and offer unique features. Here's a video of how a Remington typewriter was made in 1935.
7 Antique Remington Typewriter Models to Love
From 1868 to 1886, before Standard Typewriter Manufacturing acquired the company, Remington and Sons already had nine typewriter models. From 1886 until 1980, there were many more Remington typewriter models produced. They were a mix of various features — noiseless, electric, portable, standard, etc.
While it's impossible to discuss all the models here, we've examined seven of our favorite ones. They are:
1.    Remington Model #1
The Remington Model 1 is the first Remington typewriter ever. Produced in 1873 and discontinued in 1878, this typewriter is as vintage as vintage goes.
Remington Model 1 wrote only capital letters and was a modified Shoes & Gliddon's typewriter. It was manufactured with a lid to protect it when it wasn't in use. It was large and had the QWERTY keyboard arrangement, similar to the contemporary ones.
Oldtimey described this model as having plenty of standard features that were still being used 100 years later.
2.    Remington Model #2
The Remington Model 2, manufactured in 1878, was glaringly different from the Model 1 in shape and size. However, its most remarkable feature was the shift key variation. According to Machines of Loving Grace, this model had 39 keys and was a striking resemblance to modern typewriters.
This typewriter was reliable and pretty easy to use. It was an understrike typewriter. To see your typed work, you must lift the hinged carriage and look at the platen's bottom. The Remington Model 2 was gorgeous and, as Antique Typewriters opine, set the path for more innovations in the industry.
3.    Remington Standard #5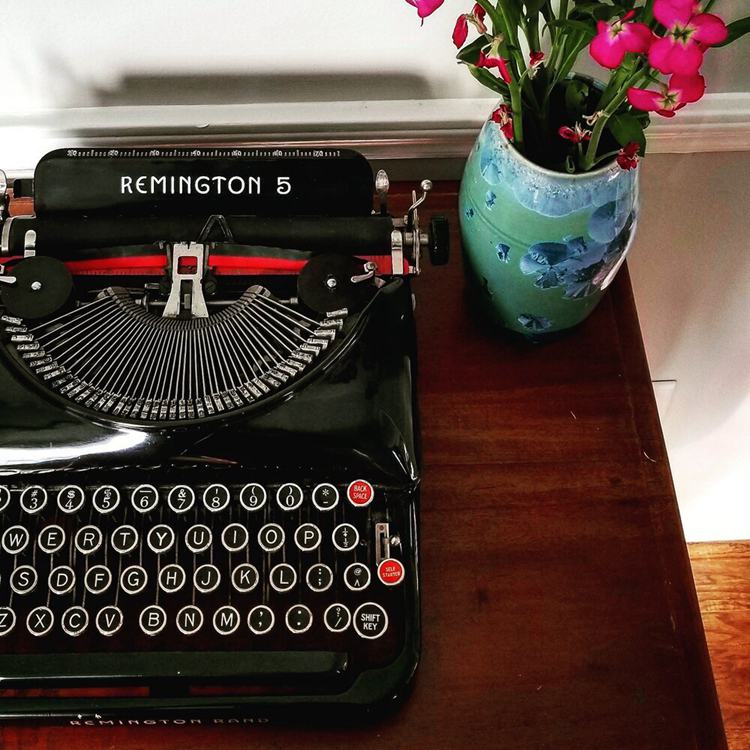 The Remington Standard No. 5 is an understrike typewriter and is one of the hardest Remington Standard models to find. There's not much information about this model but Branford House Antiques suggests that they were produced for the UK market. The reason was that it accommodated a wider paper that was commonly used in England at the time.
However, this typewriter wasn't a market success. Paul Lippman reportedly noted that this model ran into consumer resistance, mainly because they didn't look like regular typewriters. Meanwhile, its gorgeousness is precisely what endears us to this model.
4.   Remington Standard #6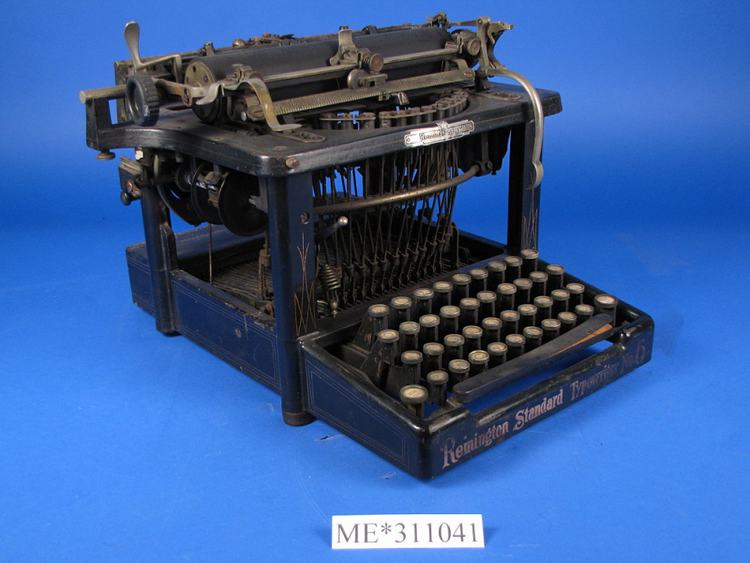 The Remington Standard Model Number 6 was an industry breakthrough. It featured significant improvements from previous models evident in its spacing mechanism, paper carriage, and cylinder. The National Museum of American History credits these improvements to Remington mechanist George B. Webb.
Produced in 1895, this antique Remington typewriter model is a piece to be proud of. It's beautiful, functional, and carries some vintage class wherever it goes. It's an emblem of advancement.
5.    Remington Standard #7
A significant difference between this model and the standard number 6 is in the number of keys. Instead of 38 keys, this typewriter has 42. It's one of the most common antique Remington "blind" typewriters and eventually outsold the Standard Number 6.
The Remington Standard #7 features all the goodness of Standard #6 and more. It makes for a worthwhile purchase and is a profitable investment. This Remington model is our favorite of favorites.
6.   Remington Standard #12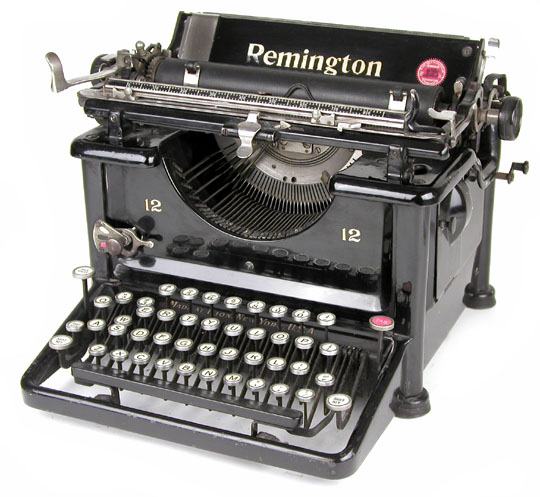 The Remington Standard Number 12 makes for a durable and impressive antique. It features improved escapements and ribbon mechanisms. It's a much better machine than many typewriters before it.
Manufactured in 1927, this typewriter evokes nostalgic feelings and remarkable achievements of its time. It was the exact year of American aviator, Charles Augustus Lindberg, making the first nonstop solo flight from New York to Paris.
7.    Remington Junior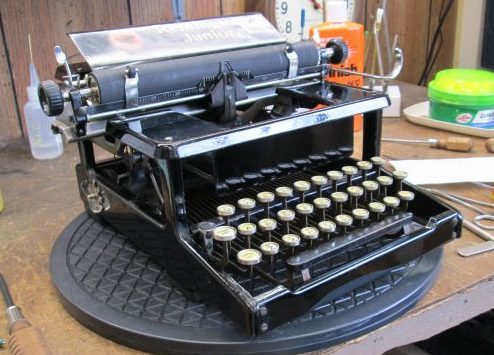 The Remington Typewriter company produced the Remington Junior in 1914. That was after the manufacture of other models like the Remington Models 3 to 9 and the Remington Standard varieties. Remington Junior was manufactured in Syracuse, New York, at Smith-Premier's factory.
This model was smaller and lighter than previous Remington models. However, some critics describe it as being portable but with some difficulty.
Unfortunately, this model didn't do so well on the market like some other Remingtons. The First World War that started on 28 July 1914 and lasted four years may have been responsible for that. So if you want an antique typewriter to remember WWI by, here you have it!
What's the Value of My Remington Typewriter?
There are numerous reasons why it's essential to know the price of different Remington typewriters. First, it informs your purchase decision and aids cost-effectiveness by ensuring that you don't pay too much for less. It also helps you to appreciate the importance of what you have.
Unfortunately, it isn't easy to put an actual price on an antique when you see it. However, The Spruce Craft mentions that you may have an idea of a typewriter's price value through the following elements:
1.    Age
Generally, the older an antique, the more valuable and costly it will likely be. Apart from its vintage appeal and other factors, one reason for that is the law of demand and supply. Older antiques are rare and more difficult to find.
Since everyone loves the thrill of owning something momentous and scarce, the demand for older items is high. The Remington typewriters from the 1950s and later are the least valuable. You can find them quickly in antique stores.
To determine a Remington typewriter's age, you may need to analyze its model and serial number.
2.    Condition
While finding an ancient Remington typewriter can be a hassle, getting one in excellent condition is more difficult. As such, old functional and best-looking Remington typewriters are the most expensive.
So, when valuing an antique Remington typewriter, you can check for paint scratches, broken or missing parts, etc. Many sellers may increase the typewriter's value by refurbishing it.
3.    Size
Convenience sells. That's why a portable and lightweight Remington typewriter will typically have more value than large and heavy ones. Not many people fancy the burden of lifting heavy typewriters now and again.
Our Top 5 Antique Remington Typewriters to Buy
There are as many antique Remington typewriters as there are sellers. Amidst the sea of options, you can get confused about what models to purchase. So, we always advise that you write down your needs, budget, and preferences to help streamline your picks when shopping.
The following are our top 5 Remington typewriters to have:
The Model 1 portable Remington Rand typewriter is one of our top picks. Its rustic and retro appeal is its primary selling point. It's marketed as a noiseless typewriter.
Although old, this machine looks as good as new except for little rot spots and scratches. Fortunately, those features give it character and add to its charming rusticity.
If you want an antique Remington typewriter for fun and aesthetics, this gorgeous piece is a wise choice.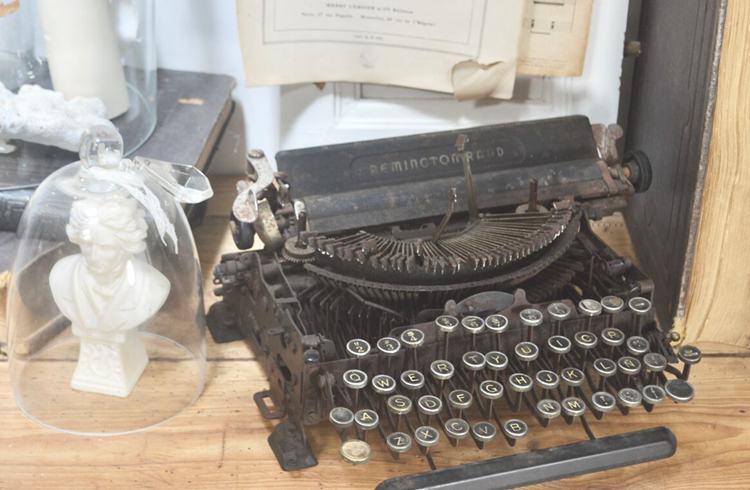 This unique antique Remington Rand typewriter from the 1930s has its mechanics exposed. Its deconstructed outlook makes it all the more intriguing. The antique Remington Rand model 1 typewriter is another remarkable rustic piece that adds some personality to your home.
It's a rare find. So if you're lucky enough to get this, congratulations—you've got something extraordinary in your hands.
The 1917 Remington Junior typewriter is another gorgeous machine to look out for on eBay. We fell in love with this antique from the moment we sighted it.  You'll notice its charm too.
It's impressive that this Junior typewriter comes complete with ribbon spools and a paper table. If you want a functional vintage typewriter, we'll advise you to go for this one.
With a new ribbon and a few improvements, you're ready to enjoy this vintage piece of goodness to the fullest.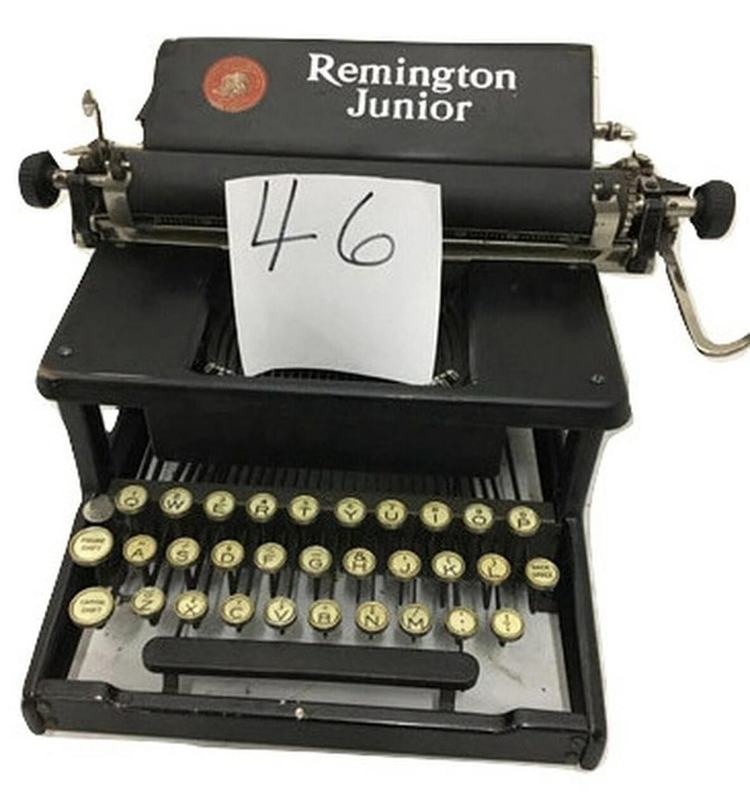 We love that this Remington Junior portable antique typewriter is lightweight and functional. Although it's fragile and requires careful handling, you'll find it helpful in your homes and offices now and again. It has a QWERTY keyboard layout, so you'll have little problem learning to use it.
If you're a collector, this is a valuable piece to add to your assortment of machines. It will adorn your home and could make for a great conversation starter.
This quality Remington typewriter comes in excellent condition and at a reasonable price.
At $500, purchasing this antique machine makes a worthy long-term investment. Like our other top picks, the 1900s Remington standard typewriter also makes for a charming home and office display.
Final Thoughts
Whether you want your antique Remington typewriter for its charm, name, or fun, they're a delight to have. You can also keep them as a functional investment as they're likely to appreciate with time.
What's your favorite antique Remington typewriter model? Are there any questions you'd love to ask us? Pen them down in the comments.
We'd love to interact with you.