Children love their quirky timepieces, from cartoon character wristwatches like Ben 10 to barbie wall clocks. For adults, nothing says quintessential like a good old antique Waterbury Clock Company timepiece.
One then begins to wonder and ask questions. Why did this company go extinct? Is my antique Waterbury Clock Co. clock valuable? Can I get one of these timeless pieces, and how can I tell it's real?
You came here looking for answers, and we'll oblige you. Yes, The Waterbury Clock Co.'s timepieces are valuable. You can identify a genuine antique with the principles in this guide. So, worry not, we'll make the identification process as simple as A, B, C.
History of The Waterbury Clock Company
Who could've ever thought a Disney animated character would save a multi-million-dollar company? Well, that's the story of the infamous Waterbury Clock Company of Waterbury, Connecticut.
The Early Days
Although the Waterbury Clock Company officially finalized its incorporation in 1857, it didn't start under this name. The business passed through teething stages before establishing itself as one of the biggest clockmakers in the United States of America.
The Waterbury Clock Company wasn't always a clockmaker. At first, its specialty was the manufacture of brass fittings.
The long history of the giant brass clockmaker started in 1843 when its parent company Benedict & Burnham produced Brass parts.
Benedict & Burnham made Brass movements parts, cases, wheels, gears, sheets, buttons, and just about anything you could make from brass. The business also sold clock movements to The Gilbert Clock Company, The Ansonia Clock Company, and other heavy hitters of the 19th Century.
Considering it was somewhat already in the clockmaking business, Benedict & Burnham joined forces with Chauncey Jerome in 1850 to enter the industry fully.
Although this partnership yielded a tremendous profit, it was short-lived when Jerome bought out Benedict & Burnham in 1853. The company then hired Chauncey's son Noble Jerome to form a new, fully incorporated business in Waterbury, Connecticut, by 1857.
Progress
Along the line, the company engaged the services of antique mantel clock innovator Eli Terry's son.
So, when the company recorded 96,000 movements, 85,000 cases, and 82,000 completed clocks in the fiscal year between 1869 -1870, it wasn't news. The company needed to expand its factory, and so it did in 1873.
Six years before the expansion (1867), The Waterbury Clock Co. published its first feature catalog advertisement.
After the expansion, however, in 1881, it released The Waterbury Clock Company's first self-catalog featuring 94 different models. Ten years later, the list increased to 304 clock models, including non-jeweled pocket watches and wristwatches.
Between 1896-1916, The Waterbury Clock Co. was king producing 40 million pocket watches at $1 apiece. Before that, it recorded 20,000 timepieces between the 1880s and 1890s.
By 1915, The Waterbury Clock Co. became a household name in the USA with 600,000 clocks to its name.
Tough Times Ahead
Unfortunately, the brass clockmakers hit a snag with the First World War (1914-1919) when the USA joined in 1917.
The company switched to making military watches for the soldiers at the war front. These watches upgraded the Ladies Midget, adding a canvas strap and luminescent (neon) numbers.
The war took its toll on many burgeoning businesses, and The Waterbury Clock Co. wasn't exempted. To save itself from sinking, the company merged with Ingersoll to form the Ingersoll Waterbury Clock in 1922.
The new clocks produced under this name were a market success until 1931 when they started to dwindle again.
Innovation moved towards modern electric clocks, and The Waterbury Clock Co. changed with the times to stay afloat. It was, however, not enough to survive the Great Depression– it needed "a killing."
A New Dawn
In desperate need of a win, The Waterbury Clock Co. turned to Mickey Mouse for respite.
Disney was also going through a rough patch business-wise, so Herman K. Kamen suggested collaborating to make a Mickey Mouse Wristwatch. Walt Disney was skeptical and insisted it was a futile effort, and boy was he wrong.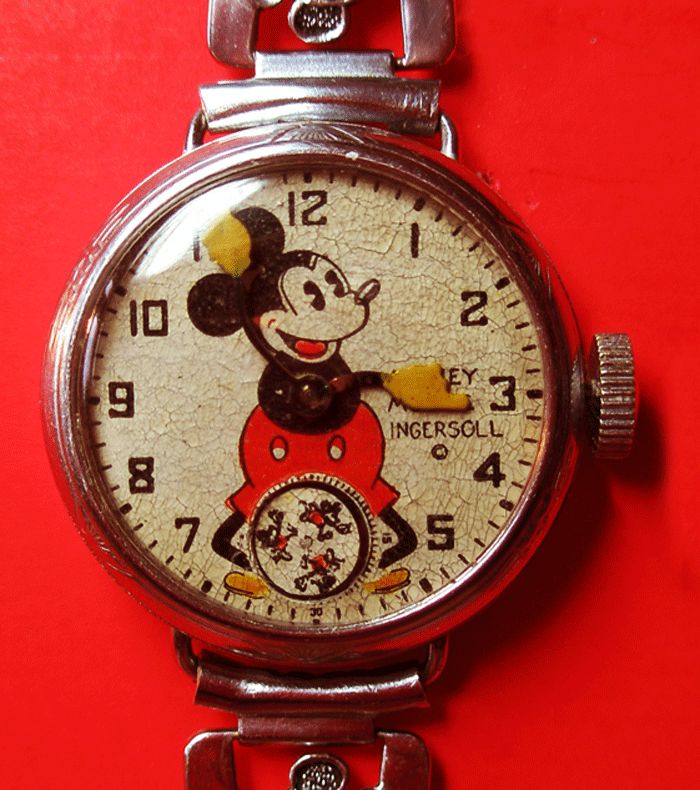 The Mickey Mouse Wristwatch was so successful that it saved the day in the year 1933. During its promotional sale at Macy's, the company sold 11,000 copies at $3.25 apiece. The profit was so high that they reduced the price to $2.98 apiece.
Mickey Mouse was good for a period, but even the amiable animated character couldn't stave off the effects of the Second World War (1939-1945.) In 1942, The Waterbury Clock Co. sold its business to a Norwegian Group.
The new owners changed the name to the United States Time Corporation (1944) two years later.
The US Time Corp. lasted for six years before changing into Timex Watch. In 1957, Timex Watch presented Walt Disney with the 25th Million Mickey Mouse Watch ever produced. Though the production stalled for a while, it returned in 1968 and still exists to date, albeit under another name.
Well, that's that on history. Let's talk about some of the models from 1857 until 1944. It'll give you a better knowledge of The Waterbury Clock Co.'s timepieces so you'll know what to check when you go shopping.
Identification of a Waterbury Clock Co. Timepiece (Wristwatches and Clocks)
Dating an antique Waterbury Clock Co. timepiece is easy because the manufacturers labeled and marked every model from its inception. Also, these clock models followed trends, and that's why there are so many types in existence today. Here are five ways you can identify your clock;
Trademark
Like artists sign their art pieces, musicians credit their writers and contributors, so also artisans mark their innovations.
The early century manufacturers knew the importance of Patents. Many companies were tied up in intellectual property theft suits. Thankfully, their due diligence serves us today.
The first step to identifying a Waterbury Clock co.'s model is the company's trademark. You would normally see a signature or an engraving. So, check the dial or the movement for the company's name bearing in mind the evolution of The Waterbury Clock Co.
Whichever name you see would tell you the production year.
So, if you see Ingersoll-Waterbury, you'll know it's a 1922 era piece, The Waterbury Clock Co. is a 19th-century model, and so on.
Label
If your antique Waterbury Clock Co. timepiece still has its label on, you've hit the jackpot. Labels are detailed to the last letter, and they contain everything important you can think of regarding the item. It has its name, manufacturing year, originating city, state, and country.
The writing style on the label is another giveaway in case some data fades.
A prime example is the 1870 label in Old English Text Font (as shown in this text,) while the 1891 models used the logo. The Waterbury Clock Co.'s logo was a bold "W" with two "Cs" inside (upper case and lower case) and a small "o".
Dating Waterbury Clocks By Their Labels And Trademarks

Waterbury c. 1870 paper label
Waterbury trademark c. 1870 paper label
Waterbury c. 1875 paper label
Waterbury c. 1875 paper label 2
Waterbury c. 1880 stamped metal
Waterbury c. 1890 paper label
Waterbury c. 1890 paper label 2
Waterbury trademark c. 1891 lettered label
Waterbury c. 1891 paper label
Waterbury trademark c. 1891
Waterbury trademark c. 1895 stamped metal
Waterbury c. 1900 paper label
Waterbury c. 1905 paper label
Waterbury c. 1905 paper label 2
Waterbury c. 1906 paper label
Waterbury Trademark c. 1906 stamped metal
Waterbury c. 1915 paper label
Waterbury c. 1925 paper label
Waterbury trademark c. 1929 lettered label
Waterbury c. 1930 paper label
Check out this catalog of Waterbury Clock Co. labels from 1857 to 1944 for more information.
Style
The beauty of handcrafted designs is their uniqueness. Since no two designs are the same, you can pick out models in groups. What shape is your Waterbury Clock Co. clock? Is it free-standing or wall hanging?
These are the questions you should ask when dating your antique Waterbury clocks. The older designs included the Standing and Mantel clocks before wall clocks took over.
Material
Fashionistas can tell the difference between chiffon and a tulle skirt even though they're similar. As an antique collector, you should be able to do the same. First, you study the diverse materials; then identify their production era/peak use.
Look out for the Stencil, Dial glass, Strike Mechanism, and all the components of a Waterbury Clock Co.'s timepiece. For this aspect, every detail is relevant, no matter how minute.
This brings us to different models, and how do you tell them apart?
The Various Waterbury Clock Co. Models
Here, we've put together the most popular and sort after Waterbury Clock Co.'s models. Because there are hundreds of them, we'll discuss only eight models.
You can visit the Waterbury Antique Clocks Index for a complete list of the company's models from 1873 to date.
The Wrigley Regulator (c.1900)
The Wrigley Regulator Model is a wall calendar clock that stands 24 inches. It's made from the chewing gum magnate Wm. Wrigley Jr. and Co and is encased in an oak frame with three hands – Minute, Seconds, and Hour indicator.
The Cat (c. 1935)
This timepiece is a Cat that may have a tail or not. The two hands sit on the feline's face for hour and minute readings. Unlike most of The Waterbury Clock Co.'s designs, the Cat has regular numbers 1-12 on its face.
Augusta (c. 1893)
The Waterbury Clock Co. Augusta is a weight-driven wall clock, and it sits in a 51-inch Oak frame with intricate details. The Augusta has a cabinet, glass pillar, brass pendulum, and two dragons on its top.
It functions using an 8-day movement system, and its numbers are roman. Please note that Augusta clocks have unique designs – you can't find two exact ones.
Halifax Wall Clock (c. 1893)
The Halifax Wall Clock is a 32½ inch tall timepiece that uses an 8-day spring movement. It has a striking brass pendulum swinging from the Roman numeral dial, which sits in an oak encasement.
Gallery Clock (c. 1890)
The Waterbury Clock Co. Gallery looks like a typical wall clock. It has a papered-metal dial marked in Roman numerals sitting in a circular Oak frame.
Calendar (c. 1910)
The Waterbury Clock Co. Calendar was a revolutionary model with dual faces for telling dates and times. It's a standing clock made of Oak, or Mahogany with Brass trimmings.
The timepiece is at the top of the frame with three hands – two regular minute and hour indicators and a mini second's timer right under the midnight hour.
Over time, the model evolved from the double dial to a single time dial and a spring-driven calendar mechanism. The calendar part looks like a slot machine flipping to the next detail when the spring pressure weighs down.
Drop Octagon (1890-1900)
The Waterbury Clock Co. Drop Octagon has a brass trimming veneered rosewood frame. It takes the shape of an octagon on the upper body hence the name. The lower frame is a small upside-down pentagon housing a pendulum.
The octagon clock has three hands (second, minute, and hour reading) to read time in roman numerals, while the Calendar is Arabic. This clock uses an 8-day spring-wound mechanism that chimes in three steps – Time, Strike, and Calendar.
Felix (c. 1906)
The Felix Clock is a timepiece in a gingerbread-shaped oak frame. The paper dial has roman numerals, two hands, and a swinging brass pendulum. It's typically 22 inches tall and hangs on a wall.
You now know the history of The Waterbury Clock Co. and can identify its models, so what's next? The final piece of the puzzle is valuation. How do you put a price tag on a seemingly priceless artifact?
What makes a model more expensive than another even though they're both from the same company? You can read all about it in the next section.
Valuing a Waterbury Clock
Information is key when evaluating any antique, including The Waterbury Clock Co. The reason is that dated items don't have a uniform price. Different indices such as material, age, rarity, and design factor into the eventual cost.
Material
The Waterbury Clock Co. uses brass on their clock movements instead of metal. It also used high-end wood like Oak and Mahogany for the clocks' frames. It made dials from vitreous enamel, which was more expensive than the regular wood, paper, and tin.
Porcelain Waterbury clocks are rare and expensive because of their fragility. Frames with more brass and intricate detailing also cost more.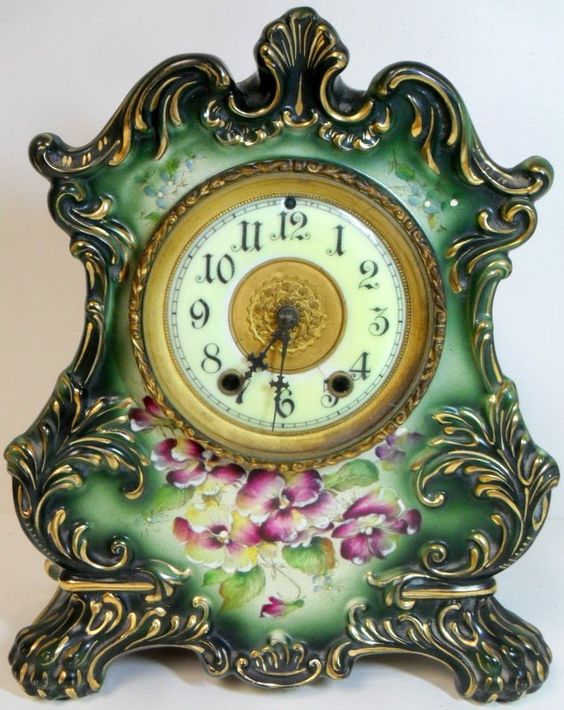 Age
The older an antique Waterbury clock is, the higher its value. Check the label for complete information on the production era. Don't worry if you have a faded label. You can use the Serial Number as an alternative.
You can identify and date your antique Waterbury Clock Co. timepiece with Discover Clocks.
Rarity
Typically, collectors enjoy the exclusivity of having a piece of history. Now, add a rare item to that, and you've struck antique gold. The idea of having something important which no one else does makes relics highly valued.
We established that The Waterbury Clock Co. had multiple models that followed trends, so they're very popular.
As the designs evolved, causing the company to phase out old trends, they became scarce, thereby increasing their value. That's why Etsy sells one VERY RARE antique Waterbury Mantel clock (19th-century model) for $1200.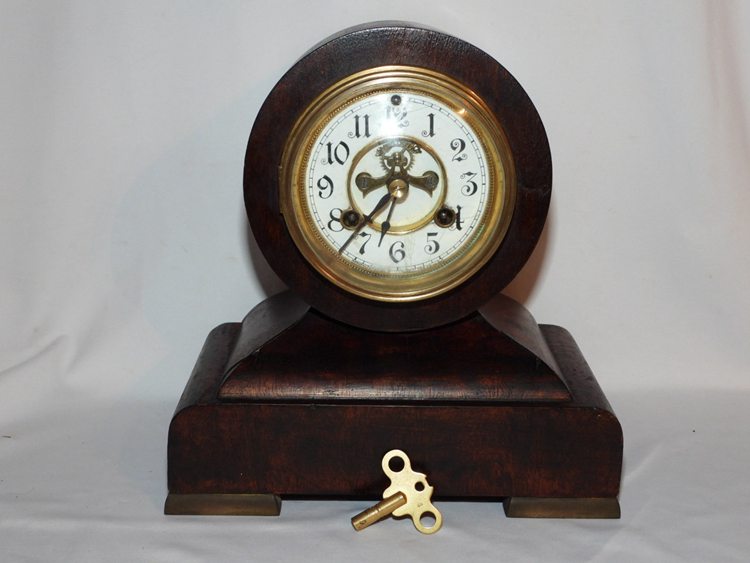 Sometimes, an antique Waterbury clock is rare because the owners refuse to sell them even though the model is surplus.
Design
As a Rule of Thumb, simple designs don't cost as much as intricately detailed Waterbury clocks. However, age and rarity can increase their value despite their basic style. An example of this exception is the 19th century Gallery Clock which costs $300 – $400 even though it's a simple frame.
Condition
If your antique Waterbury Clock Co. timepiece is in perfect condition, it's a top-shelf item. Why? Well, a flawed clock requires extensive repair, and the more pieces you change, the less valuable your item becomes. Selling or buying an antique "As Is" is always more valuable.
There are three categories of the antique condition – Mint, Excellent, and Good. Mint Condition means the clock is flawless, and it's the same as the production day.
Excellent means a few repairs, possibly with original parts, and good condition means the item is flawed (you can see repair signs, chips, and cracks.)
Price Sources are Collectors Weekly, eBay, Etsy, Vatican, and Chairish.
Here's a comprehensive table to give you an estimated price of the antique Waterbury Clock Co. timepieces. Please note that we compiled these figures from multiple online auctioneers, and they're subject to change.
| | |
| --- | --- |
| Design | Price Estimate |
| The Waterbury Clock Co. Regulator | $500 – $700 |
| The Waterbury Clock Co. Shelf Clock | $100 – $150 |
| The Waterbury Clock Co. Augusta | $40 – $500 |
| The Waterbury Clock Co. Calendar | $25 – $500 |
| The Waterbury Clock Co. Gingerbread | $120 – $150 |
| The Waterbury Clock Co. Mantel | $35 – $1200 |
| The Waterbury Clock Co. Porcelain | $200 – $350 |
| The Waterbury Clock Co. French Victorian | $350 – $500 |
| The Waterbury Clock Co. Cast Iron Pillar | $95 – $400 |
| The Waterbury Clock Co. Grandfather | $1000 – $5000 |
| The Waterbury Clock Co. Alarm | $120 – $300 |
Final Thoughts
Owning an antique Waterbury Clock Co. timepiece is an investment, especially if you get a rare one. If you follow this guide, you wouldn't have any problem accurately dating your clock and wristwatch.
We know the details may be overwhelming, but you'll master the art of appraisal with practice.
Here's a quick recap to refresh your memory;
You can date your antique Waterbury clock with its label
If the Label fades, use the Serial Number as an alternative
As a seller, try to keep your Waterbury clock and watch in Mint Condition
Now, you're ready to start your collection.