It is natural for a decanter collector to be curious about how much one can expect to make when selling a decanter. Decanters can cost thousands of dollars depending on their manufacturer and their rarity.
Decanters are useful for red wine because they allow the drink to breathe, increasing its flavor and aroma. Decanters make whiskey look visually appealing, due to their elegant structure and color.
Due to their high price, decanters do not get much recognition. This article explains why decanters have a lot of value and are a good investment. You will also learn about antique decanters' style, identity, and value.
What Is Decanter?
Decanters are vessels used for collecting liquids containing sediment, allowing them to decant. Decanters come in various shapes and designs and have historically been made of glass or crystal. Typically, a decanter holds the same amount of wine as a standard bottle.
A carafe is similar to a decanter but does not have a stopper in design. Decanters have existed since antiquity, but they were made of metal instead of glass by ancient Roman artisans.
Wine and spirits travel in these decanters to avoid sediments in their mixture. The decanting process allows liquids to breathe and enhance their flavors and aromas.
The practice continues to this day, particularly with wine. In the past, crystal and glass were the most common material used to make decanters. The ease of obtaining glass decreased when the Western Roman Empire fell, so decanters often consisted of bronze, silver, or gold.
Why Use a Decanter?
Drinking in a decanter allows consumers to enjoy their wine in a luxurious bottle, and they serve as an integral part of the drinking process. Whether or not decanters add value to the way you live, they can certainly enhance the drink's flavor.
Your wine bar will look classy and sophisticated if you use decanters, and the wine will taste better and smell better with them. To enjoy wine to its full potential, decanting is necessary.
As part of decantation, the liquor is poured into a decanter, where it separates from the sediment-filled liquid and into a greater volume of clear liquid. You get to drink clear liquor during decantation because the sediment in the original container is left behind.
As the wine ages, sediment accumulates and sinks to the bottom, leaving you with only clear liquid. As well as softening the wine, it also eliminates its bitterness. The best decantation technique involves dripping the wine down the side of the decanter to increase its flavor and reduce its bitterness.
Furthermore, decantation also aerates the wine, exposing it to oxygen. It would help you enjoy more flavors in the wine if you allow it to open up before drinking.
You could probably enjoy your wine's full complexities if you did this. So, pour your wine into a decanter to give it a chance to breathe. Leave it open in a non-sealed glass decanter to make it even better.
History of Decanter
After the Renaissance, glass decanters made a comeback during the Venetian empire. The first decanters made in the style that we recognize today were those made with long necks and widebodies.
This design had one problem: The wine had to breathe an increased air due to its wide body. During the 18th century, glass decanters became a household item in Britain, which led to finding a solution to this problem.
British designers added the stopper to decanters around 1730 to prevent wine from being exposed to air. Despite the growing popularity of British decanters, they inherited the design features of Venetian decanters: broad shoulders, large bases, and long necks.
Throughout the century, the decanter evolved in shape. Bottles with straight sides became popular; they often had engraved labels that indicated their contents. With the advent of cut glass decanters in Europe, engraved labels became impractical due to their inherent fragility.
The advent of silver drink labels became collectors' items in and of themselves. In the decanter revolution, other countries were successful and innovative as well. They originated in Ireland between the 18th and 19th centuries using mold-blown glass.
The flutes were vertical, and the neck was adorned with rings. Their stoppers progressed stylistically: bullseyes and lozenges dominated in the first half of the century, but mushroom shapes predominated by the end of the century.
A great deal of commercial success and exportation of Irish decanters occurred. Several versions of British and Irish decanters appeared as travel versions became increasingly popular.
A travel set usually appears in a small mahogany box with four square bottles and a stopper. This style was popular in France as well. As the shoulders of the decanters were often the only thing visible, people often chose to gild them.
Identifying Types of Antique Decanter
Following are some of the prime types of antique decanters.
1. Chiseled Sides Decanter
Decanters with chiseled sides are the best option to personalize them. It is possible to imprint your name and year with the seal design.
This handsome decanter is famous for whiskeys and vintage spirits, as it has a rather masculine and royal appearance. It makes it an excellent addition to any contemporary home.
2. Grenade Decanter
Decanters like this look like hand grenades and are typical for serving whiskey. Made from sturdy glass, it includes a natural cork stopper for preserving your spirit.
It is often given to soldiers and other military members because it draws from military culture. It will help if you hand wash it to keep it sparkling.
3. Gin Decanter
Gin decanters serve to store and serve gin. There are varieties of gin that have gold or blue hues. However, gin is usually colorless. The decanters are made of untextured glass with a magnifying effect to enhance the subtle hues.
Despite its square shape, the decanter consists of lead-free, clear glass. The glass cut on some decanters also improves the appearance of the gin. You can customize the decanter by engraving it with your name.
4. Gently Twisted Decanter
This elegant decanter features a gently twisted bottle made of crystal. Gifts like this are common at weddings or anniversaries. This sleek and sophisticated glass item can be engraved with just one initial.
It is a glass decanter made from lead-free crystal and is perfect for serving whiskey, scotch, and bourbon. Its glass is thick and durable, and its curved shape makes it stand out from ordinary decanters.
5. Square Glass Decanter
The square glass decanter is a great addition to your home bar if you wish to impress your guests with its appearance. Using its antique cut gives any bar a vintage appearance since it has long been a symbol of luxury.
Decanters marked with this symbol were made only in round shapes before the 20th century. You'll love an intricately cut square-shaped decanter for its nostalgic appeal and modern touches.
You can enjoy your favorite whisky as it decants with the decanter, potentially enhancing the decanting experience. Furthermore, the classic diamond cut of this liquor decanter would allow its golden radiance to shine through no matter the environment.
6. Vodka Decanter
The world's most beloved spirit is vodka, a drink that people can make anywhere. If you want to maintain the elegant impression induced by high-end vodka, the decanter is the best vessel to serve it.
The design and functionality of a vodka decanter are important factors to take into account when buying one. It is extremely important to prevent vodka from evaporating using a quality stopper or lid. The stopper of a vodka decanter must fit snugly on the decanter to ensure an airtight seal in a vodka decanter.
In addition to thick glass, vodka decanters are known for helping to cool the vodka. If the glass gets too thin, it is prone to breaking when it gets cold. It explains why vodka decanters have thick walls and a flat bottom.
7. Globe-Shaped Decanter
Travel lovers will love the globe-shaped decanter shaped like the world, making it a perfect gift. The globe spins and includes engravings of the world's continents with the decanter base.
This Globe-Shaped decanter is very eye-catching, and spinning the glass allows it to aerate perfectly to bring out your spirit's hidden flavors and aromas. The prime use of this decanter is to decant rums and gins.
There is a glass base and a glass stopper on the vessel, which is heat-resistant. It consists of lead-free glass and features delicate engraving.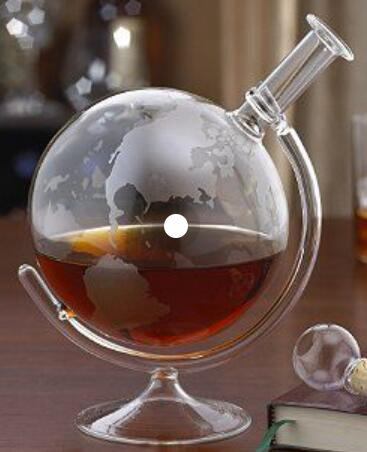 Assessing Antique Decanter Value
Glass decanters attract impressive amounts of money due to their beauty and delicate design. Lead glass decanters (also called cut crystal) tend to sell the best, with their elaborate designs and long stems, ranging in price from a few hundred to a few thousand dollars.
Think of the $2,215 price tag that recently went up on an antique French cut crystal decanter dating back to the early 20th century.
How to Determine the Value of a Decanter?
You can determine the worth of your decanter by finding out who made it. Your decanter will not roll if you place it between two books. Make sure its base has a maker's mark with a magnifying glass. Check the center and the edges in particular. It is also possible to examine the flat surface of the bottom using a loupe.
You should consider the condition of the decanter as well if you're planning to sell it. Used decanters are less valuable than new ones in the box or mint. Your decanter will lose value if there is damage around the lip or base.
Furthermore, engraving decreases the value of the item. Collectors value unusual designs more than common ones, so checking for rarity and artistic merit is also important.
What Are the Factors Influencing the Value of the Antique Decanter?
Following are the factors that can influence the price of an antique decanter.
● Materials
Lead crystal is one of the most widely used glass materials for decanters, although it is not recommended anymore since it leaches lead into the wine with age.
Nonetheless, lead crystal is still widely used. A lead crystal forms by mixing lead oxide with molten gas, increasing its refraction index compared to normal glass. Compared to ordinary glass, this decanter appears more sparkling. However, it is also possible to get lead poisoning from lead crystals.
Generally, people ignore this fact because they assume the lead particles incorporated into the wine won't cause them harm as they are quite small. As long as you use the decanter continuously, lead can accumulate significantly and pose a health hazard.
● Manufacturing Date
It does not matter which brand of decanter you have; the date it was issued determines how much it is worth. It was historically the case that lead crystal decanters were most common in the pre-19th century.
During the 1900s, glass decanters were popular; however, people adapted to new technologies and began using decanters. The older the decanters are, the more worthy they are.
There are very few decanters that can last over 100 years and remain perfect over time. There is no doubt that the number of these models available to the public is steadily decreasing as time passes, resulting in more rarity.
● Condition
Owning an almost scratch-free decanter is something that many collectors wish to achieve. However, decanter prices can fluctuate dramatically depending on the present level of scratching.
Even a small scratch can sometimes enhance the value of a decanter on it. Collectors usually look for antique decanters that are in perfect condition.
Different Types of Antique Decanter Value Range with Recent Sales Records
Differentiating decanters is primarily due to the neck, both an aesthetic and functional element. A wide-necked decanter is ideal if aeration is more important to you.
Aeration occurs more rapidly when more air enters the vessel. Those with thick necks are easier to clean. It is why decanters with wide necks are more prevalent.
Besides, a thin-necked decanter would be better suited for expensive and older wine. Its ability to separate the bitter sediment from the wine is the main reason.
Aeration alone won't maximize the value of expensive wines. Getting rid of sediment will make sure you get the right taste. Decanters with thin necks, however, do not provide the best aeration.
One of the most valuable types of antique decanters is a crystal decanter. Several very expensive whiskey decanters range from several thousand to even millions of dollars. Listed below are some value ranges and sales records of decanters available.
Highland Park Decanter
A Highland Park decanter crafted by Maeve Gillies, inspired by the sea and wind, is one of the popular antique decanters with a high price tag. Although only a few bottles are still available for purchase, it sells for US$25,000.
Baccarat Crystal
Another example of this is the creation of a crystal by Baccarat to commemorate Kilian Hennessey's centenary. There are four glasses included with the whiskey decanter, and it comes housed in a wooden liquor chest. It is sold at Schiphol Airport Retail in Amsterdam for US$190,000, which is a pretty high price.
Tequila Diamond Sterling
One of the most expensive decanters globally is the Tequila Diamond Sterling decanter. This decanter offers a capacity of fewer than 1.4 liters for US$3.5 million. The decanter is hand blown from glass with 4,000 diamonds inlaid in silver and platinum.
How to Clean an Old Decanter?
It would be best if you did not wash your old decanter in your dishwasher, no matter how convenient it may seem. It is important to handle decanters carefully since they typically come from glass or crystal.
When you have finished using your decanter, it's best to rinse it out with warm water. However, it might not get cleaned up immediately, just like the rest of the leftover dishes after your party. The following are prime methods you can use to clean your old decanter.
1. Rinse Using Vinegar
Most of you have something like vinegar in your pantry, so convenience wins. Nevertheless, some vinegar is more advantageous for this task than others. The best vinegar to use is white vinegar because it is colorless and has no flavorings or ingredients that could linger in food. Following the given steps when using vinegar for cleaning your old decanter.
If you have extra stubborn stains in the decanter, soak it for a few minutes in very warm water.
Dilute vinegar with a little water and then pour it inside.
Shake the decanter well or swish the liquid around the bowl.
Fill the container full of warm water, and remove the vinegar smell by thoroughly rinsing.
By doing so, you can clean your old decanter.
2. Mix Coarse Salt & Ice for Cleaning
It is another clever way to clean any vintage decanter. All you need to do is make sure that you use coarse salt properly to achieve the best results. These steps involve the following methods;
At the bottom of your decanter, sprinkle a few pinches of salt and pour crushed ice over the top.
Stir the ice vigorously to mix the ingredients. With salt and ice, the stains will slough off away.
Afterward, wash the decanter with room-temperature water or lukewarm water to remove any residue from the melted ice. Also, you can make a stronger cleaning solution by mixing regular salt with vinegar. Then your old decanter will be clean.
3. Mix With Cleaning Beads
You will have to purchase beads for this process, but it will probably be worth it. These are stainless-steel balls sold in kitchen stores or on the Internet that you place into your decanter and swirl around with warm water.
These products can efficiently remove tough stains and residue and get into hard-to-reach places. To prevent spills on the kitchen floor, fill the mesh strainer with water and beads. Once the mesh filters are completely dry, wash them and reuse the mesh filters.
Additional Online Resources
Several websites offer excellent assistance in identifying, classifying and valuing antique decanters. There are times when a particular content does not fit well with a particular situation.
However, a high-quality resource will help you gain a deeper understanding of antique decanters. As a starting point for your research, you can check out the 'Beginners Guide to Antique Decanters' and 'Best Antique Decanters.'
It features detailed information about antique decanters and some popular products. It should suffice to review these articles. If you are looking for several antique decanters in one place, you can also check out the 'Live Auctioneers.'
Conclusion
The purpose of decanters is to collect liquids containing sediment to decant them. Historically, decanters were made of glass or crystal and came in many shapes and designs.
The quantity of wine in a decanter is similar to that of a standard bottle. It is safe to conclude that in the case of decanters, style and appearance play the most important roles.
In selecting the most suitable decanter, it is equally important to consider the functionality of the decanter depending on the liquid type. Be certain that the decanter you purchase will serve to meet both your style and wine requirements before making your purchase.
You may display your drinkware collection whenever your guests visit you and during parties, reflecting your style and personality. Decanters are similar to carafes in design but have no stopper.
In addition, they are traditionally used to serve alcohol. Since antiquity, there have been decanters, but the ancient Romans made them from metal instead of glass. The decanters prevent sediments from being introduced into the mixture of wine and spirits.
By decanting, liquids can breathe and gain more flavor and aroma. Wine decanting continues to be practiced today. In the past, decanters commonly used crystal or glass.
Further, the information provided in this article can help you reach the right conclusion. Detailed explanations are a better way to avoid useless purchases from retailers or auctions.