Jim beam decanters are an integral part of the mid-20th century whiskey culture. The first decanter was produced in 1952 and was shaped like a wood-top bowling pin. This and many more unique designs changed the world of Bourbon packaging for over 40 years.
The most expensive decanter in the Beam collection is the 1991 limited edition Gold Semi 18-wheeler, which goes for $3000. A close second is the famous and very rare 1964 First National Bank bottle with names of each board member, which lists for $1,584.
This article is your window into the interesting world of Jim Beam Decanters, their rich history, impressive designs, tips to identifying them and understanding their true worth. We'll also identify the collections available with their prices.
Brief History of Jim Beam Decanter
Jim Beam decanters came into existence due to the federal government act of the 1950s, which mandated distilleries and all ageing liquor producing companies to start paying taxes and levies as soon as their product turned eight years old.
In a bid to evade millions of dollars of taxes, Jim Beam, a company located in Louisville, Kentucky, invented a way to quickly sell off excess whiskey by packing the liquids in special hand-painted ceramic bottles known as decanters, a great accessory to bar spaces.
The 60s was a golden era for Jim Beam; People found their bottles everywhere and anywhere. They became a household name in clubs, bottle stores and every outfit that needed bottles to run their businesses.
Between 1955-1992, Jim Beam rolled out an impressive number of decanters annually. The company even made celebratory pieces to mark events like the Great Chicago fire centennial anniversary in 1971 the 1972 football-playing elephant decanter to celebrate the Republican convention.
Collector clubs were created worldwide by the end of 1960 and spent a fortune collecting rare and significant Jim Beam Decanter pieces. This club shows how phenomenal the bottles are.
The International Jim Beam Bottle and Specialty Club (IJBBSC) has over 100 connected clubs with more than 5000 members who share the same interest in collecting Jim Beam Decanters. The club has held conventions every year since 1970 and launched a limited edition.
The Regal China Company of Illinois monopolized the production of limited edition decanters (Jim Beam) until 1992 when the wade company began rolling out limited edition bottles too and attracted many collectors who now share interests in Jim Beam and Wade decanters.
10 Most Valuable Jim Beam Decanters
Here's a list of 10 Jim Beam Decanters you can find around. This list is in no way affiliated with any other list. The prices were sourced from verified online stores, independent collector's lists and auction websites.
| | | | |
| --- | --- | --- | --- |
| No. | Name | Release Date | Price |
| 1 | Paul Bunyan Minnesota Centennial Jim Beam Whiskey Decanter | 1970 | $205 |
| 2 | Jim Beam Space Shuttle Decanter | 1986 | $122.50 |
| 3 | Jim Beam Whiskey Bottle | 1981 | $100 |
| 4 | Jim Beam French Telephone Decanter | 1979 | $80.00 |
| 5 | Jim Beam Illinois Momence Glad Festival Whiskey Decanter | 1974 | $74.09 |
| 6 | Jim Beam Gilded Blue Tulip | 1973 | $62.95 |
| 7 | Jim Beam Black Royal Porcelain Decanter | 1955 | $60 |
| 8 | Jim Beam Circus Wagon Car Lions Decanter | 1979 | $50 |
| 9 | Jim Beam Lombard Lilac Village | 1969 | $49.00 |
| 10 | Jim Beam Weeping Gold Decanter | 1972 | $39.99 |
1. Paul Bunyan Minnesota Centennial Jim Beam Whiskey Decanter
Release Date: 1970
Price: $205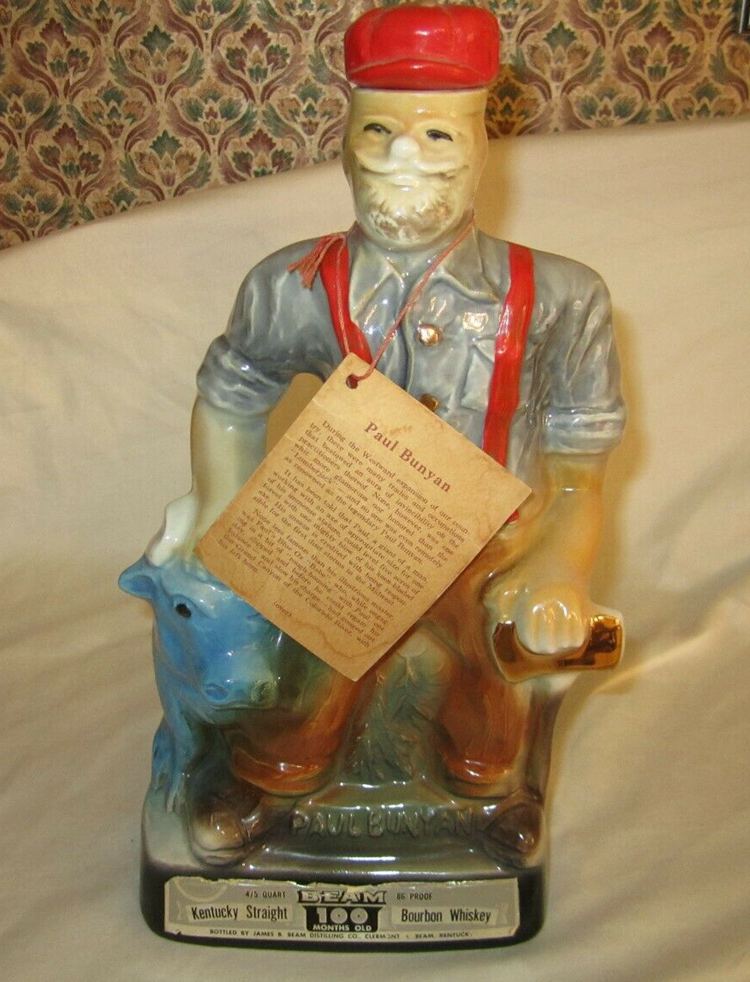 This bottle is a centennial decanter with Paul Bunyan walking a blue ox. The piece has the number 100 imprinted on the base and has a glossy glazed finish. The blue and red outfit worn by Paul Bunyan makes this decanter very attractive.
2. Jim Beam Space Shuttle Decanter
Release Date: 1986
Price: $122.50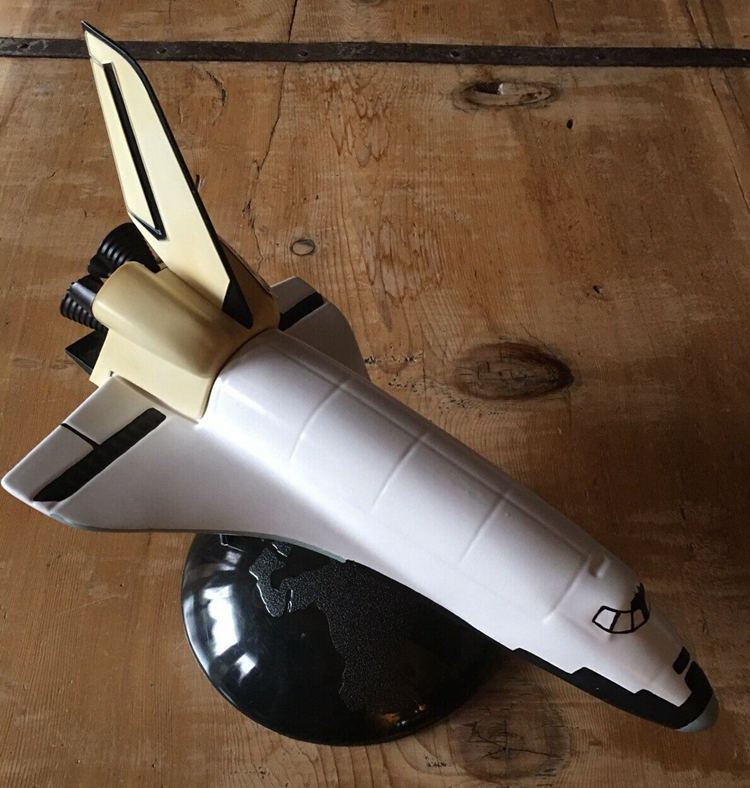 This intriguing piece is shaped after NASA's space shuttle known as "The Enterprise'. It was created in 1986 by the Regal China company and featured black and white detailing with an earth stand.
The Jim Beam stand rest very close to the tail of the shuttle. This piece lists for $122.50.
3. Jim Beam Whiskey Bottle
Release Date: 1981
Price: $100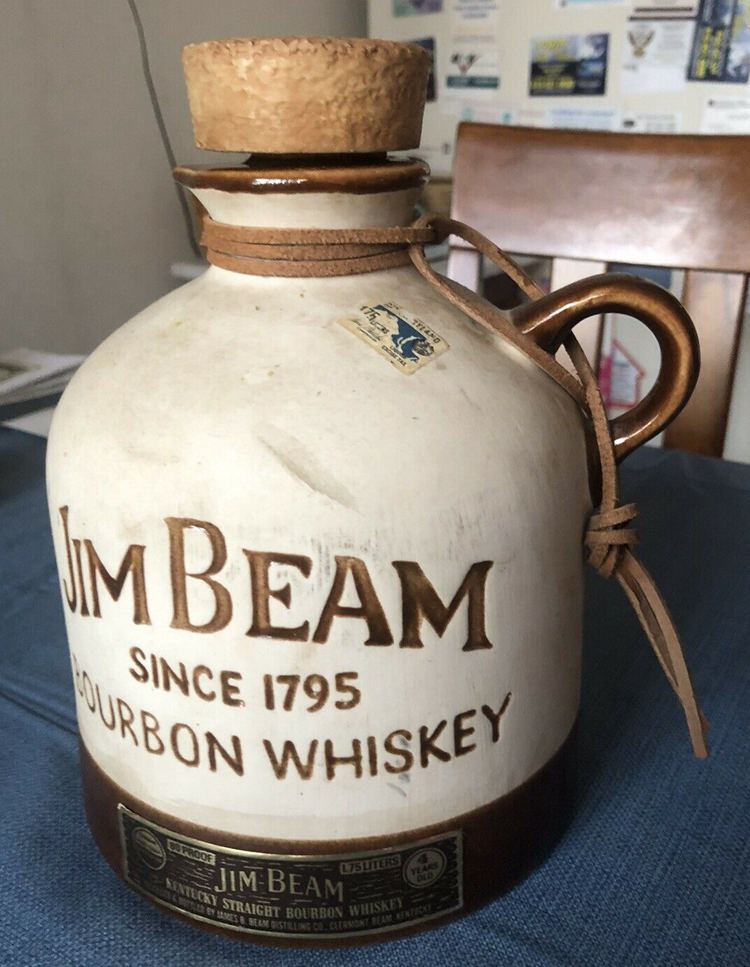 This fine Jim beam bourbon bottle was produced by the Regal China company in 1981. It features beautiful colors of cream and brown with a wooden cork and a leather detail by the neck. There's a Jim beam stamp right at the base of the bottle, and it lists for $100.
4. Jim Beam French Telephone Decanter
Release Date: 1979
Price: $80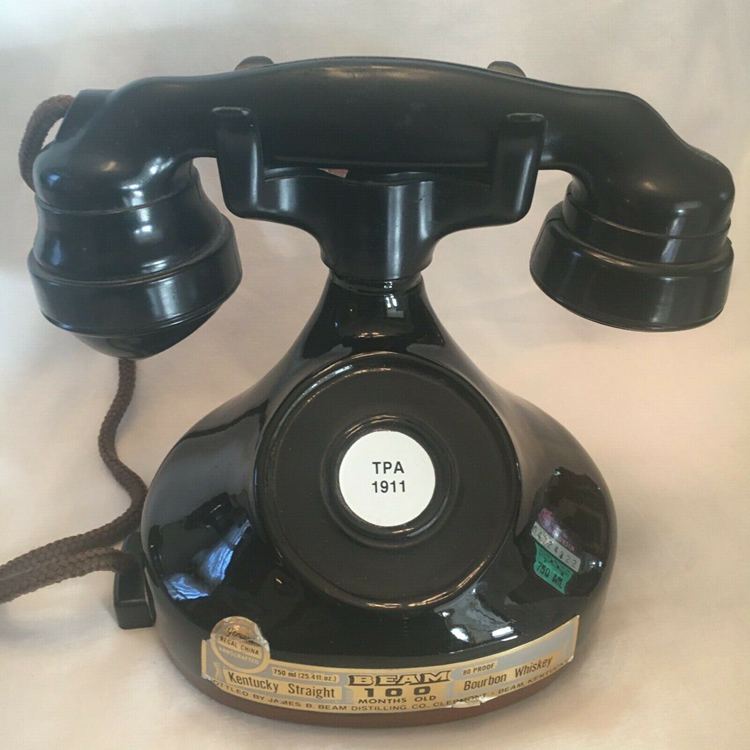 Shaped like a 1928 French telephone, this decanter was the beauty of 1979 with its high quality glazed black coating. Jim Beam outdid itself with this captivating design that has now transitioned into a modern-day decorative item; It lists for $80.
5. Jim Beam Illinois Momence Glad Festival Whiskey Decanter
Release Date: 1974
Price: $74.09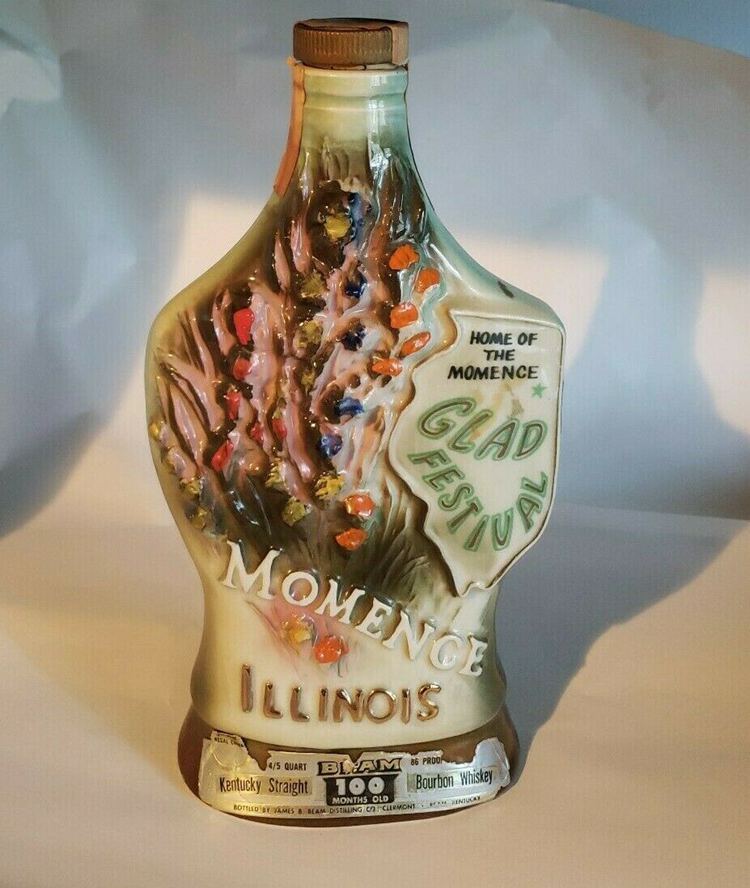 This commemorative piece is used to celebrate the Illinois Momence Glad Festival, which is the nation's oldest drum and bugle competition and doubles as a flea market. The body of this decanter is a theatre of catchy colors and patterns. It lists for $74.09.
6. Jim Beam Gilded Blue Tulip
Release Date: 1973
Price: $62.95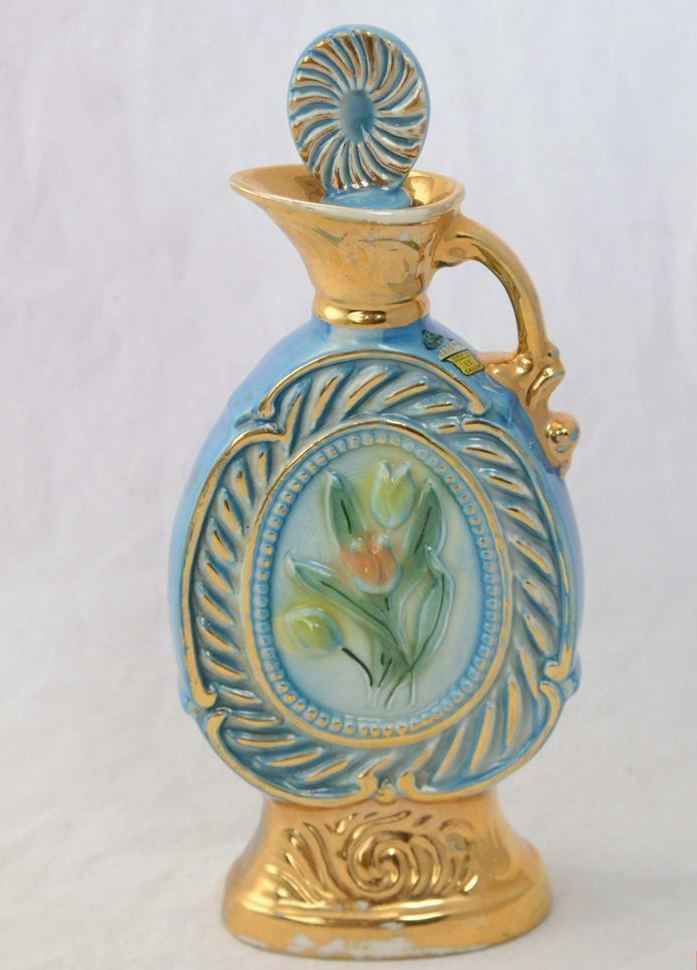 A light blue bottle with three tulips; two of them are yellow, and orange stands alone. It has leaves in the background with a golden highlight at the base, neck and handle of the body. Jim beam designed this bottle in 1973, and it lists for an impressive $62.95
7. Jim Beam Black Royal Porcelain Decanter
Release Date: 1955
Price: $60.00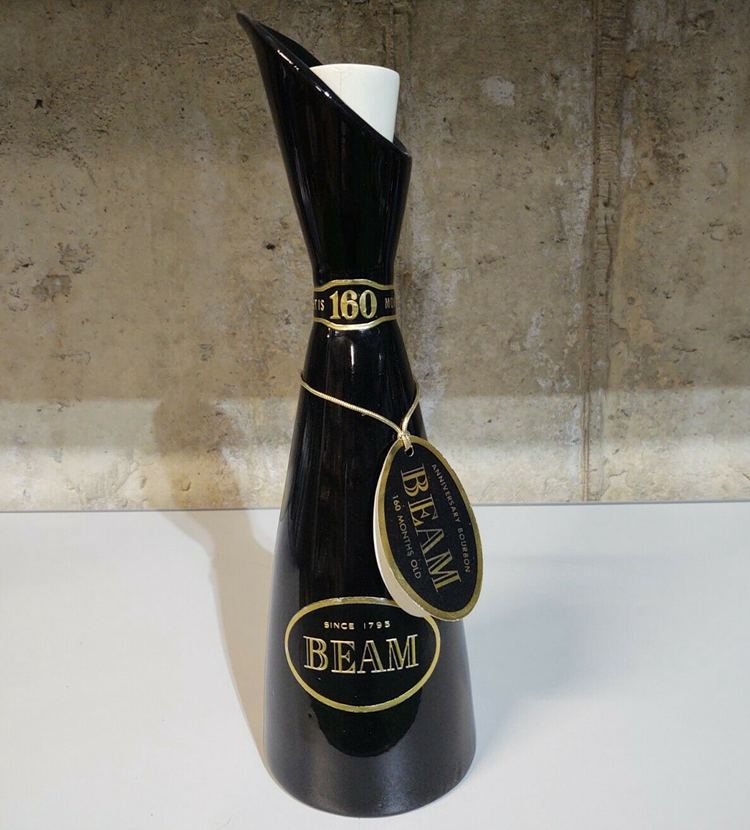 What is more attractive than a jet-black bottle with gold details. This black porcelain bottle was designed in 1955 by the Regal China Company to hold bourbon whiskey. The perfect accessory to your shelf and bar area, this piece lists for $60.
8. Jim Beam Circus Wagon Car Lions Decanter
Release Date: 1979
Price: $50.00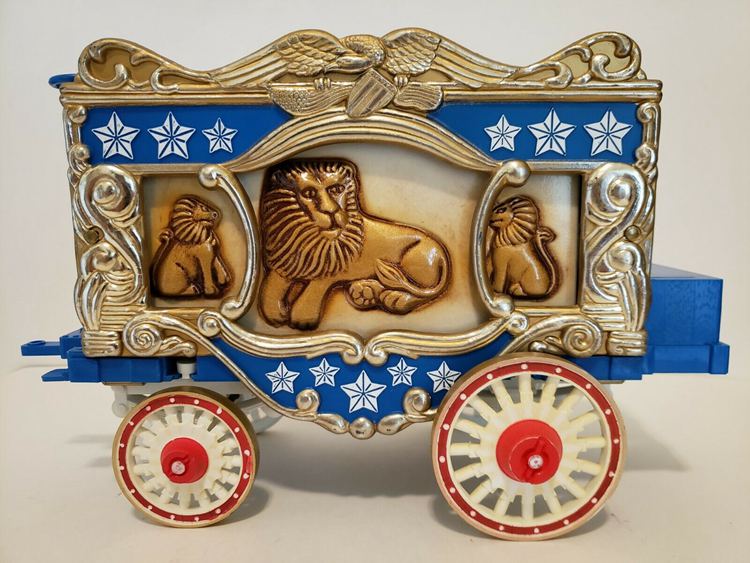 Who knew wagons could double as whiskey containers. Jim Beam made this masterpiece in 1979, a brightly colored blue circus wagon with three golden lions and red wheels with white rims. It lists for $50.
9. Jim Beam Lombard Lilac Village
Release Date: 1969
Price: $49.00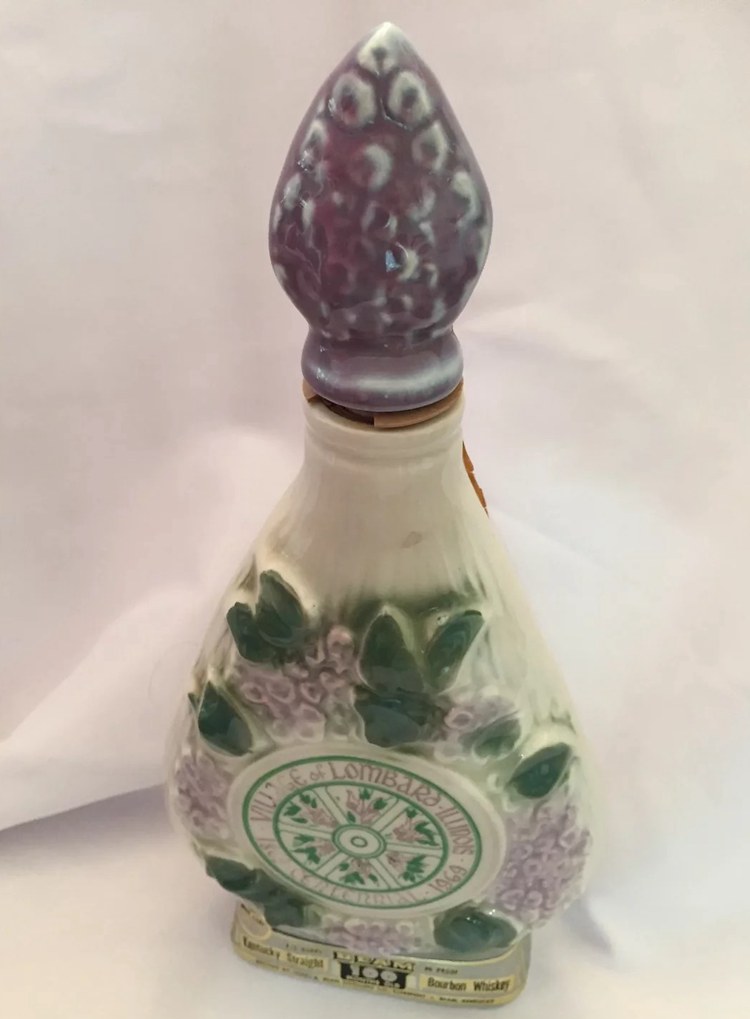 A celebratory piece for Lombard Lilac Village- Lombard Peoria, Centennial Decatur Springfield. It's patchy lilac-colored porcelain with raised green leaves and lilac flowers. This parade of hues makes the vase a unique one. There's a lilac/blue-toned cork at the top of the bottle.
This 1969 masterpiece goes for $49 and was created by the Regal china company for Jim Beam distillers.
10. Jim Beam Weeping Gold Decanter
Release Date: 1972
Price: $39.99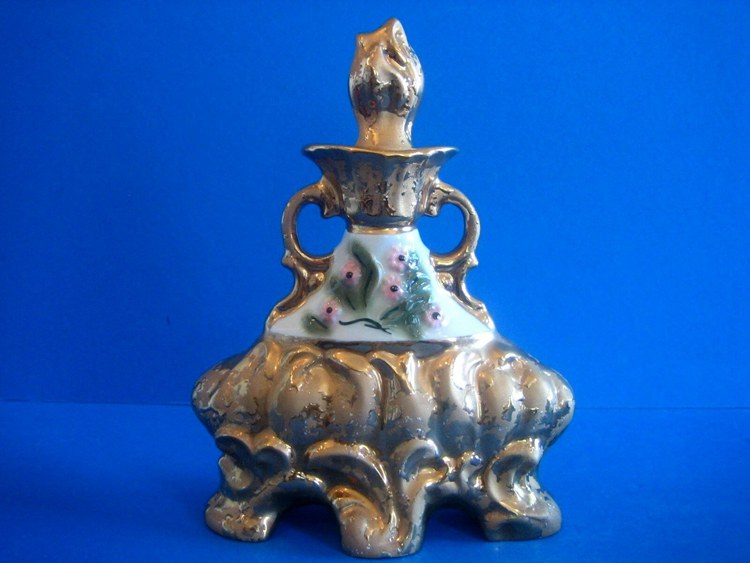 Manufactured by Regal China, we have the weeping gold Decanter. A vase with pink floral details on its body that add a nice touch to it. This decanter is the perfect flower vase. It comes with a golden handle, cork stopper and stands which can serve as a base.
Jim Beam Collections
Decanters produced by Jim Beam in the 60s, 70s and 80s are the most common of the Beam collection. In 1966, the company launched the longest-running collection of their decanters, known as the 'Beam Collector Editions'. They spanned from 1966 to 1986.
With each year, Beam introduced new designs under the edition heading. The first of this collection were four different bottles featuring artwork from various artists. The bottles came in a sophisticated package with a see transparent top for an easy view of the item.
They had a blue velvet coating with a corresponding painting in the middle of the item and a label right under the artwork; they were pint-sized and had blue screw plastic covers. These bottles were lacking in terms of aesthetics, but the tides turned in 1966.
How to Determine the Worth of a Jim Beam Decanter
Here are the things you must consider when collecting or planning to sell off your antique Jim Beam Decanter.
By dating the Decanter
Early models of Jim beam decanters and limited-edition bottles are highly sought after, extremely rare and very expensive. They're seamless and glazed on their bodies.
By examining its condition
If your bottle is cracked, broken or has some parts chipped off or missing labels, the value instantly depreciates, and it'll be almost impossible for anyone to collect or purchase them for you. Always ensure that your bottle parts are intact.
If you have a Jim beam bottle with its contents intact, ensure to empty the liquid as they pose greater harm to the bottle. Collectors only need the bottle, not the content.
Designs
Unusual, elaborate, or uncommon designs sell for high prices and are highly collectable. The random-looking ones might not serve the aesthetic purpose of the collector or buyer.
An item from the wheel series is one of the most expensive decanters available compared to the earliest models that sell between $20-$40.
Books and online websites
Several books on Jim Beam decanters can help you figure out their true worth. Jim Beam also released a few books about their company and its product. However, they are outdated now, but they can serve as an excellent reference for pictures and extra details.
How to Identify an Authentic Jim Beam Decanter
Identifying a popular vintage item like Jim Beam can be demanding. Since a few companies also adopted the storage initiative in the 70s, the market is filled with various these pieces. Here's a no stress identification guide to put you one step close to collecting your decanter.
By the label
Most Jim Beam Decanters have labels for proper, quick, and accurate identification. On the label you'll find names and how much content the bottle can hold.
By their marks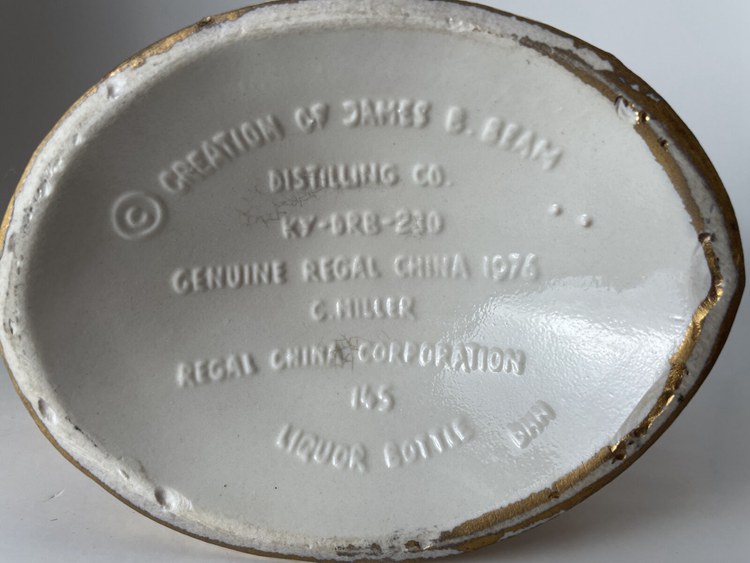 Flip your bottle over and check the base for embossing and marking, indicating that they're a product of the Jim Beam company. Like most bottle manufacturers, Jim Beam inscribed the dates on the bottom of its bottles in a 2-digit format.
By their purpose
Usually, vintage items like these are produced to celebrate a particular event, commemorate something, or serve a specific purpose; the most popular Jim Beam collection is the celebratory pieces.
Jim Beam created 15 categories for their bottles: Clubs and Conventions, Wheels, Casino, Regal China, Sports, States, Trophy, Glass, and collectors Editions, Political, Opera, Foreign, Executive Centennial, Organizations, and Customer.
By their subject
Jim Beam decanters have different theme names such as Rennie the Fox, Corvettes, Paul Bunyan, to Emmet Kelly. They also come in various shapes such as Animals, buildings, figurines and animals of different species. You can find Jim Beam Decanters in the usual glass bottle shapes too.
How to Care for Jim Beam Decanters
Fill the insides with hot water and mild soap and shake them up to form a rich lather. This lather helps clean places and angels where your hands can't touch.
For the outside, get a soft washcloth and gently clean to get rid of stains, be careful not to wash too hard as the paints may come off.
Rinse with warm water after washing and leave to air dry. Keep out of reach of children to avoid breakage. Remember, you need the parts intact to get the most out of your antique decanters.
FAQs
Where can I buy Jim Beam Decanter?
Get familiar with estate sales,yard sales, and flea markets to lay your hands on one or a handful of these decanters. You can also consult collectors willing to sell and online auction websites.
What is Jim Beam Decanter Worth?
An average Jim Beam decanter sells between $30-$3000.
Who makes Jim Beam Decanter?
Fred Noe is the brilliant mind behind Jim Beam Decanters. He came up with them to help declutter Bourbon stocks and reduce high taxes on whiskey storage.
Parting Words
Completely loaded with knowledge on Jim Beam decanters, you can now begin your search for these historical and valuable items. However, you must bear the following points in mind.
Jim Beam Decanters are very fragile and should be handled with care. A loss in parts or chips on bottles reduce its intrinsic and aesthetic value.
There are 15 collections of Jim Beam decanters ever produced, and the most popular ones are celebratory bottles.
Always remember to empty the contents in your bottle. They contents don't matter in the collecting process.