Internationally, Germany is known for its elegant Meissen porcelain dishes and traditional salt-grazed beer jugs and steins. To identify the different porcelain styles within each of these genres, collectors have to analyze the porcelain marks.
Identifying marks on a piece of porcelain is generally the first step in determining the overall value of an antique. However, if you are new to antiques, you may not know how to identify antique German porcelain marks. This detailed guide carries vital information on how to differentiate antique German porcelain from fakes and copies.
A Step by Step Guide on How to Identify Antique German Porcelain Marks
Step 1: Locate the Manufacturer's Mark
Manufacturers paint or imprint their porcelain piece with an identifying mark that helps customers distinguish the piece from competing products. On most German porcelain pieces, the manufacturer's mark sits at the bottom of the porcelain piece.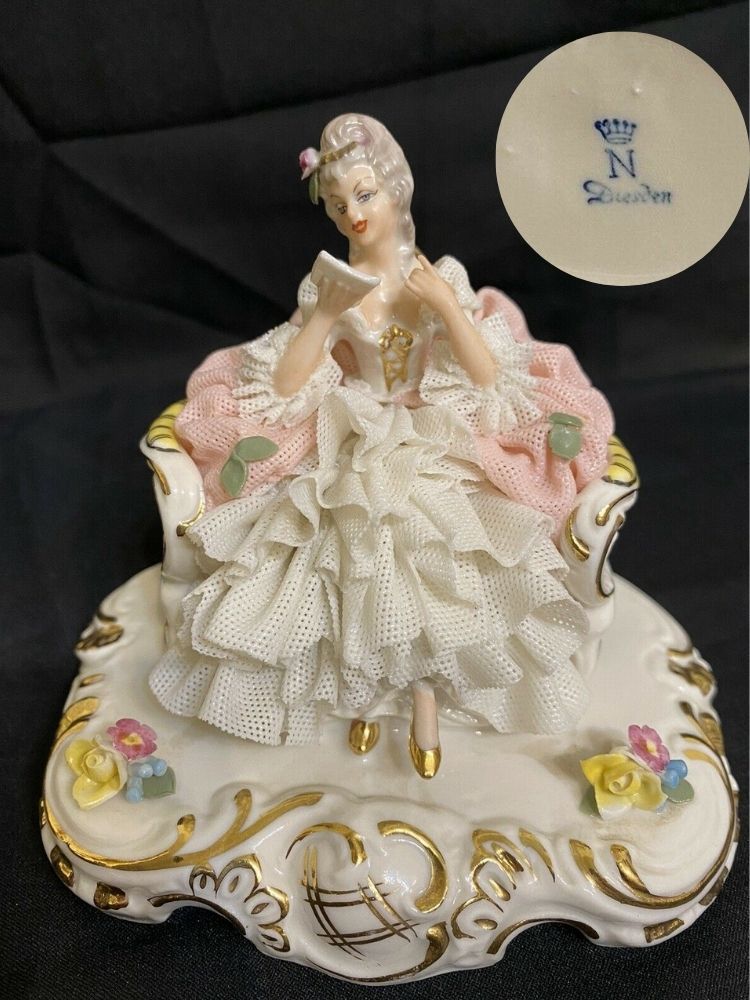 Some early German porcelain marks were simply symbols and did not carry the city of origin or name of the manufacturing company. Later marks, however, generally include the initials of the manufacturing company, as well as its location.
Step 2: Note the Glaze's Texture
Does the glaze on your porcelain look crystalline, smooth, or crackled?
Salt glazing results in a glassy and hard surface that carries the texture of an orange peel. The thick "fat lava" used in the 1960s and 1970s features a lava-like cratered surface.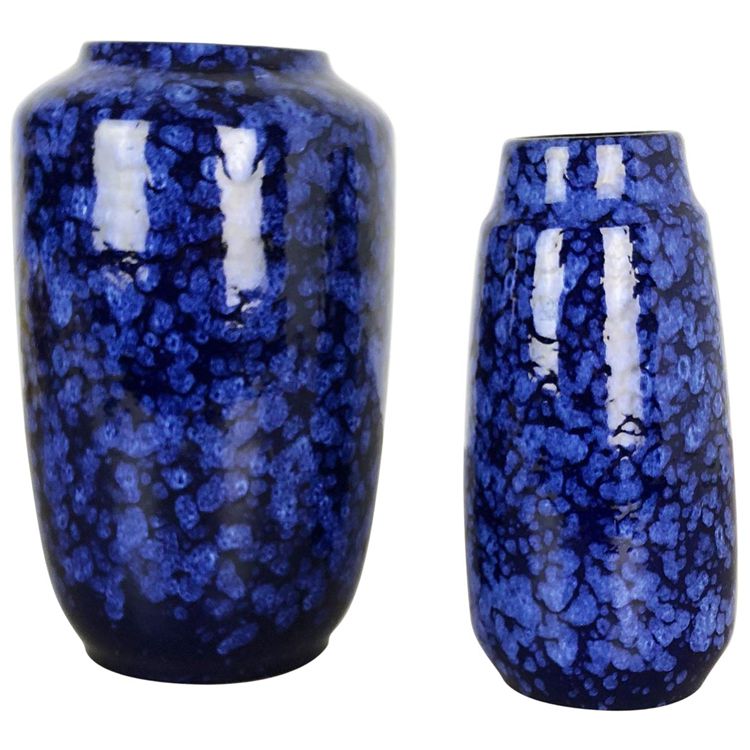 Step 3: Note the Glaze's Color
Are the glazes on your porcelain piece applied as color stripes or as painted decoration?
Salt-glazed porcelain is generally decorated with painted designs in cobalt blue glaze, which is one of the only glazes that can be fired in the extremely high temperature needed for salt-grazed pottery. West German porcelain of the 1960s and 1970s is generally grazed in eye-popping colors.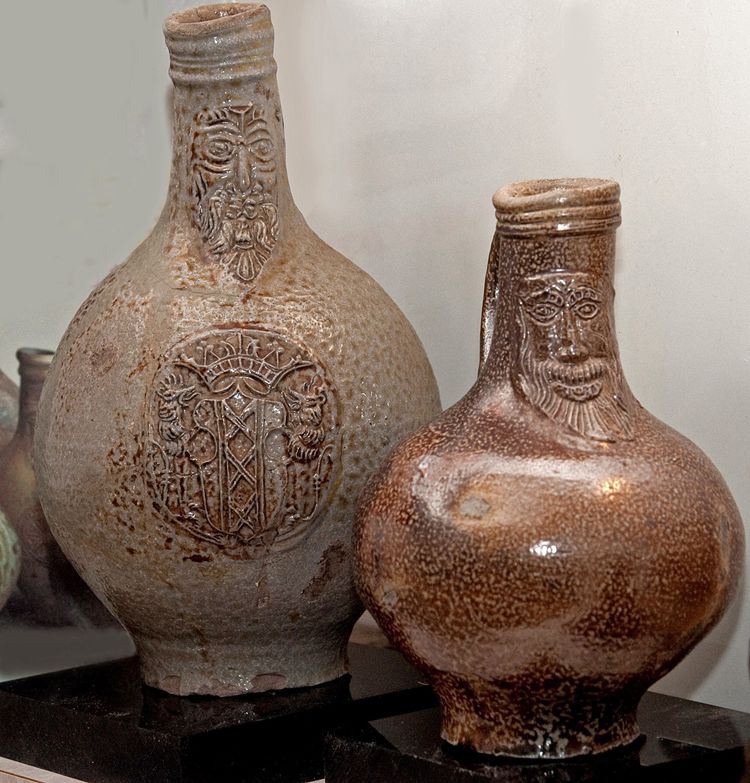 Step 4: Note the Shape of Your Porcelain Piece
The explosion of creativity in the German porcelain industry after the second world war resulted in asymmetrical and exaggerated shapes, some of which were distinctive to some manufacturers. For example, Ruscha introduced the "Shape 313" designed by Kurt Tschörner back in 1954. This distinctive shape remained popular until the factory closed down in the 1970s.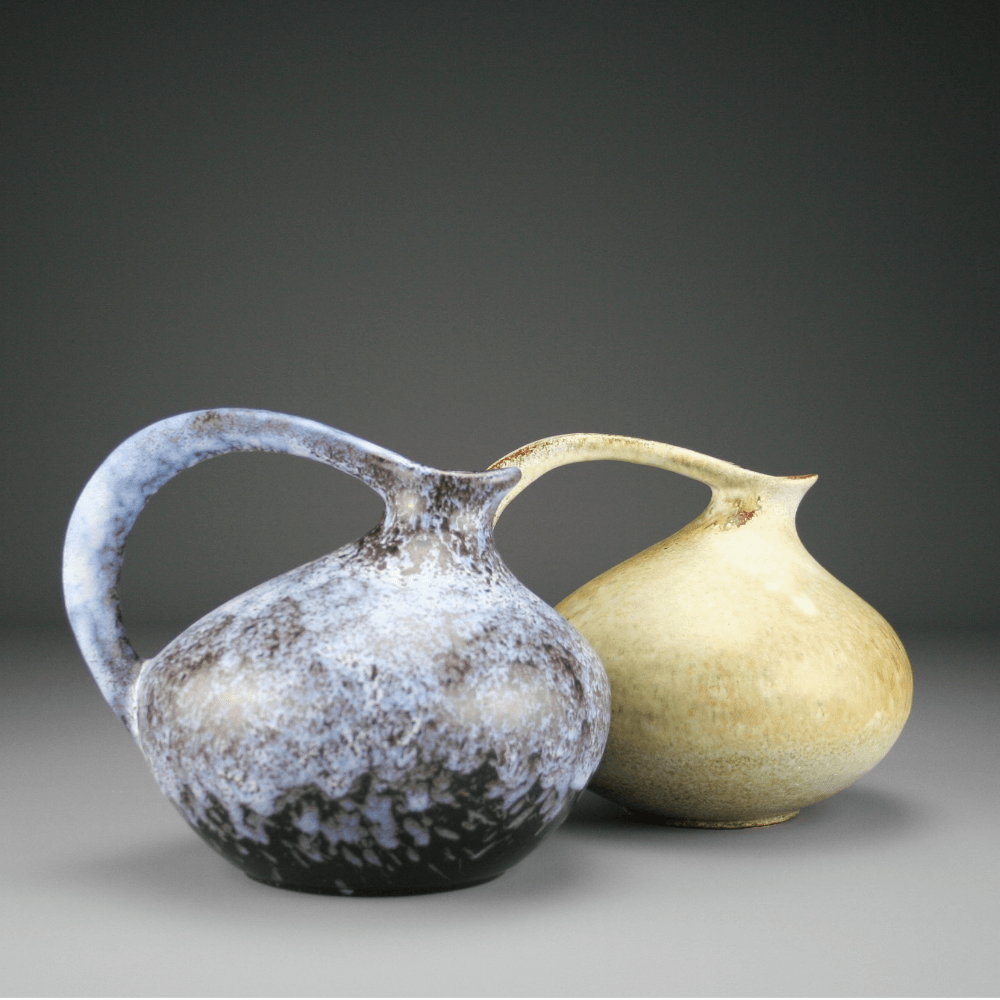 Step 5: Use Your Observations for Research
After recording the major features of your porcelain piece, you can use several ways to identify the mark on it. Below, we will look at the 3 options you can use:
Option 1: Visit a Library
Heading to the library and looking for books on the mark you have found on your antique is one of the most effective ways of identifying porcelain marks. However, to use this option, you have to know the porcelain's country of origin. Knowing the country of origin is vital because a book on English-China marks will not have any information on German porcelain marks.
Option 2: Hire a Specialist
Specialists are often available at antique auction houses. Alternatively, you can find them through appraisal services.
If you find a specialist nearby, you can always set up an appointment to bring the porcelain piece with you for further, in-person, assessment. It is, however, worth noting that some specialists may accept an online assessment if you send clear photographs of the porcelain piece and its mark.
An experienced specialist will identify a piece of porcelain by its design and materials, as well as evaluate the mark on the piece to determine where it came from, when it was made, and who made it.
Option 3: Search Online for Similar Marks
This option, however, may not always give you a reliable – or accurate – identification of the piece of porcelain. For this reason, it is recommended that you use an online search as a starting point for further research into the marks on your porcelain piece.
Online resources do not always carry all the information one may need to identify a porcelain piece. Also, the resources available online may not date so far back. Some online resources you may want to use when trying to identify antique German porcelain marks include Porcelain Marks & More and the International Ceramics Directory.
The Most Common Antique German Porcelain Marks
To identify antique Germain porcelain marks, you need to know the different companies that dominated the German-China porcelain industry in the early days:
1. Meissen Porcelain Factory
The oldest German porcelain factory, Meissen Porcelain Factory was founded right after Johann Friedrich Bottger, a German alchemist, discovered the closely guarded secret of making hard-paste porcelain. Based on Bottger's discovery, Augustus the Strong of Saxony founded the Meissen Porcelain Factory.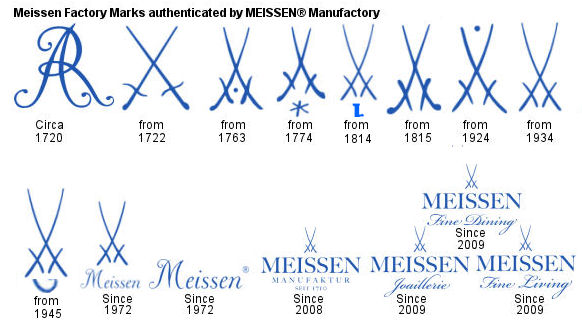 The original mark used by the Meissen Porcelain Factory was a double-crossed sword. It is, however, worth noting that the company's porcelain marks had numerous variations. This artifacts website carries some excellent examples of the authentic Meissen Porcelain Factory marks.
2. Frankenthal Porcelain
Frankenthal Porcelain was founded in 1755 in the city of Frankenthal, Germany. The company was famous for its elaborate figurines.
Frankenthal Porcelain flourished in the 18th century, and while various copies of the company's original pieces have been issued, the company is no longer operating. The company's pieces are recognized by their arched bases and doll-like faces.

The company's porcelain marks include a crown or lion, in honor of the royal house. Although the company's marks did change over the years, most of them have the companies name or initials.
3. Konigliche Porzellan Manufaktur

Also known as K.P.M., Konigliche Porzellan Manufaktur was founded in 1763 by Fredrick the Great. The company's porcelain marks vary from plain lines to scepters, orbs, and crowns. The company eventually added its initials to the marks.
When Fredrick the Great founded Konigliche Porzellan Manufaktur, his main goal was to ensure that the finest porcelain came from Germany. The company focused on producing figurines and tableware which were delicately molded and hand-painted.
4. Villeroy & Boch

This company has manufactured pottery and porcelain since the 18th century. Villeroy & Boch is still on the market today. The company's porcelain marks include "Made in Germany," "Mettlach," "V&B," and others.
Made in Germany: Old or New?
Now that you know how to identify antique German porcelain marks, you may want to know how to figure out whether a piece of porcelain is old or new. Porcelain marks can tell you the year of production of a specific porcelain piece. The German porcelain companies generally changed their porcelain marks to reflect updates or new ownership.
For example, "Made in Germany" was used in 1887 as a way to differentiate German porcelain pieces from English pieces. In 1949, the government of East Germany required its companies to use "Made in the German Democratic Republic or "Made in GDR."
West German companies changed their marks to read "Made in West Germany." When Germany finally reunited back in 1989, the "Made in Germany" porcelain mark was reinstated.
How Do You Spot Fakes and Copies?
Since some German porcelain is very rare and extremely valuable, the antique market has been flooded with copies and fakes – these can easily fool new collectors. There is no single way to determine whether antique German porcelain is real or fake. However, you can use the tips below to avoid taking home a fake piece:
Antique German porcelain generally carries signs of wear. Look for some glaze crackle or scuffs on the bottom edges of the piece. If a porcelain piece looks brand new but is listed as an antique, you must be extra careful.
Each era had different tastes when it comes to aesthetics. For this reason, the colors used today on German porcelains may not be similar to those used in the 1870s. If you are unsure of an antique porcelain piece, check its colors against images of older similar antique pieces – when checking your piece, be wary of extensive color variations.
If the antique porcelain piece feels unusually heavy or light, there is a high chance that it may be a reproduction.
Keep in mind that the most effective way to determine whether an antique piece is fake or real is through knowledge – acquiring knowledge will require time, effort, and a lot of research.
Consider visiting antique shops, shows, and museums. This will allow you to see real examples up close, which, in turn, will help you understand what to look for from different porcelain companies.
Conclusion
In numerous ways, each piece of porcelain is unique. While two items could be made by the same company, they will still have their individuality.
The quality of a porcelain piece and its composition are the major ways collectors use to identify the creator of a specific piece. Though secondary, the mark on the porcelain is used for confirmation. This guide is designed to help new collectors understand how to identify antique German porcelain marks.
If there is something you feel we did not fully cover, do not hesitate to let us know. Go ahead and leave a comment below – we will respond with a detailed answer.