The Fire King glassware is one of those designs in every household that reinforces the idea that we've all lived the same lives.
In the 20th century, veteran cook show host Martha Stewart popularized Fire-King Glass Dinnerware leading to a spike in sales and interest amongst collectors. Last month, May, 2022, Live Auctioneers sold a Jade-ite set for $375 after valuing it at $100 – $150.
How did this low-cost dinnerware become America's top pick for over 30 years? Do they still exist today? If yes, how can I identify one and attribute the right value to it? With the millions produced, it's easy to get overwhelmed as new collectors.
However, you can find the answer in a Collectors' Guide like Schiffer Book or read this guide for a quick and comprehensive solution.
History of Fire-King Glassware
Fire King glassware originated in the 1940s and was intended for everyday home use hence its simple design.
It was easily accessible for the average American, with grocery stores nearby. It is safe to say that the brand became so popular that Anchor Hocking's fire-king collection sold over 25 million pieces in its first six years.
The Anchor Hocking Company
Isaac J. Collins and E. B. Good launched the Hocking Glass Co. in Lancaster, Ohio, USA, in 1905 to produce glassware. Per Zippia, the friends bought the company with $8,000 and changed its name later to the Anchor hocking company.
The company underwent several changes, including a fire in 1924 leading to its purchase of the Lancaster Glass Company.
The new company created the innovative 15-mold machine five years later when the Stock Market crashed. Unlike the former machine, this one produced 90 pieces/minute.
In 1931, Hocking Glass Co. produced its first glass container following its acquisition of the Turner Glass Co. After dabbling in many products, including bakeware, cookware, and dishware, Anchor Hocking Co. introduced the first Fire-King ware.
Vintage Fire King Glass Types
Fire-King became a household name with products like casserole dishes, tea sets, bowls, and containers. Anchor Hocking Co. designed the pieces so every kitchenware could be a Fire-King model.
With those many options available, we've compiled a list of the types of vintage Fire-King glassware.
Fire-King Pieces Types
Depression Glasses gained popularity in the 1930s after the Great Depression, and Hocking Glass Co. started making them in 1937. Within three years, it spread to other dinnerware sets.
Fire-King Dishes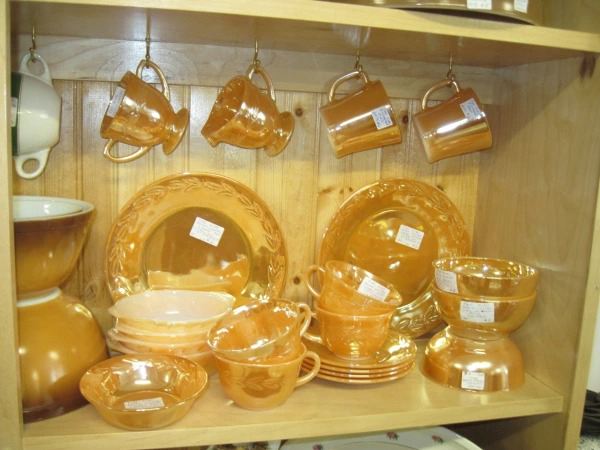 Having dishware without dishes is hard, but style is the most important aspect. Anchor hocking's fire king dishes came in every form you can think of, from main course plates to teacup saucers.
However, some series had limited styles, unlike others, such as Jade-ite, which had everything.
Refrigerator Dishes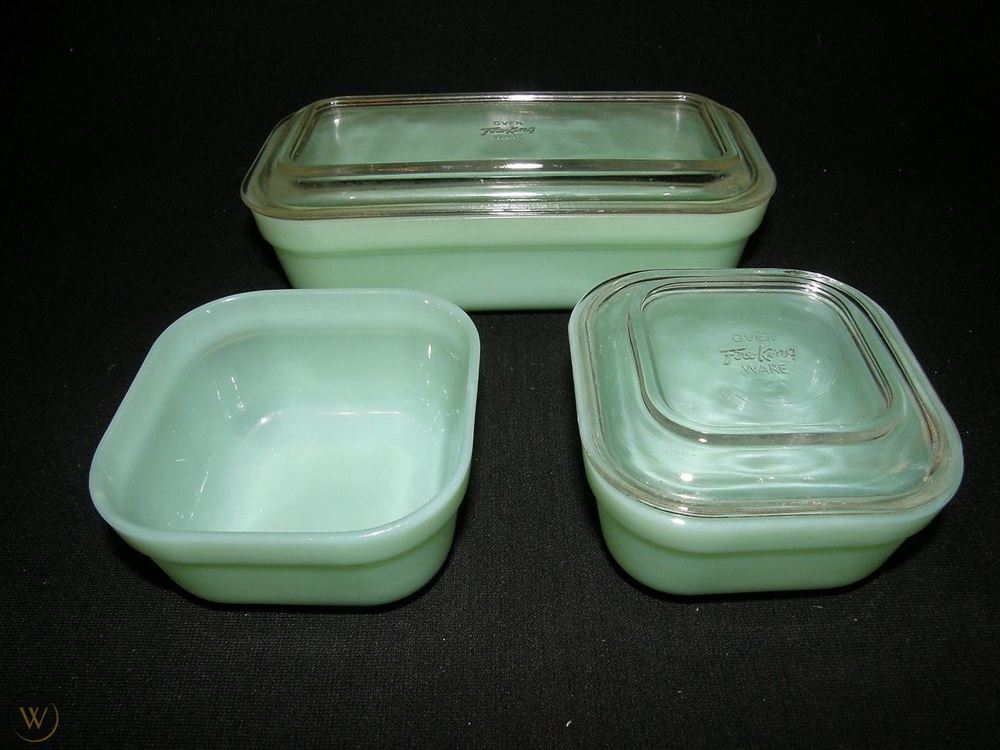 Think of fancy Tupperware when you imagine the fire-king refrigerator dishes. It wasn't plastic, but it was plain delicate glass either.
This dish was made specifically to store food and reheat, but we don't recommend putting it into a microwave. Instead, you can scoop out your desired portion into the ovenware.
Fire-King Ball Jug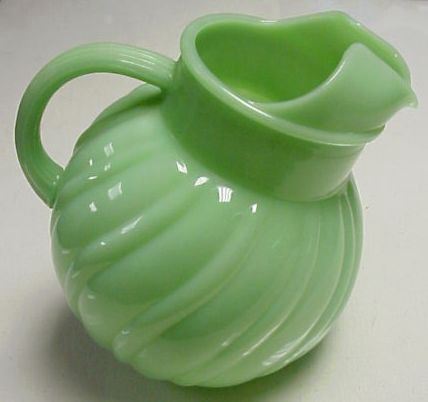 When discussing the rarity of Anchor Hocking's fire-glass pieces, the Ball jug tops the list. It's so unique that it sells for no less than a thousand dollars per Estate Sales. The serving jug is formed in a circle with intricate lines on the body and a funnel mouth for easy pouring.
Also, its bottom has a flat round surface for stability when adding it to a dinner arrangement. While there are records of many colors made of this Ball Jug, only the Jade-ite model appears to remain in existence today.
Fire-King Bakeware & Ovenware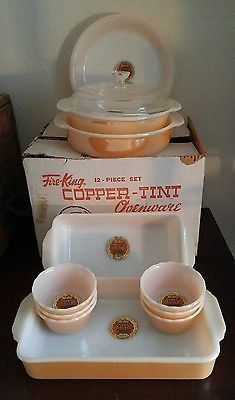 True cooking enthusiasts know that there are types of glasses meant for different occasions. Anchor Hockings made the fire-king ovenware in different shapes and sizes with oven-proof glass to keep them heat compatible.
These include, casserole dishes, pie pans, fish bowls and more.
Fire-King Mugs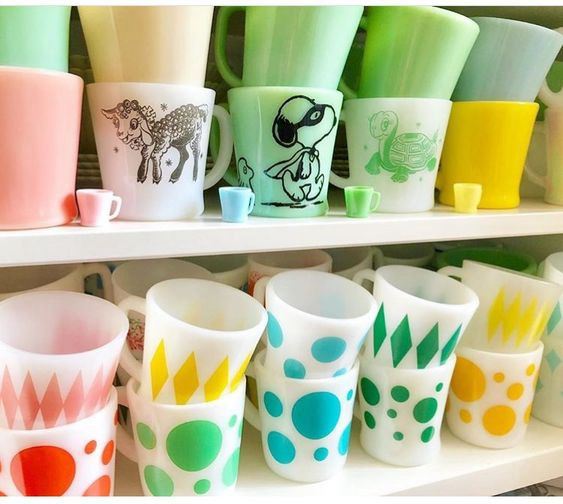 While dinner sets include tea cups, it isn't the same as the individually sold Anchor Hocking fire-king mugs. They came in multiple designs, including colorways from ombre hues to branded logos for souvenirs.
Fire-king mugs were typically sold in 12 or 24 pieces per carton because they were meant for gifting.
Fire-King Nesting Bowls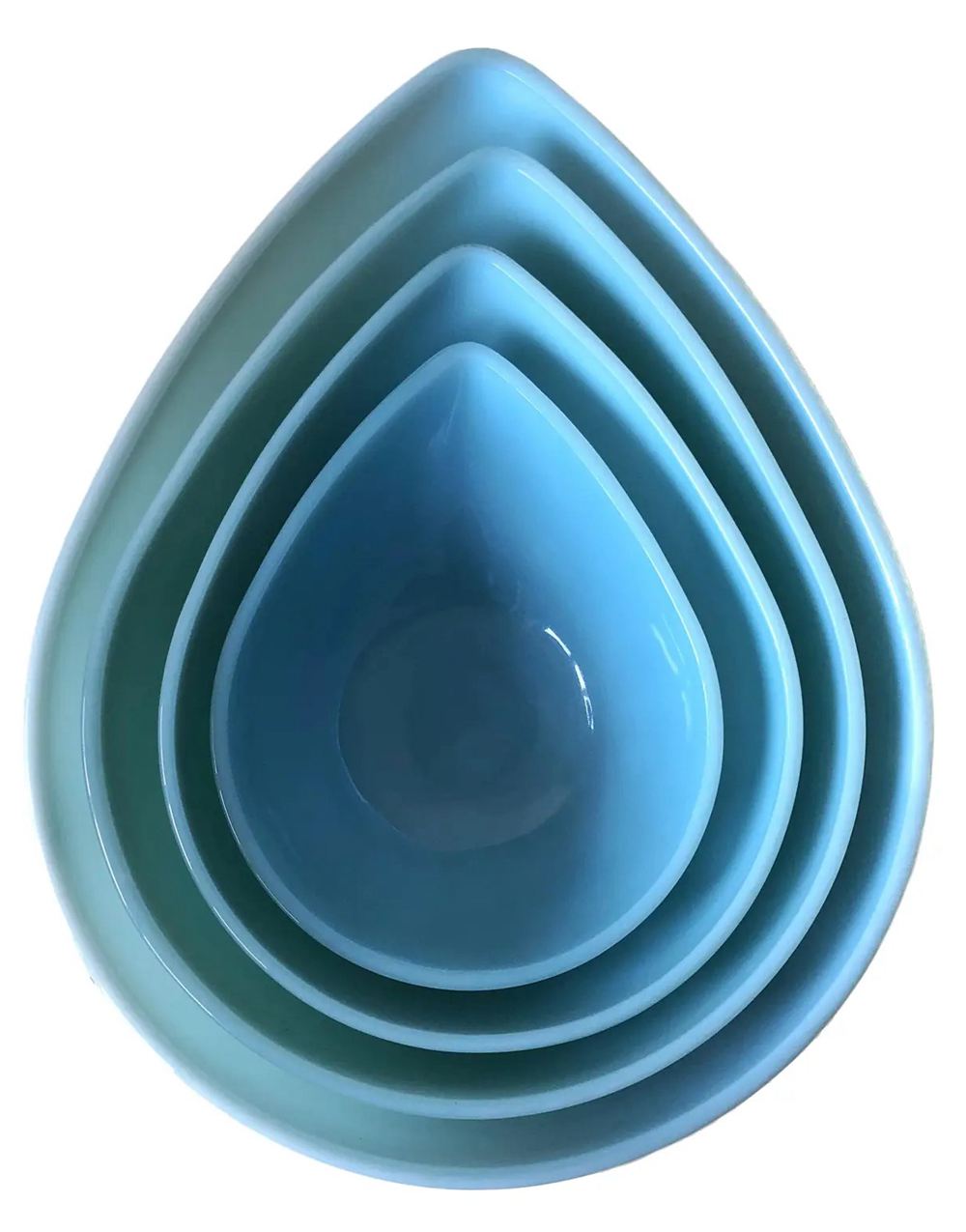 Even in modern dishware sale, Nesting Bowls remain one of the most elusive finds because it isn't in high demand like regular dinnerware. The vintage fire-king nesting bowls are rare items, containing four pieces per set formed like a bird's nest.
Each piece is about 1 -2 inches smaller than the other, making them fit into themselves without being tight. A complete set is, of course, highly valuable.
Vintage Fire-King Identification
Fire-King glassware is categorized into three main styles;
Opaque Fire-King Kitchenware
White Milk Fire-King Glass with Prints
Solid Fire-King Glass
Each of these designs has a distinct surface and carving that makes them individually famous. Keep reading to learn how to identify the difference. Each style of fire-king dinnerware had sub-designs causing some series to sell more than the others.
You can't rely solely on the group division to determine the difference, as that'll be an incomplete grading system. Here are the popular patterns and their dates of production.
Identification by Patterns (colors and etchings)
There are signs on the body through patterns and colors that can tell you what name your fire-king glass had in its time and, by extension, pinpoint its production date.
Here's a short list for you.
| | | |
| --- | --- | --- |
| Opaque Fire-King Kitchenware | White Milk Fire-King Glass | Solid Fire-King Glass |
| Jade-ite | Anniversary Rose | Alice |
| Rose-ite | Blue Mosaic | Fish Scale |
| Azure-ite | Primrose | Rainbow Series |
| Turquoise Blue | Meadow Green | Shell |
| Peach Lustre (Pastel Orange) | Fleurette | Sheaves of Wheat |
| | Forget Me Not | Three Bands |
| | Wheat | |
Opaque Kitchenware
Single solid-colored opaque kitchenware was the most popular design introduced by the company in the Forties. The fact that they kept food warm and "hidden" from the public eye while being beautiful made them the preferred design.
Anchor hocking company made these sets in different colors, but three stood out from the rest – Pastel Green, Rose Pink, and Peach.
Jade-ite Series (Pastel Green 1942 – 1956)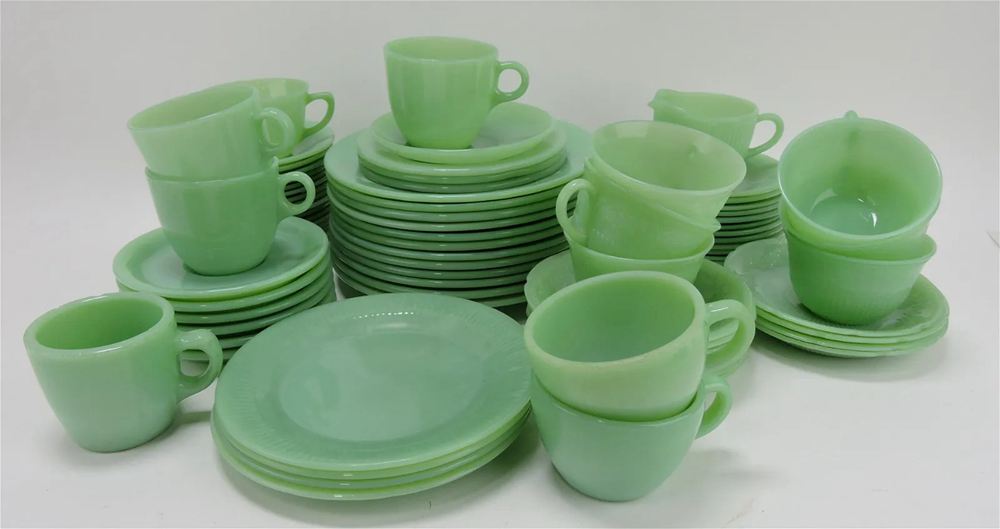 These plain-colored borosilicate sets made in a seafoam/mint green shade became the number one Anchor Hocking Co. product.
The opaque green glass got its name from the generic term used for items in that color, including beverage bottles for children and construction workers.
It was easily accessible for commoners because the company gave it freely as promo pieces and used it in local business partnerships. Please note that you can't use Jade-ite and restaurant ware interchangeably as the former is part of a collection in the latter.
The Jade-ite line was, however, famous for its restaurant use as it had every dish possible in its collection while being easy on the wallet. If it's a modern production, the Jade-ite dish would have a stick saying "Made in China" underneath it.
The reproduction company chose this marking method because it's easily removed, so it doesn't affect the glass. However, the 2000 attempt to re-introduce this famous restaurant ware failed because it didn't pass the quality check.
Rose-ite (Rose Pink)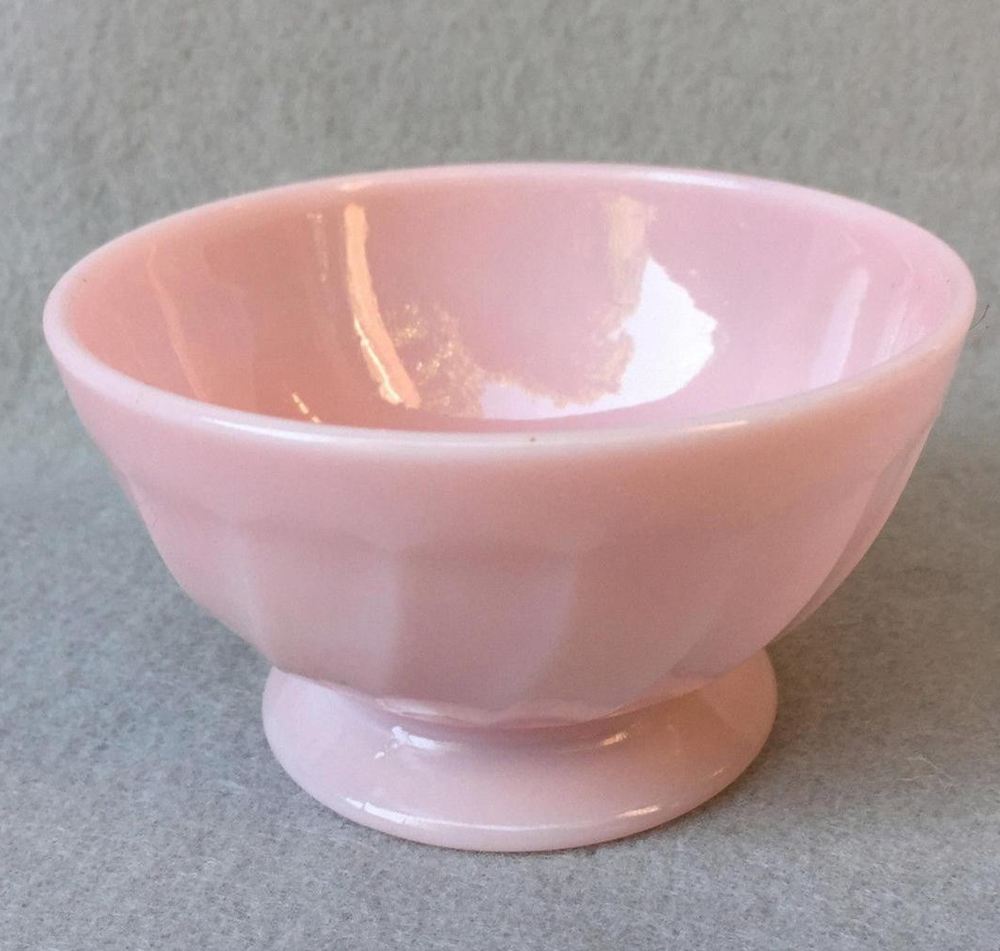 Anchor Hocking had a thing with making feminine counterparts for neutral (masculine-looking) bestselling series, so the Rose-ite fire-king line became the Jade-ite's "wife".
It's a creamy pink hue without patterns or embossments except for the H beneath the Anchor logo underneath.
Azure-ite Collection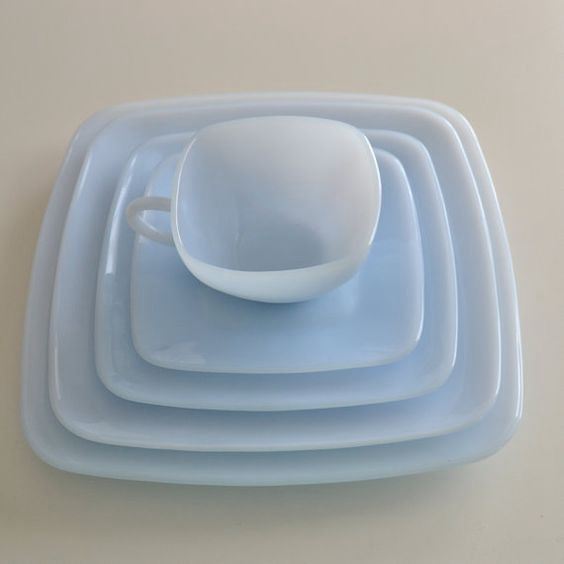 Yet another counterpart to the bestselling Jade-ite line was the Azure-ite collection made of the faintest blue shade. Unlike the green pastel, a common restaurant ware, it was meant for home use.
Turquoise blue Collection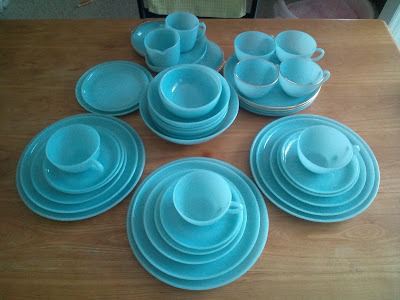 Surprisingly, the fire-king line with the turquoise blue dishes and teacups weren't targeted at men or boys. Instead, they were made for the festive season, hence the bright hue.
Peach Luster (pastel orange)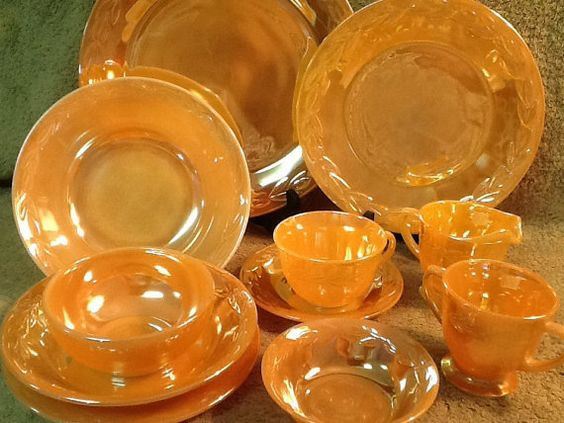 Unlike the Jade-ite series, this design had an iridescent overglaze that made it glow, and they were carved with intricate designs. The manufacturers produced the peach luster in crystal orange glass with a pastel overglaze.
Unfortunately, their delicacy made them prone to chips, cracks and even shattering at the slightest forced contact. So, only a few lasted until this century making them extremely rare. Always wash peach luster with soft liquid and a sponge.
Printed Patterns on White glass
Anniversary Rose Set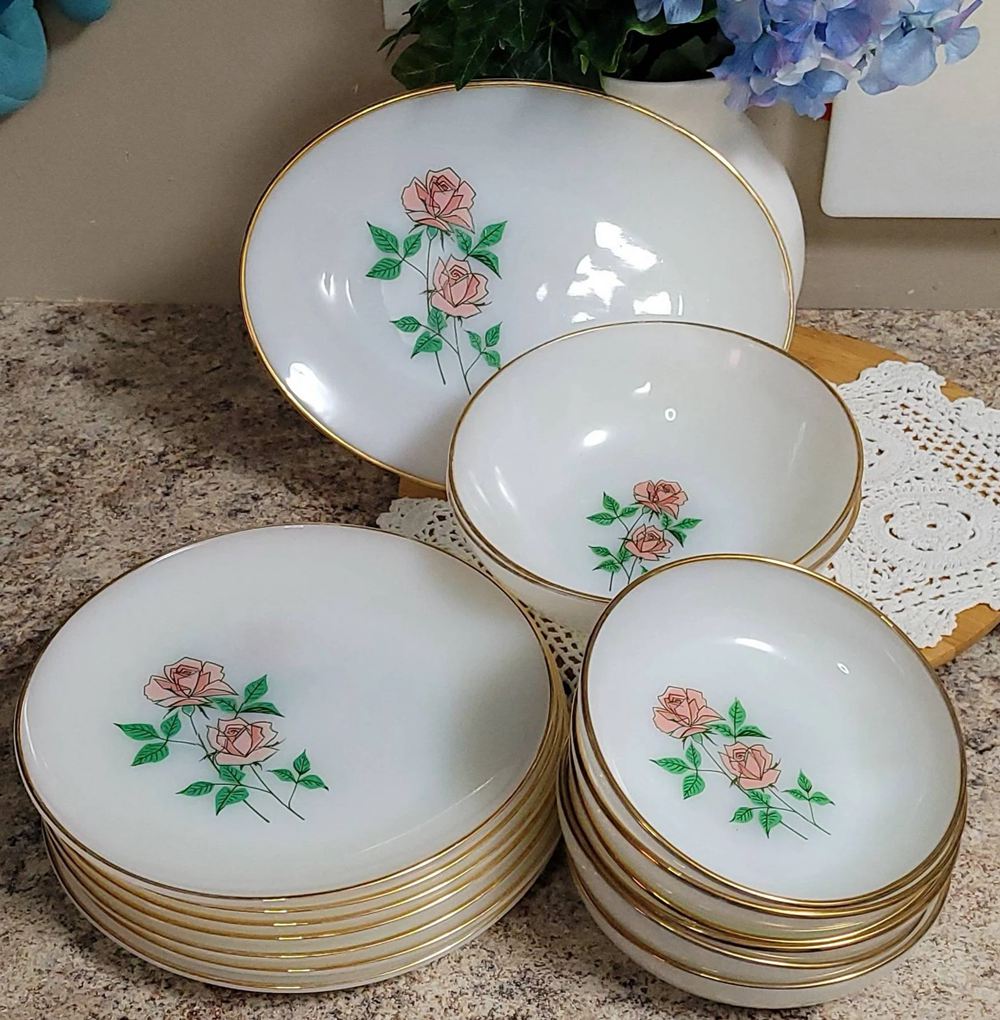 The Anniversary Rose dishes with two rose flowers in the middle were the perfect gifts from husbands to their wives.
Blue Mosaic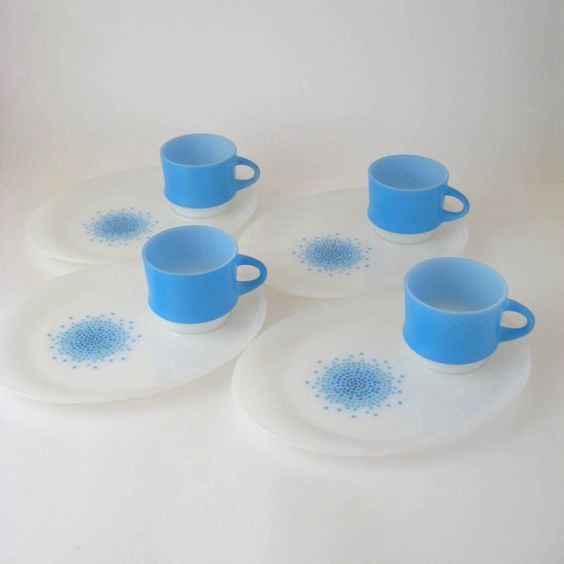 As a tribute to the century before its production, Anchor-hocking designed the Blue Mosaic pieces like the art of the 19th century. It fuses different shared blue squares into a neat circle, expanding into an explosion in the center of white milk glass.
Primrose Set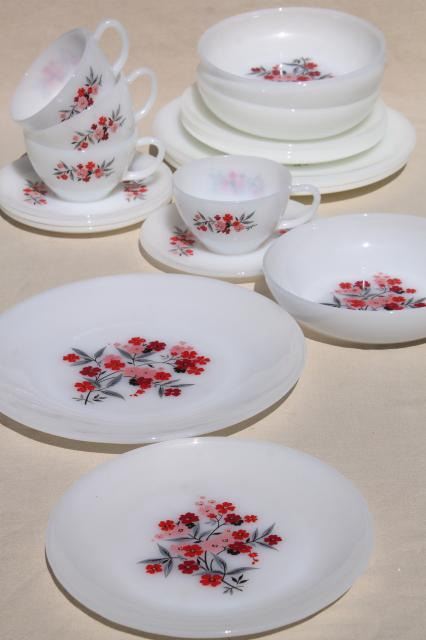 The company made the Primrose design a limited edition of smooth plain white glasses painted with red and pink primroses on green leaves. If it looks familiar, it's because many manufacturers today have tried to recreate its magic leading to excess reproductions.
Meadow Green (1968 – 1976) Set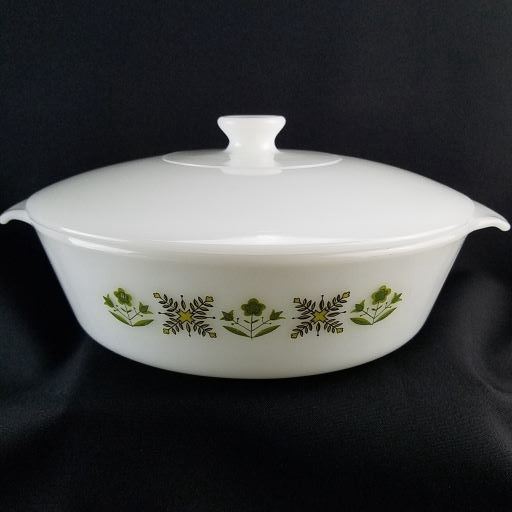 Like the Primrose design, the Meadow Green dishes had intricate detailing of linked leaves on the body drawn in a horizontal line. They were typically five leaves in a ratio of 3:2, with the two similar ones fitted inside the three similar ones.
Fleurette Set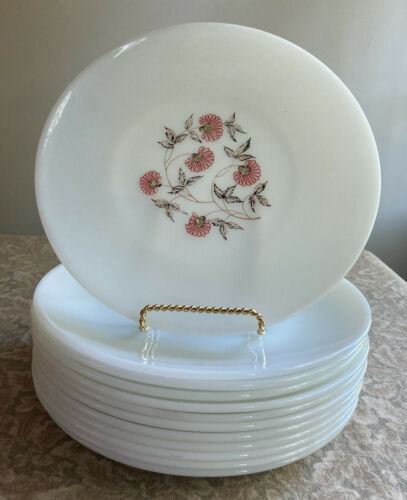 Much like the Primrose design, the Fleurettes were made of white milk glass with floral accents. However, it was marketed specifically to women and constituted tea sets.
Forget Me Not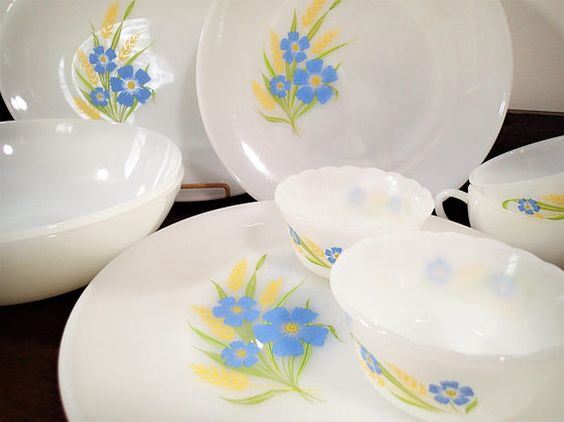 The Forget Me Not fire-king had a drawing of the flower on a milky white glass. It had five petals per flower with a yellow center and green stem/leaves intertwined on the face hence its name.
Wheat Set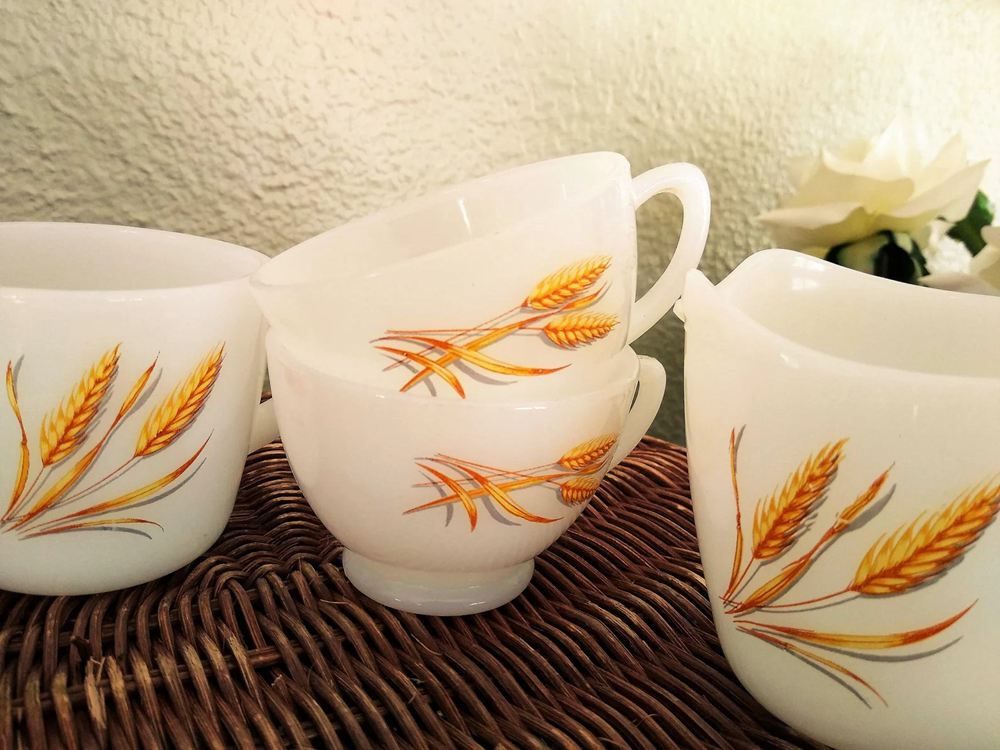 By now, you should guess the design on this dishware – wheat. The wheat pattern has the same hue as a golden field with silver highlights along the outline.
Solid Glassware Collection
These designs differed from the opaque kitchenware in taking on more unique forms. Also, they had more variety in the design.
Alice Set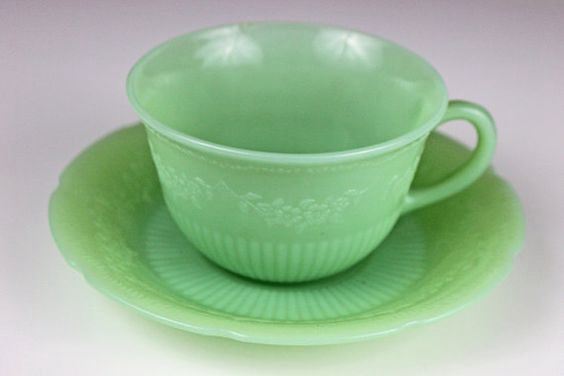 Alice is another limited-edition series that's easy to confuse because it came in two unique colors.
First, it's important to note that it's a Jade-ite glass with intricate detailing on the body in the form of swirl bottoms and floral edges. It was designed as a tribute to ancient Chinese dishware.
Sometimes, the Alice Jade-ite is called a Jane Ray variation so take note.
The other available color was Vitrock, a mix of blue and white, and it's even rarer than the Jade-ite shade.
Fish Scale Set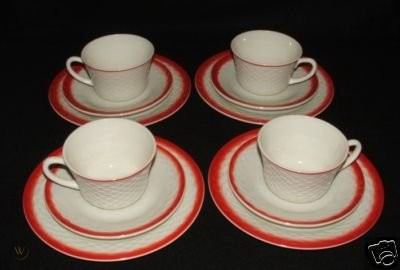 Do you know how some fishes have beautiful scales that make you wonder how to recreate them into pieces of clothing? Well, Anchor Hocking Fire-King made dishware with that pattern. The fish scale dishes had textured edges mimicking real-life scales.
Rainbow Series Set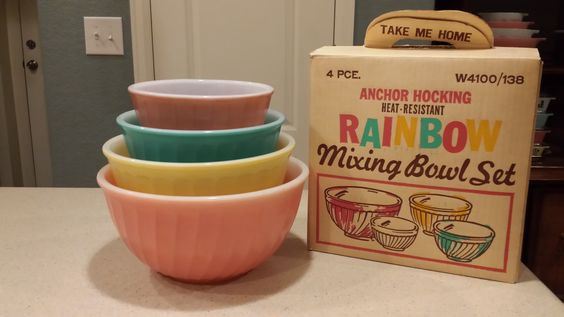 What do you get when customers start mixing and matching pieces from different series to form a set? The rainbow fire-king collection, that's what. This series was the answer to "a little bit of everything," as Anchor Hocking made six solid vibrant colors per set.
The colors in the set include red, orange, yellow, green, light blue, and cobalt. To please collectors who loved less bright shades, the company released the rainbow pastel variation of this set.
Shell Plates Set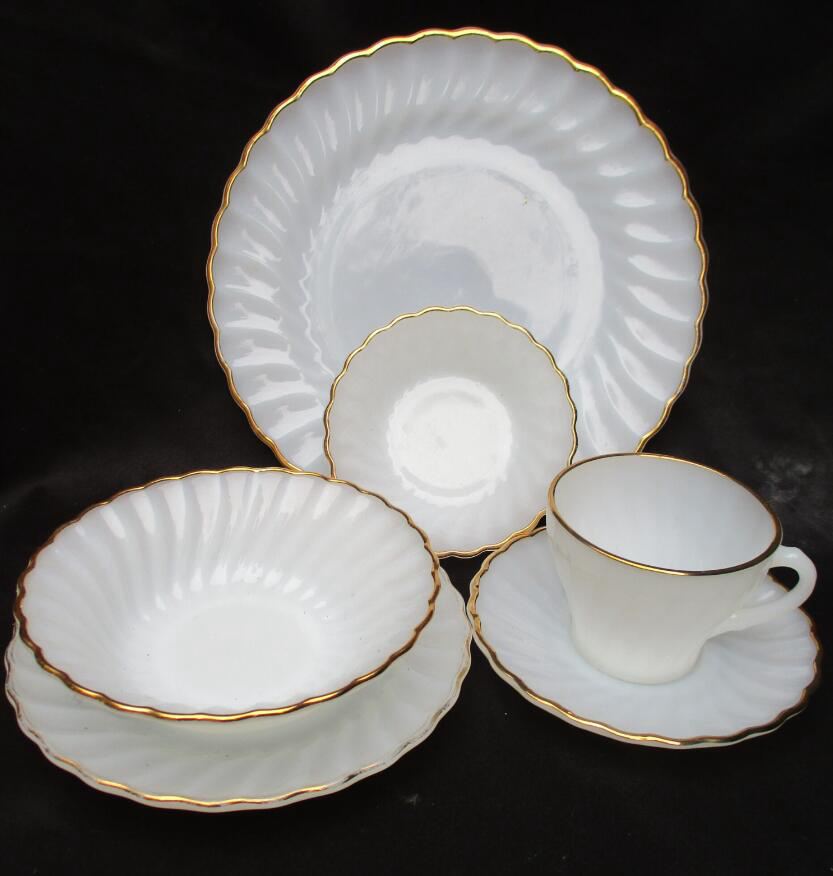 These plates got their names from the design, which took on a form of a shell. The edges were lined with gold trimmings, while the border had shelly ridges. Although the white color is the most popular, there were others.
Sheaves of Wheat Set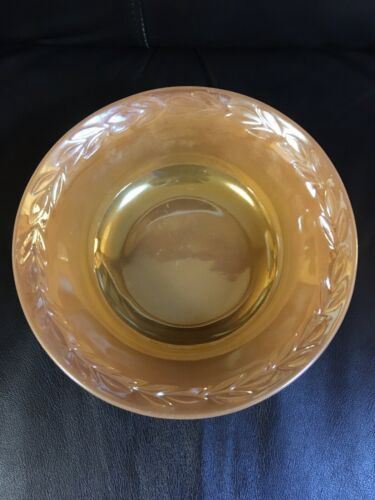 Consumers so loved the Wheat pattern that Anchor Hocking Co. made a Fire-King solid series with wheat sheaves. They had these sheaves embossed in a ring around the top of the dishware.
Three Bands Set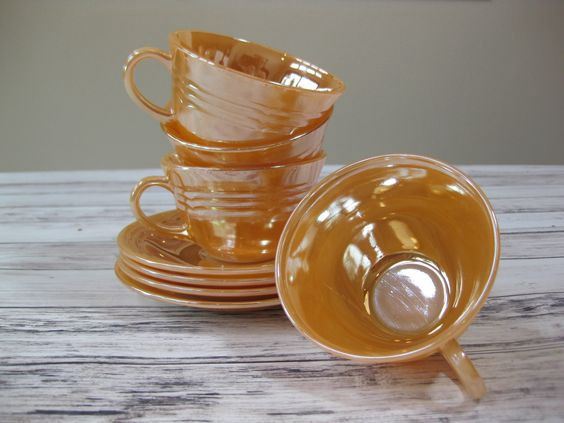 The three bands of solid glassware had three parallel rings on the edge of their dishes, be it saucers, bowls, or tea cups.
Identification by Date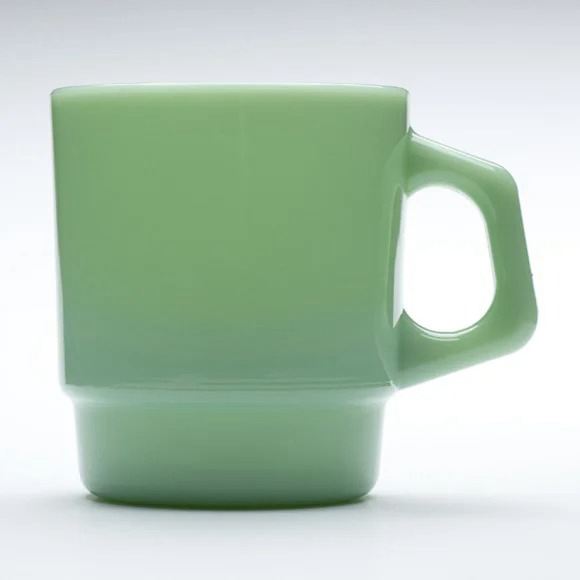 A simple way to determine the authenticity of an Anchor Hocking fire-king glass set is by confirming the alleged production date. The series lasted from 1942 to 1976, so anything with a production date earlier or later than that is inauthentic.
Also, check out the table below for a comprehensive explanation of naming and dates.
Identification by Sign
| | | |
| --- | --- | --- |
| Anchor Hocking Sign | Special Pattern | Year |
| FIRE-KING | in block letters | 1942 – 1945 |
| OVEN FIRE-KING WARE | Script writing | c. 1945 – c. 1948 |
| OVEN FIRE-KING GLASS | In block letters | 1945 – 1953 |
| OVEN Fire-King WARE MADE IN U.S.A. | Script Lettering for Fire-King | 1951 – 1960 |
| ANCHOR HOCKING OVEN Fire-King WARE MADE IN U.S.A. | Script Lettering for Fire-King | 1960 – c. 1968 |
| ANCHOR HOCKING OVEN Fire-King DINNERWARE MADE IN U.S.A. | Script Lettering for Fire-King | c. 1968 – 1974 |
| ANCHOR HOCKING OVEN Fire-King OVEN-PROOF MADE IN U.S.A. | Script Lettering for Fire-King | C. 1975 – c. 1976 |
| ANCHOR HOCKING OVEN Fire-King Suburbia OVEN-PROOF MADE IN U.S.A. | Script lettering for Fire-King | c. 1976 – c. 1978 |
The Anchor Hocking company inscribed an H underneath an Anchor as its emblem (logo), and you can see this on the bottom of all its dishware. Alternatively, the Fire-King name is on the bottom without the logo.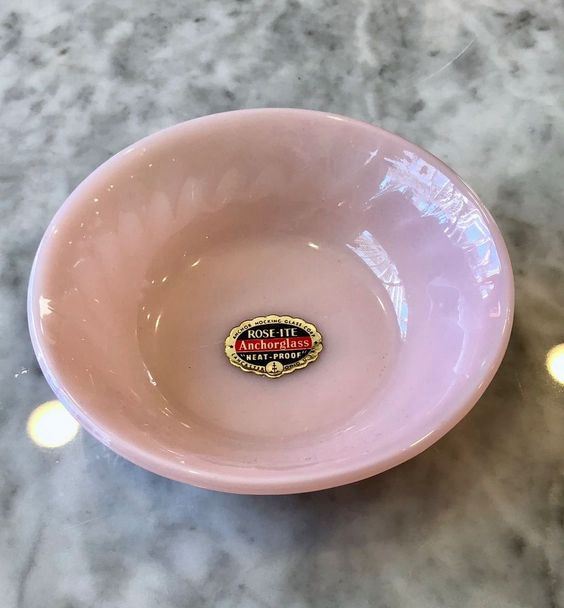 Towards the end of the company's reign, it switched to a removable sticker making those pieces the hardest to identify by sign.
Beware of Reproductions
Ensure your fire-king piece was hand-painted neatly by holding it to the light to find decals. Because it's supposed to be 46 years old in the least, it shouldn't have fresh gloss reflecting on your face.
Also, apply the identification methods you've learned in this guide.
Valuation of Vintage Fire-King
As you've probably noticed by now, vintage fire-king dishware is a common piece making them hardly valuable. However, like with many other pre-21st century pieces, rare series sell at higher values than others.
That said, you should know that sets sell higher than individual pieces, except for their rare designs. Other factors that influence the value of fire-king dishware include
Evaluation By Condition – How Intact Are the Pieces In The Set?
As we've earlier noted, the Fire-King series in excellent condition is the top pick for obvious reasons. There's no point in buying vintage dishware if it's chipped, cracked, or broken because it falls short on all fronts – looks, utility, and longevity.
It's always best to buy these items physically to run your fingers along the body for cracks, chips, etchings, or any other foreign marks. The more intact the pieces, the higher their market value.
Due to their fragile nature, it's unusual to find complete sets in excellent condition, so be careful with your pieces if you want to sell.
Inspect the body thoroughly before buying from physical stores. If you're transacting online and can request a video, please do. Remember, though, that even after purchase, it's a delicate item that requires careful transportation. Pillow it with soft clothes, foam, or feathers to avoid damage.
Evaluation by Patterns: Is your design common?
Patterns are the highest defining factor for Anchor Hocking's Fire-King series because that's what makes them unique. Notable designs like the wheat pattern, floral prints on milk glasses, peach luster, and more are collectors' favorites.
Apart from color outlook, particular dishware earns different values due to availability. For example, you'd find that dishes of a certain series are more coveted than their tea sets. It all depends on the market interaction – laws of demand and supply also apply here.
Pricing of Fire-King Pieces
Knowing the factors that contribute to the value of a fire-king glass piece is one thing; attributing the right price to it is another.
First, you can invest in a collector's guide to help you with known pricing from 1942 to date. Then compare the value to today's market considering inflation and other factors.
You can also buy collector books like Schiffer Book for Collectors by Joe Keller and David Ross or any other publications – Fire-King: Information Guide, An Identification and Price Guide, or try other authors. They're all available on Amazon Books.
Parting Words
Remember that fire-king pieces were produced pre-technology, so handle your dishware with the utmost care. It's best to treat it like you're living in the '40s to '70s to avoid messing with its integrity.
As new collectors, verifying your seller before paying for an item is always best. If you fall into that category, here are a few tips to help include;
Research before you start
Check their ratings
Read reviews
Engage only verified profiles.
Check the FAQs for where to buy and sell Fire-King.
FAQs
Q: Where can I Buy Anchor Hocking's Fire-King dishware?
A: Unlike the initial production era when you could walk into any grocery shop, hardware store, or gas station and find fire-king glassware on the shelf or even win it for free, these days, you have to work harder for one.
Search online retail stores, specifically those designated for antique and vintage pieces.
Q: How can I Clean my Fire-King Pieces?
A: Luckily for you, fire-king glass is made of washable elements, so you can wash them with a regular liquid dishwasher and a soft foam. DO NOT PUT FIRE-KING KITCHENWARE & DISHWARE IN THE DISHWASHER and AVOID USING HARSH DETERGENT. Doing any of those two things will ruin your fire-king ware causing a sick glass with discoloration, scratches, or worse, breakage from pressure.
Q: Is Anchor Glass different from Anchor Hocking?
A: We can see how that's confusing but let's settle your worries – yes, they're the same. It's just another way of saying the glassware was made by Anchor Hocking Co. Check the table above in the identification by data segment.
In the same way, some Fire King pieces have "Heat-Proof" written on the bottom. Again, this is not an automatic license to microwave your Jade-ite restaurant ware or another type of Fire-King that's not Ovenware/Bakeware.
Q: Where can I Buy a Fire-King Ware?
A: Don't create problems for yourself by engaging unverified sellers online. Unless you're buying physically from a Garage or Estate sale, ensure you're buying from a recognized seller.
Some websites you can engage in include – Live Auctioneers, eBay, Etsy, and Amazon. Again, look for the checkmark or 4.5 stars for a perfect 5-star rating. Read the reviews underneath the ratings to ensure there are no problems you can't overlook.