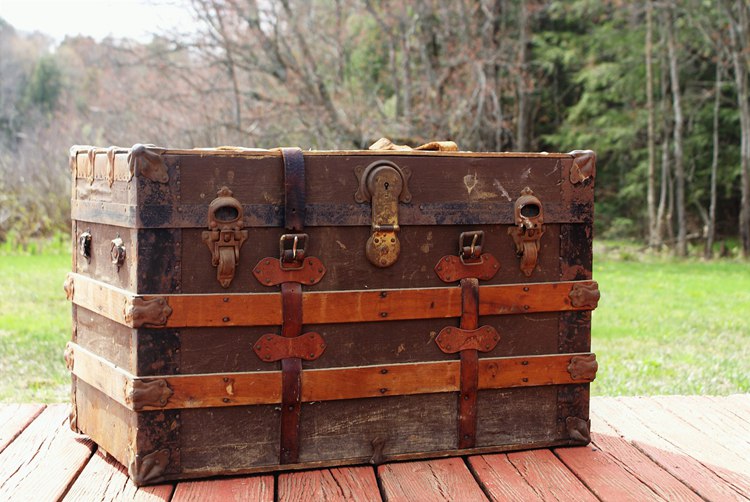 Would you like to learn about antique steamer trunks? Perhaps, you'd like some quality lowdown about its history, usage, value, and every important tidbit. If this is your lot, congrats! you are on the right page.
In a nutshell, this article is posed to offer gainful insight into antique steamer trunks. Who knows? You may be heading for one of those grand ship cruises and would like to go in the most antique way. How else would you appear if not with a steamer trunk as part of your ensemble?
What's A Steamer Trunk?
Let's begin this thrilling exposé by describing what a steamer trunk is. Simply put, a steamer trunk is a square-shaped box that is designed to house clothes, documents, and other belongings when going on a travel. To view it from a modern spectacle, it's like today's luggage box but it's much more than just a box.
Want to know why it's more than just a traveling luggage box? It's got a fascinating antecedent; its history is spine-tingling – that's why. We'll be taking a look into that too shortly.
Going further, don't get it twisted! a steamer trunk is not a box that produces steam – no not at all. It's called a steamer trunk because it's was first used for traveling on ships powered by steam. Also, in its classic history, apart from being used as a traveling box, a steamer trunk was used to store clothes in the home like today's wardrobe.
Steamer trunks come in different materials, shapes, styles, and designs. There are those with flat-top designs, bevel top, dome-shaped top, and monitor tops. Also, while some are made of wood, some others are made of leather.
Antique Steamer Trunk History
Antique steamer trunks date back to the late 19th century, precisely 1870, that's over 150 years ago or thereabout. This was also the boom era of sea and road travel by steam-powered ships and trains respectively. Thus, steamer trunks came in handy for holding valuables and clothing when traveling. For a fact, its first known kinds were used on iconic ships like the Titanic, SS Bremen, and the RMS Queen Elizabeth.
There's no way you'd talk about the history of travel in the United States and Europe without mentioning steamer trunks. In fact, they were the wave of that period because people used them a lot.
Most steamer trunks were first made of pine wood or canvas and decorated with animal hide to make them look appealing to the eyes. They could be about 14 inches in height and weigh as much as 100 pounds. Before giving way to portable suitcases which were preferable for light traveling, steamer trunks were in vogue for up to 55 years.
Will it amaze you to know that some makers of steamer trunks still exist today? Well, from the late 19th century till now, examples of ace designers who are still in the business of making quality steamer trunks include the renowned Louis Vuitton, Martin Maier, C. C Footlocker, and Seward Trunk to mention a few.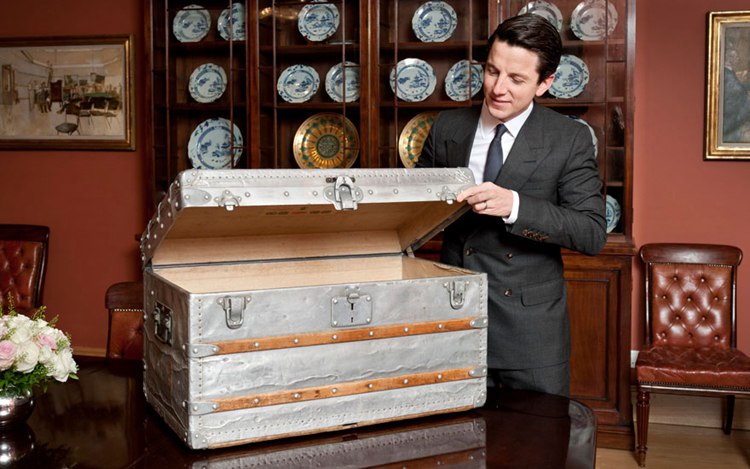 Modern Usages of An Antique Steamer Trunk
Yes, we are no longer in the era of steamships and trains as traveling has evolved beyond all those. Now, we are in the age of airplanes and more sophisticated travel vessels. As such, traveling around with steamer trunks may not be the best option for lightweight. So, what then can an antique steamer trunk be used for in this dispensation?
For the best use, find below earmarked functions for steamer trunks: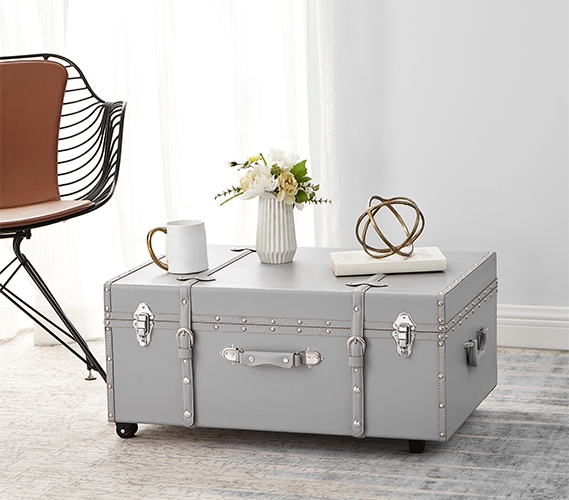 Steamer trunks especially, the antique types, are perfect for embellishing your living room spaces.  Dropping one at the corner of your living room helps can give your space that classic touch it needs to look aesthetic. Also, having one of those around as a decorative object helps to project the impression that you're an antique enthusiast.
Augments artistic collections
Most people who pick up luxurious types during an auction at a very high price usually add them to their art collection. You can buy a Louis Vuitton classic and add it to your collection. More so, buying an antique trunk may be a good investment as it can increase in value over time. A typical example is the old 1900 Circa Goyard steamer trunk purchased at a yard sale at $20 only to be auctioned at $5629 after some years.
From way back, this happens to be one of its primary functions. Interestingly, this usage is still very much relevant today. Steamer trunks are perfect for storing all sorts of items provided they can hold those items. From old clothes to art items, shoes to toys, it's can house most items for a long time. If secured from rodents and insects, steamer trusts keep your collectibles intact for a lifetime.
A steamer trunk can pass for a table or a bedside lampstand carrier. Its strong edges and sturdy build-up make this possible. Some even come with extended stands which can be used to increase their heights.
What's A Steamer Trunk's Value?
Do you ever imagine why some affluent people adorn their living rooms with an antique steamer trunk in this modern age? It's because they have special value and this goes a long way to indicate their worth. In fact, some of these antique masterpieces might have been passed down from one generation to another as a family heirloom.
No doubt, steamer trunks have invaluable worth; their antique nature and awesome history contribute to this. Thus, getting your hands on one of those will have some cost implications. While a luxury antique Lois Vuitton steamer trunk may not go for less than $20 000, there are normal household vintage types you can get on Amazon for less than $100.
To further reveal the value of antique trunk boxes, you can watch this YouTube video on "5 secrets on Antique Trunks & Boxes". In the 6 minutes video, Dr. Lori, a Ph.D. holder in antique appraisal talks extensively about the value of antique steamer trunks.
How To Identify a Good Steamer Trunk?
The following are criteria you should carefully consider when selecting a good steamer trunk:
When making your selection, ensure the trunk is made of authentic materials that guarantee its sturdiness. It has to be strong to withhold whatever you want to put in it. Getting something substandard may only get you frustrated. Preferably, opt for steamer trunks made of thick wood or metal. This will ensure its durability over time.
What's the point of buying a trunk that can barely hold items? So, apart from choosing a steamer trunk with strong frames, also consider its capacity to store things. You want to keep a lot of objects away from sight; thus, selecting a spacious trunk would be to your advantage.
Beyond space and durability, also choose a physically appealing steamer trunk. Opt for those with fine materials. Should you want to sell it later, you never can tell, you could get a good price for it because of its aesthetic characteristics.
This is of significant importance too. When selecting a brand, go for a reputable brand. Don't just buy any product you see. Buy the best one. Choose the likes of Louis Vuitton, Martin Maier, and the likes. These are formidable manufacturers that have come a long way in the business of making tested and trusted steamer trunks over time.
Recommended Products
If you're fishing for one but do not know what and whatnot to buy, we have made a few recommendations for you:
Let's take a sneak peek into some of the vintage types you can find on Amazon.
1. Large Vintage Decorative Home Storage Trunk – Luggage Style
This trunk is made of leather and it's a perfect household essential for storage. It comes with three functional fabric drawers and elevated feet. It's highly functional and can serve as a bedside table with its raised steel feet. It's presently priced at $73.99.
2. NauticalMart Mayfair Steamer trunk
Equipped especially for maximum storage and optimal functionality, this antique trunk is quite a mouthful. It features several compartments useful for holding all kinds of things. It's also a huge steamer trunk that can be used as a wardrobe in the house. For just a thousand bucks, this masterpiece can be yours.
Other types you can consider include the Medium Decorative Home Storage Trunk, the SLPR Crawford Wooden Storage Trunk (two sets), and the Trunk Standard, Large Victorian.
Conclusion
So far, everything worth knowing about antique steamer trunks has been explored. We're convinced that you now have a concrete idea about steamer trunks and how to identify a good one. However, if there are still grey areas you want us to clear for you, feel free to make ask your questions in the comment section below. We're enthused to send our replies ASAP!
Now, don't forget, antique steamer trunks are collectibles that can still be of relevant use. You only need the right knowledge to get the best one.