Before the emergence of refrigerators, Stoneware crocks played a vital role in American kitchens by holding foodstuffs such as butter, pickled vegetables and salted meats.
Antique stoneware crocks were primarily used due to their effectiveness, affordability and durability. These crocks were made of ceramic that is heavy and sturdy. Currently, they offer a slice of American history to collectors who are always hunting for high-quality stoneware crocks.
If you are passionate about antique stoneware crocks—you are at the right place! We'll provide all the information you need. We'll comprehensively cover antique crock markings, how to determine the value of an antique crock, how to identify an antique crock, and more.
Keep reading to familiarize yourself with the topic.
What Is An Antique Stoneware Crock?
A crock is pottery made of durable and water-tight ceramic material. On the other hand, stoneware is simply clay with a waterproof rating lower than 2 percent.
As a result of this material, the make can be diverse since Stoneware crocks can be made from different types of clay and produced in various textures and colors, allowing you to pick a crock that fits you best.
Most antique stoneware crocks were colored with a gray salt or brown glaze and had blue decorations.
History of Antique Crocks
Stoneware Crocks were the mainstay of kitchens from the 18th century up to the 20th century. They were initially made in France, but Germany and Britain were the leading importers until the end of the revolutionary war.
In the early 1800s, Americans started producing their crocks due to market competition and costs. The areas where crocks were pioneered in America are; New York, New Jersey, and Pennsylvania,. On the other hand, New England and Ohio started making Stoneware crocks in the late 1800s.
Stoneware crocks have been popular throughout the decades, making them essential utensils in American kitchens in the 18th, 19th, and 20th centuries. Below are the historical uses of Stoneware crocks:
Stoneware crocks were primarily used to store foodstuffs and beverages since refrigerators were technically non-existent during this era. Some of the food stored in crocks were; Jelly, Salted meat, Butter, Pickled vegetables, and grains. At the time, people used to keep beer and soda in the vessel.
Due to their water-tight feature, individuals used to store food in the crock to ensure insects, rodents and children stayed away from its contents.
These appliances were used for Lacto-fermenting foods such as cabbages and cucumbers. After some time, the crock would produce pickled vegetables.
Manufacturers of antique crocks
Stoneware crocks were widely used in America for an array of reasons. During the 19th and 20th centuries, stoneware crock was being manufactured in the United States Of America and most households owned these utensils. Companies primarily made Salt glaze crocks.
Here are some of the significant manufacturers of antique stoneware crocks throughout history:
1. Red Wing Stoneware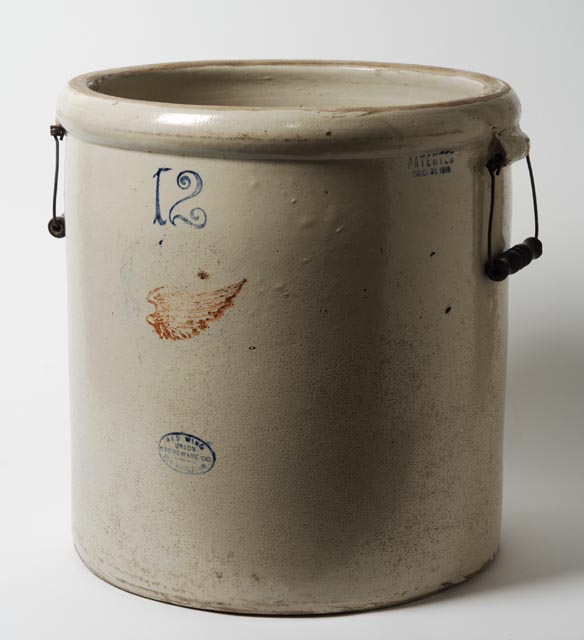 Red wing stoneware is an American company that specializes in making stoneware, dinnerware, and pottery. The brand was set up in Minnesota in 1861 by John Paul, a German immigrant.
The company eventually added a brand logo of red wings in 1906. One of their most popular crocks to be sold in the market is the red wing bee sting crocks.
2. Monmouth Pottery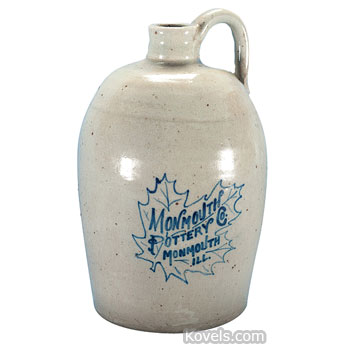 It was founded in 1892 in Monmouth, Illinois. The company adopted three glaze finishes. These are:
Salt glazes
Albany slip glazes
Bristol glaze
The logo of Monmouth pottery is a maple leaf.
3. Robinson Ransbottom Blue Crown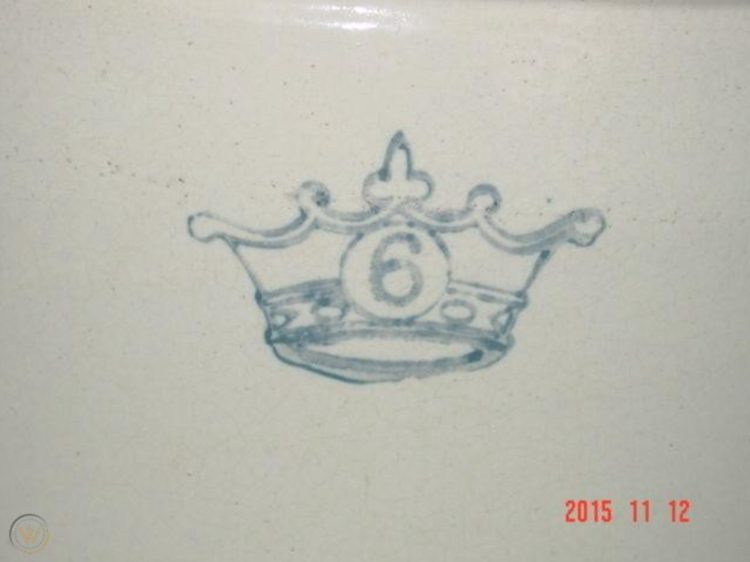 This company was pioneered in 1901, initially being known as Ransbottom brothers pottery. Eventually, around 1920, the company joined Robinson clay products naming the business Robinson Ransbottom pottery.
The company's logo is a cobalt blue crown.
4. Western Stoneware Company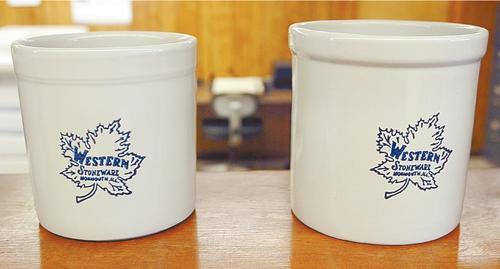 Seven stoneware companies merged in 1906 to make Western stoneware. Monmouth Pottery, which operated from 1892 up to 1906, was one of those companies. The logo of Western Stoneware remained as the official logo of Monmouth, a maple leaf.
Most stoneware crocks and other items were adorned with the maple leaf logo and a marking stating Western Stoneware Co.
How To Identify Your Antique Stoneware Crocks
To determine the worth of stoneware crocks, you need to identify when or where it was made. Rarity and the manufacturer are also vital elements in figuring out antique crock values.
Determining the age of antique stoneware
Understanding when a crock was made is a significant factor in determining its worth; here's how stoneware crocks developed throughout history.
The 1700s: Before the revolutionary war, Americans used to import stoneware crocks, but after the war in the early 1700s, American potters began manufacturing their stoneware crocks. The crocks made during this era were simple and featured hand paints. Most of these designs have foreign alphabet characters. Also, the interior of the crocks made during this era has cobalt blue salt glazing effects.
During the late 1700s, numerous English potters moved to America, and this shift enabled more American potters to produce high-quality Stoneware crocks. Unfortunately, American potters copied the English potters and omitted the fact that the designs were English-made. Newer designs were coated in their interiors using a brown finish known as Albany Slip.
On the other hand, if a Stoneware crock was manufactured in Europe in the 1700s, it has the symbol of an anchor.
The 1800s: During this time, American potters had immensely improved, and their designs proved it. In the 1800s, the most valuable Stoneware crocks were salt glazed crocks made of Kaolin clay. These crock designs were trendy until the middle of the 19th century where new designs were made to meet the consumers' needs.
German and English designs during this era have a crown or shield logo. Also, it's important to note that if a piece was constructed after 1891, it has the name of its country of origin. Whereas, if a stoneware crock was made after 1914, it bears the initials "Made in," then the country's name where it was manufactured.
The 1900s: By the early 1900s, a lot of companies that were manufacturing Stoneware crocks emerged, and these vessels were a staple piece in almost every home! At the time, most designs had paintings of mythical creatures or human body parts such as arms and hands or clutching arrows or swords.
After spotting these symbols, you'll see the name of the company that manufactured the crock and the country it was made.
More Tips To Use If You Want To Know The Age Of Your Crock
If the stoneware crock has foreign markings, it can be difficult to trace its place of origin. As much as you might still be interested in investigating more about the Crock since mysteries are intriguing for some people, it's important to note that tracing such pieces is a bit hard since these types of antique crocks are rare.
In addition, some antique crocks are stamped with their names or location. For instance, If a crock has 'Manhattan Wells' written on it, it was manufactured at the Clarkson Crolius factory in New York.
How To Identify The Manufacturer of a crock
A wide variety of potters adorned their stoneware crocks using a specific maker's mark. Finding the mark allows you to figure out the value and age of your crock quickly. Here's how you can find the mark:
The manufacturer's mark can be a symbol, logo, letter, or the maker's name.
A wide number of artists mainly signed at the bottom of the crock.
Most stamps are found beneath the crock, so be on the lookout.
If a mark has been slightly rubbed off and you can't see it clearly, place a paper over it and shade it using crayons, charcoal, or chalk so the symbol can be imprinted on the paper, allowing you to see it clearly.
Once you find a logo or symbol but aren't aware of the company, you can simply check the marks project, an online dictionary with all ceramic markings and signatures.
There are other forms of markings you can identify on your antique crocks. These are:
Some crocks have the manufacturer's name embedded on the side, unlike those with names beneath the vessel.
The style, number, or font placement can also help you identify the crock's age and manufacturer.
If you notice a single number stamped or painted on the crock, it might be indicating its size.
How To Identify The Shape, Techniques, and Markings of A Stoneware Antique
While identifying a stoneware antique, you'll have to look into various factors to gain optimal knowledge about stoneware crocks that are crucial to you as a collector. Keep reading to know more!
Crock Size Number
A wide variety of crocks have a single number that indicates their size. For instance, if a crock has "5" embedded in it, it may mean that the crock is 5 gallons. The number is frequently painted, stamped, or imprinted on the vessel. This number is essential since it can help you to identify your stoneware crock.
A maker's mark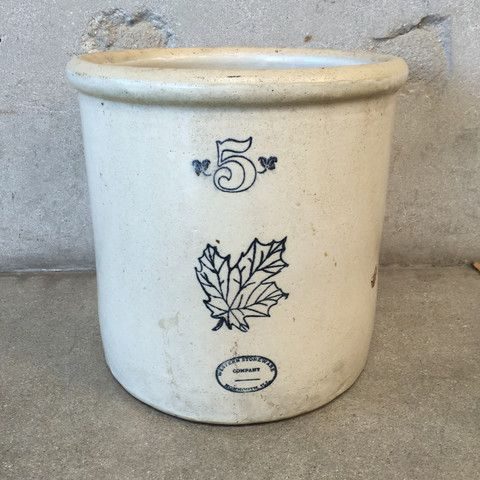 As we said earlier, most manufacturers used to stamp a logo, symbol, or name at the bottom of the crock. Here are more important details you need to understand when identifying an Antique crock:
If the Crock has a marker's name and pattern name on the bottom of the pottery, it was made after 1810.
If the mark has a "Made in specific country" symbol, it was manufactured after the 1900s.
If the crock is adorned with a display of the words "limited" or "ltd," then the crock was made after 1861.
Use The Internet
Currently, we have leverage compared to the older generation. The internet offers a comprehensive source of information. If you want to identify your crock, simply look it up online!
Find more information about the maker on the internet. Suppose you aren't sure of the company that manufactured your antique crock. In that case, you can use the maker's symbol to identify the manufacturer by using websites such as eBay, Pinterest, and Youtube. Furthermore, Google is also an efficient source that's worth looking into!
Use Reference Books
There are various reference books available with comprehensive details about antique stoneware crocks. The best part is that these books have also added multiple images, allowing you to identify your antique crock quickly. Here are some of these books:
Blue and White Pottery Price Guide and Antique Trader Stoneware written by Kyle Husfloen
Collector's Encyclopedia of Salt Glaze Stoneware: Identification & Value Guide written by Terry Lowrance, Terry Taylor, and Kay Lowrance.
Factors to Determine A crock's value
Determining the value of a Stoneware crock is highly beneficial. Once you have identified the different types of antique crocks, you need to understand their value. The value of an antique crock depends on various factors that we'll explain at an in-depth level.
Note: Some factors are weighty compared to others. Therefore, influencing the value of a stoneware crock.
1. Clay Color
The clay color of a Stoneware antique is crucial in determining the value of a Crock. Also, it plays a pivotal role in identifying the maker. For instance, the famous Robinson Ransbottom Blue Crown primarily focused on manufacturing Crocks from yellow clay.
On the flip side, a company like Weller made its Crocks using white clay. If a company was well-known to manufacture high-quality Crocks back in the day, you'd be able to identify it using the clay color, eventually determining its value.
2. Crock Design
The design of a crock significantly determines the value of the vessel. For instance, some of the most intricate designs were cobalt blue. Regardless, you need to be careful before investing in an antique crock.
If the crock has a stunning and delicate design, it is worth adding to your collection since you can sell it for a high price.
In contrast, if a crock design is basic and the decorations were added after the vessel underwent firing, then the crock is not worth it! Its value is potentially low.
Perhaps you might be wondering how one can tell if a crock's design was added before or after the firing process. Well, it's pretty simple. If the cobalt blue decorations are adorned below the glaze, they were added before the crock underwent the firing process.
On the flip side, if the decorations are added above the glaze, they were added after the firing process, making them less valuable than their counterparts.
3. Manufacturer
Just like other products, various manufacturers are highly rated compared to their peers. The same would apply to Stoneware crocks, mainly if the maker produced crocks that were loved at the time. You can conduct your research about Crock makers to determine if your vessel is valuable.
4. Crock Size
The size of a crock determines its value. Larger crocks are rare to find than smaller crocks, making them more valuable.
5. Manufacturer's Mark
Without a doubt, a maker's mark is one of the most influential logos of a crock. It can also play a role in dictating the value of a crock. If the maker was famous, the vessel would increase in value. Also, if the company behind the logo was renowned, the crock is valuable as well.
6. The condition of the crock
If the crock looks as good as new even though it has been around for a century, then it's valuable compared to a crock in bad condition.
Regardless, it's important to note that surface crazing or hairline cracks don't necessarily mean that the crock is in poor condition. On the contrary, it gives the crock an authentic feel, attracting more collectors.
The Price Guide For Antique Crocks
The prices of antique crocks fall under one variable; whether the crock has the iconic cobalt blue design.
In essence, antique crocks range from $500-$400,000. Keep reading to know more about the price guide of antique crocks.
Stoneware Crocks with Cobalt Blue Design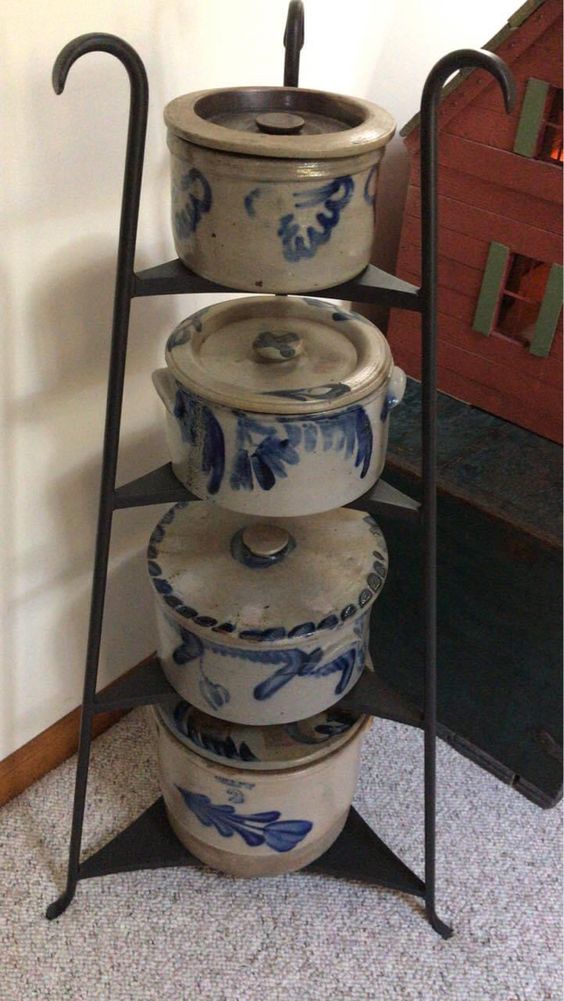 These crocks are generally high end depending on the maker. They mainly fall under the $10,000-$25,000 range.
Stoneware Crocks without Cobalt blue Design
Most of these stoneware crocks were made during the 19th century. They fall under the $500 to $1000 bracket.
Where Can You Buy Antique Stoneware Crocks?
You can purchase these vessels in these areas:
eBay
Etsy
Local Antique Store
Local Thrift Store
Online auction sites
Flea Markets
Estate sales
Garage sales
Conclusion
Undeniably, a stoneware crock is a timeless beauty that will add an elegant touch to your home. If you are a collector or received a crock as a gift, you came to the right place! We hope that our comprehensive article was helpful.
Nowadays, you can use your crock to display kitchen utensils, as decor in your living room or kid's toy. Depending on what you choose to do with your crock, it will still transform your home.