At the mention of the name Vintage Jadeite Dishes, a deep nostalgic feeling is awakened. You remember a childhood filled with the most vibrant green color ever. These youthful pieces have become a popular preference for interior decoration and a favorite among collectors.
Vintage jadeite dishes are mint beauties that range between $20- $100 dollars for single pieces. However, sets cost much more and can go for as high as $1000.
As we take you on this insightful journey, you'll learn a lot about vintage Jadeite dishes, their rich history, how to identify them, determine their value and maybe proceed to gather a few on your kitchen shelves.
What is Jadeite
Jadeite is a variant of glass tableware made from jade-green solid milk glass which was popular in the US in the middle of the 20th century.
Jadeite emerged on the scene during the great depression era, specifically at the beginning.
Three popular companies produced jadeite pieces in different shapes, styles and designs. first on the list is the McKee Company, which dropped their collection in 1930 (The Jade Glass). They named their opaque green dishes Skokie green.
In fact, the McKee company launched its pattern called Laurel which consists of delicate frill details. It's the only known complete dinnerware set by the company and also the least popular of jadeite dinnerware by the three companies.
A competing company called the Jeannette Glass Company situated in Jeannette also began to create similar jadeite items in 1932. This glassware glowed under black light and was particularly famous for this feature.
The company formulated the word Jadite due to the product's striking resemblance to the precious jade stone.
In 1945, the Anchor Hocking company dropped its variant and extended it into various sets and patterns. The Anchor Hocking pieces stood out as they didn't glow under black light like their peers.
About Fire King Jadeite
Fire king Jade-ite debuted in 1945 from the Fire-King wing of the Anchor Hocking Glass company (They named it Jade-ite) and is specially marked with the Fire king logo located in different spots on the dishes.
Fire King Jadeite dishes were weightier, thicker and more durable than the rest, especially for home use. They were on the market between 1945 and 1975, and fire king patterns remain highly sought after even in modern times.
Another noteworthy feature of fire king jadeite is that it doesn't glow in the dark like the wares from the Jeanette and McKee company. Wonder why? The absence of a green glow is because the Fire-King division did not add Uranium to their products.
The lack of Uranium in these dishes is due to the regulation of civilian use of Uranium due to the second world war, precisely between 1942-1958. (Uranium now became a major material in weapon-making) hence glassmakers devised a smarter alternative to making wares with similar colors.
Fire-king is as popular now as it was popular back in the day. It's one antique item that has managed to stay on the hot list everywhere in the world.
Check out this video by the National Depression Glass Association on Fire King Jadeite pieces below.
5 Most Valuable Vintage Fire King Jadeite Dishes Today
We've compiled a list of the five most valuable jadeite dishes around. The facts and data in this list are independently curated and not meant to replicate any prior or existing information.
| | | | |
| --- | --- | --- | --- |
| S/N | Name | Release Date | Price |
| 1 | Vintage Fire-King Jade-ite Collection | 1945-1975 | $1,100 |
| 2 | Vintage Fire King Restaurant Ware Jadeite Splash Proof Mixing Bowl | 1950 | $97.17 |
| 3 | Fire King Jadeite Butter Dish | 1940 | $84 |
| 4 | Vintage Fire King Jade-ite Green Ruffled Top Swirl Ribbed Bulb Bowl | 1959 | $66 |
| 5 | Fire King Jadeite Colonial Batter Bowl | 1950 | $50 |
1. Name: Vintage Fire-King Jade-ite Collection
Release Date: 1945-1975
Price: $ 1,100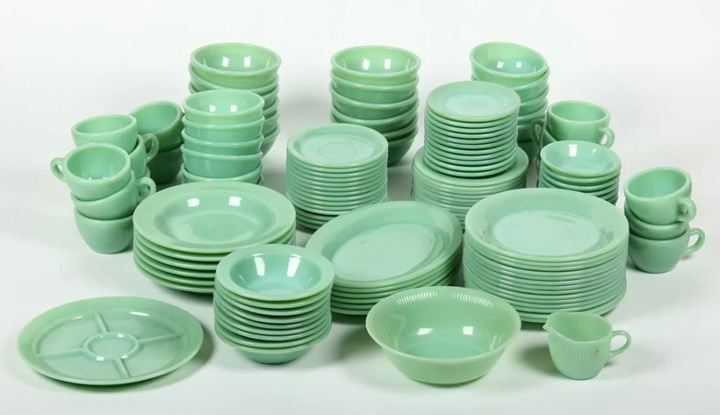 For vintage dishes, collections often sell for higher prices than a single piece, and that's the case with this set.
All items included are vintage jadeite and produced between 1945-1975. They feature 14 dinner plates, a creamer, nine small bowls, six big bowls, and 12 small bowls, amongst many others.
2. Name: Vintage Fire King Restaurant Ware Jadeite Splash Proof Mixing Bowl
Release Date: 1950
Price: $97.17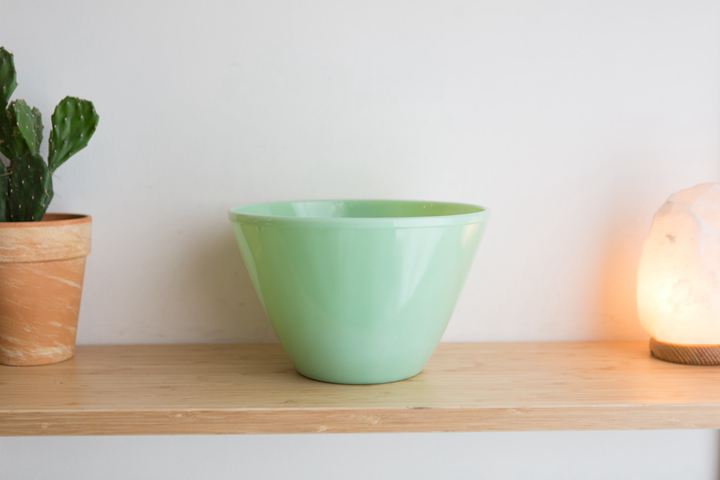 Anchor Hocking made this round vintage jadeite mixing bowl in the restaurant ware pattern made in 1950 and the production ran till 1967. The 9.5 inches tall bowl is perfect for mixing liquid without the fear of splashing all over the place.
3. Name: Fire-King Jadeite Butter Dish
Release Date: 1940
Price: $84
Who says you can't keep your butter bar in a fancy container?. This vintage fire king jadeite butter dish was made for just that. The rectangle container comes with a jadeite base and was produced by the Anchor hocking company from 1940-1949.
4. Name: Vintage Fire King Jade-ite Green Ruffled Top Swirl Ribbed Bulb Bowl
Release Date: 1959
Price: $66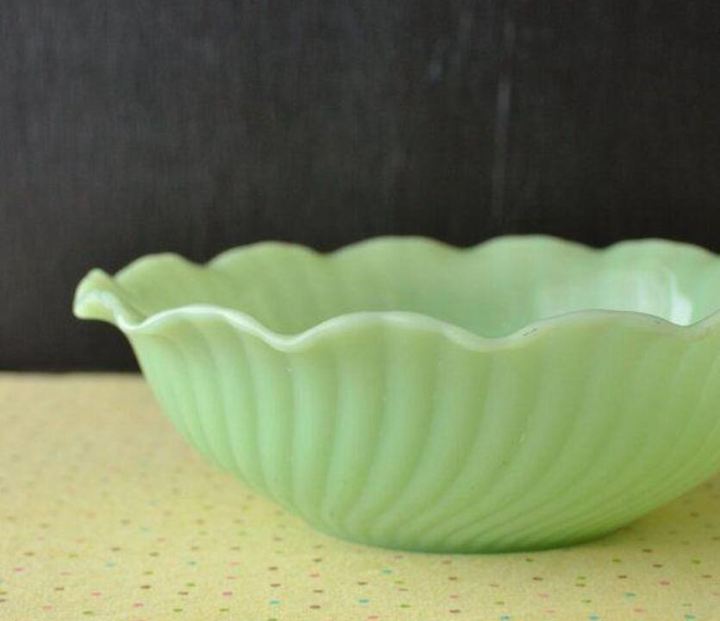 This ribbed bulb bowl originated in Lancaster, Ohio, in 1959. It's made in a mid-century modern style with ruffles and swirl ribbed patterns by the Anchor Hocking company. The bowl is made in a glossy finish and can make for a great decorative piece.
5. Name: Fire King Jadeite Colonial Batter Bowl
Release Date: 1950
Price: $50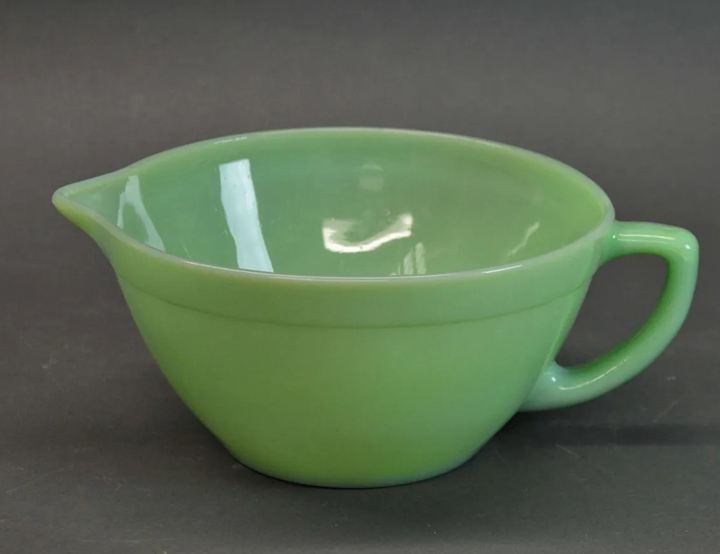 This 1950 batter bowl is perfect for mixing cake batter and is commonly referred to as the colonial batter bowl due to the 1-inch wide band that sits around the rim of the bowl. A stamp on the bottom reads thus: "Anchor Hocking, Fire King Oven Ware, Made in the USA".
How to Identify Vintage Jadeite
The most pressing question for collectors and antique lovers is how to identify their items correctly should they procure one or come across them.
In this section, we've gone a step further by helping you with things to look out for on your Vintage Jadeite dish to aid easy identification.
Spot the Hue
The jade-green color is one of the most distinctive features of jadeite dishes and wares.
You can identify a jadeite piece from afar with this hue and begin your first step into the journey. Although not all green kitchenware is automatically Jadeite, and any piece that doesn't come in light jade green isn't also Jadeite.
Read the next few steps to know what you're working with. Swirls are even present on some pieces, and there may be slight variations in the saturation of the patterns depending largely on the brand.
Check The Date
Jadeite dishes were invented in 1930 at the peak of the great depression as a cheaper alternative to the now expensive kitchenware and dishes at that time. They were popular for their vibrant green colors.
When you come across a vintage jadeite dish, always check for the production date. Some companies like the Anchor Hocking Company also produced pieces from the 1940s to the 1970s.
Look For Trademarks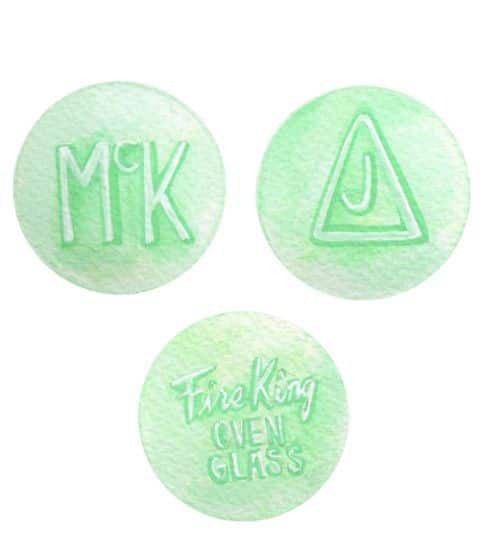 There were three prominent glass makers during the jadeite glass producing era: McKee, Jeanette and Anchor Hocking Glass Companies. To recognize a McKee piece, spot the letter MCK at the bottom.
The Jeanette letter has a letter J located inside a triangle and for Anchor Hocking pieces, you will see a Fire King Oven Glass boldly inscribed on the piece. Any jadeite dish or kitchenware with this brand name is purely vintage.
However, not all jadeite pieces were branded; some were made for promotional purposes, or others were simply unmarked. For these, you have to take a step further in your observation. Remember to use a magnifying lens for a clearer view.
Observe the Structure
One major feature of Vintage Jadeite is that they're much weightier than the modern version and most likely glow in the dark too. The early companies used Uranium as the major material in the milk glass while making these pieces which caused them to glow in the dark.
The emergence of the second world war caused the scarcity of Uranium, as industries needed to make the weapons required for the war. So, if your jadeite piece glows, it's vintage.
Contact an Appraiser
Appraisers are a walking library when it comes to all things antique. They have the knowledge, idea and know-how to identify vintage Jadeite pieces, both marked and unmarked.
Contact or check out the links to appraisers we've compiled below as you read further to get across to one and help identify your piece.
Books, Guides and Catalogs are Your Allies
So many resources have been produced for your reading and viewing pleasures. Books like the Jadeite: Identification and Price Guide by Keller and Ross have been written with detailed and up-to-date information on everything you need to know about Jadeite dishes, their makers and their patterns.
Here's also a video for visual assistance.
Don't Confuse Reproduced Pieces
Reproductions are one of the banes of vintage pieces, especially for collectors. Reproductions have littered and saturated the antique market so much that separating the wheat from the tares is now a task.
Although in the case of Jadeite pieces, its recent comeback and famous status encouraged fans (Like the incredible Martha Stewart) and some collectors to produce replicas in colors, including salt and pepper shakers and other designs. These designs are incredibly close to the old pieces, and you must be observant to notice.
To spot a reproduced piece, observe the underside and look for the number 2000 and the fire-king logo resting on the digit. On some pieces, you might not find any marking or label, although original jadeite pieces might not also be marked.
Closely check the seams and rough areas or any shabby construction, as some reproduced pieces usually have large and bold seams that distract from the dish's value. Even big stores fall prey to reproduced pieces.
Reproduced pieces are also a lot lighter and shiny due to the modern techniques adopted in producing them. The opacity of reproduced pieces is thin compared to vintage pieces that are very difficult to see through.
However, a reasonable number of people have little to no problem buying reproductions. Still, if you're particular about the age, quality and vintage status of your piece, then you must take this part very seriously.
Compare Pieces
Vintage Jadeite pieces come in various patterns and dish styles. If you currently have one in your care, you can take a step further by comparing them with some other Jadeite pieces around you.
The comparison will allow you to ascertain their authenticity and discover more details you don't know.
Patterns
There were specific patterns custom-made for Jadeite dishes by the manufacturing companies then. The Anchor Hocking Fireking Company rolled out dinner sets in popular patterns such as Philae, Jane Ray, Charm, Restaurant Ware and Alice.
The Restaurant Ware was produced from 1940-19660. They're heavy and sturdy, and you'll most likely see them at diners.
The Jane Ray pattern is a ribbed design created by Fire King between 1940-1960. The glass is usually softer and less dense than Restaurant Ware, and the ribbed lines stand out. Shell patterns didn't stick around that long as they were discontinued in the 1970s.
Alice is an inscribed floral pattern mostly packed in oatmeal boxes across America in 1945 and 1949. Remember we told you the majority of jadeite pieces are found in homes today and back then because they were first made as gift items on purchase.
Charm patterns came with pieces produced during the 1950s, including vintage square-looking plates. For sheaves of wheat patterns, their details are just like theirs. Ears of wheat were boldly drawn on their bodies and remained in production between 1957-1959.
Knowing these pattern names by heart can help you out of the dilemma in identifying them.
How Can I Tell if A Vintage Jadeite Dish is Valuable?
These pieces have tangible monetary value, more than their intriguing hue, which has set them apart from their peers for years or their growing popularity that has been steady for about three decades. We'll show you how you can unravel that.
What is The Condition of Your Dish?
Your vintage Jadeite dish must be in a complete, flawless and mint condition if you plan to make the most out of it. In the antique world, the ability of your vintage piece to capture attention and attract interested buyers rest majorly on their physical appearance.
No one will deliberately purchase a cracked, chipped or faded jadeite dish from you or anyone else. Ensure to be careful with your dish, and keep them away from human reach and exposed areas.
Use an Appraiser
It's fine and normal as a collector to seek the knowledge of a certified appraiser when trying to determine the value of your jadeite dish. Like water to a fish, that's appraisers to vintage collectors; they're an inseparable team, and you'll need their service at every turn.
Not only would appraisers help you discover the true value of your vintage jadeite piece, but they'll also help you with likely places to sell these items. The International Society of Appraisers offer service for this purpose.
Who is the Maker?
One way jadeite wares have managed to sustain their rarity and value in the modern day is traced to their production history. Back in the day, only three companies produced these green glass pieces.
When trying to ascertain the worth of your jadeite dish, you must be sure that it's from the company above by checking for marks and corresponding logos.
Books and Guides
Consult available books and collector's guides online or in stores to get accurate information on jadeite dishes. This is a very easy method for many collectors for easy identification. Check out some materials below.
Jadeite Types
The most collectible, desirable and possibly jadeite pieces are large canisters that keep cereals, coffee, nuts and milk. Vintage salt and pepper shakers are also highly demanded. We cannot leave out refrigerator containers, which are usually rectangular and used for leftover meals.
What are Vintage Jadeite Dishes Worth
At the time of their production, jadeite dishes were not pricey or rare. They were sold at five and dime stores and often came in cereal or fruit boxes as purchase gifts or as items to entice customers into buying much larger sets or pieces of jadeite wars.
They were cheap to make and very accessible. All needed to produce jadeite dishes were green scrap glass mixed into milk glass solution. They were also made from pressed glass which was very popular in the depression era.
Fast forward to the present day, Vintage jadeite pieces run into hundreds of dollars and are highly sought after by antique lovers, collectors, cooks and kitchen lovers—especially those from the three companies (Anchor Hocking, McKee and Jeanette).
How to Spot the Difference Between Jade and Jadeite
Yes, jade and Jadeite, usually called (jadeite), are different minerals; you should never confuse them. You'll learn about the differences below.
Original jade is quite expensive and represents one-half of the two mineral species classified as Jadeite. The other half is called Nephrite which is less rare and less valuable than real Jadeite. These two gems have completely different chemical components and are handled differently.
Rarity
Nephrite can be found in numerous sites worldwide like American Coats, New Zealand, Western Europe and South-Eastern Asia. But Jadeite, a rarer and more expensive variant, can only be mined in 10 specific places, including California, New Zealand, Myanmar, Guatemala, Japan, Kazakhstan, Russia, British Columbia, Canada, Turkestan, Italy and Itoigawa.
Color
Jadeite appears in rich and different shades depending on the clarity levels, like emerald green, lavender, orange, yellow, blue, red, white, gray and black with brown. On the other hand, Nephrite is limited to dark green, white and black hues, respectively.
However, imperial jade is the most popular and valuable shade of Jadeite which is almost transparent and wears a very bright emerald green shade. There are also apple-green jade: Kingfisher jade, and moss-in-snow jade shades.
Due to its chemical properties, Jadeite usually appears glossier than its other variants. It adds instant aesthetic value to the stone.
Clarity
The clarity of Jadeite varies from fully opaque to almost see-through. Facts have gathered that the best Jadeite is the latter and possesses a bright outlook (If you read a text through this type of stone, the words will be slightly blurry as light can still permeate through the surface).
You might spot a glow, which enhances the allure of the lush green or sometimes deep lavender shade. The opaque jadeites are not as desirable as their mineral components give them a patchy appearance that disrupts their clarity.
Composition
Nephrite and Jadeite have different crystal properties; for Jadeite, its crystals are grainy, while Nephrite has fibrous crystals that are interwoven in a matte-like texture. They're closely knitted and very resistant to breakage.
So, while Jadeite is very dense and hard to the eyes and feel, Nephrite is a tough opposite of the two variants.
Watch this video for further explanation.
Where to Buy Vintage Jadeite Dishes
Buying vintage dishes is as easy as ABC these days. Below are where you can grab a few of these admirable pieces. While doing this, kindly refer to this section to help you identify original and reproduced dishes properly.
E-Stores
Over the years and with the ever-evolving tech space, it has become easy for people and collectors to purchase vintage pieces right in their homes and have them delivered to their doorsteps anywhere in the world.
eBay, Etsy, Rubylane and a host of other sites offer services that are aimed at helping you easily buy old stuff. Also, rest assured that they're not reproduced. The platform, in conjunction with the sellers, promotes these items through ads for wider reach.
Trade fairs
At these fairs, every seller has a stall where they display their items for viewing and buying. One of the numerous advantages of trade fairs is that they're precise and interactive, and you get numerous options to choose from. You can find pieces of jadeite dishes, ball jugs or canisters.
Auctions
Auctions are a great place to collect antique jadeite dishes both offline and online. One interesting feature of auctions is that there's healthy competition among sellers, and ultimately the item goes to the highest bidder.
Here're a few auction sites you can check out
Antique Stores
There're stores organized strictly for selling vintage items like jadeite dishes, amongst many others. Simply locate one down the street and go through their aisle to check out their merchandise in real time.
Flea Markets
Jadeite ware also existed in varieties like beaded mixing bowls, butter dishes, ball jugs or pitchers. Head to the nearest flea market in the neighborhood or around town to cop some of these incredible pieces.
Estate Sales
Relatives of old or dead people usually organize estate sales. We're sure that jadeite pieces must feature in their inventory. Locate the nearest estate sales near you to get a few pieces.
Parting Words
Vintage Jadeite dishes are highly collectible and excellent pieces perfect for almost any setting. Their sweet colors are pleasing to the eyes and breathtaking. We recommend you bag some of these unique pieces on your shelf or dining spot.
But before taking the big step, here're a few I's you must dot and T's to cross.
Beware of reproduced pieces; you can spot them from their bright, glossy colors and large seams.
Vintage Jadeite dishes must only exist in a specific shade of green color; any other color isn't Jadeite.
Jadeite dishware can also serve as a great decorative piece, don't restrict them to food purposes only.