Do you also love cute and functional glassware? Well, Libbey Glass can be the answer to your search for the perfect high-quality glassware for your everyday use.
Because of its whimsical designs, one-of-a-kind patterns, and functional applications, vintage Libbey glass is an item that is simple to collect. The Libbey product line includes a wide selection of tumblers and cocktail glasses that are suitable for use by the entire household.
Take a look at the accomplishments of this historical company, and you'll understand why people are still collecting their glasses in the modern era and consider their vintage items.
Libbey Glass Company – How it started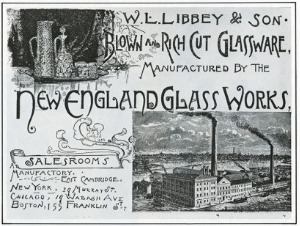 Over the course of its history, Libbey Glass company has produced millions of glass tumblers, including water glasses, tea glasses, goblets, and various other types of drinkware.
It was commonplace in most American households in the 1900s, and it still is today.
Libbey Glass is one of the oldest enterprises still in operation in the United States.
In the late 1700s, the Libbey family was already manufacturing glass, and they are also widely regarded as being the first people in North America to use lead glass.
In the year 1818, the New England Glass Company, which would later become Libbey, was established in Cambridge, Massachusetts.
It was famous not only for the great quality of its products but also for being the company that pioneered the technique of pressing glass.
The Libbey family initially became involved with the company in the 1870s. William L. Libbey started working for New England Glass as an agent, and seven years later, in 1878, he leased the company and changed its name to W.L. Libbey and Son, Proprietors.
With the signing of an agreement to relocate the firm to Toledo by William's son in 1888, Libbey Glass Company became known as the William E. Libbey Glass Company.
In 1935 Owens-Illinois purchased Libbey Glass from Libbey, which became a wholly-owned subsidiary of Owens-Illinois, operating as the Libbey Glass Division. Libbey also produced various collections that were showcased in different parts of the world.
It was during this period of robust sales development in the 1950s that Libbey concentrated its efforts on the household market for glassware and produced a whole collection of different designs that are still considered to be unique and valuable.
The market remained stagnant during the next decades. In 1993, Owens-Illinois chose to sell its Libbey Glass Division to Libbey Inc. because of its mounting debts.
Since then, Libbey has run its own business, purchasing Syracuse China and Anchor Hocking.
Despite the economic hurdles, Libbey Inc. survived and is still functional in the modern-day United States. To learn more about Libbey Glassware, you can watch their promotional video introducing their company on Youtube.
Identification Vintage Libbey Glassware Patterns
Now that we know the history behind the beautiful glassware, the question that comes to mind is how one can identify which glass is Libbey?
One of the best ways to identify glass is by trademark. Although many fine and valuable pieces of glass are not marked, much of it is. In order, you can see the evolution of the famous Libbey trademark. The sword appearing first in the 1896 was a tie-in with Toledo, Spain, which was identified with superior sword blades, just as Libbey's Toledo Plant was identified with superior glass.
1892 – 1896 Libbey Glass Trademark

The first trademark adopted by Libbey Glass was circular in form with sketch of an eagle below, which was lettered "TRADE MARK". Lettered within two circles around this was "Libbey Cut Glass Toledo O".
1896 – 1906 Libbey Glass Trademark

Not satisfied with the eagle trademark that looked more like a union label than a graceful signature, application was filed by Libbey on March 19, 1896 for a newly fashioned trademark. This was granted as Trade Mark NO. 28,180 by the United States Patent Office and registered on April 21, 1896. In designing the new trademark, the name "Libbey" was lettered in script with the tails of the "L" and "Y" almost connected.
Whether by accident or not, it was amazingly close to the facsimile of Mr. Libbey's signature. The application statement read "The trade mark of said company consists of the word "Libbey" and of the representation of a sword under said word"
1906 – 1919 Libbey Glass Trademark

1919 – 1945 Libbey Glass Trademark

To view catalogs available in this collection, select a year below.
1946 – 1959 Libbey Glass Trademark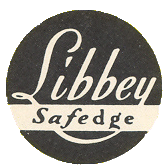 To view catalogs available in this collection, select a year below.
1959 – 1968 Libbey Glass Trademark

To view catalogs available in this collection, select a year below.
1968 – Present Libbey Glass Trademark

To view catalogs available in this collection, select a year below.
Libbey has focused its efforts over the past thirty years on producing high-volume machine ware, although the company is still recognized as a leading brand in the glassware industry. As a result of a change in the methods used in manufacture, machine-produced stemware that is made today does carry this logo.
Since Libbey does not produce hand-ware or perform cutting and engraving now, this presents a chance for the collector of American glass to establish a collection of Libbey glass by periods.
1) Cut Glass
2) Lightware – Rock Crystal
3) Amberina – colored glass
4) Libbey-Nash
5) Modern American
6) Machine-made-cut glass
A limited number of its designs were manufactured for only a short time, while others were created over an extended amount of time. Most popular patterns can be easily located, while rarer patterns, such as those manufactured just for a brief time, are harder to track down.
You can also refer to Libbey House Foundation to learn more about how you can identify vintage Libbey glasses with the newly manufactured ones.
Different types of Vintage Libbey Glass
Given that the company has been present since the 1800s, Libbey has produced a large number of collections that you might come across in different antique or vintage stores.
In spite of the fact that the patterns and hues may be different, the following are some of the most typical items that you'll discover when looking for Vintage Libbey Glass:
Tumblers
Collins glasses
Golden Foliage Glassware (1966)
Stem glasses (1970)
Whiskey glasses
Decoration on Vintage Libbey Glass
Libbey glasses were not simply designed with curves.
When you look at certain designs and patterns of glasses, you can tell that they are Libbey designed merely by their uniqueness.
Depending on how thoroughly you research the Libbey glassware, you may come across one or more of the following types of glass by Libbey:
A number of recurring designs that are printed in gold
Decorative motifs commemorating the holidays
Decorative frosted glass with individual scenes
Patterned designs of horses and carousels
Animal prints, such as flamingos
The use of natural motifs, such as wheat stalks
Value of Vintage Libbey Glass
Now that we know that Libbey Glassware has a diverse collection. The question that comes to mind is of its value. Why is it even considered valuable? Or is it even valuable?
The value of a piece of Libbey Glassware can range from very low to very high, with a great deal of variance in between those two extremes. This gives it a collectible-quality that is fairly distinctive.
It would appear that larger sets and pieces with unusual designs are the most expensive options. The cost of an individual piece is significantly cheaper, ranging anywhere from $10 to $35. The majority of the value of the set depends on the design and the time that it belongs.
The following video presented by Lissa Guyton on Libbey provides the buyers with significant information on Libbey's market value, as well as their large collection and why it is considered the biggest Glassware company.
Value of Vintage Libbey Glass for Collectors
The majority of vintage Libbey glassware may be purchased for reasonable prices, allowing casual collectors to pick up the items that grab their eye without worrying about going bankrupt.
The abundance of one-of-a-kind old-school cocktail glasses that can be purchased makes vintage Libbey glassware a particularly useful resource for aspiring mixologists to peruse.
In particular, amateur bartenders find this to be a good bargain.
However, despite how simple it is to gather them, it is not so simple to identify certain patterns in them. These glasses, as economical as they may seem, have such diverse designs that it is hard to find a set that clicks easily with your kitchen designs and aesthetics.
Because of this, it is likely that you won't find a set that speaks to you until you spend some time browsing through various third-party seller websites like Etsy, eBay, Amazon, and other shops like thrift stores or vintage shops.
Is Vintage Libbey Glass Expensive?
Libbey Glass provides a wide range of designs to choose from; designs like gold leaves, flamingos, daisies, and travel patterns are among the most common. However, the important question is whether Vintage Libbey glasses are expensive or not.
Well, normal day usage Libbey Glasses are not that expensive. They usually range from $10-$30 and come in a vast majority of designs and styles. These can be your daily water drinking glasses or even wine glasses that you can use for fancy get-togethers.
The price of the vintage Libbey glass lies in its design and its edition. Since Libbey has been manufacturing for more than a century, there are a lot of collections that have been released by Libbey and are considered to be vintage and worthy of being collected by antique collectors.
Complete collections that are still in good shape are worth a lot of money, as are limited edition patterns that are difficult to locate. They can command a premium price as high as $1000.
One online auction, for example, is selling a seven-piece set of Vintage Libbey-Nash Moonbeam Art Nouveau Liquor Liqueur Cordial Cocktail Glasses for the price of $525, while another online auction is selling a 1950s set of Vintage Libbey Bar Glasses for the price of $850.
Vintage Libbey Glassware Patterns and Designs
The biggest hurdle one comes across when buying Libbey glass is to understand what set deserves to be expensive and what can be considered valuable. Well, for collectors, it is the principle of designs and aesthetics, as well as the era in which they were made.
Each pattern that is released by Libbey has a unique feature to it. However, there are few that are considered to be vintage and worthy of being collected.
We have listed some of the most vintage and collectible patterns that have been manufactured by Libbey Glass.
Libbey Vintage Glass Foliage Series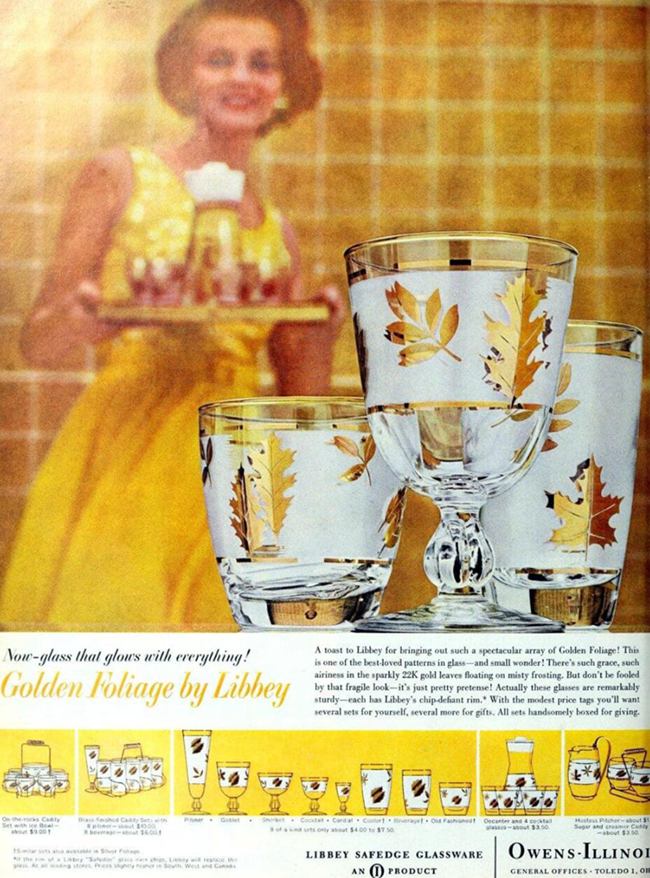 Libbey Glass is known for its leaf gold printed glasses. In 1966, Libbey had a whole Golden Foliage Glassware collection that became a hit. These glasses became a part of every household in America.
Even to this day, collectors, as well as everyday buyers, opt to buy these glasses because of their luxurious look as well as functionality. These glasses can be used for both everyday usage as well as when guests are coming. These are also perfect for a gift.
Libbey Carnival Series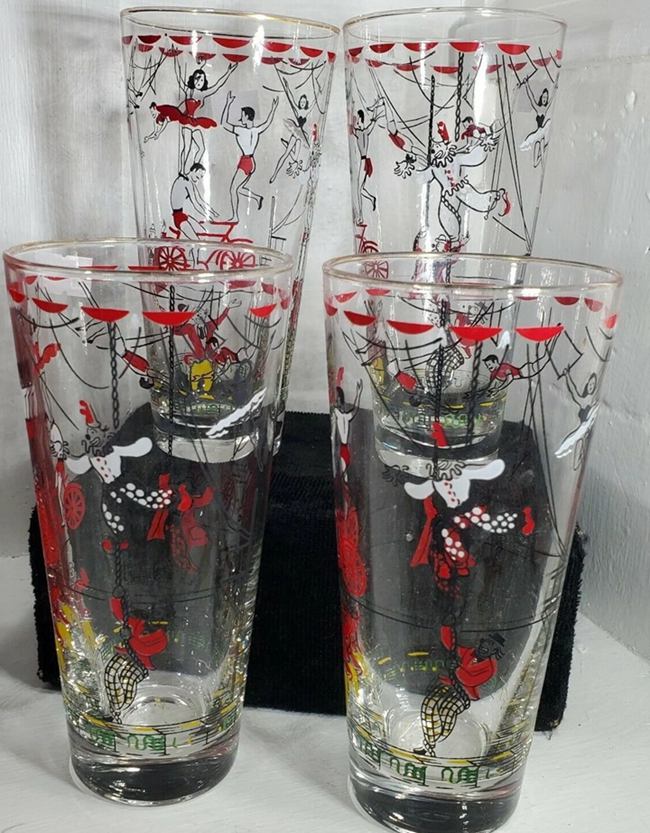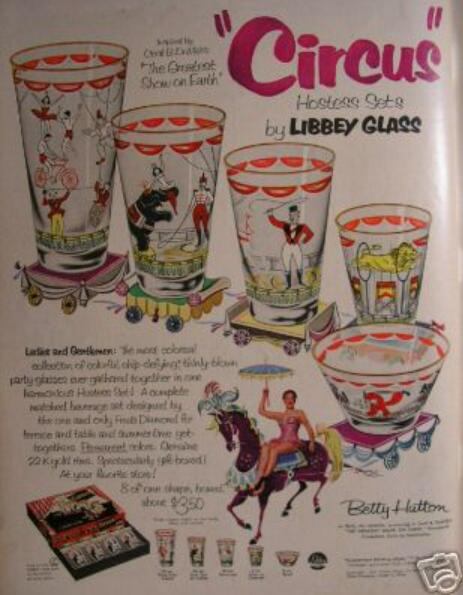 Libbey manufactured multiple sets of frosted glasses with clear bottoms in the late 1940s in various circus themes. In 1946, one could get these glasses for the price of $3. In the present day, they cost from $50 to $200.
These glasses have a diversity of patterns that appeal to all kinds of dealers and collectors. Various everyday buyers also opt to buy these sets because of their unique patterns and design.
Libbey Vintage Pilsner glasses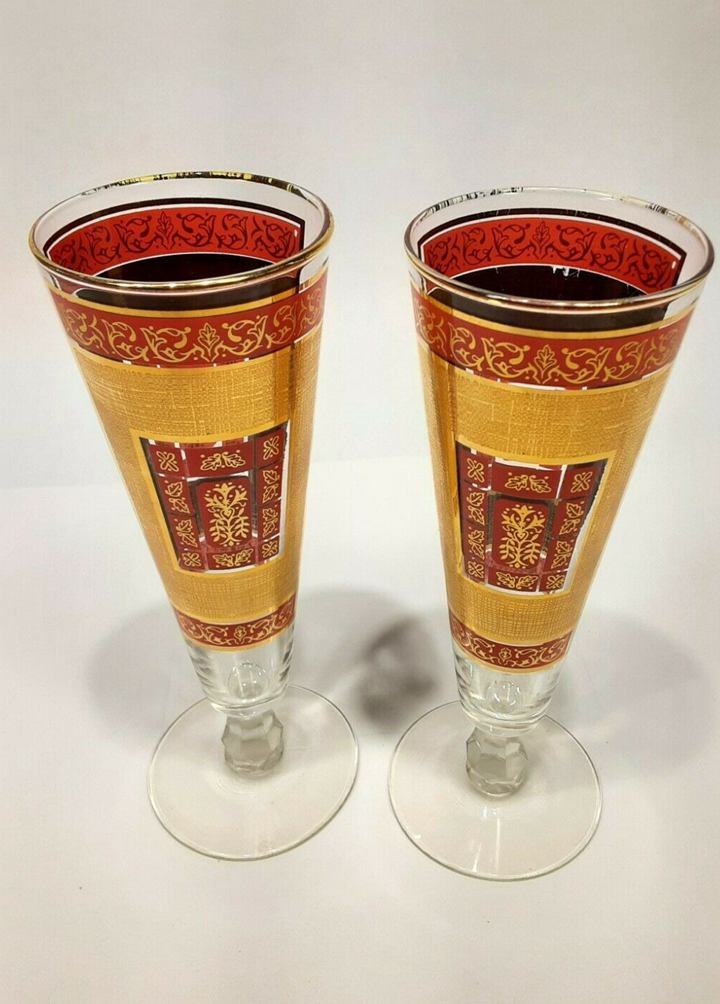 Libbey released their stemware in the mid-1950s, and these glasses have become a collector's and daily users' desire. Light beers, such as pale lager and pilsner, are typically served in tall, slim glasses known as pilsner glasses.
These glasses are tall and narrow. The volume contained in a pilsner glass is comparable to that of a half-pint. Before the advent of the prohibition, this particular design of glass beer glass was commonly utilized.
Libbey Vintage Op-Art Rocks Glasses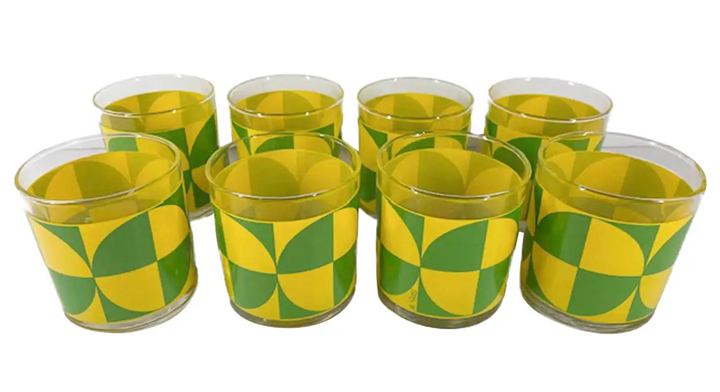 Op-Art design was adapted by Libbey glass in multiple of their lines and collections. This set of eight Libbey rocks glasses features a green and yellow Op-Art design by M. Petti from the mid-century. Contrasting squares are formed by overlapping quartered circles with alternating green and yellow fields.
This design is considered to be vintage and is collected all over the world by people who love mid-century art.
Libbey Vintage Promotional Series Glasses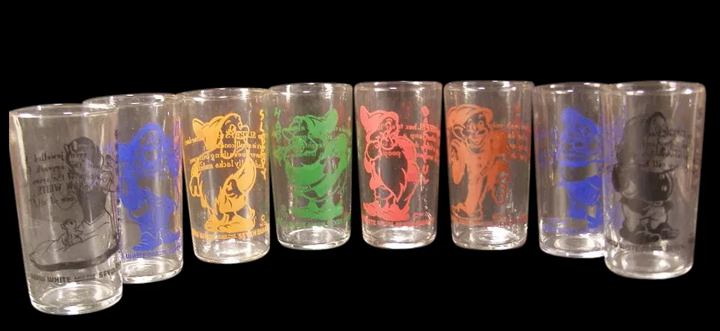 During the 1940s and 50s, Libbey Glass manufactured various collections that were focused on the promotion of different mediums like art, movies, books, cartoons, etc. These sets of glasses are considered to be highly vintage and collectible.
These sets used to sell for as high as $5 during the 1950s and now cost above $100. These glasses were sold as a set of eight, and each glass had a unique design and pattern to cater to the buyer's preference.
The Libbey-Nash Series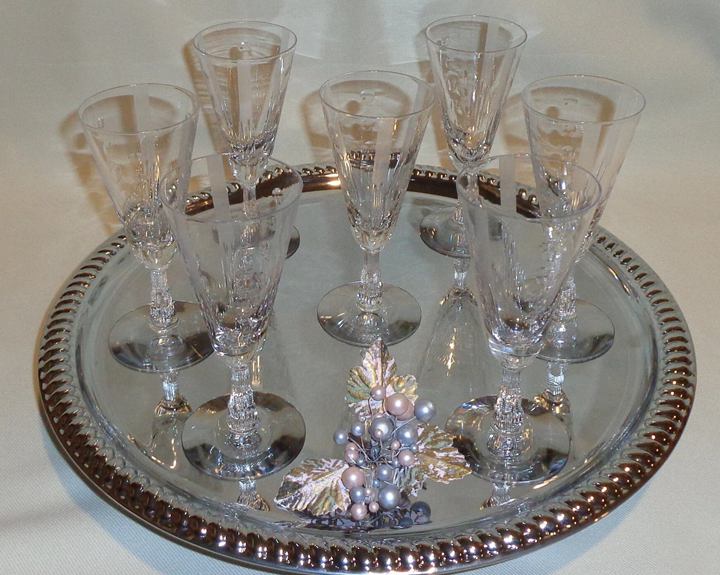 This is one of the most luxurious collections by Libbey Glass.
The Libbey Glass Company employed A. Douglas Nash in 1931 to develop what would become one of the most ambitious and intricate lines of fine glass ever made in modern times.
Douglas Nash relocated to Toledo and designed a line of art glassware of the highest possible quality. In 1933, the line was first presented in an impressive catalog that had the title "Libbey Crystal: The New Era in Glass."
There were over 75 distinct patterns of formal stemware available to choose from, and many of them came in a variety of color configurations.
The new glassware received praise for the beauty of its form and had a sophisticated decoration that included cutting, etching, and surface effects such as overlay, threading, and colorful accents.
The intricate and pricey series of Nash designs were, unfortunately, not well received by the buying public, which was in the midst of the depression years; however, in modern times, these designs are considered to be classic and bought by a variety of people.
How to store Vintage Libbey Glassware
Finding the perfect pattern is a hurdle, but keeping it safe is a bigger one to cross when collecting vintage glassware.
It's more fun to utilize vintage glass when it's in good condition, but who wants to deal with chips and scratches? Learn how to properly care for your vintage glassware so that it continues to look its best, both for use and for exhibition.
Take precautions when storing.
The purpose of glassware is to be utilized, but let's be honest; you have to put it away (at least in between meals). When stored incorrectly, glass is more likely to suffer damage such as chips and scratches. Never store the pieces with the wrong side up; always keep the right side up.
Pitting and wear in the lip will eventually be caused by the abrasion that is caused when goblets or tumblers are slid across even the smoothest shelf in the cabinet. It's possible that you could even get chips out of this.
Washing thoroughly
The dishwasher should not be used to clean vintage glass. Just don't do it. Yes, it is likely to hold up well after being washed in the dishwasher a number of times, and yes, it is a hassle to clean by hand. However, dishwashers reach dangerously high temperatures, which presents a challenge.
Dishwashers of today are not designed to be safe for painted or metallic trim.
The cloudiness that might appear in your glasses is by far the most annoying side effect of running the dishwasher. It won't happen overnight, and it's possible that it won't happen at all, but if you do end up with haze or water spots, they won't come off quickly, if they come off at all.
Instead, line the bottom of the sink with a towel or a large dishcloth, and wash everything by hand with great care. Afterward, dry with a linen cloth.
Stay Away from the Microwave
Glass can have small stress points, and these areas will shatter when the glass is heated. It is possible for something to get dangerously overheated in a microwave, so avoid using glasses for heating anything unless the manufacturer tells you that the glass is oven friendly.
Vintage glasses, however, were not made with microwaving in mind, so it is advisable not to heat them.
Avoid the Freezer
Freezing also works on the same logic as heating. Even the smallest gaps can store water, and when that water freezes, it will expand, causing the crack to become even larger and eventually shatter the glass.
Keeping vintage glass safe and sound is a job that requires some effort on your part. To learn more about Libbey glass and how it is made safely, you can watch the youtube video by Libbey Food Service.
The Secret Lies in the Glass
Finding the glass designs you wish to collect is a hard feat, but with the right knowledge and tools, you can find the collection you wish to acquire.
Your search for the perfect Vintage Libbey Glassware should be a lot less difficult now that you know how to identify a vintage Libbey glass from the one that is manufactured in today's age, the different styles that existed, and where you can look to find them.
If you still have some queries, you can reach out to us through comments or email. Your thoughts and ideas are always welcome.