So you've got yourself a set of China dinnerware and you have no idea what it's worth. As there's neither a stamp nor any form of a trademark to refer to, due to them being faded out or just not intended to be present in the first place.
Such a dilemma should prompt you to ask the question, "how do I find out what my China is worth?". Here's How:
The writing or sign underneath your piece of China isn't reliable, because it's most likely going to be absent (usually due to fading). This means other clues should be considered when finding its value. And the best hint is the design or general pattern on the China piece. To which you should compare with archived china pieces to get a proper value range.
Read on as we show you how to identify antique china patterns, so you can know it's valued and price them easily.
How To Identify An Unmarked China
Sadly, stamps, marks, and writings that help identify your China tend to fade out. Thus making it quite hard to determine its origin and value. So your best course of action is to identify its pattern. Here are tips on how to go about this:
What Kind of China?
To get good value for your China, you need to establish the type of materials that have been used in making it. This way you get to find out where and sometimes when it was made. As there are various Pottery factories and brands well known for manufacturing certain types of China. Such as Noritake (bone china) and Meissen (making hard/soft-paste porcelain since 1710). So it would help a lot with narrowing your search.
Types Of China
Bone China
Soft-Porcelain
Hard-porcelain
How To Identify A Genuine Bone China
Bone china is known to be the most translucent out of all three Chinas. As you could place it in between your palm and a bright source of light, then you should be able to notice your fingers. Which should appear in the form of a distinct shadow.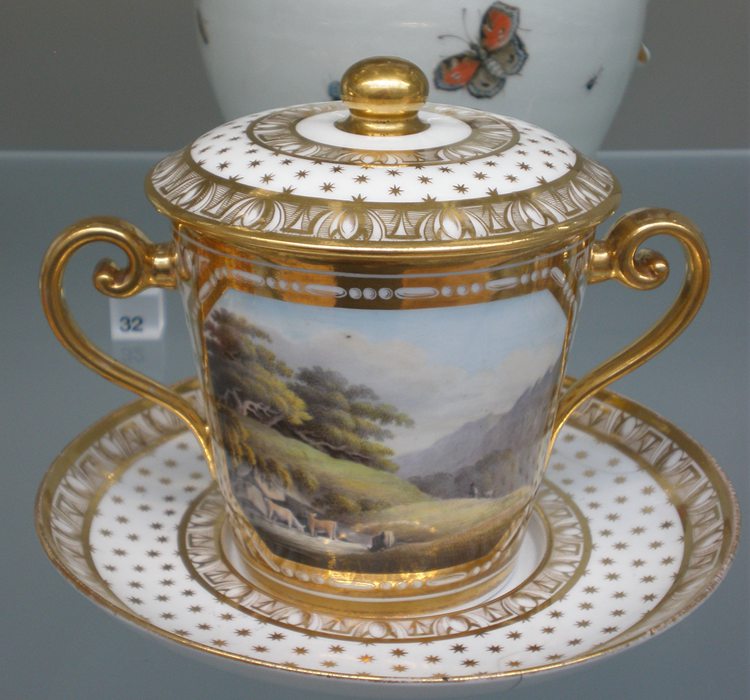 Another feature about the bone China is that it's the most lightweight piece of porcelain. Unlike the soft/Hard-porcelain which can be quite weighty. Also, bone China usually possesses creamy white or ivory hue.
What is it made of?
bone China consists of bone ash, clay, and grounded stone. This is why it is so lightweight, thin, and translucent.
How To Identify Soft-paste China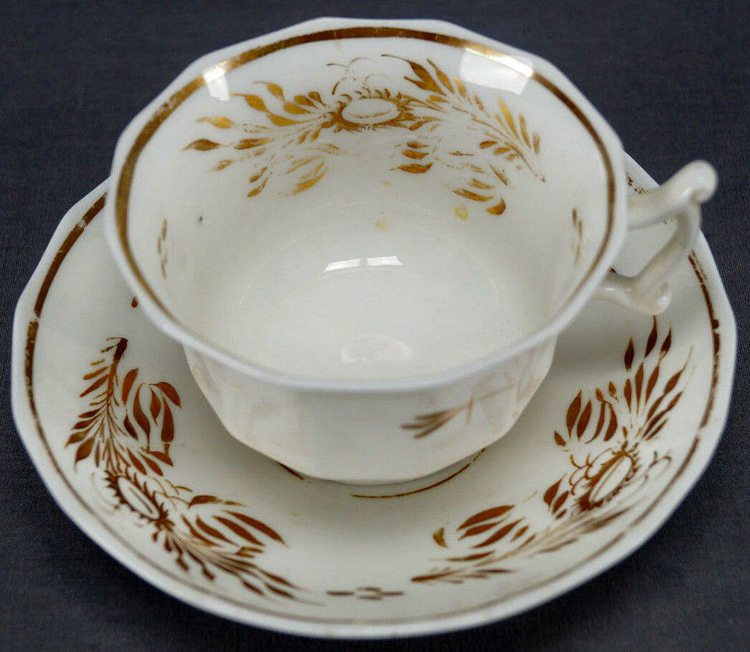 This is the closest to bone China because it's almost as lightweight as it. Because soft-paste China is made with a softer clay instead of kaolin. However, it is not as translucent as bone china.
Note: Mainly European Pottery companies make use of this method to manufacture their Chinas.
How To Identify Hard-paste China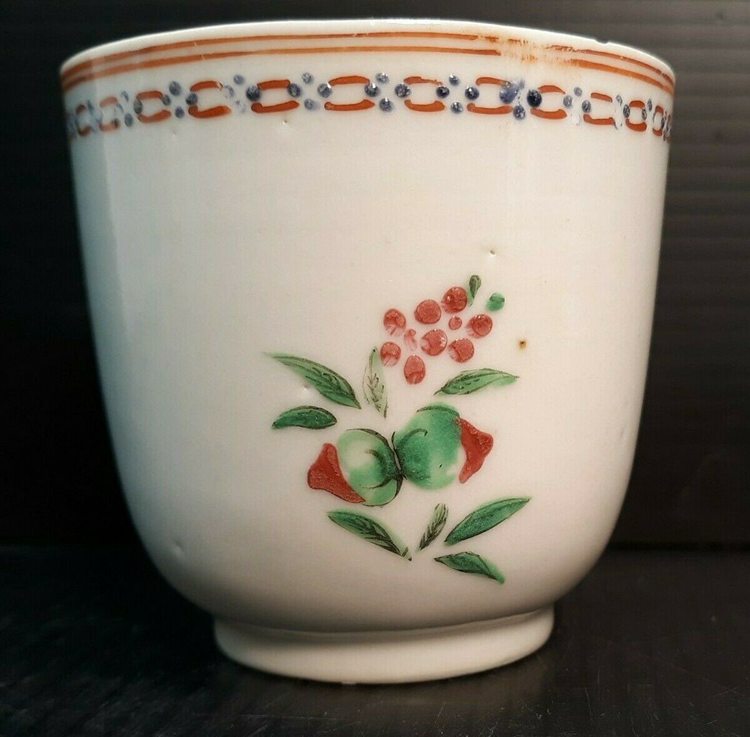 This is the heaviest type of China. As it consists of heavy and hard materials such as ground alabaster, kaolin, and in some cases, quartz is also in the mix. It is quite a common method famously used by European potteries to manufacture the Chinas.
Note: it is opaque.
Lookout For Traditional Bone China Features
Common bone China features to help give you an idea of the design you're examining and thus its pattern type:
The Primary Color Of China Piece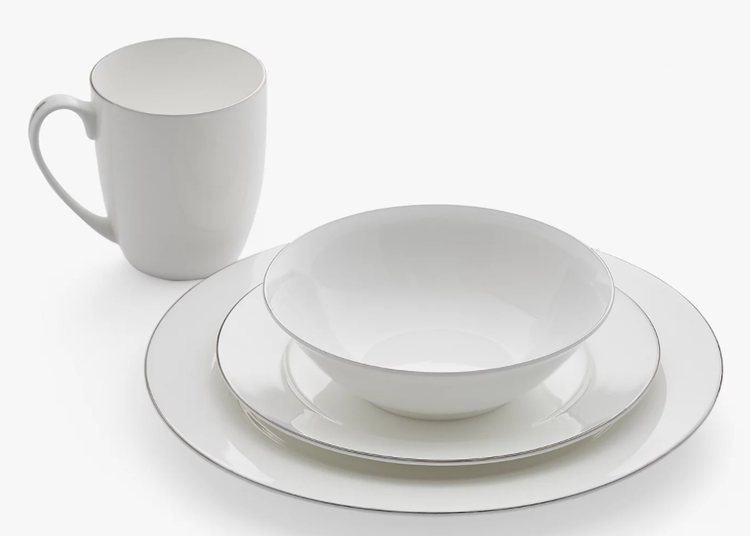 The most common primary color of bone Chinas is off-white or creamy-white. However, you can still find bone China dinnerware in different colors. Such as red, blue, gold, black, and even pink.
Picture or Pattern Design
There are various pattern designs painted or printed in bone China. As it's usually in the form of leaves, special floral designs, land animals, and even birds. However, bone Chinas with pictures of individuals and logos are also present.
Gold Ringed Edges
Another feature that's common to bone China dinnerware is the gold-plated round edges.
Find Out When Your Unmarked China Was Made
Now that you're able to identify the material of your China and study its pattern, the next step to take is dating it. That is to establish when your China/China set was made.
Here are various patterns with their following timeline:
Bone china sets with creamy-white colors and blue floral pattern colors were quite common in the 1800s.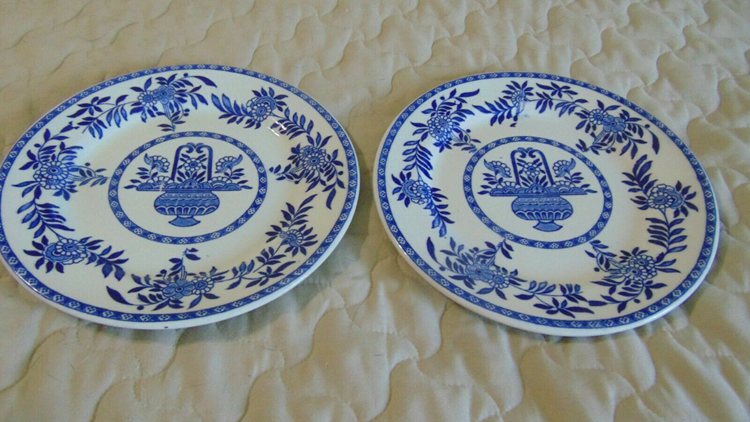 If your bone China piece consists of floral designs (usual violets), ringed curved edges with pastel colors as its primary color, then it was probably made between 1900-1920.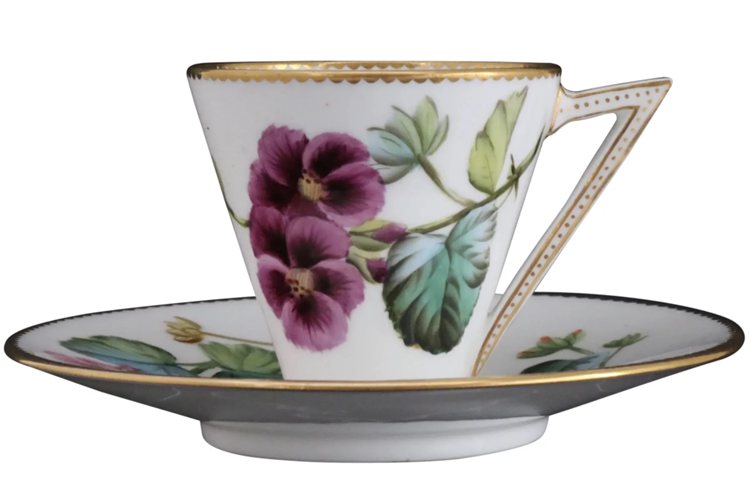 During 1920 – 1940, the use of vivid colors on Chinas was quite popular, as well as geometric form designs. However, pale-colored (usually creamy-white and ivory) Chinas with gold or silver ringed edges were still in demand during this Era.
From 1940 – 1950, bright-colored China such as red, green, and blue was the new obsession of this time. Especially with the sleek. Rimless designs. As for the pastel-colored Chinas, it was more of a depression in popularity during this period.
1950 – 1970 was the end for gold trims due to the growing demand for sleeker China dinnerware. However, pastel-colored Chinas seemed to be making a comeback but it was a quiet one.
Identify The Pattern Of A Marked China
Maybe not all the marks would be Faded out, as there could be other clues like pattern number, recoverable coat of arms, and so on…
Here is a way to make use of these signs:
Identify The Stamp or Logo (coat of arms)
If you're lucky enough to find a stamp or logo at the bottom of China, you should be able to confirm the manufacturer. All you need is a quick internet sweep for the website that has ample info on the China dinnerware. So that you can compare, identify its pattern, and thus know its value.
Confirm The Date Of Manufacture
Another way to identify the pattern of your china is by locating when it was made. As there are clues such as the 6-figure date mark or date code. To which you'll use to make comparisons with originals in replacement or Manufacturer's websites.
Pattern Names & Number
Pattern names and numbers are clues that are intentionally left behind by manufacturers to help you identify the pattern of your China. As manufacturers of China dinnerware change this pattern number periodically (every calendar year). But the pattern name does not change.
How to identify pattern numbers – you can compare pattern numbers making use of a special book known as the Schleiger pattern book. Pattern names on the other hand are easy to find once you're able to identify the manufacturer. All you need are online photo photos to make comparisons with.
Note: To increase your odds of easily identifying your china's pattern number or name, hire an Antique China appraiser who may have a whole database of pattern names and numbers to easily refer to. Or you could simply visit replacements and possibly pay a fee to identify your China dinnerware's pattern.
How To Identify The Value Of Your Unmarked China
Material Type
The price of your China depends on its type, as some are a lot more expensive to make than the others. In the case of bone China vs hard/soft-paste porcelain, bone China will always be the winner on this front.
Why? Because this impressive combo of bone ash, finely grounded stones, and clay offer a durable, chip-resistant, and beautiful piece.
China Brand
Another factor that helps identify the value of your China is if manufacturers or brands are quite prominent. For instance, there are loads of top China brands in the market, here are a few common names:
Royal Doulton
Spode
Johnson Brothers
Date Of Manufacture
You can utilize the date on your China piece to determine its value for insurance and sales in today's market.
Artists
Apart from reproductions, there are bone China models of brands specifically designed by artists. This factor tends to increase the value of the China piece.
How do you identify an artist made in China? – because they're usually made for brands, you can identify them from the name. Here are examples:
Replacement Companies
If replacement websites don't have replacement parts for your China set but can confirm the pattern, then it's most likely a rare piece. In which only a few were made. Such pieces are usually artist collections.
Note: This is more of a trial and error method for finding the value of your China set.
Compare Your Findings
At this point, you should be able to identify an unmarked or marked China piece by studying and identifying its patterns. That way you can compare your findings with similar patterns from the manufacturer or replacement websites. But if the task just doesn't seem attainable, your best would be to hire an expert or an antique china appraiser.