Croton, an American-based company, has produced excellent wristwatches for one and a half centuries. Sometimes it is surprising when people say they haven't heard about this brand because Croton has not failed in delivering suitable quality timepieces since it started production in 1878.
If you're one of these people that know nothing about them, it's time you do. In this piece, you'll be enlightened about the incredible history of croton watches and the quality and diverse designs of their vintage products. Also, expect to learn the various ways you can confirm a vintage croton watch's originality.
Shall we begin?
History of Watches
History books say that the first watch was manufactured in 1524. But large- scale production didn't begin until 1574, when Charles Cousin, a Swiss watchmaker, kick-started the production. The early watches were used chiefly by the wealthy part of society as jewelry pieces. Not until decades later did the watch become affordable and accessible enough to the masses.
Watches in the 1600s
Geneva, Switzerland, which served as home to Charles Cousin, became the hub of watches during this period. Charles Cousin's dedication to manufacturing watches propagated the manufacturing of High-quality watches across the globe. While we can't compare those timepieces to what we have now, it must be said that Cousin did something magnificent. Watches in the sixteenth century had only the hour hand and were often inaccurate. They merely gave a sense of what the time should be, and the hour hand had to be returned to its starting position twice daily.
These one-handed watches remained for about a century until better innovations were perfected. Sometime between the seventeenth and eighteenth century, watch pendulum and pocket watches were invented. The accuracy of these portable timepieces improved when a spiral balance spring was adopted into the designs. The pendulum watches were more or less fashion pieces at the time, as they were mostly worn around the neck. In the late 1600s, Charles II of England proposed the inclusion of waistcoat pockets to hold the watches.
Watches in the 1700s and 1800s
In 1715, English watchmakers incorporated diamonds as bearings inside the watches. Most watches produced within this century most certainly have the upper bearing of the balance shaft to be diamonds. In the nineteenth century, scientists developed useful machines to manufacture watches and clock parts automatically. So, the prices of all watches were significantly reduced.
Towards the end of the century, dozens of watch manufacturers were already on the scene. One of these well-known watch firms was Croton.
Brief Information about the Croton Watch Company
The Croton Watch company was founded in the late 1800s in a tiny workshop in Crotone— a little village located somewhere along the borders of Switzerland and Italy.
The founders of this company drew inspiration from the impeccable nature of both regions and their inhabitants. People often say that Switzerland is where the most precise timepieces were manufactured in that period. In contrast, Italy is lauded for its superior fashion sense. Croton itself is a city with highly intelligent, strong, and beautiful residents. No wonder the wristwatches themselves are precise, long-lasting, and with beautiful designs for both sexes.
The Croton Watch company did not have it rosy all through. They waded through two major wars—World war I and World War II. It is one of a few wristwatch manufacturing companies that successfully did this. Although they've evolved over the years, the company ensures it continually strives to give consumers innovative and affordable wristwatches.
In 1991, the company was sold to Nationwide Time for undisclosed reasons. Nationwide Time is a famous multi-generational brand that has mass-produced hundreds of wristwatches since the mid-1900s. Expectedly, many loyal consumers worried about the change in ownership when the company was acquired. However, Nationwide Time picked up the mantle smoothly and has continued to deliver.
According to David Mermelstein, Nationwide Time President at the time, the family-owned business had been endlessly searching for the right timepiece company to acquire for a while till it saw itself in Crofton. He had also stated that Nationwide Time is about to build a brand that would be around for centuries to come. Looking back now, no one can say the company has failed its mandate. Croton watches are internationally recognized. Even without an active PR, the company is still making reasonable sales each quarter.
Croton Watches
Croton watches are known worldwide for their classic designs and styles. They currently operate from New Jersey, USA; their headquarters moved from Europe soon after the company was acquired.
Since the company's inception, at least one household member has preferred Croton watches over other brands.
Over the years, many models of the Croton wristwatches have been featured in prominent magazines like Harper's Bazaar. One common feature among all models is that they were classically designed to withstand the change in trends. What's more, Croton Watches are readily available and affordable with a lifetime warranty.
The Swiss have never failed to claim to be the heart, soul, and timing mechanism powering this brand. Neither have the Italians stopped taking credit for the classic designs that separate Croton watches from other brands.
Croton watches have some real die-hard fans that have worn only Croton watches since they were old enough to. There are dozens of Vintage croton watches designs for both men and women. And each price is affordable. You can select a design depending on your pockets or your tastes. Some models are priced at thousands of dollars, while the rest are in the range of $50 to $500.
Croton and Murder
It is impossible to give a comprehensive account of croton without mentioning the highly publicized murder trial that presented a Croton Watch as one of the pieces of evidence.
Although this trial happened this century, it managed to cast a spell on the vintage croton watch sales that were occurring at the same time. What happened is that Scott Peterson, a man who murdered his wife and unborn son,'s fingerprints were found on a pawned Croton Watch. The vintage piece was said to have been owned by his wife. The news of a murderer's fingerprint on a croton piece will forever be linked to the brand.
Build Quality of Vintage Croton Watches
Vintage croton watches were mostly manufactured in steel cases. A few models were encased with gold to appeal to the highest members of society. Mineral crystal, sapphire crystal, and other materials were also used to make these cases.
The Swiss brand made high-quality watches that had up and down chronographs. If you open up the case of a vintage croton watch, you should see right-sized dials and hands. The straps or bands were made from leather. Most antique croton watches are not waterproof, although the cases were adequately sealed. Today, croton watches are mostly water-sealed and can remain dry if placed in 200 meters of water for a few minutes.
How To Confirm Authenticity of Croton Watches
It is very easy to confuse an actual croton watch with a replica. Buying a vintage watch from a renowned site or store does not guarantee its authenticity. Neither does buying directly in-person. Here are a couple of tips you could employ when assessing a watch to ascertain that what you have or are about to buy is truly a vintage croton piece.
The Quality
Croton has always been a spectacular brand. Their watches have always been of superior quality. A genuine croton watch will never sport unfinished edges, false markings, or improper polish. Although being an antique, there may be some very old pieces with scratches.
Fake or replica vintage croton watches often have wrong engravings/markings. They also sport misspelled words and unidentifiable stamps. Many original vintage watches have working clasps and buckles. Check for the Croton markings, which are engraved on the back cases. If you come across a Croton with faded stamps, chances are it's fake. The color of a vintage croton could also be a tell-tale signal that it's fake.
Sounds
Vintage croton watches do not make noises despite the fact that they were manufactured almost 150 years back. Original croton pieces do not make ticking noises, nor do the interior parts make any sounds when performing their normal mechanisms.
Fake or replica croton create ticking sounds. Try to stay in a quiet place and place the watch beside your ear.
Model/Serial Numbers
The easiest way to identify a fake is to check its serial numbers and run a quick search online to confirm if it's a genuine model or not. Replicas also have serial numbers; however, the research online will reveal that they are fakes.
An authentic croton watch will have the same serial number on the back cases and straps. If the numbers are dissimilar, then it's a fake. Some watch manufacturers place their serial numbers behind the watch dials.
Weight
An original croton watch could be heavy in weight, especially if made from crystal, heavy metals, silver, precious stones, or metal alloys. There's always a distinct difference in the weight of a real and fake croton watch. If you have two watches in your hands, one fake and the other original, the authentic piece would be heavier.
Watch Hands
Confirm if the watch hands are made from the right materials. Fake vintage croton watches have weirdly shaped hands. Observe closely to see if the hand is shaky, unstable, or moving the wrong way.
Crosscheck specifications with information online
Compare the product specifications with online vintage croton information. The internet is an ocean of knowledge; with the right keywords, you'll have access to reliable information about whichever vintage croton piece you intend to buy. You can easily compare pictures and available information to determine whether or not you're making a mistake.
Hire an Appraiser
An Appraiser is an expert collector with knowledge of how to discern between authentic and fake vintage items. With an appraiser, you can safely purchase or confirm the originality of your croton piece.
Value of Vintage Croton Watches
Vintage Croton watches are unique items with varying values. There are Croton diamond watches, and there are plain Croton watches. However, the watch's value doesn't rest on only the materials used.
Some factors that determine the value of vintage croton watches include:
Condition
The physical condition of your vintage Croton could either increase or decrease its overall value. When you decide to purchase or collect a Croton antique, do not discount a price because it looks highly aged. If you can't go for a rare piece, it's advisable you select one that has less obvious signs of use.
It's very rare to find a vintage croton watch in perfect condition. Sometimes the metal would be scratched or the glass covering. There could be dents or chips on some parts of the watch. In a few cases, the leather could show signs of peeling.
Some vintage watches have scratches that are deep enough to be felt by the palms, while some are visual. Visible scratches can be removed easily, while deep scratches are more difficult to fix. After existing for more than 120 years, it would be very difficult for a piece to be without scratches—however, the fewer the blemishes, the lesser the value reductions.
On the other hand, dents are much more difficult to resolve than scratches. Moreso, there are various forms of dents, depending on the appearance and severity. Removing a dent from a vintage croton watch would take a considerable amount of money and expertise. The more dents a croton has, the less value it holds.
The condition of the watch is not only about the aesthetic point of view. The working condition of all parts of the watch must be considered.
The functionality of a Vintage Croton
The operational ability of the watch also determines its value. The hands of the watch must move in the right direction, and the watch must be as accurate as possible. All unidirectional rotating pieces must move as they were designed to. The bezel must move freely without any hindrance. The watch's clasp must also slide into the correct position with no challenges.
Other fits like the crown, screw-down or not, must fully click in positions.
The internal environment of a vintage Croton is saved from moisture damage by screw-down crowns that are tightly fitted to prevent water from seeping. All other openings in the watch are tightly sealed. Don't attempt to test the water resistance ability of your croton watch yourself. A professional knows what to do before subjecting the timepiece to multiple pressure tests so it won't result in permanent damage.
Watch Case Material
Stainless steel is an affordable and common watch case material. Croton watches with stainless steel cases are less costly than those with solid gold cases.
Most Valuable Vintage Croton Watches
Indicators of highly value Croton Watches include:
No dents
Few or no scratches
Gold plated
Embellished plated
Embedded jewels
Hugh functionality
Accurate
Rare
No ticking sounds
Lightweight
Elaborate case
If your antique Croton Watch has at least five of the abovementioned requirements, you're in luck. You can immediately take steps to consult Croton watches experts for an accurate appraisal.
The Price of Vintage Croton Watches
The price of a vintage Croton watch is determined by its rarity, condition, age, and demand.
New croton watches can be purchased from about $400 upwards. At the same time, the vintage Croton watches can be priced anywhere from $100 depending on their condition, age, rarity, and sentimental value.
Do you know that the price of a croton watch could indicate its authenticity? Croton watches are top-tier timepieces; hence if you find one that is priced too cheaply, chances are you may have a fake.
Vintage croton watches were designed and manufactured with expertise and extraordinary care, and it is only fitting that they are priced rightly. Croton diamond watches contain over ten diamond pieces and are sometimes gold-plated.
The collections of Croton watch that we've come across reflect the intense work put into their creation. On a renowned online site known as 1st dibs, the price of croton vintage watches starts from $500. In contrast, the most expensive pieces sell out at $3,800.
Price Comparison
It is never a bad idea to compare the prices of vintage watches. This gives a novice collector an idea of whether he has correctly priced his piece or he's overpaying to purchase a vintage timepiece.
Currently, eBay is the best site to compare the prices of vintage items. Search for your item on the site, or something similar to it (compare with pictures), then filter out the results to have only "sold items" displayed.
For example;
Here is a Vintage Croton Watch known as the Nivada Grenchen Chronomaster watch. It is a rare model that features the Valjoux Caliber. It is pretty limited in supply, as only a few pieces were manufactured in 1967.
Collectors are drawn to this piece because of its beveled step counters. On eBay "sold item" page for vintage croton watches, it is priced at $3,500.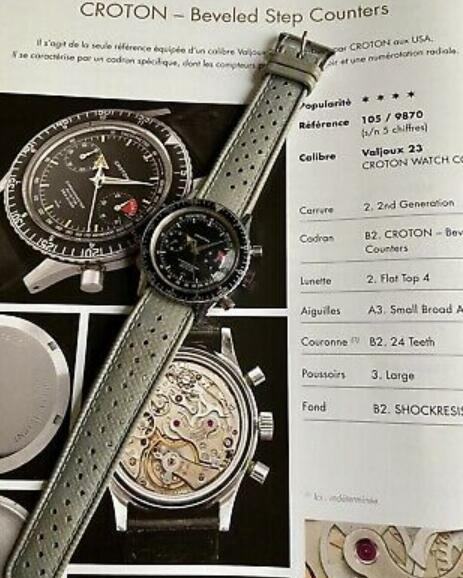 This tells you that similar pieces in the same condition could cost as high as this or more.
Cross-section of other sold Vintage Croton watches on eBay
Best Places to Buy Vintage Croton Watches
Vintage Croton watches can be found for sale at different vintage jewelry stores. You can get the best bargains for vintage watches in person. The chances of haggling prices online are very few.
Croton watches are diverse. The brand itself isn't rare, but some watches are. No single retailer could have over two hundred models of vintage croton watches in stock. If you have a particular model of Croton Watch in mind, here are some places you could check for it.
Barnebys
1stDibs
eBay
Ruby Lane
Etsy
Amazon
Auction houses like Christie's and Sotheby's
Flea Markets
Auctions
Vintage jewelry stores
There are online forums on Reddit (Subreddit) or Collector's Weekly where you could write a post about your vintage Croton watches. These online forums can also help you identify your timepieces. It's like gathering a herd of vintage watch fans in a group. Make sure you join active forums that accept ads. You may be lucky enough to immediately find a collector who is ready to pay thousands for your piece.
Other tips for selling or buying antique croton watches include:
Do good research to get the actual price of your watch.
Get second and third opinions about your watches from reputable collectors.
Pay an appraiser to give an estimated cost.
Consider shipping and tax fees when listing your watches.
How to Properly Maintain Your croton Watches
Like other antique items, vintage Croton watches need exquisite care and maintenance practices.
Many Vintage Croton models do not require much care and maintenance, but this doesn't mean they should be neglected. If anything, these watches must have their batteries replaced at least once in two years.
Most of the models use quartz movements. These pieces do not require much, as they are highly reliable and remain accurate for long.
It's not a bad idea to take your Vintage Croton watch models to authorized dealers to have them checked every few years. This way, you can ensure every tiny piece within the watch is rightly positioned. Don't ever use water to wash your vintage watches.
Always keep your vintage watch collections in cool, dry containers. Keep them away from overly hot or cold locations, and make sure they're not exposed to moisture.
In addition to these, you should keep your vintage timepieces away from magnetic fields. This could displace the fittings within the cases.
Last Words
When it comes to durability, diversity, and affordability, vintage cartoon watches belong somewhere in the top five. These traditional timeless timepieces, with their modest look, are a worthy investment.
Regardless of your preferred specifications, there would be a specific edgy or crazy-colored, affordable, in-your-face styled croton watch that would meet all your requirements. And if you prefer the plain designs, there are dozens of croton watches that fit this bill.
Remember to prioritize the condition of the watch over any other things. If the timepiece requires restoration, you should consider the cost and effort put into reconditioning it before making your final decision.