Antique Elgin Pocket Watches may sound foreign to you as a new collector because they aren't a popular Swiss brand. However, they're by no means inferior antique pieces as they had a century-long influence on the American pocket watch market.
As an understated timepiece, you may wonder, "Why do Collectors love antique Elgin pocket watches?"
The answers lie in the long Elgin's history, and we'll fill you in on all the necessary information from Identification to Valuation. First, let's talk about the antique Elgin watch that propelled America into industrialization.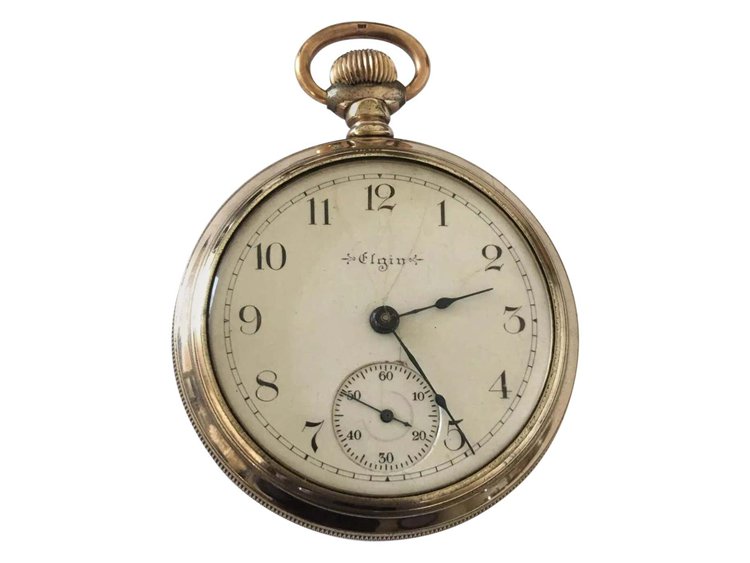 History of Antique Elgin Pocket Watches
Late 19th Century
The Antique Elgin Pocket Watch Company's history starts in the 19th century, at the end of the American Civil War. Its name then was the "National Watch Company," but its popularity within its home city influenced a change to "Elgin National Watch Company." 
The new company drove innovation by mass-producing high-quality machine-made pocket watches and within a short period, Elgin Watch Co. achieved its goal- making affordable antique watches.
Elgin National Watch Co. shared the spotlight with the prestigious Waltham Watch Co in its early days. They reigned supreme as the premiere middle-ground watchmaking companies in the USA – neither highest-grade nor cheap-grade.
After six months of production, its first model, the 18-size BW Raymond temperature adjusted pocket watch, stormed the market in 1867.
This name was a tribute to one of the founding fathers – Benjamin W. Raymond. The City of Elgin became the first auction buyer dropping $15,000 on the timepiece event though it retailed for $117.
By 1880, Elgin National Watch Co. introduced the Stem-wound movement to upgrade its past two decades key-wound system.
World War I and II Impact
By 1910, Elgin joined the pioneers of the wristwatch movement in the USA. It made several self-wound movement wristwatches within ten years – the 607, 618, 760, and 761 calibers. During this time, Elgin National Watch Co. trained the U.S. Military on repair techniques for its artillery.
1939 – 1945 saw the Second World War, which made Elgin National Watch Co. channel its resources towards Military-grade watches. It thrived in this line for a while until the finale of WWII.
The Second World War's end affected the watchmaking industry as a whole. Antique artisans had to compete with new players who used cheaper and more affordable materials.
And although Elgin National Watch Co. tried diversifying clockmaking, radios, and wedding rings, it couldn't survive the new system.
Eventually, after an almost 100-year run, the business hung its boots in 1968, then changed its name to Elgin National Industries in 1970.
Being a mass-producing brand makes antique Elgin pocket watches a favorite amongst collectors because their spare parts are readily available.
Types of Antique Elgin Pocket Watch
Antique Elgin Pocket Watches come in two broad types – the Railroad Models and Standard Watches.
The Railroad Pocket Watches suited the Railroad industry's high-accuracy needs making it one of the best grades. Also, you may notice a difference in the designs; whereas some have open faces, others have enclosed frames.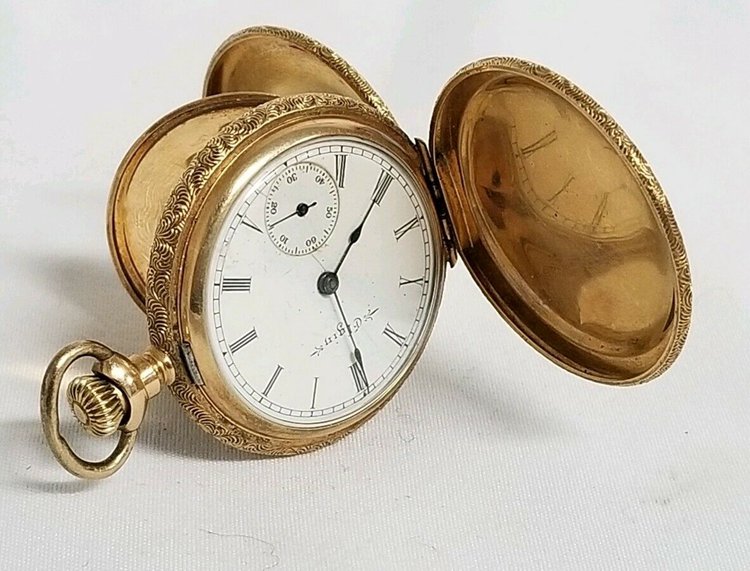 Elgin A-11 Military Ordinance Watch
Like most watchmakers during the Second World War, Elgin Watch Co. focused on producing military-grade artillery.
The company made timepieces for the U.S. Navy, artillery shells fused, aircraft instruments, sapphire bearings for cannons, and altimeters. The A-11 Military Ordinance Watch listed as TM 9-1575 served as the blueprint for subsequent timepieces of the 1945 era.
This model has a monochrome black and white standard one to twelve numeric dials featuring a second mini seconds and minutes scale on the dial's outer edge. The A-11 Military Ordinance Watch worn the Army-Navy "E" awards ten times.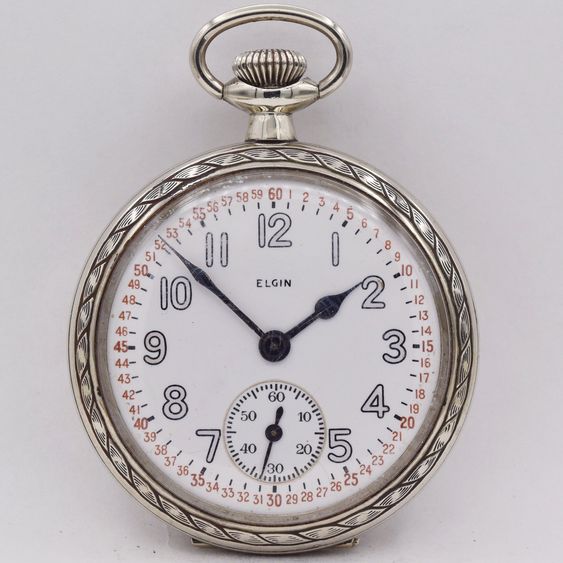 The Lady and The Tiger (c. the 1920s)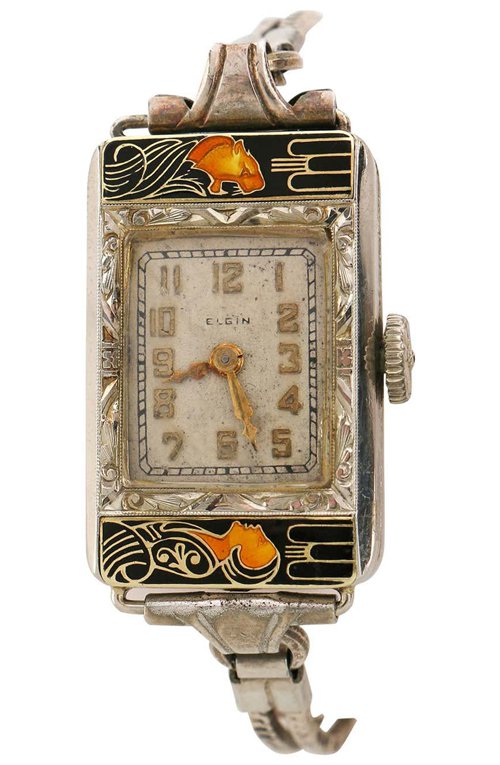 The 1920s issued Lady and the Tiger model featured exquisite craftmanship. Its 14K gold-plated rectangular dial had two neon engravements of a Tiger's head above and Lady's silhouette below. This model is so rare it sells for $2,500 to $10,000.
Elgin Military Deck Watch (Royal Navy) c.1943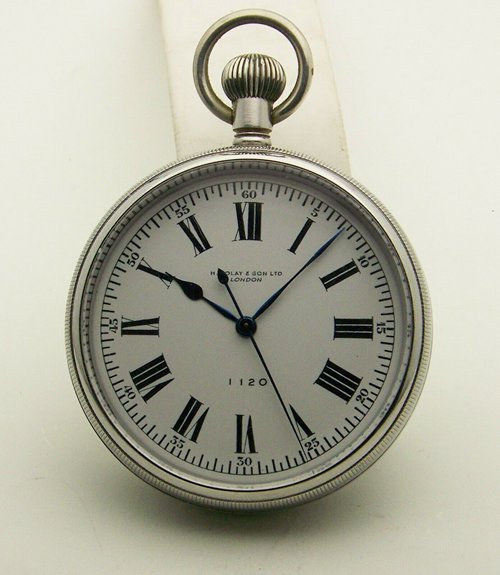 The Elgin Military Deck Watch has a circular dial with 1 – 12 hours primary numbering and secondary numbering in multiples of 5 up to 60. It's a Navy deck watch with a chrome-plated brass screw-back encasement.
It has a crown beneath the 12-hour and the Elgin logo in capital letters above the 6-hour. Some of them had hunter cases, while others were open-framed designs.
American Military Center Seconds Pocket Watch
The antique Military Center Seconds Pocket Watch has an open frame featuring four hands – two regular hour and minute indicators, a single thin rotating second timer, and a mini red winding 24-hour indicator.
Unlike most later models, it has a 24-hour primary numbering and a multiple of 5 until 0(60) secondary numbering.
Military Navigation Center Seconds Keyless
The Military Navigation Center Seconds Keyless is similar to the American Military Center Seconds Pocket Watch with slight differences.
Firstly, it has a 1 – 12 hours direct numeric dial, with 5 – 60 secondary numbering on the outer edge. It houses three hands – the minute and hours indicators and a thin rotating second indicator.
The dial sits in a round stainless-steel frame with a giant crown wound on the head. There is a crown beneath the 12-hour indicator and an ELGIN logo above the 6-hour sign.
Identification of Antique Elgin Pocket Watches
As high-valued historical pieces, antique Elgin Pocket Watches risk counterfeiting, and you need to learn the signs of genuine ones. Identifying antique pieces is a learned art, and you can start your lesson here. Every little detail on a pocket watchpoints to its production era.
The production era is a broad giveaway for other identifications like Material, Logo, Serial Number, and Model.
Logo
You can't miss the distinct Elgin logo of a running winged man, holding a clock in one hand and a weapon on the other.
Also, look on the dial's face for the stylistic Elgin brand name written beneath the 12. This logo style lasted until the late 1960s when the brand switched to a simple "E" sign.
Don't panic yet if you don't read "Elgin" or "E" on the dial. It may be a subsidiary model, so confirm the official Elgin database once again. Also, you shouldn't see a crown on the logo name.
The star on the dial appeared between 1933 to the late 1940s, and then the Dura Power logo came in 1946. By 1951, Elgin National Watch Co. replaced it with the Shockmaster and switched it for the DuraBalance in 1958.
Casing
Before the 1960s, the company marked its inner cases with "Cased and Timed by the Elgin National Watch Co."
Please beware of antique pocket watches bearing "Elgin Movement" or the above moniker without other signs. Sometimes, other companies used Elgin parts in their timepieces.
Although all the cases in a model are the same, the materials often differ.
Serial Number
You can identify your antique Elgin Pocket Watch with the Serial Number etched on the movement.
Please note this digit isn't the same as your case's serial number, as those are almost irrelevant. Instead, pry open the case on the back, check the mechanics (movement) for a sequential digit, and look it up in the Elgin Watch Database.
Elgin National Watch Co. stopped adding serial numbers on movements in 1956. It, however, doesn't indicate the production year because the company stored movements for years before inserting them into cases.
Check out this Comprehensive Serial Number table
The 1900s
| | |
| --- | --- |
| 1900 | 9,100,000 |
| 1901 | 9,350,000 |
| 1902 | 9,755,000 |
| 1903 | 10,100,000 |
| 1904 | 11,000,000 |
| 1905 | 12,100,000 |
| 1906 | 12,500,000 |
| 1907 | 13,100,000 |
| 1908 | 13,550,000 |
| 1909 | 14,100,000 |
The 1910s
| | |
| --- | --- |
| 1910 | 15,100,000 |
| 1911 | 16,000,000 |
| 1912 | 17,000,000 |
| 1913 | 17,550,000 |
| 1914 | 18,000,000 |
| 1915 | 19,000,000 |
| 1916 | 20,000,000 |
| 1917 | 21,000,000 |
| 1918 | 22,500,000 |
| 1919 | 23,000,000 |
The 1920s
| | |
| --- | --- |
| 1920 | 24,000,000 |
| 1921 | 25,000,000 |
| 1922 | 26,000,000 |
| 1923 | 27,000,000 |
| 1924 | 28,000,000 |
| 1925 | 29,000,000 |
| 1926 | 30,000,000 |
| 1927 | 31,000,000 |
| 1928 | 32,000,000 |
| 1929 | 33,000,000 |
The 1930s
| | |
| --- | --- |
| 1930 | 33,300,000 |
| 1931 | 33,500,000 |
| 1932 | 33,700,000 |
| 1933 | 34,000,000 |
| 1934 | 35,000,000 |
| 1935 | 35,500,000 |
| 1936 | 36,200,000 |
| 1937 | 37,000,000 |
| 1938 | 37,900,000 |
| 1939 | 38,200,000 |
The 1940s
| | |
| --- | --- |
| 1940 | 39,100,000 |
| 1941 | 40,200,000 |
| 1942 | 41,100,000 |
| 1943 | 42,200,000 |
| 1944 | 42,600,000 |
| 1945 | 43,200,000 |
| 1946 | 44,000,000 |
| 1947 | 45,000,000 |
| 1948 | 46,000,000 |
| 1949 | 47,000,000 |
The 1950s
| | |
| --- | --- |
| 1950 | 48,000,000 |
| 1951 | 50,000,000 |
| 1952 | 52,000,000 |
| 1953 | 53,300,000 |
| 1954 | 54,000,000 |
| 1955 | 54,500,000 |
| 1956 | 55,000,000 |
Opening An Elgin Pocket Watch's Back Case
Place your watch on a face flat on a smooth surface, then guide it with your forefinger and thumb. Use a star tip screwdriver to unscrew the bolts holding the face to the body. Pull the knob on the small hinge above the 12 on the dial to release the holding pins.
Model
You can additionally identify the model by matching the case to renowned online catalogs samples. Alternatively, you may crosscheck the serial number on the movement to ascertain the production year.
Check the NAWCC Private Label Database for outsourced and customized models. Read the 4-digit numbers on the "Cased and Timed by the Elgin National Watch Co." moniker for model I.D. Watch out for the lugs, straps, unique lines.
You can identify a model from the dial's size. The Railroad models were 18-sized timepieces, while the earlier 1869 antique Elgin Pocket Watches were 10-sized. Also, inspect the jeweled movement on the Lord Elgin model for 21 pieces in a gold backplate.
Valuation of Antique Elgin Pocket Watch
Elgin National Watch Co. timepieces range from $200 to $5,000 depending on certain factors: Age, Material, Rarity, Condition, and Model. You can buy The Complete Price Guide to Watches book by Gilbert, Engle, and Shugart.
Age
Typically, antique timepieces command the highest value based on their age.
The rationale being older products use high-quality handcrafted materials that withstand the test of time. Having survived for centuries (antiques are 100 years old and above), collectors covet antique Elgin pocket Watches.
The pre-World Wars models sit at the top of the food chain while the post-war designs command lesser values. Since commercial production was seized in 1945, every design before the cancellation becomes rare. Keep reading to learn about antique rarity concerning value.
Material
Although antique Elgin Pocket Watches were mass-produced, the company didn't scrimp on the material.
The early model used high-quality materials like Gold, Silver, and Brass to encase the dials. The common people rushed the Elgin brand because they got durable timepieces at affordable prices.
Also, because Elgin watches were mass-produced, fixing them is easy, unlike other handcrafted antique timepieces. You can get replacement materials easily if you wish to restore your antique Elgin Pocket Watch.
Rarity
Although popular in their time, Elgin pocket watches are now depleting in supply. The second world war's end affected the production, meaning antique Elgin pocket watches became extinct c. 1945. Models from the 19th and early 20th centuries are top-shelf on the value scale.
Condition
Antique Elgin Pocket Watches still hold sway in today's market because most work in excellent condition.
The producers' attention to detail and determination to make high-quality timepieces paid off. The regular antique Elgin pocket watches retail for $50 – $300, while the rare models command higher costs no less than $1,000.
Model
Each antique Elgin Pocket Watch model has unique features that appreciate its value.
For instance, the 18K gold-plated watches cost a premium at a $500 starting bid, slightly more than the 14K model. Standard antique Elgin pocket watch models retail at affordable prices less than $100.
Concluding Thoughts
Identification and Valuation of antique Elgin pocket watches may seem daunting for a new collector. However, following our guidance, you can appraise any model seamlessly. There are a few key points that'll help you always.
Antique Elgin Pocket Watches are models 100 years or older. Think pre-world war I.
Antique Elgin Pocket Watches cost more than Vintage models due to their rarity and age.
Pocket Watches with "Elgin Movement" often indicate a marriage or franchise.