Making jelly in the 21st century is way easier than when the first recorded jelly was made. Well, a lot can and should change with time. It's not a rather complicated process because plastic molds are now easily available. Yet, you can't write off the joy one is bound to have when they come across an old jello mold. A vintage copper jello mold is especially a gem for the collector's kitchen and vintage seller alike.
Let's dig into the history, styles and value of copper jello molds, shall we?
The History and Different Styles of Copper Jello Molds
Some folks may find the terms jello and gelatin confusing so it makes sense to lay out the difference between these two from the onset. The easiest and one that you will not be forgetting anytime soon is that gelatin is a colorless and tasteless food protein that is derived from collagen. It is used as a gelling agent in different industries including the food industry in the preparation of the relished gelatin dessert, also called Jello, or Jelly if you are from the UK.
The Victorian era saw jello molds become a popular kitchen item. Every kitchen in the 18th and 19th centuries had a wide variety of molds to use for great presentations, birthday parties and as a decoration on the kitchen walls. The original molds were mostly natural until the 17th century when mold makers felt the need to show out. The first 1750s ceramic jelly molds were made from stoneware and greatly improved jelly presentation. They were salt-glazed and often in single-serve geometric shapes.
At the start of the 18th century, they made thin molds from cream and white stoneware. Metal jelly molds came up in 1830 or thereabout along with more decorated heavy brown stoneware. Today, these can cost anything between $90 and $200 depending on the maker. Of importance to note however, is that most of the ones you will find today are from the 19th century to the 1950s. These original molds by British Staffordshire potteries came in deep and different shapes. Some of the major manufacturers included Davenport, Minton and Doulton. Thanks to their glazing bluish tinge, minton pieces were often the more visible pieces.
Glass molds were highly desired from the 1930s onward until the plastic and aluminum molds surfaced. Copper molds, a sign of wealth and style, were mainly preferred by the high class folks starting the 1920s while the average households used tin molds.
Copper jello molds were especially popular in American homes during the 1950s and 60s. This was made possible by the fact that copper mining was at an all-time high and the sector was more available for the public's access. This meant smiths could play around with shapes, designs, and more practical home uses for copper. So they made light, long-lasting, more affordable and easy to mold copper jello molds with less intricate but gorgeous designs of the specific period's popular themes such as nature scenes, sports and so on.
Yes, it helped that the soft metal was easy to decorate, and people used them to make all sorts of Victorian dishes such as sherry-infused calf's-feet jelly and savory chicken-and-ham raised pie in the 20th century.
How much are Vintage copper jello molds worth?
Picture this, you have come across this copper jelly mold at an antique or auction store. The attractive copper mold caught your attention so you pick it up, look at it hastily and put it down thinking, it costs what, $4? It is cute and all with its complex design but maybe it isn't such a steal, you conclude as you put it down with zero interest.
There are two possibilities. You either missed out on becoming the owner of a vintage copper mold out of ignorance or you are a collector with similar ones and want to invest in one of those 20th century Shelley ones that cost about $200 because they are in the perfect condition. We truly hope the latter is the case.
Forget the Shelly molds from the 20th century, if you get a copper mold in sublime condition from the late 19th century, more so the 1870s, you will be about $250 richer. These copper molds were mainly by London metal-workers' firm Benham & Froud are especially highly sought after today. If it has the cipher 'VR' with a crown or a stamped orb and cross trademark, it could go for more than $650.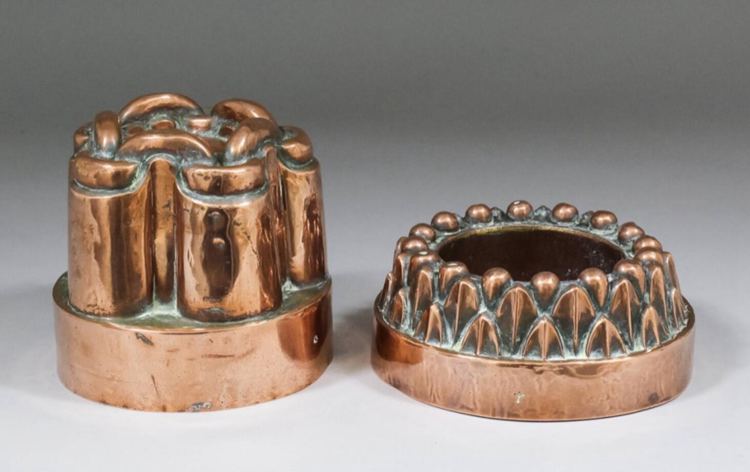 This copper jello mold pair's estimated fetch is $298.
Let's get deeper into this and see what factors will affect the value of a vintage copper jello mold.
Factors Influencing the Value of Vintage Copper Molds
Markings
Before you ask how to go about identifying a vintage copper jello mold, here is how you do it. Look for markings or any sign that indicate who the manufacturer was because that will influence its value a great deal. For instance, the marking that reveals the manufacturer as Benham and Sons is if you see its signature orbs, one of which is a triple diamond.
This is the triple diamond marking for a Benham and Sons jelly mold.
Rarity and Design
Once you have identified the markings and used them to figure out who the manufacturer is, only then can you tell or google how rare the copper jelly mold is by its design. Two copper jello molds may have been by the same manufacturer or different manufacturers using the same design.
A second collateral is some molds mirrored the period's popular design topics. For example, this quality and ready to use French vintage copper jelly mold. Its style and theme totally give the stunning vintage French-found Swiss Copper it claims to have.
You can grab it on Etsy for $120.
Condition
In the same way copper jelly molds showed sophistication back in the day, owning a vintage copper jelly mold is the rage among collectors. Even better when the collectible is in the best condition – without scratches or cracks – because copper jelly molds are hard to repair from their small and flimsy nature.
It is for this same reason that a vintage copper jelly mold with no dents will cost upto twice as much as other molds.
This pair of antique copper molds with slightly worn interiors, a few dents and the usual misshape from normal use is worth $265. Imagine how much it would have listed for if it didn't have a single dent!
Size
No matter what anyone says, size always matters. Especially when it comes to valuing a copper jello mold. Unless there are exceptions from the factors listed above, larger molds that can be used to make jell-o salad are pricier than ice rings which are perfect for punch.
How to Determine Value of a Vintage Copper Mold
Markings
Remember us saying how markings influence a vintage copper jello mold's value? Here's how that plays out. There ought to be a maker's mark – logo, branding, serial number. Check for registered design marks, they will also help with dating. Only remember that these don't tell the manufacture date but the mold's design date.
Having known the mold's maker, you will now only need to visit The Old Copper website and check them out. The website is a full blown database of most copper manufacturers in the world. You should find your copper jello mold's manufacturer and be able to tell your mold's true worth in a trice!
Rarity and Design
The design and rarity of a vintage copper jelly mold coincide. A more intricate design means you can't find it anywhere easily which translates to it being rare. You would want such a stunning vintage copper jelly mold to cost an arm and a leg for your buyer. They'll be getting an astral addition to their collection after all.
Google would come in handy with this. As you begin to make it your friend as a vintage collector or seller, google lens would be a good place to start.
Condition
Seeing the condition of a copper jelly mold matters a great deal, it is only practical to buy one whose condition is good. Better still, if you are selling one that is without dents, you better price it at the value it so deserves. It will effortlessly make you a good amount of money on a rainy day.
Something to note though, due to their delicate nature, most copper jello molds will not be condition issues free. You just have to decide how much dent or scratch you are willing to overlook as the buyer.
Size
We said that size matters and it does but not always. Scratch that, what we mean is it is one of the things you consider after looking at your copper jello mold's condition, design and markings. One should never completely ignore the size as they list their jello mold or when looking to buy one.
Be the Proud Owner of These Valuable Vintage Copper Molds
Here is a list of some of the most valuable vintage copper jello molds you might want to add to your mold collection.
#10
We know this post leans more towards vintage copper jelly molds but how can we not plug the lovely collector that is you, this antique copper jelly mold from the 19th century? How does one not immediately fall in love with it at first glance? Not only is its helmet shape highly unusual, it is a mold with a history to it. Back in those days, French firefighters and military officers wore these crested helmets.
What is stopping you from owning this pre-owned copper coated helmet mold at only $595.
#9
Now this hand hammered aspic food or copper jelly mold from the late 1800 is should be every collector's dream. Imagine how many hands have held it or how many mouths it has helped feed over the years and you have reason enough to spend your hard earned money on this work of art.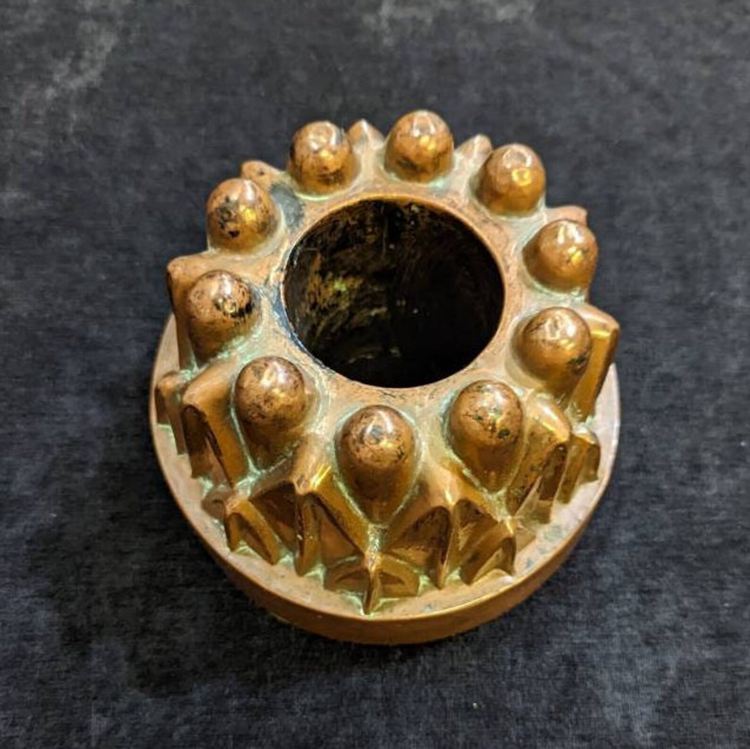 Get this hand hammered copper jelly mold as a decoration for your kitchen or pantry walls, or to use for your potted plant. They aren't easy to find and you won't regret spending that $478!
#8
For only $395, you can be the rightful keeper of a hand hammered round dome food mold from the late 1800s. The brass with zinc lining still has its original hammer markers and if we are being honest, it hasn't lost its 'hardy foods and kitchen with a maid' vibe to this day.

The hand hammered late 1800s round dome Food Mold is worth $395.
#7
This 19th century French Antique Copper Cake Mold with a PARIS Chaudronnerie BRIFFAULT stamp and in excellent antique condition is worth $365.
#6
If you are one to make up your mind easily about collectibles, this 19th century Benham & Froud jello mold piece is just the right fit for your antique kitchen collection. It is worth $348.
Click here to check it out.
#5
Okay, you don't have $595 to spend on a vintage copper jello mold and that is totally fine since we found this slightly cheaper option for you. Also, how cute is it?! This ice cream French chateau mold is the missing piece that will make your kitchen stand out. Made in the 1900s from solid copper, this is a piece you must not sleep on as a collector.
Are you convinced to get it yet?
#4
You will only get the rather large 19th Century Victorian copper three-tier jelly mold with an orb and cross stamp below for $301. Imagine having to trade such a small amount for your vintage heart's joy?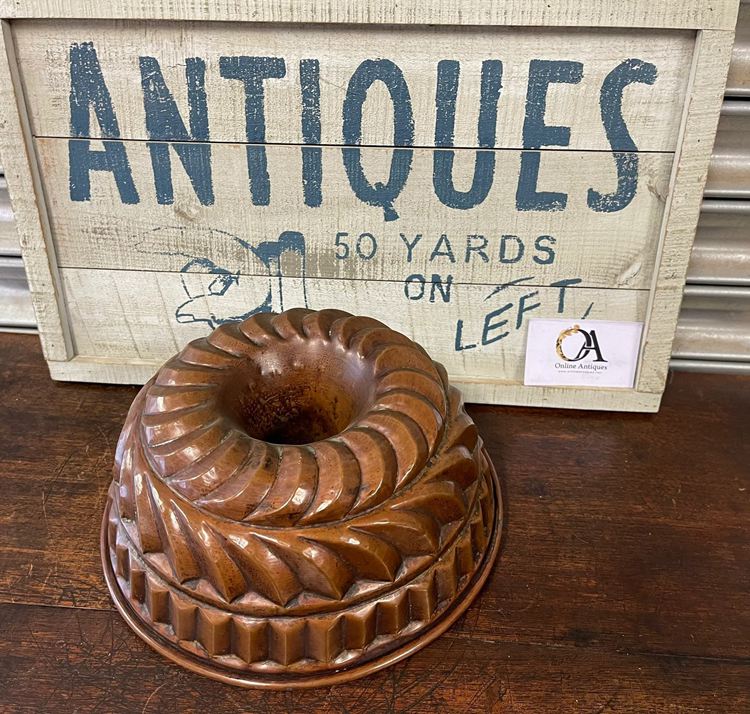 Have a look here.
#3
Made of copper and tin material, this $125 worth copper bundt jelly mold looks anything but antique. You would think some manufacturer came up with it recently but the truth is it is a vintage piece that was hand made by an artisan between the early and mid 1900s using traditional methods.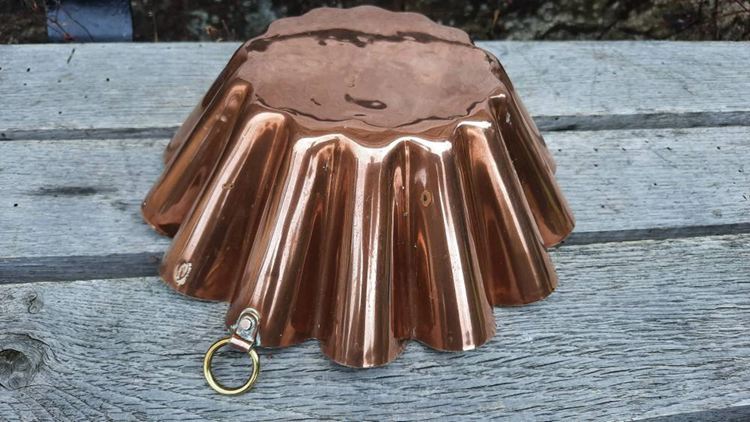 See it here and look out for its maker's mark.
#2
Great Condition with zero stains, dirt, dents, or cracks and with a beautiful patina, a wise collector would surely make a point to check this 19th century antique copper and tin tiered mold. There's a catch though, this rather heavy piece is only suitable for decorative purposes and would only be a food safety non-issue if its new owner had it re-tinned.
What are you waiting for? Check it out.
#1
Last but not in the least, least are these magnificent three Wagner Kupfer copper molds. Made in West Germany pre 1989. Whether you intend to use them for their original purpose or for them to sit on your kitchen cabinet or wall, you are spoilt for choices.
See how little you will need to pay for these here.
Buying and Selling Vintage Copper Molds
Whether you are a buyer or seller, you need to know where you can buy or auction authentic copper jelly molds today and so this final part offers a quick guide on just that.
They may be found everywhere from yard sales and charity shops to the room in your home that's full of antique stuff you've never actually sat to go through. The easiest though is online stores. Everything has gone online these days, no? In case you are wondering where to find authentic pieces online, there are a number of places to start.
Provided you do your research well on the different copper jelly molds. Online stores such as 1stDibs, Ebay, Etsy, Ruby Lane and The Internet Antique Shop are some of the websites you can check out. If you are looking for one with relatively low pricing of $10-$20, eBay is your plug. If 'a bit highly priced (from $20 to $50) with a diverse range of options' is your jam, then go to the popular interior design site Etsy and for all your rare copper jello mold needs, the 1stDibs auction site has got you covered.
Other sites you can go to and trust for a good vintage copper jelly mold recommendation are Collectorsweekly and liveauctioneers. If you're a collector and have an idea on where to start with identifying, valuing and selling your first antique collectible, take a photo of your vintage copper jello mold with Google lens and wait for the magic to happen.
Final Thoughts and Key Points to Remember
That copper jello molds make for great kitchen collectibles is indisputable. Yet, as earlier discussed, they have more than one use and those with beautiful designs offer a good view. We should also argue that if everyone owned a unique copper jello mold in their home, it would be an easy conversation starter as the history of antiques is such an interesting conversation to have.
Lastly, here is a simple reminder to make sure you have your copper jelly molds re-tinned if you are to use them for cooking and we have a plug for that too – the specialty shop Rocky Mountain Retinning
Happy vintage copper jello mold collecting and selling!