Are you a fan of antique furniture? There are many reasons why people love antique furniture, especially in today's modern era.
All great trend goes through a cycle. Something worthless becomes treasured and ultimately enters the vintage category. Antique stuff from previous generations becomes valuables. The same goes true for high chairs.
The styles we consider fashionable now are influenced by masterpieces from the past. Those who rejected the inexpensive, plastic high chairs of the 1990s and early 2000s discovered satisfaction in the opposite. So:
Where did these antique high chairs come from?
History Of Antique Wooden High Chairs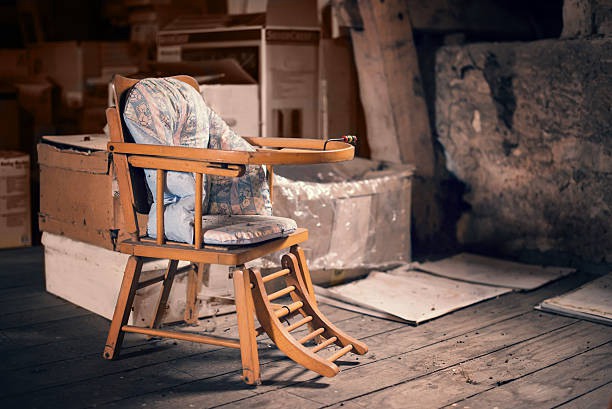 Chairs are possibly the most diverse and unique furniture piece in existence and have changed in size, shape, and durability to meet the shifting patterns of women's and men's styles.
To appreciate how we fell out of love with the modern plastic high chair, we must first appreciate how we fell in love with the wooden vintage high chair.
The mass manufacture of high chairs started in the 1950s. Manufacturing advancements made this the most realistic answer. Wood began to give way to metal frames, plastic, and an effort at elegant designs. Plastic grew ever more common and affordable as the century passed.
While this had its advantages in the near term, the plastic frames weren't easy to clean and durable.
So, it's better to look at the previous designs for a better answer.
There is significant disagreement over the origins of the high chair. According to some, the earliest appears to date from the late nineteenth century, in the hands of the Jacobs family.
Wooden high chairs from the 18th century and earlier reveal that woodworkers were modifying styles for the younger generation.
The Metropolitan Art Museum owns a 17th-century high chair,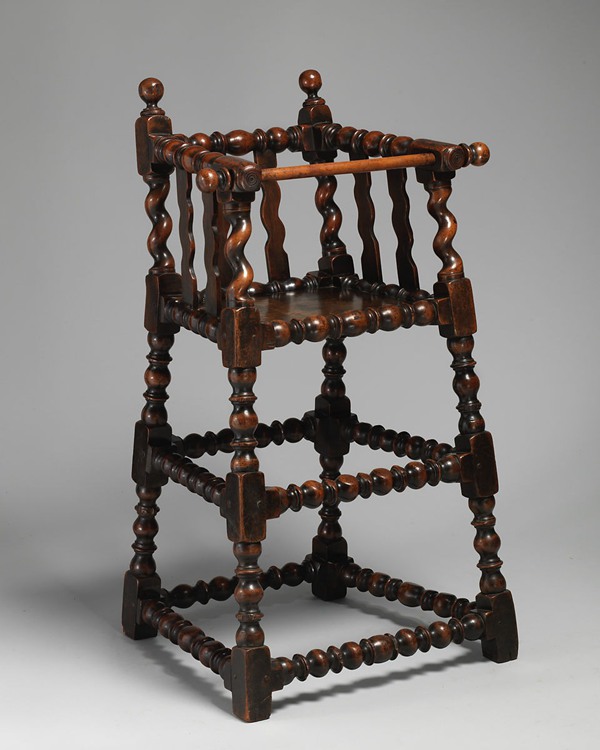 while the Museum of Fine Arts Boston owns an early 18th-century version.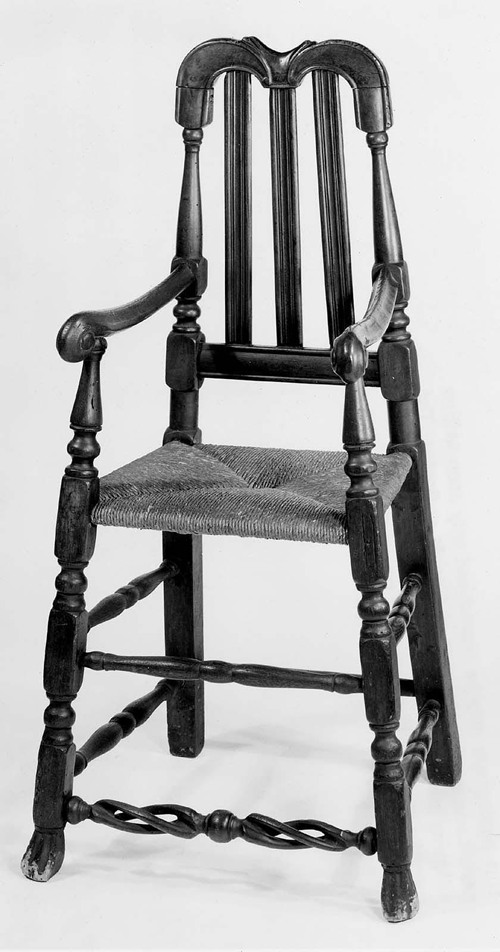 Why Do We Call It a High Chair?
A high chair is so named because it is a higher version of a standard chair; if they do not have a tray attached, they are referred to as junior chairs.
People were searching for a means to raise their babies to table height so that they could join in the activities, be safe, and make it much easier for parents to feed them.
There are currently various reproductions of the old high chair available, some with trays or even without. Some attach to the table, while others may be fastened into a standard chair and yet others are freestanding.
There are many styles and materials to suit interiors and all budgets, but they are not that far off from the earliest recognized high chair designs.
Incredibly, a design for toddlers from hundreds of years ago is still fascinating!
The Antique High Chair With Wheels And Other Unique Ideas
When we look at these iconic chairs, we often forget that antique high chair designs were far more diversified. This wasn't just a place to sit and eat in your chair.
This was a one-of-a-kind piece of furniture that might make life easier for everyone involved. The nicest antique baby high chair may be transformed into something else.
They are significantly more advanced than today's simplistic models!
It has;
Movable chairs on wheels that could be moved between rooms
Huge seats that resemble cupboards with storage underneath
An antique baby high chair rocker that might relax children to sleep after meals
Storage for an antique foldable wooden high chair
In terms of baby high chairs, there's no such thing as a concept or feature. Modern chairs are practical because of their adjustable structure and easy-to-clean materials. However, similar themes may be seen in these vintage wooden high chairs for babies.
Many of these chairs were pieces of art in their own right, with hand-carved panels and turned spindles. The intricate decorations would have meant little to the youngsters sitting in the chair.
However, there was still an opportunity to brag to other families. The more complicated and functional the chair, the better off you were as a parent.
An antique wooden high chair tray from this era also demonstrates flair and craftsmanship.
Antique Wooden High Chairs From The Early To Mid-Twentieth Century
Before mass-produced chairs got popular, the antique wooden chair was at its peak from the 1920s through the 1950s. The chairs had grown a little more subdued by the 1920s. T
here isn't as much wood or flexible functionality here. There is instead a plain wooden chair with a tray and a footrest.
A 1940s wooden high chair meets enough basic demands to be pleasant in a modern family household. The lighter wood and pine are a welcome contrast from the previous hefty mahogany and walnut.
A 1950's wooden high chair may be more difficult to obtain now that parents have moved on to padded seats and metal frames. These chairs lack the same classic beauty.
The 1970s wooden vintage high chair revolutionized the game and inspired modern manufacturers
Scandinavian classic high chair designs are still in demand today. Scandinavia's best showed us the way ahead in the second half of the twentieth century.
We could design a more beautiful, minimalist chair that was also functional. You are provided with a tray, seat, a restraint, and footrest.
Many of the types are customizable, with varying heights and configurations to accommodate people of various ages. This approach is evident in the designs of some of the most well-known businesses today.
A vintage wood high chair remains a popular option among parents
At this moment, the world's connection with plastic is irreparably damaged. While the best plastic baby chairs are not one-time-use items, they are not the best material in today's globe.
Millennial parents will favor high chairs made of natural, safe materials. Traditional Scandinavian style and old wood benches will appeal to them.
When possible, bamboo will almost probably be preferred as an eco-friendly choice. Those who cannot afford the more costly brands may be able to get used antique chairs online.
An antique wooden high chair design will always attract the interest of parents with the necessary room and funds. With today's upcycling and custom-building culture, there is a greater place for the hand-crafted wooden chair.
We can look for antique baby high chairs for sale and restore them for future generations. Many people would think of building their own as a woodworking hobby.
Other Styles Antique Wooden Chair
The antique chair was not always popular. Before the Middle Ages, the poor and middle classes sat on stools and benches.
The chair did not become a popular piece of furniture among the expanding middle-class group in Europe until the Renaissance, rather than a sign of great rank or riches.
With this "luxury" connection eliminated, the chair swiftly gained popularity throughout Europe, reflecting the prevalent trends of the time.
Old Antique Chairs
Chairs were typically made of wood, most often oaks, and were rarely cushioned until -the 1600s.
Once it became normal to add cushioning to them, leather was often used; subsequently, silk and velvet were popular for more luxury armchairs.
During this time, the "bergère" chair became popular among the French nobles. These completely cushioned armchairs were typically made of walnut.
The main feature of many of these chairs during this time was their size and durable design. They were extremely hefty since they were made of oak.
Chairs did not get lighter and smaller until the reign of Louis XIII when cane-back chairs became fashionable.
Expensive scrollwork or lovely semicircular designs joining all four legs became the standard. Scrolled legs and arms were popular throughout this time.
Meanwhile, the back splats frequently displayed a beautiful pattern of scrolls and spirals. Surprisingly, cavaliers were exiled into exile with Charles II popularizing this design of the chair.
Unfortunately, throughout the reigns of Mary II and William III in England, these exotic, graceful designs degraded into rectangular, stiffer seats.
More ornate versions from this era included cane backs and seats. The iconic Chippendale chair, with its intricately interwoven back, evolved from early models.
Chairs From The Early 18th Century
In the 18th century, informal, relaxed, nearly half-reclining posture led to advancements in chair design. French styles in chairs were the first that got popular in Paris at the time.
In the mid-1720s, Menuisiers started to produce Louis XV French chairs that don't seem to have stretchers. As a result, the smooth transition from curved seat rails to twisted legs was disrupted, which usually resulted in scroll feet.
According to strict guild restrictions that were imposed in France, french chairmaking was designated to the menuisier alone, whose skill was done in collaboration with upholsterers.
Both of these artisans specialized in the manufacture of seat furniture.
Antique Chairs From The Late 18th Century
Menuisiers introduced a variety of specialty chairs and called them creative names, such as the soft, cozy bergère.
The most popular woods for use in chairs were beech and walnut. To complement the wall paneling, craftsmen typically painted finishing in bright, clear colors.
Gilding was quite common. Walnut was commonly used in circumstances when the wood was left to its natural appearance.
In the late 1760s, the first Parisian old armchairs were produced. Although the design is linked with Louis XVI, the manufacture of these chairs began before his assuming power.
Architectural moldings and long tapered fluted legs linked by a block at the seat railing are characteristic of historical designs.
The chair was at its peak in the 18th century, mainly in England and France. They were also mentioned in Diderot's massive Encyclopédie.
The typical Louis Seize design chair featured a wide seat and an oval back. This chair was frequently made by craftsmen with round-reeded legs and falling arms.
Biedermeier-Style Chairs From The 19th Century
In response to Empire and French Neoclassical styles, Biedermeier furniture originated in Austria and Germany in the 1800s. As a result, it was one of the first kinds of middle-class furniture.
These chairs are often built of lighter woods like birch, maple, elm, and walnut and have simple, practical forms.
Geometric shapes were widely employed by the designers, who emphasized the wood grain. However, the decor was modest.
Although gilded work is rare in Biedermeier chairs, gold or black-painted decorations are common.
Where To Buy Antique Wooden High Chairs?
Wooden high antique chairs are easy to get due to their great quality craftsmanship. You may buy them at antique stores, thrift shops, and auctions, as well as at any local shop.
Aside from these local options, some online stores also sell wooden high chairs. So, you can easily buy antique wooden chairs online!
eBay
Antique high chairs from all centuries may be found on eBay. Remember to check that the chair can be delivered to your door before bidding on it.
When purchasing a large item like this, it's also wise to consider the delivery charges. If you don't find the perfect high chair, you can always check again.
On eBay, new items are listed regularly. Hopefully, you'll find your favorite one soon!
RubyLane
RubyLane is a perfect site to find practically any type of old furniture, including high chairs.
Although the variety isn't as big as at some other stores, the sellers are typically informed about the condition and history of the high chair.
Etsy
Etsy is a marketplace for craftsmen and antique stuff, and it has a decent range of wooden high chairs of various ages.
The store provides changes regularly, so if you're seeking something special, check back consistently.
Craigslist
Craigslist is a great source for old high chairs since it has classified advertisements in nearly every aspect of urban regions and many rural locations.
Look for postings with photographs to help you decide whether it's worthwhile to follow up. Check back frequently so you don't skip out on the best antique chair.
What To Look For Before Buying From The Sites Listed Above
When looking for an antique high chair, you'll come across specimens in a variety of conditions. To choose a good-condition high chair, follow these guidelines:
Check that the product is sturdy and does not wobble too much. Wobbly legs indicate that the furniture needs to be repaired.
Look for a whole chair with all of the original hardware. When used by youngsters, the tray should readily rise up or over the top of the chair.
Examine the caning for damage. If it's in bad shape, you might be able to locate someone to fix it. Restored caning improves the chair's utility and look but decreases its worth marginally.
Ensure that all wooden components are present and unbroken. The arms, footrest, and any other ornamental dowels should remain. If any are missing, you may have a tough time completing the chair.
Before purchasing an antique high chair, look for major damage such as gouges, broken dowels that have been re-glued, or mismatched hardware.
Things to Consider When Purchasing Wooden High Chairs
Buying a high chair involves a detailed examination of the aspects that each model supports, ranging from durability to convenience. After all, the comfort and safety of the toddlers are important.
With so many high chairs on the market these days, choosing the right high chair for a baby may not be such an easy job.
There are many different types of antique high chairs on the market, ranging from wood to plastic. When purchasing a wooden high chair, there are various factors to consider!
Sturdiness
Your baby's safety is important since you will be leaving him/her unattended in a high chair for a long period.
Even a hyperactive baby won't be able to topple a high chair made of sturdy materials such as wood. However, the foundation must be sufficiently wide to give stability.
Safety
In addition to the chair's durability, look for a crotch post to guarantee your youngster does not slip through.
A five-point harness safety restraint is also essential to keep the baby secure. The high chair trays must be secure and lockable to be safe.
Certified
A high chair that meets British Safety Standards ensures that the baby furniture is created with thorough quality control.
When purchasing a separate strap, check the label to confirm it is certified. Some standards for items in the United States include ASTM International and JPMA certifications.
Design And Style
Wooden high chairs are available in a variety of forms and patterns. Some are meant to grow with the child and may be adjusted to a variety of heights.
Trays can be removable for cleaning or built of washable pieces for convenience. From trendy to vintage, wooden high chairs are adaptable and easy to include in your home's décor.
Portability
Sometimes, taking a baby or moving a wooden high chair from one place to another get uncomfortable.
Chairs with integrated wheels are convenient, but make sure they lock securely for your baby's safety. The chair should also be simple to fold without squeezing your fingers.
Cleaning Ease
Food stuck in corners is certain to make a high chair quite dirty. That's why it's important to opt for a wooden high chair that is simple to clean.
Make certain that it is composed of solid wood rather than veneer. Look for trays and seat coverings that can be removed and washed when needed.
How much is an antique wooden high chair worth?
There is no set pricing for antique wooden high chairs, which can range from $50 to over $500 based on condition and any extra embellishments.
The ideal way to check the worth of an antique high chair would be to make comparisons with recent sales of similar designs.
Let's have a look at some antique high chairs sold recently!
Tips for Identifying the Different Types of Antique Wooden Chairs
While having your furniture appraised is the only accurate way to know what historical time it is from, there are a few features you may look for on your own to rule out any revival items from the antique:
Look for flaws
Even the most beautifully produced pieces by skilled woodworkers will have flaws due to the handmade creation process.
Sanding marks, Scratches, pencil lines, and some other such characteristics might suggest that you have a genuine antique object rather than a copied one.
Look for maker's markings underneath
It's generally a good idea to check for producer's marks on antique furniture since pieces by specific furniture makers and craftsmen are far more valuable than those manufactured in designs influenced by their style.
Look at the joinery
The method furniture manufacturers put pieces of furniture together changed over time. Glued-in dovetail joints first appeared in the early 18th century, followed by machine-made joints in the mid to late 19th century.
Final Verdict
High chairs have existed for hundreds of years, but their design has evolved. Parents then, like now, wanted a safe place for their children to eat and a way to raise them to table height.
Antique wooden high chairs remain an attractive decorative piece. You can also showcase a favorite doll to give a touch of warmth to the kitchen or dining area.
Your high chair will add charm and old-fashioned flair to your house no matter how you display it.
We hope that we have helped you understand the history of the high chair, including when they were developed and how they became popular!