A ladderback chair is also referred to as a slat-back chair or a fiddle-back chair. All these terms relate to the same style of chair used back in history. The chair consisted of horizontal spindles that provided the back support and resembled a ladder.
Typically, the back of these chairs had two tall uprights, between which several horizontal slats (usually 3 or 4) were fixed. The seat of the ladderback chairs was made of either cane or rush. This, however, was not an unbreakable rule as other materials could be used as per the buyer's preferences.
If you're looking to buy an antique ladderback chair, you should research its history, different styles, and their worth. Lucky for you, this guide contains all of the information you require and more.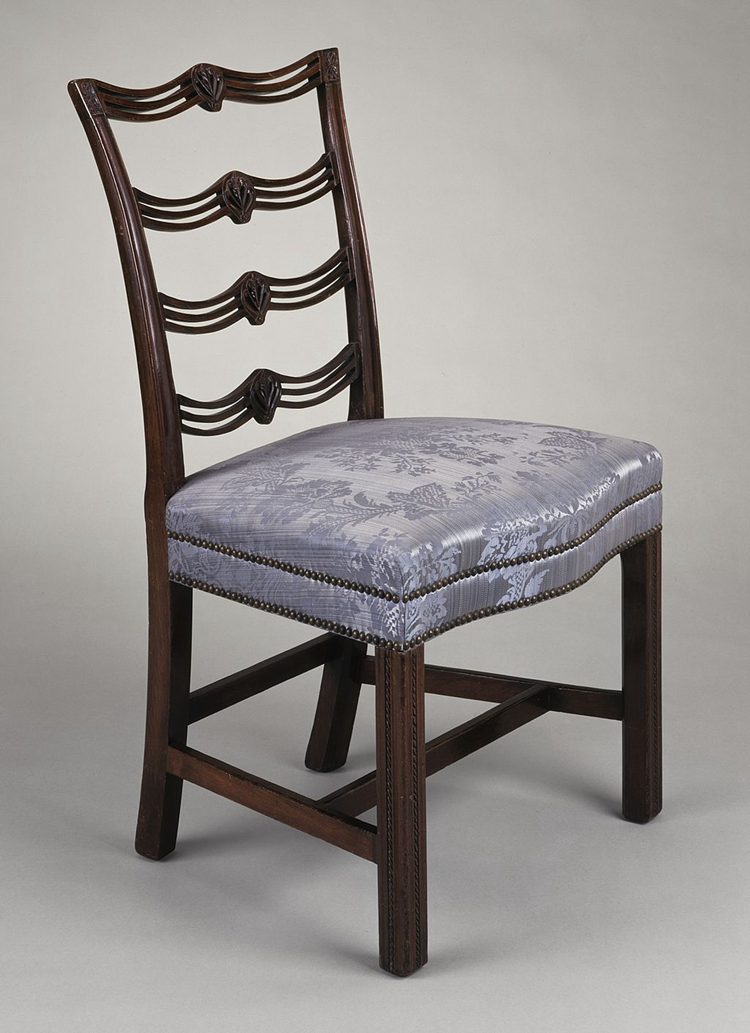 History Of Antique Ladderback Chairs
Appearing in the Middle Ages, the unique ladderback chairs became popular by the seventeenth century in both Europe and Colonial America. Later, the design was copied by local craftsmen and designers that made further innovations to the chair's chair's original utilitarian and rustic style.
They began making the ladderback chairs using walnut, whereas the original construction material was maple or sycamore. They also added refined decorations and engravings to what once was a simple and minimalistic approach to design.
In comparison to other popular chairs of the era, like the formal side chairs or the Windsor chair, the ladderback chair was not only different in appearance but also in its manufacturing techniques. The production of the different parts required a special set of tools.
For example, the cylindrical elements, including the legs, uprights, and spindles, required turning the wood on a lathe using turner's chisels and gouges. The back slats were cut using saws of varying sizes, and the seat was woven with rush or cane. A drawknife was needed when wood was used for the seat instead.
By the late nineteenth century, the use of ladderback chairs became limited to being placed in kitchens, bedrooms, and even attics. What once used to be popular furniture in parlors and front porches were now replaced by the new Victorian style furniture.
However, these vintage ladderback chairs can still be found in today's world. Modern companies may take inspiration from the old chairs, but the original antique models are sold in antique stores and live auctions.
Features Of An Antique Ladderback Chair
A traditional ladderback chair features a tall back consisting of two uprights connected by several horizontal spindles through mortice or tenon joints. The chair posts were turned or rounded on a lathe before being attached to one another perpendicularly.
The topmost slat was generally larger than the rest and was often decorated. Also, a hole was frequently drilled in the center of the chair to make it easier to carry around. A classic ladderback chair had the following characteristics:
High back with woven rush seat.
Most of the 18th century ladderback chairs featured arms while they could also be armless.
English ladderback chairs were made of oak, ash, or beech, while the American version used oak, maple, or other hardwood types.
Popular finishes were stain or paint in either red or black color.
Antique Ladderback Chair Identification
Since antique furniture has become exceptionally valuable in modern times, it can be easy for you to be deceived by a replica if you lack proper identification knowledge. All the money spent only to find out that the item isn't real would be nothing less than a heartbreak.
If you want to buy antique ladderback chairs, identifying them wouldn't be difficult. Earlier designs included the use of a cane or rush for making the seat. But later on, entire chairs were made using a variety of woods.
When determining the age of a ladderback chair, you need to put all your observational skills into the task. Look closely at the chair's turning, slats, and stretchers. The authentic antique chairs are usually crude, with the front and back posts poorly twisted and lacking a finial.
Upon close inspection, you should notice irregularities in the chair's surface. This is because earlier centuries were not introduced to robotic machinery. Moreover, people living in those eras personally preferred raw appearances.
The wood of the ladderback chair must show nicks or cuts as these indicate that it was cut using a plane, drawknife, or a spokeshave. The straight saw marks are also a hint of the furniture being old. If you see circular marks, that means the wood was cut with a circular saw that didn't exist before 1860.
You may also look for a marking on the underside of the seat or the arm, as most antique furniture has them. They provide information about the maker and the period that the chair was produced.
Various Styles Of The Antique Ladderback Chairs
The initial design of the ladderback chairs was pretty simple. However, over time, many variations were introduced in different regions. The styles also differed according to where you'd want to put the chair.
For example, the antique ladder back chairs can be both with arms or armless. The armed chairs were usually designed for bedrooms where you'd want to sit comfortably. However, armless chairs were more common for the porch as they looked more like outdoor furniture.
If you go to an antique store to purchase an old ladder chair, you'll come across ladderback dining and parlor chairs. The difference between these two styles is that the former tends to have a lower seat than the latter.
Other variations in style included the decorative cutting of the horizontal back slats and/ or the addition of colors. Different regions also introduced their version of the ladderback chairs, mainly distinguished by the material used in its manufacture.
The deviations from the basic ladderback chair design may be as follow:
Traditionally, the posts of these chairs are turned on a lathe. But there are various styles where they are square instead of round.
Another style includes the back posts being tapered downwards or curved backward to add a touch of uniqueness in the otherwise simple design.
This ladderback design was also incorporated in rockers in the later period, which was considered a variation of the original ladderback chair.
While most designs had slats, chairs having flat or curved panels also became popular.
Antique Ladderback Chair Values
While contemporary furniture may look more finished with an eye-catching appearance, antique chairs undoubtedly make you stand in awe for their unmatchable prestige. Unlike the mass-produced pieces built nowadays, the quality of antiques will always be at the top.
They're not only more refined, distinguished, and one of a kind but are rich in history. By analyzing them, one can learn all about the customs, traditions, and way of life back then. Hence, most old furniture is worth a significant amount of money.
But you must be wondering if antiques are so valuable, why is there a difference in prices of different ladderback chairs. The answer is pretty straightforward. Antiquity is not the sole factor determining the price for the ladderback chairs. There are several other factors, including the ones below:
Quality: The ladderback chairs were made by both expert craftsmen and amateurs. That is why various existing antique chairs in this style differ in price.
Design: The antique ladderback chairs were simple as well as decorated. Therefore, the price also depends on how much effort and skills were put in while making that specific design.
Set: As obvious as it may sound, individual chairs will cost you less than a set of 4 to 6 chairs.
Manufacturer: Just as in today's world, famous brands and designers made more valuable ladderback chairs back in the day.
State: The closer it is to its original condition, the more valuable it will be.
When purchasing an antique ladderback chair, it is wise to compare the prices with those already sold. Individual pieces usually sell for or under $100. These prices go up with the number of chairs in a set.
An Antique Primitive Laddedback Farmhouse Chair was recently sold for $65 on eBay. In contrast, an 18th-century William And Mary Ct Original Ladderback Armchair was sold for $630.
Another similar 17th-century ladder back chair was sold for around $500 in 2020 only because it had extensive provenance. Since the prices increase with the number of chairs, a Set Of 4 Rush Bottom Vintage Ladderback Chairs was purchased for $1,080.
Conclusion
An antique ladderback chair can be a great part of your home decor that will add a hint of antiquity and history. For it to stay a part of the interior for a longer time, you must properly take care and keep it in excellent condition.
Below are a few tips you should follow that will help retain the value of the chair:
Do not repaint the ladderback chair as the original appearance is more valuable.
Do not expose it to extreme climatic factors such as temperature and humidity.
Clean off the dust frequently with a soft cloth. Do not use commercial cleaning products, especially if they contain silicone.