Do you need a space in your bathroom to store all your beauty and hygiene products? Are you considering an item that is both functional and alluring for your home remodeling? Then, think of medicine cabinets—not just any medicine cabinet, vintage (or antique) ones.
If you're a fashion enthusiast, you already know that vintage items never run out of style. Apart from their timelessness, vintage medicine cabinets have a nostalgic appeal that keeps you drawn to them. That's not to mention that they're as functional as they're well-structured.
Besides getting just any antique medicine cabinet, you must get one that suits your home's outlook. We know getting the perfect vintage medicine cabinet style for your home can be challenging.
So, we've written this vintage medicine cabinet style guide to help you make the right choices. We've also suggested the best places to purchase them without hassles.
You'd love what we've put together.
History of the Medicine Cabinet
Since the invention of medicines and specific beauty products, there has been the need to keep them away from children. So, adults protected their children from misusing such items by locking them away in floor chests.
They typically placed the floor chests on wall units in their homes. The chests also safeguarded the medicines from rodents, bugs, and other destructive animals and insects.
With indoor bathrooms gaining popularity in the early 1900s, people found it more convenient to keep those chests in bathrooms. That was especially as cosmetics and other hygiene products were handy primarily after using the bathroom. As such, they designed a cabinet with a hanging technology that suspended them in bathrooms beyond the reach of children.
At first, the users didn't put much thought into styling or decorating the medicine cabinets. Since they were more functional than ornamental, and they had straightforward designs. However, with time, medicine cabinets, alongside other domestic furniture, become prominent symbols of art and craft.
As a result, vintage medicine cabinets come in numerous designs, styles, colors, materials, and shapes. With time, medicine cabinets gave way to more modern designs that prioritized under-sink cupboards above mounted cabinets.
5 Vintage Medicine Cabinet Styles to Love
Antique medicine cabinets were handmade and mainly came in white or cream colors. As we mentioned earlier, they were plain-designed until much later, when designers had to differentiate their works with unique designs.
Their creativity gave way to the following styles:
1.    Recessed Medicine Cabinets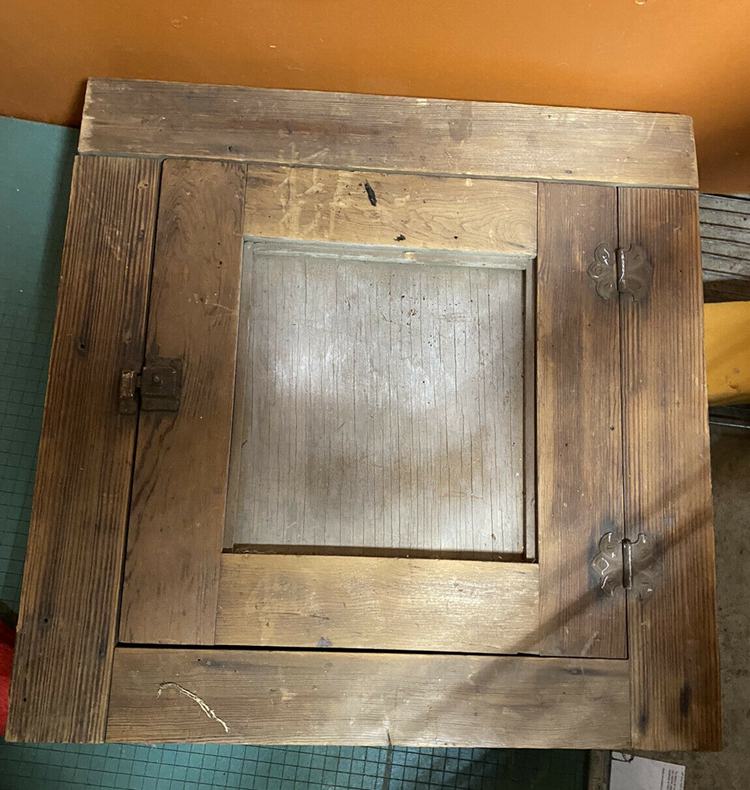 As the name suggests, recessed medicine cabinets go deep into the wall instead of on it. Only the cabinet's door is visible when closed. Even at that, the doors were made even with the walls.
Recessed medicine cabinets had some of the most straightforward designs as they weren't readily noticeable. They were the perfect choice of medicine cabinets for families that weren't big on aesthetics.
Recessed vintage medicine cabinets were typically made from wood. Other times, they made the cabinet's door serve a dual function by placing a mirror on it. These cabinets were affordable and made for easy production. They were also one of the most common styles.
If you want to renovate a bathroom, we recommend recessed mirror designs. They could make your space look larger than they are.
2.    Eastlake Medicine Cabinets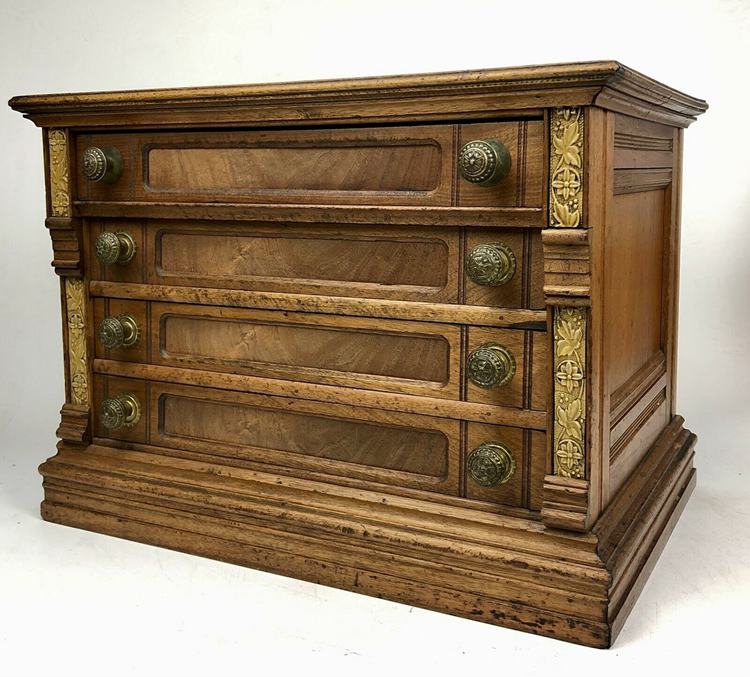 Eastlake vintage medicine cabinets are also Victorian-style ones because they became popular around the post-Victorian era. These cabinets were stylish with elaborate decorations and well-crafted wood carvings. They are the perfect blend of functionality and fashion.
The average Eastlake medicine cabinets have a beveled mirror in their doors to enable you to see the inside when closed. They also had brass knobs, and their sides were carefully finished with spiral or barley twisted columns. Their tops had sophisticated designs, while their bottoms had towel bars.
Many Victorian-style medicine cabinets were made from solid oak or mahogany wood and had many compartments on the inside. Some designs also have small open units on their sides.
3.    Chinese Medicine Cabinets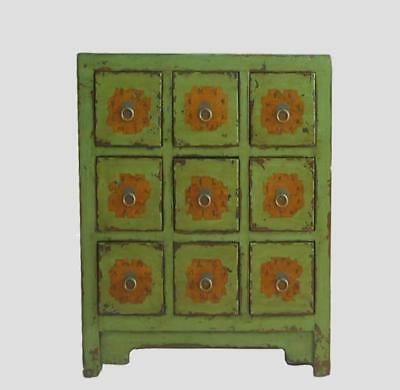 Chinese medicine cabinets (or Chinese apothecary cabinets) are traditional Chinese herbal medicine cabinets. They were typically produced for use in medicine halls and allowed apothecaries to prepare medications for patients. If you want a medicine cabinet that allows for effective organization, this herbal chest design is your best bet.
The traditional vintage Chinese medical chests have many separate drawers with Chinese labeling. They allowed users to categorize items and reach for them easily without hassles. They also have a charming historical appeal.
The Chinese invented the cabinet style of storing clothes and possessions as an alternative to closets. It was also a viable option because they preferred to keep their clothing horizontally instead of vertically as the Europeans did. This naturally influenced the way they designed any storage item, the medicine cabinets inclusive.
Here's a video on the processes involved in building these unique cabinets.
4.   Mounted Medicine Cabinets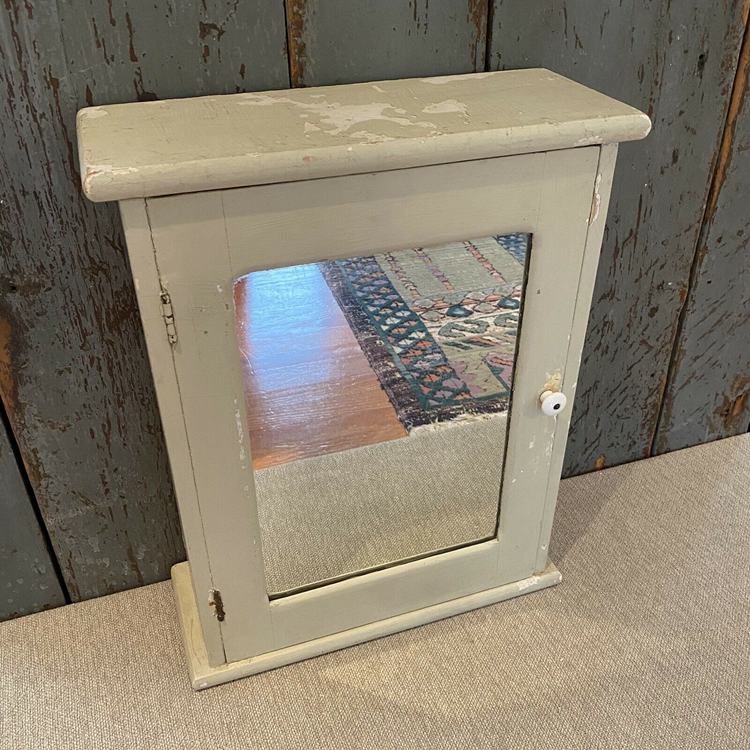 Mounted medicine cabinets are the opposite of recessed cabinets. Instead of being fixed inside the wall, they're placed on the wall and are difficult to miss.
If you're finding it difficult to choose between a mounted and recessed medicine cabinet, consider their pros and cons.
Mounted medicine cabinets are much easier to fix than recessed medicine cabinets. However, they can also use up a lot of much-needed space.
Also, if your cabinet also serves as a mirror, mounted cabinets are more advantageous. They protrude further outside than the recessed cabinets and, as such, are more convenient for petite or visually-impaired individuals.
Again, you can consider recessed medical cabinets when renovating your home. However, if you have an existing bathroom that you don't want to alter, we advise that you stick with mounted cabinets.
5.    Primitive Medicine Cabinets
Primitive (also rustic) medicine cabinets refer more to the wood's condition rather than its design. As such, they may be mounted or recessed cabinets. They could also be all wood or have mirrors attached to their doors.
Generally, primitive medicine cabinets have a well-worn, imperfect, and unsophisticated look. They are unique cabinets that will quickly add character to your bathrooms or wherever you place them.
You'll love this vintage cabinet if the rugged, rural look is your style. While some woods turned rustic naturally, you can condition yours with hammers or chains.
Materials Used to Make Vintage Medicine Cabinets
You can also classify vintage medicine cabinets according to the materials they are made from. Antique medicine cabinets were typically made from:
●       Wood
Many vintage medicine cabinets were made of solid plain wood with simple styles and lines. When they were painted, neutral colors blended well with the bathroom colors. Wooden vintage medicine cabinets were also either mirrored or without mirrors.
●       Metal
Although not as popular and beautiful as their wooden counterparts, metal medicine cabinets were pretty functional. They were also durable as they weren't given to rot and could withstand harsh climatic conditions. They were affordable too.
How to Glam Up Your Medicine Cabinet
The beauty of an antique medicine cabinet is in its old-fashioned style and outlook. However, you also don't have to hang them the exact way you purchased them.
You can decide to revamp your vintage medicine cabinets and make them look more attractive. It depends on your preferences and the unique touch you wish to infuse.
Go on, get creative with vintage; we wouldn't judge. You can even turn it into a secret storage unit like in this video.
There are numerous ways to revamp your vintage medicine cabinets. We've compiled our favorite step-by-step process to help you get started with the revamping process:
●       Disassemble
Do this by taking all your products out— old medicine, beauty products, toilet papers, etc. Then remove the fixtures and hardware part by part. Remove everything that you can refix. That includes removable shelves, doorknobs, and hinges if you can.
The next stage for revamping is to clean your cabinet with glass cleaners and paper towels for mirrors and glass. For wood use a water/vinegar mix. Oldtimey suggests that you also sand off old paints and touch up rough areas with a hand sander.
●       Decorate
Now it's time to paint and decorate; here's where your creativity comes to play. For a neat job, remember to tap off the parts that you don't want to paint.
For a rustic look, sand it down before the paint dries off. In this video, you can learn to makeover your medicine cabinet on a budget.
●       Reassemble and Organize
After your paint dries, it's now time to reassemble it. Put your hardware parts back in their places one after the other.
It's easy to think that your revamping stops after reassembling the hardware, but it doesn't. You must arrange your items properly to fully appreciate your work. Organizing your cabinet also makes it easy to reach for items whenever you need them.
First, take out all expired and damaged supplies. Replace them with new ones. Clean out old supplies with towels before putting them back into the cabinet.
Also, use small jars, bowls, cups, boxes, and baskets to compartmentalize different item categories if necessary.
Where to Buy Vintage Medicine Cabinets Today
Finding the best places to purchase quality vintage cabinets for reasonable prices can be a hassle. It can take you from thrift shops to antique stores and similar shops. Even if you decide to shop online, there are too many options to choose from.
Lucky you, we've helped you narrow down your online search. A few searches on these websites will likely get you what you need in no time:
●       eBay
eBay is our favorite online store for antique items, especially vintage wall cabinets. They've got fantastic offers and a user-friendly website. Type "vintage medicine cabinet" into the search box, and you'll find lots of beautiful vintage cabinet pieces.
We particularly love the Vintage Oval Framed Bathroom Mirror Medicine Cabinet for its beauty and style.
●       Etsy
We love to shop at Etsy. This online marketplace has a lot to offer when it comes to handmade and vintage products. The site is customer-friendly, and they offer amazing prices too.
From metal cabinets to wood, rustic, recessed, and mounted cabinets, you're bound to find what you're looking for on Etsy.
●       Craigslist
Craigslist is another fantastic site to get premium vintage medicine cabinets for great prices. It's a localized online marketplace, so you don't bother about shipping fees.
You can also agree on a date, time, and place for the transaction with the seller. Again, Craigslist offers you a platform with sellers who are usually willing to adjust prices to suit your budget.
●       Historic Houseparts
Although antique wall cabinets from Historic Houseparts are pricey, you can be sure of the best quality from them. You'll also have a wide range of vintage cabinet styles and replicas to choose from.
Suppose you live in New York City, lucky you. They have a retail store you can visit at your convenience. If you live anywhere else in the United States, their online services are as efficient as ever.
Here's the best thing about Historic House Parts: they offer on-site restoration for medicine cabinets that you want to revamp.
●       Mayfair
Mayfair has thousands of quality and beautiful vintage medicine cabinet styles to pick from. This recessed medicine cabinet caught our eye at first sight. It's framed, has adjustable shelves and dual door swings.
With its tempered glass and aluminum material, you've got everything you need in a vintage recessed cabinet style reproduction.
●       Amazon
Amazon offers free shipping for many of its products if they're above $25. Their products are of top-notch quality. This online marketplace also offers less prices for more items.
So, if you wish to purchase two or more cabinets at a discount, try shopping from Amazon.
Conclusion
Now that you know all there is to antique medicine cabinet styles, it's time to shop for your favorites. Whatever your pick, be sure to glam them up to your taste. Then take a moment to appreciate the retro beauty of vintage.
Do you have any questions about vintage medicine cabinet styles? Feel free to put them down in the comments. We are eager to hear from you and walk you through your concerns.