China made from Noritake's porcelain is considered as one of the toughest and highest quality ceramics for dinnerware material. These features help to make them highly desirable for collectors.
Noritake China can be identified by its stamp, which is present in green, blue, magenta, and gold and is stamped with "Japan" or "Made in Japan." This china is considered the elite because of its colors, patterns, and designs and has become a prized possession for many people.
The value of an item will vary depending on the time period it was made it, the condition, rarity, and stamp. Their antique china includes dinnerware, tableware, tea sets, vases, etc. Here we take a look at the 15 most valuable Noritake china patterns.
The History of Noritake
Noritake china began in 1876 when two Japanese Ichizaemon Morimura and Toyo opened Morimura Brothers shop in New York. They sold antiques and decorative pieces in the beginning before they ventured into cutlery for the western market.
Taking inspiration for French porcelain, Morimura began creating dinner sets for the Western Markets, controlling the quality and designs by making them hand-drawn. Their products quickly became quite popular in the west. These early, hand-painted patterns were of smaller quantity and today are valued at their highest.
As time passed they adopted the mass marketing technique and the global demand for their pieces kept rising. While the company itself was not called as such, the consumers started calling the dinnerware, "Noritake" which they adopted as their trade name in 1981. Noritake still produces dinnerware to this day, all stunning, contemporary, and suitable pieces for different customers and requirements.
The Noritake china can be identified in two different ways, marks, and stamps.
The Top 15 Most Valuable Noritake China Patterns
| | | | |
| --- | --- | --- | --- |
| No. | Name | Year | Price |
| 1 | Frank Lloyd Wright Imperial Hotel Dinnerware | 1922 | $16,250 |
| 2 | Hanakinsai Yuri | Modern | $4,740 |
| 3 | Frank Lloyd Wright Noritake Patterns | 1990 | $4000 |
| 4 | Old Noritake Hand Painted Gilt Decorated Luxury Coffee | 1911 – 1921 | $3,000 |
| 5 | A Set of Noritake Foxboro China, Service for Eight |  –  | $2,700 |
| 6 | Antique Noritake Hand Painted Red and Gold Pedestal Tea Set | 1920 | $2,490 |
| 7 | Noritake Halifax Fine China |  –  | $2,250 |
| 8 | Frank Lloyd Wright / Noritake Imperial Hotel China | 1990 | $2200 |
| 9 | Noritake Noble Ensemble Gold Patterns  |  –  | $2040 |
| 10 | Hanaginsai Yuri |  –  | $2000 |
| 11 | Vintage Noritake Goldkin China Set – Dish Collection Holiday Party | 1960-1969 | $995 |
| 12 | Noritake Art Deco Tropical Bird Enamel Coffee Set | 1920-1929 | $995 |
| 13 | Noritake Dresolin Fine China Service For 12 P | 1930 | $885 |
| 14 | Noritake China, Macon #6717 | 1966-1978 | $880 |
| 15 | Ornate Noritake Fine China |  –  | $750 |
1. Frank Lloyd Wright Imperial Hotel Dinnerware
Year: 1922
Valuation: $16,250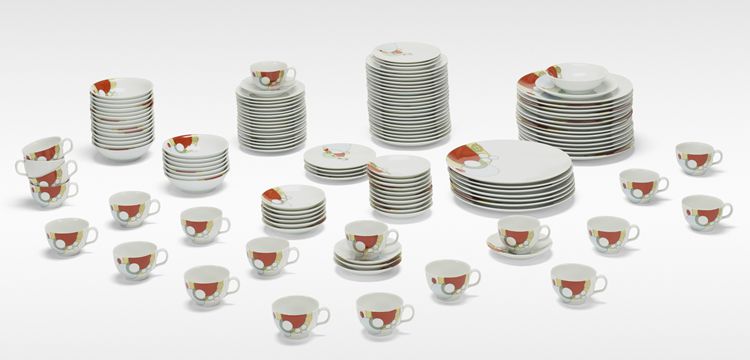 This design was created by Frank for the Imperial Hotel, Tokyo. It is dated 1922 and is made of transfer-printed porcelain. It includes 21 dinner plates, 23 dessert plates, 23 bowls, 22 salad plates, 21 teacups with saucers.
It can be recognized by the manufacturer's mark of 'Noritake Nippon Toki Kaisha Japan' on the underside of each item. Considering this is such a full and expensive set, there is no wonder why it went for such a handsome price.
2. Hanakinsai Yuri
Year: Modern
Valuation: $4,740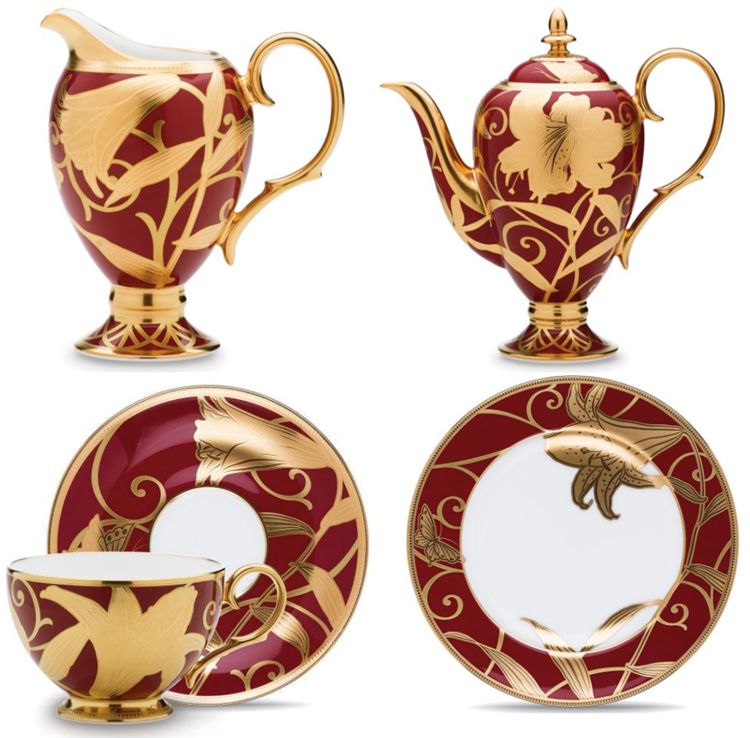 This design is similar to the Hanaginsai Yuri, only this is a coffee set and the color palette is different. This is in a bright golden and red, giving a refreshing vibe. Its individual pieces include a coffee server ($2250), Creamer ($1250), Cup ($625), and salad plate ($625)
3. Frank Lloyd Wright Noritake Patterns
Year: 1990
Valuation: $4000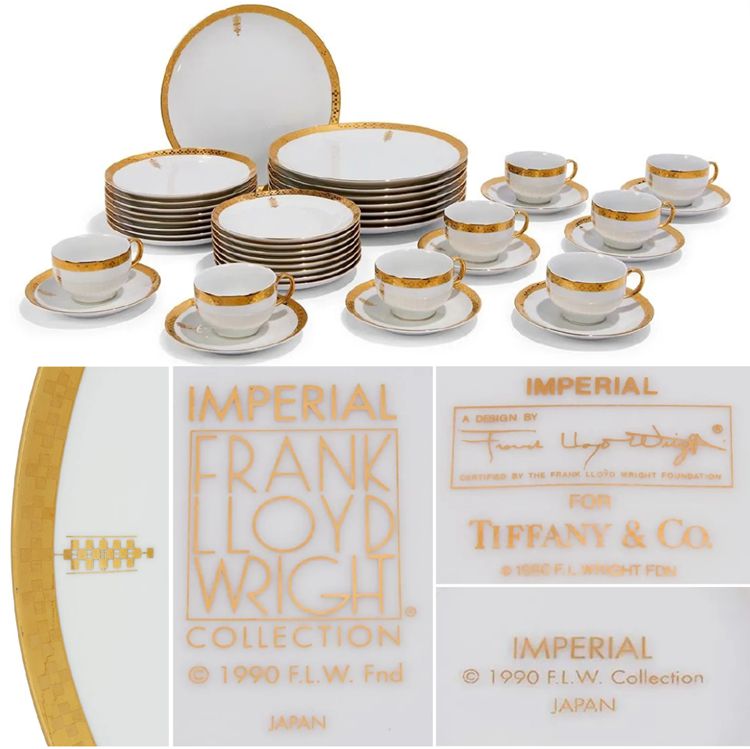 Frank Lloyd Wright Noritake patterns are the most unique and valuable that you'll find. This china dinner set is for eight people and is made with porcelain and has gilt additions.
It is signed and is part of the Imperial Hotel Collection for 1990 in Japan. It includes dinner plates, salad plates, bread plates, and cups with saucers. It was sold at auction at $4,000, is without cracks chis or repairs. There is only light wear which is why this beautiful set went for such a high price.
4. Old Noritake Hand Painted Gilt Decorated Luxury Coffee
Year:1911 – 1921
Valuation: $3,000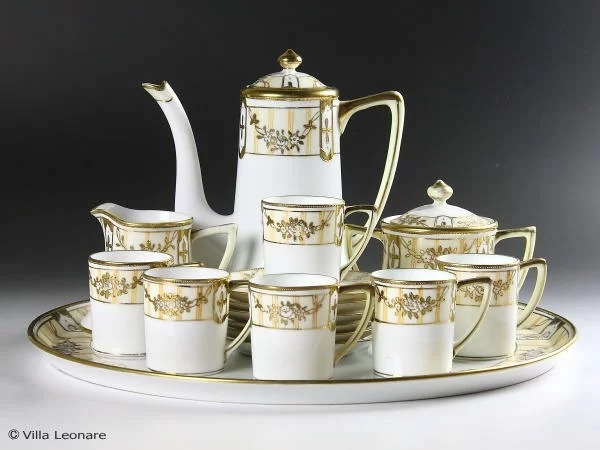 This is an 18 pieces coffee set that was hand-painted. It has a beautiful color combination of gold and white, with intricate flower patterns at the top of each piece.
5. A Set of Noritake Foxboro China, Service for Eight
Year: –
Valuation: $2,700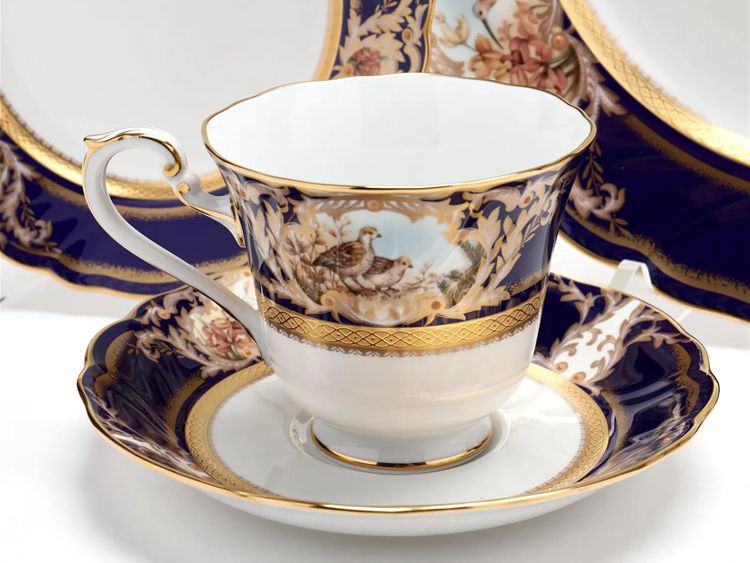 This is a set of Noritake china set for eight people. It is a beautiful piece having a wide blue border with detailed bird drawings within the borders and in the center of some plates. It has a total of 67 pieces which include, dinner plates, fruit bowls, dessert plates, bread, and butter plates, footed cups with saucers, cream soup bowls.
It also has separate accessory china like gravy and undertray, an oval bowl, round bowl, containers of sugar, cream, salt, and patter, 2 platters, and a pedestal center bowl.
6. Antique Noritake Hand Painted Red and Gold Pedestal Tea Set
Year: 1920
Valuation: $2,490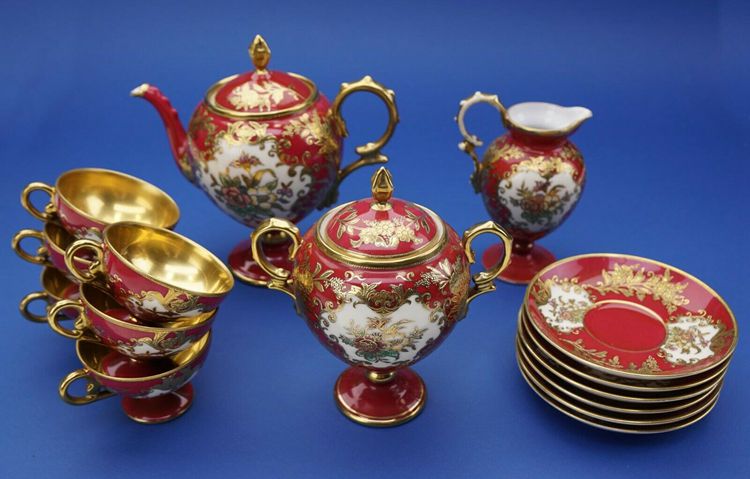 This is a beautiful red and gold tea set. It includes 6 cups and plates, along with a sugar container, milk pot, and a teapot. It has a stunning piece with intricate engraving and beautiful hues.
7. Noritake Halifax Fine China
Year: –
Valuation: $2,250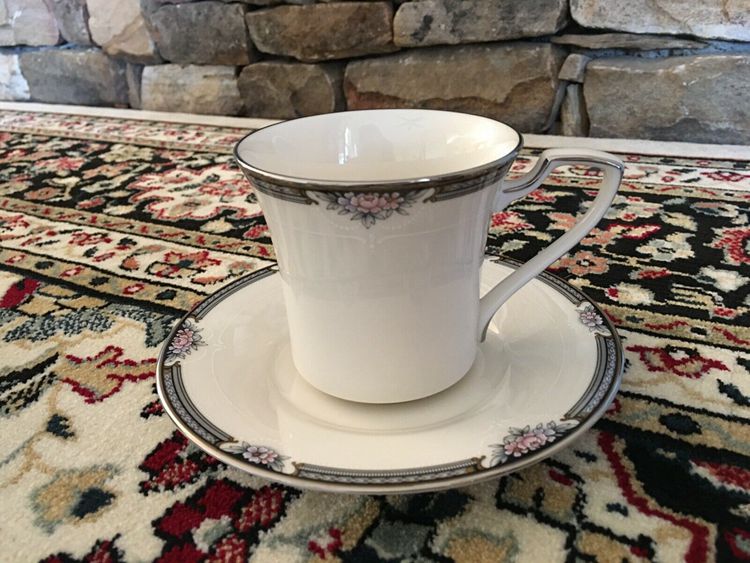 This is a 14-person china set, having around 91 pieces. It is a piece with a blue border and pink flowers at the base. It has not been used and has been packed ever since it was bought, almost new.
8. Frank Lloyd Wright / Noritake Imperial Hotel China
Year: 1990
Valuation: $2200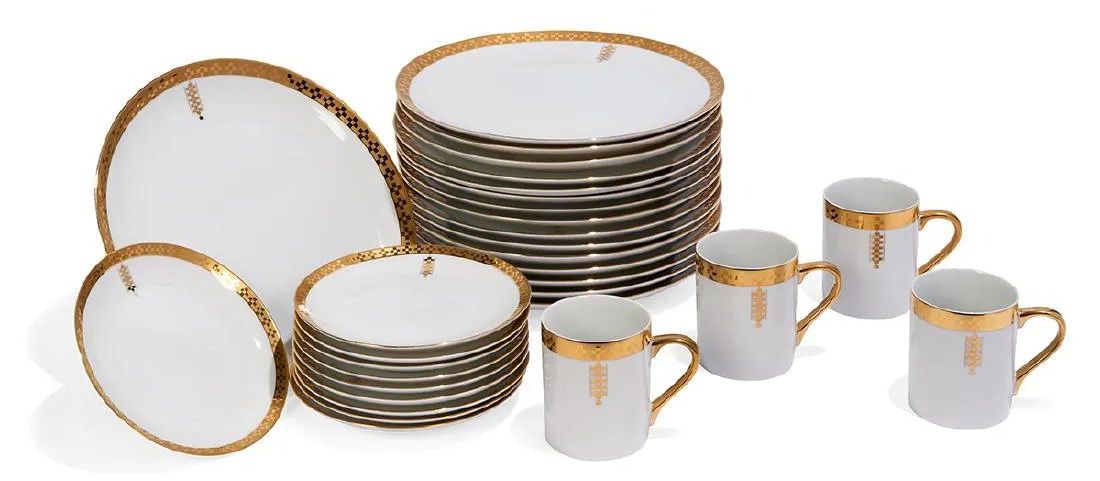 This is another one of the Frank Lloyd imperial hotel collections. It was serviced in 1990. It has gold borders and looks very simplistic. It is made of white porcelain and has gilt addictions. It has 16 dinner plates, 4 mugs, and 10 bread plates.
9. Noritake Noble Ensemble Gold Patterns
Year: –
Valuation: $2040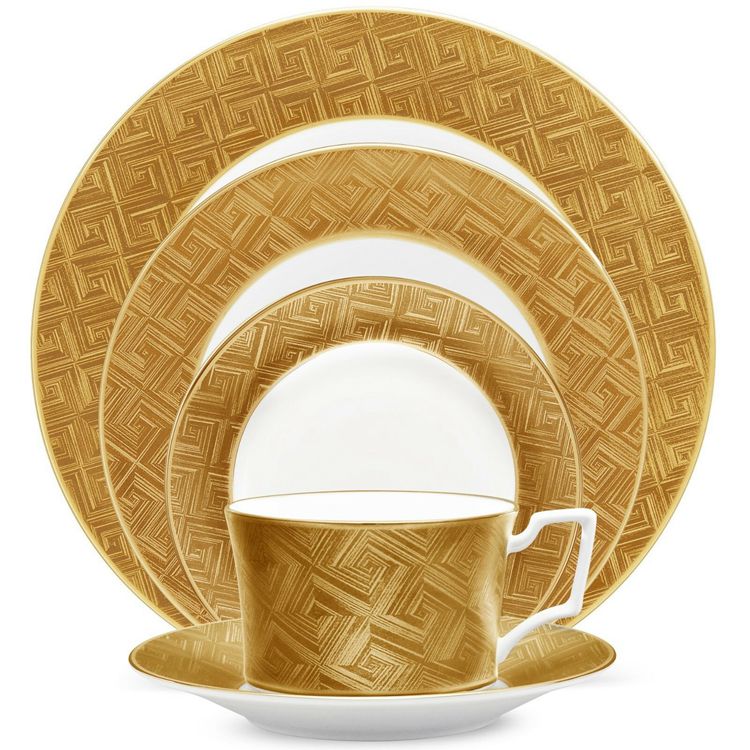 This set is a 12 piece set, with plates, cups making up to 60 pieces. It is a bold design compared to some other Noritake china patterns.
10. Hanaginsai Yuri
Year: –
Total valuation: $2000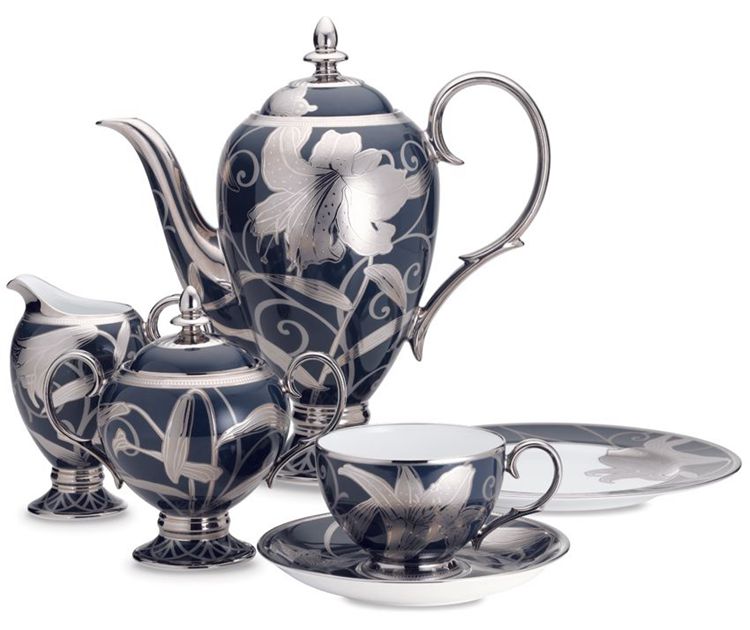 This stunning tea collection is a contemporary revival of the style of the 20th century; Art Nouveau style. The design uses lily petals hand-drawn to evoke a look of sophisticated elegance. The collection includes a Creamer ($1000), Cups ($300), saucers ($200), and salad plates ($500)
11. Vintage Noritake Goldkin China Set – Dish Collection Holiday Party
Year: 1960-1969
Valuation: $995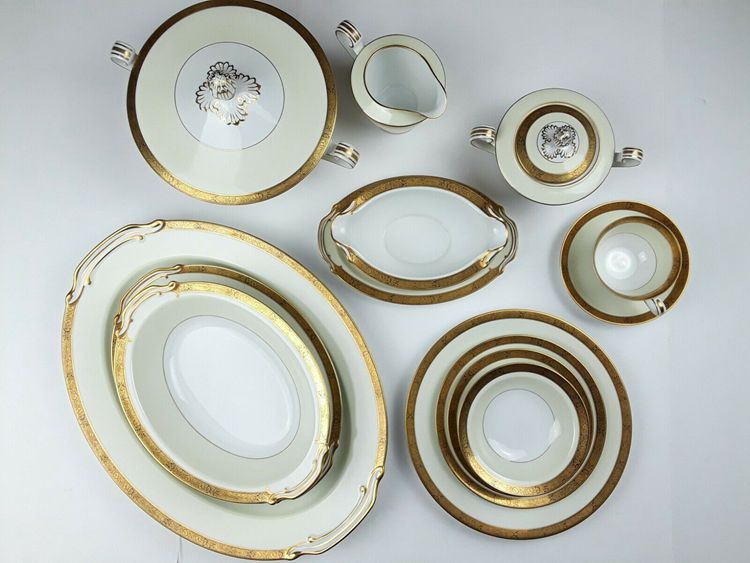 This is a beautiful set that includes a total of 91 pieces, from plates and bowls to a tea set and dishes. It is made of porcelain and is a vintage set. It has beautiful golden patterns on the borders giving it a simple, elegant, and stunning look.
12. Noritake Art Deco Tropical Bird Enamel Coffee Set
Year: 1920-1929
Valuation: $995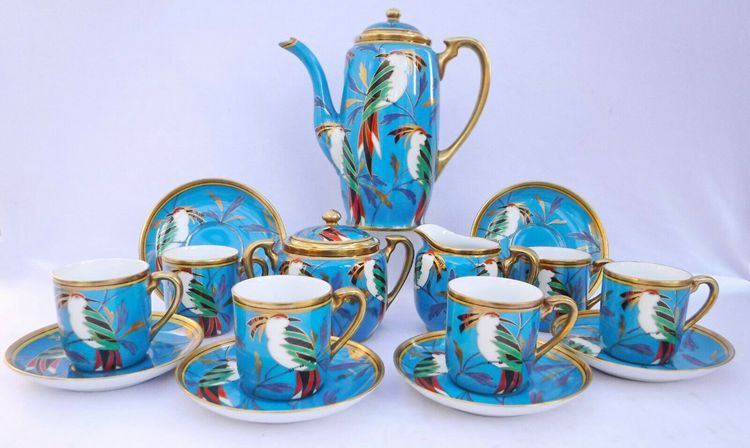 This stunning tea set colored in royal blue sold for $995. It has 4 teacups with saucers, two plates, and a teapot. It also has containers for milk, sugar, and cream.
13. Noritake Dresolin Fine China Service For 12 P
Year: 1930
Valuation: $885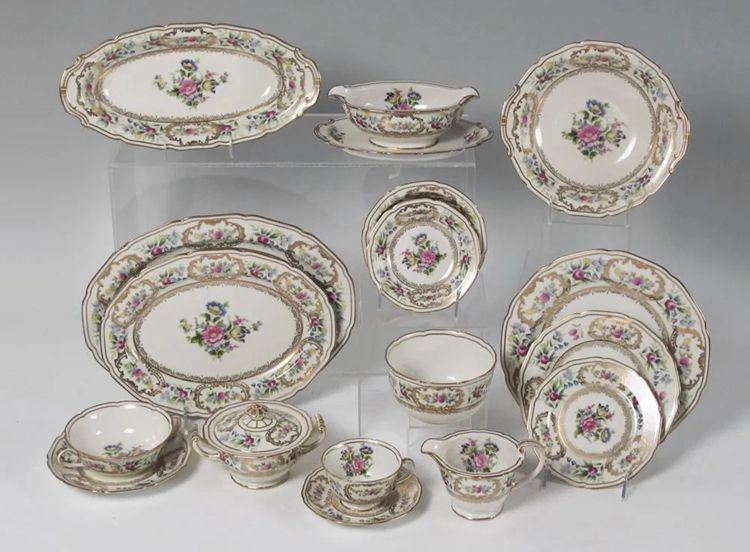 This was made in the 1930s. It has a beautifully designed set with flower patterns for 12 people. It has 146 pieces, which include dinner plates, salad plates, soup bowls, cream soups with under plates, 18 bread plates, 24 dessert bowls, 14 cups, and 18 saucers.
It also has three service pieces of round vegetable bowls and oval vegetable bowls. It has one celery dish, 13.5 and 11.5-inch platter, creamer, sugar, gravy boar, and a small serving bowl.
14. Noritake China, Macon #6717
Year: 1966-1978
Valuation: $880
This is a beautiful 108 piece set, dated between 1966-1978. It is simple and stunning, there is a ring of blue ink and yellow floral pattern around each plate, cup, and item. It includes dinner plates, salad plates, platters, bread and butter dishes, coffee cups and saucers, covered vegetable bowl, 2 oval vegetable bowls, Gravy bowl, oval platter, relish dish, celery dish, covered sugar bowl and creamer, salt and pepper shakers and covered butter dish.
15. Ornate Noritake Fine China
Year: –
Valuation: $750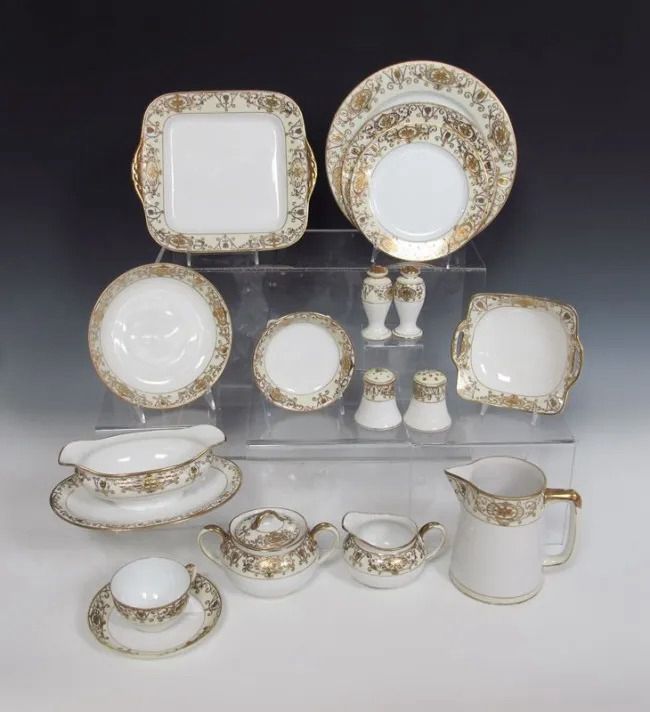 This is a beautiful set sold at $750. It has an elegant and beautiful golden design at the corners of the china. It has 222 pieces which include plates, bread plates, bowls, cups, and saucers. It also includes gravy boats, platters, milk jugs, creamers, etc.
How to identify vintage Noritake china patterns
Noritaka has been producing china for more than 100 years so to make a distinction, pieces that are older than 100 years are called antiques but those less than 100 years old are called collectibles. The most famous and easily identifiable patterns for Noritake are:
Azure: This is the most popular pattern. It includes white, pink, and gold flowers that appear on every item and were created in 1915 with a partnership between Noritake and Larkin Company.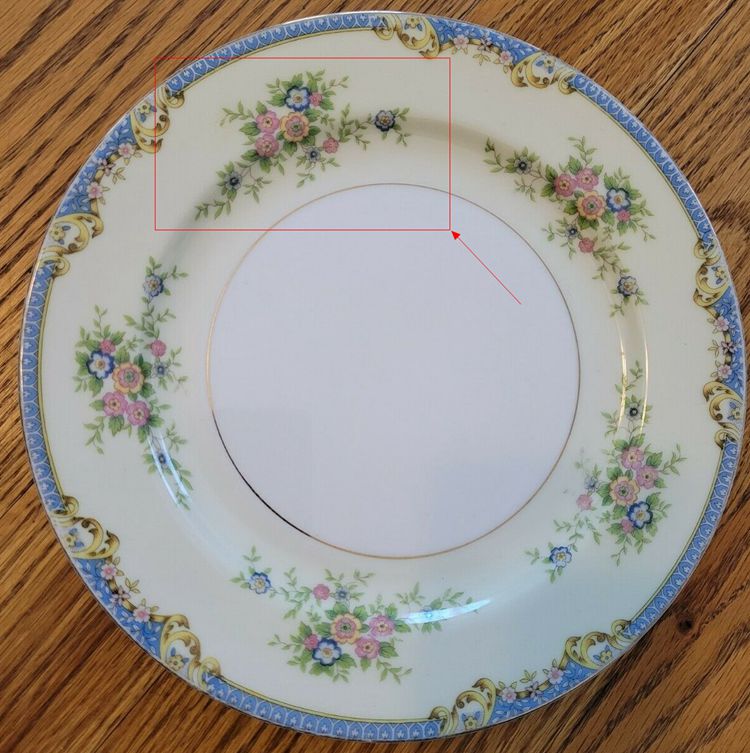 Lusterware: This is a technique where metallic oxide is poured over a base color. It gives a shimmering quality to the glaze.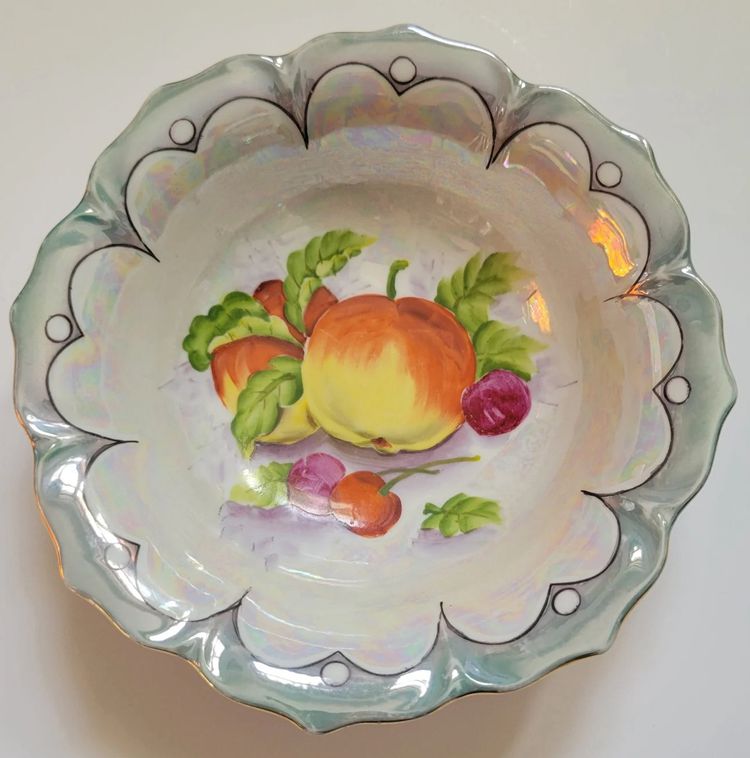 Tree in a meadow: This was originally named' Scenic'. It was hand-painted in 1920 and looks like an actual tree next to a meadow.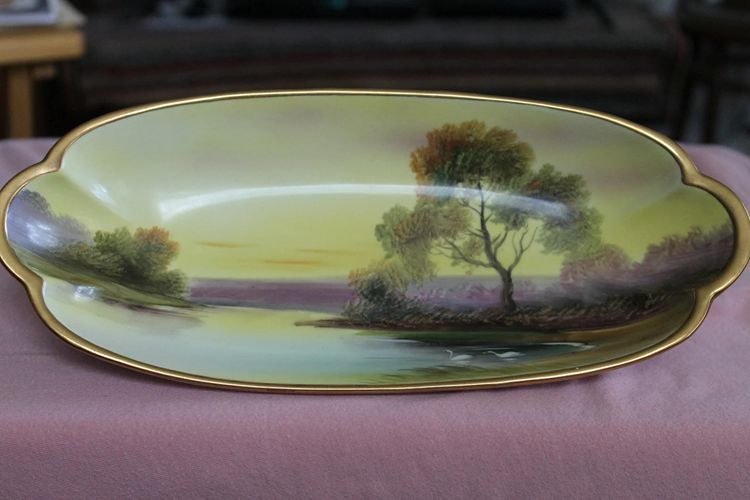 Pattern 175: it is also called the white and gold, or the Christmas ball collection. The china was white itself but delicate raised gold patterns and designs were arranged along with the pieces.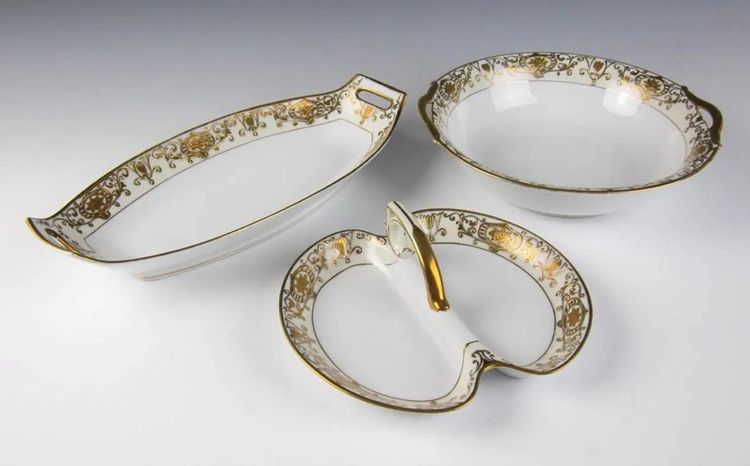 Imperial collaboration: It is also called a collaboration between Frank Lloyd for the Imperial hotel and the Noritake company.
How to Identify Noritake china marks
Noritake china can also be identified by the marks that are there. The McKinley act of 1890 required every imported good in the US to be marked. The first-ever Noritake dinnerware contained the words "hand Painted" centered above a wreath along with the letter "M" inside it, which stood for the Morimura brothers, along with the word "Nippon" beneath. After 1908, the products had the Noritake name with the stamp, number, or name to identify the pattern.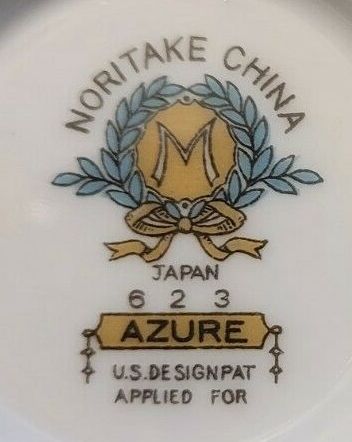 If you want to identify a Noritake china mark, then turn your piece of Noritake chinaware. At the bottom of the product, there will be a stamp, along with the pattern name, or a four-digit number, which is a reference to the name or pattern used by the company.
The Value of Noritake China – How Much is My Noritake China Worth
It takes time and research to assess the value of Noritake china. There has been a loss of records during World War two which can cause problems in assessing the value. It is important for china to be in the best condition, and then the age of the china will determine how valuable it will be. In general, rarity, age, and condition determine the value of a Noritake china.
Rarity
The rarest of Noritake china is also the oldest. When Noritake started making their china with hand-painted sets, they were very few in numbers and thus are the rarest and most in-demand. These include bulbous vases, china ashtrays, pancake jugs, and even children's sets.
Nowadays, Noritake has expanded all over the world, with producing items such as flatware and steel. With the beginning of mass production, it is a hard task to distinguish what is common ware and what is actually antique. This can only be done through the use of a back stamp, which is the best way to determine the rarity of the object.
Age
As mentioned before, the age of your china can only be determined by looking at the back stamp or makers mark. Noritake has used different backstamps at different periods in history and thus it is vital to have the marks assessed. Looking at the stamp gives a basic idea of the time period in history that the china was made in. Like the china made before 1921, all china was marked with its country of origin in their native language, so the Noritake china of that period has "Nippon" written at the bottom, while china after 1921 has the country written in English, so in this case, the china will have "Japan" or "made in Japan" written at the bottom.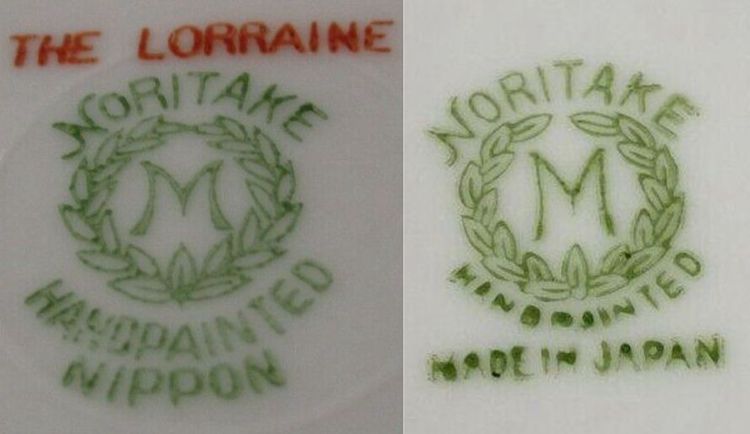 When japan was occupied after World War 2, all Noritake stamps had "Occupied Japan" or "made in Occupied Japan" on them. They also started using the name "Rose Chine" because of their inability to maintain the quality that Noritake had been known for, till 1952.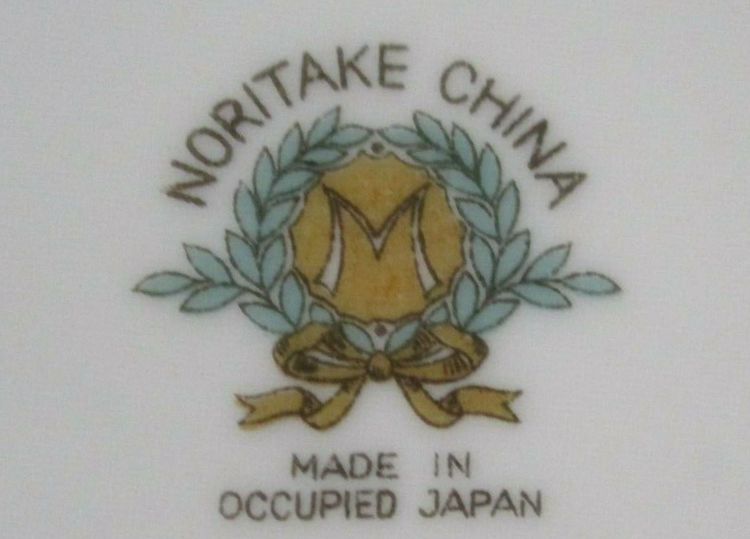 It is thus important to know the stamps and which time period they came from.
Stamps
Other than the title of the country used, there are more than 400 Noritake backstamps, which makes identifying the exact date very hard. There are common marks on which most people base their valuation: M in the wreath Marks, RC (Royal crockery marks), Noritake Maruki Marks, Noritake company Ltd, and Noritake bone chine.
M in the wreath marks – These put the china piece around 1911. This was used by the Morimura brothers till World War II. It has a wreath inside which is the symbol 'M', for Morimura.
Noritake RC – In 1908, the first Noritake stamp was registered. It is a series of circular patterns with RC on the top and Noritake on the bottom, written in an Art Nouveau style.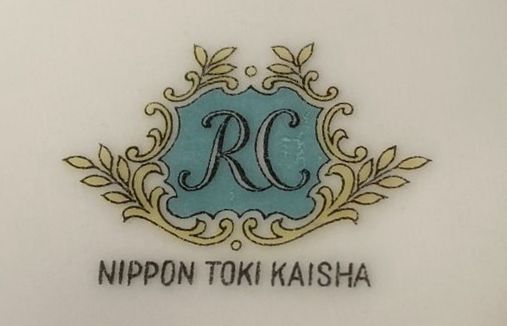 Maruki Symbol – This mark came in ~1908. It has a circle enclosed within which is a tree, or a spear.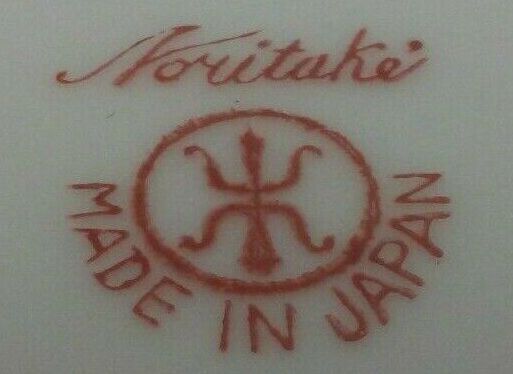 Noritake Company Ltd – This dates back to ~1963 and has often had an N, surrounded by a lamp logo along with laurel branches.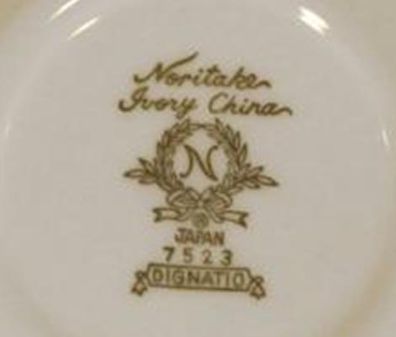 Noritake Bone China – This logo is used in the present time for its china. There is a pot and a wreath, above which is written Noritake bone china, and Japan is written beneath.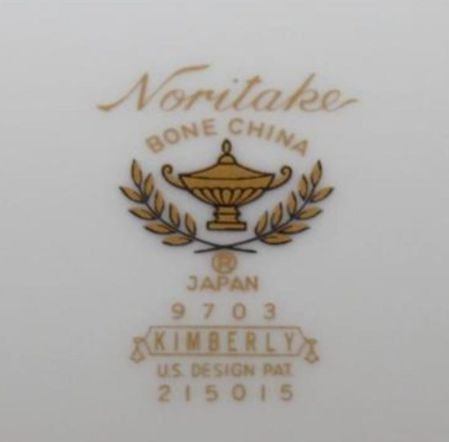 Condition
The condition of a Noritake china is also important for its valuation, but it is only valid when the item is not rare. Rare pieces have value even if they are damaged by wear and tear, although the pieces which are in better condition will have a higher value. An item is in the best condition when it has no to very few scratches on the surface, a clear backstamp, the pattern is not faded, and very few chips or cracks.
Conclusion
Noritake has not lost any of its charm or value, and with its historic significance the desire for these items has only soared higher. It is a very valuable collectible and can fetch anything for a few hundred dollars to thousands of dollars, depending on the rarity, age, and quality of the item.
If you do have a Noritake product and want its value, then you can check yourself or get it appraised. Alternatively, if you want to buy a Noritake product then there are a lot of avenues available.