Antique Limoges China is renowned for its delicate patterns and sophisticated finish. This dinnerware has graced some of the most famous tables in human history, and just like wine, they've stayed in business, aging gracefully.
A 1781 Limoges porcelain dinner service designed by Alberto Pinto in modern coral printed patterns sold for $11,875 at a Christie's auction in 2016.
Follow us on this journey as we take you through the world's most delicate hard-paste porcelain pieces, their intriguing history, and captivating patterns.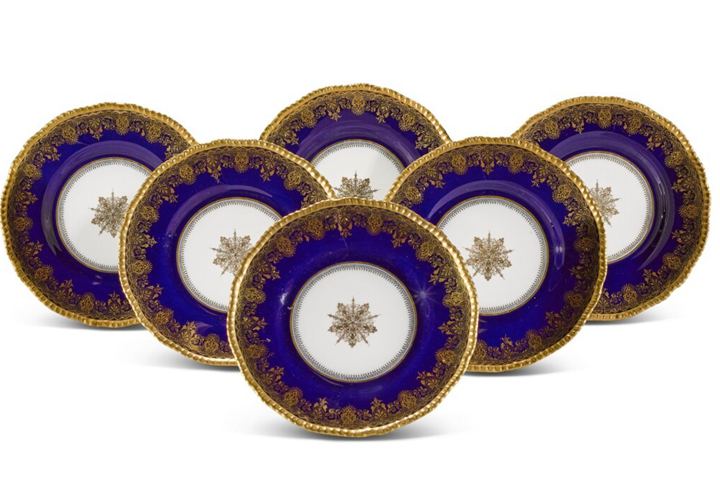 What is Limoges China
One would think Limoges refers to a manufacturer's moniker or a company, but that's not the case. Limoges China refers to the region in France where these unique porcelain pieces were created and crafted or a league of factories that flourished in the legendary town centuries ago.
Fun Fact: Limoges is a little town 200 miles away from Paris, France.
Limoges China was first made in 1771 after Limoges China artists discovered Kaolin in Saint Yrieix la Perche, France.
They featured hand-painted details delicately crafted by the finest artists in the region at that time. The Kaolin is mixed with local feldspar and crystal to get Limoges China ware.
The primary Limoges factory emerged shortly after the discovery of Kaolin, and King Louis XVI played a vital role in the advancement of these porcelain pieces.
He purchased a porcelain factory in the area with the intent to ship already made Limoges to Sevres for decoration.
The 1952 Paris International Exhibition of Decorative Art introduced and solidified the place of Limoges China pieces as one of the world's most valuable and exquisite porcelain in the world.
How to Identify Limoges China Patterns
Patterns are like the icing on the cake, but for Limoges China pieces, they're the bright colors and shapes that attract interest, tell a story and are one of the factors for determining the intrinsic value and originality.
In this section, we'll show you just how to identify Limoges China patterns should you ever come across them anywhere.
During Limoges China patterns identification process, you first need to search for the marks inscribed on the bottom of your piece and the glaze. These marks contain the country of origin, factory signatures, tiny prints and pictures on the item.
Also, check for family names and the colors used to mark your Limoges China plates, goblets and saucers. Some patterns take after the family name; knowing this will make your search easier.
Different production factories and design studios used their indigenous patterns, and these patterns became synonymous with their brand.
We'll be checking them out below.
Coronet Limoges Patterns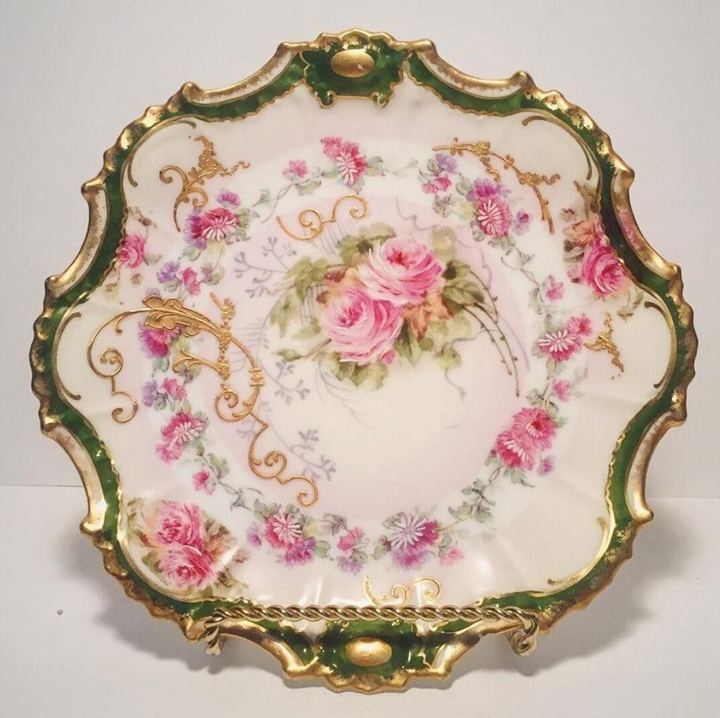 Most coronet Limoges patterns portrayed nature and hunting escapades featuring scenes like game animals (birds, wild animals and waterfowl). They also had images of plants, flowers like roses, lilies and fruits like grapes and berries.
The pieces had heavy gold-trimming and scalloped rims, which frequently occurred in their designs and became their signature look. Coronet Limoges existed between 1906-1920.
Alfred Lanternier Patterns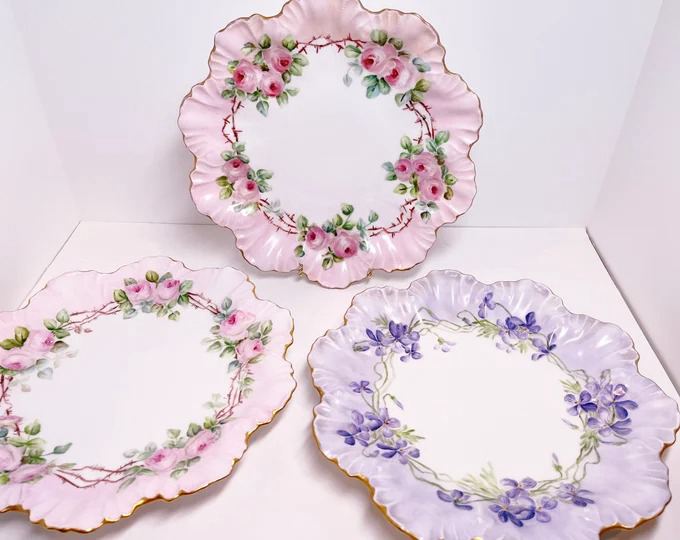 Alfred joined his father, Fredrick Lanternier, in 1890 and input this experience as an artist in Wedgewood, England, to produce quality and unique Limoges with unique patterns.
Look under the red, white and blue shield on your plate, and you'll see "France" written over it with the company's name below and the pattern name in a row under the company's name.
Lanternier used looping floral patterns on a plain white background with gold or silver trimmed edges. They were also famous for creating war motifs especially connected to the first world war, tagged the 'La Grande Guerre Dessins de Job'.
His pattern names include names like Brabant, Empress, Volubilis Pattern and Fougere Idienne.
The most notable features are fluted edges made in the shape of flower petals on vines surrounding the perimeter of the plate in the company of light blue and lavender flowers extending towards the center.
Bridal Wreath Patterns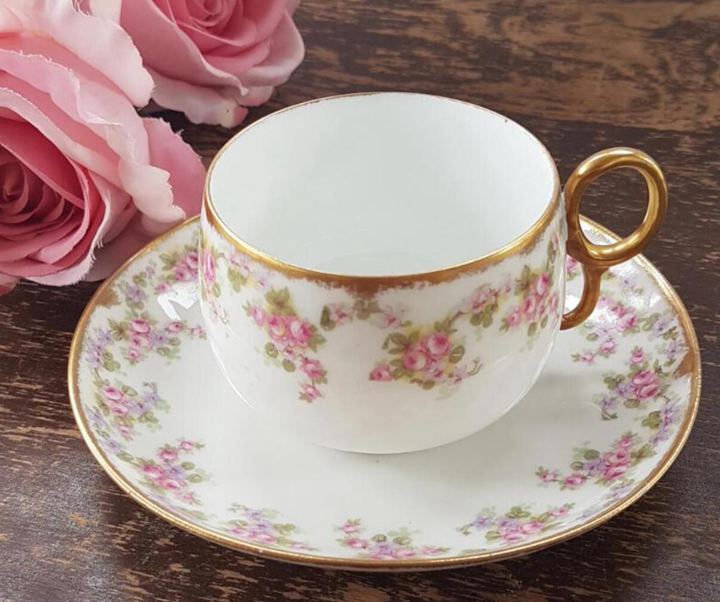 The bridal wreath patterns were brought to life by Bawo & Dotter of the Limoges Elite Works company from the early 1900s to about 1940. The details of the bridal wreath patterns include pink rose with yellow accents. They also had elegant gold trimmings.
Colette China Pattern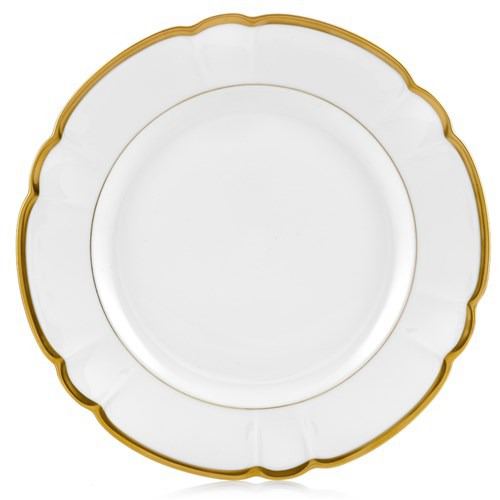 The most striking feature of the Colette pattern is scalloped edges and heavy gold trimmings surrounding milky white and very minimalistic looking plates. The Haviland company pattern is famous for its simple yet sophisticated outlook.
Haviland China Patterns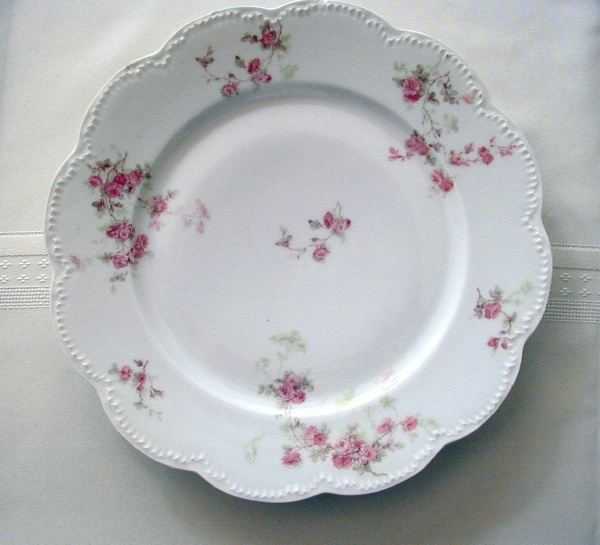 About 60,000 Haviland China patterns exist, and we don't know half of their names, especially pre-1926. However, you'll see these pattern names in books with merchants and collectors and the Haviland Collectors International Foundation.
How to Determine the Value of Limoges China
Limoges China has become a top pick and seasonal favorite of lovers and collectors of antique porcelain pieces. Use these tips to discover what is Limoges China's worth and prevent short changing yourself and your collection.
Meet an Appraiser
One of the first and most important steps we recommend is that you consult the service of an appraiser to help you study, observe and evaluate your Limoges China.
Appraisals shouldn't be done by newcomers alone; long term collectors must be in contact with appraisers to update their knowledge and inventory on Limoges China.
Appraisers like Dr Lori are readily available to help you discover the value of your Limoges China Pieces.
You can also consult online porcelain appraisals platforms such as:
Find the Age
Older Limoges sell for higher prices than the contemporary ones.
This is due to the nature of the materials used back in the day and the high craftsmanship required to produce them. (Majority of classic Limoges are handcrafted, and no two pieces are entirely the same, each has slight individual differences).
To help you further identify the age of your piece, the Limoges China with "France" embossed on them entered the market after 1891.
In 1891, the U.S. Customs laws decreed that all companies must mark their porcelain with their countries of origin.
If your Limoges has no country of origin inscribed on it, you should know it was produced before 1891. This fact doesn't reduce the value as there's a thriving market for both marked and unmarked authentic Limoges China pieces.
What is the Condition of your Limoges China?
The condition of your Limoges China is a fundamental prerequisite to determining its value. A well-built hard-paste porcelain exterior with delicate, intricate designs and a smooth glossy glaze will attract interest and fetch you impressive money.
Ensure that your Limoges aren't broken, chipped off, or with faded patterns as they will affect the price of your ware.
Check the Decoration
It's pretty easy to spot the variation in the quality and flow of painting and decoration of Limoges China. High quality and finely painted décor holds reasonable value than that of an amateur porcelain painter.
Another thing you must ascertain when checking the décor and painting is to determine if they're transfers (transfers are an imitation of handcrafted décor).
Although collectors generally prefer hand crafted pieces and will pay much money for them, it still doesn't mean they won't pick a neatly done transfer over a tacky handmade décor.
Who Produced the Ware
Manufacturers, artists and company names can sway the interest of a collector or a buyer and, in turn, increase the piece's value. Companies like Haviland, Coiffe, Flambeau, JP&L, The Elite Works, Paroutaud Freres, Laviolette, Serpaut and Martial Reardon with a host of others were famous for producing quality and unique Limoges China.
Is it a Unique Piece?
Limoges exist in little trinket pieces that are currently identified as Limoges boxes, vases, plates and oyster dishes are highly sought after by collectors and demand high prices.
Plates, vases and goblets with images of notable figures are widely appreciated and can sell for thousands of dollars on the market.
The "Imperatice Eugenie" service customized for Empress Eugenie by Leonce Ribiere in 1860 and the "Chinoiserie" set made for Queen Elizabeth II of England on a state visit to France in 1957 are one of the most notable designs of Limoges China.
Check for Marks
You can do this by yourself without the help of an expert. Turn your plate over and thoroughly check for marks or an embossment indicating location, year or the company name. If you find any verified Limoges trademark on your ware, you're on the right track.
Sets Sell Better
For Limoges China or any dishware, collectors and people pay more for complete service (Plates, Cups, Saucers, Pitcher, Goblets) than single pieces. So, if you have full dinner service, guard them with your heart.
Study the Patterns
Some patterns are precious due to their history, their company, and what they represent. Patterns like the Coronet are highly sought after and command high value in the porcelain market.
Is It a Reproduced Piece?
Reproduced pieces are not in any way near as valuable as original Limoges due to the alteration of their materials and components. Most features of reproduced wares include unusually bright colors, unequal patterns and fainted maker's marks.
Take necessary precautions and painstakingly observe your Limoges China ware to ascertain the authenticity and prevent loss. Some reproduced pieces may appear genuine in the eyes of an inexperienced buyer or collector.
Here're some common marks you'll see on these reproduced porcelain pieces.
Limoges China, ROC
ROC LIMOGES China
T & V Limoges France.
Limoges's production companies in France rolled out a significant number of "Blanks" (white dishes that are shipped to America used for painting dinnerware). These blanks are available for sale but not as valuable as genuine factory-made Limoges pieces.
Examine the Quality
An original piece of Limoges China is translucent and in a bright luminous white color under the glaze. The glaze must be refined and hard, and you'll spot them by their exceptional quality (Limoges have merged brilliant craftsmanship and luxury while paying rapt attention to the ever-evolving trends in the art world).
Here's a video discussing the quality and complete set-up of some valuable Limoges China ware.
Compare Prices
Check online for prices of previously sold Limoges pieces to get an idea of how to set the current price for yours. You can also contact a professional Limoges vendor to help compare the costs if you have cold feet or doubts.
Limoges China Marks
Understanding porcelain and pottery marks are very important when dealing with them. You must do this to know their history and discover their quality in detail.
The marks inscribed on Limoges China pieces are not embossed from one studio or in Limoges. Many studios existed in Limoges's area that made porcelain. If your ware was produced and designed in the studios, you'll find two marks; first is the factory mark and the second is from the studio.
Examine the bottom of your plate, cup, or saucer to check the marks. It's also possible to note a couple of numbers without or with a letter. Manufacturers usually spot their patterns with these markings.
Now let's answer the question on what are the marking for Limoges China.
French Government Marks
Some Limoges pieces are marked with firm and studio symbols, while some carried marks from the French government as a sign of quality. The stamps were usually circles with the phrase "Limoges Gout de Ville". In the absence of this, you may find an "L".
Artist's Name
You may see the artist's name on your piece, especially if it's hand-painted. These names may include stamps indicating that it was indeed hand painted. You may see words like
"Paint main", which means the entire piece is hand-painted.
"Décor main", which means it was partly hand-painted.
"Rehausee main", which means hands inscribed only highlights.
These marks are stamped over the glaze by importers, retailers, decorators and individual artists who worked in small studios and they help determine legitimacy and age.
Maker's Mark
Haviland & Company, Tressemann & Vogt Company (Identified as T & V) and the Bernardaud company were all located in Limoges, and you'll find some of their marks on Limoges China pieces. Haviland used the CHF, CHF/GDM and the CH Field Haviland between 1868 to 1898.
Louis XIV's factory adopted the royal monogram or a simple cypher accompanied by the crown image as its signature.
The Allund Factory used the "AE" from 1797 to 1868, while the Coronet's company used a crown with the Coronet name appearing in blue or green hues and the signature of the resident artist, L. Conderly- the Coronet mark is connected to Limoges
China produced in Europe and then decorated in France, Paris and Germany studios before sending them out to America and the rest of their consumers. Martin Freres and Brothers adopted a different style by not using their names. Instead, they used a bird with a ribbon on which the word "France" appears boldly.
Family Marks
Some Limoges China ware have family names marked on them. The piece was produced by factories controlled by families or ordinary artisans. Names like Elite France, M. Redon, A. Lanternier and C. Ahrenfedlt are that of families involved in the production of Limoges China.
Elite works, in particular, marked its pieces in the colors red between 1900 to 1914 and switched to the color green from 1920 to 1932.
Other pieces also bore signatures like "Limoges ROC" (ROC here means the Republic of China).
Retailer's Marks
Companies like Tiffany, Rochard, Sinclair Limoges and the rest imported porcelain pieces in the past and usually stamp their names beneath these pieces, retailers also followed the same route of stamping their pieces.
Watch this video for more knowledge on Limoges China marks.
How Much is Haviland Limoges China Worth
David Haviland is a pivotal character in the history of Limoges China. When the good news of this unique piece spread into American society in the 1800s, Haviland took a trip to Limoges to find suitable porcelain pieces for the American populace and market.
This journey didn't pop out of the blues. It happened because David Haviland was by birth a Limoges native, and he knew the power Limoges China held, so in a bid to share out of the spoil of fine porcelain pieces slowly appearing on the American scene, he traveled.
In 1855, he established his porcelain factory in Limoges, and due to this, America became the major consumer of the ware and even accounted for more than half of their revenue and supplied Limoges to the office of the United States president.
Although many Haviland Limoges plates have the usual white background, you can still find them in unique background colors like green, blue with rose and pink floral details. These pieces sell between $100-$200.
Here's a video on Haviland Limoges China.
Where to Sell Limoges China
Apart from their use in the kitchen or around the house as great decorative pieces, you can also make a few bucks by selling your antique Limoges China. Don't know how to go about the process of selling them off? We've got you.
Auctions
Auctions are excellent spots to sell Limoges China whether online or offline. Previous owners or collectors may decide to sell off their limited-edition Limoges China and place a massive bid on them. For auctions, the items are pretty expensive with serious competition.
Sell Online
One of the numerous benefits of the internet is that it allows you to sell your products anywhere in the world from the comfort of your home. Platforms like eBay, Etsy, and the like have sections set aside for antique stuff with plenty of options to choose from according to your budget.
All you need to do is open an account, upload a clear picture of your antique Limoges China with an explicit description of the product while indicating the price and wait patiently for your buyer to reach out.
Flea Market
A flea market is a street market that provides spots and stalls for vendors to sell their previously owned goods and belongings. This type of market is perfect for your years-long Limoges China that has been sitting idle in the kitchen or the attic.
You can choose to attend the one down the street and sift through a pile of antique plates or go virtual. Yes, you heard it, virtual! Websites like The Internet Antique Shop, Mercari, 5miles and a host of others are readily available at your fingertips for you to buy from.
Yard Sales
Yard sales are usually set up in the community, small-sized and perfect for intelligent bargaining. Unlike auctions or high-end sales, you don't need a permit or license to enable you to sell your products. Private individuals organize them.
Antique Websites
On antique websites, you'll find strictly antique items in different sizes, shapes, and models under various trademarks. There's an array of options to pick from, and they're verified items, so you never have to worry about falling victim to reproduced Limoges China.
How to Sell Limoges China
To sell Limoges China, you must get familiar with the Limoges market. The market rewards those who were prudent enough to collect and keep their 17th and 18th-century pieces, as these are the shot callers in the antique Chinaware market.
Vases and plates with images of public figures such as Napoleon, fancy trinket boxes and jars with rare patterns can go for as high as $10,000 or even more. Traditional Limoges pieces from the 19th century attract interest from collectors and can sell for up to $500.
Limoges China Numbers and Their Meanings
Numbers on Limoges China may mean they're authentic or contain more helpful information.
The Schleiger number proves that the Limoges is authentic and can also describe the exact type of Limoges China patterns you have. They're assigned to individual patterns by the Schleiger family and Haviland dealers, who grouped all the Haviland designs.
If you see a pattern number on your Limoges China, research the number in the China collectible books available online, on auction sites or on replacement sites.
Parting Words
Limoges China has continued to win the hearts of many while building a cult of devoted collectors who feel the same way about the savvy classic pieces and contemporary ones.
In your hot pursuit to be a part of this progressive movement and secure a piece of history for yourself, here're a few golden tips you must never forget.
Original Limoges China is luminous and plain white in appearance. They're easily recognizable by their profound quality.
There're various marks on Limoges China pieces: they're either government marks, maker's marks or artist's marks.
Limoges is the name of the location they make these pieces and not a manufacturer's title.