The market for vintage china is hot right now, and antique Haviland patterns are some of the most sought-after pieces. Haviland china was one of several manufacturers of high-end porcelain that catered to the upper class during the 19th century.
If you come across old plates and serving dishes marked with a blue and gold checkerboard pattern or any other mark indicating it's Haviland, they're probably worth money. Many famous people have owned pieces of Haviland china over the years, including Thomas Jefferson, John Adams, and Napoleon Bonaparte. And each time one of these society figures had a gathering that included an impressive piece of Haviland china, it increased the demand for this brand even more. If you have old dishes from an heirloom set or inherited broken pieces from grandparents marked Haviland, this blog post will help you determine which ones are worth some money.
Brief History of Haviland China
The history of Haviland Limoges is one of product-driven enthusiasm and a passionate drive to excel in the industry. It all started with a man who saw an opportunity to improve the standard of dishware in America. A unique set of French porcelain was discovered in 1839 by importer/exporter David Haviland, who was based in New York. The beautiful imported china from France was not frequently available to Americans.
He saw that French porcelains were of a higher caliber than English porcelain and a significant improvement over the cheap earthenware that dominated the American market. He made the long and tedious journey to France to discover where the porcelain he had seen in his New York offices originated, to be the first to bring this particular sort of china to the United States.
He spent a year looking for the manufacturer of the porcelain in Paris before discovering that the porcelain originated from Limoges, a city less than 200 miles from Paris. He came to France in 1942 to become fully involved in the processing of shipping the goods to his brothers in New York after rapidly realizing the commercial possibilities of dealing exclusively in French porcelain for American clients. He soon understood that he would have to start his own factory and oversee the decorating process if he wanted to produce wares that would appeal to American consumers. He opened a factory in France and named it "Haviland Brothers & Company."
Haviland Brothers & Company shut its doors after the Civil War due to a lack of customers. David Haviland seized the chance to go into business for himself and changed the name of his new business to "Haviland and Company." He also included his sons Charles Edward and Theodore in the business, with Charles Edward eventually taking over his father's day-to-day duties within a few years.
Identifying Haviland China Patterns
In the late 19th and early 20th centuries, collectors valued Haviland pieces very highly. According to experts, the company produced as many as 60,000 different patterns. Recognizing these patterns has become a challenge for most people who enjoy collecting Haviland China Pieces. Most of these china patterns, especially those designed before 1926, were not named.
Haviland's design patterns frequently featured floral drawings with gold trim, but even within the same pattern, there was a wide range of colors.
In her works on Haviland Limoges china patterns, Arlene Schleiger (a Haviland china expert who cataloged almost all Haviland china designs with the help of her son, Dick Schleiger) assigned numerical classifications (Schleiger number) to these patterns. This is possibly the most efficient means of identifying the Haviland china pattern. Haviland dealers now deal with Haviland china using this numerical system. Users are recommended to look for "Haviland Schleiger" followed by the pattern number when conducting searches on online marketplaces like eBay because each pattern design has a specific Schleiger number attached to it.
A Schleiger number is an assigned number that verifies the authenticity of a Haviland china. It describes the exact type of Haviland Limoges china pattern.
How Much is Haviland China Worth?
This is a question that is commonly on the minds of most owners and collectors of Haviland china. The truth is there is no specific answer to the question because the price or worth of any Haviland china depends on its type, rarity, edition, and other factors.
Haviland doesn't have a set official price list because costs vary depending on several factors. The price can vary depending on the item's popularity and rarity. Unique antiques may command higher prices, although very common sets may fetch a cheaper cost.
It is also essential to know that any Haviland China piece will lose value if it is badly damaged.
Haviland China Patterns Worth Money
Let us take a look at some of the most valuable china patterns by Haviland and what makes them so unique and valuable:
● Imperator Pattern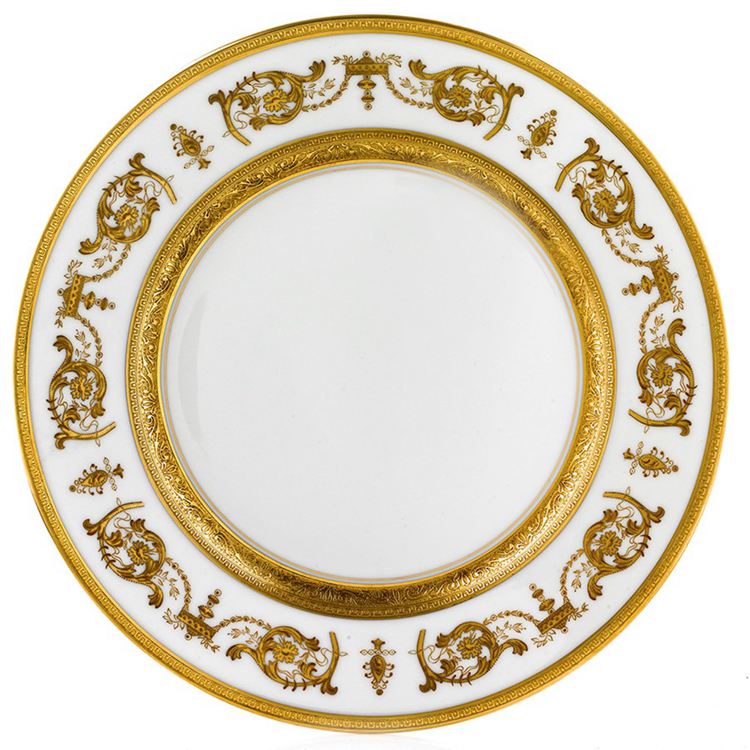 The design was inspired by a design from the Haviland archives, and the pattern is still being produced today. It is reminiscent of classical Greece with a frieze of acanthus leaves and garlands. This is sandwiched between two constricting bands ornamented with a classic Greek geometric pattern.
If you are a lover of bling, this pattern will not disappoint you as it is covered in fringes of high-quality gold.
If you are lucky to own a complete set of china with this exact pattern, then you are an owner of a valuable china set. A set of 12 salad plates of this pattern in mint condition was recently sold for close to $3000
● Scalloped Edge Haviland China Pattern
The blue scalloped edge Haviland China is a very recognizable pattern. It is a blue plate with a scalloped edge that is gold in color. These dishes were produced between 1847 and 1855. Because of their short production span and rarity, scalloped edge Haviland China plates are some of the most valuable pieces of Haviland china.
If you have an entire plate or a few pieces of this pattern, expect to receive thousands of dollars for them.
● Feu de Four Pattern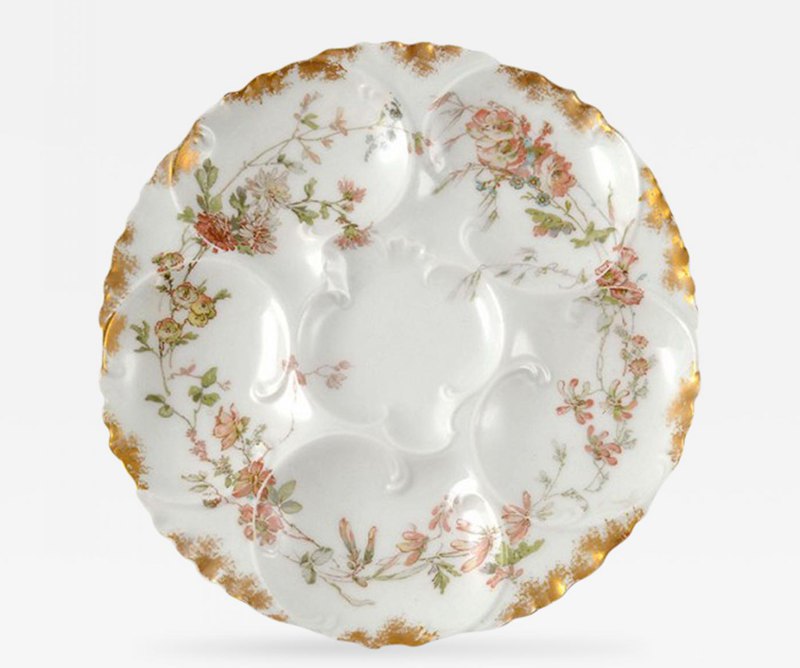 Feu de Four refers to the four steps of the creative production process of this Haviland china pattern. A transfer was used to apply the design to the blank china, which was then burned before the glaze was finally applied. The final result of the process is a softer and hazy-looking porcelain piece. Due to the difficulty of the production process, Haviland chinas of this pattern are pretty expensive as most of them feature a gold trim Haviland Limoges pattern.
Among the most valuable items produced by Haviland are its oyster plates. The Feu de Four pattern is used on most of these plates, accounting for their high values. A piece that features this pattern, in very good condition, was sold online recently. The piece was sold for about $2700.
● Daffodil Yellow Haviland China Pattern
This yellow and white Haviland china pattern was produced between 1847 and 1855, which makes it very rare. While there are more blue and white Haviland china pieces in existence, there are far fewer yellow and white pieces. If you have an entire plate or just a few pieces of this pattern, expect to receive a few hundred dollars for them.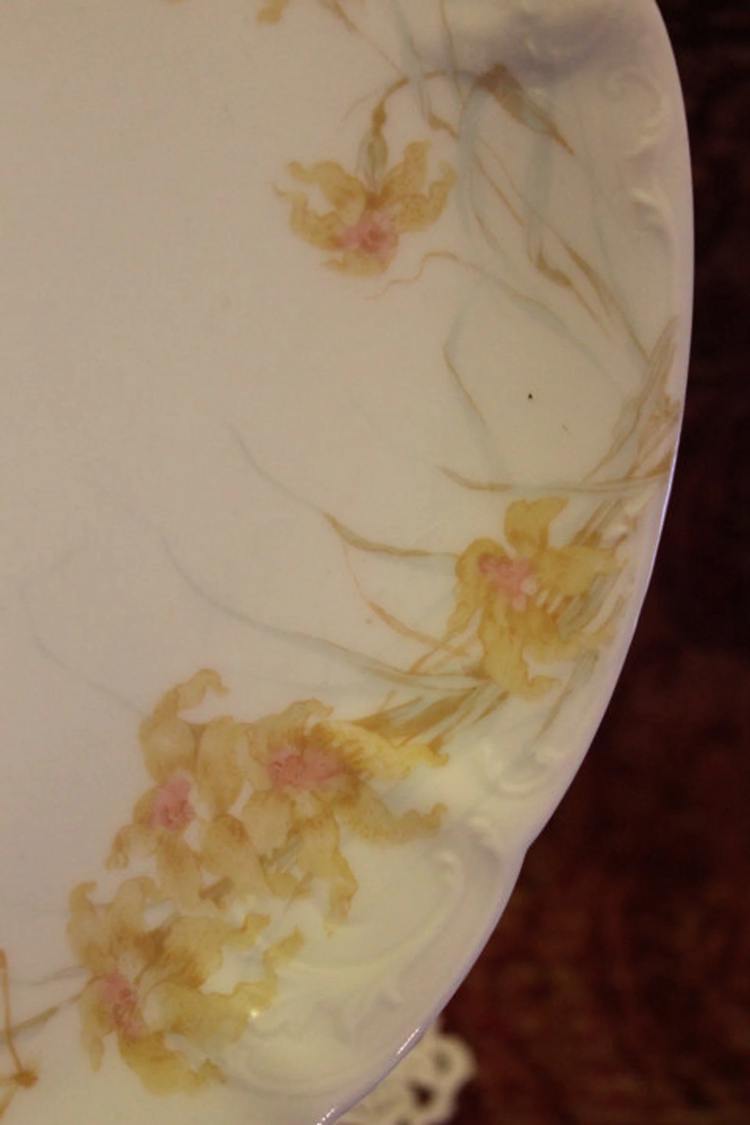 A single piece from a set of plates of this pattern designed for T.Z Cook & Lawrence Co. is currently listed for sale on Etsy. The listing price of the piece is $95.
● Cobalt and Gold Floral Pattern
This is one of the most valuable and recognizable Haviland china patterns. This is a design of solid cobalt color mixed with a gold pattern. The cobalt and gold checkerboard Haviland China was produced by the company for about 30 years, between 1835 and 1865.
They are now very scarce these days because their production stopped a long time ago. It is estimated that there are about 3,000 complete sets of plates of this pattern in mint condition in existence today, which is not that many considering how long this pattern was produced. Even if you have just a few pieces of dinnerware of this pattern, you can still expect to receive a few hundred dollars for them.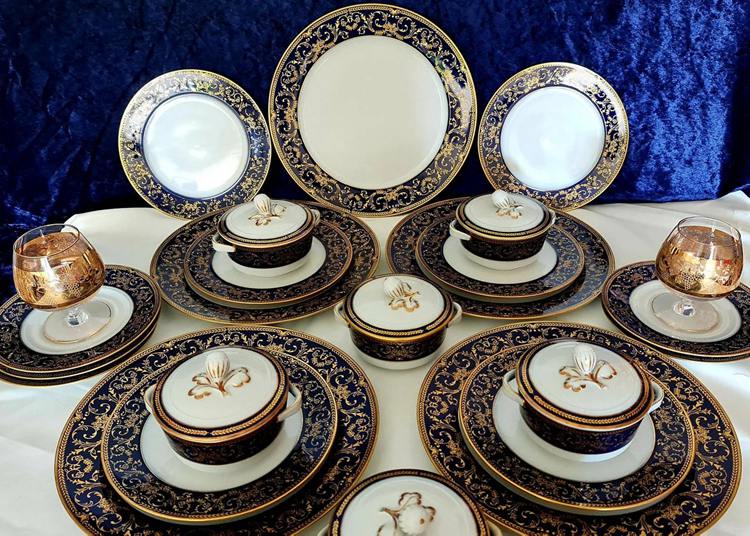 A complete set of dinnerware of this pattern is currently listed for sale on Etsy for over $1000.
● Christmas Rose Haviland China Pattern
Only a few numbers of the Christmas Rose pattern, which is an artistic rendering of a light pink rose surrounded by holly leaves, were made. Collectors are fiercely competitive for any piece of this pattern because this particular pattern is very scarce and valuable.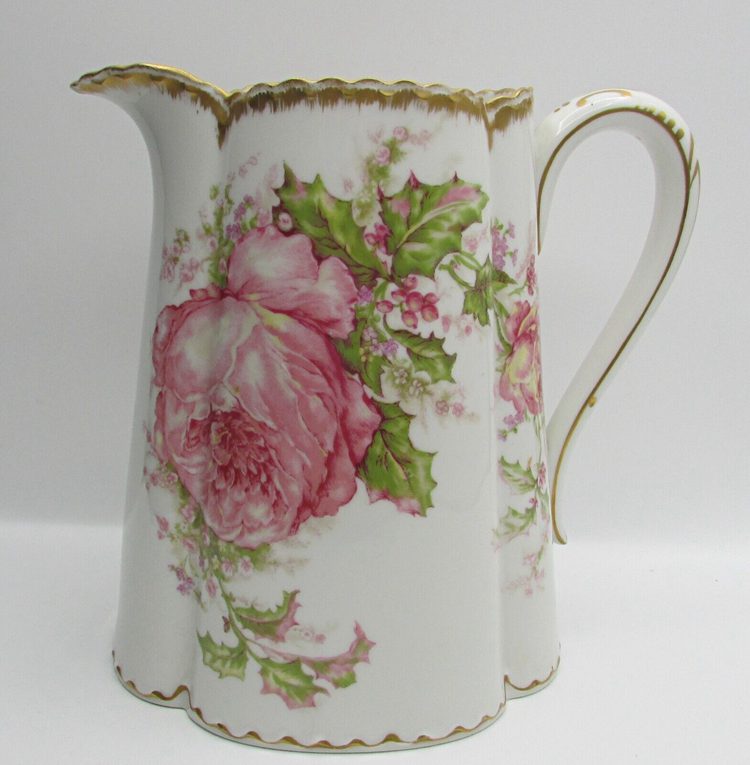 One of the recently sold pieces with this pattern is the Large Haviland Pitcher, which was sold on eBay for $1047. This lovely piece is 8.5 inches wide by 8 inches high (including the spout and handle). It has a 6-inch diameter. When it was put up for sale online in 2022, it was free of cracks and crazing. However, there was a tiny chip close to the handle towards the back of the rim.
Although china's condition is typically a significant factor that determines the value, in this case, the pattern's rarity outweighed this factor. Hence, even if you have a piece in a bit of bad shape, it can still be valued at a reasonable price.
● Edith Pascal Haviland Pattern
The Edith Pascal pattern (professionally referred to as Pascale Pattern) is a design of two gold bands encircling a pale blue band. In cups and jugs of this pattern, the handle is embellished with golden garland. Like most gold-rimmed Haviland patterns, it is pretty valuable.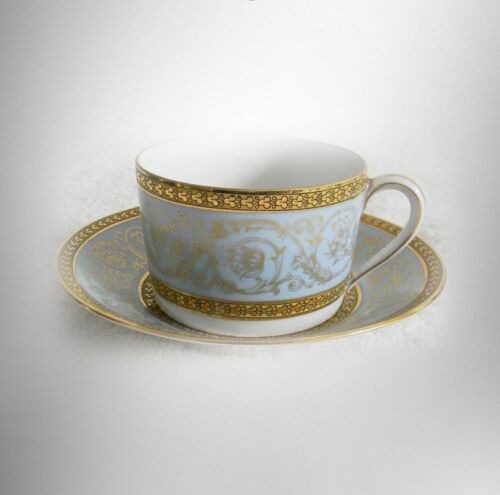 Any piece that features this pattern can sell for a reasonable amount. A set of original cups and saucers with this pattern is currently listed for sale on eBay. The seller is currently pricing the piece at about $470.
● Drop Rose Haviland China Pattern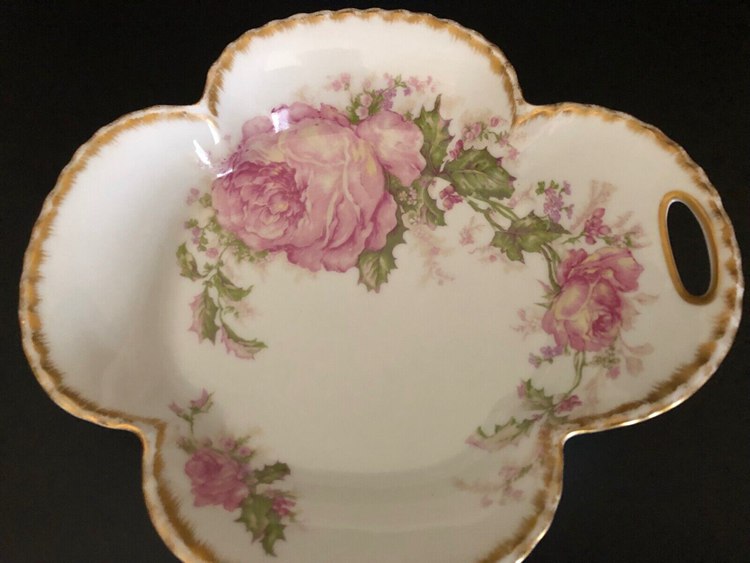 It features the well-known color scheme of roses in a dusky pink tone with gold trim. However, there is also a gorgeous border in duck egg blue in this instance. The pieces that feature this pattern were produced between 1900 and 1919, making them very hard to come by these days.
The commonest Haviland chinas that feature this pattern are "the drop rose luncheon plate" and "the drop rose trio, which consists of a teacup, saucer, and a small plate." Having a set of this for sale potentially means hundreds of dollars.
You can check out some of the recent sales of Haviland Limoges china of this pattern that was made on eBay and the price they sold for.
● Strasbourg Blue Floral Haviland China Pattern
This is a rare pattern since many of the flower petals were broken off the plates during production. This blue and white Haviland pattern features a flower that resembles a rose in the center of the piece, as well as flowers and vines that flow down the edges. If you have a plate with this design, you have a valuable piece of Haviland china.
You're most likely going to have to take it to a professional to appraise it for you to have a rough estimate of its value. If the plate is in good condition and you have a few pieces of this pattern, you can expect to receive a reasonable amount of money for them. For instance, a complete set of dinnerware of this pattern is currently listed on eBay for $500.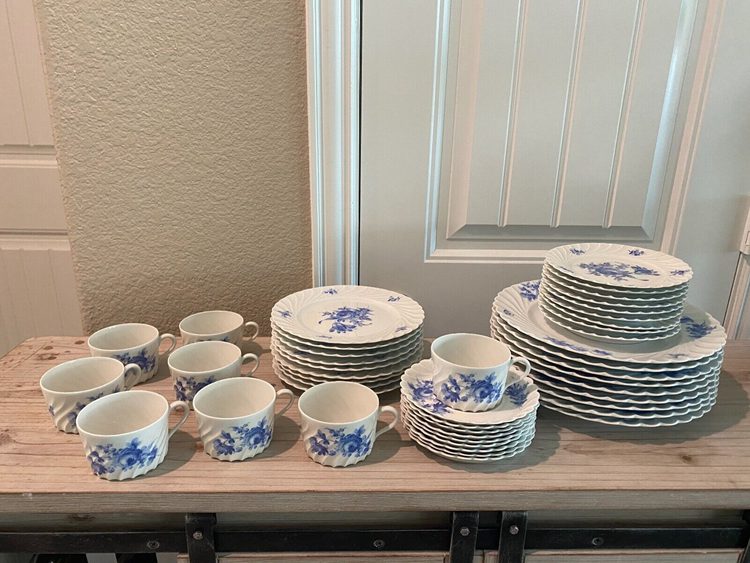 ● Haviland China Pedestal Compote Bowl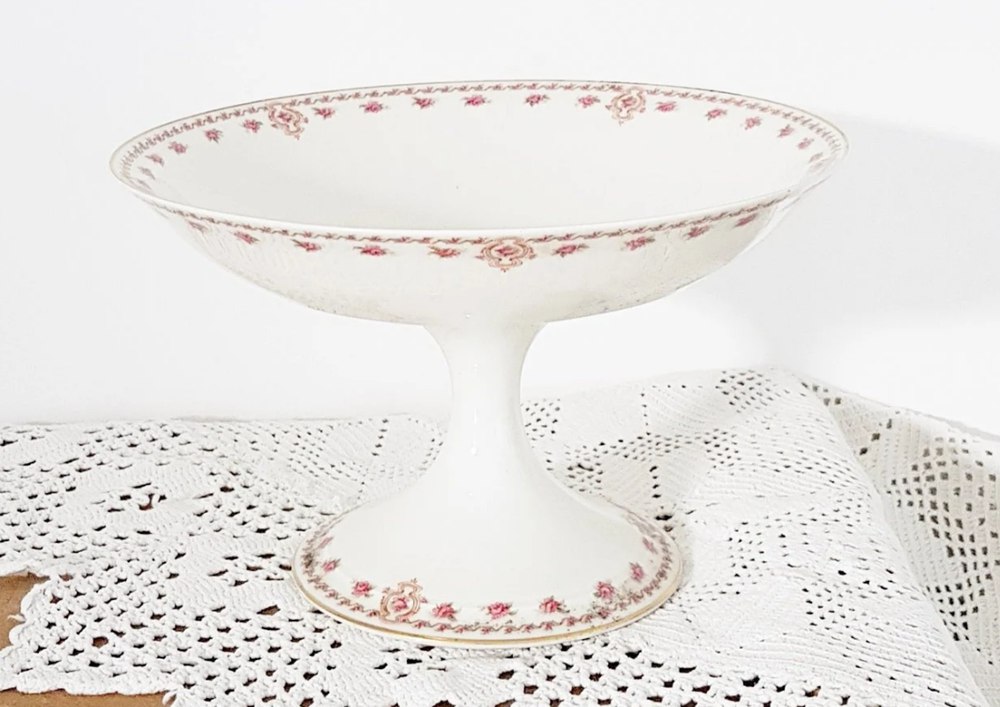 This elegant compote bowl was made between the middle and the end of the nineteenth century, in the earlier period of Haviland's history. It is a magnificent way to present compote, a rich fruit spread, and it would look beautiful on any breakfast table.
It has a lot of gold decorations. Additionally, garlands of roses in a soft pink color adorn the base and bowl. The base of the bowl, which has a diameter of 6.5 inches, is inscribed with the words "G. H. Field, Haviland, Limoges."
In 2022, one of these lovely and uncommon pieces was purchased online for $958.
● Golden Quail Haviland China Pattern
This Haviland china pattern features quails and flowers with the rim of the dinnerware laced with gold. This pattern was produced between 1975 and 1993, making it quite challenging to come across these days.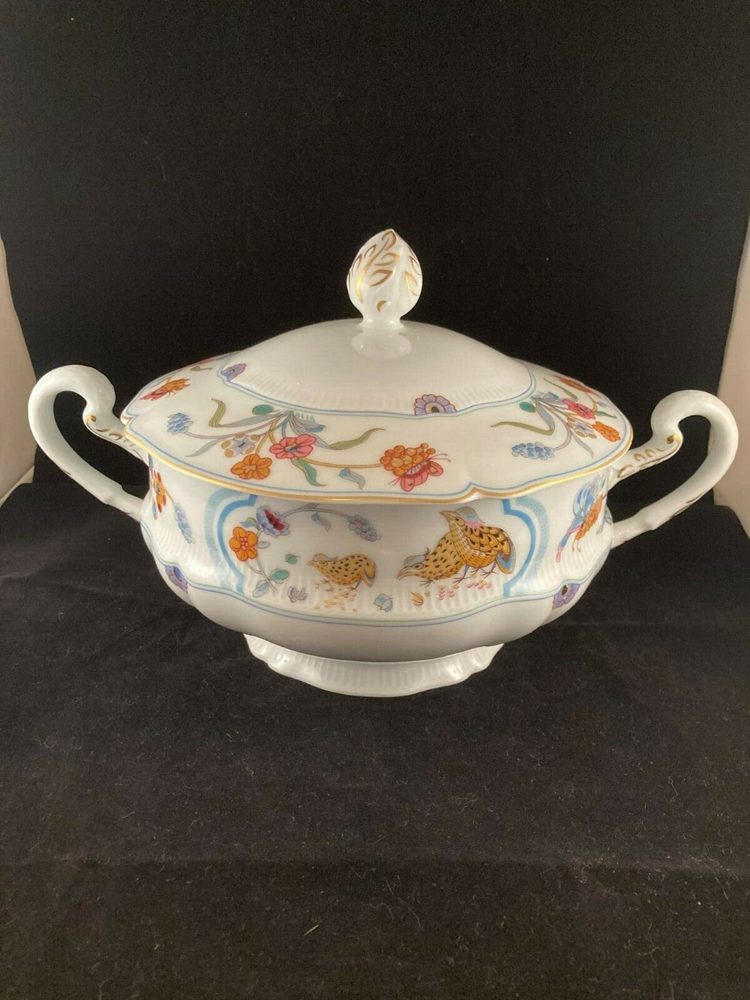 This pattern is quite valuable, and it sells for a reasonable price among collectors. A casserole serving dish that features this pattern was recently sold on eBay for about $225. The dish is in fantastic shape. It is unblemished and shows signs of extremely gentle use; there are no chips, cracks, stains, or crazing. Another 5-piece set of plates of this pattern is currently up for sale on replacements.com for roughly $240.
● Theo Haviland Rose Garland Cake Stand
In recent years, baking has experienced a popularity surge. Because of this, antique cake stands are now highly appreciated by collectors.
It almost seems inappropriate to serve a cake on this beautiful cake stand, which is decorated in Theo Haviland's rose garland pattern. And it naturally means that it provides the lucky owners with the ideal excuse for one more slice.
The plate is 8 inches in diameter and stands 3 inches wide. It had no chips, cracks, or repairs when it was sold online in 2022 and was in excellent shape. One buyer was happy to pay roughly $50 for it because of its beauty and uniqueness.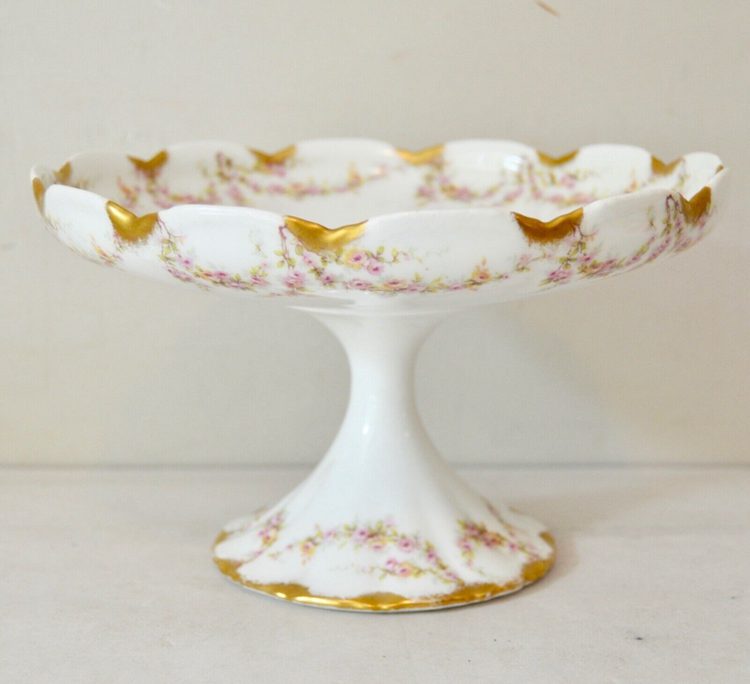 ● Theo Haviland Art Deco China Collection
This is a unique collection of exquisite porcelain sets of dinnerware from the 1930s. In this sophisticated design, Art Deco and Chinoiserie coalesce. The set also features a gold trim Haviland Limoges pattern. The pattern has a crisp white design of a brilliant pink dogwood tree painted atop a black planter. Most of the set that features this pattern has probably spent many years in a hutch.
A 68-piece set that features this pattern is currently listed for sale on Etsy for $600. The set includes teacups, dinner plates, salad plates, soup bowls, and others.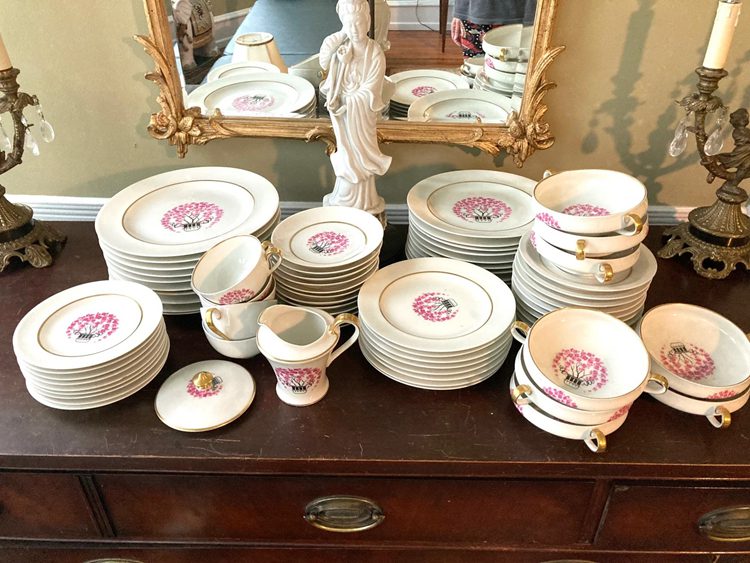 ● Michele Haviland China Pattern
The Michele pattern was created in the 1950s and comes from a slightly later generation of Haviland. But the floral pattern (which can be either pink or yellow) and the gold trim still clearly resemble previous models. This pattern was made for a very short period, making it quite rare nowadays.
A set of 67-piece dinnerware is currently listed for sale on eBay for $795. The set is still in mint condition. It has no chips or cracks, the gold trims are untarnished, and most of the pieces still have the manufacturer's mark.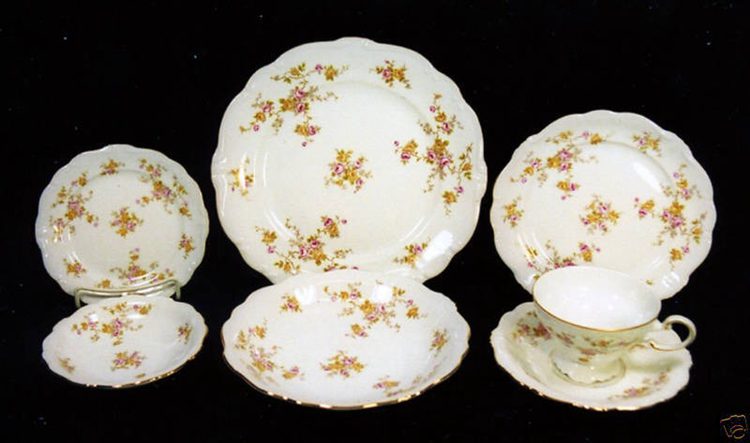 ● Floral Nosegay Haviland China Pattern
The nosegay pattern was manufactured in the 1920s and, as suspected, is now very rare these days. The pattern features a design of small and colorful bunches of flowers on a white china base. It also has a lovely gold trim which makes it even more remarkable.
There is currently a sales listing for a serving platter of this pattern on tamarashacksantiques.com for about $67. The piece, with a length of 13 inches and a width of 10 inches, is still in excellent shape. It has no cracks and very little tarnish to its gold trim.
In another report, a complete set of 65-piece dinnerware of this pattern was recently sold for $1500.
● 12-Piece Place Setting Haviland Dinner Set
Everything you need for a group of twelve is included in this excellent dinner set. In total, there are 94 parts. Each one is embellished with a lovely pattern of pink and green flowers and foliage framed by a gilded border.
When the set was put up for sale in 2022, not every component was in mint condition. For instance, one platter had numerous cracks. However, a buyer was content to buy the china due to its high quality and attractiveness. The set was sold for $1699.
● Vintage Johann Haviland China (Moss Rose Pattern)
The Moss Rose pattern, which was a well-liked pattern in the early 1900s, is one of collectors' favorite Haviland china patterns. Delicate rosebuds in pink and green tones are woven into the design. The fact that they were manufactured a very long time ago makes them quite rare and valuable.
A 34-piece set of dinnerware of this china pattern is currently up for sale on Etsy for $500. The set includes a dessert plate, an oval platter, tiny bowls, saucers, and other items.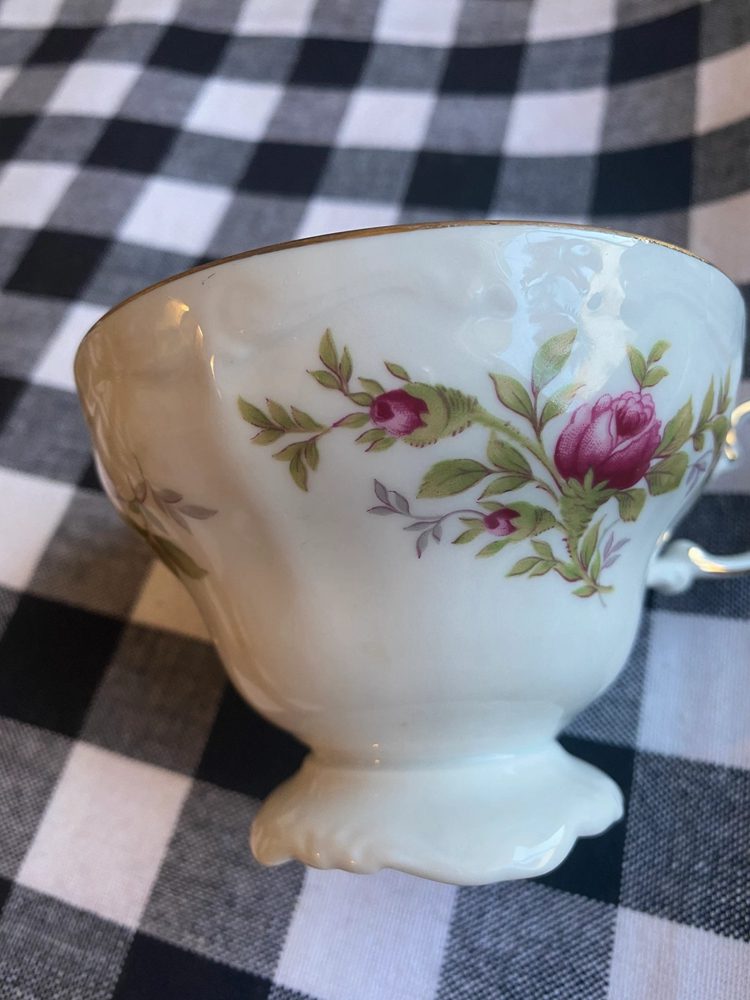 ● Haviland Schleiger 957 Covered China Dish
This is another stunning, unique, old Haviland china dish from way back. It is surrounded by a floral pattern and has an intriguing design. Along with it, it has a cover with a gold-plated handle. This uncommon china dish has handles on the side, making it simple to carry.
It can be categorized as Vintage because it was made in the 1900s. It is currently worth about $220 on eBay. Its authenticity is confirmed by the manufacturer's mark at the bottom, just like every other Haviland China Piece.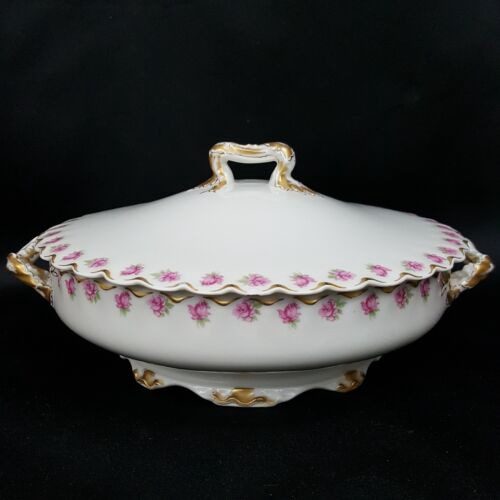 ● Mount Vernon Haviland China Pattern
The Mount Vernon pattern was manufactured between 1918 and 1920, making it very extremely rare to come by these days. The pattern is now very valuable and owning a complete set of dinnerware of this pattern is a step closer to making some serious cash.
It is a stylized floral pattern with dark yellow as the main color and pink, blue, and green as additional colors.
An 86-piece dinner set of this pattern is currently up for sale on Etsy for $2450. The set includes twelve pieces each of large and small bowls, dessert plates, cups, saucers, ten dinner plates, and six luncheon dishes. The set also contains platters, vegetable bowls, gravy boats, and serving bowls.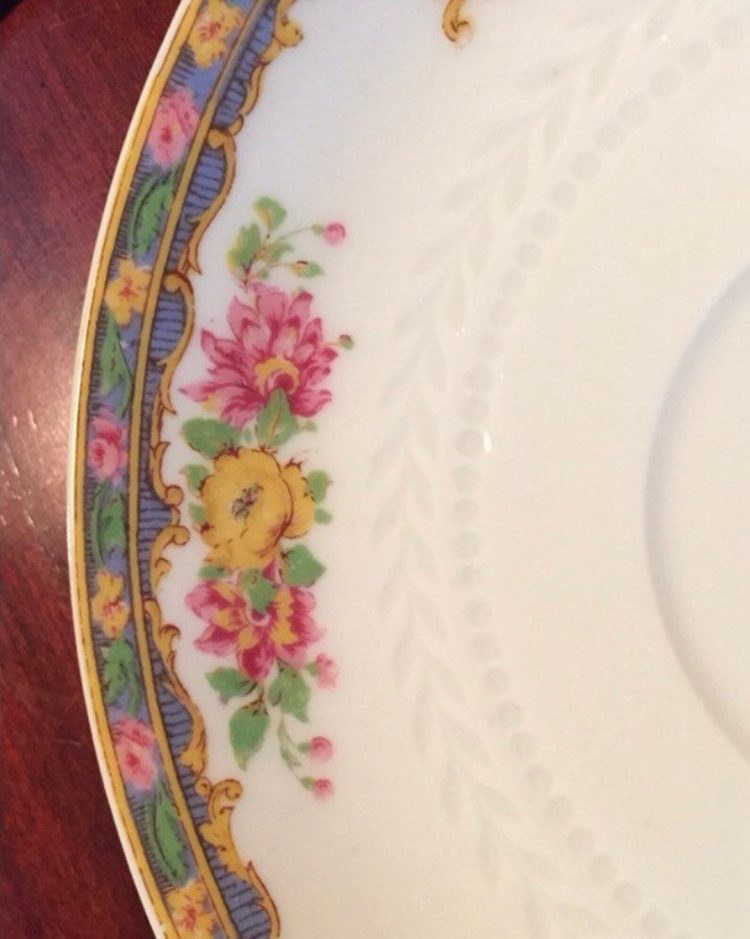 Conclusion
This concludes our discussion of some of the most expensive pieces of Haviland china patterns sold in recent times. Finding these stunning items has been a lot of pleasure, and we are amazed at the prices they have been sold for.
We hope you've liked our review, whether you're a collector, a vendor, or you just have some interests. You could have been moved by the beauty of those exquisite cups and saucers to take some time to savor some tea and scones.