Whenever I hear the word "Lenox," what comes first to mind is quality bone china. Since the 19th century, Lenox China has served the wealthy, middle class, and lower class in different world regions. In fact, at least two of the past United States presidents merried and dined with porcelain and ceramic wares produced by Lenox.
Antique Lenox China is considered a fine investment by collectors globally. Even modern Lenox pieces are considered collectibles, although they cost relatively lower than antique pieces. Today, with about $200 or more, you can become a collector of Lenox China. In the same way, you could make a bunch of cool cash if you choose to sell off the sets you've inherited or collected over the years. But, before you make the next move, I'd suggest you calmly read through this guide. Here, you'll learn about how Lenox China came to be, where they were produced, and the most valuable Lenox China designs in the region. I also included a few tips to guide you in buying or selling Lenox China.
Lenox China History
In 1889, Businessman Walter Scott Lenox produced the first set of Lenox China. He co-founded the Ceramic Art Company with Jonathan Coxon in New Jersey that year. However, a few years later, in 1906 specifically, he bought out Coxon's share of the business and became the sole owner. Around this time, the company was officially renamed Lenox Incorporated.
In the early years of this company's operations, they focused more on producing limited patterns of American-inspired pottery. Many of the pieces made before the 20th century are strictly one-of-a-kind. The Smithsonian Institution displayed a few of these pieces in 1897, while shops carrying high-quality ceramic products always stocked Lenox china.
The company began mass production in the early 1900s due to the rising popularity of the Lenox brand. The first mass production of china by Lenox Incorporated occurred in 1917. Thanks to this expansion, the company increased its portfolio to create multiple dinnerware sets. The company produced multiple custom-designed dining dishes and many more dinnerware sets. For variety, Lenox hired renowned artists like Frank Holmes to design the wares.
Lenox China has been around for over 100 years. Throughout this time, collectors' love for the pieces has grown. The attachment many of these collectors feel for China stems from the superior craftsmanship used to mold each piece. It was this same unique craftsmanship that endeared the Lenox dinnerware to the White House.
Officially, Lenox China is the first American-produced bone china ever used in the White House.
In the mid-1900s, the small company in New Jersey became a nationally acclaimed producer of porcelain dinnerware. Some of the popular patterns that played a part in introducing Lenox Incorporated to the world include Lowell and Autumn. The wife of Late United States President Woodrow Wilson also played a role as she took the first liking to the Lenox designs. The successive Presidents after him, from Truman to Clinton, continued to patronize the business. The Lenox china purchase by every administration became a tradition. And it sealed Lenox's renowned reputation in the Bone China industry.
Lenox china patterns evolved with the eras. The company ensured its designs satisfied the modern tastes of many. For example, the 1920s Eternal line pattern came to be based on the clean geometry of the Art Deco Age. Subsequently, the company updated its designs for a modern appeal by introducing figurines and other small decorative objects.
The Lenox brand went on to scoop several awards through Chief Designer Frank Holmes, including the silver medal of the American Designers Institute and the 1926 Craftsmanship Medal of the American Institute of Architects. In 1928, Lenox porcelain became the first American-produced porcelain displayed at the National Museum of Ceramics, Sevres, France.
Where is Lenox China Made?
Many people often assume that all China wares are made in China or other Asian countries because of the name. However, Lenox China is not.
Lenox China is made in the United States of America. The company that handled this production was formerly the Ceramic Art Company, but it was renamed Lenox Incorporated in the early 1900s.
The company was formerly located in New Jersey; however, once mass production began, it had to expand. Lenox Incorporated started operating from its plant in Kingston, North Carolina. The plant took up more than 200,000 square feet, while the entire facility was about 40 acres (equivalent to 160,000 m²). The facility specializes in producing enamel dots, colors, microwave metals, and etch designs.
As of today, modern Lenox dinnerware, tableware, and collectibles are still being produced in Kingston; however, the plant is no longer owned by Lenox Incorporated.
Popular Lenox China Patterns and Price Guide
The Lenox brand produced over a thousand patterns during its 100+ years. Out of this bulk, specific patterns are notable and more valuable to collectors. As with all porcelain companies, most of the designs were discontinued, while a few were not produced in sets. This rarity can substantially increase the value of the Lenox ware.
To accurately identify the patterns of a Lenox china, you must examine the details and then match them to other produced pieces. To make things easier for customers, the Lenox brand provided a website that helps buyers and sellers identify the patterns of their Lenox China. You can access it here.
Lenox Patterns from the early 1900s
This comprises some of the oldest Lenox patterns. Highly expensive and sought after by experienced antique collectors. Some of them include:
Lowell — This was first produced in 1917. The simple pattern has an ivory background, a gold rim, and a delicate design.
Lowell dishware (a set of 12)
Price: $400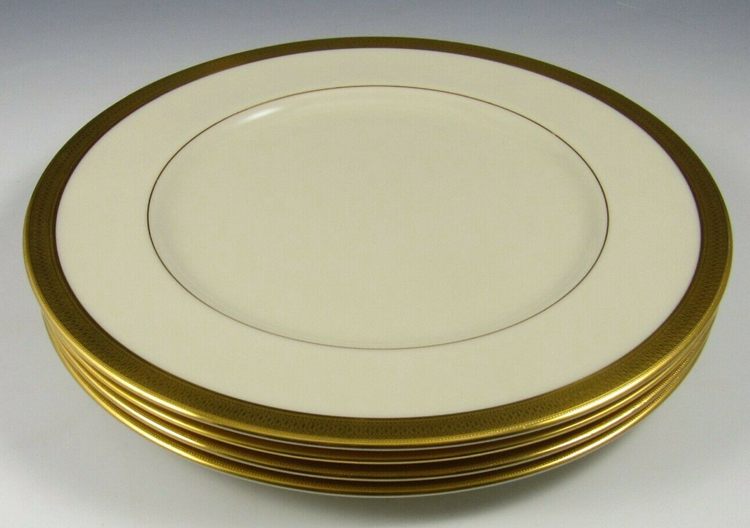 Autumn — Still in production to date, the Autumn pattern was first released in 1918. The design has an ivory background with multiple floral details coated with distinct colors. A central floral motif accentuates the pattern.
Price: $150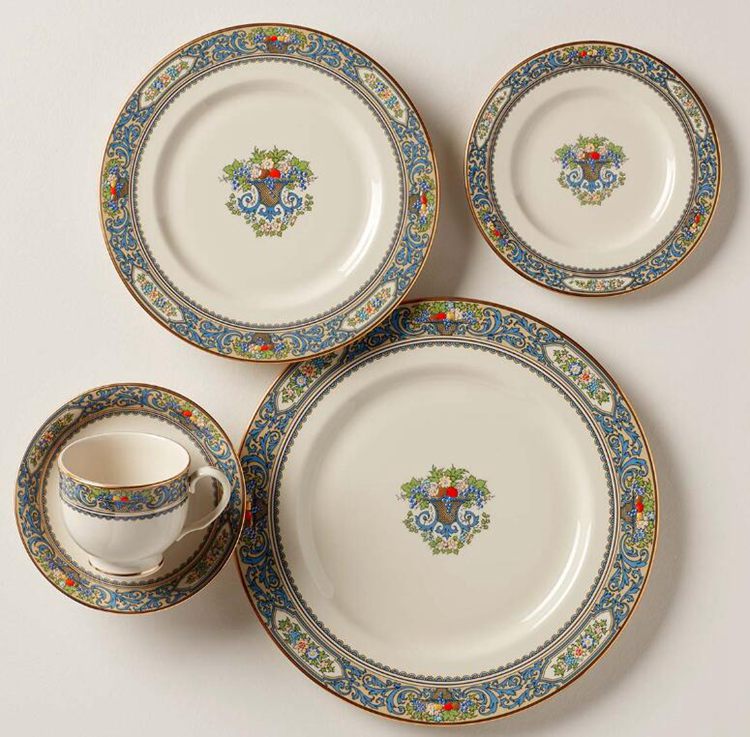 Fountain — This pattern is one of Frank Holmes'. It showcases geometric lines, floral designs, and bright colors. The company stopped producing this pattern in 1948.
Floride — Released in 1922 and discontinued subsequently, this design features a purple band as well as two tropical birds on the rim
Lenox china patterns 1930s
In 1930, Lenox had risen to be one of the top shots in the North American china industry. Within this period, the company kept releasing patterns after patterns to meet the rising demand. A few of the most important patterns of this era include;
Harvest — This pattern is one of Frank Holmes' brainchild. It features effortless gold trim, a gold wheat motif, and an ivory background.
Price: $70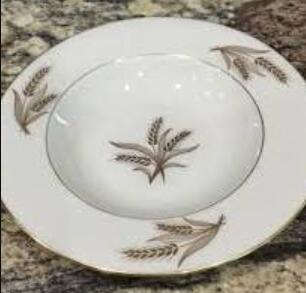 Lenox Rose — This is a classic pattern first released in 1934. It has gold trim, with multicolored roses on a rich ivory background.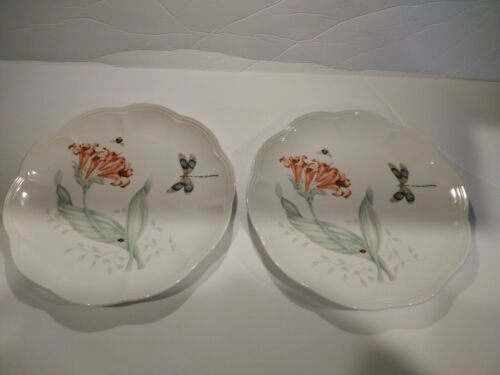 Cretan — The Art Deco era inspired this pattern. It features a fluted rim with gold geometric borders. It also has gold accents on its ivory background. The company halted the production of this design in 1985.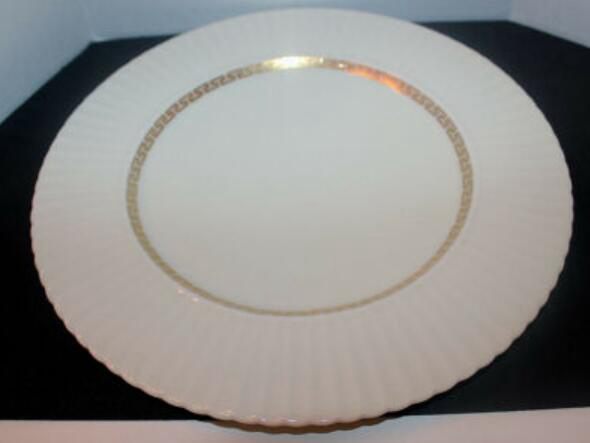 Rhodora — This was produced during the wartime years. It has no gold trim but features pink ribbons, blue flowers, and a simple ivory background.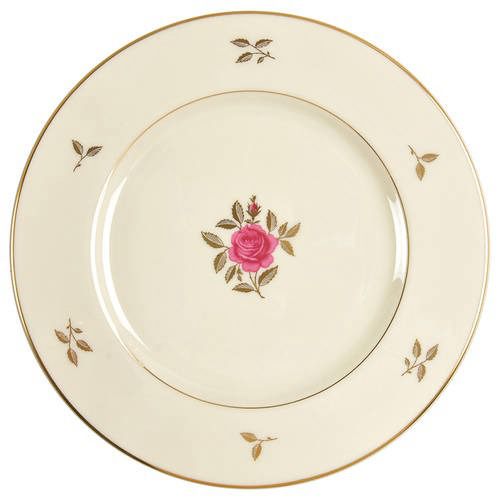 Lenox china patterns 1950s
The designs produced in this decade lacked the formal atmospheres the previous patterns brought. It instead offered a pleasant, refreshing, and well-crafted dinnerware.
Kingsley — This unique design was first released in 1956. It features a teal rim, platinum accents, a spray of flowers, and an ivory center.
Caribbee — This pattern has soft pink rims, gold accents, and a rope-like design.
Lenox china patterns 1960s
After 50 active years in the industry, the Lenox brand was still putting out new patterns that rose to be favorites among customers and collectors. The most striking pattern from this decade is the Aristocrat pattern. It had a styling that was similar to the Lowell pattern. Other important patterns from this decade include:
Musette — This pattern features gray flowers, platinum accents, pale green foliage, and a swirled ivory background.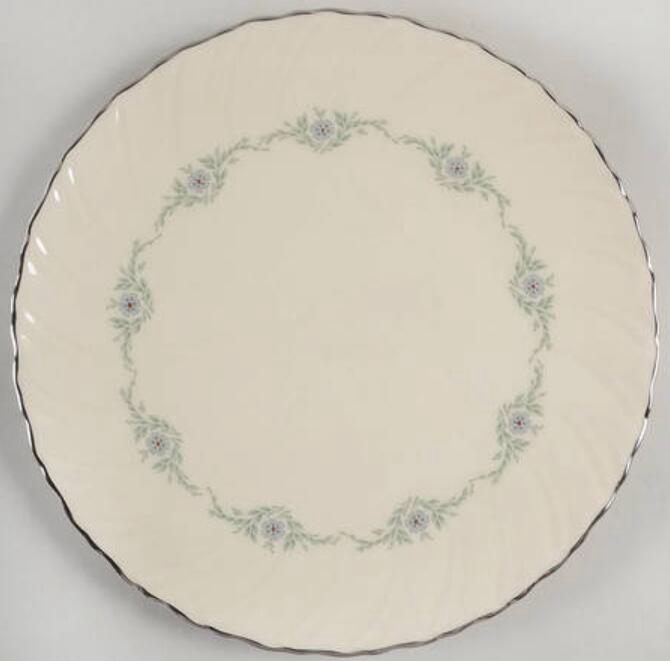 Princess — Debuted in 1954, this pattern is characterized by a gray and neutral platinum floral motif set right in the middle of an ivory layer.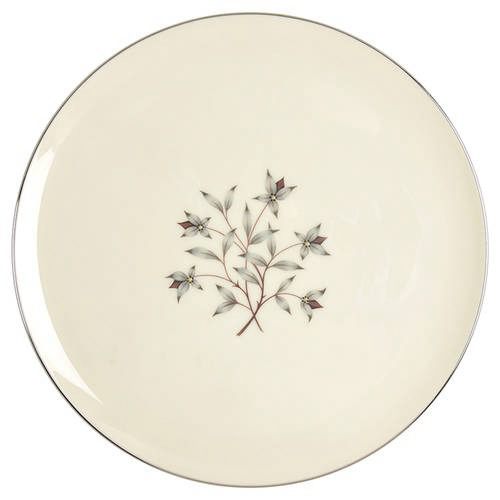 Discontinued Lenox china patterns
Hundreds of patterns have been discontinued over time to make way for newer patterns. You have to be very careful with your Lenox china if it is a discontinued pattern, as you would be unable to replace the piece if any accidents occur. Three unusual patterns that have been discontinued include:
Rhodora — This pattern was designed by Frank Holmes and featured a feminine style with a centered pink rose on an ivory background. It was discontinued in 1982, about 43 years after its release date.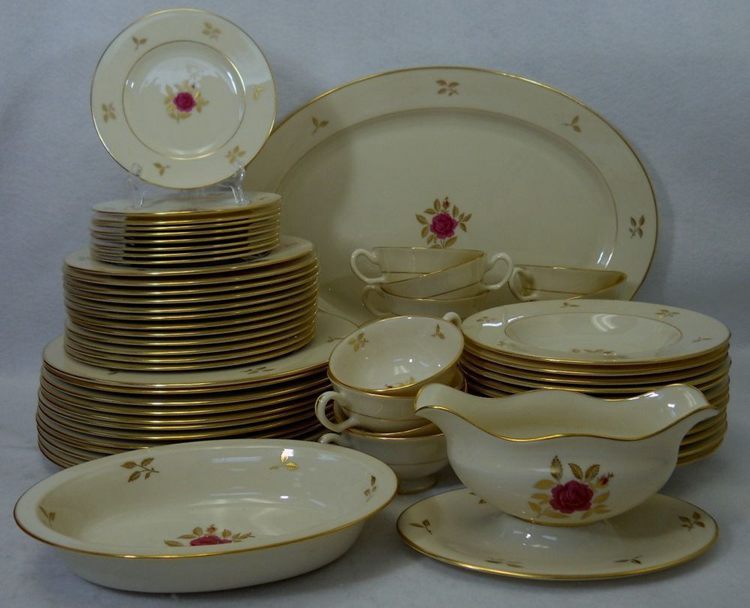 Rutledge — This 1939 pattern was discontinued about 80 years after it debuted. It has a fluted run, tiny multicolored flowers, and an ivory background.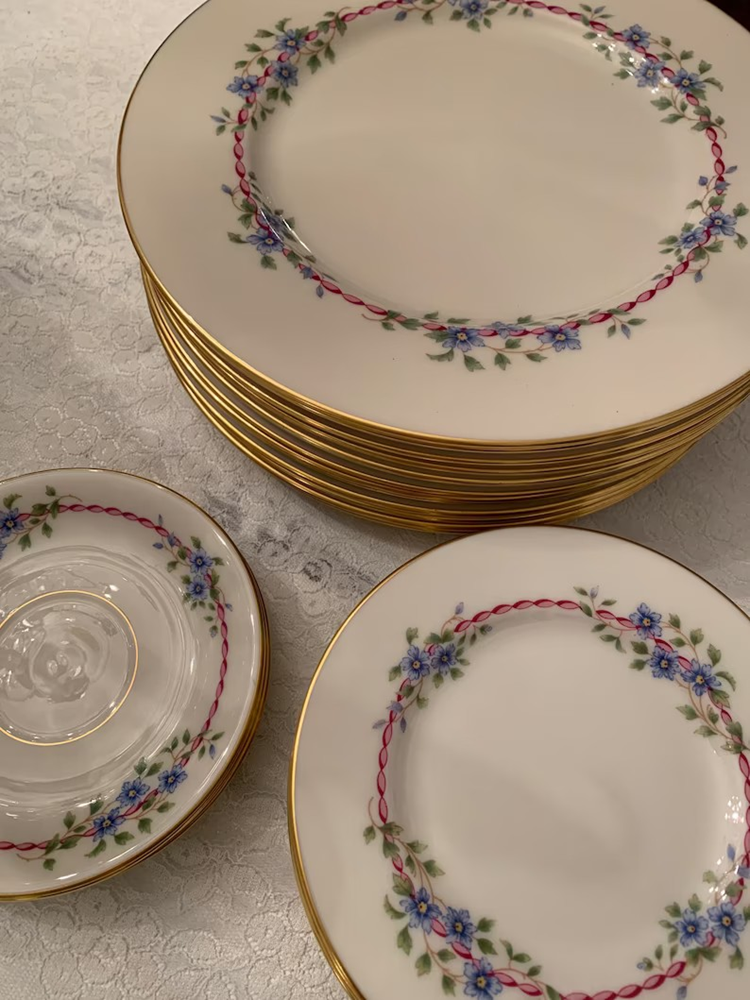 How to Determine Lenox China Value
Lenox China pieces differ in value. The rare, hard-to-find pieces are more valuable than others. Lenox China has retained value until this moment because the manufacturers have remained focused on producing expertly crafted ceramic wares.
Due to the renowned recognition of Lenox china worldwide, new manufacturers and unscrupulous antique stores have taken to replicating vintage designs and selling them off as the originals. To avoid being the unsuspecting customer who ends up with these reruns or reproduced items, you must do your research. On your own, or with the assistance of an appraiser, you can determine the value of a Lenox China. Books like The Official Price Guide to American Pottery and Porcelain by Harvey Duke are also helpful.
If you choose to do this independently, consult online guides and reference books to cross-check the details marked on the pieces. Check the bottom of the bone china tableware for a "green or gold wreath," which is the official monogram of the Lenox company. It could also have a "made in USA" stamp.
The fact that you have or are presented with a ceramic Lenox chinaware that looks old doesn't mean it is the original thing. Even spider cracks are not enough to judge.
Mass-produced Lenox china can cost anywhere from $10 a piece or more. In comparison, holiday-themed patterns tend to cost more.
Overall, the value of the Lenox china depends more on its age, condition, pattern (hand-painted or transferred copper plated designs), material (porcelain or porcelain mixed with crushed bones), and current trend. Sometimes antique china could fluctuate in value, depending on the market's dictates.
If you wish to seek an appraisal, you could find experts on websites like
Tips for Buying and Selling Lenox China
Buying and selling Lenox China doesn't have to be an overwhelming activity. I've curated some tips which would help you be more organized when purchasing or selling Lenox dishes.
For buyers; Here are some things to keep in mind when checking for vintage Lenox china
Go for patterns produced between 1930 and 1950, especially if you have limited funds to work with. These Lenox pieces produced within this period are cost-effective vintage sets. The older the Lenox is, the more expensive it will be. Vintage Lenox China, made in 1916 till the late 1920s, is highly expensive, as they feature more intricate hand-drawn details.
Next, check for the country of production and other markings to ascertain the production year. While examining the item, check for the maker's mark. For authentic Lenox pieces produced in the early 1900s to 1930, they possess a green wreath without any "made in …" mark. However, the china pieces produced from 1931 to 1952 are marked with a "Made in USA " stamp. For works made from 1953 onwards, they possess a gold wreath and a "Made in USA" symbol.
Another tip is to check the fine details on the piece to confirm if it's original or a replica
This could be tricky for an inexperienced collector. An easy giveaway is that original patterns are usually hand-painted. The Lenox china with machine stamps are often reruns or later prints.
Lastly, decide what purpose the Lenox china would serve once in your possession. This decision could either tilt in favor of value or personal appeal. A few times, collectors get lucky by snagging a Lenox china that serves both purposes. But, you may still have to decide if you're not fortunate enough to satisfy both needs with one item.
For Sellers; Here are vital points that help you place the correct value on your Lenox China.
Confirm the seller's mark. If the sellers are top-rated and respected by collectors today, you have a valuable baby on your hands. As always, the maker's mark can be found on the bottom of the item or around the edges.
Consider the presence of damage and repairs
Not all antique pieces can survive for a century unscathed. Some Lenox china has visible damages such as hard cracks, chips, and minor injuries such as hairline cracks that can only be seen at close range. Hard damages reduce the item's worth, while hairline damages can be waived.
Do not attempt to repair your antique items. If you do, you may have unknowingly reduced the worth of your antique. Except you can find a trustworthy agency to restore it to its original condition.
Where can I sell Lenox china
Lenox China is valuable collectibles that are always in demand—not because they are used all the time, but because they have good resúale and decorative value.
If you have many sets of Lenox china just sitting home gathering dust, then you've made a good choice by deciding to sell. The good news is that if the authenticity of the Lenox china is guaranteed, you can never sell without making a profit. There's always a collector somewhere willing to pay a substantial amount for those delicate dishes of years past.
Here are the six best places you can advertise and sell your China. I must mention that most of the places on this list are primarily online marketplaces. So, you must be prepared to take great promo pictures of your bone china, as these pictures are what would appeal to the customers. You may need to carefully pack and ship the delicate pieces if your buyer is in another state or country.
Very few people know that there's a registered association that assists collectors in locating their precious and rare Lenox china sets. This organization comprises independent china dealers who are committed to helping collectors and other customers in finding antique china tableware.
The organization also permits people to sell their Lenox dishes on their website. All you have to do is visit their website, check for the requirements and guidelines attached to selling, and meet up with all. In addition to this, you will be asked to provide all the details of your vintage set, including the color, number of pieces, and pattern.
The IADM clarifies that the seller will handle all packaging and shipping charges. Although, they provide a comprehensive guide on how to package vintage Lenox china tableware or dinnerware for safe transportation.
This online marketplace is most likely the most suitable for reselling vintage items. Every day, millions of users visit eBay to sell or buy second-hand items and collectibles.
If you choose to sell your Lenox China on eBay, you can do this either through auction or at a flat rate. Ensure you consider the packaging and shipping costs before deciding on your listing price. The best way to sell your delicate Lenox pieces in record time is to keep the price competitive—I'm not asking you to undervalue or overvalue your goods. Just make sure the price is cost-effective.
Although Etsy is famous for its handcrafted home items, it also has an excellent market for buying and selling vintage and antique items, as well as other collectibles. The platform has a huge section where used china dishes, including Lenox china tableware, are sold. There are thousands of china listings in this section, with prices ranging from a few dollars to hundreds.
This is a unique online selling platform. It also has a large audience and is often compared to eBay. The only difference is that all listings are out up at a flat rate.
If you choose to sell your Lenox china here, you must first create an account and put up beautiful, eye-catching pictures of the dishes you have for sale. Include as many details as you can find about the condition, age, and pattern of the pieces. Be prepared to ship to your potential buyer.
Facebook marketplace is your best option if you'd like to avoid packaging and shipping fees. Here, you can connect to local buyers.
When uploading your Lenox China sets for sale, ensure you only use high-quality photos and include every detail you have on them. To get the most views on your listings, I suggest you join as many buys and sell groups in your locality or neighboring areas.
To avoid scams, accept only PayPal, Venmo, or cash before handing over the delicate wares. Lastly, when meeting up with a buyer, choose a busy area where many other people can observe your transaction.
This is another online marketplace that only deals with delicate china dishes like Lenox tableware. Replacements, Ltd, had a guide that helps identify patterns and also provides tips on how to sell your Lenox china.
If you decide to list your product here, you must file a request form and exercise patience till the staff revert back to you if or when they are interested in your bone china.
If you would rather not sell your items online, you can search for pawn shops or antique shops within or outside your locality willing to buy your used Lenox china.
Bottom Line
Antique Lenox China is one of the best brands of fine porcelain. If anything is sure, this American-made fine china will remain valuable and relevant in the long run.
You have to make sure you keep your set in good condition, so as the years go by, your Lenox china will continue to appreciate.