In the early period of chair emergence such as the Jacobean era, Chairs were mostly in the form of stools, and only a few of the stools had backs. These few were used by household or Town heads.
Besides being a thing of value, beauty, and even fashion, Antique Chairs represent a particular time in history. They signify the dominant art of a period. The structure and development of antique chairs help significantly in identifying the chair styles.
In this guide, we will be looking at several antique chair styles and offering tips on how to identify them individually.
How to Identify an Antique Chair
All Antique chairs have a unique quality and structure which distinguishes them from others (vintage or reproduction).
Identifying chair styles could be a daunting task but it is important to always take note that antique chairs possess distinguished features such as;
The initials of the architect
Designs or art that the chair signifies
The production year of the chair.
People often mistake vintage chairs for antique chairs, while they both mean chairs that are old and no longer in production, Antique chairs are over 100 years old, still in good condition, and no longer in production.
Vintage chairs on the other hand are usually not up to 80 years old.
Here are a few tips which would help identify antique chairs style :
Looking out for a signature or label from the antique chair maker
One of the most effective ways of identifying antique chairs is to take into consideration the maker's mark. The Antique upholstered style of the chair may bear a tag indicating the manufacturer, the year of production, design name, and some serial numbers. For others, this information would be stamped underneath the seat.
This would guarantee the authenticity of the antique chair style.
Some of the prominent antique chair style or furniture style makers are:
Gillows of Lancaster (1740) London.
John Taylor & Son. (1825)
Wilkinson & Son. (1766) London.
Howard & Sons. (1827) London
Druce & Co. (1853) London.
Martin Carlin. (1730 – 1785)
Adam Weisweiler. (1778) London
The Globe-Wernicke Co. Ltd. (1899) the UK.
Roger Vandercruse Lacroix. (1728 – 1799)
Hampton & Sons. (1830) London.
Jean-Henri Riesner. (1704 – 1806)
Harrison & Son of Burnley.
Heals of London. (1810)
James Shoolbred & Co. (1820)
J Kendall & Co. (1783)
Miles & Edwards. (1822)
Check the construction of the joints
A vast majority of the antique chairs are hand-made, hence there are unique visibilities in the hinges and joints.
Take note
Before the 1700s, handmade pegs were used to hold the mortise-and-tenon joints together and were slightly lifted above the joints
Meanwhile, in the 1700s the makers made use of glue on dovetailed joints. These types of joints became more developed throughout the 1700s and the first half of the 1800s.
In the late 1800s, a machine-made dovetail joint was perfected completely.
Observe saw marks on the edge of the chairs
The wood used in making chair parts was hand sawn until the opening of the 1800s. Visible saw marks up to that time will be straight. After that most wood was cut using a circular saw and any saw marks after that period will be circular.
Stuffed materials in chairs seat
One important factor to consider when identifying an antique chair with a stuffed seat is to examine the material it is filled with (horsehair, cotton, and hay). This is to provide comfort for the sitter.
Although not all antique chair styles have seats that are stuffed, the materials with which the stuffed ones are made would greatly help in determining the period and time of its emergence.
With passing time, revamping of these antique chairs has been increasing, so to say the antique chair might be authentic but the seats may not be.
How to Identify Antique Chair Styles
Jacobean Style Chair
Jacobean chairs are an English style of chair, which are medieval in appearance and were often geometric and proportional. With a strong significance on rectilinear patterns and lines.
It was simple in design but decorated with carvings of classical or sophisticated geometric motifs with a dark finish. Much of early American furniture was influenced by this style.
Queen Anne style chair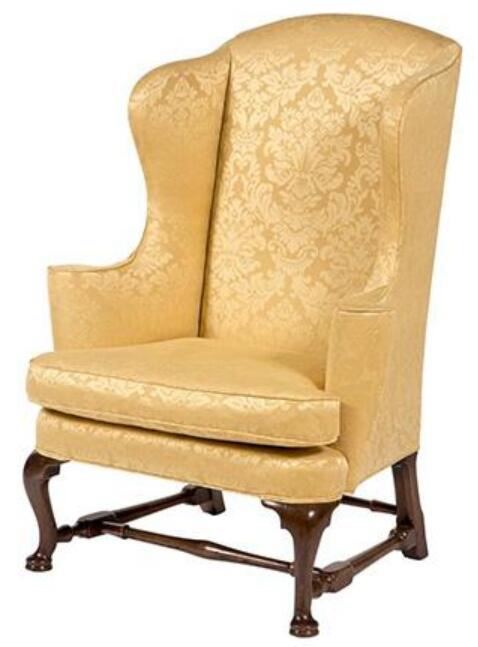 The furniture was constructed during and after Queen Anne's reign from 1702 to 1714. Although It doesn't share its similarities with its predecessors, it is smaller, lighter, and more comfortable. When compared to the William and Mary furniture, Queen Anne furniture has C–scroll, S–scroll, and S–shapes in the furniture pattern.
The most recognizable element of this antique chair is its cabriole legs.
Sheraton style chairs
The Sheraton chair is named after its designer, Thomas Sheraton. His designs spurred the movement. The style stood side-by-side in popularity with Hepplewhite, its manufacturing started in 1790, and it also shared some characteristics such as its straight, simple legs.
Nonetheless, Sheraton-style chairs are much more elaborate. They often have rectangular backs and beautiful contrasting veneer inlays. It has flower-patterned designs, as well as motifs inspired by Greek mythology.
The woods are frequently fair and highly polished, and some chairs also feature neat paintings and common arms. Its seats are usually made of wood.
Hepplewhite Chairs
Often regarded as one of the longest chair styles. The furniture style is named after its designer George Hepplewhite and gained popularity around 1780.
These chairs feature graceful lines and simple, straight legs and feet. Not minding the nature of the legs, the back of the chair could be oval or shield-shaped with several pieces of exteriors and inlaid designs of satinwood on a mahogany base.
The most common ones are the armless chairs, although some of the chairs have arms.
Windsor's style chair
Windsor style Chairs got its name from an English town, Windsor, around the 17th century. This type of chair style is in the form of wooden seating. One of its most notable features is that its back and sides have many narrow wooden spindles connected to its wooden seat. The Windsor-style chair could be in the form of the fan back, rod back, low back, or hook back.
Wingback style chair
Wingback chairs were manufactured in the 1600s. A necessity with its thermal design made to reduce the heat from a fire around the sitter while obstructing cold winds from other parts of the room.
Some notable features of the style are the width of the wings or surrounding panels under the arms; the finishing traces of gilding, horsehair filling, and components of original silk upholstery.
Georgian Adam Style Chair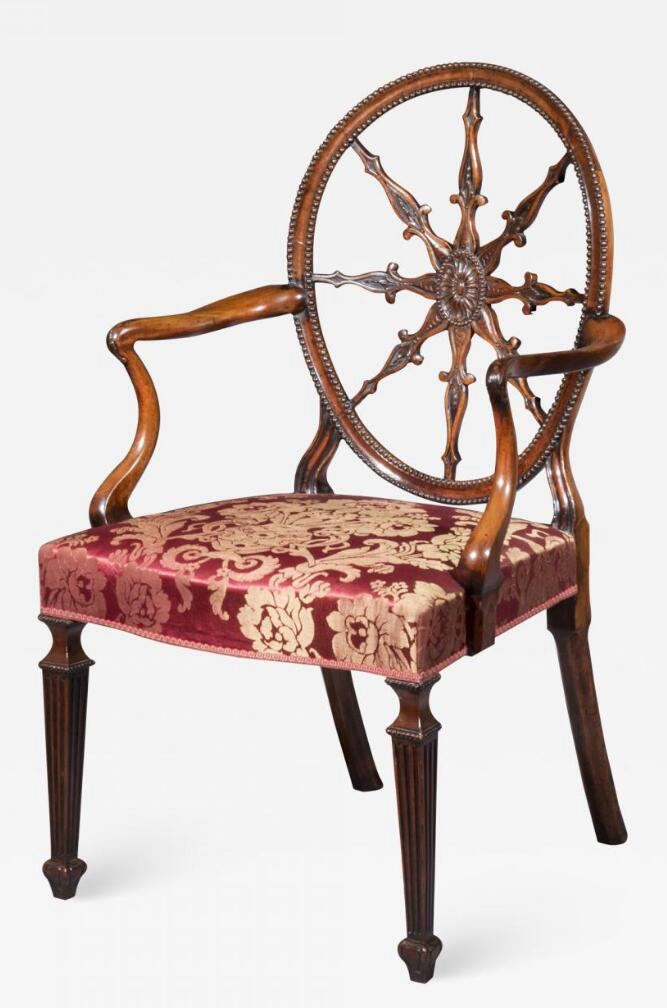 This chair was built in the late 18th century by Robert Adam, in the neoclassical era. The intention was to create something different from the Chippendale and Georgian style, which was very popular at that time. His was known as the Adam style.
Though, they improvised on the neoclassical style with the changing times by integrating Roman and Greek architecture.
Early Colonial Style Chair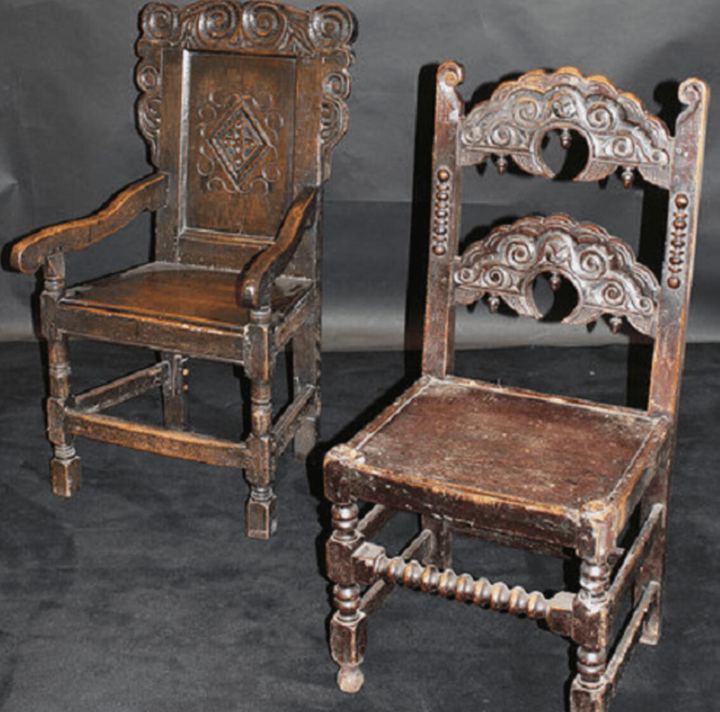 This style was birthed and influenced by the three artistic styles in the early colonial era. These early colonial antique types of chairs: English Georgian style, Chippendale style, George Hepplewhite, Thomas Sheraton, Art Nouveau style, and Art Deco Style chair designs prompted this style.
As it turns out, these chairs never really go out of fashion, as they are timeless in quality.
Pennsylvania Dutch Style chair
Pennsylvania Dutch-style chair is a modest, utilitarian American country style of furniture with Germanic influences. It is characterized by delightful folk paintings on case furniture. The appearance is made Simple – Straight lines, simple design, and little ornamentation.
This Pennsylvania Dutch-style chair depicts a distinct interpretation of various other styles. It was very popular in Europe during the colonial era. It does not have any style and is known to be simply practical. The main features of this chair are strength and longevity.
The Carolean or Restoration style chair
The Carolean or Restoration chair is named after Carolus. It refers to the compelling literary arts that became popular during the Restoration of the monarchy under Charles II.
Walnut, Oak, and floral marquetry characteristics are evident in this antique chair.
This style features designs of flowers with birds, cupids, and acanthus leaf motifs nearly always in elegant, finely accurate forms.
Arts and Crafts Style Chair
The Arts and Crafts style is distinguished by rectilinear technique, simple, straight construction, and exposed joinery, often making use of medium or dark stained oak.
The Arts and Crafts style can be referred to as Mission and Craftsmen Style.
The arts and crafts chair is made of hardwood like Oak, and canvas or leather upholstery.
The absence of exaggerated ornamentation and furnishings brings out the craftsmanship of the furniture.
Edwardian Style Chair
The Edwardian Style came during the period of King Edward whom the style is named, he reigned from 1901 until 1910.
This style appeared as a result of the dark, rigid, and restrictive Victorian era shift into a much more portative society.
Thus, the socio-economic changes were reflected in the Edwardian style of chairs and furniture structures of this time.
Curule Style Chair
The curule style chair is a cross-based chair or a stool, with two U-shaped curved limbs. It emanated during the 6th century BC. It was originally a Roman furniture style. Also, this style of chair was a great influence on the American Empire furniture design.
A curule style chair can be folded, it is said to be popular since ancient times. This style of antique chair is made from pine or oak wood.
Mission-Style Chairs
This style of chairs appeared during the early 1900s, it was in reaction to the outgoing styles of the Victorian era.
In this style, just as Prairie Style or Arts and Crafts Style, these chairs emphasized simple vertical wood slats, heavy legs, geometric shapes, and clean lines. The popular wood used in making these chairs was usually oak, but then, cherry and maple woods are used from time to time. The seats were usually made of wood or upholstery.
Victorian Style Chair
The Victorian-Style pulls its significance from gothic style furniture, which is usually of heavy proportions, dark finish, elaborate carving, and decoration.
It is named after Queen Victoria of England who ruled from 1837-to 1901. It was the first furniture style that went through mass production.
The Victorian-style chair shows buttoned upholstery, balloon back vintage chairs, and Thonet's steam-bent chairs. One of the features of this style of antique chair is the removal of upholstered arms.
The Art Nouveau Style Chair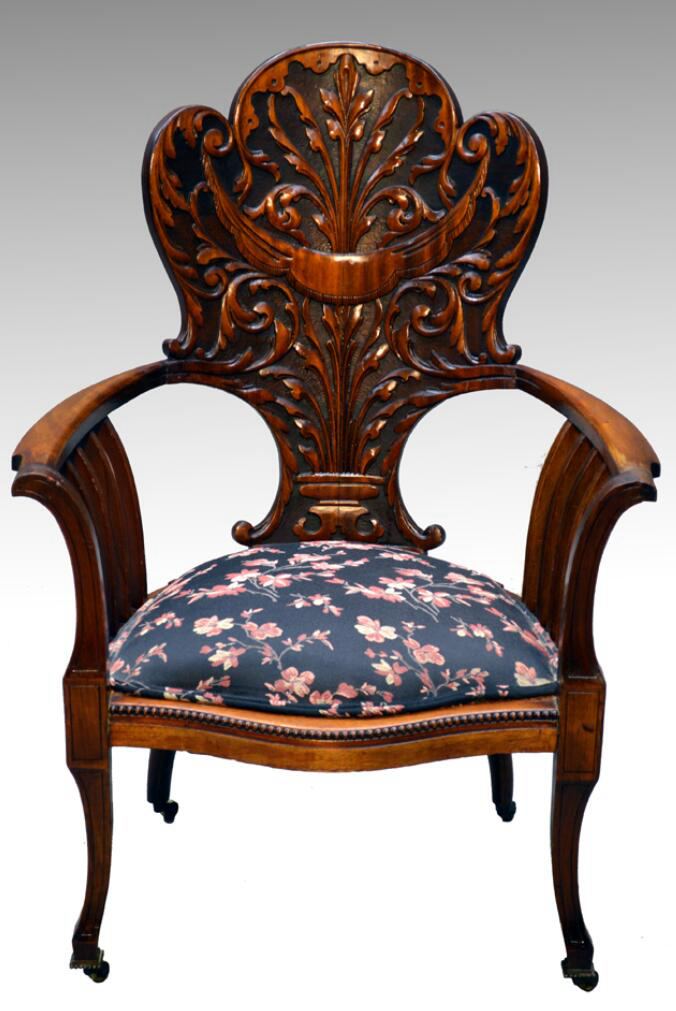 This style is a naturalistic style that is characterized by intricately comprehensive patterns and curving lines.
It is an ornamental technique that became popular in Europe and the United States.
The idea was to create a new style for the new age, this resulted in the incorporation of ideas from nature, craftsmanship, Art Nouveau antique furniture features, and organic shapes.
Fauteuil Style Chair
This is a style of an open armchair with a mainly uncovered wooden rack originating in France during the early 17th century
The Fauteuil style is normally an upholstered armchair with open sides.
This style of chair has, with time, become more flexible, extremely elegant, and more decorated as it progressed through the reigns of Louis XV and XIV.
Art Deco Style Chair
The Art Deco Style began in France in the early 190s and then circulated to Europe.
Art Deco style is distinguished by the geometric detailing and shapes, exotic woods (such as zebra woods and mahogany), jewel-toned colors, lacquer, mirrored finishes, and shiny metal accents". This is according to Travis London, an interior designer.
This style stars motifs, animal prints, and inlaid elements like Ivory and Ebony are a sum of the aspects of this antique chair style.
The Klismos Style Chair
The Klismos style was an adaptation to the changing times as a modern style. The style emerged during the 8th century. It reached perfection during the 15th century ever since its origin in ancient Greece.
Due to this, it is regarded as a truly timeless design. Nonetheless, the modern interpretations of this chair do not wander from its initial design.
The legs of the Klismos-style chair are curved and tapered, one of its unique qualities. They slide softly forward and backward, giving strength. The back legs glide beautifully upwards to the wide concave backrest that not only provides support for the edge of the chair but it is also low enough for the elbow to lean on.
Regency Style Chair
The Regency antique chair style includes notable elements of Chinoiserie such as engraved Phoenix, dragons, and other figures, and Classic decorative carved symbols such as geometrics, rosettes, laurel wreaths, acanthus leaves, lyres, and lion masks.
It is made of beautiful dark woods, particularly mahogany for dramatic styles or decorative veneers to give a sense of luxury and appeal.
Press-Back Style Chairs
With changes in time and fashion, the taste and demand for carved and elaborate furniture increased, thereby giving manufacturers reasons to make more chairs. It was reported by Discover Vintage America that press-back chairs headlined elegant designs like florals, animals, and even mythological beings.
Rather than being engraved, the designs were etched into a metal plate and then pressed against the wood. Oak was a popular wood, but other woods were used in the manufacturing process as well. Some of these style chairs had no arms, they were common.
The Yoke Back Style chair
This style is also called the official's hat chair. Yoke-back antique chair style came into existence in the late Ming and early Qing dynasties in China.
In addition, they have crafted rosewood called "Huanghuali" according to traditions. Afterward, through improvisation and improvement, it now has flat, detailed designs from imported words.
Moris Chair Style
This style features a seat with a reclining back and fairly high armrests, which give the chair an old-style appearance. The distinct feature of a Moris chair is its hinged back, fixed between two un-upholstered arms, with the reclining angle adjusted through a row of pegs, holes, or notches in each arm. It has an adjustable height back
It was named after its designer, William Morris, an influential designer, and produced by Morris and Co.
Federal Style Chair
The Federal-style chair is comparable to the Early Colonial Style chair and was manufactured in the federalist era.
However, the Federal-style chair production was influenced by the Georgian and Adam styles.
This unusual chair signified the success of the American Empire-style furniture. The chair's style has sharp geometric patterns and straight legs.
Pilgrim Slat style chair
Popular during the Colonial era in America, this classic antique chair style was also known as the shaker or ladder back style chair, notable for its streamlined design.
It was a simple style that showed turned stiles, spindles, and flat slats on the back of the chair. A deviation was the ladderback, which was a little different, it had a back that looked like a ladder. Chair makers constructed the antique wooden chairs mostly out of oak, walnut, or pine, and the chairs often featured rush seats. Not all chairs were constructed with arms, but they were quite usual.
The Corner Chair Style
A notable feature of the Corner style chair seat is its square and position, diagonally. It gives satisfaction to the user while sitting at the desk. Hence, it is often referred to as a roundabout chair or writing chair. Again, the corner chairs are so comfortable that you can sit for a long period reading a book.
Eastlake Style Chairs
The Eastlake Style of chairs is a disparity from the Rococo style, the Eastlake style features much more geometric patterns.
According to reports from Collectors Weekly, George Eastlake, the designer of the Eastlake style didn't entertain the Rococo style and created furniture designs that were a divergence from it. During the late 1800s, the Eastlake style reached the peak of fashion in Victorian homes. The designer made use of woods that had strong, usually rectangular lines. There were carvings of natural motifs and geometric patterns, which were softened by plush upholstery. Several of these style chairs had arms.
Final Words
Antique chair styles can be determined carefully by examining, studying, and knowing the design elements of the individual chair styles. Also, being able to understand the pointers of a period in which a chair appeared could further help in identifying antique chair styles.