By the middle of the 20th century, Necchi sewing machines were on par with those of every other sewing manufacturer in the world. With cutting-edge technology and superb craftsmanship, the early Necchi models astounded the globe. The models, background, and worth of Necchi sewing machines tell an intriguing tale!
In 1924, Vittorio Necchi founded the nation's first sewing machine manufacturing business. Necchi models were in high demand all around the world thanks to their reputation for quality. Modern Necchi sewing machines are expensive and of great quality.
This article helps you to learn more about the antiquity of Necchi sewing machines as well as how to identify and value your vintage Necchi sewing machine.
What kind of Brand Necchi is?
Since 2012, Janome has been the US distributor of Necchi sewing machines after purchasing the Necchi brand. However, Janome no longer offers Necchi in the US as of this writing. However, if your machine is one of the models sold during their time, they are still happy to address your questions. For newer models, utilize the Contact US page.
What if the list on their website does not include your Necchi sewing machine? Necchi advises taking the older models to a nearby sewing machine shop for maintenance.
Necchi Sewing Machine History
The BD was the first, but it didn't take long until the BDU, BU, BU Mira, BU Nova, and the Supernova BU appeared. All of these were built before 1950, with the exception of the Supernova, which made its debut in 1954.
The Mirella series debuted in 1956, whereas the BU model was first released in 1932. For its fine craftsmanship and innovative design, this machine has gained worldwide recognition. If your Necchi sewing machine has a foot pedal, it was not manufactured prior to 1970.
The first design with an electric control panel, the Logica series, was created in the 1980s. The Millepunti and Vigorelli models were developed by the business in the 1990s. The Necchi sewing machine appears to be upgraded and given new technologies every decade.
However, due to their ease of use and ease of repair when something goes wrong, most people choose to sue older vintage sewing machines. The company celebrated its 100th anniversary last year, and to celebrate, a new line of sewing machines was released. These machines are meant to make stitching more enjoyable and simple.
Where are these Necchi Sewing Machines Manufactured?
The majority of businesses today, regrettably, outsource their production processes in an effort to reduce costs. Most brands can't afford the high wages and other benefits in the West, so they hunt for producing partners in nations with more affordable labor costs.
In order to develop their line of sewing machines, Necchi has teamed with Janome and Fappy, which is similar to other companies in this business model. Due to the excessive quality reductions made by the Japanese businesses Neechi worked with, Necchi as soon as they could have shifted their manufacturing to Southeast Asia.
Production of Necchi is divided between Thailand and Taiwan. Thailand appears to be the preferred location; as even Bernina produces its Bernette sewing machines there.
This indicates that the majority of sewing machines on the market are manufactured in the same region of the world and have lost their uniqueness. On the bottom end of the scale, a sewing machine could be just as excellent as another, regardless of the manufacturer.
Does Necchi Sewing Machines Still Manufactured?
It's conceivable that some models are still produced in their Italian factories, but there is no solid information about that side of their operations. Necchi initially partnered with Japanese manufacturers, but as the caliber of their sewing machines declined, they switched to Janome and Fappy and shifted production to Southeast Asia.
Thailand and Taiwan are the two countries where Janome and Fappy have production facilities. The latter nation may be used to manufacture the computerized sewing machines because that is the practice of other sewing machine manufacturers. Thailand seems to favor mechanical devices over digital ones.
Necchi sewing machine demonstration video
The Lydia model was the first sewing machine to use plastic components. The drawback of changing plastic cams and gears was their high cost. These wore out frequently. Over $100 is required to replace one plastic cam component.
Despite the fact that the machine itself may not be incredibly expensive, the cost of the parts makes it an undesirable investment.
Models of Vintage Necchi Sewing Machine
Necchi's sewing machines have seen a lot of significant technological breakthroughs throughout the years. Some notable antique sewing machine models, such as those listed here, were created as a result of these modifications.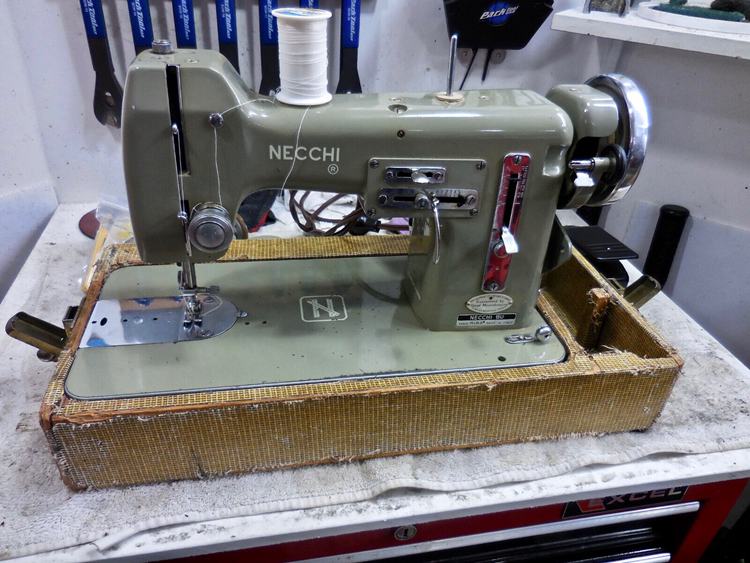 In 1932, the company unveiled the Necchi BU. This ground-breaking machine created a stunning zigzag stitch, and the manufacturer claims it to be the first domestic zigzag machine available.
This machine was well-liked by home sewers who desired a machine that could perform a little bit more than the common straight stitch. It furthermore had the ability to create buttonholes and decorative stitches.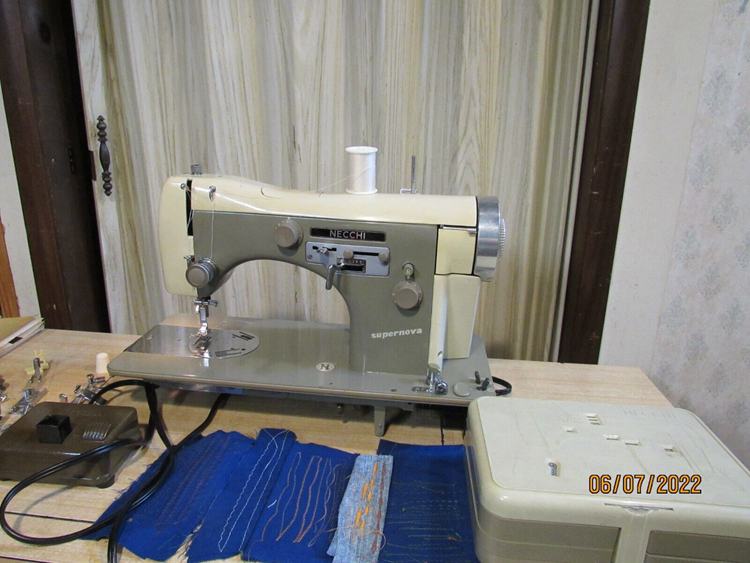 The Necchi Supernova attracted worldwide recognition due to Sophia Lauren, a model and actress. This machine, which was introduced in 1954, received recognition for its superior design. It was quick and simple to use, with a variety of zigzag and other stitching patterns, and was totally automatic.
For those seeking a vintage Necchi sewing machine with a good balance of features, quality, and price, this one might be the finest.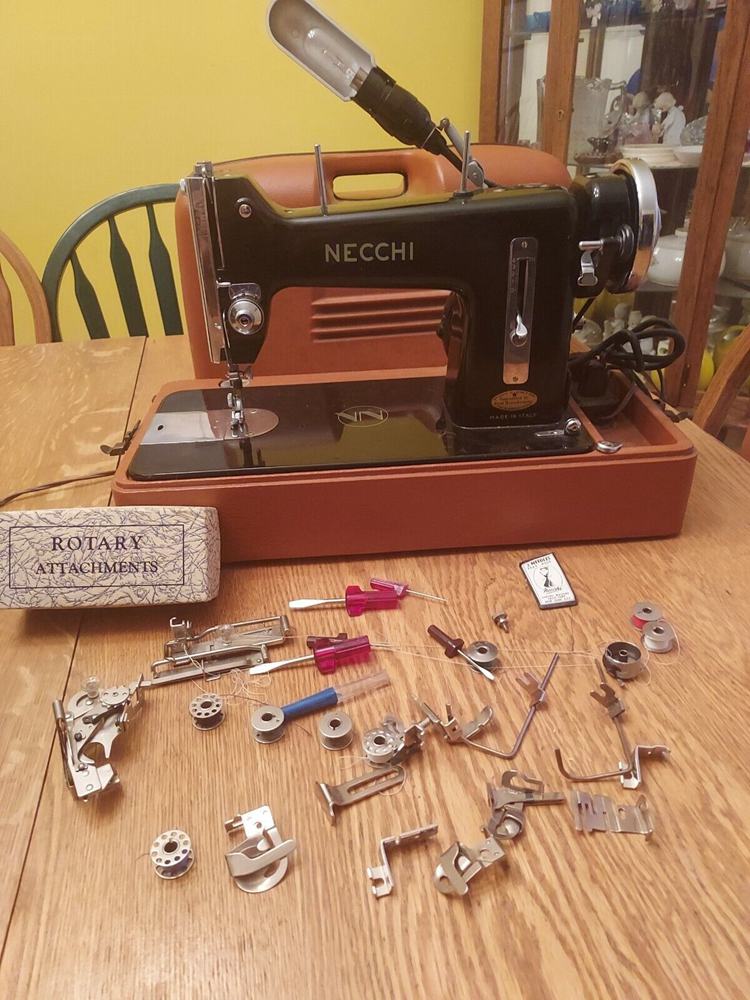 Mira BF, the first model in the "Mira" series, wasn't particularly innovative when it came to sewing at home and wasn't launched until 1950. It could, however, take pride in its sleek and robust construction.
In essence, the Necchi Mira BF could only sew straight stitches, but it could do it flawlessly and more effectively than the majority of other sewing machines of the time. It helped this type become rather well-known in the 1950s, and it remains a reliable vintage machine to purchase today.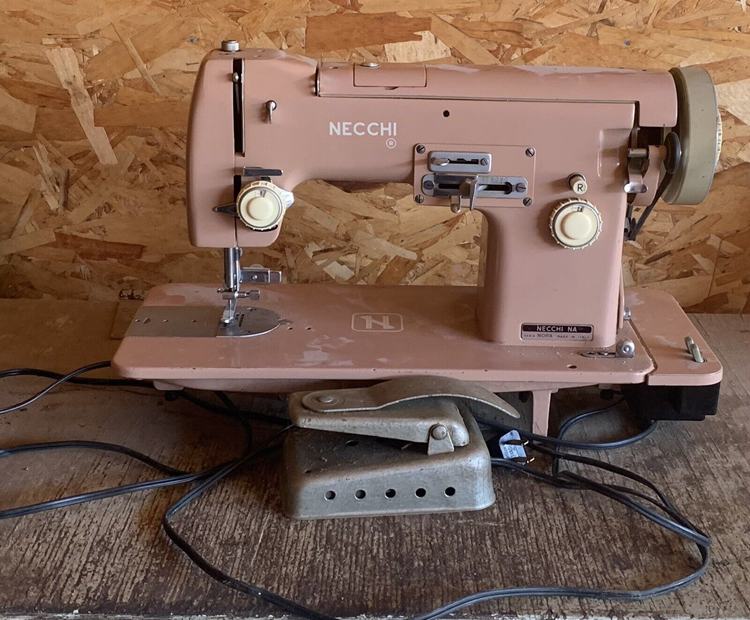 This type was among the first sewing machines with detachable cams. The machine's versatility improved dramatically as a result of this feature, going beyond just producing straight or zigzag stitches to dozens of additional stitches.
Even though the Nora 514's initial production run in the late 1950s lasted only 4 years, it is still one of the most demanded Necchi models today. It was available in grey or pink versions.
Necchi Supernova Julia 534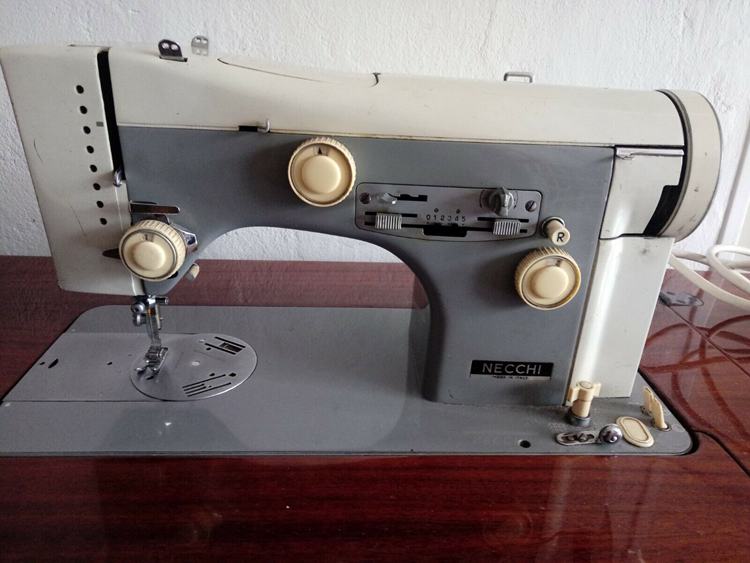 This specific model, which was produced from the early 1960s to the 1970s, had a ground-breaking "Micro-Electro Control" feature that would shut the machine off after stitching a buttonhole.
It was a versatile machine and one of the better designs in Necchi's inventory because it also had insertable cams. Eventually, Supernova Julia was just a stunning piece of machinery.
This particular model was available in a lavender shade that has stood the test of time and is as stylish today as it did back in the 1960s.
Necchi Esperia in Cabinet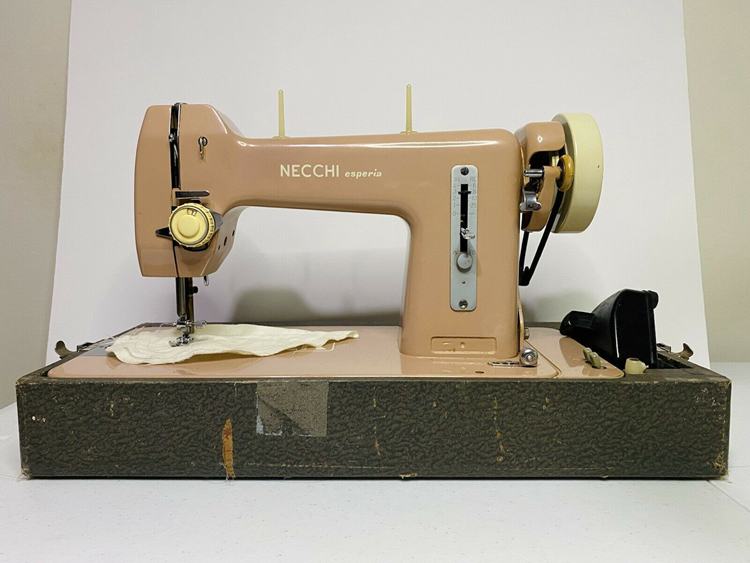 From 1959 to 1962, Necchi offered the Esperia brand. These models occasionally occur in pink or green. Although they can sew through leather and strong upholstery fabric, they only have a straight stitch option.
In general, an antique sewing machine with the original cabinet is worth more than one without. But you should check to make sure you have a Necchi cabinet and not a White or Sear cabinet that someone stuffed the Necchi Esperia into!
Identifying a Vintage Necchi Sewing Machine
It's rather simple to identify your Necchi sewing machine and determine when it was manufactured provided you know what model it is. Each model was produced by Necchi for a limited number of years within a defined period.
For instance, BU was produced for more than two decades while BF Mira was only produced for one year. The bulk of Necchi's vintage sewing machine models, along with their production dates, are listed below:
| | |
| --- | --- |
| Necchi Sewing Machine Models | Manufacturing Years |
| BD | 1924 – Unknown |
| BC | 1930s – Unknown |
| BU | 1932- 1953 |
| Mira BF | 1950 |
| Mira BU | 1952 – 1956 |
| Nova BU | 1953 |
| Supernova | 1954 |
| Lycia 522 | 1955 |
| Miracle | 1955 |
| Supernova BU | 1955 – 1958 |
| Nora 514 | 1957 – 1961 |
| Esperia | 1958 – 1963 |
| Leila 515 | 1963 – 1971 |
| Supernova Julia 534 | 1961 – 1971 |
| 510 | 1961 |
| 513 | 1961 |
| 512 | 1961-1971 |
| 515/Leila | 1963 – 1971 |
| Sylvia Multimatic | 1963 – 1978 |
| Logica 592 | 1983 – 1989 |
Since Necchi will be pleased to assist you with dating a vintage Necchi sewing machine, that is actually the simplest course of action. Give as much information as you can about the one you have, and they'll likely ask more questions to help you accurately date it in the future.
How to Find Value of my Old Necchi Sewing Machine?
You might be shocked to hear that a vintage Necchi sewing machine can be worth more than many vintage Singer models if you're wondering how much they're worth. Despite not being produced in the same quantity as more well-known vintage sewing machine companies, old Necchi sewing machines are known for their exceptional quality. They are therefore not all that common.
While some vintage Necchi sewing machines cost as little as $50, others can worth as much as $500. The majority of vintage Necchi sewing machines, however, range in price from $100 to $300.
Factors affecting the value of vintage Necchi Sewing Machine
An old Necchi sewing machine's value is mostly affected by the following factors:
The general guideline for all antique and vintage objects is that the older they are, the more valuable they seem to be. The same appears to be true for Necchi sewing machines, with vintage models typically pricing more than modern ones.
An old Necchi sewing machine's condition is a significant aspect in determining its worth. The looks are still significant even though most people don't buy them to collect.
Necchi sewing machines with dings, dents, and cracks will always be less expensive than those in mint condition.
Some Necchi sewing machine models are a lot more difficult to find than others. While some models were only produced for a year, making them rare and difficult to find, others were produced for a decade or even two.
In a nutshell, a model will cost more the rarer it is. Another feature is that each Necchi sewing machine has a unique history and heritage.
An antique Necchi sewing machine's functionality also deviates from its worth. Contrary to most other vintage collectibles, Necchi sewing machines are purchased with the intention of actually using them to sew things.
The machine will be worth more if it comes with extras like extra feet, decorative stitch cams, and a Necchi sewing machine cabinet.
Value of Sold Vintage Necchi sewing machine
Comparing a vintage Necchi sewing machine to recent sales of the same model in comparable condition is the easiest approach to determine how much it is worth. Here are some examples of machine values from recent sales:
Vintage Rare Necchi Toy Sewing Machine made in Italy Beautiful Green sold for $103.50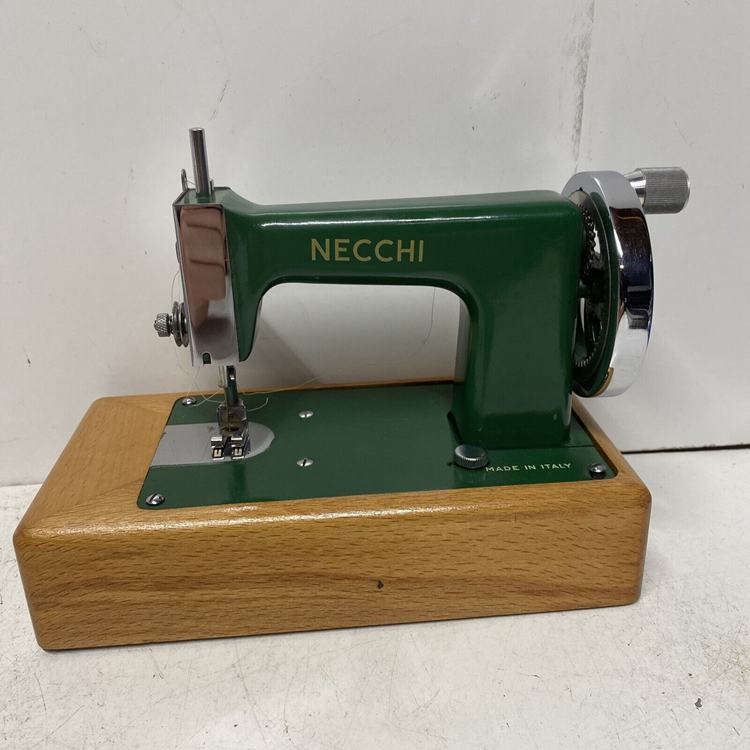 Antique/vintage Necchi Lelia 513 sewing machine in cabinet sold for $50.00
Beautiful Vintage Necchi BU Series Nova with Wonder Wheel Zig Zag Sewing Machine sold for $195.00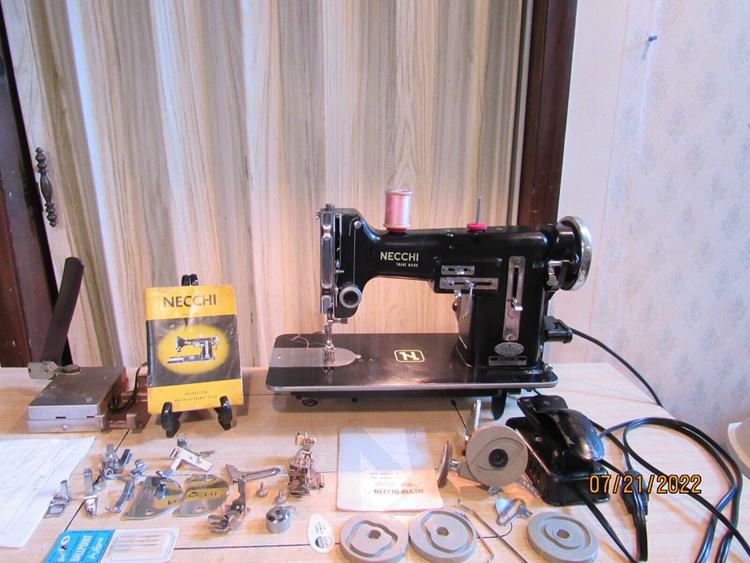 Vintage Necchi Sewing Machine Lelia, 510 Pink Edition sold for $60.00
VTG NECCHI BU NOVA ZIG ZAG Sewing Machine sold for $90.99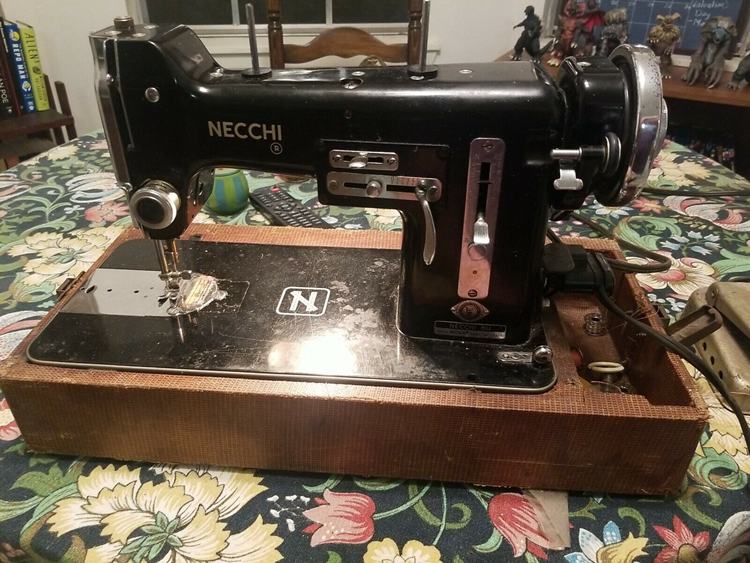 Necchi Sewing Machine Model 523 sold for $35.00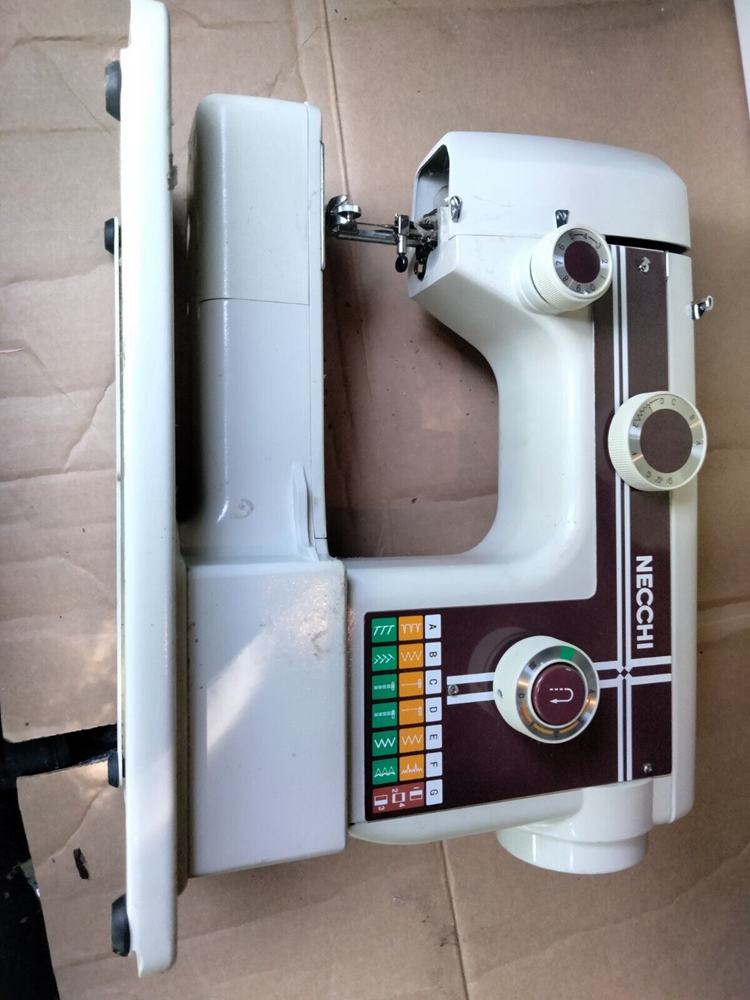 Necchi Supernova Julia Pink Sewing Machine sold for $263.00
Beautiful Vtg Necchi Lydia 2 Sewing Machine sold for $210.22
Vintage Necchi Nora Industrial Sewing Machine sold for $265.00
How to Find the Model Number on a Necchi Alco Sewing Machine?
You'll need to know the model number if you ever need to send your Vintage Necchi sewing machine for repairs or new parts. This number distinguishes it from all previous Necchi sewing machine models and serves as its unique identification.
Considering on how much of the machine's original packaging you still keep, you can look for the model number of your particular unit in a few various spots.
Look at the original booklet that was included with your Necchi sewing machine. This manual's cover will have the model number printed below the "Necchi" mark.
Search your Vintage Necchi sewing machine'scarrying case, if it came with one. Not every model had a hard plastic carrying case, but the ones that did had one made especially for that type of sewing machine.
On the sewing machine itself, look for the identification plaque. You can find a square metal plate with the model number and serial number somewhere on the sewing machine; the location will vary depending on the model.
Visit an expert with your Old Necchi sewing machine. That person ought to have no trouble providing you with the model number of your Necchi sewing machine.
Necchi Sewing Machine Parts
The majority of antique Necchi models employ a class 15 bobbin and other readily available sewing machine components that may be purchased on eBay or Etsy. Sometimes you can even locate Necchi-compatible accessories made by different manufacturers, like as Griest or Singer.
Nevertheless, some types, such as the Mirella, call for a unique bobbin and other components. This implies that you might find it challenging to locate specific replacement parts for your vintage Necchi machine.
Always be sure to look for parts for the precise model of your vehicle. You won't find the components designed specifically for your Necchi model by just typing in "Necchi sewing machine parts" because that is too generic.
Best Vintage Necchi Sewing Machine
According to what we have discovered, the Necchi Supernova from the 1950s may be the best vintage sewing machine ever made. That particular model was innovative and included features that were not found for about ten years in sewing machines from competing manufactures.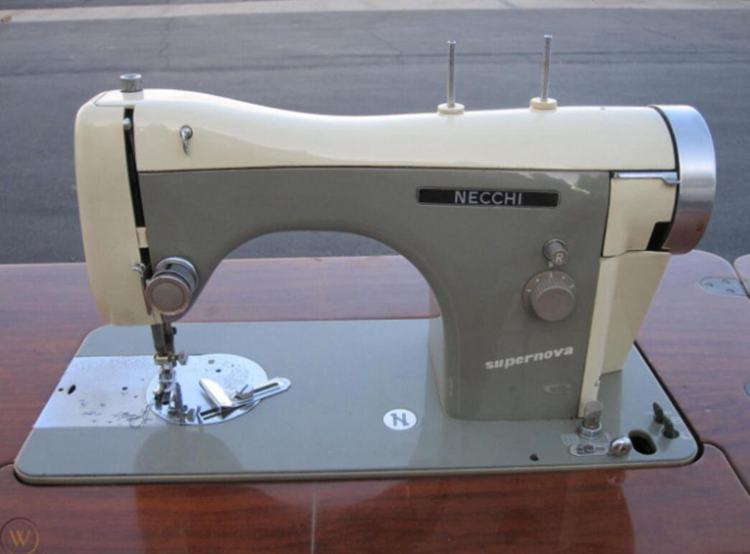 This model was carefully constructed, and it performed as expected. Although the machine's balancing wheel is reported to move as smoothly as silk, there were a few issues that prevented it from being ideal.
Its needle bar swivel was extremely delicate, and if it did not receive enough oil, it might soon freeze on you. This defect prevented this model from being the timeless classic that it may have been. Other manufacturers' needle swivels didn't require lubrication for months or longer.
Where to Buy Vintage Necchi Sewing Machine Online?
Where to Sell and Buy these Antique Pfaff Sewing Machines Online?
Brick-and-mortar antique shops, thrift stores, and yard sales all sell vintage sewing machines. On eBay or Etsy, you can search for these antique machines. Hence, searching online is your best option if you need to find one immediately. Consider the following sites:
The Vintage Necchi Sewing Machine can be easily found on eBay, one of the greatest sites to find beautiful Antique collectibles. It's also ideal if you're considering selling because they provide a very user-friendly e-commerce feature and can reach a sizable global audience.
Since people frequently discover these different Vintage Necchi Swing Machines in their grandparents' homes, internet marketplaces like Etsy are among the greatest places to find a ton of these pieces on sale.
You can buy your favorite old Necchi sewing machines from other online auction sites such as Gobid.it etc including eBay, etsy as mentioned above.
When purchasing a vintage machine in a physical store, you may test it out firsthand to make sure it functions as intended. Immediately after buying your antique machine, you can take it home.
Online shopping gives you access to a greater selection of antique machines. In addition, if you purchase the equipment online, some dealers provide a safety net of a return policy.
The drawback of buying your machine online is that, because these vintage models might weigh a ton, you might have to pay a hefty amount for shipping.
Frequently Asked Questions
Do old sewing machines have any worth?
While some expensive rare vintage sewing machines are available, the majority of these machines typically cost between $50 and $500. Nevertheless, if you sew frequently, you probably cherish these vintage machines more for their durability than for their collectability.
How can you determine a sewing machine's age?
A vintage item is one that is less than 100 years old and over 100 years old is an antique. You can ascertain the machine's exact age by comparing the serial number to the appropriate date.
Where is the Necchi sewing machine factory located?
Four production lines were integrated into the Pavia, Italy, facility, including those for the foundry, home and domestic sewing machines, and cabinet manufacturing. The "Wonder Wheel" cam system was introduced by Necchi in 1952.
What function do cams serve in a sewing machine?
The parts known as cams are what instruct a sewing machine how to make a specific stitch. Only one pattern exists for each cam. A rod that rests up against the machine's cams is called a cam follower, and it is attached to another rod that rotates the needle bar left and right.
Summary
In 1924, Vittorio Necchi began his own company making sewing machines, which he successfully ran for many years. The first residential zigzag machine was one of the breakthroughs supplied by Necchi sewing machines. They were well known for their excellent workmanship and high-quality components.
Several Necchi models achieved praises and widespread acclaim in the 1950s. Due to competition from Japan in the 1960s, the company's reputation suffered. Due to their superb craftsmanship, vintage Necchi models created before 1960 continue to command a premium price today!
Our Takeaway
If you recently bought or are considering buying an old Necchi sewing machine. The new estate's basement may be where you discovered some vintage Necchi sewing machines. Using this guide to recognizing and assessing vintage Necchi sewing machines, you can determine their market value regardless of the circumstances. But if you want to completely appreciate the worth and value of your Necchi sewing machines, we strongly recommended that you go see a competent appraiser.