Some things never go out of style, and antique Japanese tea sets are a testament to this notion. Seeped in history, these vibrant, exquisitely crafted tea sets showcase a turning point in Japanese culture. To this day, collectors are still obsessed with getting their hands on a set of their own.
Suppose you want to understand the world of Japanese tea sets, what to look for, and how to value them. In that case, we're going to explore the world of antique Japanese tea sets and how to identity and value them.
Let's put on a pot of tea and get into it!
History of the Japanese Tea Set
Tea is something Japan has been familiar with since as early as the 8th century. Tea was introduced to the Japanese through their priests and envoys. After traveling to China on a mission of learning their culture and way of life, they ended up bringing home tea. This ended up making it a drink of the religious class before it enveloped the royal and noble class.
Finally, by the 12th century, it had extended to the gentry. The tea sets it was appreciated in were nothing short of mesmerizing. They've stood the test of time and become an obsession for the Western world since the mid-20th century.
One thing that fostered an everlasting era of tea drinking was Japan's cultural approach to the hot drink, such as the Japanese tea ceremony. The ancient tradition of the Japanese Tea Ceremony is the ceremonial way of preparing green tea and drinking it amongst friends, family, and guests. The tea is typically prepared and consumed in a tearoom with a tatami floor. However, this isn't a necessary measure to ensure you're going about a tea ceremony the right way.
The purpose of the tea ceremony is to show guests hospitality and enjoy a calm atmosphere, unlike the one beyond the tearoom where tatami is swopped out for concrete.
How to Identify an Antique Japanese Tea Set
There are so many different elements to antique Japanese tea sets that distinguish them from the tea sets we are more familiar with today. One major thing to consider when looking at antique Japanese tea sets is when it was made. During the 1500s, Japan began exporting some of its stunningly crafted tea sets to Europe.
When exporting any of their goods, the Japanese would clearly mark their products with Japanese characters, which indicated it was made in Japan, but more importantly, during which Dynasty.
It's important to remember that before the end of World War II, Japan was known as the 'Empire of Japan', which was ruled by an Emperor and members of the Imperial family. Some of the dynasties you might find underneath your cups, saucers, and teapot include; Momoyama (1573 – 1603), Edo (1603 – 1867), Meiji (1868 – 1913), Taisho (1913 0 1926), and Showa (1926 – 1988).
These markings of the dynasty in power when the cup was produced can easily help identify the period in which the tea set originated. These are, however, only one way to determine your antique tea sets, as you'll soon learn; it's more complex than a mark of the dynasty.
The Material and Texture of Antique Japanese Tea Set
Traditional antique Japanese tea sets were made using either clay or porcelain. If the users of the tea set were drinking primarily, or exclusively, green tea, then they likely used a clay tea set. This is because clay tea sets are porous and therefore absorb the flavors of the tea with every brew. Of course, this meant that only one type of tea could be used in the teapot to avoid compromising the flavors.
If the tea drinkers preferred to diversify their tea drinking, then they'd consider using porcelain which, unlike clay, isn't porous. As a result, multiple teas could be brewed in the same pot with no risk of lingering flavors ruining the next batch of tea.
Types of Antique Japanese Tea Sets
Antique Japanese tea sets used to feature a wide variety of petters and designs. It's far easier to determine the patterns based on the set's city of origin rather than the patterns themselves. Here are some of the most common patterns featured on antique Japanese tea sets.
Imari pieces:
Imari tea sets featured an underglaze blue and rusty red on a white ground with leaves and flowers making a prominent feature.
Satsuma pieces
Satsuma sets usually featured illustrations of Japanese craftsmen painting vases. Overall, the set featured a crackled ivory luster.
Bizen pieces
Bizen sets would often feature humorous figures of gods, birds, and other animals.
Kutani pieces
Kutani tea sets focused on utilizing gold, red, and other vibrant colored accents all around the various items in the tea set.
Moriage
Moriage is the process of laying clay on certain products. The intention is to create a base for intricate designs that have been slightly raised. This can be anything about the product, from golden leaves, trees, etc. It's a fairly easy thing to add to any tea set.
Dragonwisre is a very popular design feature of Japanese tea sets. It's a design that features dragons as a dominant design element. Moriage isn't exclusive to antiques.
The Different Manufacturers' Marks
Considering there's a long period of history where Japan was known as the Empire of Japan, and America wasn't the superpower we know of today. This means that different times called for different labels. The change in identification was often the result of meeting other countries' needs and not a decision they wanted to make.
1891 – 1921 = Nippon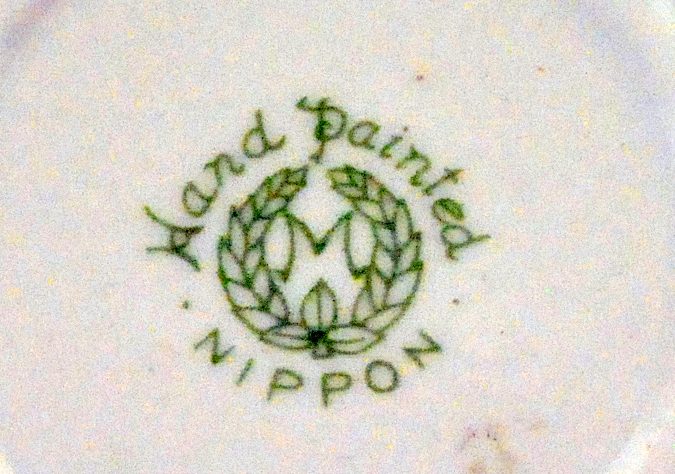 Nippon was the word given to refer to and identify an era in which the tea set was made. This meant a tea set was made between 1891 and 1921 and was almost exclusively for export. However, that's not to say no tea sets with the identification of 'Nippon' were not found in Japanese homes; they were just far rarer.
The cups can be marked either 'Made in Nippon' or simply 'Nippon.' This full identification was due to the U.S. passing a tariff that required foreign goods to be marked in English where they originated from.
The Nippon label does carry more monetary value than other manufacturer marks. This, however, opens the door for fraudulent or misleading listings. Therefore, it's important to always be aware of potential scams. If the listing says Nippon, it means nothing unless it's inked into the product itself.
1921 – Present = Made in Japan
The U.S. eventually made a determination that simply stating 'Made in Nippon' was simply unacceptable in clarifying Japanese origins. By August of 1921, all products from Japan had to feature a back stamp that stated 'Made in Japan,' or simply 'Japan.'
This rule was paused for a brief period when America embargoed Japan before occupying the island nation during the second world war. However, once this occupation ended, they returned to the previous labeling of Made in Japan.
Some of the most prominent manufacturers of antique tea sets included; Jyoto, Mikado, Kutani, Noritake, Chubu, Saji, Sango, and Ardalt.
1945 – 1952 = Made in Occupied Japan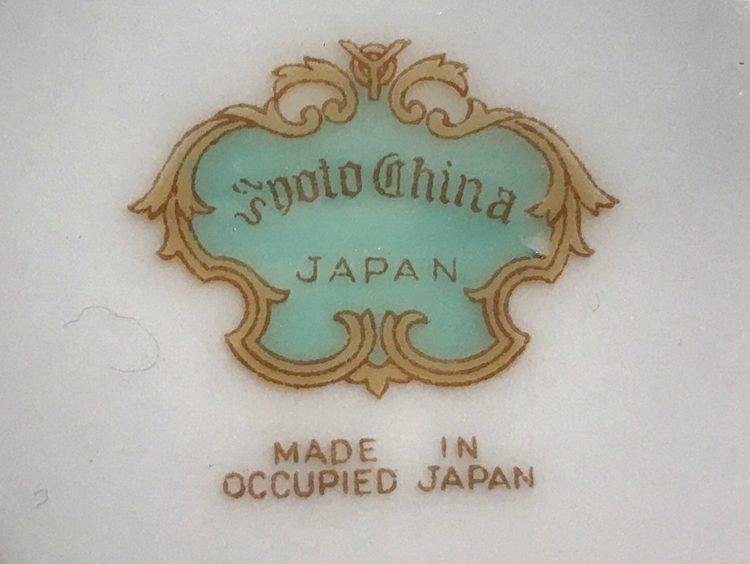 When the U.S. occupied Japan during the late '40s, early 50's they changed it again to state that the product originated from 'occupied Japan.' During this time, any product from Japan was either marked; Occupied Japan, Japan, Made in Japan, Made in Occupied Japan.
It's preferred to have a set that contains mention of occupation in its manufacturer's marking. This is because it makes it easier and more accurate to determine when and where the antique originated.
How to Value Antique Japanese Tea Sets
Pricing a Japanese tea set is a complex process that might be better left up to appraisers who are able to get far better results in determining the value of the item. There are so many things that go into determining how much an antique Japanese tea set is really worth such as;
Date of production
Material
Design
Condition of product
Completion of set
Be sure to look for or request a certificate declaring that the product has undergone an authentication process. With counterfeits becoming so painfully abundant, you want to know you're getting what you paid for or intend to pay for!
Final Thoughts
Purchasing an antique Japanese tea set of your own is an excellent investment to consider making. The history-seeped tea sets will bring an engaging, elegant, historical charm to your home.
If you're looking to get rid of your antique Japanese tea set, then consider these various elements that go into the valuation of such a product intensely. Of course, it's always better to look for the most direct and accurate result to not over or underprice your set.
Good luck on your antique journey, and be sure to let us know in the comments all about your great find!