Imagine not being able to express yourself creatively through art because you never had an interest in sewing? But the fact that you are here, looking for vintage Japanese sewing machines, means you can't relate. You probably learned to sew as a child, a skill that was taught by mother with love. On the contrary, if you haven't already, you will soon be collecting or selling your first vintage machine. Look at you preparing to satisfy your heart's or pocket's desire. We see you!
Read on to learn about the history and value of vintage sewing machines, the key characteristics of prominent vintage Japanese sewing machine brands and tips on selling and buying these vintage gems. Vintage in this case being those between 1922 and 1999 as of today.
The History of Vintage Japanese Sewing Machines
Ever since humans can remember, sewing has been in existence for centuries. It was necessary for when they started to make clothes and a staple in every household. Today, that craft has long faded but you can't miss one or two people whose family before them held on to sewing and lovingly passed it on to them. You pass and pass and pass it on this sewing skill and it lives on as a tradition.
Now let's go back a little bit to the period before this. The century before this one when Japanese sewing machines didn't exist. Back when there were antique sewing machines whose year of manufacture came before 1900 like this 1914 rotary white treadle.
Obviously, you shouldn't be tempted to compare White with Singer when it comes to functionality but where it lacked in machine quality this 'sold by Sears Roebuck' made up for with its lovely furniture. They are still not so badly off seeing they will go for anything between $50 – 200 today.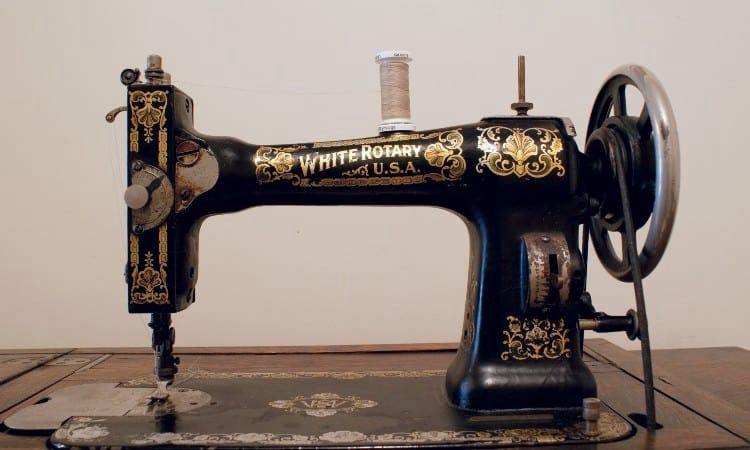 Antique sewing machines were many and came in different brands, you can read more on some of them here.
Then came the vintage sewing machines and those from Japan specifically stole the show. The Japanese sewing machine rage has lived on todate and this type is all vintage. Why? They came within the last century. Vintage sewing machines from Japan are favored for their reliable and durable nature. They have other advantages too including a smooth user experience and a whole variety of cool colors to choose from.
The Japanese sewing machine boomed at a time when Japan was still under U.S military rule. The late 1940s and 60s saw Japanese factories manufacture countless vintage sewing machines for its large customer base, including the U.S. One may come across two Singer machines today and think they were Japanese when in reality they were clones of the original outsourced U.S brands. Yet, it's safe to say they are both of Japanese origin.
For Japanese sewing machine collectors and others in the field, these vintage collectibles show how the sewing machine has evolved over the years. It is worth noting that even now, Japan has remained a huge contributor to the sewing world's innovation and design.
Vintage Japanese Sewing Machine Identification
Did you know that vintage Japanese sewing machine acquisition and ownership is so serious that they even have a society. You too can be a member of the International Sewing Machine Collectors' Society! And from then on you won't be able to tell at which point you became obsessed with the high quality, bright and history-reminiscent vintage Japanese sewing machine brands.
Here is an important thing to remember in your endeavor to collect or sell a vintage Japanese sewing machine: a machine you find that matches all the criteria in this post may still be a Japanese-US crossover machine. Like we said, what matters really is they were all Japanese made.
Is This Machine A Genuinely Vintage Japanese Make?
Whenever you have come across a Japanese sewing machine and want to outsmart the crooks, here's what to look out for:
It Was Made Between the 1940s and 1960s
Like we already mentioned, the U.S inhabited Japan after world war II and helped most sectors flourish, one of those being the sewing machine manufacturing industry. In case the machine you are looking at as a collector or seller was made anywhere between 1940 and 1960, there is a high chance it is Japan-made.
There has to be a Made in Japan stamp
If the vintage machine doesn't have a JA or 'Made in Japan' stamp on it, it's probably a much faker clone than the vintage replica one you could have owned that has a JA stamp on its bottom.
Second, if luck is truly by your side, there might be an original sticker or badge telling you who the manufacturer is somewhere on your collectible's body.
Colors and Designs
Finally, the easiest way to tell apart vintage Japanese sewing machines from the rest was color. The former mostly came in colors and so if what you have is a candy-colored machine, we're talking green, metallic blue, yellow, "fire engine" red,and pink, it's likely a Japanese beauty!
Here is a short youtube video on how to spot a Made in Japan machine.
Determining the true origin of a vintage Japanese sewing machine is no mean feat but that doesn't make it an impossible task. If after going through this and some more guides online and using physical material, you still can't get the hang of it, facebook forums like the Vintage Non-singer Facebook group or websites like Etsy and ebays should help. You could try your luck at an auction house too! If worse comes to worse, seek a professional's appraisal.
Most Popular Models of Vintage Japanese Sewing Machines
We could spend all day listing the over 5,000 vintage Japanese sewing brands and end up confusing you even more, or we could give you a shorter list of some of the trusted brands whose praise has trickled down to the 21st century collectors and vintage sewing machine owners.
Here are some of those brands whose badge or stamp you can look out for:
Toyota Sewing Machines
Toyota isn't only a car company like most folks may think, it's been in the business of manufacturing Japanese sewing machines, heavy-duty ones that sew leather, majorly for Europe's market. Loved for their reliability, these machine models include the radiomatic streamliner, the renaissance.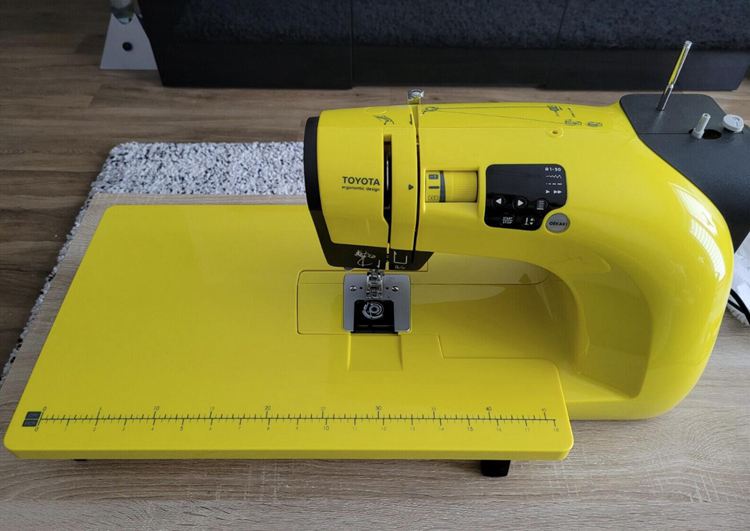 This Nähmaschine Toyota Oekaki 50 is worth approximately $451.
Brother Cavalier Japanese Sewing machine
This brown and white Brother Cavalier Machine was made in the 1950s. When they began producing sewing machines for export in 1947, Brother Industries Ltd went by the name Nippon Sewing Machine Manufacturing Co.
Today, vintage Brother sewing machines come in different styles including heavy duty, serger and straight stitch. Some Brother brands you are likely to find include Jones, Jones-Brother, Brother, and Baby Brother.
The cavalier brand sewing machine by Brother is electrical, functional and goes for $199 on Etsy.
Happy Industrial Corp.
They may have dipped their first leg in business in 1945 and made machines for other brands as well, but some of Happy Industrial Corp.'s popular machines like the vintage Montgomery Ward machines were brought to life almost two decades later in the 60s and 70s.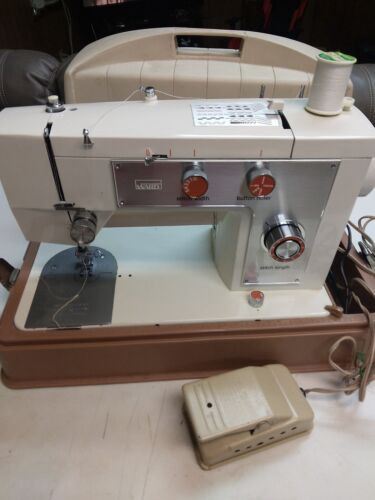 This very rare vintage Montgomery Ward UHT J1276 Sewing Machine that's in used condition and comes with a case is worth $295.
Maruzen Machine Company
This is another major vintage Japanese sewing machine brand we can't fail to highlight. Maruzen Machine Company made sewing machines from 1949. Its machines would often be rebranded by large retailers such as Frister & Rossman, RH Macy, Sears & Roebuck and Gimbals. Their models include heavy duty machines and sergers.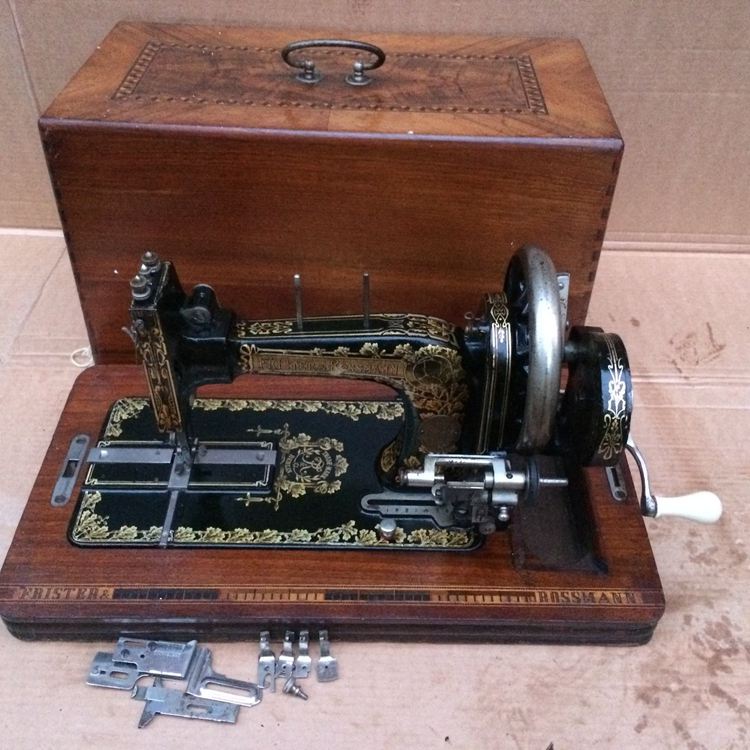 This Frister & Rossman transverse shuttle Hand Crank Vintage Machine with a Berlin mark is worth $543.
Singer
It's the 21st century and Singer co. sewing machines are still a gem. The classical definition of built to last, you don't want to miss out on a good vintage Singer sewing machine so check this vintage Singer featherweight machine out.
The beautiful Vintage Singer Featherweight Sewing Machine with Original Box is going for $519.
Janome
Janome was one of the Japanese brands that specializes in vintage sewing machines for exports. Their programmable sewing machine, Memory 7, was a first in the late 1970s. For many years, the company has also made machines for other brands such as Kenmore.
​​
This heavy duty vintage JANOME New Home electric sewing machine is worth $1,376. It was made in the 70s from different materials including aluminum, alloy, stainless steel, steel, cast and bakelite.
Kenmore Sears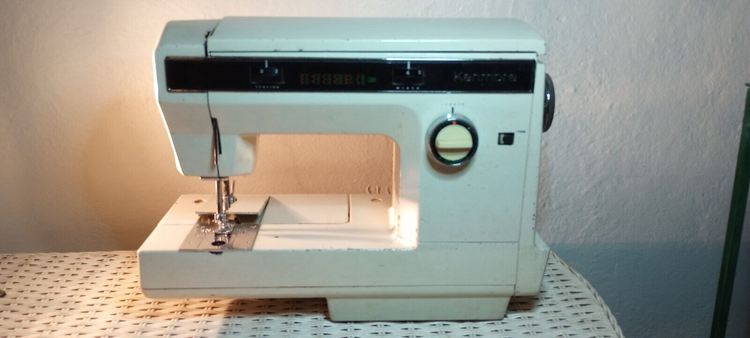 This Japanese vintage Kenmore sewing machine is going for $129.
The Koyo Sewing Machine Company
Remember us mentioning that not many Japanese sewing machine brands took credit for what they made? Well, this company isn't one of them. The Koyo Sewing Machines will have a stamp of its name. They did export and some of their sewing machine exports were for rebranding.
This made in Japan red white Koyo Centennial Vintage Sewing Machine is worth $157. Clear this link to see more of its details!
Juki Corporation
Juki Corporation has stood the test of time and is still one of the most trusted sewing machine production companies to this day. Juki started its production way back in 1945 and catered to both home and industrial-use sewing machines. They actually launched the first home vintage serger machines.
With newer Juki models costing up to $3,000 or more, if you come across a vintage one that is much cheaper and functional, do not hesitate to buy it.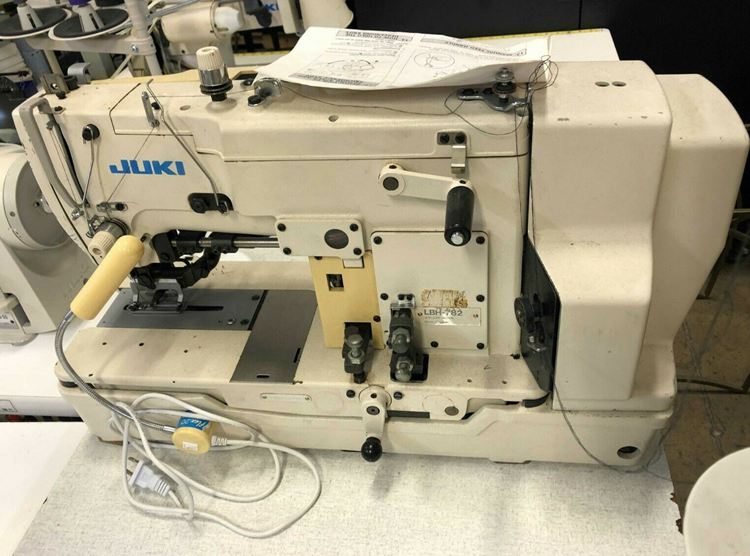 The used Juki LBH-783 Single Needle Lockstitch Buttonholing Industrial Machine costs $2, 225 on eBay.
Are Vintage Japanese Sewing Machines Worth Anything?
Unless it is an unbranded generic Made in Japan machine, which has little to zero monetary value, most of the other vintage sewing machines will bring an extra penny along with their inviting look.
The unbranded ones do sew gracefully though, and you may go for one if you have a tighter budget. Not to mention, the user experience of these vintage pieces is way better than with some American model originals.
Assessing the Value of a Vintage Japanese Sewing Machine
While determining a vintage Japanese sewing machine value isn't as easy as falling off a log, knowing the basics would make it a less gruesome experience. We doubt there is a standard guide as to how to go about determining the value and price to place on a vintage Japanese sewing machine, most vintage ones range between $50-$400.Also the fact that newer models cost way more than older ones does not help one bit. A good example is those from the Juki brand which keep getting pricier with each new model.
Despite all that, here's what to look out for when deciding on the value of a vintage Japanese sewing machine as a seller or collector.
Factors Affecting the Value of Vintage Japanese Sewing Machines
Condition
It doesn't matter whether it's a Singer or Juki, if your old Japanese sewing machine has so many dents and scratches, its value goes down. Worse if it cannot function properly because no one wants to pay for a sewing machine that won't serve a second purpose besides sitting pretty in the sewing room.
You want your vintage sewing machine to be in the most pristine condition or one that isn't complex to repair so check to see if the bobbin rotates properly in-line with the other mechanical gear. If the machine is electric, plug it into a socket to ensure it works.
Are there stains, scratches, bumps or chips? You cannot ignore this detail.
Features
Consider what features you or customers won't compromise on. Is it a particular stitch type? This plays a huge role in identification too! Why? Vintage sewing machines either have straight and zig-zag patterns as well as more than one type of stitch.
While we are still on that pattern note, it is worthy noting that compared to their counterpart, single pattern machines are often sturdier and therefore allow the use of stout materials such as leather.
Rarity
The more unique the features of a vintage Japanese sewing machine, the more rare and valuable it is. This is due to the fact that there was a lot of mass production of these machines that renders some of the common vintage sewing machines less valuable. A machine's serial number, brand name and model affects its value massively.
Can Its Parts Be Found Easily?
In the same way you wouldn't want to buy a car and then suffer to acquire its parts later on when you need spare parts, you don't want a vintage sewing machine to disappoint you.
It is safer to go for those from big brands such as Singer, Toyota, Juki, and Janome. Also, make sure to check if the specific brand is still producing very old machine parts. That way, you are sure your machine won't be going obsolete anytime soon and you also won't be worrying about its value.
Tips for Buying and Selling Vintage Japanese Sewing Machines
The fact that you got this far reading this post is proof that you deserve some tips on buying and selling don't you think?! Especially because there isn't quite the clear cut standard for valuing vintage Japanese sewing machines, these tips should stay at the back of your mind.
Check for the machine's serial number and brand to assess its specific model, then scour sites like Etsyand eBay or online forums like the vintage sewing machines(non-singer) facebook group to deduce its uniqueness.
Don't skip reading the seller's description on the site of the item you are checking out. If there's no outline of its features and functionality you might want to forego or ask the owner – just remember to confirm its condition.
If you are looking for a particular brand model, the brand's website is a good place to start. For instance, for juki sewing machines visit the Juki website.
Don't downplay what instruction manuals can do and you will easily find those by doing your research on Google or the facebook group mentioned earlier. Its members can easily access close to 1,000 machine manuals.
Beware of machine clones. Singer has many of those but that doesn't mean you will escape them or that they are that bad.
All things said and done, one fact remains; vintage sewing machines will almost always outlast modern machines.
Conclusion
You've probably left with a thing or two on how to go about vintage Japanese sewing machines. It could be knowledge of some of the best vintage Japanese sewing machines or valuing one. One thing we will all agree on is that while the sewing craft isn't as popular today as it was back in the day, vintage sewing machines are still a good investment owing to their durability and usability.
What's holding you back from owning or selling that vintage Japanese sewing machine now?