Antique Queen Anne chairs are pieces of furniture that hold significant historical value; these chairs can be recognized by their marks and are typically purchased at a high price.
This guide will teach you everything you need to know in order to recognize antique Queen Anne chairs and determine their value. Keep reading to learn more.
What are Antique Queen Anne Chairs?
Cabriole legs, which mimic the natural curving of animal legs, distinguish Queen Anne chairs. It is a universally recognized classic associated with elegance and regality.
Queen Anne chairs are now at least a century old, making them antiques. The chairs must be authentic Queen Anne styles produced by the company, to begin with.
The History of Antique Queen Anne Chairs
The Queen Anne style of furniture emerged in 1689, during Queen Anne's reign, following the William and Mary styles, but it only became popular enough for people to recognize in 1720.
The historic furniture style was named after Queen Anne, who ruled Great Britain and Ireland for twelve years, from 1702 to 1714. The furniture was named in her honor after her death in 1714 to commemorate and honor her reign.
The chair is the most popular piece of Queen Anne furniture. It's the first chair with a cushioned seat. It is also known for improving sitting conditions by providing spinal support and enabling better sitting positions.
This allows a person to sit for long periods of time without experiencing discomfort. A Queen Anne chair is best described as a beautiful, lightweight piece of furniture that is also comfortable and easy to move.
Identifying Antique Queen Anne Chair
Queen Anne chairs are identified by their distinguishing features. These features include an S-curve, minimal embellishments, pad feet, a shell or fan-shaped design, and wood construction. In this section, we will examine the features of Queen Anne chairs to identify them.
S-Curves
Antique Queen Anne chairs are easily identified by the S-shaped curve on them. The S-curve designs are carved into the furniture. It can be found on the shoulders, the splat where the spine sits, and the cabriole legs.
Minimal Decorations
The design or decoration of antique Queen Anne chairs is simple in comparison to the William and Mary furniture style. The antique Queen Anne chair has unique designs on the cabriole legs' "knees."
Pad Feet
Pad feet, also known as Dutch feet, are used on Queen Anne chairs. These chairs have rounded-cornered feet and a flat base for more stability on flat surfaces.
Appearance
Similarly to other antique Queen Anne furniture, the antique Queen Anne chair has a less bulky and lighter appearance. It is considered minimalist compared to other types of furniture.
Shell or Fan-Shaped Design
Most antique Queen Anne chairs have a shell or fan-shaped design. The design is located on the chair's head or the knees of its cabriole or S-shaped legs.
Wood
Typically, antique Queen Anne chairs were crafted from walnut wood. However, cherry and maple wood were also used. Anything other than these three types of wood could be a Queen Anne copy.
Value Guide for Antique Queen Anne Chairs
The value of antique Queen Anne chairs depends on their age, condition, rarity, and maker. It also depends on the price a seller is willing to accept and the price a buyer is willing to pay. We will evaluate the current market value of 10 antique Queen Anne chairs below.
1. Queen Anne Leather Upholstered Wingback Chair
The wingback chair is one of the oldest and most popular types of furniture. It is notable for its pair of protruding wings, depth, impressive color and style, and upholstered framework.
Due to their design, they are also known as the fireside or easy chair and are perfect for enjoying the warmth of a fire while seated.
The wings on a Queen Anne wingback chair were originally designed to protect the upper body from drafts in old houses and to protect the delicate skin of noble ladies from the heat of a fire.
Since most fireplaces are found in the living room, antique Queen Anne wingback chairs are typically placed there. An antique Queen Anne wingback chair is valued at $8,500 on Chairish.
2. Circa 1740s English Antique Queen Anne High-Back Corner Chair
The English high-back corner chair from the 1740s has an unusual seat in the shape of a rhombus. It has a cream leather cushion on the seat that is both comfortable and stylish. It also has tall arms with a splat that curves at the midpoint and reshapes as it descends to the bottom.
Due to the rhombus-shaped seats, the legs of the chair are positioned in a way that provides balance. There are no shell or fan-shaped designs on the chair's head or the knees of the cabriole-shaped legs.
The chair is also notable for its single cabriole-shaped leg. The other three legs are all straight. The Circa 1740s English Queen Anne High-Back Corner Chair is worth $4,200 on antiquing websites like Etsy.
3. Antique English Queen Anne Style Upholstered Chair
The Queen Anne style chair, made of walnut wood, was upholstered in England circa 1890. The upper section of the chair is made of a light grey material with a feather-filled cushion and an S-curved armrest.
All four legs are connected by formed, molded, crisscross stretchers with a central turned finial. The Upholstered Antique English Queen Anne chair can be used in the bedroom, living room, or corridor, and it is available on Etsy for $4,469 for a pair if you want to add it to your collection.
4. Antique Queen Anne Side Chair
The antique Queen Anne side chair stands out because it doesn't have an armrest. It only has a back, four cabriole legs, and round cushion seats.
The back of this chair has S-shaped curves on its round shoulders. It lacks a shell or fan-shaped pattern and is crafted from walnut wood. The 18th-century Queen Anne side chair is listed on Chairish for $5,900.
5. Antique Queen Anne Arm Chair
The antique Queen Anne armchair from the early twentieth century has two cabriole legs in front and two straight legs in the back. It also features an S-shaped back consistent from the headrest to the base of the chair.
It is a sturdy antique Queen Anne chair that can be used as a desk chair. Its unique appearance makes it suitable for use in any unconventional or traditional home. On Chairish, an antique Queen Anne armchair is valued at $548.
6. Antique Queen Anne Mahogany Wing Chair
The Queen Anne mahogany wing chair has typical Queen Anne wingback chair characteristics such as cabriole legs, a high back, cushioned portions, and an armrest.
This antique piece is available on eBay for $699 and can be used as home decor. It can also be used as a seat to complement a desk you may already own.
7. Wooden Queen Anne Armchair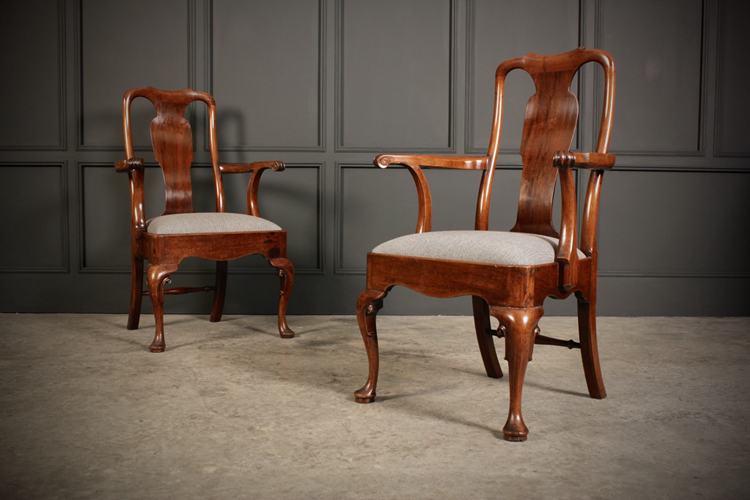 Another unconventional design, the wooden armchair, is a Queen Anne chair from the 1920s. It is distinguished by the presence of only two cabriole-shaped legs, with the remaining two legs resembling a curved slant joined by a wooden piece.
The Queen Anne armchair might be added to your collection for $1,089. The design lacks the typical recurved splat back found on the chair's arm.
8. Antique Drexel Heritage Queen Anne Side Chair
Drexel Heritage is a furniture manufacturer that was founded more than a century ago in North Carolina. Drexel Heritage is well-known for producing high-quality, unique furniture.
The Queen Anne design is one of the Drexel Company's furniture styles. It is one of several furniture styles adopted by the Drexel Legacy company. The front legs are cabriole-shaped, and the back legs are straight. On Etsy, a Drexel Heritage Queen Anne Chair is available for $280.
9. Fine Queen Anne Japanned Side Chair
Japanning is a decorative technique that involves applying a Japanese-style finish to wood to enhance its beauty.
The Fine Queen Anne side chair dates from 1715 and features a shell-shaped head and a double-arc crest rail for decoration.
The piece of furniture is embellished right down to the wood, and its four legs, which include two cabriole legs and two straight legs, are joined by three turned stretchers and have pad feet for stability.
The Fine Queen Anne Japanning Side Chair is up for auction on 1st Dibs for $4,800, and as the name suggests, a side chair like this can be used in a dining table set.
10. Ethan Allen and George Court Queen Anne Side Chair
Ethan Allen is a global furniture retailer with over 300 locations. Nathan Ancell and Theodore Baumritter, two brothers-in-law, founded the company in 1932.
In 1936, both brothers-in-law purchased a bankrupt furniture factory for $25,000. By 1939, the first furniture line was introduced, featuring a 28-piece line of colonial-style furniture, including Queen Anne-style pieces.
Unlike the previous Queen Anne chairs discussed, the arms of the Ethan Allen Queen Anne armchair spiral in an unconventional style.
A pair of Ethan Allen Georgian Court Queen Anne armchairs can be purchased for $749 on eBay.
Factors to Consider Before Selling Your Antique Anne Chair
To sell your collectible antique Queen Anne chair successfully, there are some factors to consider that will help you achieve your desired profit. They include research, the age and uniqueness of the Queen Anne chair you own, and the condition of the chair.
Research
You can't sell something unless you understand it. However, in most cases, you can sell it, but you may be selling it at a cheaper price than you should have. This is the importance of research.
Research allows you to understand why an item was labeled a collectible in the first place. You can find out how much a product similar to yours sells on the market by researching.
You can research comparable Queen Anne chairs using Google, Google Lens, and websites such as 1stDibs, eBay, Etsy, and Chairish.
Age
The age of your Queen Anne chair can impact its commercial viability. A chair like the Queen Anne chair dates back to the 18th century, making it highly valued by most antique collectors.
An antique Queen Anne chair in good condition will be more valuable than a brand-new Queen Anne imitation. If you own an antique chair, you may be sitting on a fortune.
Rarity and Uniqueness
If you own a particularly rare or unusual Queen Anne-style chair, you are in a strong position to negotiate a price that benefits you and the buyer. Rare items command higher prices and provide greater incentives to catch, driving up the item's rarity and price even further.
Chairs, tableware, sofas, and dining tables that are one of a kind or particularly rare can cost several hundred dollars more than mass-produced equivalents.
Condition
A visibly old Queen Anne chair in good condition commands a higher price than a visibly old Queen Anne chair in poor condition. Antique collectors are interested in your old Queen Anne chair, but they may pass if it is in poor condition.
Condition is a significant factor in determining the market value of an antique. Age-related changes to a piece, such as the ancient Queen Anne chair, are also noteworthy. These changes may include discoloration, which, in most cases, will not reduce the value of your antique.
Where to Find Collectible Antique Queen Anne Chair
Given the unique design of Queen Anne chairs, it is understandable that you desire to acquire one or even more valuable antique Queen Anne chairs. We have provided a list of outlets below to aid you in your search for a collectible antique Queen Anne chair.
1stDibs is an online marketplace that connects users from all over the world with incredible online deals. It is a popular online marketplace for antiques, furniture, and jewelry.
You can find collectible Queen Anne chairs on the site if you visit and use the search option to look for Queen Anne chairs.
eBay is a marketplace and auction house that allows third-party buyers and sellers to sell items. It's that simple.
Various sellers on eBay list collectible antique Queen Anne chairs. Keep in mind that eBay is an auction site, and the prices listed are merely starting points that are negotiable.
Etsy is an online marketplace that sells handmade or vintage goods and craft materials in various categories such as jewelry, bags, clothing, home décor and furniture, toys, art, and craft supplies and equipment.
Several dealers sell collectible Queen Anne chairs in their stores, and because Etsy is not an auction site like eBay, the prices listed are the ones you are required to pay.
Chairish is an online marketplace for luxury vintage home items such as furniture, decor, and art. If you're looking for an antique Queen Anne chair, Chairish has several options; simply type "Queen Anne chair" into the search bar.
Frequently Asked Questions
Which Designs are Commonly Seen On Queen Anne Furniture?
Scallop shells, scrolls, Oriental figures, animals, and plants are examples of motifs found on Queen Anne furniture.
What Influenced Queen Anne's Style of Furniture?
The reign of William and Mary from 1689 to 1702 significantly impacted the Queen Anne style of furniture. During the reign of Queen Anne, the style of William and Mary was modified to reflect hers.
How Do I Clean Antique Queen Anne Furniture?
To clean Queen Anne furniture, use a soft-bristled brush to apply a dishwashing liquid and warm water solution, then wipe clean with a damp sponge. You can extend the life of your leather furniture by conditioning it regularly to keep its suppleness and luster.
Final Thoughts
The Queen Anne chair is a classic piece of furniture that features cabriole legs and is adaptable for use in any space or organization. This is the type of furniture you've been looking for!
These chairs are available in a wide range of styles and colors and would be an excellent addition to any antique collection. They are also extremely valuable, which makes them great pieces for use as investments. If you have any further questions, please leave them in the comments section below.