Antique wash bowls and pitchers have stood the test of time, and why wouldn't they? They were bathroom essentials for men and women back in the day. Little wonder their newly gained popularity in modern times.
Prices for antique wash bowls and pitchers' range between $50 t0 $100 on an average and can go higher depending on their rarity, maker and age.
This eye-opening read on antique wash bowls and pitchers will spark your interest. Trust us to show you things you haven't seen or heard before about these gems.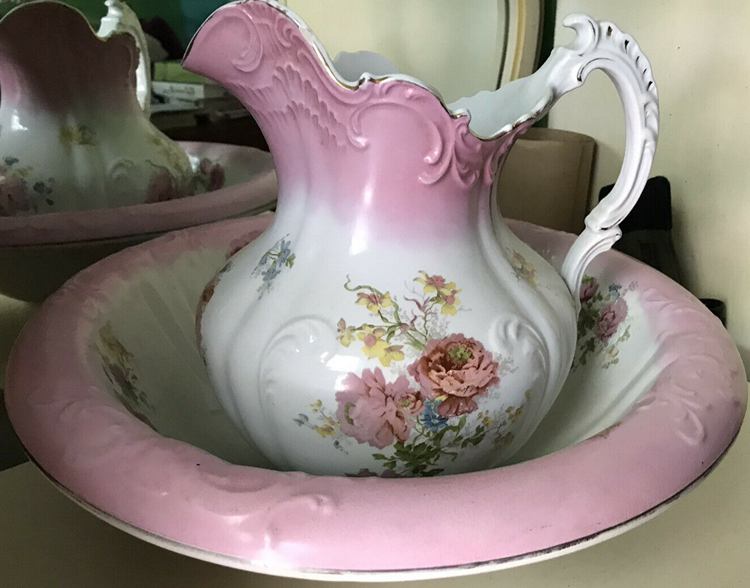 The History of Antique Wash Bowl and Pitcher
Pottery companies worldwide were known to venture into the production of wash bowls and pitcher sets around the last quarter of the 18th century. These sets were commonly referred to as the early bathroom sets, and they were used by people to clean themselves up.
The wash bowl and pitcher remained popular all through the better part of the 19th century and the 20th century. Even till today, it is still sees use in some parts of the world.
The pitcher is usually filled with clean water and used to wash the face, hands and even brush the teeth. The used water is disposed from the basin into the gutter or any outlet.
Both are used in the bathroom, placed on a piece of furniture known as the washstand. The washstand is made of marble tops and there is always a small cloth hanging behind the stand to protect the wall from water splashes.
They exist in various colors and materials, from plain white ironstone to decorative hand-painted China sets. Some are made from sterling silver and cut glass; the solid gold sets also exist.
The 5 Most Valuable Antique Wash Bowl and Pitcher Ever Sold
| | | | |
| --- | --- | --- | --- |
| S/N | Name | Release Date | Prices |
| 1 | Art Nouveau Flow Blue Aubrey Royal Doulton Pitcher and Bowl Set | 1909 | $984.99 |
| 2 | Annaburg Washbowl, Pitcher | 1950 | $654.85 |
| 3 | Goodwin Victorian Washbowl, Pitcher Set | 1854 | $225 |
| 4 | Victorian Antique Wood & Son Pitcher & Washbowl Set | 1890 | $154.25 |
| 5 | Tam O' Shanter 18th Century Europa Washbowl & Pitcher Set | 1960-1970 | $124 |
1. Art Nouveau Flow Blue Aubrey Royal Doulton Pitcher and Bowl Set
Release Date: 1909
Price: $984.99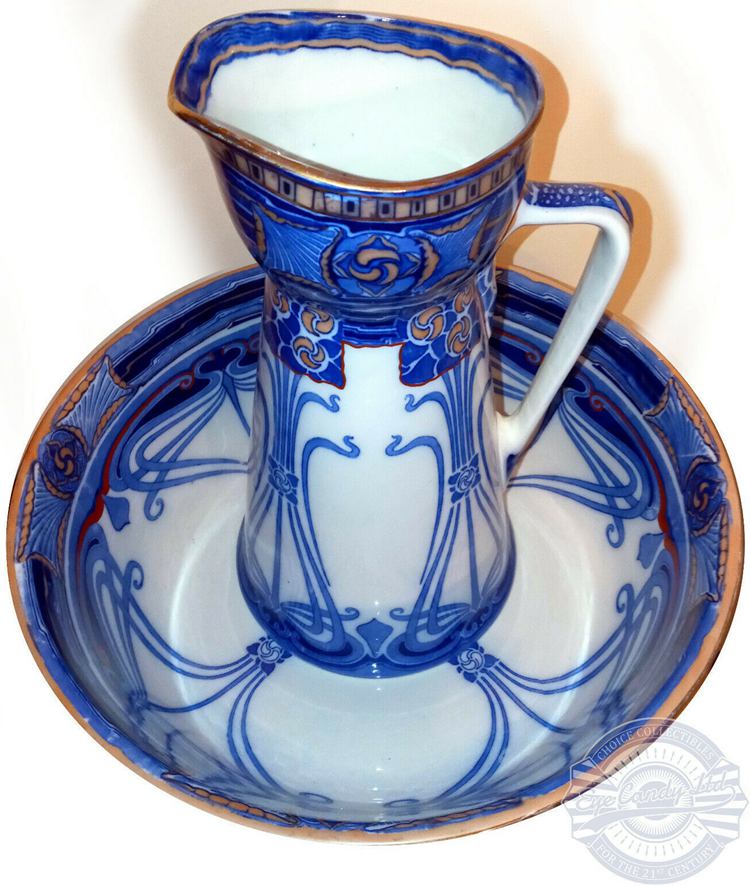 The art nouveau era was characterized by experiments with expressive lines imitating flower stalks, buds, insect wings and other natural objects to create a rhythmic pattern.
This pitcher and wash bowl set has beautiful blue abstract details with gold enamel coating at the tip of both items. The great contrast between the two hues is one of the set's high points.
2. Annaburg Wash Bowl and Pitcher
Release Date: 1950
Price: $654.85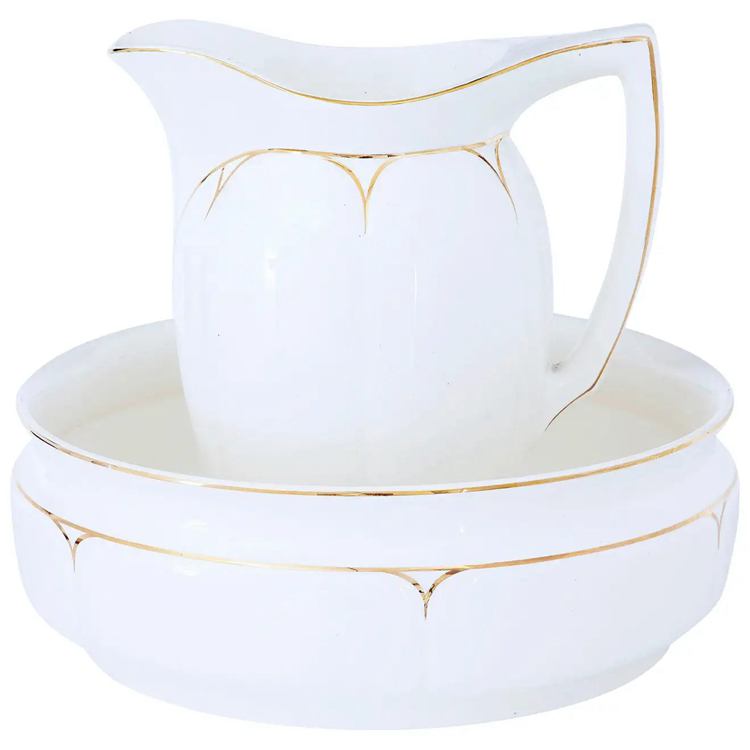 The 1950 art Nouveau-inspired washroom ceramic set was hand-crafted in Germany by Annaburg, a renowned ceramic maker. The large set comes in shades of sparkly white with gold detailing at the edge of the bowl and the pitcher.
3. Goodwin Victorian Washbowl, Pitcher Set
Release Date: 1854
Price: $225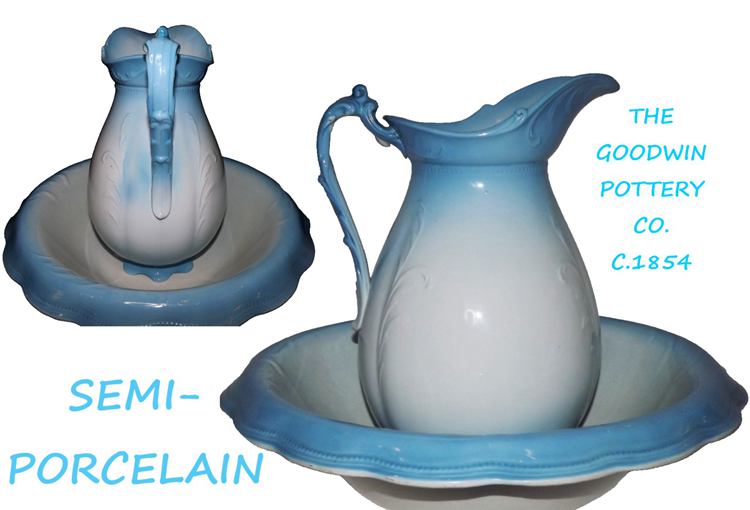 Here we have an Antique Victorian era semi-porcelain pitcher and washbowl set produced by the Goodwin pottery company in 1854 in the United States.
It's a beautiful blue and white set with floral enamel patterns and a very exquisite handle. The mouth of the pitcher has a unique twist and gives room for precise distribution of liquid or whatever content the pitcher holds.
4. Victorian Antique Wood & Son Pitcher and Washbowl Set
Release Date: 1890
Price: $154.25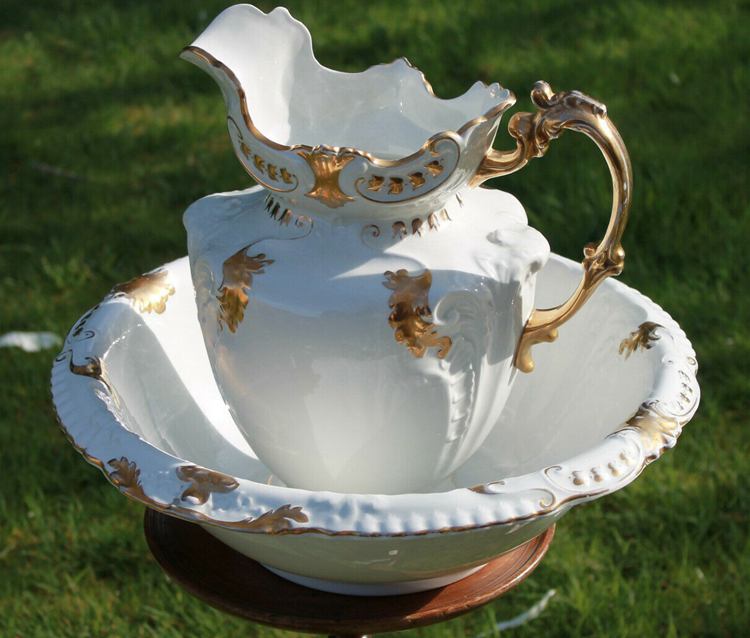 Wood & Son Pottery Company produced the beautiful porcelain washbowl and pitcher set in the United States circa 1890. The set has flawless Victorian gilding details by the handle, rim and scrolls, showcasing the sophistication of the Victorian art era.
5. Tam O' Shanter 18th Century Europa Washbowl & Pitcher Set
Release Date: 1960-1970
Price: $124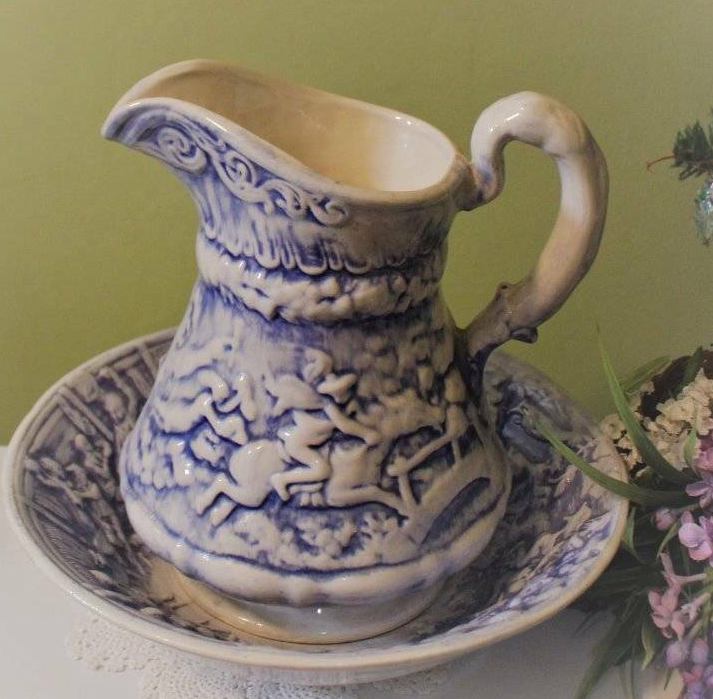 This washbowl and pitcher set was produced and designed by Tam O' Shanter between 1960-1970.
It's an 18th-century stoneware beauty that features blue floral details on a white background. You can almost feel the raised enamel details when you run your hands across the body.
How to Identify the Markings on Antique Wash Bowl and Pitcher
Identifying the marking on an Antique Wash bowl and pitcher can help you discover their origin, manufacturer, and value. The markings are placed, inscribed and embossed on the pieces by the production companies.
Have them Appraised
When identifying the markings on your antique items, the first thing you must do is to take them to an appraiser for professional observation and valuation.
With an appraiser in your corner, all the pending questions about the origin, date and history of the markings will get answers.
Determine the Age
Make sure you discover the age of your antique wash bowl and pitcher to determine the period in which your product was produced. Some companies even indicate the production year on the pitcher to make it easier for you.
Do well, to note that marks evolved as the years progressed. Handcrafted marks came first and sequentially gave way to stamped marks, after which paper labels took over and the finally evolved to lasered prints.
Trace them to their Origin
Antique wash bowls and pitchers usually bear embossments indicating their place of origin or manufacture. This will help you determine if it's in English, French, or European ware.
For example, Britain's marking system for precious metals has more embossments than its United States counterparts.
Books and Guides
There are dozens of books and publications with sections on identifying markings on antique wash bowls and pitchers. These books have all the information on marks and the different methods used to identify antique markings.
How to Date Antique Wash Bowl and Pitcher
There're so many benefits you stand to gain when you know how to properly date your antique bowl and pitcher. Apart from the fact that it'll help with the accuracy of facts, you can also deduce if it's a reproduced model or an imitation.
Finding out the proper dates is essential to collectors as it boosts your credibility and ensures that you feed your curious buyers with correct information.
Compare Similar Pieces
Pick a similar piece or anything remotely resembling the item and compare their features and details when in doubt. With prior information on the date of one of the pieces, you'll figure out the possible date of the one you have in your hands.
Engage the Services of an Appraiser
You can also consult an appraiser to help you find a date for your antique piece. Their extensive knowledge in everything antique makes them perfect for the job.
Online Database
To help with easy dating, some websites have developed a database system where you can enter serial numbers of your antique ware to give you every bit of information on your piece; this includes their production date and place of origin.
Find one of these sites and do the needful. It's foolproof, fast and very famous for being effective.
Find a Mark
What better way is there to date an item other than looking for a mark or a familiar logo used during a period by a company?
So many company logos and Stamps have evolved over the years. This is now considered a very helpful tool to help with dating items. Some marks have up to 100 years on their history tab.
Study the Styles
Some pottery and porcelain styles are synonymous with a particular art era (Nouveau, Art Deco, etc.). The more familiar you get with information on this era, the easier it is to spot items designed in that period and ultimately come up with a date.
How to Identify Antique Wash Bowl and Pitcher
We've curated the easy way out for you to identify your antique wash bowl and pitcher. So, whether you're a collector or a buyer, this is an important read.
Look for Markings
The first step in identifying your antique bowl and pitcher, where they came from, and what it's about is to look for markings on the body that can supply you with that information. These markings include manufacturer information, country's logo or even production date.
By Their Patterns
Patterns and shapes on the body of your antique wash bowl and pitcher can help you identify their maker, age and country of origin. Pay extra attention to this when next you're going for a purchase.
Appraise Away!
The knights in shining armor of the good old antique world, appraisers can ease the burden of identifying pieces you know next to nothing about. Wonder how they do this?
They're trained experts in this field with years and years of experience under their radar in identifying and naming antique stuff. So, you never have to worry about misinformation or anything going wrong. Appraisers have your back.
Here's a video for illustration
Check Catalogs
Go to the book stand or any library and glance through their catalogs to update your knowledge on the features, types and models of antique wash bowls and pitchers available for purchase and collection.
How to Determine the Value of Antique Wash Bowl and Pitcher
Understanding the true worth of your antique wash bowl and pitcher will help you know what a valuable piece of history you have and how to properly collect and care for them.
Two heads are better than One
An antique washbowl and pitcher with matching patterns or in a set is more valuable than separate pieces paired together. This is because finding an antique matching set in recent times is quite tasking and almost impossible.
Aesthetics
Unlike the less physically appealing antique items, the attractive ones hold high value.
No wonder, except enough research has been done, people tend to opt for items that come in bright colors and interesting shapes at first sight.
Signs of age wear or flea bites are perfectly normal and don't change the aesthetics of your item or reduce the value.
By Their Rarity
The rarer an antique object is, the better in most cases. People place value on uncommon objects; those that tell stories and those that have some form of exclusivity.
What we mean is that the harder it takes to come across antique ware, the better for your collection and your purse.
If it was previously owned by a royalty or a historical entity and emerged from a notable time in history like the 1800s French society, then expect to sell it for a good price.
By Their Authenticity
Authenticity here means if the antique ware has not been reproduced or retouched. Original pieces that exist as they were made at the jump attract many collectors and bidders than pieces whose parts have been replaced or fixed.
In some instances, it's advisable to leave your items even with their chipped off parts and not attempt to repair them. If the pair of washbowl and pitcher is very historical and valuable, you'll always find a collector.
By Their Condition
The overall physical condition of your antique object largely determines the value placed on it. Wash Bowls and pitchers with chipped off parts, broken arms, worn-out colors or cracked edges go for less on the market.
You must always ensure that your antique ware is in a complete state, void of wear and near mint condition to ensure it gets the true value for money.
Market Factors
The forces of demand and supply coupled with human preference ultimately affect the value of antique objects. People will only place monetary value or worth on what they like, which makes them valuable.
Endeavor to make enquiries about the antique wash bowl and pitchers heavy on-demand and currently dominating the market as this will help you know the next step to take on your items.
The Manufacturer
Brand names hold a very strong influence on the value of goods. Antique wash bowls and pitchers from some renowned companies will sell for really high prices due to the history or sentiments attached to the company's name by the public.
Check for marks underneath the pieces to research the company. Marked pieces attract higher value as it's seen as a sign of trust and authenticity.
Online Value Guide
Existing value guides are readily available online to compare prices and determine the most preferred value for your product. Head to any antique website today and go through their antique wash bowl and pitcher section.
Consult an Appraiser
Antique appraisers like Dr Lori and many others offer paid and affordable services to help you identify your antique object and determine its possible value.
The appraisers conclude on a possible price for your ware through a series of questions and close observation of style, age, and material.
Here's a video explaining the value of Antique washbowl and pitchers.
Where to Get Antique Wash Bowl and Pitcher
We've helped you list places you can find antique wash bowls and pitchers should you intend to collect or purchase them.
Online Sources
The internet has made everything easier, including buying and selling antique items. To get yourself a pair of wash bowls and pitchers, all you need is visit one of these popular e-stores and input the item you want into the search bar on the website
You'll find nothing less than a thousand sources in response to your search. One of the benefits of buying online is that you have an endless sea of options to pick from, depending on your preference, financial capability and inspiration.
They range from old to new, from simple to complex, covering each art era (Nouveau, Deco), regions, styles and even low to high prices. Each according to your preference.
Here's a list of those sources:
Auctions
Auctions are a naturally occurring phenomenon in the antique world. Antique lovers love auctions. You can check through a series of antique pieces at auctions, including special runs and limited-edition pieces.
Each item is placed for sale, and individuals can bid as far as their pockets go; the highest bidder takes the cake. You'll most definitely find an array of antique wash bowls and pitchers at auctions near you. Be it online or physical auctions.
Flea Markets
Check online for flea markets events and their location so you can head on out and have a great day looking through wads of old interesting stuff. Even while traveling, the chances are high that you will come across flea markets by the road in different cities.
Estate Sales
Estate sales allow you to price your goods and select from several items while being accessible to tons of information about the origin, history and background of these antique wash bowls and pitchers.
We see it as you getting the price of two or three things for one, as estate sales are mostly organized by family members who know the in and out of their merchandise.
Garage Sales
This is where paying extra attention to happenings in the neighborhood comes in. Several households may decide to organize garage sales even on the same day, allowing you to increase your chances of finding things you love and may want to collect.
Thrift Shops
We won't write off the possibility of finding nice antique wash bowls and pitchers at thrift shops. The items here are usually recent and very pre-owned/used, but they can sell for impressive amounts if you know your onions and know what you're looking for.
Antique Shops
Usually, brick and mortar shops are on the extreme ends of the good and bad scale when searching for antique wash bowls and pitchers. On one side, they may be filled with junk and vague stuff, and on the other, you may have found the most productive aisle yet.
One thing you must always do is double your search should you ever go to one. We advise that you search the shelf more than once to spot something you may have missed.
Antique Shows
They're known as the antique runway, where sellers display an extensive collection of goods for your viewing pleasure and business purposes. You also can talk to other antique dealers and ask questions about each product.
How to Care for Antique Wash Bowl and Pitcher
For antique wash bowls and pitchers, you must take great care of them to extend their shelf life and retain their aesthetic and intrinsic value. It will cost you next to nothing to ensure that your antique wares stay in good shape for a long time.
Heat is one of the greatest enemies of Porcelain and Ceramic products as they can get easily chipped and cracked when exposed to extremely hot weather conditions.
Use a clean, soft fabric to dust off loose particles and set the mood for washing that'll happen later. While doing this, get wipes to remove leftover adhesive or glue from tapes on the bodies of your washbowl and pitcher.
For washing, get a big bowl that'll allow you to wash without contact on any part. Fill it with warm water and add a mild washing soap/ detergent. Then gently scrub the body of your antique piece whilst avoiding the raised patterns.
We've emphasized mild soap/detergent because the chemicals in strong detergent can dissolve the paintings on the body of your beautiful porcelain ware and mess up the entire aesthetics.
You don't want this as aesthetics are a very important prerequisite for determining the value of antique wares.
When this is done, rinse in the same bowl with warm water and pat your item dry with a paper towel or a non-shedding soft towel. Ensure you keep it in an open space for it to air dry.
Storage
Your antique wash bowl and pitcher are made of delicate, breakable materials; therefore, you must always keep them safe and away from the reach of adults or children. Limited contact means a longer shelf life and prevention of accidents that may lead to breakage or loss.
Keep your wares in a bowl or carton filled with a feather or soft fluffy materials to prevent them from falling and losing important parts.
If you wish to place it on a shelf for display purposes, make sure it's behind a glass or a waterproof glass covering to protect it from dust, contact, sunlight and liquid spillage. You can also fix a lock to prevent theft or unwarranted contact.
Here are some extra tips we've got for you:
Parting Words
Antique wash bowls and pitchers are valuable pieces of history too, and no stone should be left unturned when discussing them. Use this guide to light your path through collecting them or maybe reselling these interesting items. Let's refresh your memory a bit.
Proper dating helps prevent falling prey to imitations and reproduced pieces.
If you're ever unsure about the originality of your item, consult an appraiser as soon as possible.
Age wears and flea bites are A-Okay for antique items.
Matching sets of antique wash bowls and pitchers usually sell for higher or double the price.