Have you recently picked up an antique glass pitcher and you're trying to determine it's worth? To ascertain the value of a glass pitcher, you need to begin by identifying the glass' manufacturer, date of origin among other essential factors.
A glass pitcher is an essential part of tableware that was primarily used to carry and pour liquids. Pitchers have handles, allowing anyone to hold it easily. They also have spouts that make it easy to pour liquids.
Undeniably, glass pitchers are still a key element in serving large crowds. Glass artists have produced unique antique glass pitchers throughout the years and currently, collectors seek them since they are a slice of history worth appreciating.
Furthermore, antique glass pitchers can enhance the aesthetics of your home, making them an excellent piece of home decor. If you're interested in knowing about the history, or how to identify an antique glass pitcher, keep reading our detailed piece.
History Of Glass Pitchers
Pitchers can be traced back to the medieval period. Typically, pitchers can also be called Jugs in other English speaking countries. The word pitcher was derived in the 13th century from the word 'Picher' which has been linked to an old French word 'Pichier'. Back in the Medieval period, it is linked to the word Bicarium which means Earthen vessel.
Wealthy ancient Romans and Greeks used glass pitchers to store water, milk, juice and alcohol because the liquid content lasted longer than when stored in other types of vessels.
Types of Pitchers
Pitchers have been widely used since the Medieval era. Here are some of the well-known types of pitchers.
Water Pitchers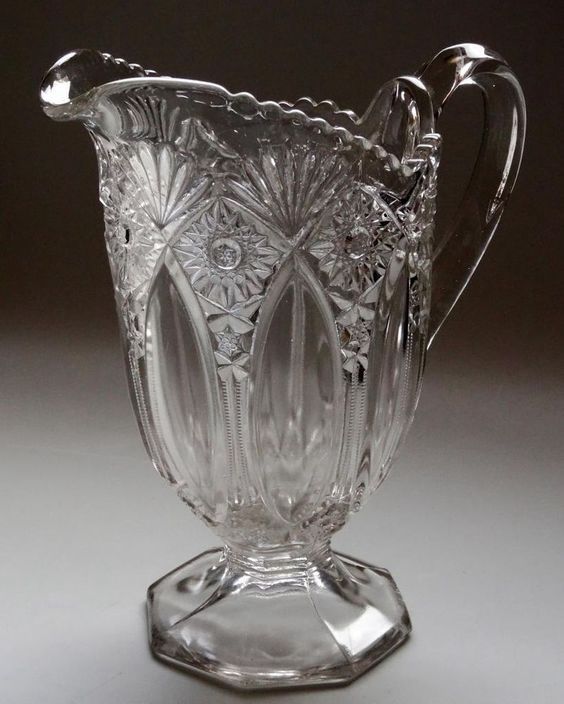 This pitcher was widely used in numerous homes, making them a valuable tableware addition. The designs of water pitchers were extremely diverse and came in unique shapes and styles. While others are round and short, others are tall and slender. This flexibility allowed a lot of people to purchase the designs they personally preferred.
The 'tall tankard' water pitchers were mainly used to serve ice water, fruit cocktails, champagne, or wine. Some water pitcher designs were so beautiful that some households would use them as Flower vases to decorate their homes.
Milk Pitchers
Milk pitchers were an advancement from Metal milk drums. They became part of the table setting in 1880. They were used to transport milk safely from one destination to another. Others preferred to store their milk in the pitchers because they lasted longer and it was easy to pour from the vessel.
Like water pitchers, these pitchers came in different shapes and sizes. Milk pitchers are still commonly used today for various tasks such as serving syrup, salad dressing, and gravy. Some people also prefer to serve wine using these pitchers due to their delicate yet intricate designs.
Cream Pitcher
These pitchers were an important part of breakfast. Originally, creamers were purchased as a 4 piece set. They used to serve cream at the table. What's more? They are still used today! Currently, they are used to serve maple syrup, salad dressing, gravy, and can be multi-purposely used as a milk pitcher as well.
Harvest Jugs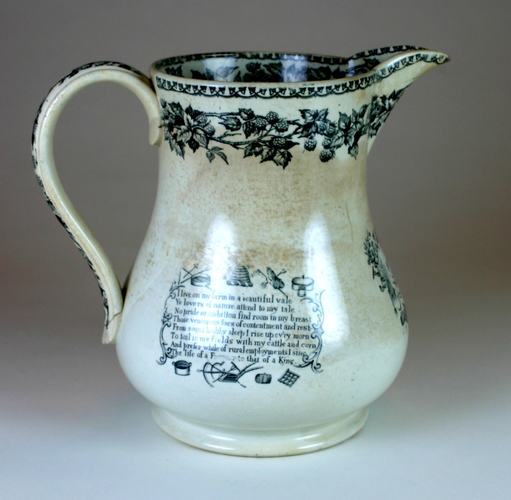 These are pitchers that originated in the 17th century and were famously used until the 20th century. Harvest jugs were essential in carrying beer to workers during the harvest period. They were mainly used in the North Devon region in the United Kingdom.
Claret Silver Jug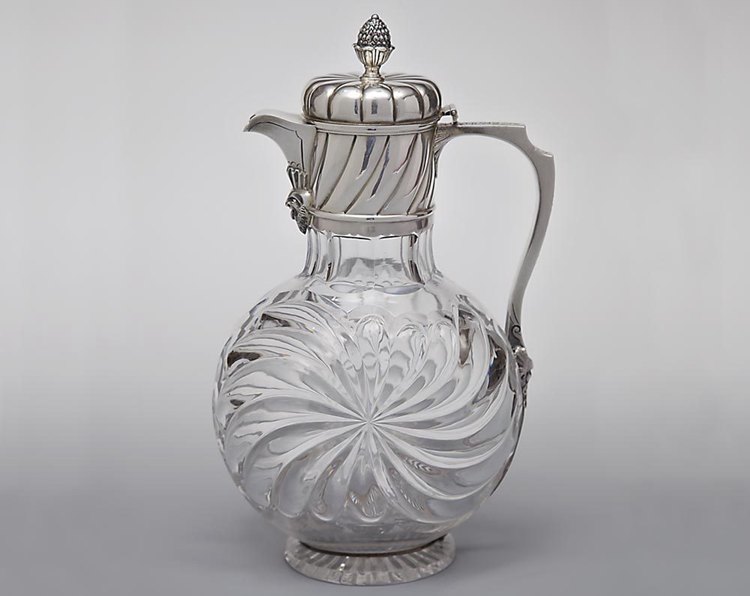 This is a wine pitcher primarily made from Silver and glass. It was introduced in Britain in 1663. At first, these pitchers were designed to let the wine breathe before consumption. At the time, it was believed that letting the wine access air would enhance its taste and the alcohol content.
After a while, in the 1740 to 1820, the style of Claret jugs changed and they hid the content of wine completely.
How To Identify an Antique Glass Pitcher
Perhaps you are interested in knowing whether the antique glass pitcher passed down to you from generation to generation in your family is valuable. To do that, you'll have to begin by identifying the glass pitcher.
There are various factors to look into when identifying an antique glass pitcher. These are:
Find the Markings
Identifying the markings isn't as complicated as it seems. You just need to examine the antique glass pitcher carefully. You can find the markings embossed on the side of the glass pitcher or on the bottom.
Most markings include the name of the manufacturer, important signatures or logos. If you can't find an obvious mark by observing, feel for it with your fingers.
Once you have identified the marks, you can use the internet to source for more information about the logos. You can also use google lens to know more about the manufacturer. The information you'll find is vital in determining the value of your antique glass pitcher.
There are also some sites and books where you can find more information about the markings on your glass pitcher. These are:
Numbers and Dots on the Glass Pitcher
If you can't locate any logos or names, you can choose to look for any numbers on the bottom of the glass. The number might have a variety of uses but most of the time it refers to the mold the manufacturer utilized during the process of making the glass pitcher.
Some dots and numbers could indicate the value of the glass and whether it was made using poor quality glass. At the factories, since the glass makers wanted to identify the poorly made glasses, they'd indicate the mold number at the bottom of the glass pitcher.
The Value Of An antique Glass Pitcher
Some factors such as markings will directly affect the value of a glass pitcher! Markings will determine the manufacturer of the pitcher and its date of origin. The older the glass pitcher, the more valuable it is.
Rarity is also a significant factor while ascertaining the value of an antique glass pitcher. There are logos that are scarce in the market, making them famous among collectors.
Lastly, you need to be sure if the pitcher is really an antique. Certain logos were embossed on pitchers before the 20th century. This indicates that they are old, thereby, more valuable.
Most antique glass pitchers range from $100 to $3000 depending on the factors we highlighted above. For instance, the Steven and William Intaglio glass is $1665.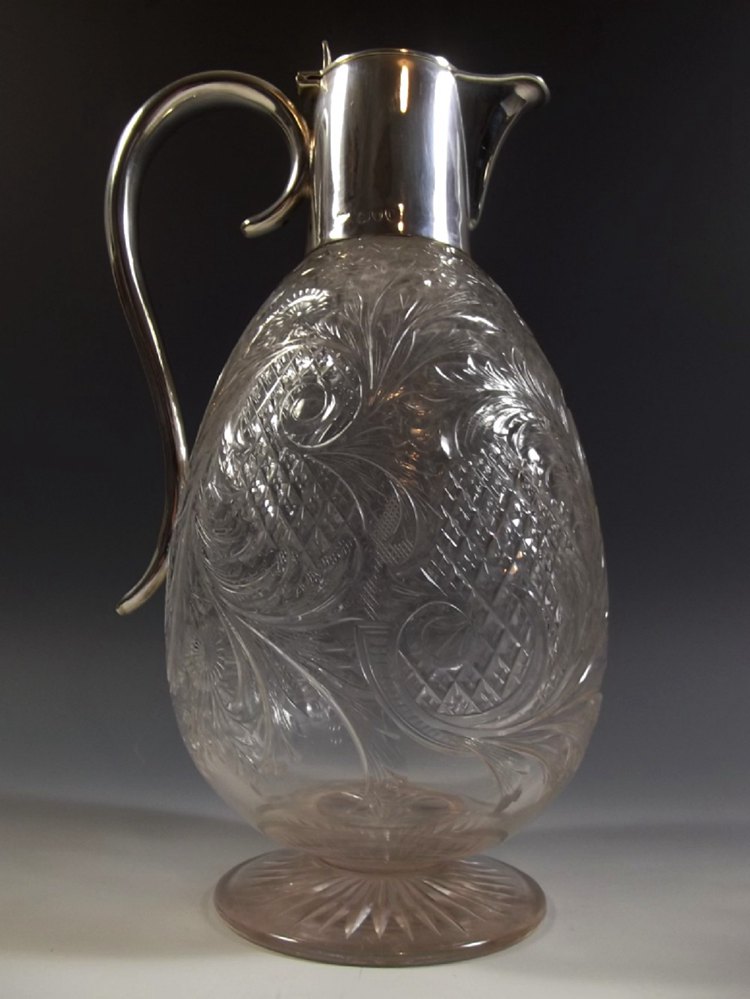 Conclusion
Glass pitchers have been an essential part of tableware since the Medieval time. These utensils allow one to use them in day-to-day tasks that are hard to overlook, making them a must have in homes.
Currently, they are still used in some homes since their impact was heavy unlike other utensils that were forgotten in time. As you collect Glass pitchers, you need to keep this in mind:
The manufacturer of the glass pitcher may determine its worth.
Take your time before investing in a pitcher to avoid picking counterfeit items being displayed as antique by scammers.