Much like other houseware, the antique wash stand was an ideal household item that answered the problem of indoor plumbing; at least, until the 20th century. Nowadays, this antique piece is used in other ways than its traditional intent; sometimes, as plain home decor.
However, there is still a bustle about this piece of furniture. In order to rightly place the value and style of an antique style guide, you need to fully understand the history and purpose of this sought-after piece.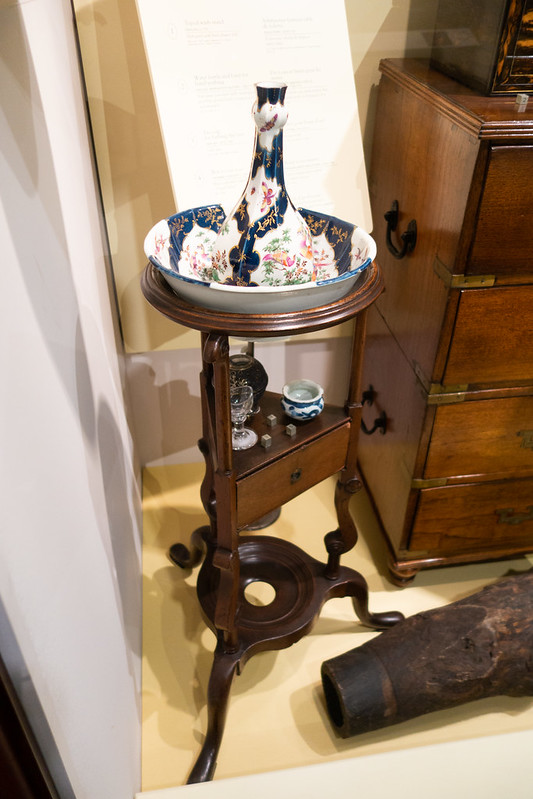 History and Classification of Antique Wash Stand
The wash stand was developed during the 18th century when personal cleanliness became a crucial necessity. It was basically a bathroom sink where you can wash yourself.
The earliest forms from the early 1800s had no cabinets. They were leggy stands, and just sufficiently wide to hold a wash basin in a cutout. A single shelf constructed underneath the wash basin held a water pitcher. With some wash stands, a chamber pot is placed at the bottom.
As the years passed, the wash stand developed to a shelf that comprised either a small table or a cabinet that was supported on three legs or four.
During the Victorian era, the wash stands grew in size and essentiality; having wider plain tops and raised backs to hold the bowl, pitcher, and other toiletries. Some had attached mirrors to give the complete vanity feel—think of it as your modern-day bathroom sink and mirror.
Primarily, these antique wash stands were made from quality and sturdy oak, mahogany, rosewood, or walnut.
However, the need for a wash stand fiddled away with 20th-century indoor plumbing. Still, you can collect them and use them in other areas of your home.
GEORGIAN ERA (1714 c. 1830 – 1837)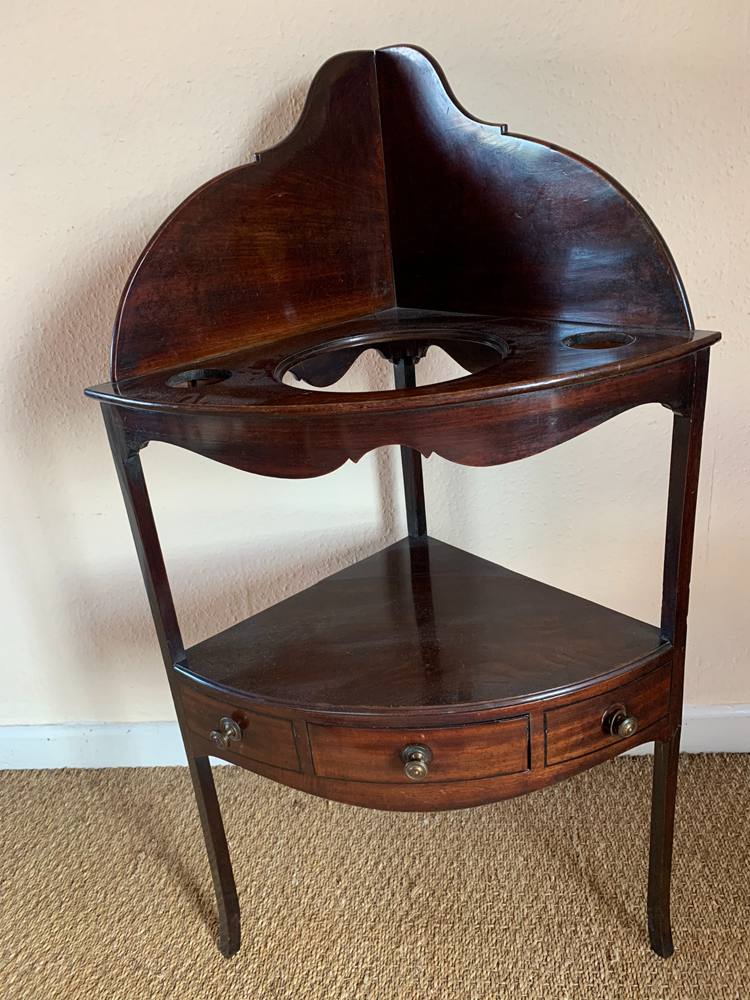 Leggy washstands (either two or three legs).
Usually two-tiered tables with one large cutout for the wash bowl at the center, and two smaller ones for bowls and cups.
Comes in various styles and sizes.
VICTORIAN ERA (1837 – 1901)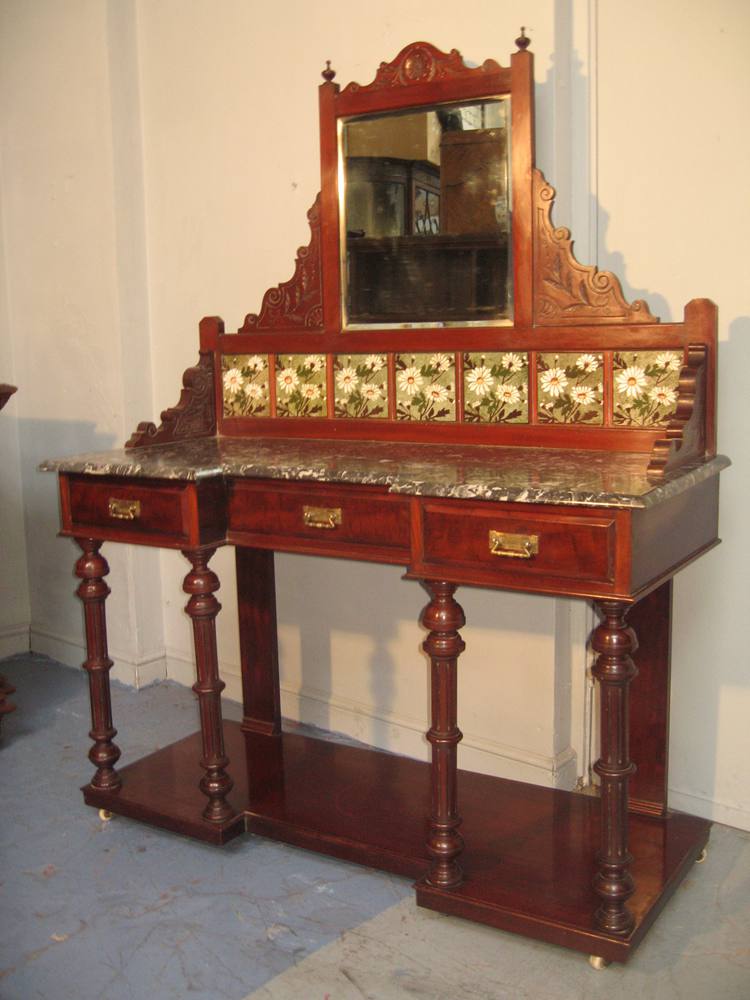 Surface area became wider and the wash bowl cutout became extinct.
Coloured tiles and other versatile surface top are introduced.
Often supported with drawer pedestals.
EDWARDIAN ERA (1901-1910)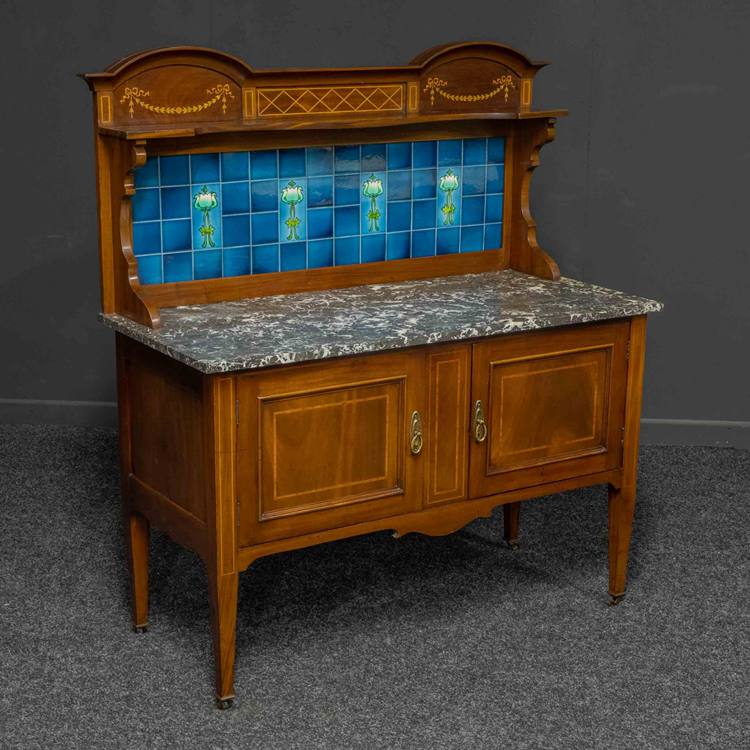 Flat surface supported with a large back and legs.
Most antique wash stands had mirror backs
Possesses small drawers and large compartments
Expensive tops and finishingsSelling Antiques
Pro Tip: If you collect these antique furniture, you can use them as extra storage space. Or a dropping site for your keys in the entry hallway of your house.
Identification and Recognition of Antique Wash Stands
Now, how can you identify an antique piece for acquisition?
At first glance, most modern wash stand pieces look like dressers, traditional cabinets, or even nightstands. But there are distinguishing features that make identification a tad easier.
●      Wash bowl cutout
With era changes, revolutions, and developments, all wash stands features can simply not be the same. However, many of them have a top shelf with a round cut at the center where you can place the wash basin itself.
Although this feature is not found in all wash stands, it is the quickest feature you can pin the furniture with.
●      Wood
Check out the wood type. Next to the wash bowl cutout, the wood used during manufacturer is the easiest distinguishing feature. Most antique wash stands were made from oak, while rosewood or mahogany characterized the make of the fancier and rarer kinds.
●      Size
Wash basins increased as the years went by; majorly to support other accessories like the soap dishes. Thus, the skinner and smaller the wash basin, the older it was.
●      Pitcher/Basin
When a wash stand comes with the pitcher or basin, it is a magnificent find. To recognize the authenticity of the antique piece, you would need to find the manufacturer's mark. It is usually placed somewhere out of sight.
You need to look underneath the basin or pitcher to find the sign of the time when the objects were crafted.
●      Hardwares
Pay rapt attention to the nails used, and the hinges attached to the doors of the wash stand. Why? Because it gives an opinion to what time period the stand could be from. A good example is the fact that brass and hexagonal bolts were synonymous to wooden construction in the Victorian Era. Unanimously, antique wash stands with those characteristics would be dated back to the 1800 and early 1900s.
●      Drawers
An authentic antique stand would have the front of its drawers attached to the side by dovetails. These dovetails are common joinery techniques used in woodwork. If you notice a wash stand you're interested in has 5 or more dovetails that are matching, it's certain you have a fake antique stand on your hands. An authentic has 3-4 dovetails per side that are always irregular and hand-carved.
●      Top
The kind of material used for the top of an antique wash stand can give you clear pointers at what period they were fashioned in. An example is the fact that marble tops became common around the 20th century.
What is The Value of an Antique Wash Stand
Antiques are usually valued based on who manufactured them (classic examples are Sheraton, Chippendale, Phyfe, and Hepplewhite), or how old they are and sometimes, the presence of original accessories. Other characteristics that add value to an antique wash stand are the construction and finishing.
These pieces of furniture are priced at around a few hundred dollars at the least. Antique wash stands made with expensive materials, such as marble, are usually priced around $500-$700. However, rare and large wash stands can climb to above a thousand dollars.
However, if you would like to get the precise value of how much your antique desk costs, you could look into hiring the service of a professional furniture appraiser. Note that there are various kinds of appraisal based on the reason you want your antique appraised. It could be for insurance purposes, market value or tax value. Due to these reasons, the prices are almost never the same.
There are several ways to find a certified appraiser:
You could contact local antique dealers and request for recommendations for accredited professionals.
There is also the option of checking out online appraisers. The site Appraisal Association of America draws out a convenient list of experts who can figure the information you are seeking. The best part about this site is that every appraiser is made to write an exam that certifies them. Before an appraiser can be regarded as a senior on the site, they must have an experience of over five years. You can be assured that you will get your money's worth.
Or you can contact auction houses if you possess an extremely rare antique wash stand.
Where Can I Buy an Antique Wash Stand
You can buy an antique wash stand at a flea market, an antique store, or even a yard sale. It is quite possible to buy these items from sellers online. But, they can be quite costly; considering the shipping costs, as they require precise transportation planning to move them from one area to another.
Pro Tip: When you go for antique wash stand shopping, we advise you to pay close attention to the quality and condition of the wood. However, you don't have to turn away if the wood surface is slightly worn.
Even though worn, these antiques have the potential of maintaining their attractiveness. It is also important that you note that Lightweight and rickety pieces won't support any added plumbing fixtures (if you plan on remodeling).
Pro Tip: Always take measurements with you when you go shopping. You honestly don't want to come back with a 26-inch wash stand for your 12-inch sidewall.
Final Thoughts!
Their impeccable beauty and versatility have placed them back at the top of the most coveted antiques. Before making any purchase, remember to do in-depth research. Sonner enough, you'll find the perfect antique wash basin for your home.