Although a wide variety of modern teapots are available today, most collectors are still attracted to the older teapots. Antique and vintage teapots feature a special appeal and rarity that makes them worth much more than modern teapots.
If you are an avid collector, identifying antique teapot markings and value may be second nature to you. New collectors, however, rarely understand antique teapot markings let alone how to determine the value of antique teapots.
In this detailed guide, we will take a deeper look at how to identify and value antique teapots. What's more, we will show you the prices to expect when shopping for antique and vintage teapots.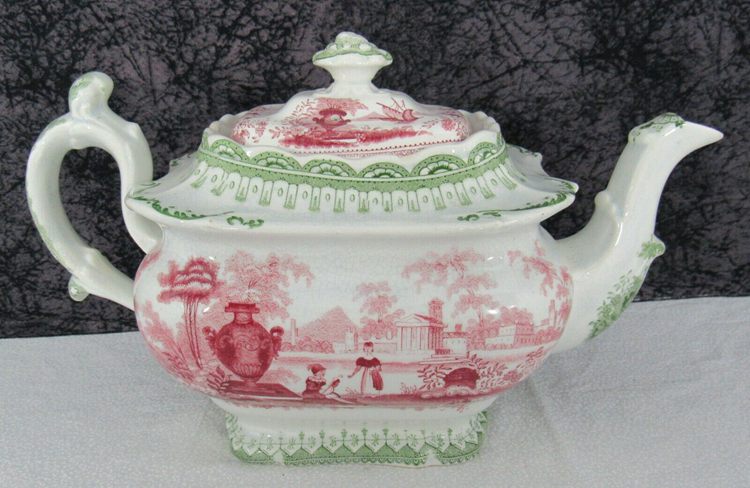 A Guide to Identifying Antique Teapots
When it comes to identifying antique teapots, there are several factors that one needs to observe. The major ones include:
1. Antique Teapot Markings
Although not all antique teapots come with marks, a large number of teapots do have maker's marks on them. The antique teapot markings could help you determine the manufacturer or when the antique teapot was manufactured.
When you find an interesting antique teapot, turn it over and look for a mark or stamp on its underside. If the teapot has a mark or stamp, the next step in identifying the teapot's origin is to use resources that offer information on antique marks.
If the teapot is made of ceramic, the following resources may help you:
If the teapot is made of silver, the following resource may help you identify its marks:
In addition to using online resources, you may also want to turn to books that offer detailed information on teapots. Good examples of books to use when identifying antique teapots include:
Teapots by Design: A Collectors' Catalogue – This is a book written by Unjeria C. Jackson, M.D.
Instant Expert: Collecting Teapots – This book is written by Leah Rousmaniere.
Collectible Teapots: A Reference & Price Guide – This book is written by Tina M. Carter.
2. Shape & Design
The shape and design of an antique teapot can help you determine when and where it was manufactured.
Antique western teapots, for example, had a rounded shape before the 18th century. Antique teapots from the east featured a squat and wide circular shape.
Uniquely designed teapots – for example, the ones featuring avant-garde designs and unusual dimensions – were not produced until the 20th century. It is in the 20th century that the mass production advent allowed the development of greater manufacturing options.
Another design feature to consider is the spout holes. If a teapot has 3 or 4 spout holes, there is a very high likelihood that it is an antique.
Since the earliest teapots were handmade, their holes are not perfectly round. Therefore, if your antique teapot has a perfectly round hole, there is a chance that it was machine-made – this could be mean that it is not an antique.
3. Vintage Teapot Style
Georgian Teapots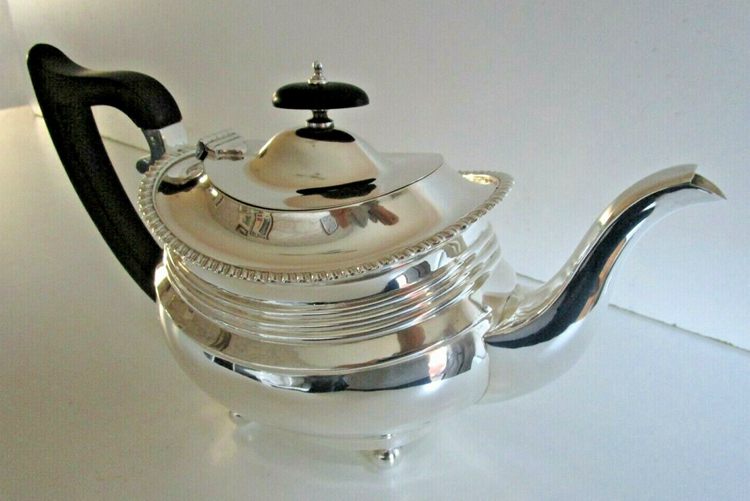 Georgian teapots are famous because of their smooth and well-rounded bodies. These bodies connect to a short spout. Created in the late 18th century, the Georgian-style teapots were among the very first teapots from the west.
Louis Teapots
This style of teapots is embellished in Rococo and Baroque-inspired designs. Largely used during the Victorian era, these antique teapots often feature a flowery texture on their circumference and may have small feet that allow the user to pop them on a table.
Art Deco Teapots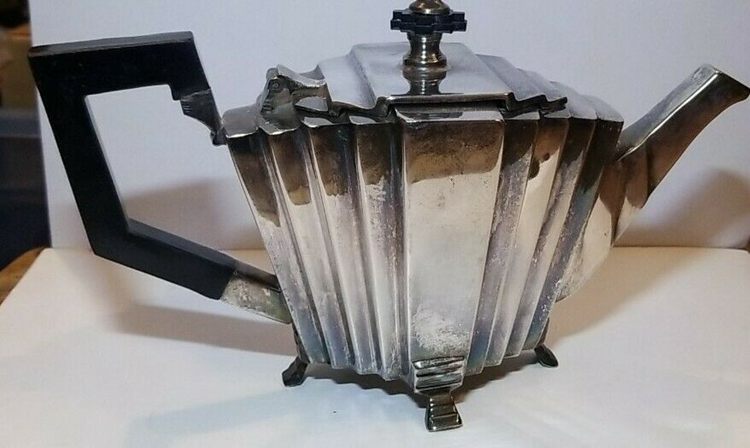 This style of antique teapots was made popular by its mixture of straight lines that tend to merge in quirky angles. The antique teapot features a circular base that lifts it from the table. The Art Deco style became popular in the US and Western Europe in the early 20th century.
Queen Anne Antique Teapots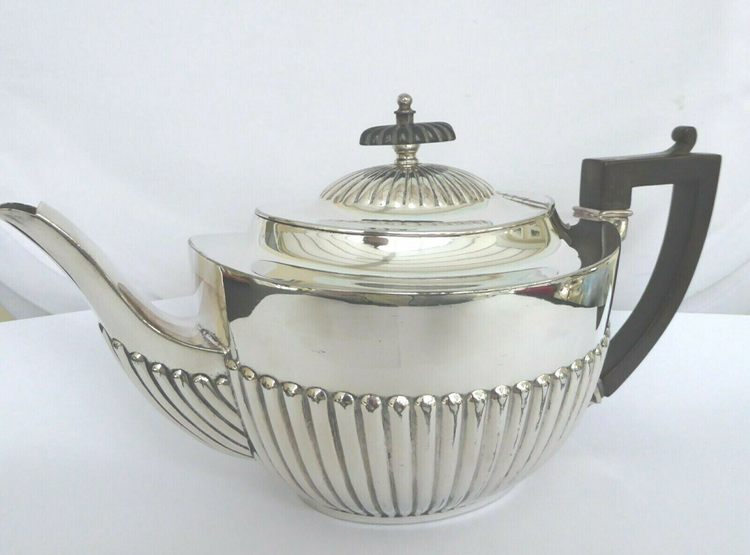 This style of the antique teapot was famous for its vertical composition – this composition made the teapot appear taller than its actual height.
Most of the antique teapots from the Queen Anne Period feature a curved spout and a handle that is angled in a way that allows easy grasping and pouring. The Queen Anne style was popular in the 18th century.
Indian Teapots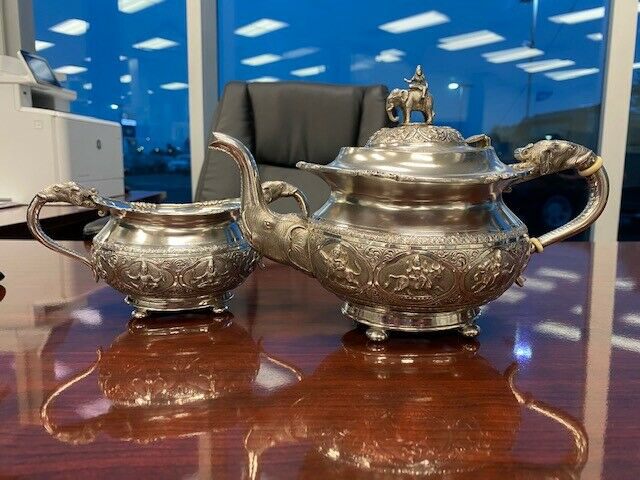 Antique Indian teapots borrow a lot from the Louis teapots. The main characteristic that distinguishes the two styles is that the Indian antique teapots have an intricate appearance. Most of the Indian teapots are furnished with silver which gives them a very distinctive appearance.
Bachelor Teapots
This style features the smallest teapots. The small size was utilized because the teapots were designed for use by a single person.
It is worth noting that bachelor teapots are available in a variety of designs. Some mimic Queen Anne while others mimic art deco.
4. Teapot Weight
Another way to distinguish an antique teapot from a non-antique is its weight. Antique teapots are generally heavier than modern teapots. This is because most of them were constructed out of heavy materials, including pewter and silver.
5. Teapot Size
Most antique teapots are small. This is because tea was extremely expensive in the early days.
For this reason, tea consumers would only ration a small amount each time. Because of the high cost of tea, large teapots were considered excessive.
Work with an Antique Expert When Identifying Your Teapot
If you are very new to antique teapots, even antique teapot markings may not help you that much in the identification process. If you have analyzed the antique teapot markings, considered the design & shape, and inspected the teapot style without succeeding at identifying it, it may be time to hire an expert.
Using his/her experience, an antique expert can help you identify the antique teapot more quickly. What's more, antique experts do have the ability to distinguish genuine antique teapots from forgeries.
How to Determine the Value of an Antique Teapot
To determine antique teapots worth money, you will need to consider the following factors:
1. Condition
The condition of a teapot will play a crucial role in determining its market value. Valuable antiques are neither damaged nor repaired.
However, it is worth noting that most of the antique teapots will have some worn-out areas – this is especially the case if a teapot has been in use for at least 50 years. When inspecting your teapot, what's important is to ensure that it does not have extreme damages that could render it useless.
2. Rarity
Rare antique teapots are generally costlier than the more common antique teapots. The rarity of a teapot is generally affected by its age and history.
For example, teapots made in the 16th century are rarer than those manufactured in the 19th century. This means that the teapots from the 16th century are costlier than those from the 19th century.
3. Brand or Maker
An antique from a well-known brand or maker will always have a higher price than one from an unknown brand. However, in cases where the antique teapot from the unknown manufacturer is more interesting, rarer, and made of better materials, it may sell at a higher price. Antique teapot markings help collectors determine the maker/manufacturer.
4. Provenance
The term provenance refers to the history of an antique teapot – that is, who owned the teapot, where, and when. Antique teapots featuring a well-documented history of ownership and origin are generally more valuable than those lacking documentation. What's more, when it comes to antique teapots worth money, the status of the previous owners may affect the antique's selling price.
5. Age
Age is another vital factor that influences antique teapots worth money. As you would expect, an older antique teapot will be more valuable than a piece that was produced more recently.
Prices to Expect When Shopping for Antique Teapots
To give you a better idea of antique teapots worth money, we will show you the price of antique teapots that are currently on sale online:
1. Locre La Courtille Antique Teapot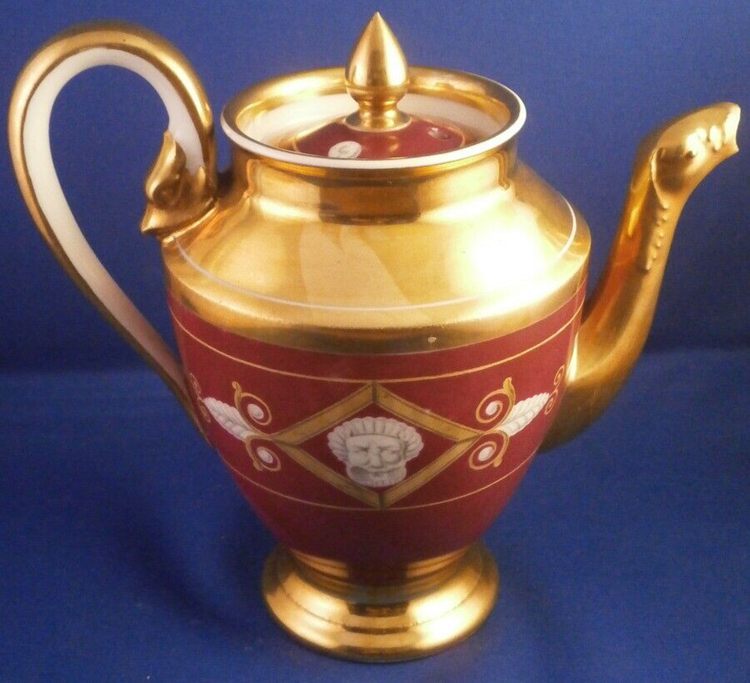 Dating back to the 18th century, the Locre Courtille teapot is made of porcelain. This antique teapot is on sale online for $510.41.
According to the seller, this antique teapot has its origin in France. The teapot is hand-painted in a typical Paris style and features a maroon ground color that is combined with nice designs and gilding.
The seller notes that the antique teapot has a maker's mark on its underside. The antique teapot is in great condition and does not have any signs of wear.
2. Antique English Teapot
This antique English teapot is made of porcelain and boasts some gold decoration. The antique teapot has a price tag of $275 attached to it.
According to the seller, the antique English teapot was manufactured between 1800 and 1899. The teapot boasts a hexagonal form and features a matching trivet under the plate. The teapot does not have any signs of wear.
3. Antique Porzellan Kanne Teapot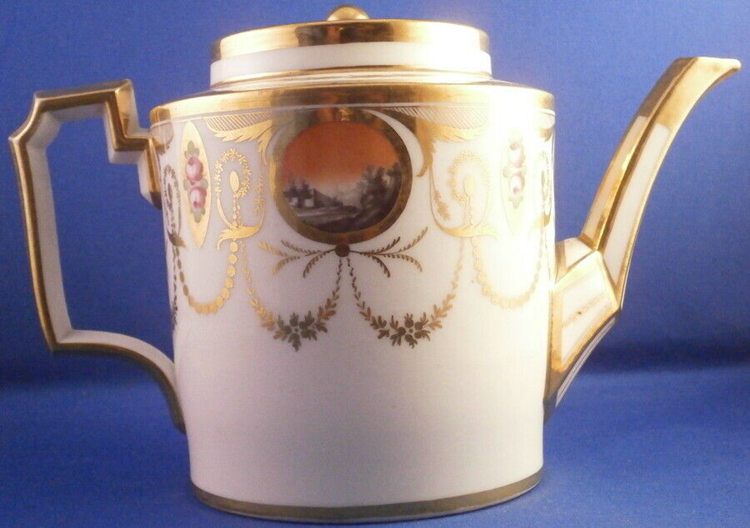 According to the seller, this antique teapot dates back to the 18th century. To buy this antique teapot, you will need to pay $600.14.
The teapot was made in France and features an angular spout and handle. Decorations on the pot include 4 round panels along the top, an orange sky, and hand-painted black scenes that make it more interesting to look at.
4. Antique Niderviller Teapot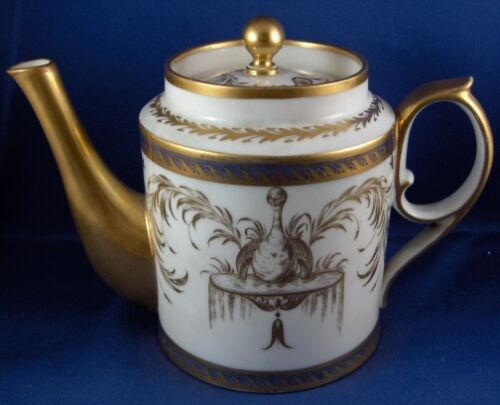 This 18th-century antique teapot is one of the most expensive pieces we have found online. The antique piece is selling at $1,001.02.
The hand-painted antique teapot was made in 1780 by Niderviller. The seller notes that the antique teapot is in good condition and only features very minor wear on its gilding.
5. Antique Rauenstein Teapot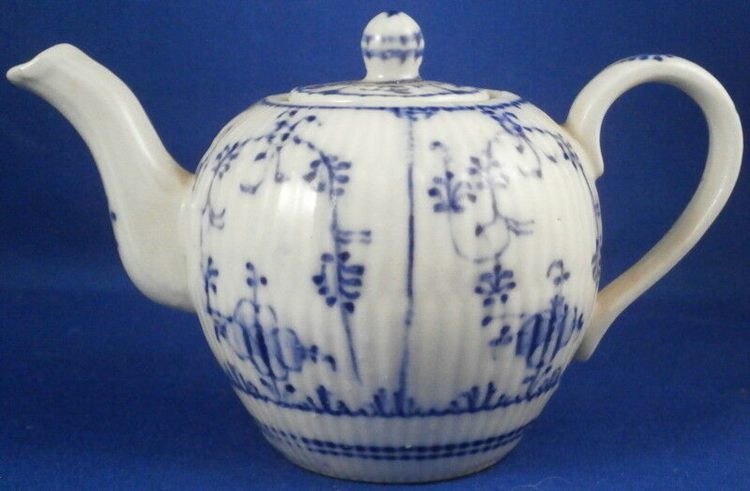 Dating back to the 19th century, this antique teapot has a price tag of $282.47 attached to it. The seller reports that the porcelain antique teapot is in perfect condition.
The teapot has a height of 2.875 inches and a length of 5.25 inches between its handle and spout. The antique piece is painted with a famous under-glaze blue strawflower design.
6. Antique Moorish Style Teapot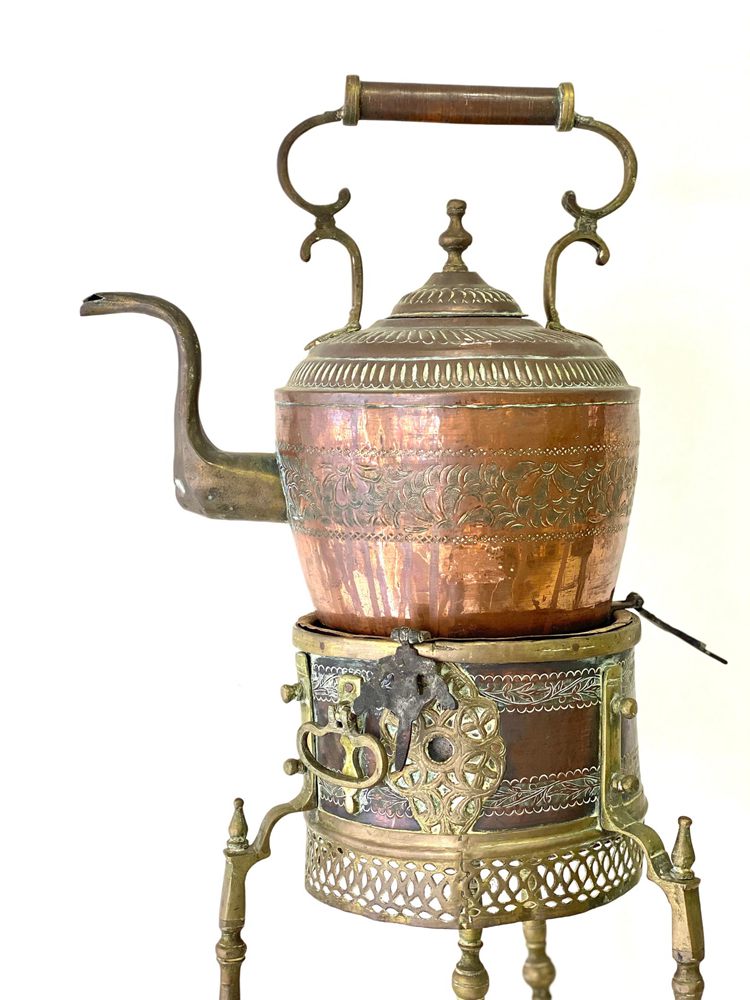 According to the seller, this antique teapot was manufactured in the 1920s. The teapot has a price tag of $675 attached to it.
The English kettle is made of copper. The seller notes that the antique teapot is hand stamped and comes with a stand.
7. Antique Dutch Silver Bachelor Teapot
One of the most expensive antique teapots we came across online, this piece has a price tag of $2,219.90 attached to it. The antique was manufactured more than a century ago in the 1910s.
The teapot is made with sterling silver. It features an impressively rounded form that sits on a circular collet foot.
8. Antique Victorian Teapot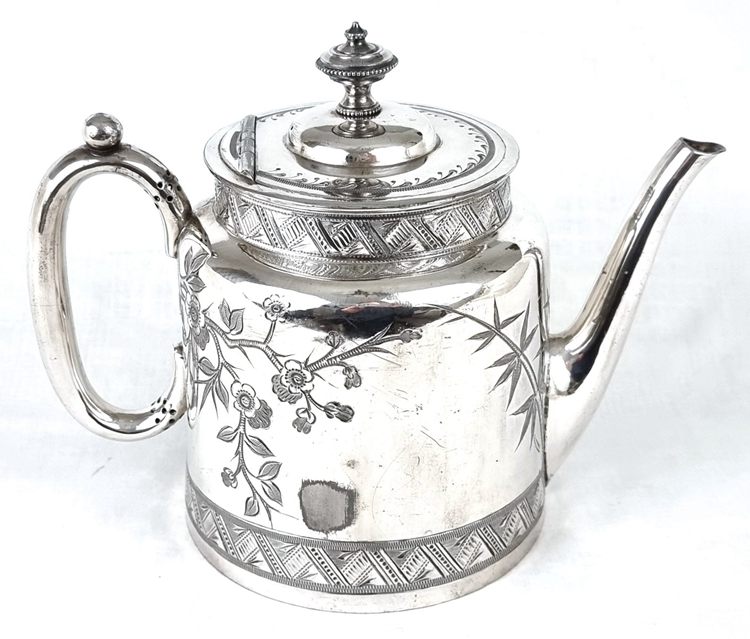 This antique teapot was one of the cheapest we found online – it has a price of $97.41 attached to it. The seller indicates that the teapot is from the 19th century and is made of Brittania metal.
The antique teapot is still in good condition, with its silver plating shining well. The seller, however, notes that the teapot may have some minor flaws, including light scratches and scuffs.
Conclusion
Teapots have been around for thousands of years, with the earliest versions appearing in China during the Yuan Dynasty. While the teapots from the Yuan Dynasty may not be available today, numerous antique teapots are still available in the market.
When on the market looking for an antique teapot, you must ensure you are getting value for the money you are spending. This detailed guide discusses the major things you need to consider when purchasing a teapot. In addition to showing you how to identify antique teapot markings, the article also shows you how to determine antique teapots worth money.
If you feel like you need more information on antique teapot markings or on how to determine the value of antique teapots, do not hesitate to let us know. All you have to do is leave your question in the comment section.