Are you about to purchase a Fenton glassware and unsure how to make the right choice? It's not surprising because, for many reasons, this is a common challenge most buyers have when purchasing Fenton glassware.
First, there are several imitations of the Fenton glassware in the market, so there is a higher chance of making the wrong purchase.
Second, the price of each Fenton glassware varies, which may make sticking to your budget challenging. Finally, there's also the hitch of understanding its value to know if you are making a worthwhile investment.
We understand how overwhelming all these can be, which is why we wrote this article to help you. This article will be your trusted Fenton glassware identification and value guide.
By the end of this article, you will know how to select original Fenton glassware, the various prices of each Fenton glassware, and gain insight into the Fenton glassware value. This means you can make the right purchase and get the best value for your money.
Let's begin.
History of Fenton glassware
The Fenton Art Glass Company was established in 1905, and the first Fenton glassware was manufactured in 1907. Before World War II, they manufactured impeccable carnival, chocolate glass creations for Americans.
However, after World War II, there was a shift in market demand, and the Fenton Company began to produce functional glassware and tableware for American households.  Now, Fenton glassware can be used as vases, candle dishes, and other forms of indoor decor to beautify the home.
In 1940, when many glassware companies ran out of business, the Fenton Art Glass Company continued to thrive because it is run by dedicated family members and staff.
They've continually produced beautiful, functional glassware people across the world love. If you want to learn more about Fenton glassware history, this video is a useful resource.
Styles and patterns of Fenton glassware
One of the most critical things to know about the Fenton glassware is its styles and patterns. It is made of a variety of styles and patterns to accommodate everyone's individual tastes and styles. Let's check out the different Fenton glass types below:
1.    Carnival glass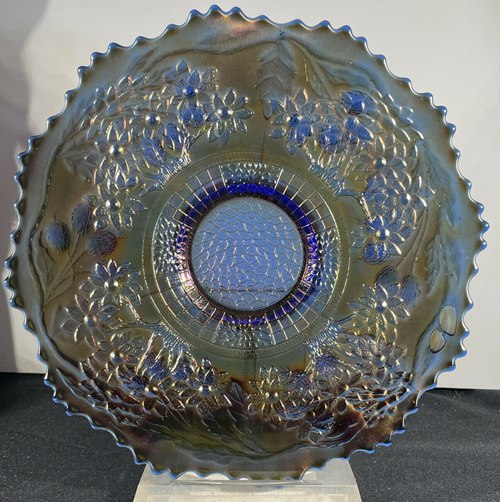 This Fenton glassware type was named Carnival glass because it was often a novelty award during carnival games. It offers an iridescent shine that gives its consumers a sophisticated style. It also comes with a variety of colors, styles, and patterns to meet every customers' unique needs.
The demand for carnival glass increased in the 20th century, and although the demand for it diminished during the late 1920s,  it enjoyed a significant comeback in the 1960s.
In recent times, carnival glass still remains in demand. When purchasing a Fenton's carnival glass, the most apparent factor to look out for is its dazzling sheen.  It comes in multiple vibrant colors and different shapes and sizes, such as vases and bowls.
2.    Custard glassware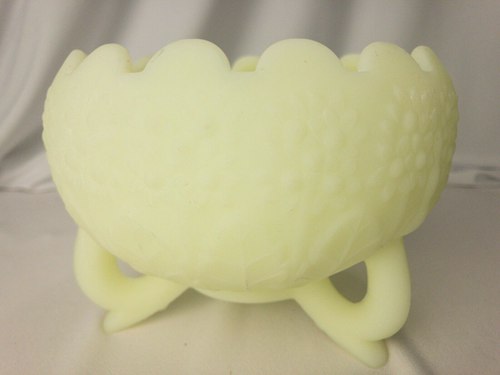 The nearly ivory or cream color of Fenton's custard glassware will remind you of blended custard. It derived its opaque yellow tone from different amounts of uranium oxide included in molten glass during production.
The glass color varies from almost ivory to bright yellow or green hue. The custard glassware serves as beautiful decorative elements for your flowers or gold.
3.    Non-hobnail milk glassware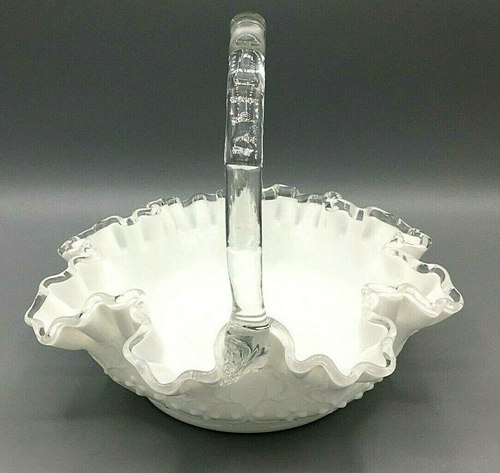 The Fenton's milk glassware are of two types: hobnail and non-hobnail.  The non-hobnail milk glassware is one of the collector's favorite collections. It comes with a variety of milk colors and often features transparent colored glass that is laid over white milk glass. It has a basket weave pattern that makes it unique and aesthetically pleasing.
4.   Hobnail milk glassware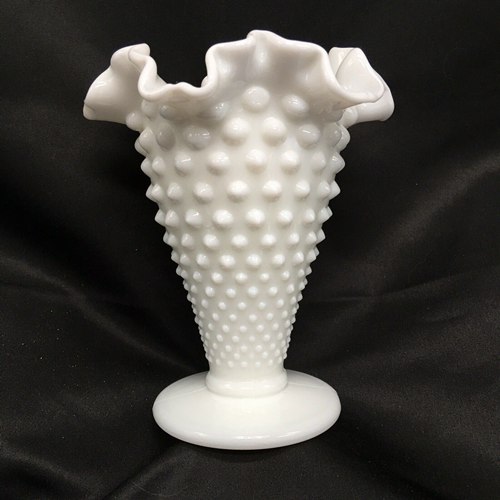 The hobnail milk glassware gained wide recognition in the 1970s and regained its popularity in the 2000s at better affordable prices. They have a milk-like color which is why they are referred to as milk glassware.
5.    Hobnail glass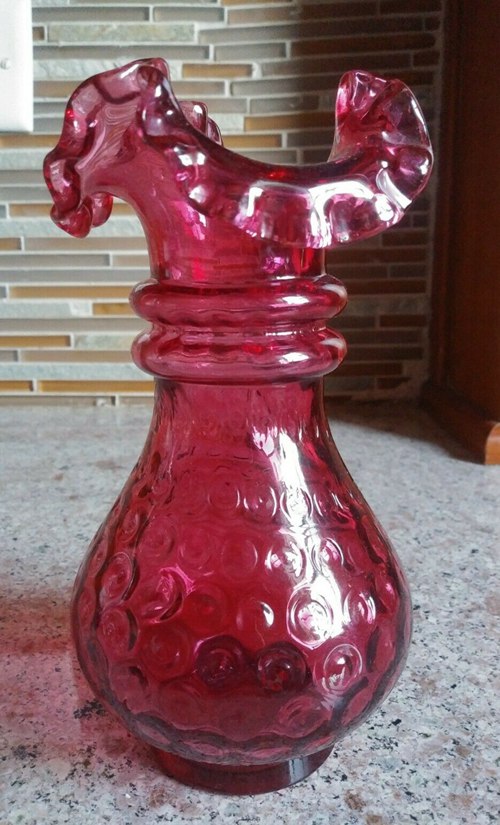 In 1939, Fenton produced hobnail vases in nine varying colors. However, the cranberry color is the most popular.
If you are looking for glassware to display on your shelf,  you may consider opting for compact opalescent hobnail vases. They are the best fit to add some style to tiny spaces.
How to identify Fenton glassware
What are the telling features to keep in mind when purchasing authentic Fenton glassware? What are the top characteristics of an original Fenton glassware? Below, we provide answers to these questions. This video is also a great way to learn how to visually identify Fenton glassware.
Let's get into it.
1.    Conduct research
The first step to identifying an original Fenton glassware is to do your research right before you begin your hunt. Fentonartglass  stresses the need to browse through a catalog before you shop, as it goes a long way to help you know what Fenton glassware is in production.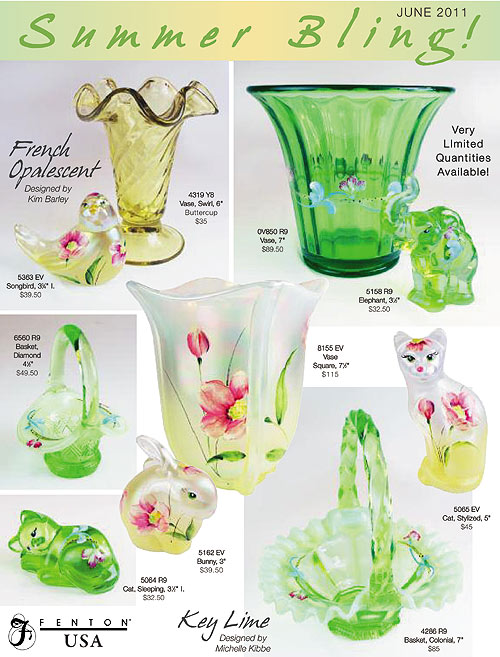 These catalogs often come with images that depict how the original pieces of Fenton's glassware look, so you have a vivid representation when making your selection.
They also contain detailed descriptions of each piece of glassware. This way, you will understand the specific features of your desired glassware and identify it easily when you see one.
So if you are looking to purchase the right Fenton's glassware, take the first step by searching for catalogs and collectors' books online to gain in-depth information on what glassware is in production, and understand the right features to look out for.
2.    Find Fenton markings
Another effective way to find an original Fenton glassware is to search for its markings on your desired glassware.
There are different ways to go about searching for the markings. One way is to check for a sticker at the bottom of your item. The Fenton's stickers are often oval-shaped, and although many of these stickers may have been wiped off over the years, some of this glassware still retain their stickers.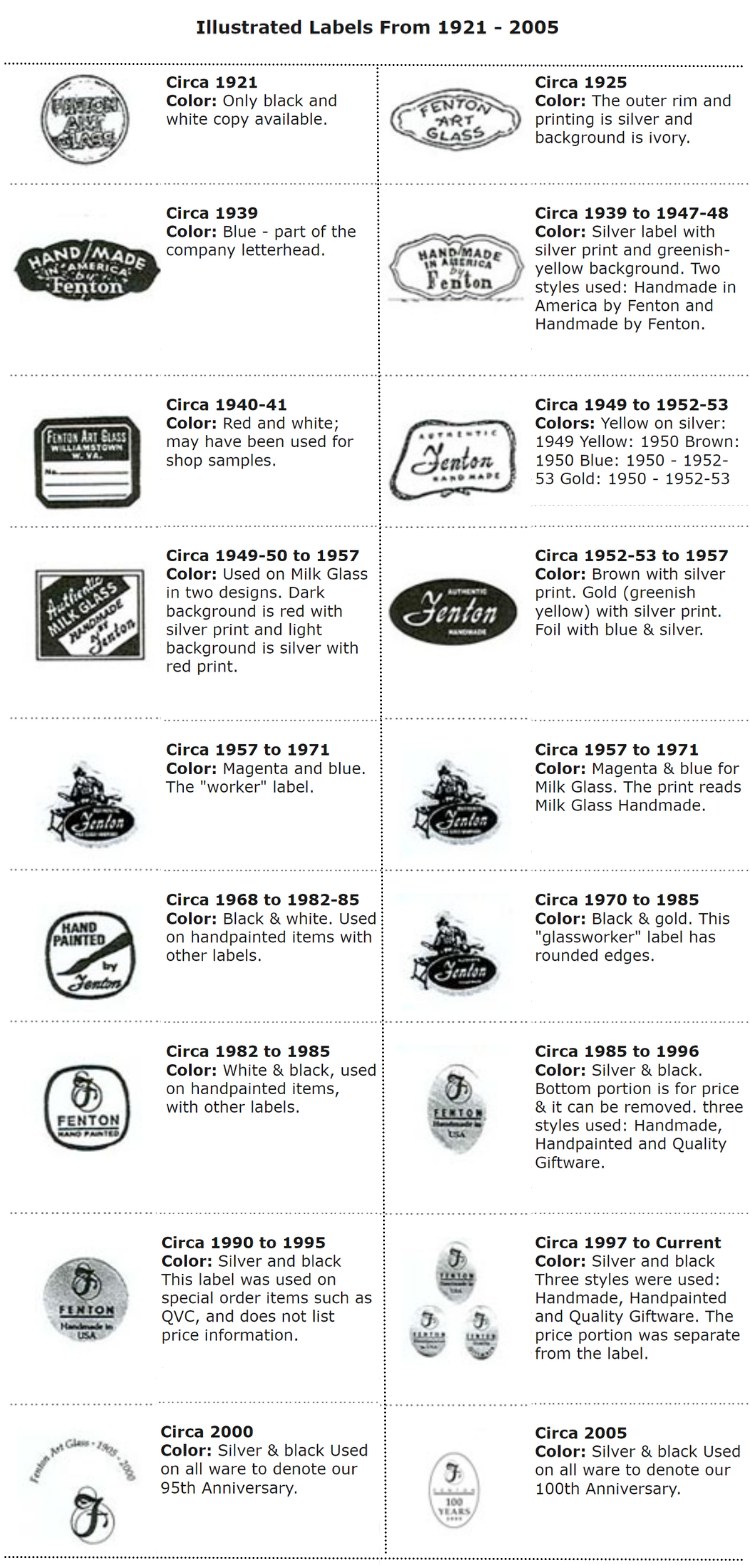 Check the bottom of your glassware to see if there is an oval-shaped sticker that has the words 'Fenton 1970' on it. You will find these Fenton's markings on carnival pieces such as vases, plates, and other decorative elements.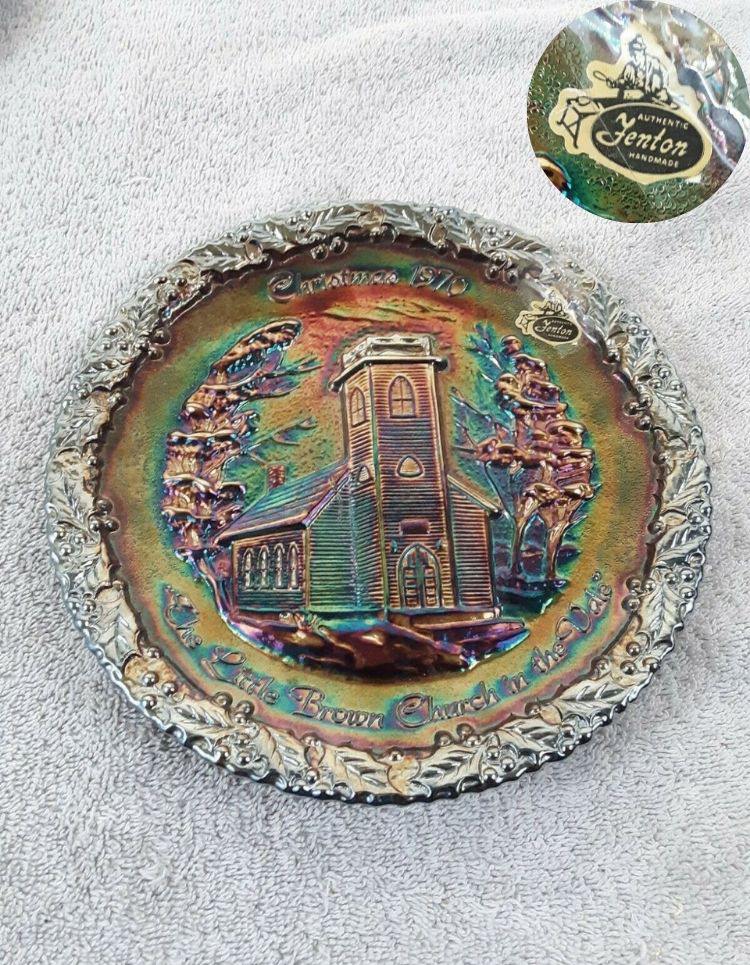 Also, check for Fenton's logos with a number on them. For example,  in the 1980s, Fenton began to include the number "8" in their logo to signify the year they were made. They also did the same for 1990 and 2000 by including "9" and "0" respectively.
Additionally, check if the oval-shaped sticker has a cursive F in it. If it does, it depicts that the glass mold was acquired by Fenton from a different company.
Note that if a Fenton glassware has a pontil mark at the bottom, it's likely to be an imitation and not the original piece.  Pontil marks often occur at the spot where a punty rod was used during production; however, many of Fenton's glassware does not have a pontil mark, apart from a few exceptions.
So, if you spot any Fenton's glassware with a pontil mark, it's probably a duplicate. So, it helps to look out for other characteristics of an original piece to be certain it's not a fake.
3.    Look out for its bases and edges
When purchasing an original Fenton glassware, other top features to check out are the bases and edges.
They often have a flat or collared surface; they could also have spatula feet. Fenton glassware edges are often smooth, ruffled, crimped, or bracketed. If a glassware surface or edge is otherwise, it may be a duplicate of Fenton's glassware.
4.   Note the glass type
A major identifier of authentic Fenton glassware is the glass type. Although some of Fenton's glassware is translucent, opalescent glass, many of them have an iridescent sheen.
In addition, hobnail glassware is often covered with small button-like designs that feel like bumps. So, when choosing your glassware, ensure it comes with any of these glass types and designs to help you purchase original glassware.
5.    Check for flaws in the glassware
Other than Fenton's hobnail glassware that is associated with perfectly designed button-like bumps, an original Fenton's glassware shouldn't have bumps, cracks, or bubbles. This is because they are produced from quality materials, which makes them highly durable.
So, if you notice any cracks, bumps, or other flaws on your glassware, there's a high chance it's a fake.
6.   Reach out to an expert
Experts often have all the answers. If you have your doubts, or you are unsure of a feature you noticed on your desired piece, it's best to contact an expert glassware dealer who specializes in Fenton pieces.
They will be able to answer your questions, clear your doubt and show you the original Fenton glassware of your choice.
7.    Become a national Fenton club member
Joining a Fenton club is an excellent way to get the latest updates on Fenton glassware. Through this, you can have easy access to experts and Fenton glassware enthusiasts like you.
You will also find Fenton glass collectors who have experience in collecting authentic Fenton glassware and can offer deep insight on how to make the right choice.
We've discussed the top ways to identify authentic Fenton glassware when making your purchase. If you would like to learn more, this video is also an excellent resource to find more information on how to distinguish an original Fenton glassware from a fake.
Fenton glassware prices
Price is a notable factor to consider when purchasing the Fenton glassware. This is because it often depicts the value and authenticity of glassware; it helps you plan towards a suitable budget and recognize when a vendor offers an exorbitant price.
Fenton glassware that is lower than the usual price points may be an imitation of the original.
Also, the prices of glassware can vary based on their availability, color,  year of manufacture, and other factors. On that note, let's get into the different Fenton glassware types and their estimated prices.
1.    Fenton rose crest cornucopia candle holder
If you want to purchase Fenton's candle holder glassware, a Fenton rose crest cornucopia candle holder may be a great choice. Their price range is between $20 to $30. However, pairs cost more.  You may find a pair of $50 to $100.
2.    Fenton rose pastel hobnail four half inches vase
You may find a Fenton Hobnail base of four and a half inches at $15 to $50 dollars. Note that the older a Fenton hobnail glass is, the higher their chance of going for a higher price. Also, opalescent and iridescent hobnail vases may be more expensive.
3.    Fenton black rose bowl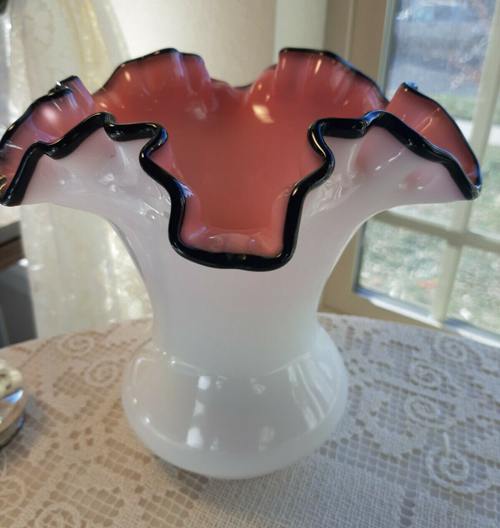 Fenton black rose bowls are often sold between a $65 to $75 price range. It's helpful to know that the price often varies. For example, a $75 Fenton black rose bowl can increase to $120 a few months after.
4.   Fenton Butterfly bonbon dish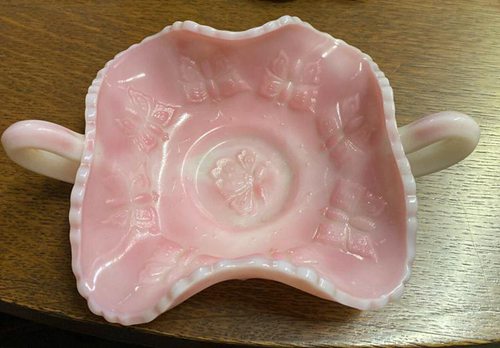 Fenton butterfly bonbon dishes may be sold between $10 to $50 online. However, new and unused Fenton dishes may cost more.
5.    Fenton daisy and button hat 3-inch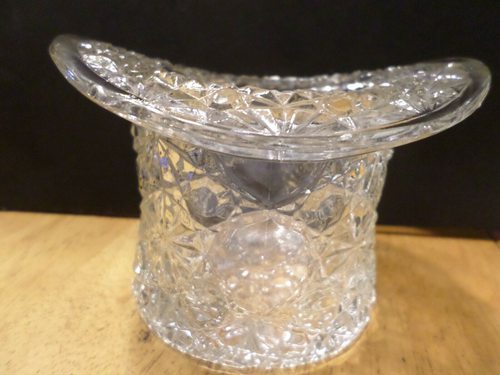 3-inch Fenton daisy and button glassware may be sold for $10 to $30. They are often used as toothpick holders or bud vases. But you may find the translucent and opaque ones at a higher price.
6.   Fenton cranberry hobnail vases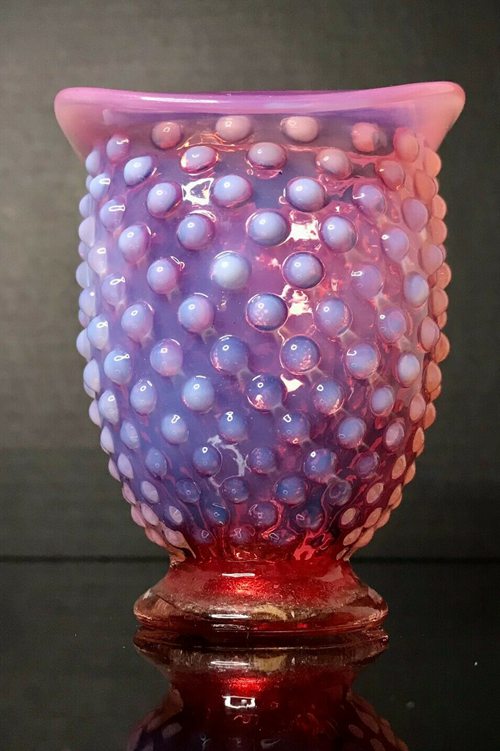 Fenton cranberry hobnail vases price vary from $20 to $40, but the price may depend on its size.
7.    Fenton crimped bowl with dolphins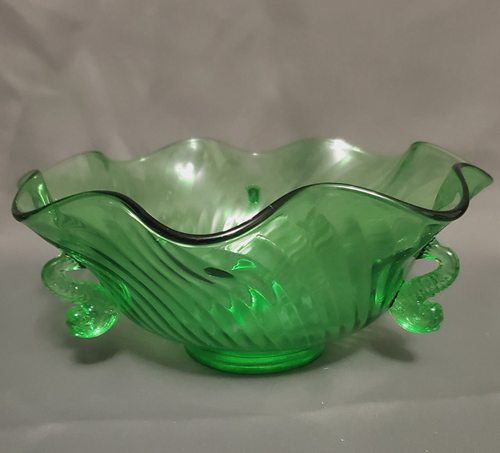 Fenton crimped bowls with dolphins may cost about $25 to $125. But bowls with specific colors may go for higher prices.
8.   Fenton autumn acorns bowl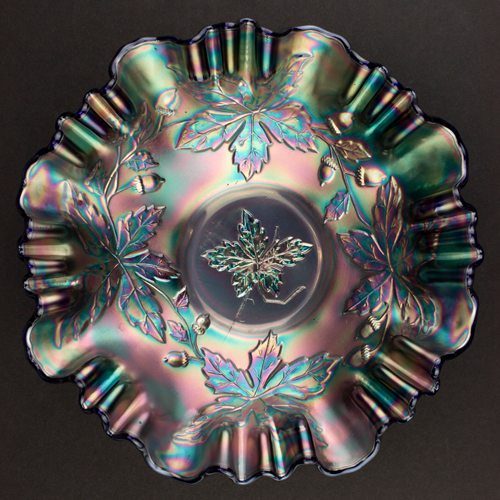 The Fenton autumn acorns bowl price range is around $65 to $150. It's a carnival glass, and the price may vary based on its manufactured year.
A good way to note an old carnival piece is to check out some imperfections. For example, some flaws like dirt specs may show that the glassware is an older piece. Keep in mind that older pieces may be costlier because they are often proof of glassware's originality.
9.   Fenton orange tree compote footed dish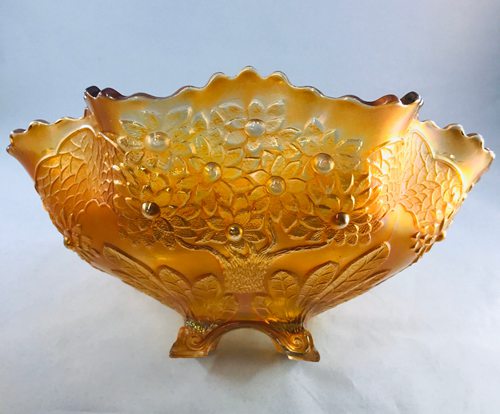 Fenton orange tree compote footed dishes may be sold between the price range of $10 to $30, depending on the year they were manufactured.
Factors that influence Fenton glassware prices
Why does the Fenton glassware collection vary or fluctuate? Several factors may be responsible for this. Let's discuss them below:
1.      Demand
Highly demanded glassware is often more expensive than glassware that isn't in demand. If a Fenton glassware is many collectors' favorite, chances are it may be costlier.
Therefore, when planning your budget, one of the top factors to consider is the demand level of the glassware type you wish to buy.
2.     Scarcity
Fenton glassware that comes with a rare design or is made from an uncommon material is often difficult to find.
When you do find them, they are often more expensive than others. So, if you are going for a rare Fenton glassware, it's best to prepare for a higher price.
3.     Color
The color of Fenton glassware plays a large role in the price rate. Colors that are better preferred are often costlier than colors in less demand.
4.     Condition
The state of a glassware is also critical in determining its price. If the glassware is in perfect condition, it would probably be costlier to glassware with some flaws.
5.      Year of manufacture
Older glassware is usually more expensive than newer glassware, primarily because they are perceived as more original. So, if glassware was manufactured at an older date, it may cost more.
Fenton glassware value
The common questions that stay top of mind when purchasing a Fenton Glassware are "is it still in demand?" or "is it still valuable?"
The truth is, the demand for glassware has declined over the years, and there is a notable decrease in the number of people who collect glassware.
However, based on the Fenton Art Glass reputation for producing quality and remarkable glassware, it remains in popular demand.
The prices may however vary based on your location, the purchase platform, and other factors we've discussed in this article.
Where to purchase the Fenton's glassware
Finding the right platform to purchase your Fenton's glassware is critical to making the best purchase, mainly because where you make your purchase can determine its price and authenticity.
However, because we understand how daunting finding the right platform can be, we've made things easier by compiling a few common places to purchase an original Fenton glassware below:
1.    Specialty retailers
Contacting specialty retailers is a great way to find the unique Fenton Glassware you want. For example, you can find milk glass, carnival glass, or other Fenton glassware types from antique stores that specialize in Fenton glassware collections.
You may also find them in large thrift stores and vintage stores as they often sell unique glassware pieces by manufacturers like Fenton.
2.   Auctions
Auctions are among the most common places to find Fenton glassware. You can find them at both local and online auctions. Local auctions offer different types of valuable pieces, from a collectors' collection to commercial equipment and several glassware pieces.
However, it's best to do some research on the auction to understand what items will be available at the auction. So, the Fenton glassware you want is not available; you can visit other places.
You can also explore online auctions to find the perfect bids on Fenton glassware. They are often associated with listings from individual sellers across the world, so chances are you will find a variety of Fenton glassware up for bid.
However, because online bids are out in the open, you may be at risk of purchasing a Fenton glassware imitation.
A key way to avoid this is to understand the specific features of authentic Fenton glassware and be on the lookout for reputable dealers with detailed descriptions of each piece. They are also more likely to include some imperfections or defects of the glassware in the description.
3.    Online vintage platforms
Vintage marketplaces online may be a reliable platform to find valuable pieces like the Fenton glassware. So if you are looking for a place to shop for Fenton Glassware, vintage marketplaces are great places to explore.
How to maintain Fenton glassware
After you've purchased an original Fenton glassware, the next crucial step to take is to practice proper maintenance and care.
It's critical because it can extend the life span of your glassware, keep them in perfect condition and enable you to get the best value for your money. Let's discuss the crucial steps below:
1.    Find a good location
Glassware is delicate, so you have to choose an excellent location to keep it safe. You place them on a sturdy shelf, a durable display case, or other places where they can be functional and secure.
2.    Dust carefully when you clean
When cleaning your Fenton glassware, it's best to dust them first to remove the dirt before you dip them in water. However, it's important to do so with caution. You can do this by cleaning gently with a clean and dry cloth.
3.    Clean carefully inside water
When cleaning, it's best to wrap your glassware in a thick cloth before dipping it inside water. When you've dipped it inside water, gently unwrap the parts you want to clean and scrub gently with a soft brush. After this, wrap the entire glassware in a thick cloth.
4.   Always dry after cleaning
It's essential to dry your Fenton glassware after you've cleaned it in water because it can cause dirt build-up on the glassware if it's not properly dried before storage. You can dry it with a clean, dry towel or leave it in a safe, open place to dry.
Conclusion
In this article, we discussed the different ways to identify authentic Fenton glassware when making your purchase. We also discussed different Fenton glassware types and their price range.
Additionally, we discussed the best places to purchase Fenton glassware and highlighted some tips for best maintenance.
Do you have any questions? Please drop a comment below. We would love to hear from you!