Lovely ornaments are indeed great pieces to hold excellent sentimental value. But antique Christmas ornaments can possess additional value to interest the collectors. And that's where you can make some worthy decoration or extra money from your side.
It's essential to understand the proper market value of antiques to avoid fraud. How can you determine an appropriate value of classic Christmas ornaments for trading? Stay with the expert guidelines to understand the answer with explanations.
What are Antique Christmas Ornaments?
No one is actually sure about the exact origin of evergreen Christmas tree decoration. However, some historians suggested its emergence in the 17th century colder regions.
And that's where specified ornaments should start entering the picture for appeal. In fact, the early practice of using candles eventually incorporated candy, paper & glass.
The 20th-century market actually held the widespread & universal acceptance of Christmas décor. Industrial influence managed to check available antique units by the 1920s.
Therefore, the referred antique Christmas ornaments are mostly vintage Christmas ornaments. It's an essential point to keep in mind as an entry-level/beginner while trading.
How to Identify Antique Christmas Ornaments?
The market for Christmas decorations around the world is incredibly large. And many companies craft reproductions of antique, classic, vintage ornaments. Almost flawless modern pieces represent a challenge for anyone to deal with genuine antiques/vintages.
Even the experienced collector faces trouble separating modern-day units from classics. However, you can use the following considerations to initiate a comparison. The side-by-side or stand-alone evaluation should save your intended bucks on reproductions.
1. Presence of Patina
The solid materials should feature patina at particular spots, depending on its shape. Patina refers to the eventual wear that comes with age over repeated uses. Even the pieces in excellent-level good condition can hold slight yet detectable patina.
Metal can take a faded appeal on tarnish or mercury glass may flake off to some extent. However, painted details can incorporate scratches or worn-out spots at closer looks. Anything to present the year-long endurance should make a difference.
2. High-Quality Finish
A direct side-by-side comparison can save you lots of confusion on genuine ornaments. Recent-time pieces may feature exceptional precision in finishing details. But antique/vintage ones from the early century decades hold better points in quality.
Noticeably lightweight mercury glass tended to incorporate silver surfaces from the inside. Durability was good enough to last several years without minimal maintenance. But modern pieces have either polymer composition or some thicker material.
3. Hand Craftmanship
Minimal influence of automated machinery defines a solid distinction in physical specs. Almost all the early 20th century products were fully handmade or partially machine-made. And noteworthy differences had to adorn the crafted pieces to a considerable extent.
Slight variation in structural uniformity, exterior coloring & narrow point joinery should prevail. Indication of mouth-blown glass may come with specific pontil marks on surface. Also, the covering surface details may integrate detectable deterioration or unevenness.
4. Distinctive Glitters
Modern glitters on an ornament feel exceptionally smooth without any flaw. However, things were different in the past in terms of surface glitters. Not to mention, preference for glitter kept changing for the entire 1900s with scientific evolution.
Chances are high enough to get your hands on mica glitter with antique/vintage pieces. The glitter was characterized by surface roughness, low uniformity & distorted shape. Meanwhile, the intended part should feel harsh or bumpy on gentle finger touch.
5. Hanger Cap Design
Another feature to continue evolving with time concerns the hanger cap for ornaments. The design incorporated many eventual as well as sudden changes in appeal. Therefore, it's a good indicator of the vintage ornament's actual age regarding its production.
Simple details adorned the hanger cap with somewhat thick, sturdy, capable materials. However, you may find extremely rare yet highly valuable plaster or paper caps. But current ornaments integrate decorative details with thin yet sturdy metals.
Dig the self-explanatory discussion at Real or Repro on antique kugels for further information.
Antique Christmas Ornaments Valuation
Evaluating the price coincides with several interdependent factors. However, there are many different styles available in the market. And knowing the standard ones should accomplish the valuation for trading.
Noteworthy Styles of Vintage Ornament
Beaded Christmas Ornaments: It's more like the retro version from the 1940s, 1950s & 1960s. But not many sparkling designs are available in good condition. And that makes them notably vulnerable pieces somewhat affordable.
Christmas Tree Stands: Most ornate versions are pretty recent, integrating rotation & music. You can match vintage as well as modern trees for incorporation. The price is low for its ages, requiring your attention on the tree.
Cotton Batting Ornaments: The 19th-century ornaments held spun cotton or cotton batting. It's more like a non-breakable type for secure children touches. Minimal number of options will cost you a significant fortune on its purchase.
Dresden Paper Animal Pieces: It's another 19th-century style from Germany to possesses great value. Antique paper cutouts held the form of wildlife (animals, birds, reptiles). Likewise, not a lot of options exist in good condition.
Figural Glass Ornaments: The popular design was primarily mouth-blown into a mold. Wide variation in the shapes represents symbolism, beauty & décor. You can find shapes like Santa Claus, fishes, pine cones, pickles & many other items.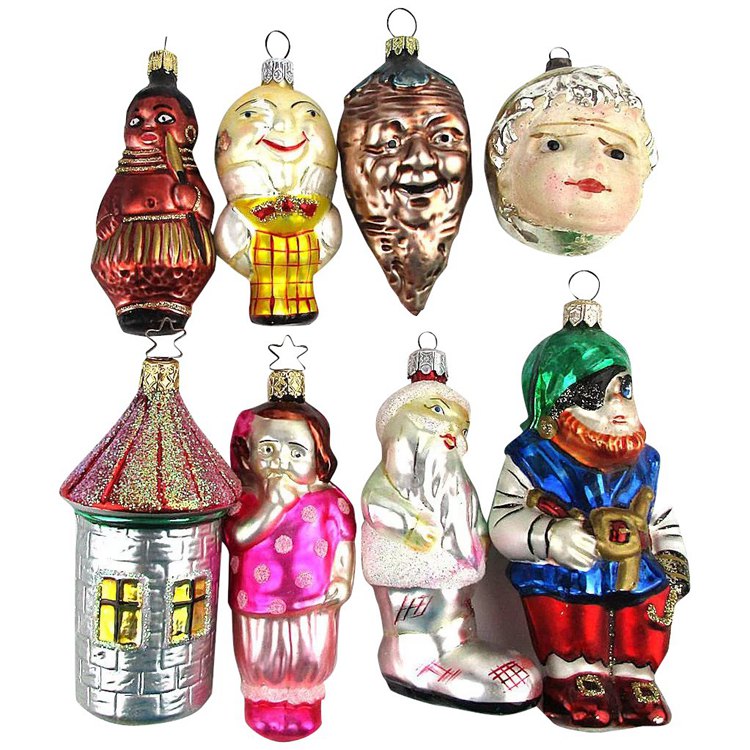 Free-Blown Ornaments: Partial mouth-blown in the mold resulted in a distinctive style. But the actual extent of the intended blow remains completely uncertain. Not many ornaments are available in the category, checking sky-high value.
Glass Bead Garlands: The highly decorative vintage ornament remains a popular collectible. Hollow mercury glass beads had wire or cotton cord support. But delicate glass composition often ends up broken over years of applications.
Glass & Ceramic Trees: It's more like a table ornament instead of a tree-hanging piece. But Christmas decorations using the collectibles can provide excellent appeal. The designs are somewhat recent, setting the price within budget.
Indented Antique Ornament: Faceted indentations were popular before the availability of electricity. The feature added reasonable sparkle to reflect the light. Its original shape went through a resurgence by the mid-20th
Kugel Christmas Ornament: German kugels are one of the earliest ornament forms. The style can date back to the mid-1850s to some extent with absolute rarity. Meanwhile, its heavyweight glass structure held shaped or fluted designs.
Non-Silvered Ornaments: Scarcity of metal due to WWII held a wartime rationing statement. Paperhangers without silver coating made the pieces. Only wartime production makes it extremely rare to set the value pretty high.
Browsing the options on online articles, e-commerce sites & relevant platforms can provide good examples. You can look into the pictorial guide from My 100-Year-Old Home & Always a Collector .
Additional Points for Appropriate Pricing
Knowing the standard styles doesn't conclude your action right away. Experts explicitly suggested the following information to reach the ultimate value.
Excellent appearance to encourage beauty must have the priority.
Better physical condition counts as extremely important for the value.
Rarity of ornament designs checks the pricing bar at higher levels.
Minimal number of availabilities pushes the tag forward all the time.
Difficulty in maintenance for durability demands further attention.
Minimal damage or deterioration should adorn the exterior surface.
Try to skip missing pieces, chipped, cracked, faded, or flaking paint.
Comparison to recent sales of similar items can affect the valuation.
Still, it's usual for new antique traders to make an erroneous evaluation at first. That's where you can spend some extra bucks on professional assistance. Appointing appraisals can save your precious time on troublesome valuation.
YouTube contains hundreds of relevant videos to cover the entire aspect. However, you don't need to get yourself lost or confused with too many videos. Start with some fundamental-level introductory videos on antique Christmas ornaments.
Check the collectibles on Entertainment for All Network , Chapter Two Vintage Co , ExpertVillage Leaf Group & The Auction Professor . You may explore the hour-long Lawrence Molczyk documentary on rare Christmas ornaments.
Online Resources on Authentic Ornaments
Collecting old-school Christmas ornaments is indeed a popular hobby within budget. And lots of commercial sites offer good collections of antique ornaments. However, you should start with the most dependable ones to provide a broad collection.
Well-established sites (Amazon , eBay , Etsy , Antique Farmhouse ) deals with impressive collectibles. Meanwhile, Christmas-based sites – Christmas Traditions , The Jolly Christmas Shop , Christmas in Prescott , Vermont Country Store have further pieces.
Exploring the collections can certainly enlighten your mind on the probable value of specific items. You must keep yourself up-to-date with new additions, trading, auctions & findings. It's indeed a great strategy to sort preferences regarding the budget.
Final Words
Overcoming the challenge of separating the actual antiques will ease the entire valuation process. Sticking with the expert guidelines with available resources should make your mind. Getting every piece together can eventually sharpen your skills for a successful trade.