Holiday decorating never goes out of style. Christmas trees are a thing of the past, but in their place, Christmas collectibles have taken on a life of their own. From ornaments to snow globes and tree toppers, this post takes us back to the best vintage Christmas ornaments of the 1950s and 1960s.
Everyone loves Christmas ornaments, and many are often motivated by nostalgia. The 1950s and 1960s brought us a lot of great things, however, in this article we will be focusing on vintage Christmas ornaments. Thanks to the advent of plastic, this decade was probably filled with more truly innovative creations than any other decade in history.
Christmas is just around the corner, and if you're like me who simply can't wait until those Christmas decorations come out, check out this collection of the best vintage Christmas ornaments from the 1950s and 1960s.
Vintage Christmas Ornaments In The 1950s
The vintage ornaments for Christmas made during the era of 1950s are lustrous creations in every manner. These ornaments have become highly appreciated by designers, retailers, and collectors as well. It is quite interesting to see these classy pieces of art that correspond to each other in style and shape.
Below are some of the best ones made in the 1950s
1. Vintage Style Christmas Standees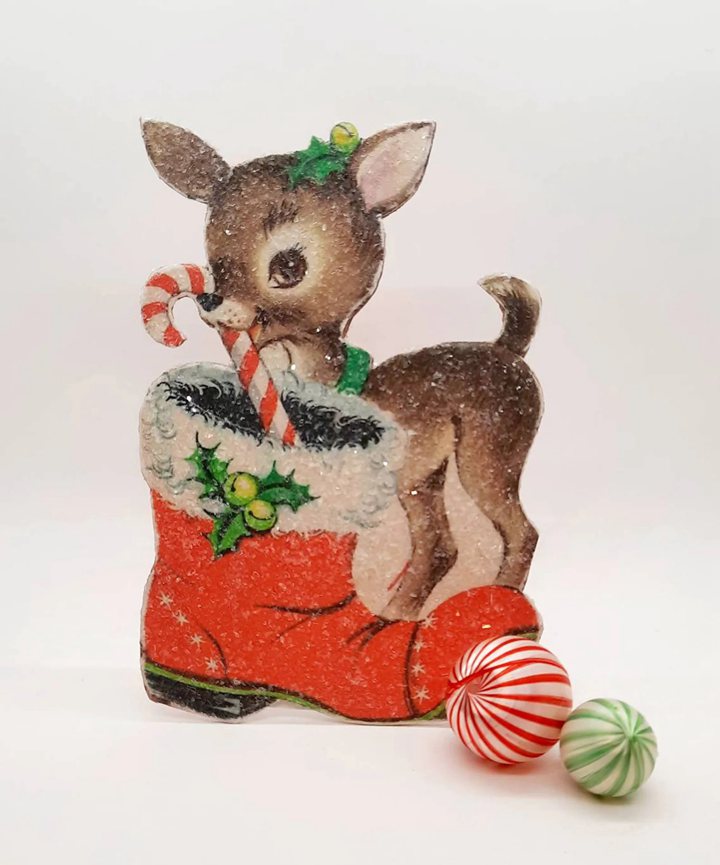 Vintage 1950s Christmas standees will make you feel like a kid again! Many of these standees feature cute cartoon characters like Santa, The Reindeer, Snowmen, and other popular Christmas symbols. They would be perfect for your holiday decorating, Holiday dinner invitations, or school Christmas parties.
2. Shiny Vintage Ornaments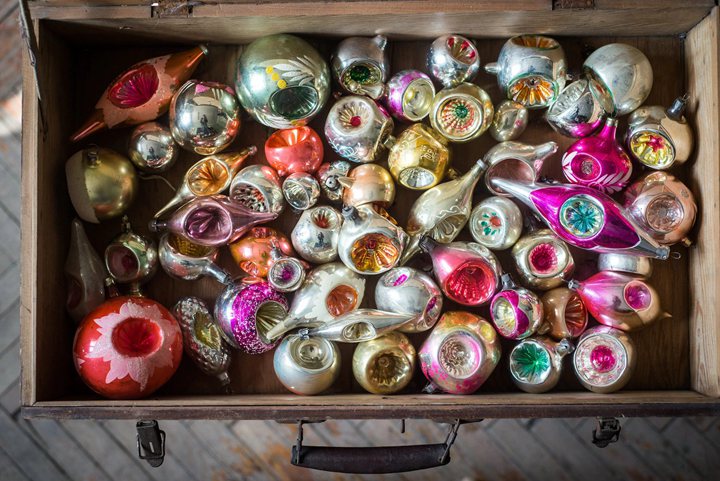 What makes your Christmas tree special? For me, it's all about my collection of colorful ornaments in glass and vintage shiny with colors purchased in the 1950s. This ornament will be a smashing addition to your tree.
3. 1950's Record MistleToe
This 1950s Record Mistletoe is a unique oldie but goodie from the rock-a-bye-baby era. Unfortunately, you won't be able to play this record. However, it would make a great addition to your Christmas decor.
4. DIY Gingerbread House
You are looking at an original vintage Glass Ornament from the late 1950s. This vintage Christmas ornament is in the shape of a gingerbread house. The building has decorative gingerbread trim details and decor. An amazing thing to have if you ask me.
5. Paper Candle Christmas Tree Ornament
Electricity was introduced way before the 1950s, however, some people depended on candle lights as a means of lighting up their trees. While this might not be ideal in our time. Here's a cool DIY paper candle Christmas ornament tutorial.
6. Beaded bells lanterns
I love vintage Christmas decorations and these little ornaments are adorable. I don't know much about the lanterns but they appear to be made out of beads and fabric. I think they would be really nice on a small Christmas tree.
7. Vintage Ornaments Wreath
You can put those unused vintage ornaments to use by making this amazingly outstanding wreath. Simply hang the wreath on your wall as a perfect 1950s vintage Christmas decoration.
8. Cardboard Christmas Houses
Christmas houses are making a big comeback. Just like in the 1950s when Christmas houses were constructed out of cardboard, wood, or even made from an old baker's rack. These modern versions are popping up more often.
9. Nutcrackers
Though I am a big vintage girl, I love the look of traditional nutcrackers as ornaments for my Christmas tree. Nutcrackers are exquisite ornaments for antique Christmas decorations. They are fascinating and wonderful holiday accessories that have had an important role in European culture.
10. Vintage Christmas Tree From 1950's
For most people back in the 1950s, allowing the silver tinsel rope to drip from various branches of the tree was a vibe. The use of silver tinsel made the lights on the tree appear way better.
11. Pretty Paper Ornaments
With these DIY paper Christmas crafts, you can easily turn your home into a magical place that will be remembered by everyone who visits you. This idea will surely make older people smile because they saw lots of these in their time.
12. Vintage Ceramic Christmas Tree
The vintage ceramic Christmas Trees were used for decoration in the 1950s. The decoration used to be much easier compared to traditional decorating. This ceramic tree is an amazing product that was loved by all, especially the children of those days.
Vintage Christmas Ornaments In The 1960s
Vintage Christmas ornaments in the 1960s were all-new. That is, they were new for that time period. The 1960s weren't really into "vintage" anything back then, but it's fun to reminisce about what décor was like in the 1960s.
People had collections of old Christmas ornaments and memorabilia, which means there are still plenty of people who have these decorations tucked away in attic boxes somewhere. In the 1960s there were many different styles of ornaments, but some of the more popular ones were Santas, Snowmen, and Christmas trees.
13. Vintage Gift Box
Vintage Christmas gift box ornaments are the Way to go if you like something a bit more sentimental. These DIY vintage Christmas gift box ornaments will make great gifts for your loved ones this holiday season.
14. Vintage Jingle Bells
Vintage Christmas Jingle Bells ornaments could be the perfect Christmas ornament for your tree this season. These ornaments will add a vintage feel to your tree and make it stand out from all of the new ones coming in stores.
15. Popcorn-Cranberry Garland
The tradition of decorating the Christmas tree with popcorn started in Germany in the 16th century. In the 1800s when many Americans made their own ornaments, they would sometimes dye the popcorn to add a colorful effect to the garland.
16. Vintage Christmas Signs
Decorative 1960s ornaments recreate the nostalgic appeal of a bygone era. Just like with other Christmas decorations, these 1960s Vintage Christmas Signs are really popular.
17. Snow Globes
In the mid-20th century, snow globes became a popular holiday decoration in the United States. Today, you can make your own snow globe complete with a retro car carrying a Christmas tree home.
18. Outdoor Vintage Decorations
The Outdoors should not be left out. This Christmas design is eye-catching and features vintage elements, such as a bottlebrush tree wreath and golden nutcrackers.
19. Bottlebrush Trees
You can use trees mostly seen in the 1930s everywhere nowadays. That's because people are using them for Christmas crafts, adding them to Christmas villages, and accenting Christmas decorations with them.
20. Christmas Stockings
For that retro look, you can hang a set of 1960s vintage stockings. These festive stockings will look gorgeous hanging above your fireplace along with the rest of your retro decorations.
21. Vintage Christmas Lights
Never underestimate the power of vintage lights on a tree. All the ornaments added to your tree can come to life when lights like these are installed.
22. Vintage Christmas Blocks
Celebrate the Christmas season with these adorable wooden Believe Vintage blocks, painted red with off-white vinyl added for the lettering!! They're perfect for the Holidays and the spirit of the season!
23. DIY Christmas Throw Pillow
During Christmas time, you should put away regular throw pillows. In this DIY tutorial, the creator shows how to make a vintage-like Christmas throw pillow. The steps for making this are quite easy to follow.
24. Tinsel Garland Christmas Tree
The Tinsel Christmas tree is one of the rarest and most sought-after holiday decor collectibles. They date back to the 1960s. Here's a tutorial on how to make them from home.
25. 60's Christmas Tree Toppers
Back in the '60s, a Christmas tree won't be complete without a topper. You can relive those moments with some of these vintage Christmas tree toppers.
26. Vintage Snowman
Frosty the snowman wasn't perfect looking in the 1960's, but the kids love him regardless. This is a great vintage ornament to have during the holidays.
27. 1960's Vintage Decor Idea
If you have gathered a lot of vintage Christmas ornaments in the past and are wondering what to do with them, a good idea would be dedicating a whole shelf to them.
Conclusion
We hope that you have enjoyed reading our list of best vintage Christmas ornaments in the 1950s and 1960s. When it comes to gifts, one of the best things that a person could get in the most beautiful and attractive packages is a Christmas ornament. The popularity and desirability are especially because of how effective they are as gifts for both kids and adults.