Did you mention that you're looking to collect or sell Vintage Stiffel lamps? Well, you're in luck. Here we've put together all you need to properly value these lamps. They are sure old but they'll fetch you a lot of bucks if you know the right ones to collect.
A regular Vintage Stiffel lamp will sell for $100-$500 at auctions due to their conditions, pitting, and presence of shade or the opposite. However, some rare models sell for as high as $1000-$8000.
You're not in a hurry, are you? Join us as we unveil how this Chicago company founded in 1932 by Ted Stiffel has managed to remain a classic till this day.
History of Stiffel Lamps
Stiffel lamps are manufactured in the USA, carefully crafted and designed by talented artists and skilled designers. They are renowned for their exquisite quality and tasteful decorative ability to instantly add splendor and glamour to a place.
Ted Stiffel established the company in 1932. Ted's background in fine arts placed him ahead of his peers and offered him the ability to craft these unique lamps that had mystery to them in an era where lamps lacked beauty and the necessary pizzazz.
By the 1940s, Ted had opened a large factory solely producing lamps for sales throughout the nation. It rubbed shoulders with giants in the field, such as Frederick cooper lamp company, a Chicago-based company.
The company however embarked on a brief hiatus during the second world war and began a screw machine department that made thousands of bolts for guns and other weaponry. When the war ended, Stiffel returned to its first love- Lamps.
By 1948, the Stiffel company welcomed designer, Edwin J. Cole. During his stay, he rolled out some of the company's most impressive designs to date, especially the table lamps. Cole's mid-century lamps for Stiffel as highly sought after with their tall shapes and ceramic bodies with brass chinoiserie finish.
This era saw the invention of popular models such as the patented Stiffel switch, which made turning lights on and off easy- all you had to do was pull down. The pole lamp was also a significant innovation in this era- it had a vertical tube with few stands on the outside.
Several companies imitated Stiffel genius, especially the pole lamp. The Sears, Roebuck, and Company bagged a lawsuit from Stiffel, which ended at the gates of the supreme court in 1964. The Stiffel company rounded up production a final time in the 2000s, making it very tasking to find Stiffel lamps, increasing rarity and demand for this valuable piece.
However, redemption came in 2013, in Linden, New Jersey, where newly manufactured elegant and quality lamps still bear the Stiffel mark.
5 Most Valuable Vintage Stiffel Lamps in the World Today
These prices are from verified online stores, antique sites, and auction platforms. Costs and arrangements may vary due to the vendor's or collector's preference.
| | | | |
| --- | --- | --- | --- |
| No | Name | Release Date | Price |
| 1 | Edwin Cole Large Chinoiserie Ceramic and Brass Dragon Stiffel Lamp Set. | 1950 | $7,750 |
| 2 | Blue Ceramic and Brass Asian Modern Style Stiffel Lamp Set | 1960 | $3,500 |
| 3 | Raymond Loewy Brass and Glass Stiffel Table Lamp | 1957 | $2,200 |
| 4 | Stiffel Black Lacquer and Brass Suspension Lamp | 1950 | $2,062 |
| 5 | Bespoke Stiffel Brass Lamp with Lotus Base | 1960 | $2000 |
1. Edwin Cole Large Chinoiserie Ceramic and Brass Dragon Stiffel Lamp Set
Release Date: 1950
Price: $7,750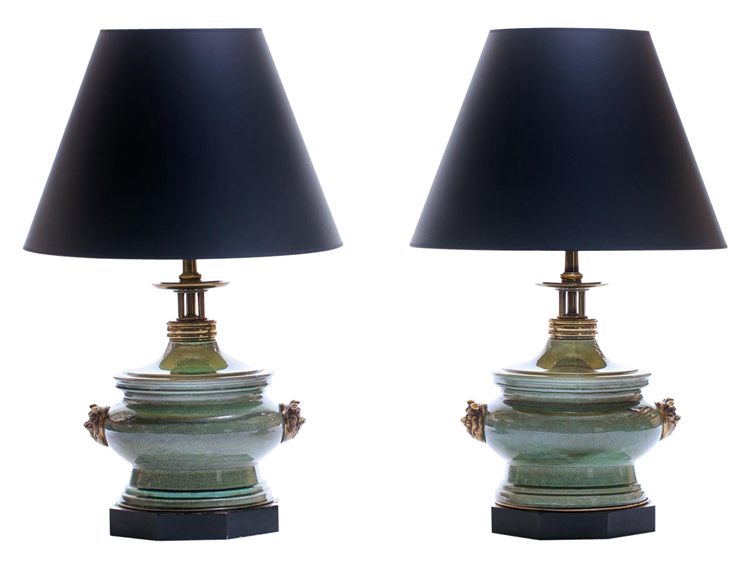 Designed by the talented Edwin Cole for Stiffel lamps in 1950, these ample ceramic beauties in two-toned hue are indeed a work of art. Their delectable brass chinoiserie features and black triangular-shaped base add beauty to this unique piece.
These lamps are very hard to come by. The contrast between the deep blue shade and the green ceramic vase shows the amount of thought and creativity channeled into making this masterpiece.
2. Blue Ceramic and Brass Asian Modern Style Stiffel Lamp Set
Release Date: 1960
Price: $3500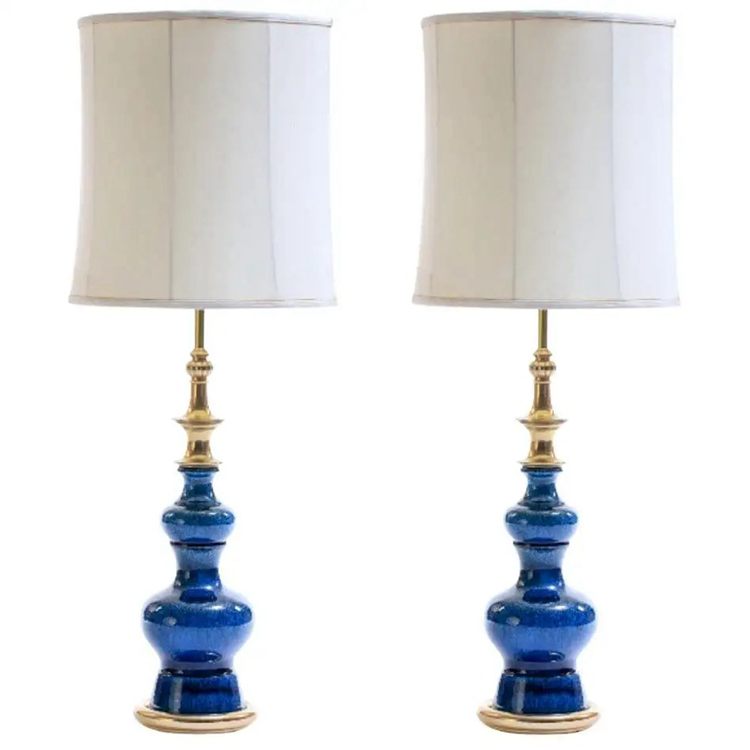 The color of the gourds from this set immediately endears a person. It's a 1960s beauty carefully crafted with deep cobalt glazed ribbed glass and brass fitting on the pole and the same material at the base. The shade is a luminous white color.
3. Raymond Loewy Brass and Glass Stiffel Table Lamp
Release Date: 1957
Price: $2,200
This model is famous for being the only item rolled out by Stiffel for that year alone, as it's only present in the 1957 catalog. Raymond Loewy designed it for the Stiffel company. This lamp is very rare to find due to claims surrounding its production.
It has a rosewood veneer and brass-coated base with a stem polished in brass. The shade is an oversized grasscloth colored in medium brown.
4. Stiffel Black Lacquer and Brass Suspension Lamp
Release Date: $2,062
Price: 1950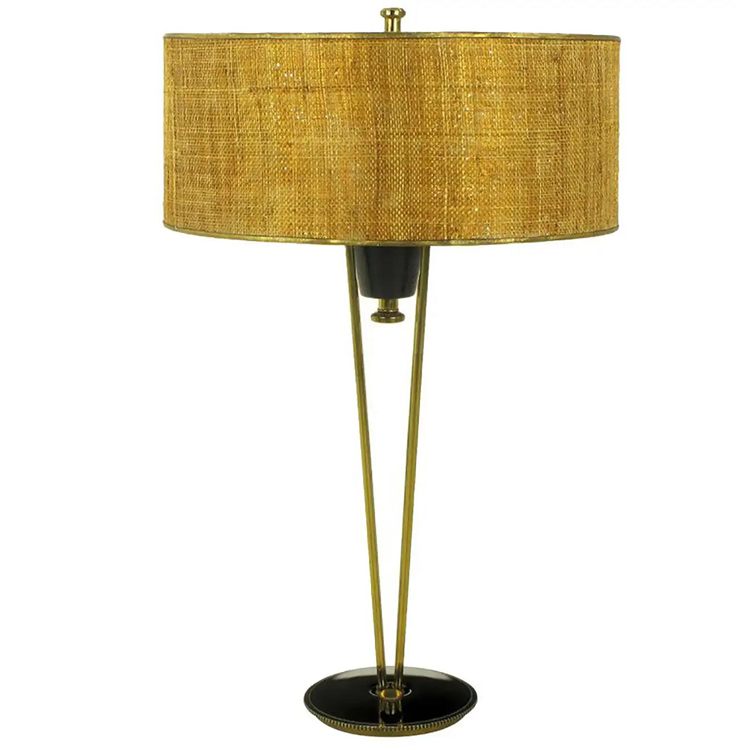 This rare table lamp has four impressive brass rods with balls supporting a black lacquered cap and an internal light socket. It has a round golden shade seemingly made with golden net-like fabric and has brass coating around it.
It's a 31inch tall table lamp produced circa the 1950s in the United States and you can remove the shade for a more artistic flare.
5. Bespoke Stiffel Brass Lamp with Lotus Base
Release Date: 1960
Price: $2,000

This one is a spectacular table lamp manufactured by the talented hands of Stiffel artists in the USA. It's pure brass and coated with ivory-like paint giving it extra class to perfectly adorn any space.
A candlestick enamel pole stands tall, sprouting from a golden lotus flower petal right at the square-shaped base of the lamp leading up to the shade, most likely with a bulb stand.
Where to find Stiffel Lamp Marks
We've laid out clues on where to find identification marks on your vintage Stiffel lamps should the need arise.
Examine the Lamp's Shade Properly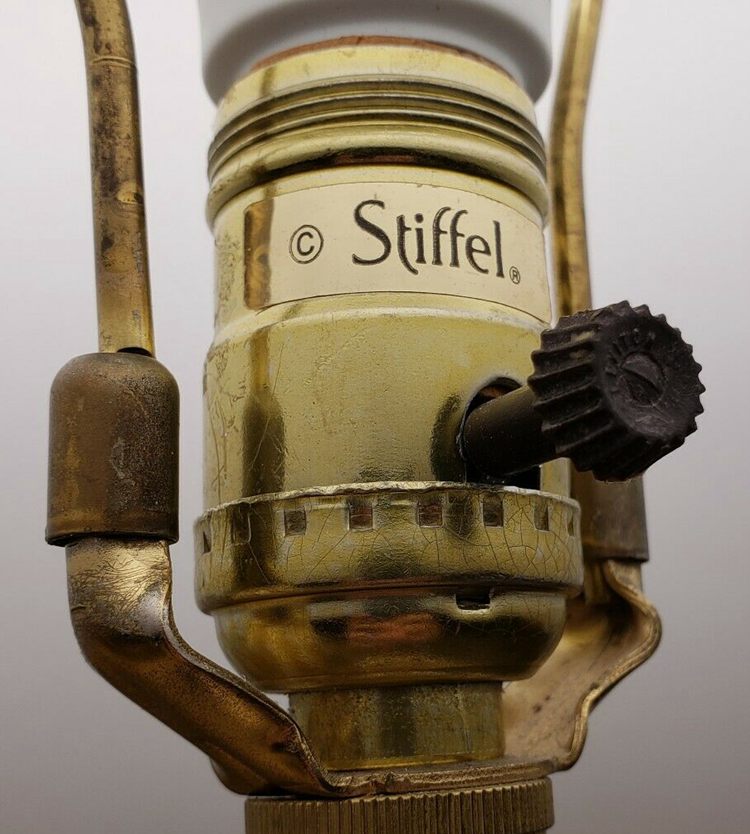 Sometimes, your answer is right inside the shade. The Stiffel company usually stamped foil labels on the hollow of their lamp shades with the appellation Stiffel or Stiffel Lamp Company boldly inscribed on it.
Original Stiffel lampshades come from silk shantung, sourced from the china province; this material was used by a selected few at that time.
Peep the Base of the Lamp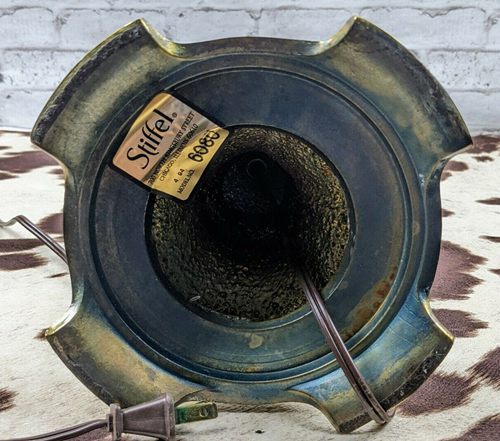 Look for clues in the base of the lamp. They often have names, dates, logos, and embossing from their production company. The bottom is your best bet if checking the shade doesn't do the trick.
How to Date Vintage Stiffel Lamps
Dating your lamp lets you know and understand the date and period of the manufactured lamp and helps you with the value and proper identification. Here's how to accurately date vintage Stiffel lamps.
All Stiffel lamps contain a foil seal decal on the bottom of the lamp's metal or a wood stand made from the finest of quality. The first thing you should do when determining the date of Stiffel lamps is to look for this signature.
Also, pay attention to the manufacturer's logo, dating, or date stamps inscribed on the lamp's bottom and insides or sides.
How to Determine the Value of a Vintage of Stiffel Lamps
There are a bunch of ways you can determine the actual value and worth of your vintage Stiffel lamps. Factors like trademarks, rarity, colors, and age are the things you should consider when buying or selling vintage Stiffel lamps.
By Their Age
An antique Stiffel lamp is truly antique if you can spot the light switch. The Stiffel patented design was made on pole lamps from the 1940s to 1964.
These lamps have a pull-down option that affects the shaft and helps turn the light on and off. This design was synonymous with first-generation Stiffel lamps, and if you have it in your possession, you'll make some bucks.
By Their Trademarks
Check for the "Stiffel Lamp Company" embossing, the "SLC" logo, or "Stiffel" on the bottom of the lamp or the decal. If it features a light with a covered base, open the felt and look inside for information about it, the manufacturer, and the date of production should be there.
One thing you should always remember is that these marks tend to clear off over time, making it challenging to identify the maker; we advise that you get familiar with the materials used to manufacture your item to identify legit lamps.
By Their Condition
Best believe your item will be significantly undervalued and underpriced if it has scratches, marks, or dents on its body. A near-mint condition item equals extra bucks and accurate pricing. So ensure always to keep your lamp away from human contact.
If some parts of your item are missing, it'll also affect the value. Retouched items with materials different from the original are also undervalued. Ensure that you're not selling or collecting a retouched piece/set.
By an Appraiser
The suggestion and service of a certified appraiser are needed to understand the true worth of a Stiffel lamp. It takes an appraiser four to five weeks to complete the process, but be rest assured that you'll get all the necessary information.
Reference Books and Price Guides
Check online for books and publications on Stiffel lamps to get information regarding market price and models in high demand. This information will help you know the next step on your item and how best to collect/sell them.
How to Clean Stiffel Lamps
It might get tricky trying to get your Stiffel lamp clean due to their fragile brass coating. It doesn't make any sense to leave dust particles on your item, either. Not only does this reduce the quality, but it also defeats the artistic purpose.
Check below for tips to get a clean, shiny-looking Stiffel lamp.
You'll need a piece of fabric, some metal polish, a soft bristle brush, and a broom.
Dust off your lamp week in and out. Dusting off will help disperse accumulated dust particles and help maintain a shiny display. Since most Stiffel lamps have metal bases, dusting is therefore essential.
Wet your fabric (Preferably multifibre) with some metal polish. Make sure the polish is perfect for your lamp material. Using the polish will help you get desired results.
Use the fabric on the metal surface of the base in circular motion till you notice a noticeable difference in the shine of the materials. Repeat this on other metal parts of the lamp.
Carefully remove the lampshade and take it outdoors. With the help of a broomstick or soft brush, tap the top of the shade to remove built-up dust. It would be best if you only did this when a duster is not helping.
FAQs
Where can I buy Stiffel lamps
Estate sales, flea markets, online antique stores, and vintage walk-in stores are the preferable places for you to buy Stiffel lamps. Not only will you have a variety of items to pick from, but you'll also get to compare prices and bargain wisely.
What are Stiffel lamps made of?
These lamps were made with varieties of materials ranging from bronze, brass, pewter, and silver. They have brushed, polished nickel, brass, or silver and a combination of black and silver polish finish.
Who made Stiffel lamps?
Ted Stiffel is the brain behind the luxurious pieces known as Stiffel lamps. They are artistic lamps with high-end aesthetic appeal suitable for lighting while decorating your space.
Parting Words
Vintage Stiffel lamps are luxurious and historical. In your bid to harness these unique pieces, here are a few points you should hold keep in mind.
Stiffel lamps are made from various materials, including brass, bronze, silver, and pewter.
The patented switch with a simplified on and off function was one of the most popular models from the stables of the Stiffel lamp company.
Observe a blend of metal and wood on Stiffel lamps. A typical mix includes brass and pewter, walnut, and bronze. The company was particularly famous for using this technique to achieve spectacular designs.