Owning antique dolls possess a great interest in passionate collectors for display & trading. However, there are differences to notice between new dolls with genuine antiques. And many classic dolls may appear new to fool you, restraining valuable sell.
How to identify older-looking dolls in terms of genuine antiquity for proper valuation? The precise answer stands pretty long, requiring you to dig deep enough to reach the conclusion. Stick with the expert discussion on choosing worthy/valuable antique dolls.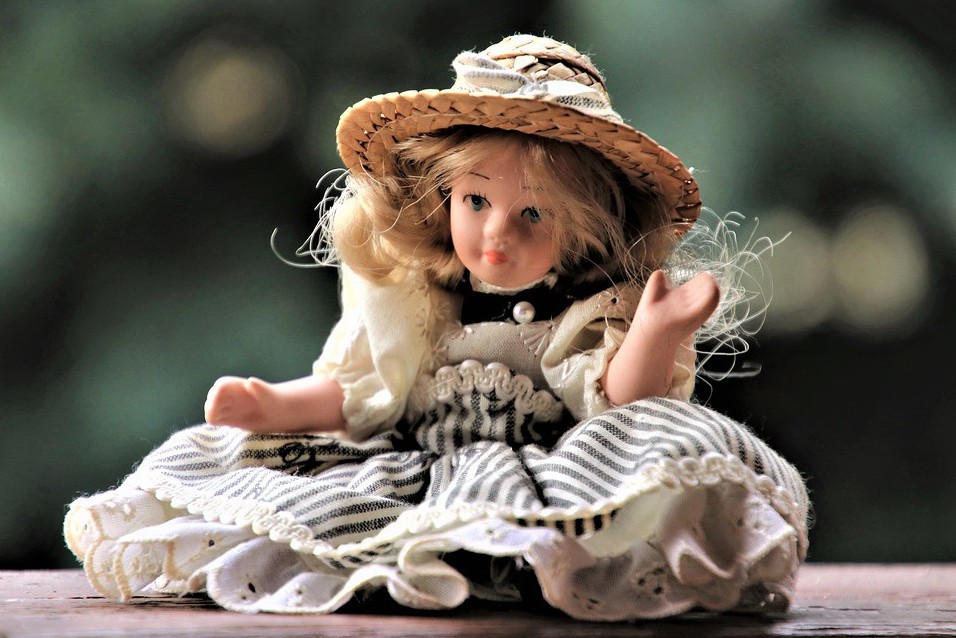 What is an Antique Doll?
Actual emergence of dolls as a toy can date back to ancient periods without certain facts. However, antique dolls in the current market specifically refer to porcelain/bisque dolls.
Porcelain dolls were introduced to European countries right in the middle of the 19th China continued crafting the dolls' heads, hands & feet from the 1840s till the 1880s.
Glazed Chinese porcelain looked noticeably shiny to give the name. However, the manufacturing of bisque dolls started to overlap porcelain dolls by the end of the 19th
Germany, as well as France, were the early manufacturers of bisque dolls in Europe. And the early 20th century checked bisque doll production in the United States & China.
How to Identify an Antique Doll?
Identifying an antique doll is often incredibly easy with imprinted marks. But the precise valuation requires absolute consideration of interdependent facts. Our team broke down the essential points for your simple understanding.
1. Doll Materials
Different materials adorned the dolls over time. And it results in four specific classes of antique dolls based on its materials.
Porcelain Dolls – Earliest form to remain available as the rarest amount. Wooden body held Chinese porcelain shoulders & heads.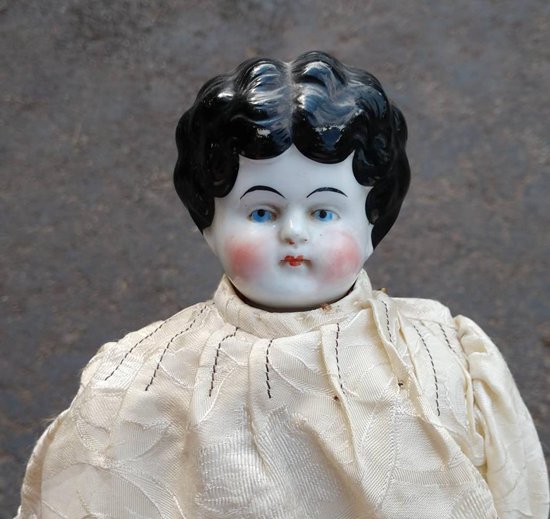 Bisque Dolls – Standard bisque dolls featured either leather or clothed body. Bisque head included molded eyes, mouth & ears.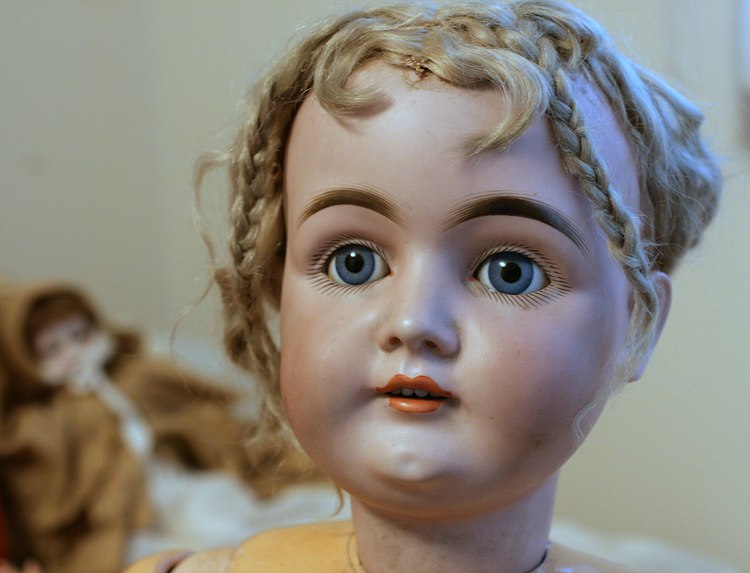 Parian Dolls – Not-tinted white porcelain held excellent decorative value. Dolls specified for display checked the special material.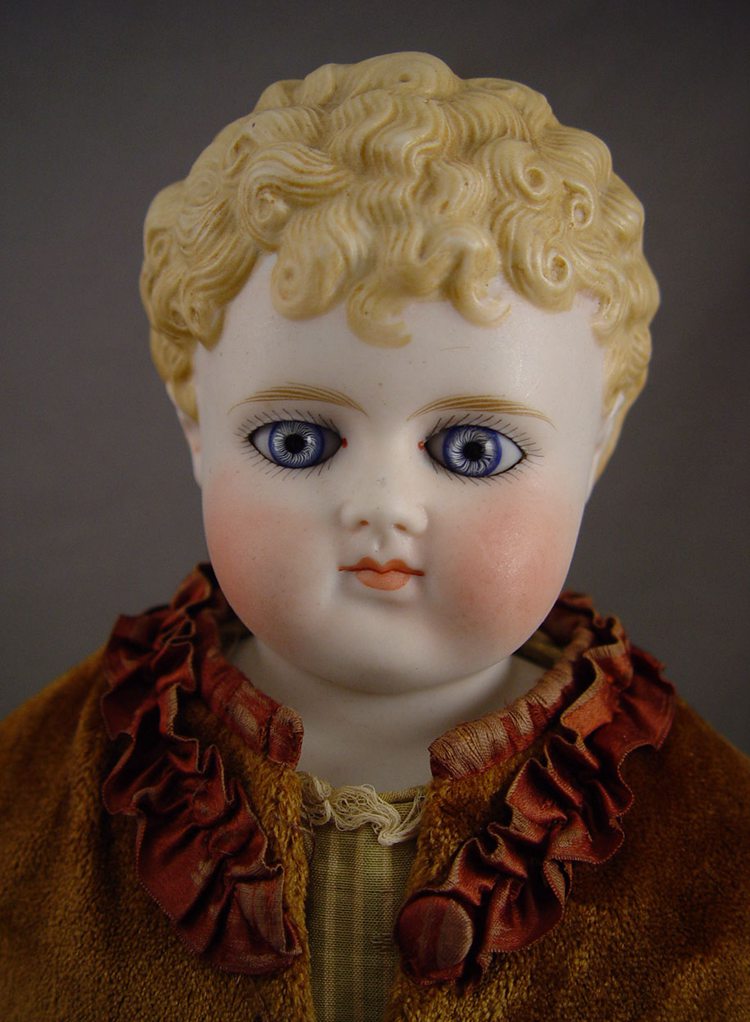 Baby Dolls – Dolls for adults dominated the market for the entire 19th But baby dolls had much popularity by the 1900s.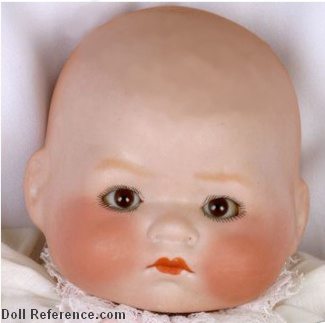 And the 1900s observed a massive transformation in designs. It's better to skip the 20th–century dolls for good value with particular exceptions.
2. Manufacturer Mark
Confronting any specific mark is indeed the single-most-important step of identifying the doll. Confirmation from the manufacturing mark can save you a troublesome search for pricing as well.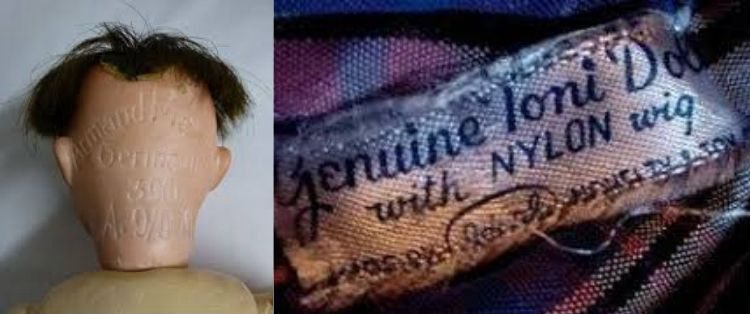 Examine the doll closely to figure out the intended mark. Older dolls should contain clear imprints on its physical surface. Take sufficiently bright photos or gently press to wipe vague marks or symbols.
How to Find the Mark?
A mark can include letters, numbers, letter-number combo, or drawings.
Manufacturers tend to imprint the mark on the doll's back of head/neck.
Many dolls can contain marks on shoulder blades, clothing & feet bottom.
Dolls to feature wigs may overlap the marks to hide the symbols/values.
Imprinted markings should undergo indented or raised on the body parts.
Noteworthy Manufacturers from the Past
Alexander Doll Company – Bertha Alexander with her sisters founded the company in 1923. Although it's somewhat new, it manufactured many valuable vintage dolls. Specially crafted Madame Alexander dolls possess great trading as well as decorative value.
Armand Marseille Doll Company – It produced multiple common antique dolls in the current market. The Germany-based company that specialized in bisque dolls came into the picture in the late 1800s. Not to mention, it held productive operation from 1885 till the 1930s.
Ideal Novelty and Toy Company – The company was founded in the early 1900s; 1907 to be precise. And its marketed dolls managed to outmatch others in terms of sturdiness. Special composition of the parts literally made the high-quality character dolls 'unbreakable'.
Of course, the list doesn't seem much to identify/value the wide extent of antique dolls. But it should help you to catch the essential company marking details.
3. Doll Partitions
Apart from the materials & marks, you must emphasize additional sections. Even the individual part can reveal important clues on the doll.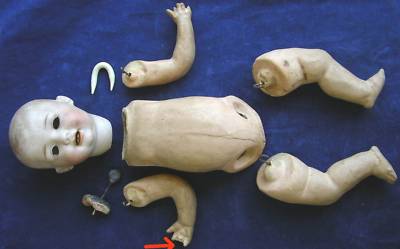 Doll Body: Older or early antique dolls had porcelain, bisque, or wooden body. But later designs had stuffed body of cloth.
Doll Eye: Painted eyes are the starting version for doll eyes. And following designs integrated stationary glass eyes.
Doll Hair: Early China dolls featured mid-parted painted or molded hair. Real-life rooted hair checked dolls from the 1800s.
Doll Cloth: Leather clothing dominated the entire 1800s. But synthetic cloth with Victorian-style had the trend by the 1900s.
Dishonest sellers often try to trade heavily or visibly worn-out dolls for antiques. You must remain cautious about fake antique/vintage dolls on purchase. Check the presentation from Rachel Hoffman to learn details on identifying the fake ones.
How to Determine Antique Doll Value
Evaluating the exact price of an antique is always difficult for commoners. There are many factors to consider at the same time for proper valuation. Experts enlisted the following points to narrow down the ultimate price tag.
Additional ornamental accessories like hats, shoes & parasols.
Actual age of doll, dating back to the manufacturing period.
Visual appeal to create an immediate impression on audience.
Specific body designation to hold any literal or hidden meaning.
Defined materials or/and particular specifications for the body.
Minimal visible damage like discoloration, stains on its clothing.
Overall good condition of the doll to allow decorative display.
Extended or minimalistic demand of antique for some reasons.
Quality of the craftsmanship to pass the test of time with uses.
Limiting number of particular doll types in the antique market.
Provenance to relate any well-known historic events or figures.
Unusual but reasonably adaptive size/shape of intended dolls.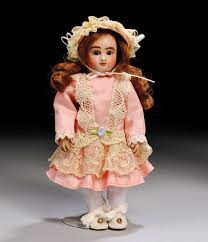 Missing any point can significantly affect the valuation, even with the professionals. You need to cover all kinds of info to reach a precise amount.
Online Pricing Guide
There are many well-established sites to deal with antique dolls for trading. It's a good idea to keep browsing relevant options to develop primary ideas.
Check the nearby antique shops, reputed collectors' collection & occasional sales. The investigation should provide good ideas on antique prices on a local scale.
Attending online auctions can also enlighten your knowledge on the price & its potential customers. But you must understand the basics of trading value.
Check the collections on Etsy, eBay, Ruby Lane, Trocadero, Nice Twice Doll Shops for a start. There are many other websites worth your consideration.
Multiple online videos can provide great assistance in evaluating the price. You should look into Dr. Lori Tips, AP Archive, Ruby Lane & Dr. Lori Valuation.
Initial Research on Doll Marking
You may face trouble in finding an exact match of the doll's marking at first. But there are other ways to confirm the manufacturing mark than direct search. You must take a good-quality, clear picture of the mark for identification before anything else.
Consult a well-known or reputed specialist on antique dolls.
Send the image with necessary details to an online appraisal.
Take the doll/its picture to forums, auctions, shops, or sales.
Show the marking details to local, online, or regional dealers.
Initiate google image search using the photos to get a match.
Leave the valuation to a reliable appraisal when you can't find any conclusive result. Online as well as offline appraisals should remain available based on your residence.
Resources for Antique Doll Collection
The community to specializes in antique dolls remains the best resource to satisfy your quest. But not every community can provide instant or immediate support. That's where you should consider the following online sources for response/research.
In addition, don't forget the Theriault's Auction Company to attend live trading. It's a site to specialize in antique toys including dolls.
Alternative Collectible Dolls
Not everyone is fond of classic Chinese porcelain or bisque dolls. And collectors to despise/avoid the two kinds often hits a disappointing end.
Of course, no one actually intends to play with antique dolls anymore. And that's where the buyer looks for something different for tastes.
But there are several vintage dolls from the last century to satisfy the demand. However, actual dolls to possess worthy value are slightly limited.
Check the Collectible Kachina Dolls as well as Vintage Barbie Dolls. Either type should contain some impressive, considerable choices at least.
Final Words
It seems somewhat easy to identify a real deal regarding antique dolls. However, the process gets noticeably difficult in valuating the intended piece. But the aforementioned details should save you unnecessary research to make a dependable start.