Cookie jars are decorative glass or ceramic jars mostly found in Canadian and American homes. Others call it biscuit jars or biscuit barrels. Jars can also be made of tinplate.
For many reasons, everyone needs cookie jars in their kitchen. Besides serving a decorative purpose in your kitchen and making your cookie well arranged, they have more purpose of fitting in your kitchen beyond keeping cookies. They can be used to keep coffee, spices, or sweets. You can use the box in your bathroom to keep toothpaste, wet napkins, cotton balls, or shower gels. It can serve as a detergent and other soapbox in your laundry. Depending on your custom purpose, the cookie jar is an organized space for keeping many items of value.
They are made in many designs, but most people do prefer the antique cookie jar. Cookie jar manufacturing emerges in the middle of the 20th century. And there are many beautiful designs of cookie jars made during the period. Away from keeping cookies, the old cookie jar was made in different beautiful designs.
The Vintage Rooster Cookie Jar is one of the Cookie Jar commons during the time. The Rooster jar is unique in beauty. They are usually attractive and serve a more decorative purpose. In this article, we will explore the historical development of antique and vintage rooster cookies jar, how to identify them, the types of antique rooster cookies jar, and a value guide for intending buyers and sellers of vintage cookie jars.
History of vintage rooster cookies jar
Cookie jars became notorious in America around the time of the Great Depression in the middle of the 18th century. The cookie jars were made of glass with metal screw-on lids. Soon after that, in the early 1930s, stoneware materials became a substitute for metal and glass for cookie jars in America. They were made in cylindrical shapes and painted with leaf or floral decoration.
The Brush Pottery Company in Ohio is credited with producing the first ceramic cookie jar and inscribed the name 'cookies' on the front side and the USA mark on the bottom. Thereafter, many manufacturers joined Brush in the late 1930s to produce ceramic jars but with more innovations. There were new designs, and these new companies added a colorful decals to beautify their products.
Cookie jars were made in designs like vegetables, animals, human faces, figures, and other whimsical designs in large quantities, and many households now have options to choose from. The peak of this creativity was experienced between 1940 to 1970. Nowadays, there are hundreds of rooster cookie jars available, but many collectors still prefer those cookie jars produced in the middle of the 20th century.
McCoy is one of the companies famous for producing cookie jars. The company was in operation between the years 1939 to 1987. Even though the company was known for making vegetable and fruit-shaped jars, it was the company that first made the rooster cookie jars in 1956.
The Farco Company also existed along McCoy and made the popular rooster-themed orange hen cookie jar. Other companies that produced collectible cookie jars at this time were; Abingdon Pottery, reputable for making the Mother Goose series, and the American Bisque, known for making cartoon-liked cookie jars with a USA sign at the bottom. Also, there was the Metlax Company that produced the Red Riding cookie jar series. Others were Hull, Shawnee pottery, and the Red Wing cookie jars manufacturing company.
Nowadays, there are more glass cookie jars with rooster etchings and rooster designs on their lids and sides.
Types of Rooster Cookie jars collectible
McCoy Pottery "The Rooster"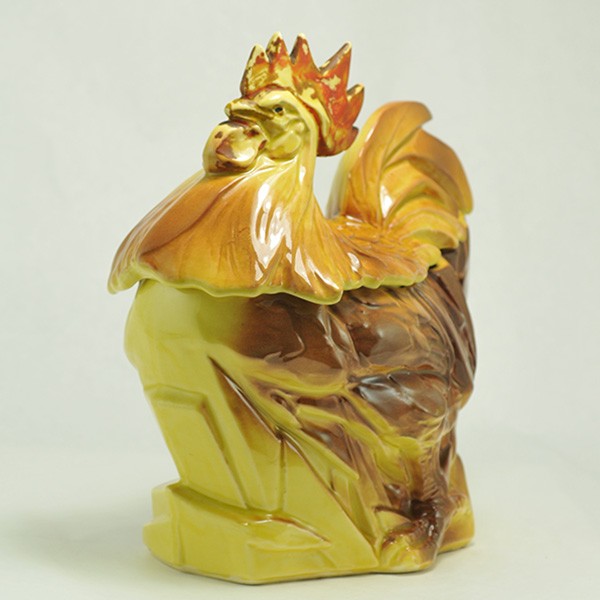 The handcrafted, air-brushed brown and yellow rooster would make an exciting addition to any vintage collection. It was made in the middle of the 1950s. It is a rare jar that is increasingly getting the attention of most vintage collectors. Even though there are many similar reproductions of it, the original one by McCoy is known for its great and quality shape.
The comb, waddle, and beak of the vintage were hand-painted. The feathers were also handcrafted and stood about 10 inches tall. Its bottom is engraved with the company's McCoy USA mark to ascertain originality.
Farmhouse Rooster figurine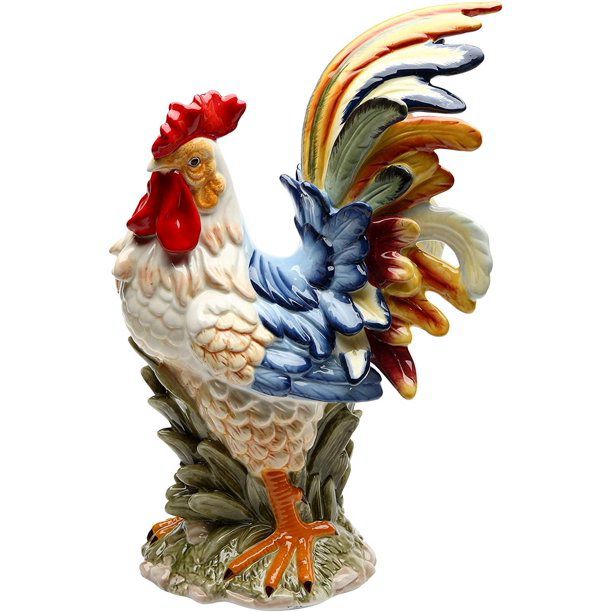 The Cosmos Gift Corp rooster figurine is a rooster vintage perfect for your mantel or kitchen cabinet. The Cookie jar is made from hand-painted ceramic in green, blue, and red colors. Highly classic and attractive. It weighs 3.09kg and is about 1.3 feet. The material is made of ceramic and large. It requires no further assembly and can be used as bought.
Other Rooster Cookie Jars
Apart from the two manufacturers mentioned above, there were many other well-crafted rooster jars from other companies in the middle and late 20th centuries. Here are some of the well-styled designs you can get for your home decoration and cookie keeping.
Vintage Rooster Cookie Jar, Ceramic Cookie Jar, Farmhouse Decor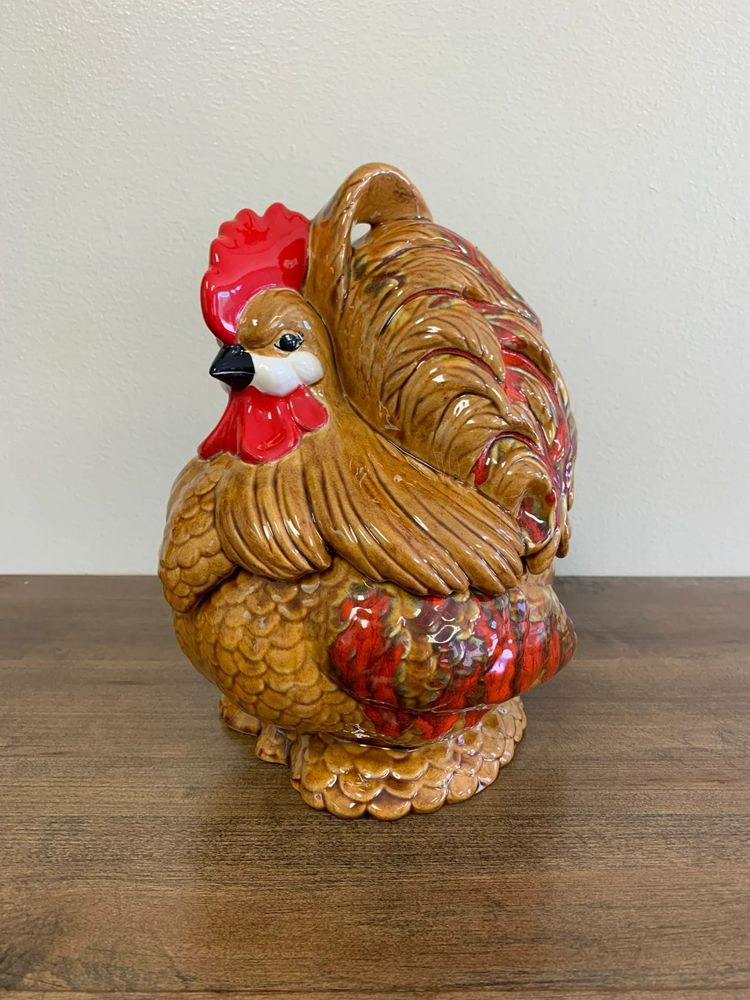 Vintage Rooster Cookie Jar Hand Painted Chicken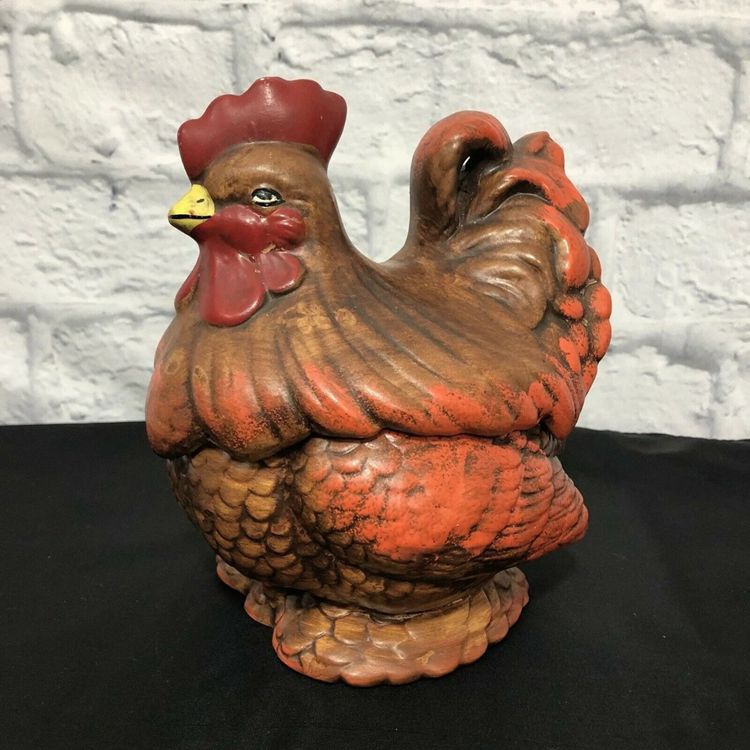 Vintage Rooster Cookie Jar Gift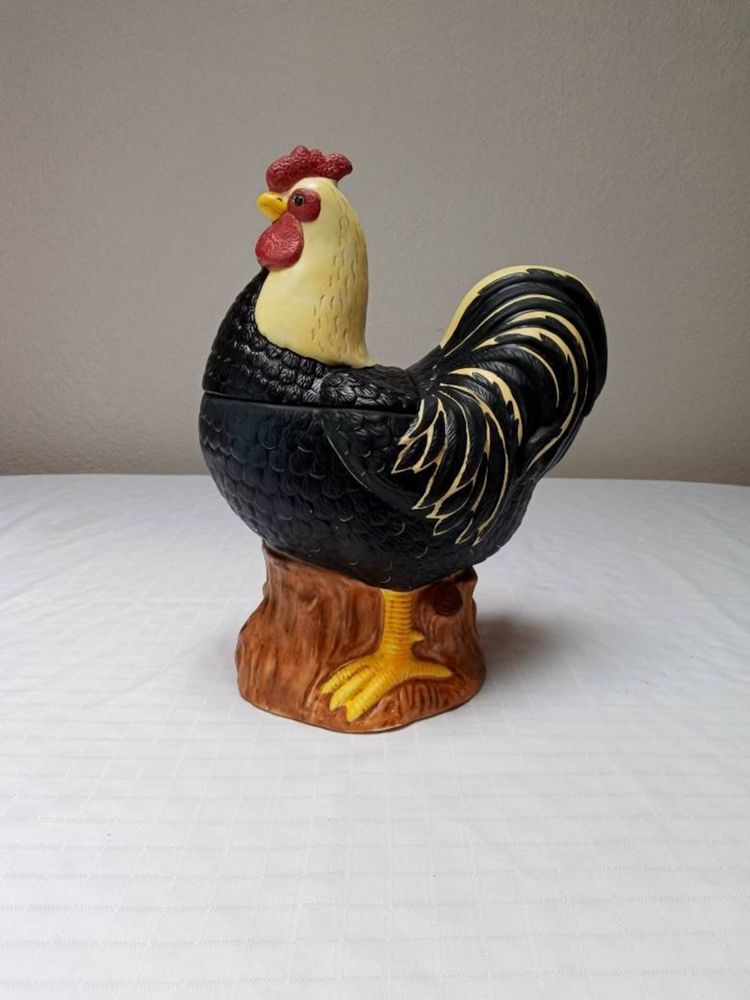 New Rooster Cookie Jars
Away from the antique rooster cookie jars, there was the emergence of vintage or, best put, new vintage rooster cookie jars that but in new model and style. They were entirely not made with rooster shape but a canister-looking jar with a painted rooster. The canister was beautifully designed with a different rooster.
How to identify vintage Rooster cookies jars
To know a rooster cookie jar is not a big deal. It is simply picking a rooster style among the numerous in the market. But it is trickier to find out whether or not a rooster is vintage or from a reputable manufacturer. Many collectors and homeowners like sourcing their antique and vintage collectibles from a trusted supplier, and this are not unconnected to many new items being faked as antique or vintage that have full the market.
Even though there have been many beautiful designs of rooster cookie jars flooding our market in recent times, some people still prefer vintage ones for obvious reasons. Apart from serving to reckon of memory and making adult remember their young time, it gives the younger generation the feel of what their young parent time was like.
Collecting vintage jars beautifies your kitchen or any area of the house you may choose to place it. Having stated the reason why to ensure you buy a vintage rooster jar, it is imperative you authenticate the jar before buying.
There are two major features to identifying a rooster jar. One is the maker's mark. Most first-generation producer of these items did engrave either their names or logo in the vintage. Most Manufacturers from the United States do engrave their country's name at the bottom of their work.
If identifying by this means failed, due to whether the mark has faded or not even put there at all. You can use the alternative of finding the manufacturer information and tracing their historical information either online or from reputable books on cookie jar guides. Check when the company is in production, the company's reputation, and when it folds up. You may also find the year or range of year the particular cookie jar was produced. This will not only help in identification but also help in value determination.
Rooster Cookie Jar Value Guide
Identification determines the relevant value of any vintage or antique collectible. Whether you have vintage cookie jars to sell or you are you want to buy to for your home use, you need to know what the price cost before going into the antique market. Among other factors, the current state of the economy does have a significant effect on value. Scarcity, authentication, design, and physique are also important factors to consider before valuing a Rooster jar.
Factors that determine Rooster Cookie jar value
Authenticity
Only ascertained vintage cookie jars are valuable in the market. Identify and ensure what you have is not fake. If it is fake or not categorized as vintage, it may sell far less than the standard price. Like many other old collectibles, the market is flooded with fake items. Make sure the item you are buying or trying to sell isn't fake. Also, the fake is quite different from the original. Some sellers may truly be selling vintage rooster jars but be manipulative with the manufacturer's name or mark. If there is no marking or the marking is different from what it ought to be, it may mean it is fake.
Note that reputable brand items sell at a more valuable price. An authentic cookie jar will most likely have a marking on them, usually engraved at the bottom. Make sure you identify the mark to determine the authenticity. Besides, some jars made just recently may be passed on as vintage, beware.
Rarity
By the basic economic laws of supply, if a product is scarce and there is high demand for it, there would be an increase in price and vice versa. Definitely, the value will be high if your desired rooster cookie jar type is uncommon. Rarity is either caused by too much in demand or if there are limited editions of the jar you wanted.
This affects a company that stays in production for a short period of time. The longer a product lasts in production, the more it is released to the market and becomes more available. Besides, age or older vintage may be rare in the market. Due to wear out and damage or loss, the old one that is still in good condition will, of course, be rare and be more valuable.
Condition
When it comes to valuation, the state of the cookie jar is paramount. Collectors expect them to be in standard condition. A rare cookie jar that maintained its manufacturing condition will be precious. However, not necessarily a cookie jar that maintained its excellent state. Due to them being in existence for a long, they are likely to have had minor chips and scratches. Generally, minor damage may not affect the rooster cookie jar. However, serious damage like cracks and rough color scratches may drastically reduce a price value.
Where to Find Cookie Jars
Finding rooster cookie jars can be difficult because they are not sold at every shop like modern cookies. Because they are old, they have less demand. Only those that especially need them for ornamental purposes and any other custom purpose do request them. Also, most of these vintage jars were produced in the 1950s to 1960s. They have found their way into an individual's hand. Many have been damaged, and very few remain in sellable condition. These are the reasons they are rare to find. However, apart from some places you can approach to buy vintage and antique, there is also a reputable online platform to get the items. Here are places you can check out in your environment;
Estate sales
Flea markets
Auctions
Garage sales
Collector meets
Antique shops
Also, you can check online to connect with individual buyers on any of these platforms.
Additional Tips for determining the value of rooster cookie jar
Read books from reputable Authors on jars collection
There are many printed books that extensively enlighten everyone on antique and vintage collections. They help with tips that help to identify antique collectibles and even guide on their prices. Specifically, there is a plethora of book guides on cookie jars you can read from. The most popular among them are Collector's Encyclopedia of Cookie Jars, written by Fred and H. Roerig, and The Wonderful World of Cookie Jars by Mark and Ellen Supnick. There is also Warman's Cookie Jars by Mark Moran and An Illustrated Value Guide to Cookie Jars by Ermagene Westfall. Most of these texts use photographs and color illustrations to guide their readers better.
Check reputable jar guide online website.
Apart from the guidebooks, there are many online services that can aid you in determining the value of your vintage rooster cookie jar. For instance, Kovels is a reputable online platform that provides relevant information about antiques, like price guides and identification and how to buy and sell. Another interesting online platform to seek guidance from is worthPoint. The organization uses information sources directly from Antique users to provide a guide for the website visitors. Lastly, eBay is useful in understanding price comparisons for many of its similar products.
Join collector clubs
If you are passionate about collecting cookie jars, we advise you to join a team of passionate collectors in your area. Engage the experienced and let them guide you on how to make a perfect decision. You can even meet members that willing to sell the rooster rookie jar to you. The club will educate you about where to source your antique, identify the mark easily, and distinguish real vintage cookie jars from fake ones.
Rooster cookie jars prices
Price varies according to the different values attached to each item. They vary according to the different factors mentioned earlier. Below are a few examples of roosters available on various platforms and their current prices.
FAQS
How do I keep the fresh cookie in a ceramic jar?
Always use an airtight container for storing your cookie because they don't allow moisture. Though ceramic cookie jars may be beautiful, most of them are not airtight, making cookies go stale easily. To prevent this, we advise you to seek your cookies in a zipper-lock bag and then put them in your jar.
What is the difference between vintage and Antique collectibles?
They are both old item collectible. Antiques are usually regarded as over a century out-of-production items that people are still sourcing to have. Vintage, on the other hand, are cherished items made over 40 to 60 years ago.
What is the point of having a cookie jar?
The cookie jar is a kitchen necessity because of the multitude of function they serve. They prevent our cooked and baked goods from going stale. They also keep moisture from forming around the baked goods and prevent mold from setting on the cookie. Finally, cookie jars prevent your baked food from pests like flies, bugs, or mice.
Conclusion
Rooster cookie jars are precious vintage you can exchange for a huge amount of money. Depending on the rarity, authenticity, manufacturer's reputation, and condition of the rooster cookie jar, you can sell a vintage rooster for a price as low as $50 and as high as $1000.
While there were completely made vintage rooster cookie jars, there are also ones made in different style but has signs of a rooster on their outer part.
Lastly, getting a rooster can be tricky, but it becomes easy when you source the correct information from the proper channels and allow to be guided by collectible elders.