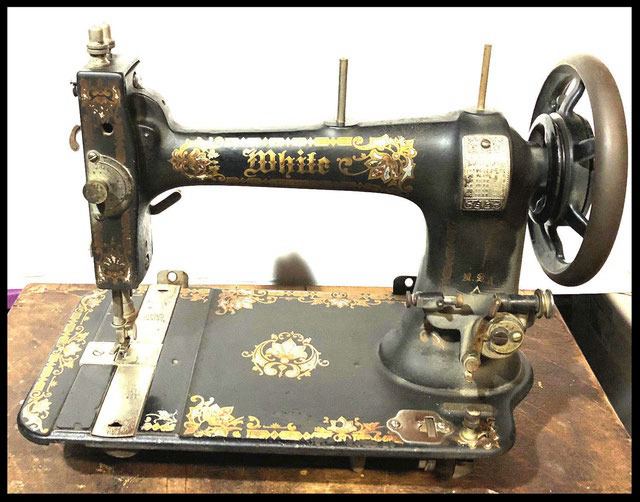 Antiques are the rave these days, with everyone scouring their grandma's attic or their family garage for something valuable. If you are looking for valuable old machines, then you should look no further than the white sewing machine. The white sewing machines came into production in 19858, which continued until later in the 20th century.
Although they were mainly made for housewives, with a few industrial models out there, this sewing machine is valuable. If you want to start collecting this antique or think of making money off it, you'll need knowledge. This article is a guide that offers information on this device, its value, and how to take care of it.
History of the White Sewing Machine
The White Sewing Machine was known for many things, such as its sturdy mechanical parts and its popularity. While this invention has electric models, its mechanical version is the most popular.
At a time, this gadget was a staple in American households; all housewives had to have one. Besides being a handy gadget for every housewife, their beautiful design also made them a symbol of status.
The first white sewing machines got produced in 1858 after Thomas White invented them. Although he was just 22 at the time of its production, Thomas got a patent for his invention. After which, he started small, selling one machine to get money to buy parts for another.
Early customers called this Sewing Machine the White Vibrating Shuttle. This is because of the vibrating shuttle bobbin that it uses in its design.
Thomas's invention was also special because this hand-cranked device could sew straight stitches. While this isn't anything special today, it was a game-changer at the time. Unfortunately, the hand-cranked design showed a big design flaw-people couldn't use it for extended periods.
People got tired of dealing with this discomfort, which paved the way for a foot-pedal-powered version. The foot-pedal-powered version got accepted as a much-needed improvement, making the company famous once again.
However, this humble beginning didn't last too long as the sales of this device soared. Within a short time, Thomas had enough money to build his company, the White Manufacturing company.
The name of this company became the White Sewing Machine Company in 1876 when it got incorporated. This incorporated company later partnered with Sears Roebuck & Co, making White Sewing Machine Company their sole supplier.
The White Sewing Machine Company had its base in Templeton, Massachusetts. Nonetheless, this changed in 1866 when Thomas relocated the base to Cleveland, Ohio.
A New Phase for the Company
As this company grew, its reach extended. Besides the sewing machine industry, they also decided to develop an automotive branch of the company as well. Their automobile arm started with the actions of Rollin White, Thomas White's son.
Rollin started this automobile arm in 1900 when he built a steam engine in the corner of his father's factory. By 1906, the automobile arm became a full-fledged company of its own, The White Motor Company. Thomas's other sons, Windsor and Walter, also led more diversifications, leading to the production of kerosene lamps, roller skates, etc.
After this happened, the White Sewing Machine Company decided to focus solely on sewing machines, leading to more growth. This corporation's growth reached the point that they were manufacturing nearly 60,000 sewing machines yearly.
White sewing machines became unrivaled for a time, taking the entirety of the American market. However, their dominance didn't last long as some of the competition, such as Roebuck and the Singers Corporation, caught up. The Singers Corporation sewing machines later overtook them with their better quality and functionality.
However, the arrival of World War 2 put all these sewing wars to rest, as every company got conscripted. The White Sewing Machine Company was no different, as the government also used its production lines for the war effort.
As the war ended, the market was once again ripe for sewing machines. Since no one had produced one in years, the White Sewing Machines company used this opportunity to dominate once more. They also introduced new models to the market, one of which can sew the infamous zig-zag stitch.
However, this dominance didn't last long, as other companies also thrived after the war. There was lots of innovation once more, and better devices flooded the stores of Europe. With time, even the company stopped producing sewing machines and focused on other devices.
Nevertheless, the tailoring industry will always appreciate the white sewing machine for having left its mark on history. The device is sturdy and comes with pleasing aesthetics and awe-inspiring craftsmanship. Now, however, the beauty of such a sewing machine lies in its value as an antique.
Popular White Machines Sewing Models
The sewing machines that got produced by the White Sewing Machine Company are available in various designs. While some were the hand-cranked variety, others were foot-pedal-powered, while some were electricity-powered.
Although this isn't a lot by any means, the designs made by this company were worth their weight. Below, you'll see some of the popular models of this corporation's sewing machines:
The White Gem Sewing Machine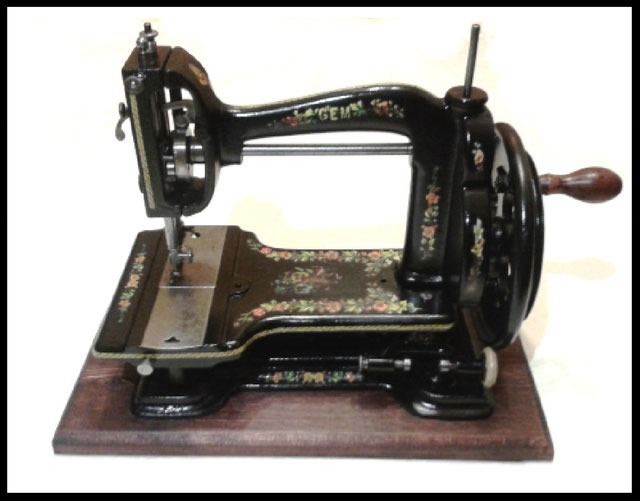 This model of the White Sewing Machine never got as popular as the others. Nevertheless, its compactness and cast iron base were points that stood out in its favor. Its production also began in the 1800s, just like the others.
The White Peerless Sewing Machine
The White Sewing Machine Company started producing this model in the latter half of the 1800s to the early 1900s. You can identify this popular model by the landscape painting decal on the base of the machine.
Since this model had hobbyists and professionals in mind, the company agreed on ¾ the regular size of their machines. The White Peerless Sewing Machine is also hand-cranked, making users bear the discomfort that comes with that.
Many versions of this model were manufactured, and they all took inspiration from their full-sized cousins. Some of these include:
The Peerless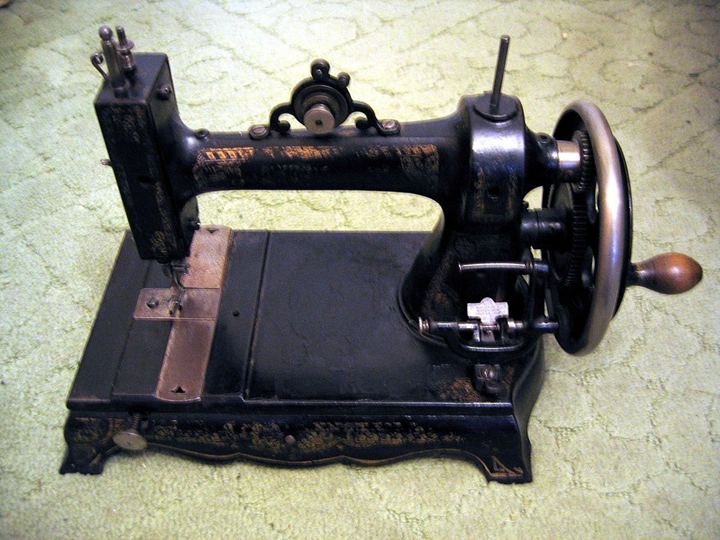 This version took inspiration from the VS I model. Its production began in 1876 and later ended in 1882.
The White Peerless
This version took inspiration from the VS IIa model. Its production began in 1882 and later ended in 1886. Another version of the White Peerless took inspiration from the VS IIb model. Its production began in 1886 and later ended in 1889.
The New White Peerless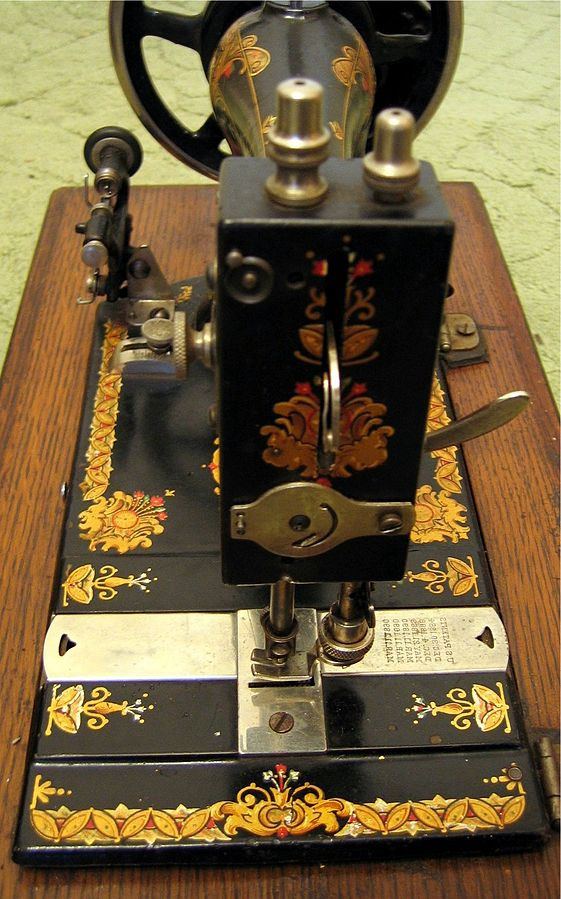 This version took inspiration from the VS III model; Its production began in 1893 and later ended in 1928. Unlike the version that came before it, this one had three different varieties- Version A, Version B, and Version C.
These versions differed from each other in the designs of their hand-crank and the casing of the machine. Some of them came with fold-up handles for compact storage, while others had bentwood cases.
The White Rotary Sewing Machine
The White Rotary Sewing Machine was one of the most popular models, making it easy to find one today. This model held its popularity from the latter part of the 1890s to the 1950s. At this point, the innovation of other companies was better than that of the White Sewing Machine company.
This model had various versions, where some were electricity-operated, and others used a treadle. Although the electric version was the most innovative, the treadle version was more popular. The other manufactured versions are named '41', '43', and '47', with their differences coming from their designs.
While this corporation was working as a manufacturer for other companies, they also produced this model for Sears and Roebuck. The Sears and Roebuck corporation named theirs Kenmore, Minnesota, and Franklin.
What is the Value of a White Sewing Machine?
Although they were technological marvels in their time, the White Sewing Machines didn't cost too much. As mass-produced items, there were lots of them to go around, further reducing their value.
Like all antique items, however, their antiqueness also determined their value, with older versions costing more. Accordingly, the models produced in the 1870s are quite valuable, with some of them going for thousands of dollars. Of course, those that were in good condition were also valued by collectors as well.
If you want to know the age of your machine, you can look for the serial number on its person. Each year had its serial number, making it easy to identify them. You can find this serial number on the sides of the device, beneath it, on top, or on its motor.
The table below shows a rough classification of the ages of the White Sewing Machine according to their serial numbers:
| | |
| --- | --- |
| Serial Number | Estimated Production Date |
| 1 to 9000 | 1876 |
| 9001 to 63,000 | 1877 to 1879 |
| 63,001 to 370, 000 | 1880 to 1883 |
| 370,001 to 970, 000 | 1884 to 1893 |
| 970,001 to 1,550,000 | 1894 to 1903 |
| 1,550,001 to 2, 300, 000 | 1904 to 1914 |
| 2,300, 001 to 4,000,000 | 1914 to 1918 |
For a more accurate answer on the age of your sewing machine, you can just Google it. You can also check sewing machine history platforms like Fiddlebase.
Although the production of the White Sewing Machine didn't end in 1918, the company's owner had already changed hands. Husqvarna-Viking merged with the company, and the White Sewing Machine company ceased to exist after the merger.
Below is a rough estimate of the value of a White Sewing Machine (according to its age):
| | |
| --- | --- |
| Estimated Production Date | Estimated Value |
| 1876 | $300 to $5000 |
| 1877 to 1879 | $100 to $1000 |
| 1880 to 1883 | $100 to $800 |
| 1884 to 1893 | $100 to $500 |
| 1894 to 1903 | $100 to $500 |
| 1904 to 1914 | $100 to $400 |
| 1914 to 1918 | $100 to $400 |
eBay is one of the most popular platforms from which you can purchase genuine White Sewing Machines. Some of the White Sewing Machines that got sold recently on eBay include:
A 1950s, vintage Series 77 White Rotary Sewing Machinegot sold on eBay for $67.88 in January 2022. This purchase comes with a foot pedal and a case. It also seems like it might barely work since the needle moves up and down when powered.
A vintage, electric, White Rotary Sewing Machinegot sold on eBay for $200 in April 2022. This purchase also comes with a foot pedal and it got sold in good working condition too.
A vintage White Rotary Sewing Machinegot sold on eBay for $60 in April 2022. This purchase was working well, but it didn't come with a foot pedal.
Factors that affect the Value of a White Sewing Machines
Granted that some White Sewing Machines got sold for thousands of dollars, not all of them cost that much. There were other sewing machines produced by the same company, which sold for less than $500. These differences in value are a result of a few factors, such as:
The Condition of the Machine
Even though they're all vintage appliances, collectors value those with mint conditions more. The presence of even a single scratch can cause a massive drop in its perceived value.
So, if you've got one of these appliances and wish to make some money from it, ensure it's mint. Ensure that there are no dents or deformed parts from impact and that the beautiful decals are still visible. All these factors are visible from a glance, and they can directly impact your asking price.
The Age of the Machine
Just like it got started earlier, age plays a part in the value of this sewing machine. You can also notice that the older versions were the ones that got valued the most by collectors. The sharp decline as the years come forward is also noticeable.
As such, unless your White Sewing Machine is one of the older versions, don't expect a thousand dollars for it. If your machine is one of the early 1800s versions, its condition wouldn't matter much. Lots of collectors would pay heavily to lay their hands on it, regardless of its dents and scratches.
The Functionality of the Machine
This factor is a no-brainer since it's logical that everyone would be willing to pay more for a working device. This means that if your device doesn't work, you shouldn't expect too much from it.
If you're selling a broken White Sewing Machine that got manufactured in the 1900s, expect bids in the hundreds. Accordingly, a working vintage White Sewing Machine will be worth more than a non-functional vintage version. In some cases, collectors have rated the functionality above the age of the device.
Where can I purchase White Sewing Machines?
Even though they got manufactured in the 1800s, vintage White Sewing Machines are rather scarce. Most of them have broken down. Some got lost in the war, while others get repurposed for other things. The cabinet of this device is a thing of beauty, making it much-coveted antique furniture.
Nevertheless, there are many online platforms that you can visit to lay your hands on this antique. Of course, you'll need lots of patience since you'll get most of these goods by a stroke of luck.
While searching for this device on these online platforms, you should input one of the White Sewing Machine models. This means you'll search for 'White Rotary Sewing Machine', 'White Gem Sewing Machine', or 'White Peerless Sewing Machine'. Just using the term 'White Sewing Machine' will mostly bring results related to white-colored Singer sewing machines.
One more thing of note is the shipping price for online offers. Unlike other antiques that are light and can be easily shipped to the buyer, this device is rather heavy. This is most probably due to its cast iron build and its weighty cabinet.
Hence, most of the online offer that you see might require you to come to pick up the contraption yourself. This inadvertently limits the help that online platforms can provide.
Fortunately, some sellers will be willing to ship the sewing machine to your location. In such situations, the shipping price could be very high, and could sometimes cost more than the device itself. Nonetheless, some of the online platforms that are sure to offer vintage White Sewing Machines include:
eBay: eBay is one of the best choices for obtaining an authentic vintage White Sewing Machine. Since this is one of the largest eCommerce platforms out there, its reach is also phenomenal as well.
At this moment there are more than 200 listings of 'White Sewing Machines' on eBay. This means that there's every chance that one of these listings contains what you need.
While using eBay, you can use the United States eBay website (www.ebay.com) to limit yourself to the US. if you're living in the United Kingdom, you can use www.ebay.co.uk. Individuals who are living in India can use www.ebay.in.
These different eBay marketplaces make it easier to find someone in your country who's selling a White Sewing Machine. It also makes it easier on your pocket too, if you have to ship them.
Etsy: Etsy is another online platform that can provide you with true Vintage White Sewing Machines. Just like eBay, Etsy contains regular people who are selling off antique devices that their family has accumulated. So, there's every chance that you could be lucky and stumble onto a good deal.
Notwithstanding that there are many more eCommerce platforms out there, these two are your best bet for this antique. Other sites will most probably offer you recent productions, which are no longer White Sewing Machines but Husqvarna-Viking.
When purchasing a vintage White Sewing Machine, you should be sure that it works. If you can't visit the seller personally to operate the machine, you should ask for a live stream. Ensure that the foot treadle moves up and down and that the hand wheel turns without scruples.
While operating the machine, the bobbin should rotate or vibrate while the sewing needle rises and falls. If you're purchasing an electric model, make sure the seller powers it on and you see that it works. You should also take care not to purchase a model that has frayed wires or rusted-over moving parts.
Besides eCommerce websites, you can always try your hands at offline stores in your area. There's every chance that a neighborhood yard sale or a thrift shop could provide a fortuitous encounter.
Caring for a Vintage White Sewing Machine
When you finally get your hands on this antique device, there are chances that it wasn't used for a while. This means that a few overhauls are in order, most especially when you purchase a hand-cranked version. These maintenance checks can help you put the machine back in working order.
You can perform some of these maintenance checks yourself as they don't require much knowledge or technical know-how. If you purchased an electric model, however, it's best to leave the overhauls to a trained professional. Below are some of the overhauls that you can perform on your own:
The first thing you'll do for a machine that most probably hasn't worked in years is to clean it. Being kept idle for many years would have allowed dirt and dust to settle on every exposed area. So, you'll need to wipe it clean with a dry cloth.
If there are any moving parts, you'll need to oil them. It's general knowledge that all metal parts and moving parts require oiling. This will help to get the moving parts ready for work once more.
If your cast iron machine is looking dull, you can also consider polishing it to give it a little shine.
Keep the electric models away from a power supply if you're not using them at that moment. This can help them to last longer.
Final Thoughts
Although lots of sewing machines have made history, the White Sewing Machine is one of the most iconic. The innovations of this device made it very popular for its time. Its sturdy construction also made many pieces survive to this day.
If you're enamored with this sewing machine, you can get one for yourself. They can be easily found on popular online platforms and many offline stores.