The antique cast iron stoves are a centuries-old invention that appears to be a little more than a cast-iron box. The earlier version of this kind of stove was small enough to be easily installed in a fireplace or free-standing in the middle of the room.
Initially, the cast iron stoves had no grates and served as the house's primary heating system. The grates were eventually added, allowing the stove to be used for cooking as well.
If you're someone who's looking to purchase or sell this antique item, you should be informed of its usage, worth, history, and the brands that were popular among its competitors in the past.
So, without further ado, let's get into the details of cast iron stoves.
Cast Iron Stoves Evolution
Although there were other types of stoves being manufactured for almost 1.5 centuries, the first-ever cast iron stove was built in 1642. According to the historical records, this was manufactured using brick and tiles.
They were composed of flat rectangular plates formed by pouring molten cast iron into sand molds and welded together to form a box. Later, in 1742, Benjamin Franklin constructed the very famous "Pennsylvania stove," which is still in use by many antique enthusiasts today.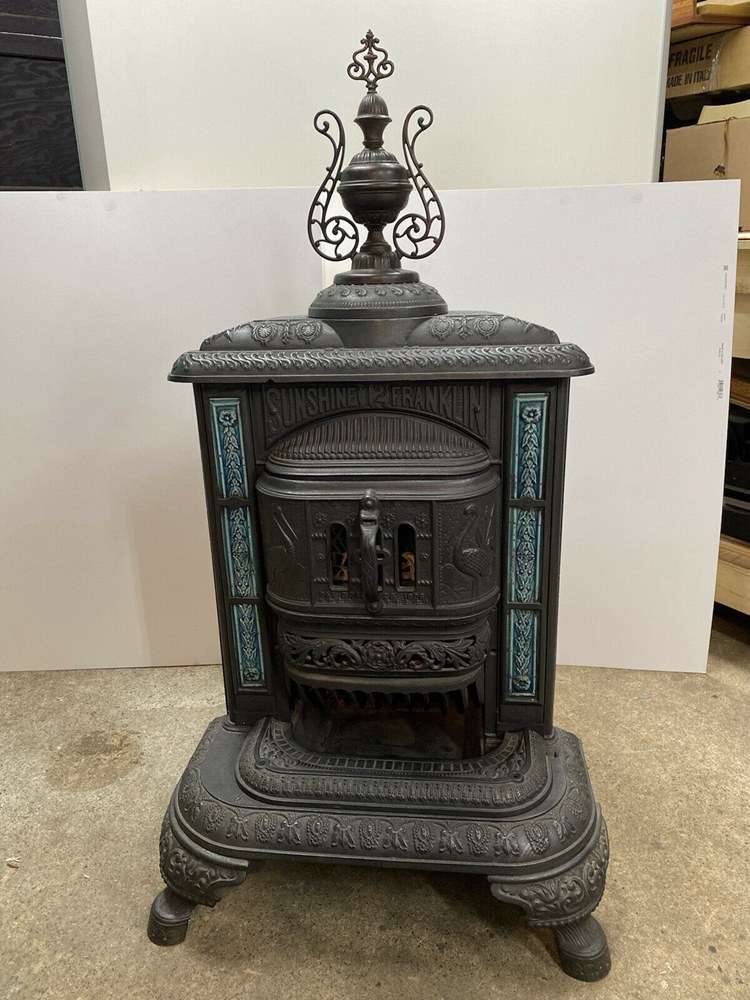 The Franklin stove worked on the basic principles of a heating stove. It efficiently controlled the draft using grates and sliding doors. This famous design was used as a heating element and remained unchanged for 200 years.
The cast-iron stoves until' 1800 were not used for cooking purposes. The first round cast iron stove was developed by Sir Isaac Orr, and the base burning stove by Jordan A. Mott. Steel ranges and ovens replaced these stoves in the late 20th century.
Brands Manufacturing Antique Cast Iron Stove
Cast iron stoves served both as a heating system as well as for cooking purposes. They were the most popular in the nineteenth century. However, with the advent of gas-burning stoves, their usage decreased in the twentieth century and is now treated merely as an antique piece.
The cast-iron stoves came in various forms and sizes and mainly were stand-alone items. These included rectangular, cylindrical columns and box styles. Some of the top brands that manufactured these in-demand products are as follows:
Step-Top Cast Iron Stoves Brands
During the 1820 to 1860 time period, Step-Top stoves were predominant in the market. Top manufacturers of such kind were J. Woodruff and Sons # Young Americal, Chattanooga Stove Company, and Waterloo No.2 St. Johns.
Waterloo Cast Iron Stoves
In the late nineteenth century, the Step-Top stoves were replaced by cast-iron ovens below the range top. The most famous brand at that time was Waterloo.
Victorian Era Cast Iron Stoves Brands
From 1837 to 1901, stoves were deep and large in size as compared to earlier designs. The notable brands include Wehrle Stove Factory, Grander Stove Company, Michigan Stove Company, and Garland.
20th Century Brands For Cast Iron Stoves
Wedgewood stoves were very popular from the 1930s to the 1950s. Now, their old stoves are sold to antique lovers as vintage stoves. Chambers was founded in 1912 and used patented insulated methods in their design.
Roper Corp. is also an old brand that Whirlpool eventually took over. Still, some specific models of Roper are sold today for thousands of dollars. Other 20th century brands included Gaffers and Sattler, Magic Chef, Dixie, Frigidaire, Tappan, and O'Keefe and Merritt.
Upon comparison with many modern stoves, the antique cast iron stoves were extremely heavy. The new designs are more compact in design and weigh around 150 pounds. On the other hand, the antique cast iron stoves were typically about 500 pounds.
These were also more expensive. For an estimate, Wolf and Viking stoves cost in thousands, but their value decreases upon purchase. A classic and restored version of older brands such as O'Keefe & Merrit, Wedgwood, and Chambers price falls between $3000 – $5000.
Watch this video to look at some of the amazing antique cast iron stoves.
Antique Cast Iron Stove Values
The antique cast iron stoves were no doubt of the highest quality. The construction materials, design, aesthetics, and functionality were superior to those manufactured in today's world.
The durability of these antique pieces is greater than the very modern stoves. Therefore, their worth and value not only remain high but also increase due to their cook-ability.
Following are the various kinds of stoves, their values, and manufacturers:
Jamb Stoves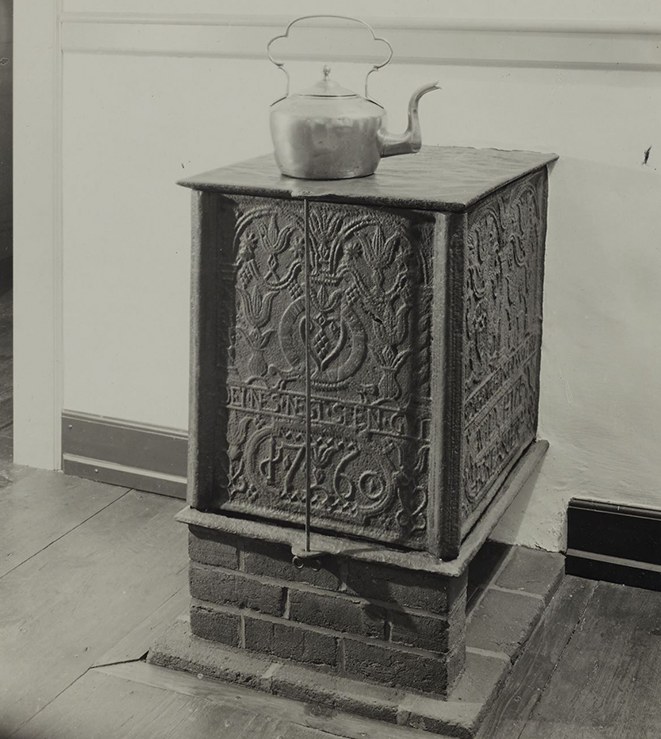 Jamb stoves, also known as Five-plate stoves, were used in the early eighteenth century, specifically in the United States. It consisted of five iron plates jammed together, forming a box shape.
Although only Americans were introduced to this design, similar styles were produced in other countries like Sweden and Holland. A typical Jamb stove is decorated with tulips, arches, and hearts while the biblical inscription continues along the two plates.
In the next 100 years, up to 10 plates were eventually incorporated into the design of Jamb stoves. These stoves were used for cooking as well as heating the rooms. The price for the antique Jamb stoves is some thousands of dollars.
One of the well-known manufacturers for this type of cast iron stoves was Cornwall Furnace, founded by Peter Gubb in 1742.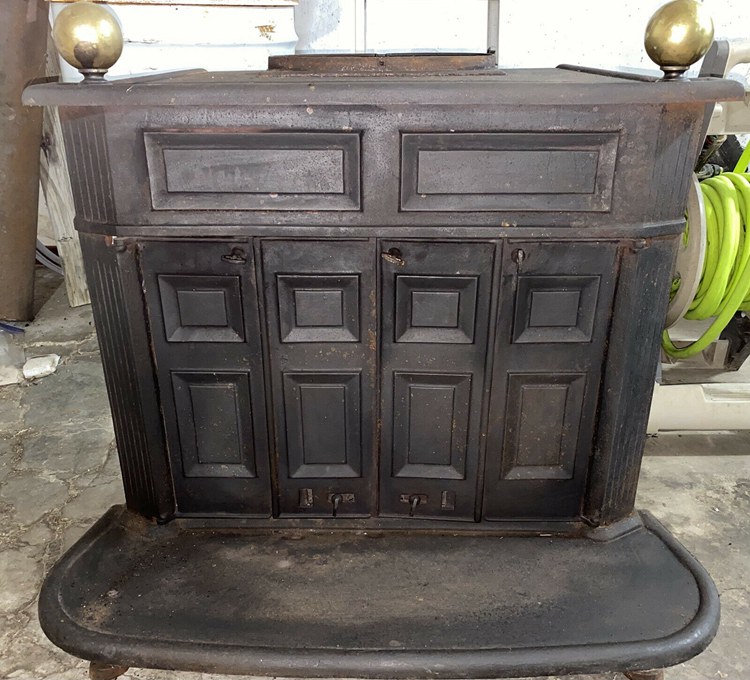 Benjamin Franklin invented a metal-lined fireplace, namely "Pennsylvania stove," in 1742. The stove was in the shape of a box. The front was open with a decorative panel, while its back was meant to be fitted at a few inches distance from the flue.
Franklin stove is a free-standing stove with several holes at the bottom panel, and a thin rectangular prism was placed inside. The combined function of all these elements was to allow for an exchange of cold and warm air while venting fire smoke out of the room.
The fire and smoke produced during use were quite difficult to control and often resulted in a fire hazard. Hence, Darren Rittenhouse, in the late 1770s, added an L-shaped chimney to its design in an attempt to fix the issue.
Other manufacturers include Rittenhouse, Rumford, and Wilson. The Franklin stoves of these brands are sold for $150 in current times.
Column Stove
This type of stove appeared around 1830. It consisted of two to four vertical columns connected by a horizontal pipe. These columns were decorative, along with draft controls and a few other features that made the stove unique in its style.
The Column stove was primarily used for heating homes and often lacked a cook lid under its centerpiece. The hot air inside circulated for a more extended period within the columns, leading to greater efficiency.
The famous manufacturers for Column stoves were Johnson, Geer & Cox, and Greek Island Stove Works and have high costs, from $2000 to $4000.
Potbelly Stoves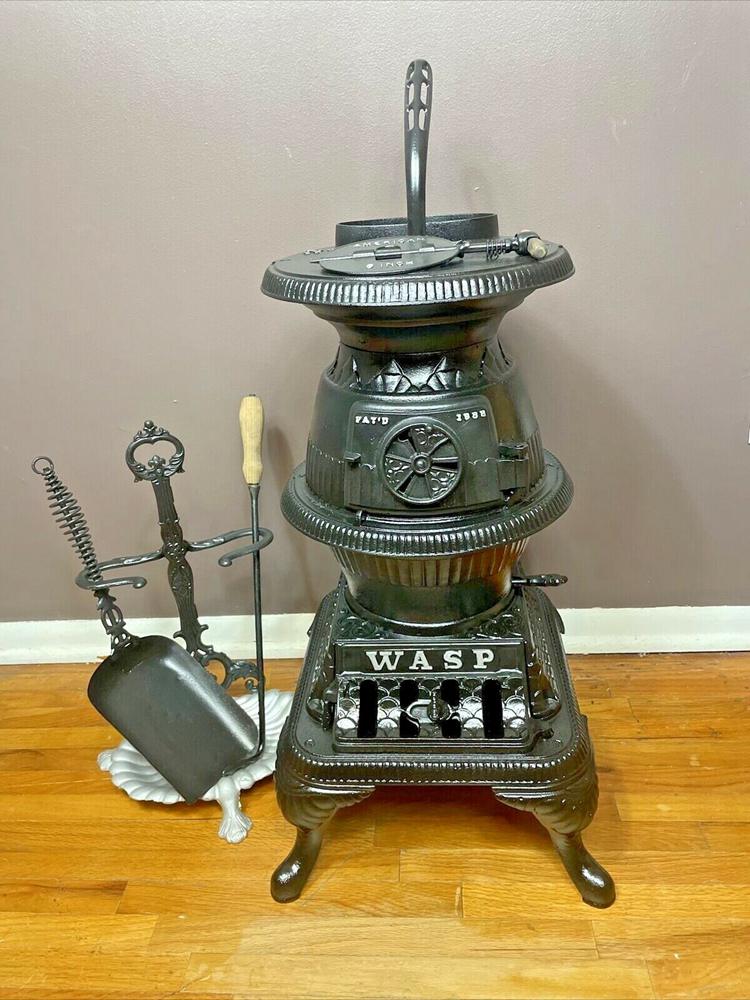 Potbelly stoves were quite popular during the Victorian era. It is a type of cast iron stove that is cylindrical in shape with a bulge in the middle. These antique stoves are only valuable if they have unique and fancy design elements and are still functional.
They were used to heat large homes, while the flat top allowed for cooking food or heating water. Old brands that manufactured Potbelly stoves were the early J.C. Penny brand and Syracuse Stove Works. Their products fall in the range of $125 – $200.
Step-Top Stoves
The step top stoves were most popular during the 1820 – 1860 period. As given by the name, the range portion was located below the oven that extended outwards. Even in today's world, these antique pieces are worth around $200.
Prominent manufacturers of this kind include Coldwater Oil Stove Company, J. Woodruff and Sons, and Chattanooga Stove Company.
Cylinder Victorian Parlor Stoves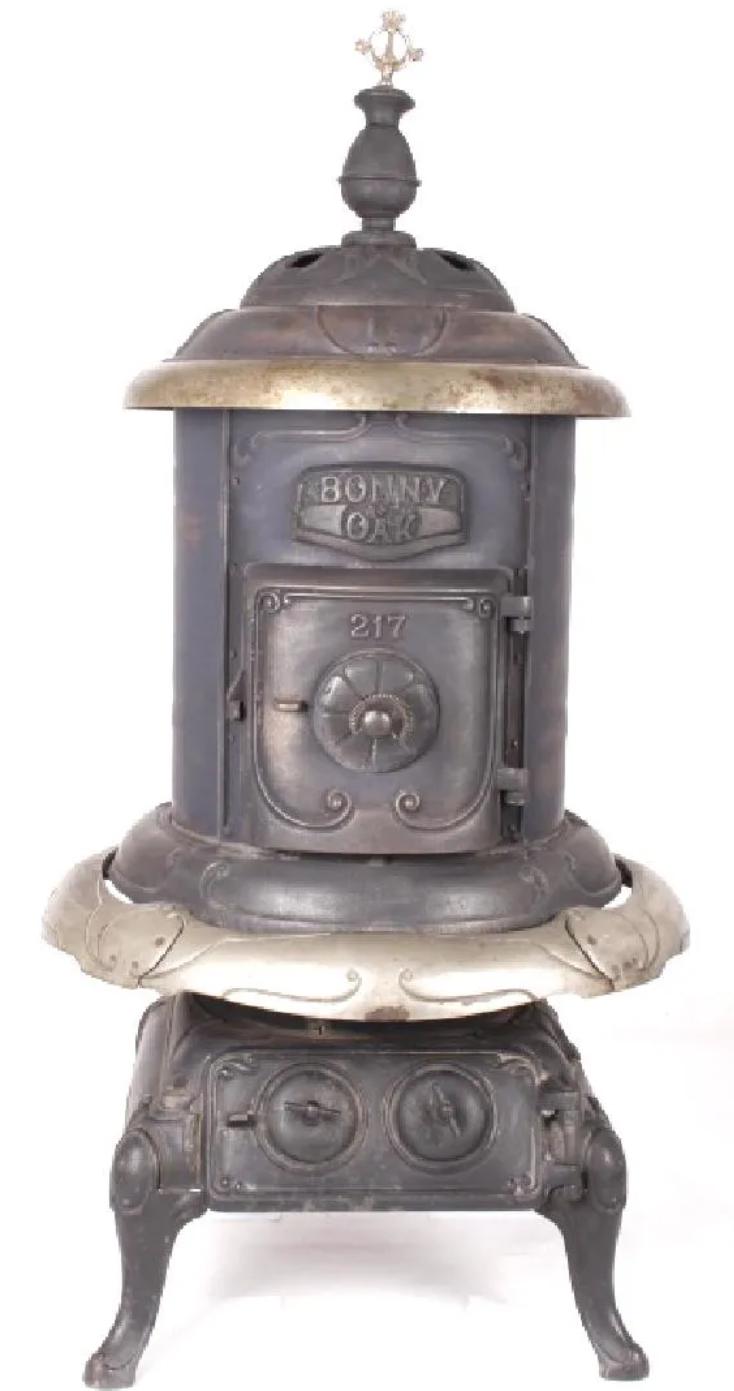 Another popular cast iron stove type during the Victorian era was the Cylinder Victorian Parlor stove. They were manufactured in the late nineteenth century but came into the limelight during the early twentieth century.
They came in various sizes to heat spaces from bedrooms to ballrooms. The famous Victorian Parlor stoves Bonny Oak and Stewart Oak by Fuller Warren are worth around $400.
Other famous manufacturers of the time were J.S. & M. Peckham, Cribben & Sexton, J.B. Clute, and Voss and Company.
Box Style and Cookstoves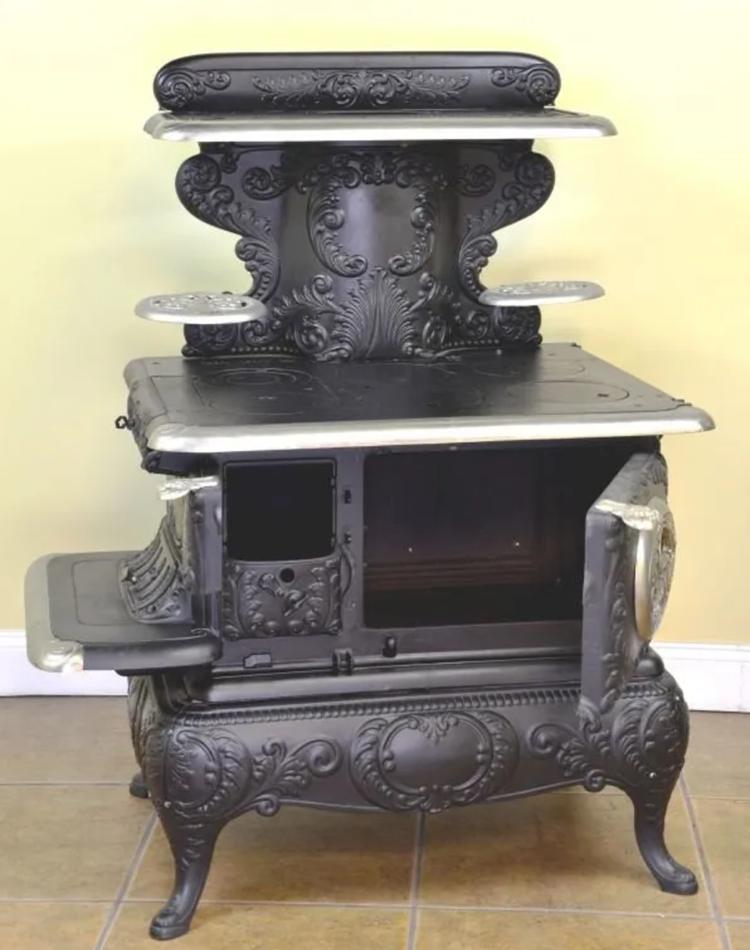 In the later Victorian period, a cast-iron cookstove came into existence. Unlike the earlier cooking devices made using stone, clay, tiles, and bricks, these were a more developed, constructed range that enclosed the fire entirely.
The top manufacturers of these stove types were Glenwood and Great Western Stove Company. Their restored models have prices starting from $300 to $1500, depending on multiple factors such as condition, size, and so on.
If you're looking to buy an antique cast iron stove, watch this video to learn what to look for and what you should avoid.
Conclusion
Most history enthusiasts like to have an antique collection. Hence, cast iron stoves would be perfect addition since they are no longer made with such intricacy and quality of detail. However, you would not want to be sold a replica of such a product.
Therefore it becomes essential for you to check for the stove's authenticity.
Most cast iron stoves have a manufacturer's mark embossed into the metal of the stove door.
If you can't find the label in the location specified above, try looking at the sides or back of the stove.
This marks the end of our article. We hope the read was helpful in information regarding the values and brands of antique cast iron stoves. If you still have any queries, leave a comment below.